You are currently browsing the tag archive for the 'republican ineptitude' tag.
Why do Republicans run from squirrels? Because they're nuts… But if Republicans were to ask me for advice to fix their party, …. this is what I would tell them…..
As Republicans, they need to do three things to get back on track. Number one, they have got to stop defending the kind of spending and out-of-control spending that they would never tolerate on the other side. You know, when voters are saying that they trust Democrats more to cut their taxes [and] control spending, that tells everyone that something is wrong with the Republican Party. They've got to match their actions with their rhetoric.
Number two, they've got to stop defending the kinds of corruption they would rightfully criticize in the other party. The week before the election, their most senior senator got convicted on federal charges – and that's only the latest example. Each time that happens it tells everyone that something is wrong with the Republican Party. Again, they've got to match their actions with their rhetoric.
Number three, they have got to be the party that offers real solutions to the problems that American voters, American families are worried about. They don't need to abandon their conservative principles; they just can't be the 'party of no.' Instead they need to offer real solutions on how to make health care more affordable, and on the economic challenges facing families, as well as on the international threats.
If they want my help, hopefully they can find someone Republican enough in Bridgeville or Senate District One of Wilmington, whose actions will prove the wisdom of these words…
The child molester is expected to win in Georgia, It will take a miracle to unseat him… But that win will give every Democrat something to continually kick around for another six years, and having Saxby Chambliss to kick around, may be beneficial to continually point out the discrepancies between "what Republicans say" and "what they actually do"…
(Disclaimer: There are good people reading this who for lack of a better word, may still consider themselves Republicans.. Obviously I do not even remotely consider them to be associated within this category, but again for lack of a better word, must continue using that political term (Republicans) until their party comes up with a way to distinguish between those Republicans who are smart, wise, and pragmatic, from those that are so stupid they don't know what Africa is, they never heard of a prophylactic, can't read, can't pronounce the Senator from Georgia's last name, don't know any Supreme Court decisions, and their state is now paying $1.00 more for gasoline than the rest of the country, while their state revenues have fallen 75% with the recent drop of the price of oil….and they are spending critical decision making time campaigning down in Georgia for a videotaped Child molester…). Now how stupid is that?
Now here in Delaware, we really don't care one iota about who Georgians want to pick to represent them… That is until the blatant incestuous molestation occurred, and the statement: "I am Saxby Chambliss, and I approved this message" came out.. Any parent seeing that, unless they purposefully molest their own children, would love to see that horrible man… taken out….
Instead of taking him out, Republicans bring in their 2012 hopeful to stump for him… Instead, they say they are the "real America". Instead … well never mind… if you don't get it by now, you truly deserve the Republicans in government you pick to represent you…
But the whole point of this writing is to help those in the Republican party who are struggling where to go during the next four years… My aim here is to point out that they are trying to win the support of the "dumb", by being even "dumber"… Their folksy Sarah Palin platitudes, such as Russia's Putin looking over Alaska (no doubt into Sarah Palin's bedroom, just hoping she prances out again wearing nothing but a towel), going up in a debate against Obama's solid track record of solid accomplishments over the next four years? Look dudes… Don't EVEN give us the opportunity… You were dumb this year; you expect to make it up by being even dumber next time around?… How funny is that?….LOL…
Now who am I too say… but if I… if I were running their party… I would be looking for a smart candidate who could match wits with Obama in four years; not someone who looks like a piece of cardboard whenever the Kleig lights come on. I would be looking for someone who could be pragmatic and say "here is why Obama's plans don't work, and mine did… Here is what we need to do to fix this mess"… Not someone who says "no" to the earmark of a "Bridge to Nowhere" and then spends the money elsewhere…. LOL. I would look for a Republican who wisely balances his budget by bringing in lots of revenue, instead of someone who believes if you are given a blank check, you should spend $150,000 on jewelery and clothes from Neiman Marcus…LOL… If I were running their party, I would pick someone who supports family values, not someone who makes America think of putting lipstick on their own dog….LOL… Of course, these are just some ideas… I will not be running their party, simply because their base is plain stupid…
We showed you in Delaware how inept Lee was… We showed you in Delaware how duplicitous Charlie Copeland was… We showed you in Delaware how flat O'Donnell was… We showed you in Delaware how the broken-down Strine mechanization of leadership, has stifled any burst of growth which could have blossomed and made a dark day brighter…. The problem was not all Bush… The problem is Republican leadership… We offered solutions, of course, but because we were bloggers and deemed unimportant..(.LOL..) very few took us seriously… Those that did, are in office now… (You're welcome.)
Delaware Republicans have two bright stars… (Just thinking outside the box, now)… Cathcart and Burris… If you want to rebuild, you take what works and make more of them… But since Dupont left the local scene… Republicans, I should say on the average, have not made smart decisions…
Copeland could have won… All he had to do was become a champion for Bluewater Wind..That is all he had to do. Had he outmaneuvered Denn by being the more progressive Wind candidate, he could have turned the national trend on its ear… But no… brains were not something he inherited from his lineage… just money.
On the other hand, Cathcart was one of early supporters of the greatest thing to ever hit Delaware, using his position to run interference in attempts to run the spear through its heart while still in its crib…. Likewise it was Cathcart who seized upon Burris's challenge to Atkins, who kept the threat of censure a hot topic, until the resignation occurred and Greg Hastings took John Atkins place.. Likewise it was Cathcart WHO WAS THE ONLY STATE REPRESENTATIVE OR SENATOR TO SEND BACK DEVELOPER'S MONEY FREELY GIVEN BY THE HOME BUILDER'S ASSOCIATION OF DELAWARE. And it was a maximum contribution too, even in the midst of a very tough fight against Rebecca Walker during a Democratic year! But…. that association was the driving force promoting workforce housing in lower New Castle County.
Unlike every other Republican… Cathcart has earned my respect. He did so by his actions. Not by some stupid, stupid press conference and where he demands his opponent sign some stupid, stupid pledge, and trying to look sooo tough, because he demanded that a pledge be signed, and his opponent wouldn't sign it… Give us a break… Just because people in your party are not intelligent enough to see competence for what it is… don't even expect the rest of us to stoop to their level.. LOL… And yet, as I read remarks about who is to become the next RNC chairman… your party regulars are still trying to prove to everyone, that not only are you dumb, but that you think you can actually capture the hearts of America, by being even dumber… LOL….
Well, if you do.. here is my prediction.. Smart people are going to follow leaders like Cathcart and Burris, who will be forced to leave, and your party will become the party of child molesters and towel wearers… LOL… Because granted… your party has a problem… YOU HAVE VERY STUPID PEOPLE IN IT! And to win their support in any primary contest, you have to stupefy yourself to a point where you lose all credibility in the General Election… That is a very real problem and one you will have to make sure you address…
How stupid are these stupid people? LOL… Well I'm glad you asked… Lately one of the stupidest persons ever to hit Delaware's blogosphere has showed up on Delaware Politics.Net..and in comments has crossed over to here… Now I love this guy, (he's fake), just as I love Tina Fey's representation of Sarah Palin… He is so stupid he's hilarious… And the harder he tries to compensate for his stupidity, the "stupider" he becomes… LOL… and it's sooo funny… It would be selfish of me to share all of the fun, so here is one thread, and another, where he has posted… You can tell it just eats at him that smart people don't take him seriously… He just can't understand why Americans would repudiate all he stands for… He just ignores facts.. and like a stupid robot, just spouts routine platitudes… And what is so funny, I think, is that he thinks he is being clever… LOL…
Republicans, I feel your pain… You have to deal with people like this all the time…. I should feel sorry for you, but you are always making me laugh too hard…. I can't….LOL..
So do you really like being laughed at year, after year, after year, after year, after year, after year… like we all are doing so right now…LOL (Thanks Sarah Palin and Child Molester Chambliss)… or do you want to do something about it… Because those among you who are stupid may cheer when you hear the crowds gathering to hear Sarah Palin attempt to speak… But in all honesty… you should know… the rest of America is making fun of all of you and everything you represent. LOL.
So get with it Republicans. Make a choice… Either go dumber, and dumber, and dumber.. as you have these past few years… or find smart, pragmatic, Republicans and start doing what they do. They're out there… Try reading blogs sometimes… You'll pick them out right away.
Because we all know… blogs are written by smart people irrelevant of political party.
Courtesy of Delaware Liberal:
Shocking headline: all of it true.
I guess Republicans looking forward to 2012 must redefine the term family values… to mean "keeping it in the family"…
Their party has slipped to a new low in the eyes of everyday Americans… Even so Saxby Chambliss is predicted to win; it will take a miracle to unseat him, even with Sarah Palin driving up his negatives among Democratic voters who otherwise would be too busy to bother with a runoff election.
For the next 6 years however, he will always be known as the Child Molesting Senator from Georgia… Let's see how Republicans like hearing that for the next 2191 days…. every time they open their mouths about abortion, abstinence, and homosexuality…..

Got to love little children… they see things so clearly…
After seeing this graph, my preschooler instantly "got it" and asked…."If Republicans are so bad for this country, why do people keep voting for them.."
Damn good question….
Here is my feeble attempt to explain their existence….. (grownups were standing around listening too…)
I said…..
Imagine if you had soooo much money you couldn't spend it …. You could do what ever you want….
So you were sitting there one day and casually said to yourself……"Wow, if I didn't have to pay so much in taxes….I could…"
To your right someone pipes up, stands excitedly, waving their hand, and says…."I'll support that….Hey, give me lots of money and I'll take that cause and run with it….. Just pay my bills and let me live comfortable on the margins, and hell, I'll even support "NO taxes".
So your sitting there, thinking "whoa, that was easy", and decide to see if it works twice.. …. "Wow, if I didn't have to pay my employees all this money for working for me, I could make even more money….. To your right…. someone pipes up, stands excitedly, waving their hand, exclaiming……" I'll support that…. Hey, give me lot's of money and I'll take that cause and run with it….. Just pay my bills and let me live comfortable on the margins, and damn, I'll support the erosion of ALL unions…. I'll run them into the ground….."
So you marvel at how just a few words can get policy changing… and you decide to push the envelope, just to see if there is even a boundary….. "Wow, if I didn't just have to follow the stupid letter of the law, I could make so much more money….. " To your right… someone pipes up, stands excitedly, waving their hand, exclaiming….."I'll support that…. Hey, give me money and I'll take that cause and run with it…. Just pay my bills and let me live comfortable on the margins, and …. Hey, you know….I'll even support your right to a kingdom….. No problem…. just pay my bills…..
So you see,…. as long as someone has too much money, "those people" will always be there….. No matter what their name may be, whether we call them Federalists…. Whigs….. Republicans…… or even some different name of the Democratic Party that will eventually will split off to cater to those needy people…. The wealthy will always have sycophants…..who will sell their country's soul out from under us for a few extra dollars…..
Sound like someone you know?
Fortunately we now have a track record…. from 2000 to 2008 when what they proposed was allowed to come to pass, and with clear hindsight, we can see that EVERYTHING they say…….. is bullshit.
In retrospect one could almost have predicted it.
We had a race with no appointed leader in either party and we had to find out who was the best by an old fashioned fight-off….
Republicans made up their party's mind up first, they chose McCain… The democrats took a little longer, but despite their internal battles, more Americans than ever went to vote…
That last line says it all.
So while Democrats are trying to figure our just how they won, so they can race to the publishers with their book contracts…. Republicans are trying to figure out how they lost to a such a clean, articulate guy, after all, that's the definition of Mitt Romney. But Republicans even lost "market share" among those bitter folks who cling to their guns and religion!
So while Republicans were poking out each others eyes in an Iron Man contest, I thought I would add a few fingers of my own…
Sarah Palin is a dead herring.. Obviously a large part of the party base likes their candidate to be a pillow, full of fluff, able to change shape a little, but not able to do damage when used in anger… That is what Palin turned out to be… Even at the Republican governor's conference, her diction was still just a stream of words, randomly thrown together, that really says nothing….when one disses the video and reads the transcripts…. I think were she to run again, the opposition should offer a run to Britney Spears, who might pull in more votes for the same reason Sarah Palin does….
The real contender (if Republicans actually want one) turns out to be Huckabee.. The longest lasting contender to McCain…. Who, just incidentally, has spent the last 8 months writing a book about….. the future of the Republican party….. (Can you say……."Perfect timing"?) All: "Perfect timing…."
TIME covers it, _you can get a brief synopsis here) but in Huckabee the Republicans have something every other candidate lacked… A human being who listens to people, thinks through his argument, and responds with a real answer… maybe not the one you wanted to hear… but you know its real and you know that is what he will do….
Sort of like the candidate the Democrats settled upon this go-around.
In his book, Mike Huckabee has some nice things to say about….
Mitt Romney: The former Massachusetts governor's record was "anything but conservative until he changed the light bulbs in his chandelier in time to run for president." And he reminds us that Romney suggested, during one debate, more investment in high-yield derivative stocks as a solution to economic woes. "Let them eat stocks!" Huckabee jokes. (Dave clean that egg off your face).
Fred Thompson: Huckabee maintains that Thompson's biggest mistake was strategic: he didn't understand the need to expand the Republican Party beyond its base. "Fred Thompson never did grasp the dynamics of the race or the country, and his amazingly lackluster campaign reflected just how disconnected he was with the people, despite the anticipation and expectation that greeted his candidacy,"
Conservative Christian leaders: "It was like playing Whac-a-Mole at the arcade — whatever issue I addressed, another one surfaced as a 'problem' that made my candidacy unacceptable."
Elders of the social-conservative movement: as being "more enamored with the process, the political strategies, and the party hierarchy than with the simple principles that had originally motivated the Founders." Later, Huckabee writes, "I lamented that so many people of faith had moved from being prophetic voices — like Naaman, confronting King David in his sin and saying, 'Thou art the man!' — to being voices of patronage, and saying to those in power, 'You da' man!' " (Someone got the name wrong: It's supposed to be "Nathan")
Texas-based Rev. John Hagee: "I asked if he had prayed about this and believed this was what the Lord wanted him to do," Huckabee writes of the conversation. "I didn't get a straight answer." Months later, McCain rejected Hagee's endorsement because of controversial remarks the pastor had made about biblical interpretations.
The "real threat" to the Republican Party: "not so much concerned with the libertarian candidate Ron Paul's Republican supporters, as he is with a strain of mainstream fiscal-conservative thought that demands ideological purity, seeing any tax increase as apostasy and leaving little room for government-driven solutions to people's problems. "I don't take issue with what they believe, but the smugness with which they believe it,"

Faux-Cons: "aren't interested in spirited or thoughtful debate, because such an endeavor requires accountability for the logical conclusion of their argument."

National media: ""Reporters facilitate the greedy and grubby process whereby too many elections go to the highest bidder and his sharpie hirelings," he writes. He remains sore about the degree to which a candidate's credibility is judged by his or her bank account and notes that during the debates, he was often asked about religion while the other candidates dealt with questions of government policy. Why, he asks, was a "floating cross" in the window of one of his ads such a media controversy when reporters gave a pass to a Barack Obama direct-mail piece that obviously photographed the Democrat before a large Christian cross? "
The obvious answer to that simple question (and I'm surprised that Huckabee does not understand it), is that reporters tend to be of rather stupid heritage, often barely getting through to their graduation (again if at all), due to the copious amounts of beer consumed throughout the journey of their academic process.. Everyone who goes to college… knows that.. Candidates on the other hand,….. usually tend to do well in their academics, John McCain being excluded of course as the exception that proves the rule….
(By the way… Chuck Norris really does work out on his Total Gym at home).
But what Huckabee's book actually does show, and it is a must read for those who love politics… (meaning the people side)… is that the same populism existed on both sides of the party divide…. In one party, it was allowed to express itself and the populist candidate won….. On the other side…. it was squelched and deemed dead before it started, and left to squander in the land of the unmentioned….. Had the natural evolution worked its magic…ie had the spotlight not been so intently focused this time around, to wither any new growth before it had a chance to root,……Republicans everywhere could have still lost, but without the bitter recriminations with which they gouge each others eyes today…
It could have been a closer race..
Which leads all to the brilliant fact of wisdom… " You can fool some of the people all of the time, and all of the people some of the time, but you can not fool all of the people all of the time."
American people because of their mass, are inherently more in tune with reality, than any of our party's appointed leaders… Our best leaders are those ones who connect with us.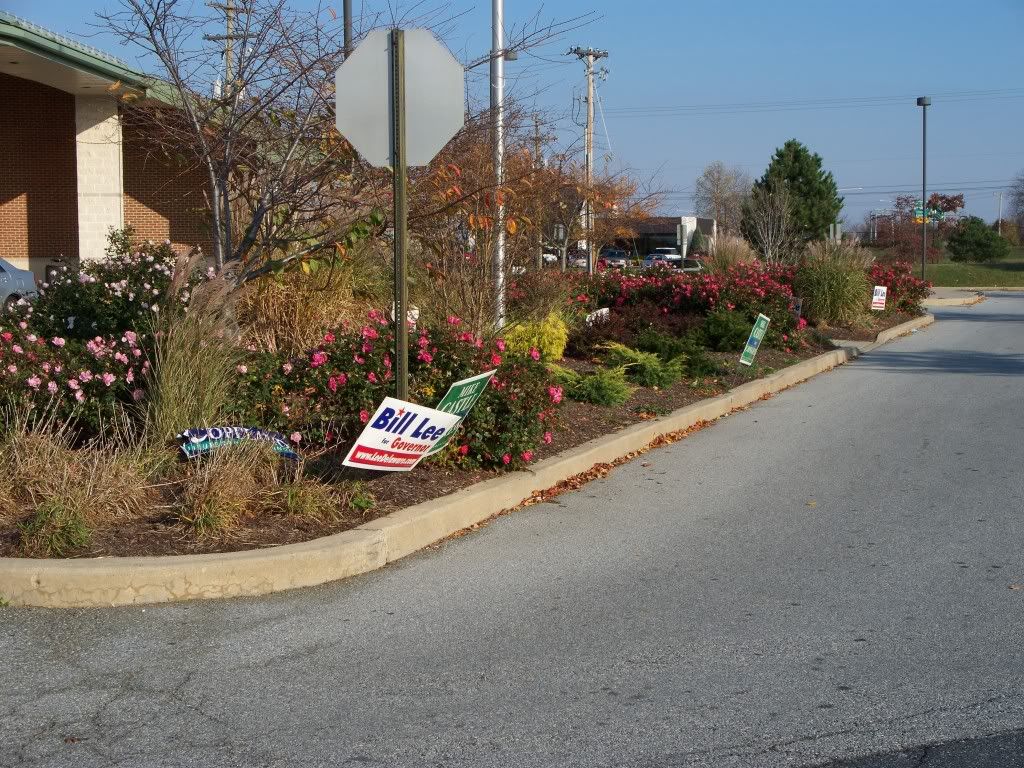 It's been a week, and this is at a heavily traveled polling place… Eight days later, even in the most obscure places of this state, Democratic signs are long gone…. But at a polling place?
On November 4, 2008, this political party struck the iceberg, head on, and sunk with few survivors.

Photo Courtesy of FLS
FLS is in charge of most of the Republican races in this state…
They have a commercial that says of the fourth district.. Why is Katz Attacking Clatworthy…
He's not…
But since i don't have any connection whatsoever to anything Democratic… I'm just a voter who makes up his own mind…. I can answer that question truthfully..  Here is why every normal Delawarean is attacking John Clatworthy… It is a shame that since Dr. Katz is running against him, that common decency belies that he must remain silent on this issue….
But I don't have to…
Here is why I am attacking John Clatworthy….
HE'S DISGUSTED THAT THE PHILLIES WON
HE REALLY, REALLY, HATES THE EAGLES!
HE ALSO CAN'T STAND THE BLUE HENS!
HE IS ASS UGLY!
HE HAS A STUPID GAP BETWEEN HIS TEETH
HE'S AN ATHIEST
HE BELIEVES IN RAISING YOUR TAXES, AND LOWERING HIS
HE DOESN'T LIKE MINORITIES BECAUSE THEY STINK
HE IS A GRAND DRAGON OF THE KKK
HE PRACTICES HUMAN SACRIFICES
HE USES GAIN DETERGENT
HE FAILED HIS ANGER MANAGEMENT CLASS
HE GETS STINKIN' DRUNK EVERY NIGHT
HE PEES ON THE WALLS AT PUBLIC RESTROOMS
HE LIKES TO TORTURE ARABS AND THEN BEHEAD THEM
HE WORSHIPS GEORGE BUSH AND DICK CHENEY
HE MAKES DELAWAREANS PUKE WHEN THEY SEE HIM GO BY
HE IS AN AVID ENVIRONMENTALIST WHO HUGS TREES
HE SUPPORTS THIRD TRIMESTER ABORTION
HE IS A CARD CARRYING SOCIALIST
HE WANT'S TO MAKE PROSTITUTION LEGAL IN CHURCHES
All comments above are property of FLS and cannot be used without their permission…
To contact: call 1-800-FLS-2008
I knew I never should have run… It was stupid but I did it anyway… I had fun, and it didn't cost me any money, but my reputation now is a laughing stock… They tell me now it might be UNDER 20%. I wish Charlie had never begged me …
The only good part of the whole deal, was that I got to work with Maria Evans… Those eyes.
But yeah, I was suckered… I looked at the Minner administration and thought I could at least put up a fight… but…they are all gone… Instead most Republicans prefer Jack Markell to me! Really, who could blame them?
That tax pledge thing did me in… what was I thinking… That's what the guys at FLS said I should do…
FLS…That was a disaster. Stands for fuckin' little shit if you ask me… They should stick their heads up their own asses…
I was all set to pick out who would be in my cabinet… Johnny Walker, Jim Beam, Jack Daniels… It would have been a comfortable four years… Boy could I use a beer right now….
Well, at least after it is over I can stay in Florida, and not have to sit in that Ruth Ann Minner swivel chair on those cold, damp, arthritic days…. I guess its true that once you retire… you can never go back… I just didn't have the fight I once had… Life for me is too short… I can't wait to get away to Florida….
Looks like Charlie won't be around either… become another Ursomarso or something like that…See lieutenant governor rejects are hard to remember…. I don't know what I was thinking.. I should have known it was going to be this bad, when no one but that Proteck guy wanted this position.. Should have let him have it…. He actually stood up to Markell and Carney better than I could…
Sign a no tax pledge… boy was I buzzing then….. This whole damn Republican line…. bullshit..They were on the wrong track all along… Just standing up in front of people like Dave Jones… rah, rah, rah, Republican; it's enough to make one sick….. Everyone else just looks up at you with apathy…..Oh, you poor old man…..Why did I ever say "yes'…..My instincts were right all along…
I hate politics…. you can't party in public any more……I can't wait till its over….. Face it…. I was having much more fun wearing a stained yellow shirt…..
Bill Lee did not approve this message. lol
In laying down a comment over at Tommywonk, it suddenly occurred to me that those few candidates who were rolling out a "no new taxes policy" were all losing badly… Those few Republicans who have a chance, are running on constituent services if they were an incumbent, and on a progressive platform if they weren't.
It takes a small mind to get hung up on taxes… Apparently most of us don't pay them… and haven't over the past few years, (if one can believe the McCain campaign's dismissal of Obama's tax plan…)
Those who bring up taxes 1) have no other platform worth mentioning, and 2) are so far removed from society that they have no clue what society is currently suffering through….
Yesterday, as well as today during his debate, with nothing else going for him, Bill Lee came out with a no tax policy which he challenged Markell to sign… Emotionally still held back in the third grade, these Republicans actually believe that voters really care who signs what…. All such an attempt shows society, is that the methodology evidenced in a school yard bully, still exists in a wizened old man and his uppity sidekick who lives in a mansion…. "I dare you… no, I double dare you.. No, I'll triple dog dare you…."
Markell is the smart one for not sticking his tongue on a frozen pole….
Equally laughable, (I almost ran off the road when I heard it) was that Lee announced no "new" programs would be started during his first year…. Hello?…. the budget for 09 was passed in the wee hours of last July 1st…. You if elected would enter office January 2009. The earliest that Bill Lee could implement programs not already sanctioned by General Assembly, would be in fiscal 2010 anyway…
So what does Lee's pledge of "no taxes" do to this state?
It starves it… Road Repairs… forget about it… New schools,…. forget about it….More policemen…. forget about it… Prisoner health care… forget about it… Better testing …. forget about it.. environmental protection… forget about it… cancer studies…. forget about it… Bluewater Wind… forget about it… subsidies to build wind and solar… forget about it… Lower costs for Delaware children to attend Delaware's Colleges and Universities.. forget about it..
Do Republicans ever think before they speak?
Delawareans would be wise to look at their own households as financial example… Would you personally turn down a raise offered to you by your boss… "You've worked hard, time's are tight, I'm raising your salary…" " OH NO, SIR, DON'T DO THAT…. PLEASE, PLEASE, DON'T GIVE ME A RAISE!" Were you that foolish as Republicans are with state funding, I pity you when you sat down with your spouse to tell her the news …. lol.
Do Republicans ever think before they speak?
Bottom line, there are cash cows out there who have benefited from Delaware's generosity.. Why they can't be expected to pay a tiny bit of that back is a valid question… Stating flat out that our state's wealthy can keep more of their money under Bill Lee instead of Jack Markell, goes to show that Delaware's financial interests do not warrant any measure in a Bill Lee administration… Only the wealthy matter under a Bill Lee administration… Don't take my word for it… Bill Lee, and Copeland on WDEL said the same… " I pledge no new taxes.."
Cut spending they say… It has been cut too low already.. What is left? Follow the Fed's example and cut out state pension plans?.. Use that money to fund the budget?… but then who would take care of state workers in their retirement? Stop all road construction… is that what Delaware voters want… So we allow new developments to double their occupancy, and there is no road construction to handle it…. um….ok….
Do Republicans ever think before they speak?
Most of us have heard the speech from the movie Wall Street that states "greed is good.." If one remembers at the time that went against all prevailing thought at the time….
Well the same argument could be flipped with the admonishment that from a societies benefit… taxes are good, too…
First imagine what happens if you have no taxes… You can see the results in any banana republic… where control is in the hands of a very few and they have all the money… The wealthy keep all they earn. The poor scramble for trash-pile scraps and dodge the landowner's thugs, who scour the slums with impunity.. Consequently, there is a revolution every thirty years or so, when the ruling class changes hands and then they reap the benefit..
We have not had a revolution in this country since the Civil War, and that was over property rights, state's rights, and our basic morality as a nation… Why? Because of our system of taking some money from those who collect it at the top, and using it to keep things running for all, has worked….
It IS the American dream.. It IS what made Ronald Reagan's vision possible… He actually increased government spending over his predecessor by using the money collected from taxes to build our war machine, which according to Republicans, is what caused the the Soviets to economically collapse, and is why we should vote for him…
Imagine how history would have turned out had Reagan proposed ramping up the military and the Democrats… said NO.. WE CAN'T AFFORD IT…. That metaphor represents what Bill Lee is proposeing to do to our state… Limit it to history's dustbin.. Bill Lee, and his sidekick Copeland, are limiting Delaware's possibilities, because they are too cheap to cough up a few pennies….
Do Republicans ever think before they speak?
Markell's proposal is to take new technology such as Bluewater Wind, and use it to drop expenses in energy costs 50% from what Delmarva will charge us.. That makes sense… No taxes, we cut expenses, we lose no services… That makes sense.. good sense…
Markell's proposal is to take new ideas and start businesses upon them, causing more $50,000 plus jobs to enter the state, and generating tax revenue off that new business and those jobs that were not there before hand… More money, no tax increases, we lose no services… That makes sense… good sense…
Obviously someone in this state has thought things through before he opens his mouth…..
Disclaimer:
I repeated this statement because Copeland and Lee deserve it for their foolish thought processes.
Do Republicans ever think before they speak?
The following Republicans do: Greg Hastings, Tyler Nixon, Dick Cathcart , Vince Lofink….
Republicans need to shut up about taxes. And start looking at those leading the way in providing real solutions to real problems… not stupid crap spouted by Copeland and crowd that are embarrassing to the party.
A couple of points….
In Tom Brokov's opening statement when talking to Powell, he said this…:
Whoever's elected president of the United States, that first day in the Oval Office on January 21st will face this: an American economy that's in a near paralytic state at this time; we're at war in two different countries, Afghanistan and Iraq; we have an energy crisis; we have big decisions to make about health care and about global climate change. The president of the United States and the Congress of the United States now have the highest disapproval ratings that we have seen in many years.
A valid argument could be made that most of these were self induced by 1) the Republican party succumbing to neocon madness and 2) by the top echelon of Republican leadership which allowed their party to go out of control.
This same message, that it was the Republicans who aimed a self imposed Cheney shotgun blast to their own face…. was also carried through by Powell himself…
And I've also been disappointed, frankly, by some of the approaches that Senator McCain has taken recently, or his campaign ads, on issues that are not really central to the problems that the American people are worried about. This Bill Ayers situation that's been going on for weeks became something of a central point of the campaign. But Mr. McCain says that he's a washed-out terrorist. Well, then, why do we keep talking about him? And why do we have these robocalls going on around the country trying to suggest that, because of this very, very limited relationship that Senator Obama has had with Mr. Ayers, somehow, Mr. Obama is tainted. What they're trying to connect him to is some kind of terrorist feelings. And I think that's inappropriate.
One specific example of why Republicans should not be entrusted with the keys of this country….
I'm also troubled by, not what Senator McCain says, but what members of the party say. And it is permitted to be said such things as, "Well, you know that Mr. Obama is a Muslim." Well, the correct answer is, he is not a Muslim, he's a Christian. He's always been a Christian. But the really right answer is, what if he is? Is there something wrong with being a Muslim in this country? The answer's no, that's not America. Is there something wrong with some seven-year-old Muslim-American kid believing that he or she could be president? Yet, I have heard senior members of my own party drop the suggestion, "He's a Muslim and he might be associated terrorists." This is not the way we should be doing it in America.
Then a personal story to illustrate his philosophy:
I feel strongly about this particular point because of a picture I saw in a magazine. It was a photo essay about troops who are serving in Iraq and Afghanistan. And one picture at the tail end of this photo essay was of a mother in Arlington Cemetery, and she had her head on the headstone of her son's grave. And as the picture focused in, you could see the writing on the headstone. And it gave his awards–Purple Heart, Bronze Star–showed that he died in Iraq, gave his date of birth, date of death. He was 20 years old. And then, at the very top of the headstone, it didn't have a Christian cross, it didn't have the Star of David, it had crescent and a star of the Islamic faith. And his name was Kareem Rashad Sultan Khan, and he was an American. He was born in New Jersey. He was 14 years old at the time of 9/11, and he waited until he can go serve his country, and he gave his life. Now, we have got to stop polarizing ourself in this way. And John McCain is as nondiscriminatory as anyone I know. But I'm troubled about the fact that, within the party, we have these kinds of expressions.
If you read this and are not be livid at those running the Republican Party, you are one sick dude.