You are currently browsing the category archive for the 'WMD's' category.
On the one month anniversary date of the Newtown shootings, Delaware steps up to take down the NRA. Delaware Governor Jack Markell, Delaware Lieutenant Governor Matt Denn, and Attorney General Beau Biden, announced the legislative agenda to take on gun violence.
"The gun safety measures we are proposing will strengthen our ability to keep guns out of the hands of those who should not have them," said Governor Markell…. "This package of gun safety measures is directed at individuals who might impose violence with a gun."
Lt. Gov. Denn. then said: "With respect to guns, our proposals focus on two important goals: keeping guns away from dangerous people, and protecting victims from the weapons most likely to be used illegally."
I know that military-style assault weapons and high-capacity ammunition clips designed for battle have no place on our streets. These proposals are a reasonable and sensible approach that will improve public safety and respect the Second Amendment." said Attorney General Beau Biden.
The proposals are as follows:
1. Requiring Background Checks for Private Firearm Sales.
Because 40% of all firearms nationwide are acquired from unlicensed sellers, this is an enormous loophole—one in which convicted felons, minors and other prohibited purchasers can readily avoid background checks and easily acquire guns.
2. Requiring the Reporting of Lost and Stolen Firearms.
A mandatory reporting requirement provides law enforcement notice of suspicious patterns of behavior by persons who repeatedly fail to file reports yet claim that their guns were lost or stolen after the guns were recovered from a crime scene
3. Banning the Sale, Manufacture, Delivery and Unlawful Possession of Large-Capacity Magazines:..
30 mass shootings (with four or more victims killed) occurred in the United States from 1982 through 2012. Although the circumstances of such mass shootings varied, each incident had one thing in common: they all involved one or more large-capacity ammunition magazines. This bill would prohibit the manufacture, sale, purchase, transfer or delivery of large-capacity magazines.
4. Banning the Manufacture, Sale, Delivery and Unlawful Possession of Military Weapons:
The sale of military-style assault weapons – firearms that are made for the battlefield and have no place in our communities – was outlawed in 1994, but the ban expired a decade later. This bill would prohibit the manufacture, sale and delivery of these military weapons
5. Banning Possession of a Firearm Within 1,000 Feet of a School.
By outlawing possession of a firearm in close proximity to school, we will enable law enforcement to interdict those individuals who knowingly possess firearms and do so in near school buildings and school yards. The purpose of this law is to create safe school zones, where children are secure, where parents can have peace of mind that upon leaving them in the morning, they will not be subjected to gun violence, and where teachers can go about their important task of educating our youth without fear of violence.
In a fair and balanced approach, Delaware's Democrats protect the 2nd Amendment while moving forward to combat gun violence.
The NRA could have pushed forward such legislation 30 years ago. They chose not to. Since they abrogated their duty of keeping is safe from guns, the government of the state of Delaware, now has to do their duty for them.
"We will not bury our heads in the sand and pretend that gun violence has nothing to do with guns" Matt Denn
It is a simple vote…
Should we or should we not put this man in an administrative function.
Please vote yes…. or no…..
(It should be open cut because a majority have already said they would support Cordray as head of the Consumer Financial Agency.) Just get it done…
But, it never goes to vote. In a motion to stop debate requiring 60 votes, 53 are found….
There is nothing more to debate. Vote yes or no… The argument has been on the table for months… But no… it cannot go forward because the Republican Party (all of it) had 45 members who voted against it…
The agency still has no one at the top to get it rolling. There is no one regulating Wall Street as we speak, simply because the entire block of Republicans, who voters put into minority receivership based on their previous track record, voted NOT to stop debate.
There will be no government until there are no Republicans.
There will be no Congress, until there are no Republicans.
There will be no Democracy. until there are no Republicans.
There will be no United States of America, until there are no Republicans.
(Sad thing this is not hyperbole. This is not campaign rhetoric. This is not hateful bantering. This is what is really happening. Makes a veteran want to cry)
Duffy is God's answer to a prayer.. I miss the old days of blogging when we were debating principals instead of people… Duffy has stuck to the old line of debating principals with facts, and that is what makes him special in the eyes of bloggers everywhere…
Since the passing of Steve Newton, he has been the only one to challenge me in any argument, and usually some pretty good stuff comes out of both sides during the exchange… I have respected that.. Cause once again, opinions mean dick. Facts are what we steer by.. It is my hope that in responding to his challenge that an answer may make itself apparent.. Who knows? It may not come from me… But if I'm the catalyst for bringing it out in the open, then… none of this was in vain..
Why I like to debate Duffy is simple.. Neither side, he or I, is concretely set in their opinions… We accept it when the other side makes sense… I usually go into such debates having no idea where they'll end up… I hope the rest of you enjoy the ride as welI….
That said..
Duffy leads: Wall Street's problems were caused by Fannie and Freddie loaning money to people they knew couldn't pay and moreover, forcing banks to lend money to people who couldn't pay. That was not deregulation but misregulation
kavips rebutt's:Uh… Mr. President. That's not entirely accurate.
First off, the Community Reinvestment Act of 1977 was developed for, and locked in on, urban developmental areas and had no part of the subprime boom, which primarily occurred out in western desert regions where owning 4 to 5 investment homes was normal… Those homes were overwhelmingly funded by loan originators NOT SUBJECT to the act… We all know the crises was not because people couldn't afford a payment on their house. It came about, because with no occupants, people could not afford the payments of 4 to 5 houses….. Instead of one loan per borrower turning up in default; four to five were.

Second off, The housing bubble reached its point of maximum inflation in 2005.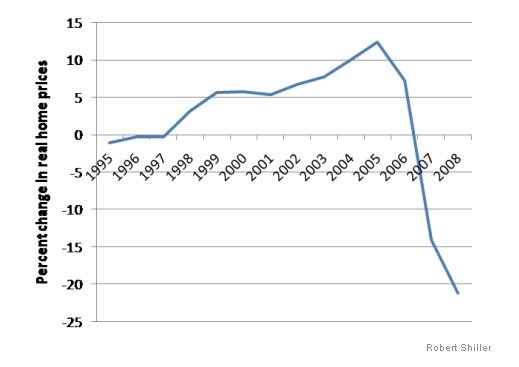 Courtesy of NYT
Third off, During those exact same years, Fannie and Freddie were sidelined by Congressional pressure, and saw a sharp drop in their share of loans secured by the Feds… Follow the dotted line on the very bottom of the graph…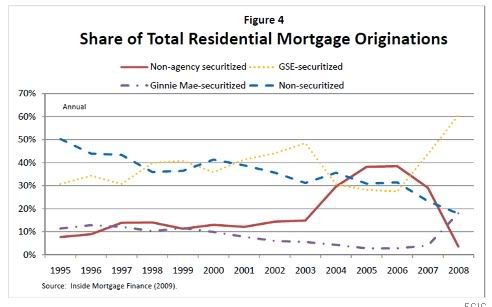 Courtesy of NYT
Fourth off; During those exact same years, private secures, like Delaware's own AIG, grabbed the lions share of the market.


Courtesy of NYT
Remember these graphs for later on when I discuss the results of deregulation, versus regulation… But like it or not, these graphs conclusively show that private insurers, who thanks to Marie Evans, we now know were deregulated by Phil Gramm in the 2000 Omnibus Bill, were the primary cause of the worlds financial collapse.. Probably put best by these words of AIG's spokesperson, who when asked why they didn't have sufficient funds to cover losses, said point blank, "We were deregulated. We were no laws requiring us to keep any funds, ..so we spent it…"
Duffy leads: The loosely regulated hedge funds escaped this mess largely unscathed. Why? They can't count on a bailout like the big banks. The Too Big To Fail banks were counting on a bailout (not unlike the S&L bailouts which started on the Republican's watch) and they got them.
kavips rebutt's:Uh… Mr. President. That's not entirely accurate. I agree that the hedge funds did survive better than the banks. Not because of bailouts, but because they sold short during the crises and made billions while firms closed and people got thrown out of work. There is nothing wrong with that; I did the same. In fact close readers may remember my warnings that the crises was impending almost a year earlier. Very close readers may remember my telling them exactly when to sell, and at what point the stock market would rebound… I must say: I called it rather well.
"Hedge funds were not in my understanding, at fault in the credit crisis," said David Ruder, former chairman of the Securities and Exchange Commission. "At the most what they did was to sell securities when some of their investments were declining and they needed to have liquid funds. They were not the architects of these problems."
De regulated hedge funds are not the issue… De-regulated, excessively leveraged, mortgage securities, are a different story however… They, not the banks that held them, are the cause of the crises…Years from now, when academics search for causes of the stock market crash of 2008, they will focus on the pivotal role of mortgage-backed securities. These exotic financial instruments allowed a downturn in U.S. home prices to morph into a contagion that brought down Bear Stearns a year ago this month – and more recently have brought the global banking system to its knees.
Where you err is when you state that banks too big to fail, assumed they would be bailed out… By implication, you say imply they failed from squandering money, and wanted the bailouts.. But your tax dollars didn't flow directly to the bottom line.
The roughly $200 billion the Treasury Department has handed out to battered banks was swapped for a special class of stock that pays a 5 percent dividend (rising to 9 percent after five years.) As of April 15, the Treasury had collected about $2.5 billion in dividend payments on its investment.
So in that sense, the bailout money represents an expense for banks. That's one reason a number of banks have said they want to give the money back as soon as possible.
You say big banks were counting on a bailout, and they got them? That didn't happen to these banks. New Mexico, Georgia, and Florida each lost a bank just last Friday. That brings to 8, the number of banks failed in June. Unfortunately if a bank is failing, it can't bet on itself to fail, as can a hedge fund.
Duffy leads: Banks have successfully lobbied to get their losses absorbed by taxpayers and gains are kept private. How nice for them. They felt comfortable making insane gambles because they knew they'd be bailed out. Most of them were right. Also remember that it was Bill Clinton who tore down the wall between retail and investment banking. The idea was to give banks more stability as they typically perform as exact opposites in bull and bear markets. (FWIW, I think that was a good idea and I can tell you first hand that two of the Fortune 100 banks I worked for were carried by retail banking in bear years. They may not have had bonuses those years but they didn't have layoffs either)
kavips rebutt's:Uh… Mr. President. That's not entirely accurate. The idea is that the banks made bad decisions knowing taxpayers would bail them out is the issue that is inaccurate. For the record, I have no qualms that it was the Clinton legacy who tore down the wall between banks and investment banking. Like you, I feel it was a good idea to do so… Again the problem was not primarily with banks making loans to people who could not pay.. Although, it was as late as October 2009, when I was made aware of one private Bank in Denver still exaggerating income to make loans look good enough on paper to get approval of securitization. What caused the collapse was the leveraging of those loans as securities, so that as the housing market became overextended, and the ARM jumped past the low cost opening years, the damage was 100 times worse because of leveraging. What made the collapse criminal, was that the insurance most financial institutions had bought from AIG, to cover such an improbable event, had already spent by that companies executives, out on bonuses to themselves. What made it doubly criminal, was that when they received government dollars through a taxpayer bailout, those same executives assumed it was to first go towards paying their bonuses again. However, very recent events may give some cover to the argument that some collusion was implicit in the bailing out of Goldman Sacs and AIG… Basically, once bailed out, AIG paid Goldman Sacs for shares twice as much as they were worth. The documents also indicate that regulators ignored recommendations from their own advisers to force the banks to accept losses on their A.I.G. deals and instead paid the banks in full for the contracts.
Quite often in heated political discussions the other side becomes an enemy, and we forget that they are there to offer opinions, just like we are, in order to help solve our problems requiring solutions….
But only when someone sent me a link to this article, focusing in on one hot button issue, and instead I took the time to read the whole thing, was I able to regain my perspective and realize that just as personifications of evil-doers do not correspond well to foreign nations, nor do such names apply to assorted members of the "other" party.
As I read Dan Bartlett's somewhat open conversation he had with a reporter for the Texas Monthly, (no doubt he was relaxed and feeling among friends), was it then that I realized that the other side is treading water just like I was and doing their best to keep afloat……
But just to set the stage, here is the quote that was highlighted, obviously not flattering to the right wing blogosphere:
That's what I mean by influential. I mean, talk about a direct IV into the vein of your support. It's a very efficient way to communicate. They regurgitate exactly and put up on their blogs what you said to them. It is something that we've cultivated and have really tried to put quite a bit of focus on.
Had I stopped there I would have failed to see how their minds work and how they can be manipulated to perform on cue…….I was ready to move on when my eye made this juxtaposition: Bush=smart? Intrigued I read on……
"I can't tell you how many times reporters who didn't really know the president came in and had a personal session with him and said, "Wow, he's smarter than I thought." The temptation to buy into the conventional wisdom left the wrong impression about who this guy is personally. "
Naturally from my perspective I had to ask if he is so smart, how come he does stupid things, and speaks in weird phrases?
" This issue of "Bush lied, people died"? It's been the mantra for the last four years: "If only the right questions had been asked back then, we would have found out that he was lying to us." That's false—it's patently false. There's a difference between lying and being wrong. We were wrong. As were a lot of people and a lot of countries. We were wrong about the intelligence on weapons of mass destruction. That's far different from saying that we purposely manipulated or intentionally lied to the American people."
That is an important distinction. I have been wrong before. And I have lied before…..I know what is at stake with both…..I can deal with someone who has been wrong…..even though he's made a mistake; he is still looking out for my best interests and against all odds, his methods just did not work out. That feeling is diametrically opposed to someone who directly lies to me. Since that person is lying to cause me to do something I would not do otherwise, he obviously has interests other than mine at heart, and wants me to perform for his own self interests, even if they are opposed to mine…….That make him my enemy.
So if Bush acted in good faith, I and many like me can forgive him. On the other hand, if he played with a stacked deck, then he has damaged the country beyond repair…….
Coming from the Judeo-Christian background, there is an interesting story about the first sin……The greatest punishment befalls the instigator, the liar, the tempter, in this case a serpent who ultimately becomes a snake…….
Now if George Bush is extremely smart, it would be unlikely that he would be the type of president who would sign off on the war, thinking it was a requisition form for "some of them little candy bars." Here, sign this Mr. President. Obviously he would know what the stakes were, what the ramifications could be, and what the rewards would be if successful……..
So the fact that he made a dumb decision seems rather unlikely…..Therefore in this week's latest case, where he implies two weeks ago that if necessary we will start WWIII, and meanwhile we have the UN report that says the weapon's program was dismantled since 2003, and one of our local bloggers posted it on September 17th, 2007, seventy five days ago, one has a hard time believing that "such a smart man" would be absolutely in the dark and unaware of what everyone else knew…..Every friend of John Bolton knows the UN can never keep a secret. The evidence was out there for all to see.
Therefore the expectation is prevalent that this deception was deliberate. With poll numbers lying on the bottom of all time, every American should be inquisitive and ask why, with such low poll numbers, would any president want to deceive the American people over an up and coming WWIII?
Was he hoping to keep his seat in perpetuity as did FDR?
Not very likely if one reads the rest of the article……Here is how Don responds to the question of how the press corp put out the message that the president is lying……
""How do you deal with them when they're all liberal? I've found that most of them are not ideologically driven. Do I think that a lot of them don't agree with the president? No doubt about it. But impact, above all else, is what matters. All they're worried about is, can I have the front-page byline? Can I lead the evening newscast? And unfortunately, that requires them to not do in-depth studies about President Bush's health care plan or No Child Left Behind. It's who's up, who's down: Cheney hates Condi, Condi hates Cheney.
So that is how we are shocked into perceiving Bush as a liar…. It is done for bylines….and an extra plaudit on some reporter's resume……
But one should remember the serpent, and the punishment reserved for that beast….. If Bush is so smart, then he must be making all of his dumb decisions in a vacuum devoid of balanced advice….In other words, if one is only given skewed evidence, one can only make a skewed verdict…….
If one remembers as far back as 2000, Bush delegated to Cheney the task of coming up with a Vice President…Cheney chose himself……After the Supreme Court decision that secured the Presidency for Bush, Bush delegated to Cheney the task of staffing his office, screening his cabinet, and determining the teams energy policy…..
Invasion of Iraq was central to that policy…..we know from Cheney's map, found in his office drawer…..So either Bush had all the facts and chose a policy not in America's interest, or he was only given partial evidence and had to make the best of the bad choices. That is why this week's NIE change-up is so significant. It is beginning to make Bush look like he was a pawn in the hands of a superior master…… smart as Bush is, he failed to realize it….And as President, if you don't realize it, you screw yourself…..For with the title Mr. President,  no one is going to contradict you………
Right now the best thing for this country is that Cheney resign for health reasons. The country needs to move on……….. Should he not be willing, a forced change might be in order………
Perhaps the greatest tragedy coming out of Iraq, was the replacement of the pragmatic Ret. General Jay Garner, with the politically appointed Paul Brenner. Almost overnight, Iraq flip flopped from welcoming the United States, to blowing us up…….
If you can remember the boys around the cameras,…….."we love Bush….Bush is the Man", then you understand how good things were looking in the first months after Baghdad fell and what a great job the pragmatic Jay Garner did.
The subsequent change after Garner left, shows one thing. Republican philosophy stinks, not just for Americans, but apparently everyone else too. (lol) (Sorry dudes….It just does!) The national blog Toms.Dispatch has this take on one date in 2004 when Mike Castles hero, George Bush, bestowed the Medals of Freedom on Tommy Franks, George Tenet, and Paul Bremmer. In case you missed it, I said Medals of FREEDOM.
Tommy Franks, the first recipient, has brought to the Afghans, the freedom "to grow just about the total opium crop needed to provide for the globe's heroin addicts — 8,200 tons of opium in 2007, representing 93% of the global opiates market. This was a 34% jump from the previous year and represented opium production on what is undoubtedly a historic scale. Afghanistan's peasants, surviving as best they can in a land of narco-warlords, narco-guerrillas, and deadly air attacks have, once again, set a record when it comes to this unique freedom." Well deserving choice of the Medal of Freedom.
Secondly and one of my personal favorites, solely because he is a holdover from the glory days of the Clinton Administration, is George Tenet. I like this guy, and sympathize with being in his position of having to compromise defending the country, with working with the Cheney cabal…..Surely he is deserving of the Medal of Freedom. After all, "
As CIA Director, Tenet then delivered to Agency operatives the freedom to target just about anyone on the planet who might qualify (however mistakenly) as a "terror suspect," kidnap him, and "render" him in extraordinary fashion either to a foreign prison where torture was regularly practiced or to a CIA secret prison in Afghanistan, Eastern Europe, or who knows where else. He also freed the Agency to "disappear" human beings (a term normally used in our world only when Americans aren't the ones doing it) and freed the Agency's interrogators to use techniques like waterboarding, known in less civilized times as "the water torture" (and only recently banned by the Agency) as well as various other, more sophisticated forms of torture." Another great choice by George Bush.
Now I have some qualms about the third one. Paul Bremmer has probably contributed the most to freedom than anyone in modern memory. He can be thanked for the unlimited freedom Blackwater Security now has throughout the entire region of iraq. They can thank Paul Bremmer.

"A day before he left, however, he established a unique kind of freedom in Iraq, not seen since the heyday of European and Japanese colonialism. By putting his signature on a single document, he managed to officially establish an "International Zone" that would be the fortified equivalent of the old European treaty ports on the China coast and, at the same time, essentially granted to all occupying forces and allied companies what, in those bad old colonial days, used to be called "extraterritoriality" — the freedom not to be in any way under Iraqi law or jurisdiction, ever."
So today, again before the world at the United Nations General Assembly hall, the current United States president, George W. Bush, got up and proclaimed he was dedicated to working for freedom…..
After considering his track record and using that definition of freedom instead of the one Bush tried his best to enunciate,…. the world's governments collectively yawned a big yawn, leaned back in their chairs, and politely said "no thanks."
" F R E E D O M !!!" William Wallace: Braveheart
Sometimes, though not always, a haiku can be as effective as large novel.
Today, I am in haiku mode. I want to bring to point some issues that others wrote, but perhaps you did not see……..
This first one is about our president, and belatedly is a comprehensive explanation for David's piece proclaiming Bush to be the greatest president ever, or something like that. Forgive me for not re-looking it up on FSP, but I am assuming most of you are already familiar with it………
This one is reproduced from Media Matters.

Iran wins:
If George W. Bush had been The Manchurian Candidate for president, even on his own terms, it's hard to see how he could have done a better job. He's weakened the American military, destroyed our prestige abroad, increased the threats against us, exploded any hopes for fiscal discipline at home and done enormous damage to the political prospects of both the Republican Party and the conservative movement, whose tenants are now almost entirely discredited. Among the most dangerous of the nearly perfectly counterproductive policies that Bush has pursued however has been his strengthening of the domestic power and regional influence of Iran's radical leadership. Just as Western Europe and Japan won the Cold War, Iran (and Al Qaeda) have won the Iraq war. As Peter Galbraith writes in the current New York Review of Books, here:
In short, George W. Bush had from the first facilitated the very event he warned would be a disastrous consequence of a US withdrawal from Iraq: the takeover of a large part of the country by an Iranian-backed militia. And while the President contrasts the promise of democracy in Iraq with the tyranny in Iran, there is now substantially more personal freedom in Iran than in southern Iraq.
[...]
The United States cannot now undo President Bush's strategic gift to Iran. But importantly, the most pro-Iranian Shiite political party is the one least hostile to the United States. In the battle now underway between the SIIC and Moqtada al-Sadr for control of southern Iraq and of the central government in Baghdad, the United States and Iran are on the same side. The US has good reason to worry about Iran's activities in Iraq. But contrary to the Bush administration's allegations — supported by both General David Petraeus and Ambassador Ryan Crocker in their recent congressional testimony — Iran does not oppose Iraq's new political order. In fact, Iran is the major beneficiary of the American-induced changes in Iraq since 2003.
If only Ken Burns weren't a creature of that dagnab liberal media, we might get PBS specials about the actual sacrifice of our servicemen like this one.