You are currently browsing the category archive for the 'Wisconsin' category.
State test results for the first time show voucher students performing "similar or worse" than other poor Milwaukee students, according to the Department of Public Instruction.
After operating side by side, this was the first year the same test was administered to both private and public enabling the cross comparison, prompting Wisconsin Republicans to put bills on the table, forbidding such a comparison ever again. The Republicans propose an easier test be given private schools, and a harder test be given to public schools…
The test results show the percentage of students participating in the 20 year old Milwaukee Parental Choice Program who scored proficient or advanced was 34.4 percent for math and 55.2 percent for reading.  Among Milwaukee Public Schools students, it was 47.8 percent in math and 59 percent in reading.
Inner City Public Schools were up 13.4 points higher in math over private schools.
Among all low-income students in the state, (which is all public education),scores were  63.2 percent in math and 71.7 percent in reading….
Rep. Sondy Pope-Roberts, D-Middleton, the top Democrat on the Assembly Education Committee, said … "The fact that we've spent well over $1 billion on a failed experiment leads me to believe we have no business spending $22 million to expand it with these kinds of results,"
Proponents brag vouchers have saved $50 million over 20 years.
Did you read the News Journal in depth article about how much damage the Sequester is going to cause Delaware?  About how people now, because of a vengeful and traitorous party has gummed up Congress on purpose, that now American servicemen are going to be taking a 20% pay cut?
Are you one?  And if not, living here in Delaware, do you know someone who is in the National Guard?  The  Air Force?  Will they stop coming into your business now, in order to make sure they can still keep their house?
How much sales will you lose,  1%?  2%?  5%?  10%? 25%?  50%?  75%?  95%?    Will you also go broke for the same reason?  Because of a vengeful traitorous party that gummed up Congress on purpose, that now, American servicemen are going to be taking a 20% pay cut?
Everyone knows the deal.
"You didn't vote for Romney; now we are going to f*ck you up…."
Billionaires are sooooooooooooopoooooooooooo much more important than you………
Btw, you can register yourself tomorrow as a Democrat or Independent here…..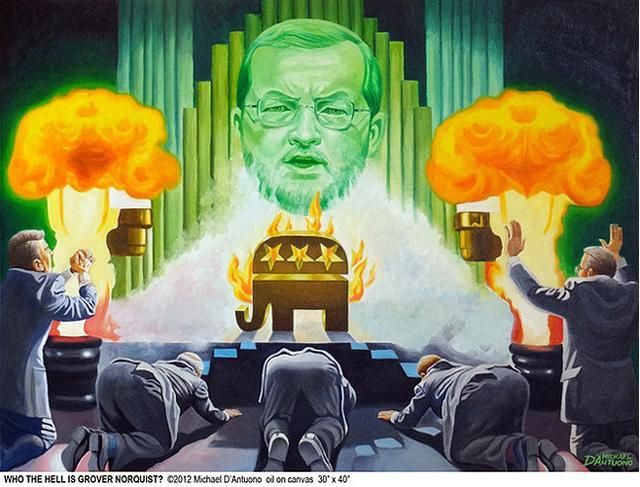 Courtesy of ©2012 Michael D'Antuono oil on canvas 30″ x 40″
In an insightful meeting at the Delaware Republican's Lincoln Day dinner Saturday night, Grover Norquist, the featured speaker, came to give the locals an idea of what was going on in Washington…..
More gridlock.  More obstruction. More intransigence,  In his speech, the prime points were that there would be no compromise.  Republicans were dedicated to seeking full sequestration.  They were going to cut spending no matter what was going to happen.  They don't care if Dover AFB is going to close; its a good thing because the military budget will be cut in half.  They don't care if Highway funding is going to be fully put all upon the states; sequestration is going to cut the budget  in half.  They don't care if there will be no beach rebuilding this summer; Republicans are going to cut the Federal budget in half.  There will be no agriculture support payments; Republicans are going to cut them in half.  There will be no Federal Medicare or Medicaid payments reimbursements made to the states; Republicans are going to let sequestration cut them in half.  When heaven forbid, an oil tanker turns the beaches and marshes of Rehoboth to Ocean City Md, into this century's Valdez calamity, Both state's will have to use their general fund to clean it up; the Republicans are going to say no to all new money…. Remember the last East Coast hurricane relief?  You were lucky, was the implication. Forget about any more for any storms in the future…
On the revenue side, huge tax breaks must continue going to oil companies and oil hedge funds; Republicans are going to say taxes were raised too much already.  Huge off-shore tax breaks will be maintained by billionaires and millionaires; after all taxes are raised too much already for any more loopholes to be closed.  (If pressed, they might do away with the mortgage interest deduction since that doesn't affect billionaires; it only affects the middle class so it won't create any economic impact.. The implication was that Republicans will do that if necessary, but at the bottom of the upper class; that is where they draw the line… )  The clear message was: it is time to make the poor suffer more; after all, the rich have suffered too much already.
More gridlock.  More obstruction. More intransigence,
"You can't have compromise when both parties are going in the opposite directions."  said Grover.  "It doesn't do any good to say no, no, no, …yes.  It has to always be no, no, no… no."
More gridlock.  More obstruction. More intransigence,
There was little that was new.  Grover did express hope that as the Obama/McCain wave of democratic Senators comes up for a vote this next election, many in traditional Red states, playing a no-gain defense until the new team comes on board, is their best option.. Grover Norquist also made the point that due to the Republican redistricting, the red districts will outnumber the blue in the House until the next redistricting in ten years.
A decade of decadence is a long time.  
Grover did bring up an interesting concept.   That we have red states and blue states and they will be a laboratory of who is right, red or blue… We will see within these experiments whether theology can trump economics, whether philosophy can support a family, or whether an idle belief, can pay the bills….  He seems to believe that side by side experimentation will bode well for the red states instead of the blue.  He is thinking only as a rich person.  We shall see if voters agree with him, if they prefer living in a first class blue state or would rather forebear a third world red state…. His idea will backfire…
He praised Indiana erroneously, calling that a school choice state.  Instead voters threw out their gung-ho school-choice education head and replaced him with a Democrat who is going slow..  He praised Indiana's privatization plan of the Indiana Turnpike without mentioning this road had not had upgrades to it in over 5 years. It is called the most dangerous Turnpike in America. (The money collected is going to the investment bankers)…  He derided California which has finally achieved a balanced budget.  He praised Wisconsin's eradication of public unions without mentioning that because of Scott Walker's governmental pay cuts, the economy in Wisconsin was collapsing while all others were bouncing back from the recession.  So though his scenario as presented painted a glowing picture to those Republicans seated before him, it was full of errors.
But I confess, I agree with his premise.  I too would like to see vindication that in order to run a stable economy you need what's been missing: a balance between profits, taxation, and job growth and the only way to achieve that is to tax the top echelon much, much more so they reinvest in their state to avoid paying higher taxes…..  As was just done in California, Illinois, Massachusetts, Maryland; all economies that are now rising while those of red states are falling or staying the same.
Unfortunately we will have to make the states our laboratory.  We will have no choice but to rely upon the state level to analyze what is working and what is not and then derive from pure evidence, which one of our two parties we need to completely eradicate and do away with…. so government can begin to compromise and to work again.
For on the national scale, Grover promised it: All we are going to have is….. More gridlock.  More obstruction. More intransigence,
We will have it; because Mr. Norquist said so. He promised it in a keynote address, at Dover Downs in Dover Delaware on February 9th, 2013….
You asked for this. Please cut and paste at will.
Barack Obama
President of the United States.
White House
1600 Pennsylvania Avenue
Washington, DC 20500
Dear Mr President:
There is something you need to know. I would be happy to tell you in person or get a group of educators to discuss the problems we are having with pursuing your education policy. It is a situation where communication is key.
I want to be clear. We have the same goals. It is just that the methods being prescribed are steering us away from those mutual goals, instead of towards them.
Honestly. This is a case of middle management gone awry. This is a case I feel, where the top and the bottom are on the same page, but those in the middle, are not to be trusted.
As member of a school board, one that is struggling to do it's best to bring a district from behind, who has achieved progress in a way sort of like you have on the economy where we both started so late and so far behind, that we are being accosted as failures though if one actually took time to account for our progress, as well as yours, we've both done a pretty good job… I think for your legacy, you need to hear from us….
We are in Delaware's Race to the Top. Those of us here and in Tennessee are having the same problem.
The specific problem, is that you and those in the top echelon are not getting the truth. You may actually think we are making progress. As the person most accountable, I think you would want to hear that perhaps the glowing reports you are getting, are not entirely true. This is something obviously which cannot be passed up through the chains of commands, because it involves them.
Truth in reporting is the issue. The truth is that what we are being fed, is not working at the interface where student meets teacher. In fact, the pressure all are being put under to fulfill these arbitrary deadlines, inane quotas, and poorly thought out trackers, actually is taking away from the time we spend with students. I repeat it is a negative influence on the results expected….
We originally approached this with an open mind. We wanted to reform our schools too. But, somewhere up the ladder, things went bad.
The prime issue is that we are being force to follow a system poorly designed. When we bring concerns to the table, they are dismissed and we are treated as inconsequential, and dismissed, accused of being the source of trouble. Instead, we were simply trying to establish an environment of mutual respect, where problems can be discussed and probed, and workable solutions can be found, and tested before implementation. It's as if someone designed the cooks line of a restaurant and put all the necessary tools on the other end from where they were needed. It seems to make sense to talk to those who actually will be expected to provide results during the planning stages, instead of wondering to use the example above, why all the food always took so long… It can be prevented if we can be part of the planning process.
Our concern is our students.
We sincerely would like to discuss ideas that can keep the good parts of these programs moving forward, and utilize all the tools that we, as highly trained professionals, can apply to this worthy cause.
As every leader should know, the truth will not stay buried. It always surfaces, even if it is after the implosion has occurred, even if it is found by specialists sifting through the wreckage to find the cause. Simply put, we would like someone to listen to us on the bottom: the teachers, administrators, parents, students, and particularly a school board…..
It could positively affect the entire campaign.
Sincerely:
All of the below……
kavips.
Not much has been said about Paul Ryan's response to Janesville Wisconsin's automotive plant when it was in danger of failing.
This was a personal issue with Ryan. He grew up there. He had friends who worked there. His town could not survive without that plant. Did Ryan sit by? No, he jumped into action…..
A) The Republican met with company executives to try to change their mind.
B) He lobbied the Obama administration for federal retraining and economic-development funds.
C) He even broke with his party — and his future presidential running mate Mitt Romney — to vote in Congress for a $15 billion federal bailout for GM and Chrysler.
D) Ryan voted for the Troubled Asset Relief Program, the $700 billion bank bailout
E) His office sought to secure funding from Obama's 2009 stimulus effort (which he had opposed) once it was signed into law.
F) He backed a law in 2011 that prohibits federal contractors from paying lower-than-average wages (he supports prevailing wage)
G) He promoted a $200 million incentive package to try to convince GM to retool the plant from producing gas-guzzling SUVs…
H) Ryan was the lone Republican among Wisconsin lawmakers who met with GM officials to make the case…
I) December 10, 2008, Ryan voted to steer $15 billion to the automakers — one of only 32 Republicans in the House of Representatives to do so. One-hundred-and-fifty Republicans voted against.
J) The vote put him at odds with Romney, who argued "Let Detroit Go Bankrupt."
K) He helped the "Forward Janesville" chamber of commerce and local officials secure a $445,000 grant from the U.S. Commerce Department for economic development and worker retraining.
Sounds very democratic doesn't it? Sounds like getting government out of the lives of its people just took a big "heave ho". Sounds like Ryan has a heart after all doesn't it?
True nonRINO Republicans need to take notice here. Ryan is not your ideological leader. When his district got hit, he jumped the shark on his philosophy and went the other way…. If you want an ideological leader, instead of Romney/Ryan you are better off with Gary Johnson, the REAL republican now running as the Libertarian Candidate.
Ryan's supporters are taking a different tack… They are saying this shows exactly the reason he's a vice presidential nominee, and that reason that is because he takes a problem, he dissects it fully, and he makes the best possible decision based on what can get done," (Republican Representative Devin Nunes, a close ally)
My point? I'm sure the media as well as his political enemies will castigate him for saying one thing publicly and doing another privately. They will call into account his values, his character, has beliefs. The name "flip flop" will become attached to him tighter than it was to John Kerry in 2004. They will say: "how can you cut the very funding you begged for when your town was going under? How can what was good for your town, be so bad for every other town in the USA? What kind of human being can be so duplicitous? How can such a person be fit to carry the Republican Banner forward? We were better off with Palin. At least she practiced what she preached, yeah, it was only in Wasilla, but a least, she practiced it….
They would be missing the point… The point is not that Ryan succumbed in a moment of weakness. We all would do the same. If not, we'd all be heartless bastards.
The rather profound point that needs to come out of this incident and its subsequent discussion, is that when reality struck close to Paul's heart, when it affected his friends, his family, his home, he instinctively knew deep down inside his heart, that it is the Democrats who have been right all along…
Sure it is easy to say one thing on the campaign trail, where your toadies pull you on, then off, then on, then off the bus, before they throw you under, but when it comes down to protecting what you love, what you know, your inner core… it is the Democrats who have been right all along….
So attack Ryan all you want. But remember…. whenever any Republican has trouble in his own district, he acts just like a Democrat… Why? Because Democrats have been right all along….
Don't take my word for it… Ask the Republican Vice Presidential Candidate….
(Hmmm. Wasn't his boss also once called the LIBERAL GOVERNOR OF MASSACHUSETTS?) There is reality that occurs when you have to be responsible, then there is that fake stuff that always comes out of "that party" during campaign years…
Democrats have been right all along.
In a devastating blow to the campaigns of Republicans everywhere, the Catholic Church has shifted all its support to the Democratic Party.
The principal reason? Romney attacks and bad mouthing of those making less than $250 million a year….
In a report issued from Washington today, the Catholic Church said that is is disturbed by the demeaning campaign ad and conversation about poverty by the Romney campaign.
Anticipating Ryan's nod as VP nominee, the Catholic Church castigated the both of them saying "at a time when millions are struggling financially, it is degrading to talk about the "dependency" of people hurting in this economy, as Gov. Romney did recently."
"The budget proposed by Rep. Paul Ryan and supported by Gov. Romney", it said, "balances the budget on the backs of the poor with cuts to Medicaid, Head Start, Pell Grants and other vital programs…"
The Catholic Church even went so far as to castigate Romney and Ryan….. asking them to spend time with the poor in Ryan's home district, before making such blanket, demeaning, anti-religious, ungodly, and arrogant statements.
"Political leaders would not talk about the poor in demeaning ways or cut job training programs if they spent more time with the people they are affecting with their policies"
The Catholic Church is urging all practicing and non practicing Catholics to vote Democrats into each and every single office open this election cycle.
It is the only way to insure this never happens again…..
"We ask our political leaders to not sow hatred of the poor, but to speak with compassion."
Rick Santorum is a Catholic.  He has incessantly called all Catholics who use contraceptions against Church doctrine, as being "non Catholics", as worshiping some phony religion.   Santorum minces no words when he declares Catholics have to follow the teaching of their church…..
In an op-ed piece in the Philadelphia Inquirer in December of 2009 entitled "The Elephant in the Room: Catholics Must Heed Teachings,"  Santorum wrote, "Catholics must be true to their consciences. But that is not a free-floating guide that we can define ourselves. A Catholic is required to form his conscience in accordance with the church's teachings on faith and reason, and to act in a morally coherent and consistent way, both privately and publicly."
That bold line bears repeating…
A Catholic is required to form his conscience in accordance with the Church's teachings….  Rick Santorum (2009)
That is a very dangerous thing to say because the Church has been around for a long time…  Over its life-long history,  the Church has said quite a bit…
For example, one of the things the Church under  Pope Leo XIII said back in 1891…. was that the Church would always be solidly supportive of labor unions…. and solidly against unfettered Capitalism….. 
In the Rerum Novarum  (1891- Pope Leo XIII)  occurs the following……
"Let the working man and the employer make free agreements, and in particular let them agree freely as to the wages; nevertheless, there underlies a dictate of natural justice more imperious and ancient than any bargain between man and man, namely, that wages ought not to be insufficient to support a frugal and well-behaved wage-earner. If through necessity or fear of a worse evil the workman accept harder conditions because an employer or contractor will afford him no better, he is made the victim of force and injustice…"
Among the remedies it prescribed were the formation of trade unions and the introduction of collective bargaining, particularly as an alternative to state intervention.
 Rerum Novarum also recognized that the poor have a special status in consideration of social issues: the modern Catholic principle of the "preferential option for the poor" and the notion that God is on the side of the poor were expressed in this document.
Why does Santorum want to get rid of labor unions?  To do away with these (listed below) responsibilities ordained to be done by the Catholic Church?
Some of the duties of employers are:
1) to pay fair wages
2) to provide time off for religious practice and family life
3) to provide work suited to each person's strength, gender, and age
4) to respect the dignity of workers and not regard them as slaves…
(Fair wages are defined in Rerum Novarum as at least a living wage, but Leo recommended paying more than that: enough to support the worker, his wife and family, with a little savings left over so that the worker can improve his condition over time…)
Just ask any teacher in Nashville, which this year wiped out all teacher's unions, whether or not they can fulfill these requirements sanctioned by the Supreme Holiness himself….?
(The answer is :  NO, THEY CAN'T)….
The Catholic Church sanctioned Labor Unions for a good reason… so much so that it codified deep within it's canon, that protecting Labor Unions would be a necessary requirement for every Catholic to comply with….
So when you see Rick Santorum next time,  ask him why it is that women, … MUST obey the Catholic Church canon,  but large corporations…. must not?     Either it works both ways, Rick,  or… it works neither way……   You don't get to pick and choose…
Anyone against the formation of  labor unions is in violation of  Catholic Church Doctrine  ……….
Because… ..
A Catholic is required to form his conscience in accordance with the Church's teachings….  Rick Santorum (2009)