You are currently browsing the category archive for the 'wind farms' category.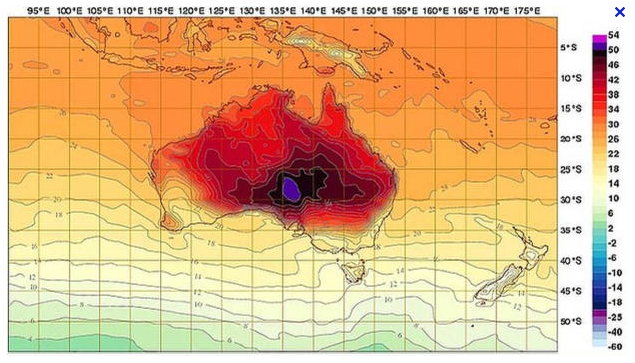 2012 is a record breaking year.. We guessed because the ice melt was the largest ever recorded, and broke the old record a month before the melting season ended. Right now, summer in the other half of the world, is breaking records in Australia. They even had to put a new color on the temperature chart to show temperatures over 50 degrees C…..
If you look at this global temperature list, and add 2012 to the top,(the authors have not already), you see a point I'll drive home.
Out of the eleven hottest years ever recorded, ten have occurred since 2001…. Which means only one of the top ten hottest years, 1998, was not in the past decade…
Here is the scary part. A 3 degree rise, was deemed to be cataclysmic. The US rose 1 degree last year…. As the chart shows, up till now, rises were in the tenths of a degree.
2012 just blew everything right out of the water.
And as mentioned last summer a tongue of ice cold Labrador current penetrated the Gulf Stream, and almost turned it away from Europe; wow, that would really change things over there
And you know who is to blame? People in the Caesar Rodney Institute who said global warming was a hoax, and the Republican party of the United States of America, who prevented all proper actions that could have minimized the extent, from seeing the light of day…
So be nice. The next time someone says they are a Republican? Say: "Oh, gee thanks again for ruining the world."
I'm sure it will make their day….
The House and the Senate agreed Tuesday to extend a 2.2 cent per kilowatt-hour credit for wind power production through this year as part of the "fiscal cliff" deal. It also changed the incentive to let wind projects earn the credit if under construction — rather than in service — by the end of the year. Letting the credit end would eliminate 37,000 jobs. AWEA in December proposed extending the credit for this year and then ramping it down to end after five more years.
Time to get busy, Delaware.

Photo Courtesy of Google right click for full image.
From Aaron Nathans of the News Journal…..
NRG/Bluewater Wind got good news on a different front Monday, as the federal government moved one step closer to issuing the developer a lease on a tract off the southern Delaware shore.
The Department of the Interior announced it would open a 30-day public comment period on the environmental and socioeconomic impacts of offshore renewable-energy projects off Delaware, Maryland, New Jersey and Virginia.
If the department determines no significant impact off Delaware, it will move forward with Bluewater to sign the lease, said its president, Peter Mandelstam. He said he hopes to secure the lease by the end of the year.
Once a lease on these ocean blocks has been secured, construction permits can begin. Or better put: Bluewater can proceed with more detailed environmental reviews to try to get a construction permit.
And to those of us who marshaled the deal in 08, here is a reminder of how time flies… Bluewater faces a September deadline to exit the Delmarva contract or pay $2.75 million, money it would get back if it successfully completed the wind farm.
The following concern has also been noted in the Federal overview of the project. Construction will take place near an area off Delaware, where ships typically anchor. Wind development should be avoided in that area, the U.S. Coast Guard has argued.
The anchorage area, off Delaware Seashore State Park, sits on the outer edge of Bluewater's proposed development area.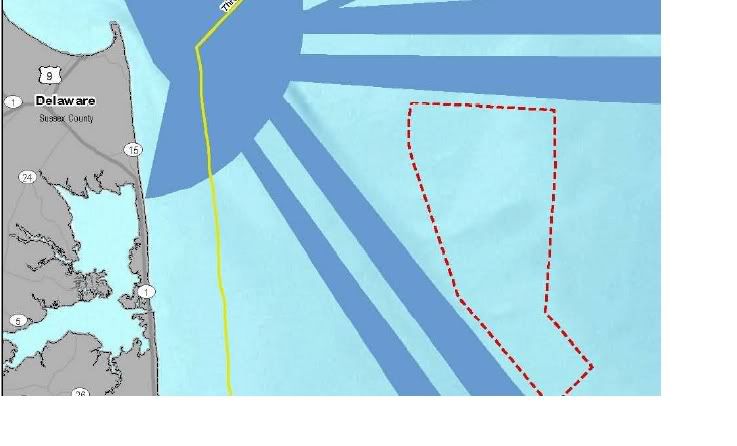 Every time I pay my electric bill to Delmarva, I sigh, knowing that had wind gotten underway faster, I'd be paying 60% less…….
It's been news that NRG, who owns Bluewater Wind, is dragging it's feet and being criticized for doing so.
John Kowalko correctly points out, that without the Obama administrations support for continuing credits, even he, it were his money on the line, would back out too…
So don't blame NRG.. Blame the Tea Party. They changed the political climate in Washington far too much, that even though Obama campaigned for lifelong extension of wind credits, he now, has to put that once solid expectation, on the negotiating table…
Would you invest $2 to $4 billion if it would cost you $250 to $500 million every year? Of course not!
Forcing NRG to go through without the support of wind credits, is wrong.
We would scream if it were to happen to us, they should too.
The issue is that we don't have renewable credits guaranteed anymore because of the Tea Partiers… They, not NRG, are the ones to blame, if Delaware does not become the first state to have cheap clean efficient energy created off it's own shores….
So how do we go around them? Two ways. The simplest was conceived by Tommywonk: use existing nuclear guaranteed loans to build the wind farm. The money is available; do the paperwork, and pull a Black Eyed Peas…. "Let's get it started…"
The second way, was brought up during Delmarva's fight to stop the purchase agreement. That was to do what we did the last time private capital investment froze up: The Great Depression… Have the Government build the wind power source… During the Depression, the Fed's built TVA, the Columbia River System, Hoover Dam, and a myriad of other dams, producing a large part of those states electrical needs.
New York, conceived, funded, and ran the New York Power Authority, which built, staffed, and ran the power generative facilities at Niagara Falls…
Whether it is our state, or the Feds who take the lead on building a government run wind farm off the coast of Bethany Beach, either way, it appears that some form of government will necessary, to start the turbines turning….
1. Internet search giant Google announced Wednesday it is partnering with banking conglomerate Citibank to invest in what is set to become the largest wind power project in the world, in southern California. Mountain View, Calif.-based Google said its wind farm, which will be part of the Alta Wind Energy Center in the Tehachapi Pass in Kern County, would generate up to 1.5 gigawatts of electricity. It said that would be enough to power 450,000 homes through Southern California Edison.
2. Windpower 2011 finished up today in Anaheim.. Out of that, the big news was that the regular boasting of 41,000 MW of domestic capacity and celebration of providing electricity equivalent to ten nuclear power plants were contextless figures that ignored wind's chronic problems of intermittency, geographic/transmission difficulties, and its inability to provide baseload power. Breakthroughs will be needed to address these challenges, and experts agree that the R&D funding gap necessary to achieve those breakthroughs will come from governments, not private industry.
3. Delmarva Power, a Delaware-based business unit of Pepco Holdings Inc. said it has filed a request for the approval of its revised agreement with Synergics Eastern Wind Energy LLC, which has moved its wind farm located in western Maryland to central Pennsylvania. The filing was made with the Delaware Public Service Commission.Delmarva Power said it also has other agreements in place to supply clean, renewable energy to its customers. Some of these include a 15-year contract with AES Wind Generation, a unit of AES Corporation (AES – Analyst Report), for 50 megawatts of wind power; a 20-year contract with Synergics for up to 40 megawatts of wind power from its Roth Rock project in Maryland, expected to go fully operational next month; a 25-year contract with NRG-Bluewater, a unit of NRG Energy Inc. (NRG -Analyst Report), for up to 200 megawatts of offshore wind power from its planned project off the Delaware coast; and a 20-year contract with White Oak Solar Energy for up to 16,500 megawatt-hours in solar renewable energy credits, to go operational this summer. A quick check here, shows it has either yet to be filed, or has not yet been uploaded to Delaware PSC site.
4. Wind power's vast supply chain, which produces the 8,000 components making up a typical wind turbine, continues to grow deeper roots here in the U.S. Today the industry employs 75,000 people, and over 400 wind-related manufacturing plants dot the map in 43 states, from California where the industry began 30 years ago, through the Midwest which now leads wind development, to the Southeast even though its first wind farm is still on the drawing board.
5. This past February, Secretary of the Interior Ken Salazar and Secretary of Energy Steven Chu unveiled a coordinated strategic plan, A National Offshore Wind Strategy: Creating an Offshore Wind Industry in the United States, which pursues the deployment of 10 gigawatts of offshore wind capacity by 2020 and 54 gigawatts by 2030. They announced $50.5 million in funding opportunities for projects that support offshore wind energy deployment.
6. The Connecticut House of Representatives overwhelmingly approved legislation Tuesday requiring first-ever regulations governing state review of wind power projects. Lawmakers voted 132-6 to back the bill calling on the Connecticut Siting Council to adopt regulations on setbacks, a wind power project's impact on natural resources and other factors.
7. Currently, the market is being shepherded by developers who are scrambling to put turbines in the ground ahead of a 2013 expiration of lucrative federal tax credits for wind. Beyond that date, the industry's fortunes are hazy. "You are going to see a real slowdown in '13," Vic Abate, General Electric Co's vice president of renewables, said in an interview this past Monday at the above mentioned U.S. wind industry's annual trade show in Anaheim, California. "Over the next 12 months you are going to see all great news. You are going to see project starts are up, units are being shipped, orders for turbines are going up. It's going to give you a signal of security, but the reality is they are all targeted to end on December 31, 2012," he said. A government support plan that must be renewed every couple of years only makes matters worse. "The hardship on the industry is this sort of stop-start policy," said Lisa Frantzis, managing director for renewable and distributed energy at consultant Navigant. "If you look back it's always been extended, but the timing can really impact things."
Matthew Wald in his New York Times blog, has more information about the construction of the Electric Superhighway up and down Delaware's coast.
Onshore, we use an AC grid, or one based on alternating current. But the link in the Atlantic would have to be buried, and alternating current does not work well in long cables that are enclosed because the interaction between the current and the cable casing drives up voltage to unwanted levels. So the system has to be direct-current.
Nearly all the submarine cables use direct current, a form of transmission favored by Thomas Edison but mostly rejected in the late 1800s in favor of alternating current, the kind of electricity now used to run most appliances. But alternating-current lines are hard to bury, because an interaction between the current and the cable casing drives up voltage to unwanted levels.
The cost of putting a cable under water can be lower than burying cables on land, because workers can lay the cables from giant reels, allowing stretches of more than a mile with no splices. But underwater lines are still more expensive than lines on transmission towers. Much of the cost in each case is to transform the electricity to direct current, a form that is easier to use in buried cables.
New technology offered by two European companies, Siemens and ABB, has lowered the cost for some direct current projects, and shrunk the size of the terminals where alternating current is converted to direct current and back, a crucial consideration in urban projects.
One of those companies Siemens, has a plant here in Glasgow, Delaware. Recently, European transmission experts were in town to deliberate.
So the new proposal for an Atlantic Wind Connection is actually about a series of links terminating at substations built on platforms that would sit in the ocean like oil drilling platforms, except, of course, these are clean-energy installations harnessing wind power. They would have to be hurricane-proof and include a spot where a service vessel could moor. Wind farms would tie into the system here.
The cable itself, weighing about 30 pounds a foot, would be lowered into a shallow trench that would be blasted by a device called a jet plow that squirts ocean water into the soil. The cable goes into the trench and is gradually covered over with sediment.
The cable itself is copper, with 1.75 to 2 inches of insulation and multiple shielding layers. It may have a steel outer guard. The outer diameter would be about six inches.
But beyond three miles from shore, no matter where it goes, the cable has a major advantage over cables on land: it faces only one landlord at the outset, the Department of Interior. And the department is sympathetic to wind.
This is a wake up call for Delaware. Governor Markell, Congressman-elect John Carney, Senator-elect Chris Coons, and Senators Ted Kaufman and Tom Carper, all need to get moving on this opportunity now, if only to head off those other states who will be trying to muscle in… These next 24 hours are critical.
Google surprised us yesterday with the news they were investing in an offshore electronic super highway off our beaches shores…
The High capacity trunk line, would disperse electricity being driven by Atlantic Offshore wind turbines, to the major metropolitan area requiring it the most.
This electic dispersal system, would stretch from off Long Island down to Norfolk, Va.

Courtesy of Google
As stated herein, the primary problem up to this point, had been how to get the electricity generated offshore, to urban areas where needed, over Delmarva's dilapidated and antiqued 1930′s era transmission system. Economic and political pressures had slowed down the development of MAPP's efficient electrical superhighways.
Yet even before any wind farms were built, the cable would channel existing supplies of electricity from southern Virginia, where it is cheap, to northern New Jersey, where it is costly, bypassing one of the most congested parts of the North American electric grid while lowering energy costs for northern customers.
This is a safe investment. The largest energy user in the world, is our PJM grid right here on the East Coast. Currently much of what we use, comes from Midwestern coal burning power plants. Having a source of energy offshore, cuts down on the amount of lost power that leaks out during the process of transmission. The higher the voltage, the less leaking of electricity..
Once this backbone is in place, building offshore wind can began anew.
As frequently mentioned throughout these writings. someone is going to build wind farms up and down the Mid Atlantic Coast… It is too perfect of an investment to go untapped. Not in many other places can you find a similar opportunity where a minimal investment can yield the maximum of return… So, someone will be building wind farms. Some state will become the center of this industry. Delaware should be that state…..
After all, why do you think we got our former Senator chosen as Vice President?
Anyways….
When built, the Atlantic Wind Connection (AWC) backbone will stretch 350 miles off the coast from New Jersey to Virginia and will be able to connect 6,000MW of offshore wind turbines. That's equivalent to 60% of the wind energy that was installed in the entire country last year and enough to serve approximately 1.9 million households.
The AWC backbone will be built around offshore power hubs that will collect the power from multiple offshore wind farms and deliver it efficiently via sub-sea cables to the strongest, highest capacity parts of the land-based transmission system
Locally, our economic recession could end today, if we'd just get wind off the ground and moving forward where it should have been years ago….
Bottom line, it needs to happen. It needs to happen in Delaware. Perhaps it's true? Perhaps we need a federal project, just like the Depression Era Oak Ridge energy project built in Tennessee, to get wind off the ground as fast as possible?
The idea for moving the electrical backbone offshore, is pure genius. Figure the sharp wonks at Google would be the ones to see and capitalize on its potential, while potbellied Pepco sits on their hands…
Perhaps next Google would like to assist in the financing our wind farm? Guaranteed excellent returns on the investment…
The best use of money in the Federal treasury now, would be to invest 2 billion into getting a large offshore wind farm built off Rehoboth.
Subsequently, some of that money could be used for high voltage wires to carry the energy to Washington or New York.
It could come as either a grant, loan, tax credit, or a mix of both…
But getting $2 billion on the ground is now becoming critical….