You are currently browsing the category archive for the 'Wayne "Leadbrain" LaPierre' category.
Contained in a letter written to Burges Ball (1794)…
"For can any thing be more absurd, more arrogant, or more pernicious to the peace of Society, than for self created bodies, forming themselves into permanent Censors, and under the shade of Night in a conclave, resolving that acts of Congress which have undergone the most deliberate, and solemn discussion by the Representatives of the people, chosen for the express purpose, and bringing with them from the different parts of the Union the sense of their Constituents, endeavouring as far as the nature of the thing will admit, to form that will into Laws for the government of the whole; I say, under these circumstances, for a self created, permanent body, (for no one denies the right of the people to meet occasionally, to petition for, or to remonstrate against, any Act of the Legislature &ca) to declare that this act is unconstitutional, and that act is pregnant of mischief; and that all who vote contrary to their dogmas are actuated by selfish motives, or under foreign influence; nay in plain terms are traiters to their Country, is such a stretch of arrogant presumption as is not to be reconciled with laudable motives"
Kinda shoots down the whole debunked sheriff idea being promoted by the founding fathers, doesn't it?
Has the Republican Party truly gone so far out on a limb, that they are truly advocating the right of the insane to keep guns trumps the right of a child to live?
I simply have to wonder. Why would anyone ever, ever, ever, ever, ever in this lifetime, after living these past 4 years, ever again vote for a Republican? Perhaps because they really don't know? Your duty is to tell them.
Fed Ex shooting.  A FedEx employee wearing ammunition draped across his chest "like Rambo" opened fire
All legal in Georgia.
In addition to a shotgun, the gunman also had an undisclosed number of molotov cocktails,
All legal in Georgia.
The shooter first shot a security guard at a shack outside the building.. Everything up to the split second the shell impacted the guard, was under Georgia's new law, completely legal.
He was a white male.
Is anyone really surprised?  Guns are more important than people inside the state lines of Georgia…..
In a very sad, sad state of American affairs, a German exchange student, one well known in the exchange community, was murdered in cold blood in a person's garage in Montana.
Allegedly he was trying to burglarize the premise.
However talk among his pen pals was that he had repeatedly been bullied by this person. And most likely, he was accosted at gunpoint, either driven or walked to the garage, asked to perform some type of insidious act, and then shot point blank because of fear that he would tell and everyone would then know the shooter was gay, and he obviously could not have that….. not in Montana.
Fortunately this was Montana and not some stupid redneck royal Republican locality like Florida…..
This person was arrested….. and will most likely have his secret urges fulfilled in prison.
But it is just sad, as is the death of any child. Someone so full of life and hope, and given the greatest opportunity to come to America, the land of opportunity….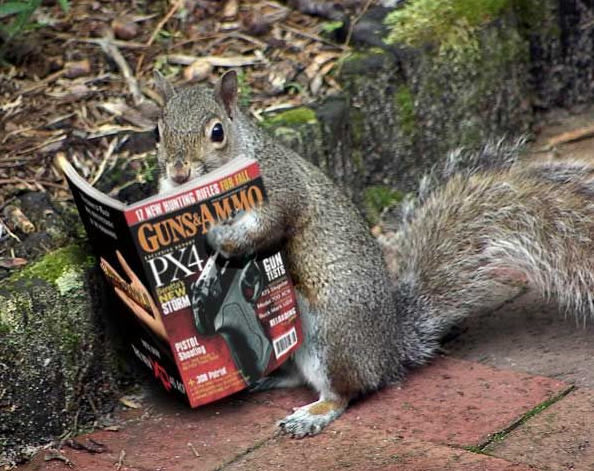 Those in favor of gun control, that is putting responsible limits on who can own weapons,  out raised campaign donations for the first time, far, far more than those nuts who think criminals, mentally insane, and everyone else should wear their guns openly and engage in gun battles at the OK corral….
By a whopping 43% !!!!  Raising$ 21.3 million to the gun lobby's $16.3 million, 
Three fourths of the NRA's PAC money was donated by self defense corporations like Smith Wesson, Glock, and Remington, in order to promote brand loyalty inside the cult group often known by its other name:  the National Rifle Association even though it has very little to do these days with rifle safety.  Today. this organization's primary concern is putting military hardware and concealed handguns into the hands of every possible citizen, and to use television to encourage even minor disputes to be now be settled by open street or in home warfare…..
The Gun Squirrels on the other hand, raised most of their money from moms and pops who were against gun violence.  They donated for their children's sake. Their average donation was under $53 dollars….  They got more.
Prior to the  Newtown shooting…. the gun lobby had out-raised gun control by as much as 100 to 1….   Politically this new found wealth has stopped the threat of the NRA and has rendered all their current bluster and threats, toothless…..   In special elections since 2012, by a ratio of 5 to 1, Gun Squirrels have beaten the pants off the gun nuts….
This is a good thing….  Even though our politicians are rather spineless, and cow before a rabid foaming bunch of erectile dysfunctionites, even to the point of cheering for a senile Mitch McConnell holding a rifle up over his head (they made sure it was unloaded before giving it to him) as he addresses the CPAC crazies, normal moms and pops have turned the corner and are realizing that if they want their their children to live safe lives… they need to buy back their dirty politicians…
So they raised more….
Please help: Here is Gabby Gifford's organization:  Americans for Responsible Solutions….  Give a sigh of relief, relax, and give a tiny amount as have millions of other normal Americans intent on ridding ourselves of the gun lobby forever…  It should be a word of encouragement to us all, to remember that MADD, who remained steadfast against what once appeared to be almost unlimited funding of the liquor lobby…
But as more people died from drunk driving incidents, people simply got fed up with those on the right who obviously didn't have hearts and were pushing for more killing, more heartbreak, and more family destruction….  Like that battle, today our battle has turned and if you join now, you can be part of making it acceptable to regulate both guns and live ammo the same way we regulate drinking and driving……..
They have rights, for sure, but not at OUR expense.
This state bill was to keep guns out of the hands of mentally ill.   It achieved a roadblock when the idea was broached that mentally ill people would not seek help if it meant the loss of their guns… 
The bill was voted down on this fallacy.
If someone is mentally ill and has guns, there are four possibilities…   Four….
Mentally ill with guns and bullets // Mentally ill without guns and bullets.
======================================================================================================
Mentally healthy with guns and bullets // Mentally healthy without guns and bullets
Of those four possibilities stretching across the plateau of human existence, only one is dangerous to fellow human beings…
A mentally ill person who has guns and bullets….
Now that we have isolated the problem… Let us look at it more closely….. we again divide by the four possibilities…
Mentally ill will get help and use his arsenal // Mentally ill will get help and not use his arsenal
==========================================================================================================
Mentally ill will not get help and use his arsenal // Mentally ill will not get help and not use his arsenal.
Of those four possibilities we now have two that are dangerous to innocent human beings.
Mentally ill who will get help and still use his arsenal, and Mentally ill who do not get help and will still use their arsenal….
Therefore across the panel of humanity, all races, all genders, all classes, every non-accidental shooting death is caused by the hand of a mentally ill person owning a firearm, whether under treatment or not…
Most of the more famous murderers in history have had treatment for their psychosis. Most of those being treated still had access to their firearms, and for what ever reason, choose to use them….
As of this point in history,… as far as I can find on today's search engines,… there has never been a gun-caused mass murder by someone who had no access to guns…
Again, people in psychiatric care have blown other people away; people without guns, have never done so…..
Only one conclusion from this logical exercise can be gleaned….
If you voted to allow the continence of mentally-ill people owning guns, no matter what flimsy reason you used to assuage your guilt, you cast a vote for an upcoming future mass-murder.
If you voted to disallow the continence of mentally-ill people from owning guns, you took the only step in the right direction that would do anything to stop its re-occurrence…..
People in treatment still kill when they have guns. Without guns, one rids oneself of the problem….
The bottom line: to allow a crazy person to have a full blown arsenal, is madness. To think that allowing him to have a full blown arsenal will make him more likely to seek treatment, is not thinking straight….
There is only one solution; redo HB 88….
In passing I acknowledge that this is an emotional issue for those on both sides. When we use emotions to think, none of us think straight. If ever the time should arise where we as a society make that choice to think straight, then keeping guns out of the hands of mentally ill goes a long way to preventing mass murderers from happening: …. Logically speaking of course.
Most importantly, I've changed my view on mental health.  I used to think it was a weakness. I now see it as a disease.  I know I always accepted it as a disease, like when I talked to others, but inside, I thought since I was tough enough to beat it, others could too….  Like lifting weights to build body mass, one could rigor himself out of mental illness.  Boy was I wrong.
So much came out , and particularly in the "Gun Battle" that followed, I saw that regulating guns was not the real issue.  The real issue is helping those who see nothing wrong  with taking other's lives and then their own…
I used to think the rising trends of mass murders,  came solely because we lost control over who bought guns… To some extent, it still is.  But there was another trend of which I was then ignorant and that was how cutbacks since the Recession was  and still is, ..creating more mentally unstable people…
Our society's basic overall problems come down to this one single thing:   too-little money.  The self-imposed lack-of-it behind supporting government functions, means those functions are now not there, because no private entity volunteered to step up and take it on… The money needed for these programs is out there, but continues to filter up to the top 1%.
Had we had a healthy, thriving support system to deal with our mentally ill, … other choices may have been made leading up to that shooting..   Had we had the same in Aurora…. that disaster may have been prevented…  Had we had the same in DC, there is a good chance the Navy Yard Shootings would never have happened….
We make choices and those choices have consequences… We consciously chose to cut taxes on the wealthy and by doing so, hasten our government into bankruptcy … I know it was a conscious decision because I was right there eloquently arguing against it… and was over ruled.   Not by a lot, but by enough…  It was the way they saw of making ourselves better… and often when one narrows one's universe a little smaller, to where those things happening on the outside nolonger matter, one can make a smaller universe indeed appear better… until of course the outside comes crashing in….
As so the problems of one burned-out divorced mother trying to deal with a mentally ill child, crashed in upon the national consciousness in a sickening way. So we've learned:
Lesson 1:  Mental illness is a security risk..  Mental illness is a disease.   We need to spend lots of money to cure and contain mental illness from crashing into our lives ever again…   No sliver amount of billionaire's income is worth the loss of those children at Sandy Hook, ever again.
Secondly.   Unless a shooting takes place over drugs, almost all shootings are caused by those mentally ill.  Husbands, wives, children, killers, non killers, or Floridians  prejudiced against hoodies…  We are learning in just one year, particularly with Gun Fail publications now illuminating all the deaths around the country,  that all shootings probably have mental illness at their root…..
Which practically means, if we could completely eliminate mental illness from our society, we wouldn't have to regulate guns at all, (except for the drug warriors of course… )
But until we do… we need to keep the guns our society has chosen to make so readily available, out of the hands of those who really don't have the same values of right or wrong as do the rest of us,  particularly when it is about our lives….
In that regard, we need to hold those of red states accountable and put the blame squarely upon them, for they are the blockage of both directions at this problem… Either they open the now dry channels of dollars to fast flow towards  the treating of mental illness. or they opt to tighten the free flow of guns in order to make sure that only those who are not mentally ill, can legally own them…
There is truth in the saying that criminals  being criminals can always get guns if they want, because criminals aren't worried about obeying the law….  That is entirely true.
However, the converse is also true, that if you have guns laying all over the street and readily available, more are going to get used than if it is really difficult and expensive to acquire even one…  A lot of legislation designed to tighten up the easy access to guns and gun paraphernalia,  was lobbied down this year…
Often by people a little mentally ill themselves (Wayne LaPierre) who fear the government of the People, for the People, and by the People, more than they fear a bullet escaping out of a gun nozzle headed their way….  Those who have the other fear,  ie, guns over government, need to clarify their argument, button down the rhetoric, and state that at stake, is just keeping guns out of the hands of those mentally ill….
Mental illness is a disease… Curing it should be our first priority, and from just hearing the results of the passing of the US Budget today,  that will never happen until we can get into Congress, only those who agree with those sentiments….  It's about money. We know where it is kept, and we need more of it now….
The issue has never been to take away guns,   The issue has always been to work to keep guns out of the hands of the wrong people…
The NRA has worked hard to make that impossible.  Using anonymity, fake screens, and everything possible to keep the criminal element intact.
If criminals weren't subsidizing the NRA, they should start in order to keep it in business.
During the upcoming legislative session, gun laws designed to allow normal people to have all the guns they want, and abnormal people not to get them, should become a priority.
It is especially sad, when a father on one coast tries to get help for his mentally unstable son on another coast,  and can't in time to save an innocent person's life…
We can do better; creating a law that requires a gun owner to at least have the mental capacity to drive a vehicle… would be a start.  If one is deemed to unstable to drive on our public highways, we could probably be safe and rule out the likelihood of them ever owning a gun….
It is no big deal.  Or better framed, it is far less a big deal than seeing your son or daughter shot by someone who should have never had a gun in the first place….
80 percent of the cost of treating victims of gun violence in 2010 was borne in part by taxpayers, according to an analysis of hospital and insurance data.
Hospitals in the U.S. spent $630 million in 2010 treating the victims of gun violence, two dollars for every man woman and child in America. The Medicaid costs of gun violence alone that year amounted to approximately $327 million. Private insurers, and hospitals eating the cost of the uninsured, made up the remaining $403 million.
The average cost of a hospital visit for a gun violence victim is $14,000 more than that of the average hospital stay.
But is the hospital cost the only cost to society? It appears no. Gun violence cost the US $174 billion in 2010. The societal cost per firearm assault injury (includes workloss, medical/mental health care, emergency transportation, police/criminal justice activities, insurance claims processing, employer costs and decreased quality of life) … was $5.1 million for each fatality and $433,000 for each hospital-admitted patient. You as a consumer pay this cost in everything you buy; it is added in. Put in perspective that amounts to $522 dollars for every single man, every single woman, and every single child in America.
How can we save ourselves this money? How can we stop the majority of gun violence? Very simple. Register every gun to an single owner so if a gun is used to kill, someone gets held responsible. Very simple. Registering hurts no one; your car, your house, even your vaccinations are registered for example.
Isn't it horrible we are having a big battle over something as tiny as registering a fire arm which over a decade has cost every man, woman, and child $5,220 dollars? Over "registering?" We've lost our senses.
Americans are paying dearly for the "privilege" to keep a gun that is non-traceable. By registering all firearms and thereby being able to keep guns out of those who would use them in criminal actions, great savings can be saved for all the millions of the American people.
We did, we almost won this with the first wave of the attack; we did far better than we expected; we suffered no causalities. Time to launch again for 2014. The truth, and money, both lie flatly on the side of registering all firearms…
Goal should be: if you are not an upstanding citizen? No Gun. Period.