You are currently browsing the category archive for the 'Vice President Biden' category.
When you discuss single sex marriage with Conservatives you discover early on that they really don't have a problem with single sexes marrying and living together over a lifetime in a relationship of trust; they just don't like gay sex.
For them, as soon as sodomy laws went off the books, society went to hell…
Not every one is going to enjoy gay sex.  Just like everyone is not going to enjoy heterosexual sex. People are different. People want different things.
But Gay Marriage is not about gay sex.  Just like heterosexual marriage is not all about vaginal sex.  How do we know this? Because before Viagra, heterosexual marriages still lasted till the end of a partner's lifetime, way long after sex was a distant memory.
Marriage has nothing to do with sex. Never has. Never will.  Marriage is about the pursuit of happiness.  It is a) about being wanted, b) about showing your love, and c) about taking care of the one you love after you've passed on.
Conservatives have big misconceptions when it comes to what marriage is… It is not about family.  Large numbers of heterosexual couples do not have children.  It is not about the particular God of their ancestors;  marriage stretches across all religions.  It is not about sharing lives together till the end;  that doesn't happen very often these days. Divorce does.
And Marriage is not about wholesomeness.  I could meet someone of the opposite sex and walk into a courthouse somewhere, get married and that document would be honored anywhere in the world.  It makes no difference to anyone if I just met a perfect stranger and tied the knot on a whim.  All that matters to them is that I have a document…
For you see, because I'm heterosexual and because Conservatives even though they dispise women still don't hate heterosexuals, as one, I can marry…. and so can you.
So in essence, the sole reason boiling down to having a sanction as to why gays cannot marry, is because if we do allow them to do so, then they are no longer subservient to us.  They are not a "caste" beneath us.   They are equal and can then heaven forbid, be free to climb up the status ladder to levels even above us. Yep. that is the only Conservative argument still standing as to why gays should not get married….
The way they say it when they're stone-ass drunk?  You can't get married because I'm a bitter old fart and my life sucks so you are going to have to be more miserable than I am… , so suffer bitch….
I couldn't have characterized conservatives any better myself….
Whereas that characterization may have been perfectly fine if we lived in Idi Amin's Uganda all the way back in the 70′s, it doesn't represent the values within our Declaration of Independence.  Nor does it reflect the principles of our Constitution.
All men are created equal.  It does say "all", correct?
Granted.  It took America too long to realize that people with melanin in their skin were people too.  It took America too long to realize that people with estrogen and breasts, were people too.  It has likewise taken too long for America to understand that people who like people who happen to be of the same gender as themselves,  are people too….
It is simply time, ladies and gentlemen.
(And who says they have to have sex?  You?  Who probably haven't gotten "the good stuff"  in your marriage for… how long?)
It is simply time.
By now, everyone knows the Republicans are the ones who created the sequester.  So let us look at what they did to us,here living  in  both the first state and second smallest state.
If sequestration were to take effect, some examples of the impacts on Delaware this year alone are:
Teachers and Schools Delaware will lose approximately $1.4 million in funding for primary and secondary education, putting around 20 teacher and aide jobs at risk. In addition about 2,000 fewer students would be served and approximately 4 fewer schools would receive funding.
Education for Children with Disabilities: In addition, Delaware will lose approximately $1.8 million in funds for about 20 teachers, aides, and staff who help children with disabilities.
Work-Study Jobs:Around 150 fewer low income students in Delaware would receive aid to help them finance the costs of college and around 50 fewer students will get work-study jobs that help them pay for college.
Head Start: Head Start and Early Head Start services would be eliminated for approximately 100 children in Delaware, reducing access to critical early education.
Protections for Clean Air and Clean Water Delaware would lose about $1.1 million in environmental funding to ensure clean water and air quality, as well as prevent pollution from pesticides and hazardous waste. In addition, Delaware would lose another $359,000 in grants for fish and wildlife protection.
Military Readiness:In Delaware, approximately 2,000 civilian Department of Defense employees would be furloughed, reducing gross pay by around $7.6 million in total.  Army: Base operation funding would be cut by about $0.6 million in Delaware.  Air Force: Funding for Air Force operations in Delaware would be cut by about $1 million.
Law Enforcement and Public Safety Funds for Crime Prevention and Prosecution: Delaware
will lose about $83,000 in Justice Assistance Grants that support law enforcement, prosecution and courts, crime prevention and education, corrections and community corrections, drug treatment and enforcement, and crime victim and witness initiatives.
Job Search Assistance to Help those in Delaware find Employment and Training: Delaware
will lose about $86,000 in funding for job search assistance, referral, and placement, meaning around 3,230 fewer people will get the help and skills they need to find employment.
Child Care:Up to 100 disadvantaged and vulnerable children could lose access to child care, which is also essential for working parents to hold down a job.
Vaccines for Children: In Delaware around 380 fewer children will receive vaccines for diseases such as measles, mumps, rubella, tetanus, whooping cough, influenza, and Hepatitis B due to reduced funding for vaccinations of about $26,000.
 Public Health Delaware will lose approximately $86,000 in funds to help upgrade its ability to respond to public health threats including infectious diseases, natural disasters, and biological, chemical, nuclear, and radiological events. In addition, Delaware will lose about $330,000 in grants to help prevent and treat substance abuse, resulting in around 400 fewer admissions to substance abuse programs. And the Delaware Division of Public Health will lose about $70,000 resulting in
around 1,800 fewer HIV tests.
STOP Violence Against Women Program Delaware could lose up to $19,000 in funds that provide services to victims of domestic violence, resulting in up to 100 fewer victims being served.
Nutrition Assistance for Seniors: Delaware would lose approximately $201,000 in funds that provide meals for seniors.
Delaware loses 15.1 million at least in funding forever if the sequester goes through….
Not only is that money lost, but the ripple effect impounds and deepens that loss.  With every loss of a government job, there is a loss of a .67 of a private sector job….  The predicted loss or 700,000 jobs in March will be accompanied by 469,000 in the private sector….
Roughly Republicans driving us over the cliff, will put another 1.2 million Americans out of work…. again…..
And if you read Republican blogs like this one, they are laughing and laughing at how bad they are going to hurt America, how they are going to teach us all a lesson because we didn't vote for their billionaire president…..   They are smirking over the hardship and suffering everyone else will be living…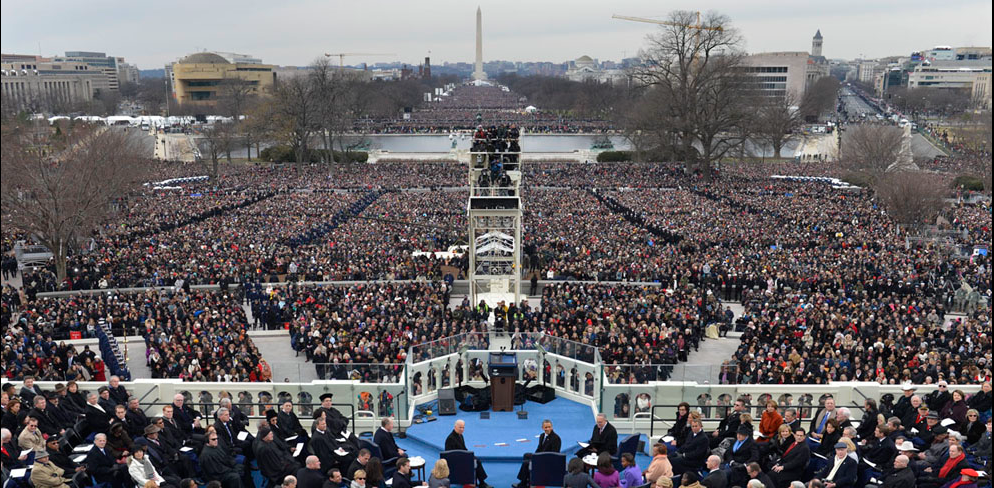 Once again, to keep this close and treasure an event that will be discussed with grandchildren, as I'm sure were spoken by witnesses of Lincoln's Second, and Washington's second…. I introduce to Atlantic's compilations of what a Presidential Inaugural day is all about…. Thanks for the tickets Joe.
(I occasionally need inspiration. So I'm keeping this close where I can remind myself why we do what we do. It is here if any of you need to charge your batteries over the next four years as well….)

EMBARGOED UNTIL DELIVERY
January 21, 2013
Remarks of President Barack Obama – As Prepared for Delivery
Inaugural Address
Monday, January 21, 2013
Washington, DC
As Prepared for Delivery –
Vice President Biden, Mr. Chief Justice, Members of the United States Congress, distinguished guests, and fellow citizens:
Each time we gather to inaugurate a president, we bear witness to the enduring strength of our Constitution. We affirm the promise of our democracy. We recall that what binds this nation together is not the colors of our skin or the tenets of our faith or the origins of our names. What makes us exceptional – what makes us American – is our allegiance to an idea, articulated in a declaration made more than two centuries ago:
"We hold these truths to be self-evident, that all men are created equal, that they are endowed by their Creator with certain unalienable rights, that among these are Life, Liberty, and the pursuit of Happiness."
Today we continue a never-ending journey, to bridge the meaning of those words with the realities of our time. For history tells us that while these truths may be self-evident, they have never been self-executing; that while freedom is a gift from God, it must be secured by His people here on Earth. The patriots of 1776 did not fight to replace the tyranny of a king with the privileges of a few or the rule of a mob. They gave to us a Republic, a government of, and by, and for the people, entrusting each generation to keep safe our founding creed.
For more than two hundred years, we have.
Through blood drawn by lash and blood drawn by sword, we learned that no union founded on the principles of liberty and equality could survive half-slave and half-free. We made ourselves anew, and vowed to move forward together.
Together, we determined that a modern economy requires railroads and highways to speed travel and commerce; schools and colleges to train our workers.
Together, we discovered that a free market only thrives when there are rules to ensure competition and fair play.
Together, we resolved that a great nation must care for the vulnerable, and protect its people from life's worst hazards and misfortune.
Through it all, we have never relinquished our skepticism of central authority, nor have we succumbed to the fiction that all society's ills can be cured through government alone. Our celebration of initiative and enterprise; our insistence on hard work and personal responsibility, are constants in our character.
But we have always understood that when times change, so must we; that fidelity to our founding principles requires new responses to new challenges; that preserving our individual freedoms ultimately requires collective action. For the American people can no more meet the demands of today's world by acting alone than American soldiers could have met the forces of fascism or communism with muskets and militias. No single person can train all the math and science teachers we'll need to equip our children for the future, or build the roads and networks and research labs that will bring new jobs and businesses to our shores. Now, more than ever, we must do these things together, as one nation, and one people.
This generation of Americans has been tested by crises that steeled our resolve and proved our resilience. A decade of war is now ending. An economic recovery has begun. America's possibilities are limitless, for we possess all the qualities that this world without boundaries demands: youth and drive; diversity and openness; an endless capacity for risk and a gift for reinvention. My fellow Americans, we are made for this moment, and we will seize it – so long as we seize it together.
For we, the people, understand that our country cannot succeed when a shrinking few do very well and a growing many barely make it. We believe that America's prosperity must rest upon the broad shoulders of a rising middle class. We know that America thrives when every person can find independence and pride in their work; when the wages of honest labor liberate families from the brink of hardship. We are true to our creed when a little girl born into the bleakest poverty knows that she has the same chance to succeed as anybody else, because she is an American, she is free, and she is equal, not just in the eyes of God but also in our own.
We understand that outworn programs are inadequate to the needs of our time. We must harness new ideas and technology to remake our government, revamp our tax code, reform our schools, and empower our citizens with the skills they need to work harder, learn more, and reach higher. But while the means will change, our purpose endures: a nation that rewards the effort and determination of every single American. That is what this moment requires. That is what will give real meaning to our creed.
We, the people, still believe that every citizen deserves a basic measure of security and dignity. We must make the hard choices to reduce the cost of health care and the size of our deficit. But we reject the belief that America must choose between caring for the generation that built this country and investing in the generation that will build its future. For we remember the lessons of our past, when twilight years were spent in poverty, and parents of a child with a disability had nowhere to turn. We do not believe that in this country, freedom is reserved for the lucky, or happiness for the few. We recognize that no matter how responsibly we live our lives, any one of us, at any time, may face a job loss, or a sudden illness, or a home swept away in a terrible storm. The commitments we make to each other – through Medicare, and Medicaid, and Social Security – these things do not sap our initiative; they strengthen us. They do not make us a nation of takers; they free us to take the risks that make this country great.
We, the people, still believe that our obligations as Americans are not just to ourselves, but to all posterity. We will respond to the threat of climate change, knowing that the failure to do so would betray our children and future generations. Some may still deny the overwhelming judgment of science, but none can avoid the devastating impact of raging fires, and crippling drought, and more powerful storms. The path towards sustainable energy sources will be long and sometimes difficult. But America cannot resist this transition; we must lead it. We cannot cede to other nations the technology that will power new jobs and new industries – we must claim its promise. That is how we will maintain our economic vitality and our national treasure – our forests and waterways; our croplands and snowcapped peaks. That is how we will preserve our planet, commanded to our care by God. That's what will lend meaning to the creed our fathers once declared.
We, the people, still believe that enduring security and lasting peace do not require perpetual war. Our brave men and women in uniform, tempered by the flames of battle, are unmatched in skill and courage. Our citizens, seared by the memory of those we have lost, know too well the price that is paid for liberty. The knowledge of their sacrifice will keep us forever vigilant against those who would do us harm. But we are also heirs to those who won the peace and not just the war, who turned sworn enemies into the surest of friends, and we must carry those lessons into this time as well.
We will defend our people and uphold our values through strength of arms and rule of law. We will show the courage to try and resolve our differences with other nations peacefully – not because we are naïve about the dangers we face, but because engagement can more durably lift suspicion and fear. America will remain the anchor of strong alliances in every corner of the globe; and we will renew those institutions that extend our capacity to manage crisis abroad, for no one has a greater stake in a peaceful world than its most powerful nation. We will support democracy from Asia to Africa; from the Americas to the Middle East, because our interests and our conscience compel us to act on behalf of those who long for freedom. And we must be a source of hope to the poor, the sick, the marginalized, the victims of prejudice – not out of mere charity, but because peace in our time requires the constant advance of those principles that our common creed describes: tolerance and opportunity; human dignity and justice.
We, the people, declare today that the most evident of truths – that all of us are created equal – is the star that guides us still; just as it guided our forebears through Seneca Falls, and Selma, and Stonewall; just as it guided all those men and women, sung and unsung, who left footprints along this great Mall, to hear a preacher say that we cannot walk alone; to hear a King proclaim that our individual freedom is inextricably bound to the freedom of every soul on Earth.
It is now our generation's task to carry on what those pioneers began. For our journey is not complete until our wives, our mothers, and daughters can earn a living equal to their efforts. Our journey is not complete until our gay brothers and sisters are treated like anyone else under the law – for if we are truly created equal, then surely the love we commit to one another must be equal as well. Our journey is not complete until no citizen is forced to wait for hours to exercise the right to vote. Our journey is not complete until we find a better way to welcome the striving, hopeful immigrants who still see America as a land of opportunity; until bright young students and engineers are enlisted in our workforce rather than expelled from our country. Our journey is not complete until all our children, from the streets of Detroit to the hills of Appalachia to the quiet lanes of Newtown, know that they are cared for, and cherished, and always safe from harm.
That is our generation's task – to make these words, these rights, these values – of Life, and Liberty, and the Pursuit of Happiness – real for every American. Being true to our founding documents does not require us to agree on every contour of life; it does not mean we will all define liberty in exactly the same way, or follow the same precise path to happiness. Progress does not compel us to settle centuries-long debates about the role of government for all time – but it does require us to act in our time.
For now decisions are upon us, and we cannot afford delay. We cannot mistake absolutism for principle, or substitute spectacle for politics, or treat name-calling as reasoned debate. We must act, knowing that our work will be imperfect. We must act, knowing that today's victories will be only partial, and that it will be up to those who stand here in four years, and forty years, and four hundred years hence to advance the timeless spirit once conferred to us in a spare Philadelphia hall.
My fellow Americans, the oath I have sworn before you today, like the one recited by others who serve in this Capitol, was an oath to God and country, not party or faction – and we must faithfully execute that pledge during the duration of our service. But the words I spoke today are not so different from the oath that is taken each time a soldier signs up for duty, or an immigrant realizes her dream. My oath is not so different from the pledge we all make to the flag that waves above and that fills our hearts with pride.
They are the words of citizens, and they represent our greatest hope.
You and I, as citizens, have the power to set this country's course.
You and I, as citizens, have the obligation to shape the debates of our time – not only with the votes we cast, but with the voices we lift in defense of our most ancient values and enduring ideals.
Let each of us now embrace, with solemn duty and awesome joy, what is our lasting birthright. With common effort and common purpose, with passion and dedication, let us answer the call of history, and carry into an uncertain future that precious light of freedom.
Thank you, God Bless you, and may He forever bless these United States of America.
George Washington
Second Inaugural Address
Andrew Jackson
Second Inaugural Address
Abraham Lincoln
Second Inaugural Address
Grover Cleveland
Second Inaugural Address
Franklin D. Roosevelt
Second Inaugural Address
Throughout history as leaders take office they get sworn in with lots of pomp and circumstance.  I ask that everyone takes a brief second to acknowledge how lucky we are that our leader was not decided by a blood line, a pope, a coup, but was chosen by the people of this nation itself.  
Not everyone may agree he is the best choice, but everyone should agree that we are the best nation because of how he was chosen.
The Tribe has spoken.
I hear you are going on a tour to sell your ideas on gun control across America. First of all, thank you for carrying that message forward in the public spotlight.
Secondly, I am making the request that you make Rodney Square in our state of Delaware one of your stops… Here are some unique reasons why.
1) Wilmington was rated the most dangerous city last summer. Number 1. Most of that is due to illegally owned guns. It would be seen as being very brave coming into the heart of the problem. It would show inspiring leadership and courage to show up at Illegal Gun's headquarters.
2) Rodney Square can be easily secured. You were previously here in your first campaign. It gives you access to the Philly media market as well as being closer to those higher income population swing areas in Southern PA that you carried, than downtown Philly itself.
3) We have an airport with a very long runway on which the Air Force One would have no problem landing…. and then a straight line to Rodney Square….
4) You could stay at Biden's house overnight, I'm sure he wouldn't mind. About time he entertained his boss…. Plus it'd save us all one big hotel bill.
Seriously, I can't think of any 4 better reasons why you should make Wilmington, Delaware a major focal point in your trip around the country….
It seem that no matter what Obama does these days he always comes out on the right side of the issue, and the Republicans always look like a bad live skit off Saturday Night Live….. You know, the ones so bad you just laugh at the fart noises?
Today the International Association of Chiefs of Police released the following statement…..
The International Association of Chiefs of Police (IACP) commends President Obama and Vice President Biden for the comprehensive package of proposals they announced to combat gun violence. The IACP believes that the proposals and actions reflect an effective, balanced approach to addressing the plague of gun violence in our communities and nation. As this process moves forward, the IACP will continue to work with the Administration, members of Congress, and public safety leaders across the country to enact these much needed reforms.
For many years, the IACP has been a leading voice in efforts to reduce gun violence. Our membership was, and remains, a leading proponent of universal background checks for gun purchases, the ban on military style assault weapons, high capacity magazines, and ensuring that the Bureau of Alcohol, Tobacco and Firearms (ATF) has both a permanent director and sufficient resources to enforce our nation's gun laws. The adoption of these, and other reasonable measures, will certainly assist in reducing the level of gun violence in our Nation.
Doesn't that make David Anderson, Don Ayotte, Frank Knotts, Jon Moseley, all anti-police? Hey, wait a minute… One of those is an elected official for the city of Dover, and he is anti police? Hmm, he is running this year… I wonder if his constituents know it, ..that their active council person seeking a third term is anti police?
You can't be for no regulation on guns, and be pro police.
We've been there. We know. For us it was during Reagan's 2nd term. We had the same arguments you have now… Our Romney was Walter Mondale. After losing we began looking at what a Democrat really was… We shunned the title Liberal.
The mantra that in class struggle it was the working man who carried the elections, was busted for us. We had the same arguments you did. Our radicals said we lost because we didn't have a true liberal.. our mainstream said look at the obvious, true liberals can't win.
Our next primary was a free for all.. and the one who won, was the most Machiavellian of the bunch. A centrist. A governor. Someone who had results attached to his name. And the race was close for a while, for we were running against a wimpy vice president. But we put our guy into a tank, and that was it… People blame Willie Horton, but it was the tank, that made Americans say unh-unh…. not Presidential enough. And Republicans took the highest office again, but we had found the answer.
Philosophy was a dinosaur. Politics was practical. You outplayed your opponent and you won. We then put up a Southern Governor who was modern enough to capture the old Democrats from the North, and had appeal, that could squeezed votes from the South, and Ross Perot helped a little too….
His second election, was not based on philosophy either. It was practical. The challenger didn't have a chance really, even with falling off the stage… Someone had rebuilt America from the horrible recession and we were happy with the direction we were headed…
His vice president didn't do as well as Reagan's. But it was a little closer, and the other side won. But no one voted on philosophy. His challenger just had more popular appeal, was a little more charismatic, and much less of a jerk on TV than our candidate. It was practical. Leaving no child behind? Taxes back? And especially after having details of blow-jobs spewing across blue dresses, … Family values. We were going to have a Christian in the White House…..
That is where the Republican Party began falling apart. 2004 should have been a landslide. It wasn't,… because "the philosophy" was touted. Your guy won barely, and by deceit… Then you lost both houses in 2006… That again, was because of your philosophy. You lost really bad in 2008… It was your philosophy, as well as the fact that McCain and wife, were no match for the Democrat and his wife. But as failure after failure piled up from all the decisions Republicans had made during the prior decade, Americans became practical and chose someone who would fix things, irregardless of philosophy. and that is what he did… Obama fixed things.
So, you ran 2010 on philosophy… and won. But, America was hurting too much to pay attention. It was more of a coup, than a mandate. When it came time for America to make their statement, they did. They don't want any Republican philosophy. Period.
So. here is what you do. You let your people decide. They have been telling you over and over again. First with McCain, then with Romney. They like the liberal Republicans… Those old Conservatives fogeys, ALWAYS LOSE.
And that is about as clear as I can make it. If you want to preserve conservatism, you had better cull out those with similar beliefs, rent a building on top of a hill somewhere, and live in seclusion, writing your ideas down for some future generation…. because the American People want a liberal.
The question for you, is should you always accede that liberal to be a Democrat? Or would you like to put in a Republican Liberal for a change….
Conservatives can't win. It is totally because of their philosophy….