You are currently browsing the category archive for the 'taxes' category.
Economic theory, which is basically bullshit, is often coached in mathmatical terms to disguise the fact that it is pure bull.  However there are some very simple concepts which make very good common sense, and if one looks at that, instead of how to use current data to justify one's action politically, one comes up with obvious surprising results.
Labor Demand < Labor Supply
That is why so many people are out of work.  Now here are the players.
Workforce Market
Corporations
Commodity Market
Foreign Investments
Financial Markets
Households
Government
Government is our last option.
So our workforce if we compare the same counting today as was during the Great Depression, is running at 85% capacity.  Meaning 15% are unemployed.
Going down the list then,
Corporations are at their best ever. Corporate profit the highest percent of GDP ever.
Financial Markets also are at their best ever.  Dow Jones is at record highs.
Commodities are performing well, all indications are of a long term bull market.
Foreign Investment is at an all time high.  Never have we had this much outside money.
Real Household Income is declining.  We are headed downwards and are currently tied with 1994 as it rose out of the 91 recession, and prior to that, tied with 1984 as we were coming out of the 1982 Recession.
====
Bottom line with government out our equation, we have the investment side of our economy all doing spectacularly well, and the household side going down.
===
Proof enough that the free market system, or capitalist system does little for the good of any nation, just as little good it did prior to the legislation that became law after the crash of 1929 when Democrats swept the Federal Government.
===
Government is the great equalizer.  For a fix, government needs to step up and side with We the people (or households), and as a referee would in any sporting event, make the playing field fair.
It can to it in either of two ways. It can impose necessary restrictions upon businesses which increase their demand for labor at the expense of their corporate profits.  For example, pass legislation to imprison CEO's for malfeasance. Only then in order to keep their heads out of hot water, they hire environmentalists, social engineers, accountants, and other highly trained personnel whose prime function is to make sure the company is not doing anything shady.
It can also split the corporations into multiple smaller ones, each now requiring a new president, several new vice presidents, new HR's, new financial planners, etc and with one fell swoop, increase the demand for labor.  This too, comes at the expense of corporate profits, which are currently huge primarily due to economies of scale.
And it can indirectly create demand by raising taxes.  When taxes go up on profit- earned, less profit gets earned by design; less "reported" profit, less money handed over in taxes.. Meaning the bulk of that money is now spent being reinvested into the business just so it can't be taxed.  Building projects, higher wages, more R&D gets spent into the economy,  This too, comes at the expense of corporate profits on the books.
But that is why higher tax rates are actually the best alternative.  Higher tax rates tend to create less taxes, so government still needs to stay small.  The revenue collected is lower for the simple reason that if there was absolutely no tax, all the money earned would belong to me.  But if more of what I earn goes to you, then I will figure out a legal way to keep more for myself, and report less.  So whereas as tax rates go up, total tax revenue comes down;  the net effect is that more money goes into our economy thereby creating more demand.
The demand for labor then gradually rises to equal the supply and if it continues on its upward path, yes, yes, so there are more jobs than workers, then competition begins pushing the individual wage rates higher.
Which adds to the increased demand.
Using tax rates works best for now instead of the government interfering with day to day operations of all businesses, it actually creates an environment where each business can operate independently to its own best interest, and as they do, the demand for labor rises even more…..
====
Anyone who argues for less government input into the economy is in the wrong century and can't read economic figures that are plain as day.  So how does one interpret the cries for less regulations that are hurting corporate profits?  Easily. One realizes that sooner or later corporate profits have no choice but to fall, so our household income can increase. Loss of corporate profits is a "good thing".
One should mention in the same breath, that labor's percent of wages is deteriorating all across the world.  It is a world wide phenomenon.  The answer is simply that deference of all governments over the past decade and a quarter, has been given to those in charge of investment.
Policies favoring Investment must now take a back seat to those which put people back to work, which if done, raise the incomes of all of us… Even those of  the 1% , though not as much as they have been lately been accustomed.  But everyone still benefits.
Raising taxes is where we need to go.
===
The tycoon wishes to remain anonymous because he is one of the most solid Republican monetary supporters.
But when asked how he reads this chart, here is his compelling answers….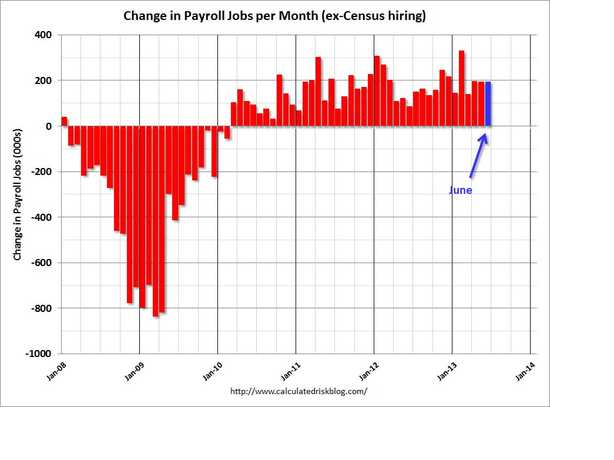 "Aside from the obvious, that we have had 39 months of continuous private sector job growth, something not seen since the Clinton Era, I suppose the biggest question remains as to "why" the glitches. Why are there parts that drop down in the recovery and seem to go backwards?
Here, let's just go through the time-line. Let's start at the bottom of the inverted pyramid… The general climb out of the hole was due to TARP money which jump-started construction projects and the big infusions to banks which kept the economy from falling off the cliff into the pit of no return. It culminated with a big push of Census hiring in March of 2010. Most attention was on Obamacare at that time and with everyone's lack of attention from the president, congress, and corporate, things languished for several months. Also one must remember that the Republicans looked like they would make big gains in 2010 and turn all Obama's directives around. That would be very bad if it were so, and no one sank any money into investment until the election determined things.
Those who figured Obama would win, (Northeast and California) invested heavily in October only to be mistaken and with the Tea Party rattling their sabers upon their win, no one invested anything at all. We all thought the economy would crash and burn again. Up until the election we fully expected the Bush Tax Cuts to be eradicated, so our goals had been to move our funds over into areas where they would not be taxed, primarily investment into our own companies. As the tax laws became extended, many of us were not in the right zone at the right time to take advantage of the two year grace period that tends to better reward those investing in liquid assets as opposed to longer term job creating ones.
By 2011, in February we realized the Tea Party was nothing but a boil, a cyst, a sham, and things would hold current at a status quo. February, March, and April we made plans to go forward and grow. Then in May, the first debt crises occurred and shocked, we all pulled back. The Tea Party did not vote on its unceremonious raise and emergency measures were begun to be implemented by the Federal Treasury. In June, we rode our previous success fully betting that no one, not even the Tea Party would be foolish enough to destroy America's credit rating for their own political gain. By July, we knew we were horribly wrong. We pulled back on every investment option we possibly could.
The Grand Design ($4 Trillion Budget Arrangement) never did come about. If it had we would have thrown everything into getting on the ground floor of the next boom. But by August 2011 we were confident enough to begin putting some of our extra money now trickling in over to self-investment and it continued straight through January 2012.
That was when Republicans began their Primary campaign in earnest and the Democrats were silent by having no primary or no opponent to which to reply; all bets were that the Democrats were very vulnerable. In fact, it looked like it could be a clean sweep of both Houses and the Executive. This would mean all new investment was futile. The Fed would raise interest rates according to all these Republicans against soft money, costing banks billions and overall investment would slow to a crawl. This slide lasted until the juxtaposition of the two party conventions back to back, which gave us all a clear idea of who would win. I mean who would you want behind the shoulder advising the policy of the next president:  Bill Clinton or Clint Eastwood? The fruits of our investments through Sept and Oct. paid off through November and December. Although we too had quite a scare after the first debate.
Then came the Sequester. It is hard to remember now that we really thought we were going off a cliff back then. Once settled, January's hiring was alread done but February received the spike of top money shifting from taxable investments over to job producing non-taxable investments. The stock market jumped  as world money became content that America had finally finished with its infatuation that the top 1% carry the economy as a whole and should be taxed less, jumped back in. Problems in China and Europe made sure we were the world's safest investment at the time.
Currently it appears that our entire economy has matured in 2013… if anyone looks at the chart, you see that the spike in February almost perfectly cancels out the dips in January and March, and that the average across all 6 months is very consistent, almost the same number.
In fact, we have plateaued. This is where our economy is right now, growing steadily with population growth and nothing more. There is nothing any more that anyone can do to increase private sector hiring.
Nothing will change I figure until the House of Representatives gets enough democrats and government hiring can begin anew."
"Oh" I said, "so now you are a Democratic supporter?" lol.
"NEVER!" he responded. "However I'll admit that Republicans are absolutely worthless when it comes to growing economies."
And there, you have "the rest of the story…."
Please note. At the beginning of this legislative session, Jack Markell kept all the tax increases in, except one, for those making over $60,000. There was a lot of talk about the need for a higher bracket, talk that perhaps in Delaware it should start at $1 million. It could then be accurately called a millionaires tax. Delaware's Gatsby Tax has a nice ring to it….
This year, their rate was shifted from 6.95% down to 6.75%, then in future years it drops to 5.95%. Per every $100 million assessed in income, that is a loss of $1 million dollars coming in. Based on Budget estimates this tax cut will cost Delaware $68 million a year… This all happened at the beginning of the session.
Now with 6 days left in this year's session, today, we get the announcement that we need $80 million dollars in new taxes.
\
Gov. Jack Markell has offered (mighty nice of him) legislators a selection of more than $80 million in tax and fee increases to spend on roads, beaches, parks and waterways, but already legislators are rejecting some of the ideas. Markell included a 5-cent increase in the gasoline tax…
Other ideas including upping document fees charged when Delawareans purchase a car (aka a sales tax on new car purchases), expanding the hotel accommodation tax so it applies to beach rental properties, and increasing vehicle registration fees and highway tolls. Excerpt from News Journal (why bother linking to it; most of you don't subscribe anyways). See Real News at Delaware Liberal.
This had to be planned all along! Cut the tax on the wealthy at the top, wait for the last minute, then call an emergency and slap regular people with $80 million dollars worth of fees… just averaged out to every Delawarean,(including every child so per family it is much higher) that is an increase of $80 dollars spread out over the year… If your take home pay was say, $30,000, it will now effectively be $29,920…
You are losing $80… Why? Because the General Assembly was USED. Tricked by a switcheroo….
Here is what should happen. The Democratic Majority in anger against being made into a fool by their governor of the same party, should ramrod over the dead bodies of Republicans, a 10% marginal tax rate on all those making over $1 million a year! And put it defiantly right on Markell's desk to sign, (thereby almost guaranteeing everyone of them re-election into the next session. Woo Hoo)
Markell will either have to sign, put the state in arrears, or back down and compromise.
That is how you teach a trickster a lesson.
Today Colonial narrowly passed the referendum. it will probably be contested, but there is enough width in the spread to assume checks were already made and the outcome will not change off any recount….
What I thought was far more newsworthy, was a comment I heard on WDEL news hour with Allan Loudell, where a spokeperson for the Colonial Board, mentioned this year was their first operating referendum in 20 years…. (1993)
Why now, with the Federal Government funneling money into Delaware's educational system through RTTT are we having the first referendum in 20 years…  Or better put, what was going right the past 20 years that isn't going right now?
Since 2008 the State of Delaware has cut funding to public education and has only partially restored some funding in 2013 with the Education Sustainment Fund.
This years budget (2013) has a deficit of $6.6 million which will be met by the district's reserve funds…
The property owners now  have to kick in that difference if they want their children to continue having the quality education to which they are accustomed.  Unfortunately their prime zip code (19720), has the highest foreclosure rate in Delaware.
Their operating cost rises $3.5 million primarily through the increase in the state mandated pension rate,   Some salary increases were mandated as well.
For 2012 the State portion of funding came in under that predicted by the budget, by $1.3 million under estimate. Due to the economy the local assessed amount came in $3.1 million under budget as well.
It was necessary for voters to raise taxes because the governor cut taxes….. Pure and Simple.  In 2012, the actual state supplement of Colonial's educational costs had dropped $17 million since the budget of 2010. ( 86,045,700 (2010 budget) versus $68,996,976 (2012 actual)….
The tax rate on those earning over $60,000 dropped by 0.125% of a percent.  All other tax rates stayed the same.
Point is… whenever someone talks about cutting the tax rates for those at the top…  it is going to cost YOU more money…  To cost you LESS money, you should have voted for those chomping at the bit to raise the rates higher on those at the top of the food chain… When they get taxed a lot, you don't… Cut their taxes, you make up the difference…
Lesson learned.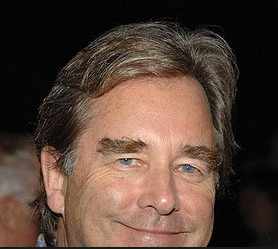 Courtesy of Protect Our Bridges
This nation has not taxed itself enough for 13 years.  As a result, we have not spent enough on our infrastructure….Driving on roads with potholes, doesn't scare me that much.  But being on a very tall bridge, knowing it can collapse any second including the ones in which I'm crossing it,  does scare me… With my luck… it will be the I 95 bridge across the Susquehana at Port Deposit, Maryland. That one always scares me. If you haven't heard, a bridge just collapsed in Washington State, on Interstate 5 north of Seattle.  The Republicans running that state had gutted all maintenance to cut expenses. Now they have one big expense to pay for. The accident occurred 3 hours prior to this writing.  So far there was no loss of life, just many loss of cars.
Being afraid of bridges, I immediately checked Delaware…. Out of our 862 bridges across this state, we have  53 that are listed as severely deficient, just as was the one in Washington State that collapsed…. We are lucky.  Only 6.1% of our bridges are severely deficient.  Nationally, eleven percent of our bridges are severely deficient.  Neighboring PA with   5,540 bridges out of 22,669, comes in with a 24.4% deficient bridge ratio.
Just remember that the next time you drive up into the sky across the Schuylkill River. One of of every 4  Pennsylvanian bridges, can drop out from under you into the water at any second…  one out of four.
The time for wringing hands is over.  It is time to make our bridges safer and the wealthy to gladly foot the bill…  Actually if you ask those people who 3 hours ago found themselves in the Skagit River, … it's way, way past time.
I'm usually done with a piece of legislation when it doesn't go my way.. I always shared a disdain for those who lose and refuse to accept reality for what it is… But I've received so many questions over SB51, that I'll break protocol, to discuss it for one last time…
The main question I've received most often, is why did I take on this unattainable cause. Surely one could see the writing on the wall when the Senate voted? Wasn't it a waste of time?
Oddly, no. And I'm perplexed a little as to why I feel that way. Because it did suck up a lot of time and it had only two people vote against it in the entire General Assembly, and two abstentions (one principled and one physical.) So I'm going to try and work it out here, in type, as to why it was important to lead a fight against it. One that if one was keeping score, turned out to be an unmitigated disaster.
The reason for SB51″s success, was its stealth. It was out of committee, in the Senate, out of the Senate, in the House committee, and on the House floor, each time with very little notice. In fact, it wasn't until after it had passed the Senate that I began hearing how bad this bill really was. Perhaps in a regular year, that would not have occurred. Someone would have read the bill earlier as it hit the docket and passed that information along. It should be noted this is an extraordinary year. The recomposition of this General Assembly has made many big changes possible. Gay Marriage, Background Checks, Reporting Stolen Firearms, Repeal of Death Penalty, Kinder-Morgan, Assault Bans, Bans of High Capacity Clips, have kind of sucked the wind out of the room when it comes to a bill that says something sensible like we should be hiring smart teachers instead of dumb ones.
One of our most progressive commentators said something like "I can see no one having a problem with that."
And indeed. This bill seemed to have everyone on board. DSEA, that educational labor union who represents teachers, RODEL who represents the corporate Investors, the Governor who put this prominently in his state of the state address, both parties whom neither wanted to be seen as being against better education, the Chamber of Commerce and those who fund the entities inside the Community Service Building on 10th Street, progressives, conservatives. There was no one who seemed not to want to rubber stamp it…
It took a lot of work to wake up even three people to contest it…. And that is a start….
With overwhelming support, my goodness, in percentage terms…. 93% of the entire General Assembly was in favor. That ironically was the same percentage of Delawareans that wanted Offshore Wind over the objections of 4 well place members of the Executive Committee back in 2007-8…
How can anyone "credible" be against such a good bill with "overwhelming" support?
I would say there is one common thread among those who first voiced opposition and carried the water for trying to educate the public about this bill. And if you agree or disagree, please feel free to chime in. This is an informal piece.
Anyone who has experienced Common Core, who has actually experienced it, would be against this bill. I experienced it by helping a student with their homework assignment. Teachers and administrators experience it in their professional capacity. School Boards experience it by being in the cross fire between the DOE and parents who are as upset as I was with the crap that is being passed off as "learning."…
Obviously from the results of the vote, very few people in Delaware have experience Common Core. Once you see what it has done to your kids, you are outraged. Outraged. There is no other accurate description….
So the vote in support of SB51, was primarily based, if I could extrapolate, on ignorance. I too would have been right there with them if I had not had the cathartic experience of meeting Common Core face to face. Once one does, one quickly learns to hate it. For many, many years I have been privy to a lot of grumbling from educators over each new "program of the year", but never, never have I experienced a deterioration in a student's drive to do well, as I have seen across the board with Common core…. "A" Students just giving up and settling for "C's", because of the capriciousness of the teaching and those learning materials that come in "packets."
Here is what has to happen. These tests and packets need to get leaked to the public. Once seen and ridiculed, the proper perspective and potential damage from Common Core becomes clearer. Further more, every single member of the educational committees of both the Delaware Senate and House, should take this bill. Then the General Assembly would finally be in alignment with where the parents will be next year.
This year was really the first where Common Core was trialed. Next year it will be much more extensive.
So when one says that our teaching colleges and universities will be rated by how well their student teacher's students do on Common Core tests over the next five years, quite a bit of that sentence totally depends on how good or bad Common Core is… I can tell you… it's really.. really… bad.
Common Core is no better than "No Child Left Behind." That too was a landmark piece of legislation to make teachers accountable to teaching, and not sending unprepared students up the ladder. It was hailed as the crowning achievement of American Society. Those very few who looked at the detail, and questioned how it would work, were laughed at as being among those who wanted to "leave children behind." But guess what? When that was implemented in full across the nation, it didn't work. Students did worse instead of better. Gee, the educational structure asked? How can this be? Answer was, it didn't work in Texas under then Governor George W. Bush, either. They just tweaked the test scores.
Common Core is no better. In fact, it is probably worse. And there are many reasons why, which have been discussed on this blog many times, as well as on Transparent Christina, Kilroy's of Delaware, Delaware Way, and Seventh Type… It "can" be better, but those pieces are being squashed under "bigger" principles, such as busting the teachers union, paying off Wall Street investors, making fistfuls of dough out of charter schools and vouchers… Big money has got its roots into education and is now trying to choke off all competition from good crops..
This bill's overwhelming victory is not the end…. In fact, I think it may just hasten the end of Common Core, instead of extending it… I think so because I know how bad this program is.. I know there is no way you, once you experience it's insanity, its inadequacy, and its ineptitude, will be supportive of common core… You can't be.. No one like being inside a Kafka novel. We have nine months to educate Delaware what Common Core will do to your children. Nine months… If we are wrong, and the public does not by then demonize this program, then perhaps it is good that this bill passed.
But I've seen Common Core face to face… so I sincerely doubt that outcome….
Then, come next January, January 2014 an election year no doubt, we again will see these familiar words with a lot of support behind it.
"Section 1. Amend the title of Chapter 12, Title 14 of the Delaware Code, by making insertions as shown by underlining and deletions as shown by strikethrough as follows:"……
Much interest has lately been place in the IRS treatment of the Tea Party.  This wing of the IRS is responsible for making sure that groups who say they are tax exempt, really are… Otherwise, Mitt Romney would become a group and be non-taxed.  They serve a legitimate function.  Without them, every business would laundry their money this way…. 
This is the legal requirement. Do you think bands of citizens on street corners, many of them armed, preaching about insurrection and civil disobedience fits in to these categories…
You are not alone.
The IRS is fully justified in scouring any of these organizations and going after their individual members for cheating…
After all, there a very good chance they are not paying their fair share of taxes, wouldn't you agree?
The real crime, is how does a political organization that spends considerable amounts (millions) of money on candidates and to influence elections, get to say it is an organization that is apolitical and therefore tax exempt?
IF there is any violation of law, it is the fact that 9/12 Patriots and Sheriff Arapao, and Jeff Christopher, were not audited sufficiently to determine whether they were apolitical or working for a political agenda….
Like we really don't know.
I say they do work for a political agenda and should have their tax exempt status revoked and be ordered to pay back-taxes on all incoming amounts collected…
That is the real crime. The IRS was just doing it's job……
First off.  Any one can say anything.  I can say we should seriously colonize a  nearby class "M" planet.   I can find 40,000 reasons why the human race should do so.  But, if you were to ask me how we would get there,  I couldn't tell you.  But I would try.
I would blame the bad people here.  I would say we need to get good people in positions of power. People with "vision". I would say, we aren't and haven't been trying hard enough to allocate resources towards that.  I would say that if we just rewarded those who worked on it, we'd get there. I'd say that if we paid some of my fellow science friends to figure what we are doing wrong, my fellow science friends with your money, would surely lead the way….
But in the end, after all your money was spent, all we'd have left to show for it…  is an idea; that idea being that you know, that we should colonize a nearby class "M" planet….
Just in case you couldn't see through the metaphor, this is what the Rodel Foundation has done….
I could go on and on with details, but it would be just copying  this person who already has.  Instead, I promised you a hole in their reasoning , didn't I?  Well, that's what I promised so let me deliver.
Let us assume you recruit the best.  You go after the trophy winners where ever they may be…   you excite them with your presentation, you optimism and you give them a pen to sign the contract….
They pause, and ask.  How much will I get paid?
A quick check of sources  shows Delaware's starting wage is $39,099.  From the top that puts Delaware as  the 10th highest starting salary.   If you think a teacher with a portfolio of student loans more than owed on one's house is not going to go to the highest bidder, you aren't thinking correctly. Which means Delaware is already starting out of the gate with a handicap of 10.
So isn't it silly, you tell me, to spend all the federal RTTT  funds on recruiting the "best" teachers or professionals and then, forget to pay them because we are strapped for cash the following year?   Can you say 8% pay cuts?  Exactly how long ago was that?
What makes anyone think that a really good teacher who has an inside track in Connecticut, Pennsylvania, Massachusetts, Wyoming, California,New Jersey, Maryland, New York and Alaska is going to give it up to come to Delaware for less?
If you want talent, you have to pay for it.  The idea of waving a magic wand and good teachers will come, is not grounded in reality.   We might as well be recruiting on a class "M" planet.