You are currently browsing the category archive for the 'taxes' category.
Forget about the deficit.  Forget about class struggle.  Forget about intra-class equity.  Forget about soaking the rich….
"Just forget about it….."
Our current tax base inequity is killing our economy…..  Not just ours, but the global economy as well.  The  solution to the worlds economy is our tax rate, right here in the USA….
Imagine all the wealthy in the United States.  It is here.   It is full of one color.
Now, let us show you how that wealth was divided just before 1980.  That was the beginning of the Republican Party (you know what I mean).
Now, let us show you how wealth is divided with the closest available figures today.
Now let me show you how the US dominates the worlds wealth.
It is pretty clear to everyone that the economy is driven by demand.  If there is demand, then investment flows into options to create more supply.  When supply is higher than demand,  cutbacks have to occur until both are closer in alignment.  Right?
So the big global economic problem is…. in America there is a lack of spending!….  Unfortunately it has been going on 5 years. and a lot of this lack of spending comes from the collective behavior across this country now put towards paying down individual  debt from what we once spent in our past….
The solution is to spend more.  The burden on spending more must lie with those who have money to spend.
This group failed us.  The trickle down theory never trickled down.  Seriously?  Why would it?  Who except the Mother Theresa's of us, would simply give our money away to help the poorer and downtrodden?
Our forefathers lived through this a hundred years ago.   If you want to see our future, study the economy from the Civil War to the Great Depression.  Business and the wealthy could not be trusted to look out for anyone's  interests.  There had to be another way.
We stumbled upon it funding WWII.   Tax wealth.  Use that as seed investment money.  Build things.
Has anyone ever thanked our forefathers for their investment into the building of a vast network of interstate highways?  Imagine if  we had counted upon the private sector to make this  improvement to our lives?
Highways were paid for by taxing those "with money".  As seen above, in the past the middle class had money and chipped in accordingly.  Today that money is no longer  in middle class hands and is instead of being reinvested it is now getting siphoned off-shore where it does no good what so ever.
Until Americans  return to the good habit of spending, the soft economy will continue….  To get that quick transfusion which will  jump start  our economy, our nation needs to  put money back  into the hands of the middle class, so they will again start buying things that employ people…..  The middle class likes to spend.  They are the gas that runs the economy's engine.
The simplest method accomplishing this, is to increase the taxes a little bit on those who have way too much money.  …
Studies show that for every penny in increased tax, there is 99 times that economic benefit as that penny circulates through the system until it again finally settles into the pockets of the rich.  From there, it needs to be recycled again so we can again create the type of pie chart above showing the golden days when  wealth rested in the hands of those who would run right out and spend it….
The answer is not socialistic, that is  to take money away from the wealthy.  Oh no. Instead, it is to temporarily borrow it,  to force their investment into the economy so all again reap the benefits, not just the 1%….  Seriously, we should all get rich together, and we will, once we raise taxes on  "Those Few Who Will Not Spend….."
\
Thanks Nancy. Tom Carper sponsored, and Chris Coons endorsed, a bill that shuffles money around the Agriculture Department to keep our food inspectors fully employed.
Our food will not be uninspected now because of the Republican induced sequester. Politics are one thing. People dying are another. The only protection Americans have between themselves and unscrupulous cut-throat foreign food processors, is the FDA. Eliminating them would the the death of us all. Remember the tainted pet food?
I'm glad our delegation stepped up to protect them… However this gave me pause. Where the money was being shifted from….
The Pryor/Blunt/Coons amendment adds no additional cost to the bill. Instead, it moves one-time funding for school equipment grants and deferred maintenance on buildings and facilities at the U.S. Department of Agriculture…
One time funding for school equipment grants, meaning many schools in Delaware which thought they would soon be on the receiving end of new refrigeration units to safeguard school lunches, must now remain using the old pre- 1930′s models currently in place. It also means when the sequester is done, and funds return, their will be less spent on helping Americans, because it will be shuffled to cover the depreciation currently not charged because of this amendment.
When are we going to stop pussy footing around the real issue, and tax the wealthy at the rate of their hero, Ronald Reagan's first tax cut level, until we have paid off our deficit? The middle class should not bear the cost of the wealthy's bad investments. The top 1% should be the first to anti up, and then, only when they have nothing left, should the middle class even be asked to sacrifice…..
America is being spoon fed raw sewage and is then arguing which medicine is better to cover up the symptoms….. Tax the wealthy and all our dreams will come true. America can be healthy again….
Courtesy of Wikipedia.
After all the bluster dies down, Historians will revisit this era and come to this conclusion.
In order not to tax the top 1% an additional $85 billion dollars, the 99% was made to suffer for it….
Cost = $85 billion.
Let us compare that to wealth, not income, to see how that $85 billion stacks up….
The current household wealth of the United States is listed between $64 and $65 trillion dollars….   We are going to draw the line at at the top 20% and bottom 80% of the population.
The top 20% owns 89.9% of the nation's wealth.  The bottom 80% owns 11.1%….  In dollars that stacks up as follows:
Top 20% owns $58 Trillion in net worth.
Bottom 80% has $ 7 Trillion of net worth. 
Ok. now we have the dollar figures.  Let us break down the population.   Since we are dealing with government services we must assume that affects everyone, so we are going to use the 315 million population figure for our calculations.
Top 20% of population equals 63 million people.
Bottom 80% of population equals 252 million people.
So now let us see how that works out per person.  For both income levels we are going to divide the total wealth by the total persons and get the total wealth per person…
58 Trillion divided by 63 million people gives a per person average of…$841,269 per citizen.
7 Trillion divided by 252 million people gives a per person average of … $27,777 dollars per citizen.
Ok so here is what historians will find.    If we tax the existing revenue for the $85 billion difference it will only hit the top group of 20%…  If we sequester or cut out of our national budget, it will only hit those in the bottom 80%…
To see what the average hit will cost, we will take the $85 billion and divide it among the number of people in that income range. Then later we will apply that to their wealth and see who has the greater and who has the less percentage…
$85 Billion sequestered  spread over 63 million 20%'ers comes to $1349 each.
$85 Billion sequestered out of the 252 million 80%ers comes to a tiny…. $337 each… 
So here is the fun part.
That $1349  is this percent of $841,269…  0.16% of one percent.
That $337 is this percent of $27,777…. 1.2 percent…
Each person in the bottom 80% is paying roughly 8 times more of a burden to their wealth than paid by those in the top 20%…….   When our economy fails and historians look back and say, didn't anyone crunch the numbers?  Well, yes?  Someone did..
And if fairness is truly an America virtue, then once we know that a 8 to 1 ratio exists, it become easy to figure out how to divide the costs equally…  (8x +1x = $85B)  then we should have a tax hike of  $75 billion and sequester or cut of $10 billion to give every America an equal percentage bite out of their wealth….

Photo courtesy of Disney Productions
Just reading Jack Markell's advice on sequester, loosely translated, it means "no growth for that"; "no growth for that"; "no wiggle room for that."
The entire Sequestration is being caused by the shrunken Republican minority's refusal to accept higher taxes on the wealthy. As proven earlier, the $85 billion for the Federal Sequester could easily be raised by taking income over $1 million dollars one more penny per dollar… None of this would have to occur.
Currently Jack Markell proposes a cut in taxes on the top marginal rate of Delawareans. Almost all are registered Republicans. Their rates are to be reduced from 6.95 to 6.75. Initially in better economic times this was deemed to cost the state $8 million the first year, and $15 million the second year it goes into effect.
With the Federal Government pinpointing $15 million of Federal Aid being cut because Tea Party Republicans won't raise taxes, the idea of cutting taxes on the wealthy here in Delaware had better now be dead in the water.
As has been mentioned many, many, times here and elsewhere, when you have oodles of more money than you can keep track of, whether the state tax rate is 6.75, 6.85, 6.95, or even 7.95 concerns you not… only 3 out of every 10 voters are Republicans. Only 1 out of 10 of Delaware's general population, both voting and non voting, are Republicans..
The man behind the tree, is now a republican… He is the one who needs to pay for the Republican caused sequester…. It is time we implement a Republican Donation Tax. A surcharge tax equal to the amount donated to the Republican Party, that gets slapped onto any other assessments by law.
We tax tobacco to pay for the harm tobacco causes. We tax liquor for the harm liquor causes. We tax gasoline for the harm gasoline causes…. 'Bout time we tax Republicans for all the harm they've cause us….
It had been a long haul.  Unemployment rates were finally at the lowest levels of the current President's term.   Manufacturing, after being down for years, had finally surged past it zenith prior to the collapse.  The Stock Market was again, after 5 years, finally back in record territory.
The economic downslide appeared to be over.  Consumer confidence was high. The bad economic times were behind us.
It was time to cut the deficit that had swollen during the bad years. The nation could not keep pace with the growth of interest.  Now with good times finally approaching, it was time to whittle that problem away….
Big cuts were made across the board to  cut back government spending…..
But wait.  We are discussing 1937!
1937?  But I thought the Great Depression started in 1930 and lasted up until the war, 1941,  That's what we were always taught in school….
Ah.  You didn't let me finish…
One year later, the stock market would be at 50% of it's value.  Unemployment shot up from 14% back to 19%.  Manufacturing slipped 37% down from the previous year.  We were once again, indeed in the middle of  the Great Depression.
It came because we tried to force austerity way too soon.  The economy was only just rebounding,  We were imposing the economic equivalent for a quadruple bypass surgery patient,  a week after the operation, to be running in a marathon….
Exactly. Look what happened.  As the government contracted suddenly, the shock wave rippled through every person who had gone through it at least once before.  This time, they knew what to do.  Get out of the market immediately. Stop spending immediately. Cut to depression staff levels immediately.  They weren't getting burned like the last time…..
Although it is impossible to say today is the exact parallel to the man-made continuation of the Great Depression, there are startling similarities.
What is most striking, is that we never heard about this bubble of good economic data in our history books.  The result of  misapplied austerity simply continued the Great Depression, so that those  few good months just like we experienced, became quickly forgotten and swallowed up in the new upcoming crises.
Todays sequester and major cuts to spending, are our version of the austerity imposed upon the economy back in 1937…..

Chart Courtesy of Minyanville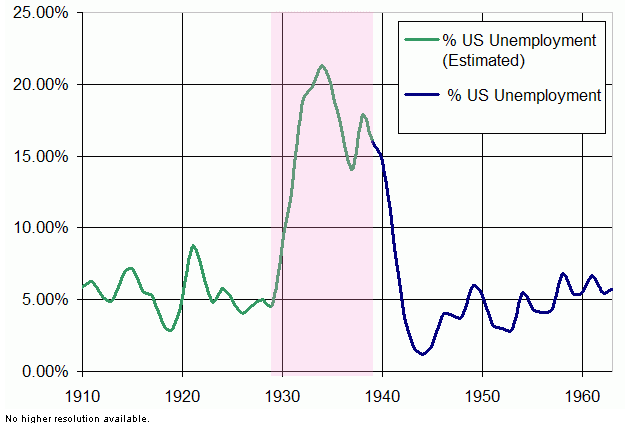 Courtesy of Wikipedia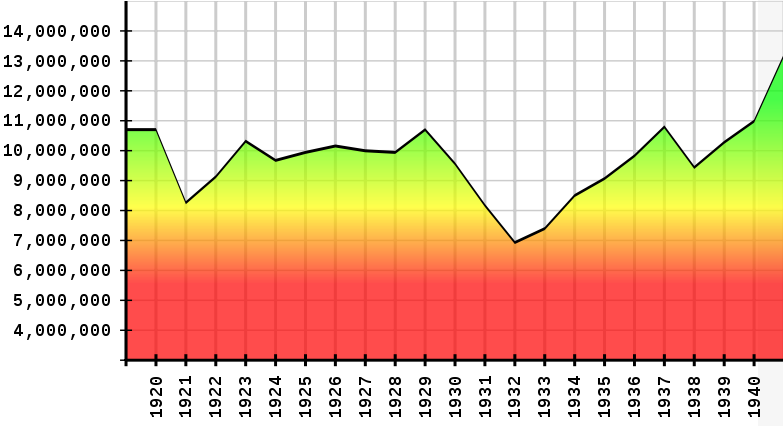 Courtesy of Wikipedia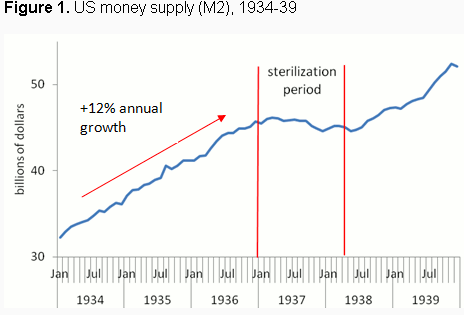 Courtesy of Wall St. Pit
I just laid down a stinging rebuke over at Delaware Politics of the Right's assertion that Obama caused the Sequester. The aim of their article was to blame President Obama for coming up with the sequester about to floor us on March 1st.. Nothing could be further from the truth… For in negotiations, it is not who comes up with an idea that matters, but who provides that idea with enough support, that it becomes so.
It appears that the sequester idea when it first appeared was nothing more than a leaf falling off a tree.
The sequester began in the budget crises of 2011. Here are the facts.
For the first time in history, the Tea Party forces Republicans to put limitations upon the raising of the debt ceiling.
On May 16 the US goes into technical default, but weaseling can extend the money until August 1.
April 2011: Obama says debt limit must not be tied to any other deals.
May 11th; Obama's chief economic advisor writes that hobbling the debt limit would be "insane".
May 31st; 2011; Obama's request for a clean debt limit is voted down in the House; All 236 Republicans vote no.
Up thru August, Republicans were screaming "it's gotta' have catastrophic budget cuts" and Obama said "no".
Republicans caused Standard and Poors to collapse our rating. Republicans insisted they didn't care and would still default.
The White House asked:  if we could "guarantee that cuts would occur in the future" would Republicans climb on board?
They said" yes"; as long as it was solid law that the sequestration would eventually take effect, they would raise the ceiling
Finally, when the Budget Control Act was passed, it was the Republicans who passed it. 218 voted yes for sequestration. It could not have passed without their support.
Bottom line, no matter who brought up the idea or where it came from, if Republicans had acted rational at any point along the way, we would not be on the edge of losing 700,000 jobs this March, 2013.
John Boehnor, and Delaware Politics spent much time saying that Obama is the author of sequestration….
Red State Politics disagrees….
Here is their quote…
"Republicans act as if the sequester is a natural disaster. They make no mention of the fact that they caused it and voted for it knowing that the sequester would take effect.... So why did they vote for it? None of them ever connect the dots and apologize for voting for it. The reality is that John Boehner said that he got 98% of what he wanted from the deal….."
There you have it. If Red State proudly stands up and takes credit for engineering and forcing the sequester to tighten the vice grips upon the American economy,  I certainly not going to stand in their way.
For Delaware Politics to go against Red State, and point their finger at Obama as originator of the "sequester", can only show Delaware Politics doesn't have the balls to be anything close to a real Conservative…   They are Faux Conservatives at their best…  or Ostrich Conservatives the rest of times, when they are not even close to being at their best.
Despite any words otherwise,  Republicans own this sequester; good or bad.
Unless you read one of the big newspapers you will never hear of this… From yesterday's sequestration hearings on Capitol Hill:
United States Army Chief of Staff Raymond T. Odierno elaborated on the impact that these indiscriminate, across the board cuts would have on military readiness in the Pacific and the United States Pacific Command.
"First, as I talked about 80% of our force having to stop training this year that includes our forces in Hawai'i, that includes our forces in at Fort Lewis that are in PACOM so they will be significantly degraded capabilities that they would have to respond to anything that goes on within Pacific Command. Additionally, the Army is responsible for providing a significant amount of communication support, intelligence support, logistical support to the PACOM Theater. Their ability to do that will also be affected by sequestrations specifically in the Fiscal Year 13 but beyond. We have tried to fence our capability in Korea to make sure they are at the highest readiness level. We will continue to do that. But the cuts in family programs, cuts in soldier programs, cuts in our civilians will also impact Korea as well. So for us it has a significant impact on our ability in the Pacific for the next several years," said Odierno.
80% of our forces will have to stop training this year.
Communication support, intelligence support, logistical support to the PACOM Theater; their ability to do that will also be affected by sequestrations specifically in the Fiscal Year 13 and beyond.
Our capability in Korea to make sure they are at the highest readiness level. We will continue to do that to the best that our finances will allow us. But cuts in family programs, cuts in soldier programs, cuts in our civilians will also impact Korea as well…
Just as we trim the forces in South Korea, North Korea puts us on a Defcom 4.
It is obvious with yesterday's nuclear explosion on the northern half of the Korean Peninsula, we can't cut the Pacific. If we try we are going to run cost overruns. This is just as silly as your boss setting financial goals that have never been proposed before and you simply know you will go over them. You accept that because it is impossible to meet them.
So how can we fix it?
We need just $86 billion extra per year. That is a lot for you and me, but for the wealthy, that is nothing. In fact Kinder Morgan just bought out Caldone for 8% of that: $5 billion. Prior to that, it just spent $21 billion on El Paso Gas. One company buying another company it didn't need.  Comcast just  bought  NBC for $13 billion.  That's almost half the total amount needed, thrown away on another company that would have been fine if left alone.  See how easy it is?
Just a few more companies  like that, and we could pay enough to keep our military in top shape. We don't need sequestration.
Bill Gates, Warren Buffett, $86 billion is nothing to them. Each alone could cover the cost of our military.
Point is, we have the money just sitting there. Sitting out there all alone, saying "take me, take me."  All we have to do is go get it, and we can cut our deficit at the same time as we keep ourselves protected by having a first rate defense.
It is no different than a family of four on a tight budget, stopping beside a field of wild strawberries and picking their next few meals.
We can do this… $86 billion on just the top richest 400 people is only $215 million each… That is nothing, nothing to them. What farmer will miss having wild strawberries getting picked out of his hay crop? As a nation, let's just take it;  it is there, it is begging for it, and we'd be doing an awful lot of good for everyone involved….