You are currently browsing the category archive for the 'taxes' category.
Focus on the Green… Notice that during the worst Recession since the Great Depression, not once did after tax corporate profits dip below to where they were in the late '90′s, when we were at our most successful economic expansion ever. Only one report even came close.
At one glance one can see what it wrong with the economy. Money that once kept the economy going, so well it ate our national debt, is now sucked out of our economy in the form of corporate profits.
Raising taxes on corporations back up to the levels of the nineties, when we had the greatest economic expansion in the history of the modern world, is how we create those missing jobs.
If one looks at the chart, all that money above the year 2002, should going back into the economy, not getting pulled out of it. If the amount of profit made everyone wealthy in the nineties, making the same amount, and making us all wealthier in the process, should be the direction we need to take….
Raising the tax rates on corporations, will not make them pay anymore in taxes. They are smart enough to know where to bury it and create jobs, to keep it untaxed.
As long as the growth begins… that would be fine with me…
Bottom line is in one glance, one can see exactly why our economy has been sick since the Bush Tax Cut went in effect in 2002.
I was awaiting the Mayor's comments on what he would do about the violence in our city….
"Nothing. It's the Parent's fault" he said. If one remembers the campaign taking place just a year ago last week, one remembers the current mayor Dennis Williams as a candidate lambasting the former Baker administration and its proxy, Bill Montgomery, for echoing these same exact sentiments.
"You're not doing anything about it; blaming vague root causes is not going to take care of the real problem, which is bullets flying up and down our city streets!" he repeated many times of his campaign.
This week's announcement was a tremendous statement. It acknowledges failure. When one falls back upon the same defenses as one's political opponent, that means one has failed.
Blaming vague routes for the problem. Here is the reaction to Dennis's statement.
"Ok, Dennis. You are mayor. Fix it.. Fix every parent taking care of their child. How are you going to do that?"
The answer is no one can do that. No one can pass an enforceable law demanding good parenting. Therefore using this excuse is one's acknowledgement that it can't be fixed. The solution is then still out there, still needed. There are very viable solutions out there to counter this problem; and answers come from recognizing first what the problem is.
The real problem is heroin. Come right out and say it… I will take the liberty to write here how Dennis "should have" handled the question…
=====
Hi, I'm Dennis Williams, and I approve of this message. When I took over as mayor of the City of Wilmington, little did I know that the tightening of the control of prescription drugs would become so effective, it would make heroin the least expensive alternative. The heroin business in Wilmington is booming. When criminal businesses, which are businesses run by rules outside the canons of law, become profitable, they change ownership by means also outside the canons of law.
Heroin is dealt in this fashion these days. A supplier drives in from a safe spot outside, drops off prepackaged bags, and gives you a bill of sale. If you choose to deal, you sell the product, then pay the seller for his money. If the seller doesn't get his cut, you don't last long. Now you have to sell. You sell heroin compartmentalized so no one knows the whole operation. One person you pick makes contacts at Glasgow High, another at Brandywine, you pick one at Olive Garden, one at Red Lobster, etc. One sells to the local IBEW; another supplies Bank of America. These are people you know; and they sell to people they know.
Bringing it on property is too dangerous. They deal in phone numbers. A cell phone number puts you in touch with a guy on the street corner. You call, say who gave you the number, and get told where to make the transaction. You put the address in your GPS, and drive. You call, he comes over to say hi, you say hi back and hand him the money, he drops the bag in your car, says have a nice evening, and you drive off…. You and your friends share the heroin and take off to go clubbing in Philly with no more thought to it than like having a beer before hitting the road.
Obviously the sectors close to exits off 95 are prime commercial real estate. Most of our shootings happen right off 202 and 95. Easy off – easy on. If you are selling down-stream, you get fewer customers… If you are selling $200 a night, and the guys up the street whom you can plainly see are doing $2000 a night, you are going to look at all options on how to increase you sales. In this business, it is all about location.
Almost all our shootings are a result of drug trafficking. Whether for non-payment, for elimination, or for reprisals, almost all our shootings are related to this industry… Very similar I might add, the same way all of Chicago's shootings were related to the illegal alcohol trafficked through the Prohibition years in that metropolitan area.
Changes are required beyond me to fix this problem completely. For this is an ongoing war that can never be won by using the same weapons we've been using over the past 50 years. People are resourceful; if they want something they find a way to get it, around every roadblock we can impose. They do not stop wanting this product. The alcohol violence in Chicago only went away when alcohol again became legal. It is time to consider what might happen, and how we could control it if we chose to make heroin legal. For when one can buy heroin in Wal*Mart, with no stigma, and trust that some government entity has verified its purity, and lack of harmful substances, no one in their right mind would drive into the city to make a transaction for what could turn out to be corn starch laced with arsenic. And if no one is driving into the city, there is no money to be made. If there is no money to be made, there is nothing to be gained from the illicit drug trade. If there is no money in crime, crime goes away…
There are very easy ways if we make it legal, to control usage. One, small nightly dispensations could become the rule, so overdosing would be impossible. Two, addicts show up regularly become readily apparent , and could be directed by Wal*Mart to various appropriate detoxing agencies. The possibilities are endless. But it would not destroy society because it would be regulated and taxed and otherwise like every other vice that has followed the same pursuit, liquor, beer, wine, cigarettes, cigars, gambling, could become a beneficial revenue source for the government…
Without going this far, there are some things that can help immediately, maybe save a life or two, though not take care of the problem. If you see a drug deal, call the anonymous number. Say, "I have someone dealing on the corner of Baynard and 22nd." Dealers' fear of the unknown is our greatest defense against these street corner transactions ever happening. When we start getting calls before murders take place, fewer murders will take place. Putting up cameras just moves the transactions to where there are no cameras. Same with putting police on corners. Our best bet is to have dealers so fearful someone will rat them out, they don't come out, anywhere. They find another way to sell. In doing so, we've destroyed the property value of the prime real estate, so that it is not worth killing for. We cut crime.
With your help, we can do that. However everyone needs to recognize that the problem is one of business. These are business killings. They are about business. People need money to live and unfortunately with an illegal business, a lot of people have to die to keep that type of business alive and afloat.
Likewise picking up the random car bringing the packets in, means another car gets dispatched the same night and makes the drive down to fill the hole in supply…
The same with guns.
We can also crack down. Make it unprofitable so the sellers choose to sell in Elmere, New Castle City, Newark, Christiana, Claymont. The crime moves there and we cheer our gun deaths are down. All we did was transfer the problem to my friend Tom Gordan.
The long term option is to make it legal, and by doing so, suck all the money out of that business. If one can walk into Walgreens, present an ID, sign forms and pay $2 a small bag, and then go home and sleep it off, the $50 bags on the street corner are going to disappear. The same person, goes home and sleeps it off, in either way. One way costs them $50, costs us $150 a bag in trying to interdict it, and continues eating up our young urban men. The other way, generates taxes, keeps control, drops crime, makes money for Walgreens, creates new jobs, and allows for $48 dollars to be spent into our economy for other commodities. Again, either way, the same person sleeps it off.
I am calling for a new conversation, a bold, innovative way we can get drugs off our streets entirely. I'm am calling for a way we can remove the market of illegal substances out of our neighborhoods, off our streets, and into the business world where it really belongs. It's a business and should have the legitimacy it deserves. It has a demand that will be met, if not legally, then it must be met illegally. We haven't changed that in 50 years of trying. Only the opposite approach, of making it legal, controlled, available, and legitimizing it, will take the illegal activity currently devoted to filling that demand….
It is the only smart thing to do.
Every smart thing requires a person of immense courage to start the ball rolling. Although I have no more courage than the next person, I do recognize that I am in this position at this time, and must do something. I am starting the call to legalize these narcotics as being our most effective method of attacking the ills of this business while it is allowed to remain illegitimate.
This is very unlike my predecessors blaming the parents… I can do nothing about fixing parents. I can work our legislators and become a public spokesperson for making this business legal again, so we, society in general, can control it…
There will be those who through shallow thinking may not agree with this long term solution. Not everyone is smart. But, we have an great opportunity in this city, with a complete lack of Republican countervailing power which always make progress unattainable because of their higher-than-thou moralistic posturing, to actually make something happen. We have the resolve, we just need the release to allow us to make progress happen.
The arguments they will use against it, are the same once used against smoking, against drinking, and against gambling. WE legitimized all those businesses and the sky didn't fall. It is time to accept rationality and begin the process of this one… In the meantime we will continue fighting against the symptoms of a social disease our current processes will never fix. Any help or information before a crime is to be committed or immediately afterwards, will be highly appreciated in our endeavor to make Wilmington, which is truly a wonderful city, again become a great place to live…… For despite our inability to eliminate the overall big picture, every life we save, is an actual life we save… There can be put no price too high on that. We need your calls.
=====
That is what Williams should have said.
Economic theory, which is basically bullshit, is often coached in mathmatical terms to disguise the fact that it is pure bull.  However there are some very simple concepts which make very good common sense, and if one looks at that, instead of how to use current data to justify one's action politically, one comes up with obvious surprising results.
Labor Demand < Labor Supply
That is why so many people are out of work.  Now here are the players.
Workforce Market
Corporations
Commodity Market
Foreign Investments
Financial Markets
Households
Government
Government is our last option.
So our workforce if we compare the same counting today as was during the Great Depression, is running at 85% capacity.  Meaning 15% are unemployed.
Going down the list then,
Corporations are at their best ever. Corporate profit the highest percent of GDP ever.
Financial Markets also are at their best ever.  Dow Jones is at record highs.
Commodities are performing well, all indications are of a long term bull market.
Foreign Investment is at an all time high.  Never have we had this much outside money.
Real Household Income is declining.  We are headed downwards and are currently tied with 1994 as it rose out of the 91 recession, and prior to that, tied with 1984 as we were coming out of the 1982 Recession.
====
Bottom line with government out our equation, we have the investment side of our economy all doing spectacularly well, and the household side going down.
===
Proof enough that the free market system, or capitalist system does little for the good of any nation, just as little good it did prior to the legislation that became law after the crash of 1929 when Democrats swept the Federal Government.
===
Government is the great equalizer.  For a fix, government needs to step up and side with We the people (or households), and as a referee would in any sporting event, make the playing field fair.
It can to it in either of two ways. It can impose necessary restrictions upon businesses which increase their demand for labor at the expense of their corporate profits.  For example, pass legislation to imprison CEO's for malfeasance. Only then in order to keep their heads out of hot water, they hire environmentalists, social engineers, accountants, and other highly trained personnel whose prime function is to make sure the company is not doing anything shady.
It can also split the corporations into multiple smaller ones, each now requiring a new president, several new vice presidents, new HR's, new financial planners, etc and with one fell swoop, increase the demand for labor.  This too, comes at the expense of corporate profits, which are currently huge primarily due to economies of scale.
And it can indirectly create demand by raising taxes.  When taxes go up on profit- earned, less profit gets earned by design; less "reported" profit, less money handed over in taxes.. Meaning the bulk of that money is now spent being reinvested into the business just so it can't be taxed.  Building projects, higher wages, more R&D gets spent into the economy,  This too, comes at the expense of corporate profits on the books.
But that is why higher tax rates are actually the best alternative.  Higher tax rates tend to create less taxes, so government still needs to stay small.  The revenue collected is lower for the simple reason that if there was absolutely no tax, all the money earned would belong to me.  But if more of what I earn goes to you, then I will figure out a legal way to keep more for myself, and report less.  So whereas as tax rates go up, total tax revenue comes down;  the net effect is that more money goes into our economy thereby creating more demand.
The demand for labor then gradually rises to equal the supply and if it continues on its upward path, yes, yes, so there are more jobs than workers, then competition begins pushing the individual wage rates higher.
Which adds to the increased demand.
Using tax rates works best for now instead of the government interfering with day to day operations of all businesses, it actually creates an environment where each business can operate independently to its own best interest, and as they do, the demand for labor rises even more…..
====
Anyone who argues for less government input into the economy is in the wrong century and can't read economic figures that are plain as day.  So how does one interpret the cries for less regulations that are hurting corporate profits?  Easily. One realizes that sooner or later corporate profits have no choice but to fall, so our household income can increase. Loss of corporate profits is a "good thing".
One should mention in the same breath, that labor's percent of wages is deteriorating all across the world.  It is a world wide phenomenon.  The answer is simply that deference of all governments over the past decade and a quarter, has been given to those in charge of investment.
Policies favoring Investment must now take a back seat to those which put people back to work, which if done, raise the incomes of all of us… Even those of  the 1% , though not as much as they have been lately been accustomed.  But everyone still benefits.
Raising taxes is where we need to go.
===
The tycoon wishes to remain anonymous because he is one of the most solid Republican monetary supporters.
But when asked how he reads this chart, here is his compelling answers….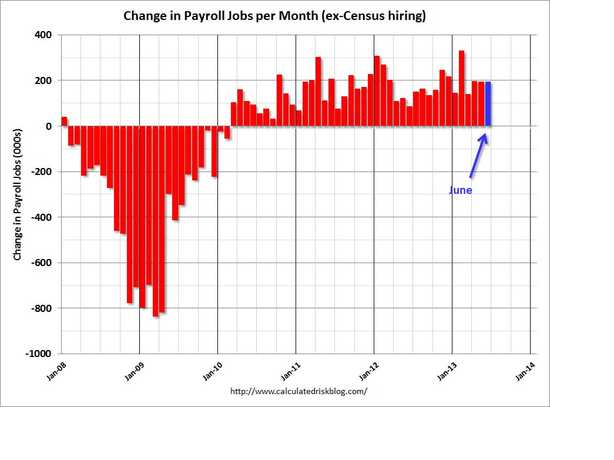 "Aside from the obvious, that we have had 39 months of continuous private sector job growth, something not seen since the Clinton Era, I suppose the biggest question remains as to "why" the glitches. Why are there parts that drop down in the recovery and seem to go backwards?
Here, let's just go through the time-line. Let's start at the bottom of the inverted pyramid… The general climb out of the hole was due to TARP money which jump-started construction projects and the big infusions to banks which kept the economy from falling off the cliff into the pit of no return. It culminated with a big push of Census hiring in March of 2010. Most attention was on Obamacare at that time and with everyone's lack of attention from the president, congress, and corporate, things languished for several months. Also one must remember that the Republicans looked like they would make big gains in 2010 and turn all Obama's directives around. That would be very bad if it were so, and no one sank any money into investment until the election determined things.
Those who figured Obama would win, (Northeast and California) invested heavily in October only to be mistaken and with the Tea Party rattling their sabers upon their win, no one invested anything at all. We all thought the economy would crash and burn again. Up until the election we fully expected the Bush Tax Cuts to be eradicated, so our goals had been to move our funds over into areas where they would not be taxed, primarily investment into our own companies. As the tax laws became extended, many of us were not in the right zone at the right time to take advantage of the two year grace period that tends to better reward those investing in liquid assets as opposed to longer term job creating ones.
By 2011, in February we realized the Tea Party was nothing but a boil, a cyst, a sham, and things would hold current at a status quo. February, March, and April we made plans to go forward and grow. Then in May, the first debt crises occurred and shocked, we all pulled back. The Tea Party did not vote on its unceremonious raise and emergency measures were begun to be implemented by the Federal Treasury. In June, we rode our previous success fully betting that no one, not even the Tea Party would be foolish enough to destroy America's credit rating for their own political gain. By July, we knew we were horribly wrong. We pulled back on every investment option we possibly could.
The Grand Design ($4 Trillion Budget Arrangement) never did come about. If it had we would have thrown everything into getting on the ground floor of the next boom. But by August 2011 we were confident enough to begin putting some of our extra money now trickling in over to self-investment and it continued straight through January 2012.
That was when Republicans began their Primary campaign in earnest and the Democrats were silent by having no primary or no opponent to which to reply; all bets were that the Democrats were very vulnerable. In fact, it looked like it could be a clean sweep of both Houses and the Executive. This would mean all new investment was futile. The Fed would raise interest rates according to all these Republicans against soft money, costing banks billions and overall investment would slow to a crawl. This slide lasted until the juxtaposition of the two party conventions back to back, which gave us all a clear idea of who would win. I mean who would you want behind the shoulder advising the policy of the next president:  Bill Clinton or Clint Eastwood? The fruits of our investments through Sept and Oct. paid off through November and December. Although we too had quite a scare after the first debate.
Then came the Sequester. It is hard to remember now that we really thought we were going off a cliff back then. Once settled, January's hiring was alread done but February received the spike of top money shifting from taxable investments over to job producing non-taxable investments. The stock market jumped  as world money became content that America had finally finished with its infatuation that the top 1% carry the economy as a whole and should be taxed less, jumped back in. Problems in China and Europe made sure we were the world's safest investment at the time.
Currently it appears that our entire economy has matured in 2013… if anyone looks at the chart, you see that the spike in February almost perfectly cancels out the dips in January and March, and that the average across all 6 months is very consistent, almost the same number.
In fact, we have plateaued. This is where our economy is right now, growing steadily with population growth and nothing more. There is nothing any more that anyone can do to increase private sector hiring.
Nothing will change I figure until the House of Representatives gets enough democrats and government hiring can begin anew."
"Oh" I said, "so now you are a Democratic supporter?" lol.
"NEVER!" he responded. "However I'll admit that Republicans are absolutely worthless when it comes to growing economies."
And there, you have "the rest of the story…."
Please note. At the beginning of this legislative session, Jack Markell kept all the tax increases in, except one, for those making over $60,000. There was a lot of talk about the need for a higher bracket, talk that perhaps in Delaware it should start at $1 million. It could then be accurately called a millionaires tax. Delaware's Gatsby Tax has a nice ring to it….
This year, their rate was shifted from 6.95% down to 6.75%, then in future years it drops to 5.95%. Per every $100 million assessed in income, that is a loss of $1 million dollars coming in. Based on Budget estimates this tax cut will cost Delaware $68 million a year… This all happened at the beginning of the session.
Now with 6 days left in this year's session, today, we get the announcement that we need $80 million dollars in new taxes.
\
Gov. Jack Markell has offered (mighty nice of him) legislators a selection of more than $80 million in tax and fee increases to spend on roads, beaches, parks and waterways, but already legislators are rejecting some of the ideas. Markell included a 5-cent increase in the gasoline tax…
Other ideas including upping document fees charged when Delawareans purchase a car (aka a sales tax on new car purchases), expanding the hotel accommodation tax so it applies to beach rental properties, and increasing vehicle registration fees and highway tolls. Excerpt from News Journal (why bother linking to it; most of you don't subscribe anyways). See Real News at Delaware Liberal.
This had to be planned all along! Cut the tax on the wealthy at the top, wait for the last minute, then call an emergency and slap regular people with $80 million dollars worth of fees… just averaged out to every Delawarean,(including every child so per family it is much higher) that is an increase of $80 dollars spread out over the year… If your take home pay was say, $30,000, it will now effectively be $29,920…
You are losing $80… Why? Because the General Assembly was USED. Tricked by a switcheroo….
Here is what should happen. The Democratic Majority in anger against being made into a fool by their governor of the same party, should ramrod over the dead bodies of Republicans, a 10% marginal tax rate on all those making over $1 million a year! And put it defiantly right on Markell's desk to sign, (thereby almost guaranteeing everyone of them re-election into the next session. Woo Hoo)
Markell will either have to sign, put the state in arrears, or back down and compromise.
That is how you teach a trickster a lesson.
Today Colonial narrowly passed the referendum. it will probably be contested, but there is enough width in the spread to assume checks were already made and the outcome will not change off any recount….
What I thought was far more newsworthy, was a comment I heard on WDEL news hour with Allan Loudell, where a spokeperson for the Colonial Board, mentioned this year was their first operating referendum in 20 years…. (1993)
Why now, with the Federal Government funneling money into Delaware's educational system through RTTT are we having the first referendum in 20 years…  Or better put, what was going right the past 20 years that isn't going right now?
Since 2008 the State of Delaware has cut funding to public education and has only partially restored some funding in 2013 with the Education Sustainment Fund.
This years budget (2013) has a deficit of $6.6 million which will be met by the district's reserve funds…
The property owners now  have to kick in that difference if they want their children to continue having the quality education to which they are accustomed.  Unfortunately their prime zip code (19720), has the highest foreclosure rate in Delaware.
Their operating cost rises $3.5 million primarily through the increase in the state mandated pension rate,   Some salary increases were mandated as well.
For 2012 the State portion of funding came in under that predicted by the budget, by $1.3 million under estimate. Due to the economy the local assessed amount came in $3.1 million under budget as well.
It was necessary for voters to raise taxes because the governor cut taxes….. Pure and Simple.  In 2012, the actual state supplement of Colonial's educational costs had dropped $17 million since the budget of 2010. ( 86,045,700 (2010 budget) versus $68,996,976 (2012 actual)….
The tax rate on those earning over $60,000 dropped by 0.125% of a percent.  All other tax rates stayed the same.
Point is… whenever someone talks about cutting the tax rates for those at the top…  it is going to cost YOU more money…  To cost you LESS money, you should have voted for those chomping at the bit to raise the rates higher on those at the top of the food chain… When they get taxed a lot, you don't… Cut their taxes, you make up the difference…
Lesson learned.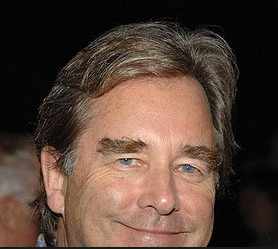 Courtesy of Protect Our Bridges
This nation has not taxed itself enough for 13 years.  As a result, we have not spent enough on our infrastructure….Driving on roads with potholes, doesn't scare me that much.  But being on a very tall bridge, knowing it can collapse any second including the ones in which I'm crossing it,  does scare me… With my luck… it will be the I 95 bridge across the Susquehana at Port Deposit, Maryland. That one always scares me. If you haven't heard, a bridge just collapsed in Washington State, on Interstate 5 north of Seattle.  The Republicans running that state had gutted all maintenance to cut expenses. Now they have one big expense to pay for. The accident occurred 3 hours prior to this writing.  So far there was no loss of life, just many loss of cars.
Being afraid of bridges, I immediately checked Delaware…. Out of our 862 bridges across this state, we have  53 that are listed as severely deficient, just as was the one in Washington State that collapsed…. We are lucky.  Only 6.1% of our bridges are severely deficient.  Nationally, eleven percent of our bridges are severely deficient.  Neighboring PA with   5,540 bridges out of 22,669, comes in with a 24.4% deficient bridge ratio.
Just remember that the next time you drive up into the sky across the Schuylkill River. One of of every 4  Pennsylvanian bridges, can drop out from under you into the water at any second…  one out of four.
The time for wringing hands is over.  It is time to make our bridges safer and the wealthy to gladly foot the bill…  Actually if you ask those people who 3 hours ago found themselves in the Skagit River, … it's way, way past time.