You are currently browsing the category archive for the 'Tax policy' category.
Much interest has lately been place in the IRS treatment of the Tea Party.  This wing of the IRS is responsible for making sure that groups who say they are tax exempt, really are… Otherwise, Mitt Romney would become a group and be non-taxed.  They serve a legitimate function.  Without them, every business would laundry their money this way…. 
This is the legal requirement. Do you think bands of citizens on street corners, many of them armed, preaching about insurrection and civil disobedience fits in to these categories…
You are not alone.
The IRS is fully justified in scouring any of these organizations and going after their individual members for cheating…
After all, there a very good chance they are not paying their fair share of taxes, wouldn't you agree?
The real crime, is how does a political organization that spends considerable amounts (millions) of money on candidates and to influence elections, get to say it is an organization that is apolitical and therefore tax exempt?
IF there is any violation of law, it is the fact that 9/12 Patriots and Sheriff Arapao, and Jeff Christopher, were not audited sufficiently to determine whether they were apolitical or working for a political agenda….
Like we really don't know.
I say they do work for a political agenda and should have their tax exempt status revoked and be ordered to pay back-taxes on all incoming amounts collected…
That is the real crime. The IRS was just doing it's job……
Just look at North Carolina.  In 2010 both houses went Republican. But they still had a Democratic Governor to keep them in check.  That check was erased last November. Today with a Republican Governor, and super-majorities in both houses, North Carolina is a model for what would have happened if Romney had won the Presidency and the Senate become Republican….  Unchecked power.  Basically a Tea Party's wish list…..
So far, these changes have already done in North Carolina…..
A.  Parents and families seeking Federal Assistance must first take a drug test, which they must first pay costing $100.  That money is then used to help fund the benefits for those… who passed….
B.  Passed a bill requiring photo identification at the polls.
C.  Personal and Corporate Tax Cuts
D.  Restrictions on Abortion
E.  Cuts to Education Funding
F.  Increasing out-of-state tuition for state schools.
G. Ending the public funding of Judicial elections.
H  Devastating rollbacks of environmental legislation
I.  Blocked the expansion of Medicaid under Obama's Health Care Act.
This has happened in a few short months.  The bills are instantly brought up for a vote, discussion is waived, and the vote is taken… It is always partisan with those representing good government, always losing.
This is what the rest of the nation avoided this past November…
Two big tragedies last week. Two bombs go off in Boston killing a total of 3 people, and a quirk explosion in West, Texas, demolishing a fertilizer plant and killing 14 for which we can find bodies for, and leaving 60 people still unaccounted …
One got unlimited media attention; the other a passing mention.
One shut down our 22nd largest city. The other will be investigated at some future point.
The differences are intriguing.
The Boston Massacre was a textbook case of how to find a bad guy. As Steve notes here, we've been planning for an event like this a long time. Homeland Security produced an army to "invade" Boston in order to find the perpetrators. They shut down transportation, and went door to door. Ironically, despite the effort and expense it was luck that gave them their men. The initial dragnet missed the one in the boat, and only when the curfew was lifted, did the boat owner find him and alert authorities.
What was Boston's cost? Well, add up fuel for all the vehicles, armored cars, and helicopters. Add up all the overtime pay for police, fire, ambulance, and the para military troops brought in. Add the economic cost of shutting down the 22nd largest city for a day… It's so big, I can't even guess. We'll have to wait for the number crunchers with receipts actually in their hands. But particularly with including the economic cost somewhere near a $billion, that means we spent a billion dollars to catch 2 people that were really caught by a) being run over by the other bomber, and b) a man stepping out for a smoke….
But we still, … cost ourselves a billion dollars….
Now. Texas. We had a combined 24,000 gallons of anhydrous ammonia and ammonium nitrate. It wasn't required to obtain a state air emissions permit because it was so old. In 2004 they were supposed to come up and get reauthorized by the Texas Commission on Environmental Quality. "They failed to do so."
Federal documents say the plant did not have required security and safety plans in place. the EPA fined the plant more than $2,000 in 2006 for failing to update a risk management plan. In response, the site's operators told the EPA that the plant posed no risk of fire or explosion. The worst case, plant officials said, would be a 10-minute release of ammonia gas that would kill or injure no one.
The EPA also found that West Fertilizer did not have a formal maintenance program and that its employee training records were poor. In addition, the plant was found in violation of key security measures by the U.S. Pipeline and Hazardous Materials Safety Administration. The agency discovered that the plant had planned to transport anhydrous ammonia without making or following a security plan. Last summer, regulators fined the plant $10,000, then settled for $5,250…. And now we find the fertilizer had 1350 times the legal amount of fertilizer material than it was allowed….
Was too much money spent by government leading up to the explosion? Or too little? Were we lulled by a litany from the Texas Republicans that companies could police themselves, and that we didn't need to spend any money on regulations and enforcing standards? Of course we were. It all started by that guy who once owned the Texas Rangers, who said he would "cut taxes"…
Since we cut taxes we have had multiple issues. And since that time when taxes first got cut, it is easy to see our successes all come about when we, the United States Government, spends money lavishly… When we cut back, we get nothing but trouble with a capital "T"….
So our success come when we tax and spend. Our failures come when we cut taxes and fire, close down, and destroy jobs.
There comes a time when profits get so high, that hiring new people bites into them. WE have reached that point. Corporate profits have never been as high as they are today. Yet we have 15 million underemployed. The hard way to fix it, is to force businesses to hire more people they don't want. The easy way is to tax some of that profit that certainly is not necessary for the businesses' survival… I mean corporations have lived on less since the beginning of time, then hire an inspector who has the authority to close a Texas fertilizer plant when it flagrantly defies the law.
America needs to accept this is how it has to be.
We need things done! Eight years of Bush's neglect plus the 2 years of having the Tea Party corral Congress, has severely damaged America! Putting America back to work, and boosting sales to corporations who benefit from all new economic activity, and using those workers to fix what is broken in America, is a win, win, win situation…..
So at what level should the assessed tax be? It appears that since incentive is a huge part of capitalization, the level of taxation needs to be below 50%. Simply put, if I invest $1 million and lose money on that, what was the point of the investment? Therefore, it appears that after a certain income level ($5 million?) taxes after all deductions should be around 40% of all income earned. If you have too much money, keeping 60% is certainly profitable. ;
Considering our current situation, a) a thriving economy, b) a current 40% tax rate on the top 1%, and c) still high unemployment, tweaking the tax law towards deductions, so that deductions only started after the first 40% got paid, might be the silver bullet that our nation needs, one which will cut the deficit, hire the unemployed, and use both to rebuild America.
We need more money, and we have to get it. Period. All future American successes depend upon it…

Courtesy of Obamarmy
Ok kids, Look at the graph…. and see who can be the first to tell me….. Why do we really need to ramp up the education of our black and brown kids now?!!!!
Tax the Rich. Hire teachers to reach an 11 to 1 ratio. Test beginning, mid, and end of cycle only to evaluate the student's needs ( don't use them to close schools, fire teachers, or divvy out bonuses to your friends and supporters)… and lets get it done….
Btw, it has to start with the first one.
In a must-be-there meeting for Delaware's Tea Party taking place Saturday, on Del Tech's campus in Georgetown, DE,  the paper-pushing sheriff was able to gather all 336 of the remainder of the Tea Party…
A group once powerful enough to throw Mike Castle out of office, is now down to 336 men.
Now these 336 are banding together to form their own government very similar to that selection of colonial farmers and merchants who gathered in Philadelphia to succeed from  Great Britain.
"Judge T. Henley Graves recent ruling that Sheriffs in Delaware have no authority of arrest is wrong, and actually is a criminal act of seditious conspiracy (U.S. code Title 18, sec. 2384), which is defined as attempting to overthrow the established form of government. The penalties for violating the Oath of Office in this manner are a fine and twenty years in prison. "
Only difference is those in Philadelphia 237 years ago were a lot smarter and actually had a case against Great Britain.
If one can consider those enlisting Mr. Paper-Pusher to be their cult leader  then strictly for purposes of alliteration, I hereby dub them:  Christopher's Cult.
Christopher's Cult is synonymous in membership (336) with the remainder of the Tea Party (336) which is likewise synonymous with what's left of the NRA.(336)
Their principal aim appears to be the revival of the KKK but they plan on doing it legally by calling  it by another name. Whenever they want to exert their gun wielding brand of justice, off they ride in pick up trucks carrying Boss Hogg's airhorn with bull's testicles hanging off their back ends. .  They are no different than any southern segregationists who refuse to accept Federal Law that said black people had to be treated as people too…. and instead chose to take the law into their own hands.
So why is Delaware's General Assembly afraid of just 336 cranky old white men?
Simply, because those 336 are  sexy and they know it.
On any given summer day…you can find most of these 336 wearing male bikinis on the northern stretches of Rehoboth's beaches , up north of where the boardwalk ends.
Our pasty white members of the General Assembly are very frightened to show up on the beach with zero tan lines….  They live in fear of these 336 showing them up….
Did I mention they were sexy and they knew it?
Thanks Nancy. Tom Carper sponsored, and Chris Coons endorsed, a bill that shuffles money around the Agriculture Department to keep our food inspectors fully employed.
Our food will not be uninspected now because of the Republican induced sequester. Politics are one thing. People dying are another. The only protection Americans have between themselves and unscrupulous cut-throat foreign food processors, is the FDA. Eliminating them would the the death of us all. Remember the tainted pet food?
I'm glad our delegation stepped up to protect them… However this gave me pause. Where the money was being shifted from….
The Pryor/Blunt/Coons amendment adds no additional cost to the bill. Instead, it moves one-time funding for school equipment grants and deferred maintenance on buildings and facilities at the U.S. Department of Agriculture…
One time funding for school equipment grants, meaning many schools in Delaware which thought they would soon be on the receiving end of new refrigeration units to safeguard school lunches, must now remain using the old pre- 1930′s models currently in place. It also means when the sequester is done, and funds return, their will be less spent on helping Americans, because it will be shuffled to cover the depreciation currently not charged because of this amendment.
When are we going to stop pussy footing around the real issue, and tax the wealthy at the rate of their hero, Ronald Reagan's first tax cut level, until we have paid off our deficit? The middle class should not bear the cost of the wealthy's bad investments. The top 1% should be the first to anti up, and then, only when they have nothing left, should the middle class even be asked to sacrifice…..
America is being spoon fed raw sewage and is then arguing which medicine is better to cover up the symptoms….. Tax the wealthy and all our dreams will come true. America can be healthy again….
Courtesy of Wikipedia.
After all the bluster dies down, Historians will revisit this era and come to this conclusion.
In order not to tax the top 1% an additional $85 billion dollars, the 99% was made to suffer for it….
Cost = $85 billion.
Let us compare that to wealth, not income, to see how that $85 billion stacks up….
The current household wealth of the United States is listed between $64 and $65 trillion dollars….   We are going to draw the line at at the top 20% and bottom 80% of the population.
The top 20% owns 89.9% of the nation's wealth.  The bottom 80% owns 11.1%….  In dollars that stacks up as follows:
Top 20% owns $58 Trillion in net worth.
Bottom 80% has $ 7 Trillion of net worth. 
Ok. now we have the dollar figures.  Let us break down the population.   Since we are dealing with government services we must assume that affects everyone, so we are going to use the 315 million population figure for our calculations.
Top 20% of population equals 63 million people.
Bottom 80% of population equals 252 million people.
So now let us see how that works out per person.  For both income levels we are going to divide the total wealth by the total persons and get the total wealth per person…
58 Trillion divided by 63 million people gives a per person average of…$841,269 per citizen.
7 Trillion divided by 252 million people gives a per person average of … $27,777 dollars per citizen.
Ok so here is what historians will find.    If we tax the existing revenue for the $85 billion difference it will only hit the top group of 20%…  If we sequester or cut out of our national budget, it will only hit those in the bottom 80%…
To see what the average hit will cost, we will take the $85 billion and divide it among the number of people in that income range. Then later we will apply that to their wealth and see who has the greater and who has the less percentage…
$85 Billion sequestered  spread over 63 million 20%'ers comes to $1349 each.
$85 Billion sequestered out of the 252 million 80%ers comes to a tiny…. $337 each… 
So here is the fun part.
That $1349  is this percent of $841,269…  0.16% of one percent.
That $337 is this percent of $27,777…. 1.2 percent…
Each person in the bottom 80% is paying roughly 8 times more of a burden to their wealth than paid by those in the top 20%…….   When our economy fails and historians look back and say, didn't anyone crunch the numbers?  Well, yes?  Someone did..
And if fairness is truly an America virtue, then once we know that a 8 to 1 ratio exists, it become easy to figure out how to divide the costs equally…  (8x +1x = $85B)  then we should have a tax hike of  $75 billion and sequester or cut of $10 billion to give every America an equal percentage bite out of their wealth….

Photo courtesy of Disney Productions
Just reading Jack Markell's advice on sequester, loosely translated, it means "no growth for that"; "no growth for that"; "no wiggle room for that."
The entire Sequestration is being caused by the shrunken Republican minority's refusal to accept higher taxes on the wealthy. As proven earlier, the $85 billion for the Federal Sequester could easily be raised by taking income over $1 million dollars one more penny per dollar… None of this would have to occur.
Currently Jack Markell proposes a cut in taxes on the top marginal rate of Delawareans. Almost all are registered Republicans. Their rates are to be reduced from 6.95 to 6.75. Initially in better economic times this was deemed to cost the state $8 million the first year, and $15 million the second year it goes into effect.
With the Federal Government pinpointing $15 million of Federal Aid being cut because Tea Party Republicans won't raise taxes, the idea of cutting taxes on the wealthy here in Delaware had better now be dead in the water.
As has been mentioned many, many, times here and elsewhere, when you have oodles of more money than you can keep track of, whether the state tax rate is 6.75, 6.85, 6.95, or even 7.95 concerns you not… only 3 out of every 10 voters are Republicans. Only 1 out of 10 of Delaware's general population, both voting and non voting, are Republicans..
The man behind the tree, is now a republican… He is the one who needs to pay for the Republican caused sequester…. It is time we implement a Republican Donation Tax. A surcharge tax equal to the amount donated to the Republican Party, that gets slapped onto any other assessments by law.
We tax tobacco to pay for the harm tobacco causes. We tax liquor for the harm liquor causes. We tax gasoline for the harm gasoline causes…. 'Bout time we tax Republicans for all the harm they've cause us….
It had been a long haul.  Unemployment rates were finally at the lowest levels of the current President's term.   Manufacturing, after being down for years, had finally surged past it zenith prior to the collapse.  The Stock Market was again, after 5 years, finally back in record territory.
The economic downslide appeared to be over.  Consumer confidence was high. The bad economic times were behind us.
It was time to cut the deficit that had swollen during the bad years. The nation could not keep pace with the growth of interest.  Now with good times finally approaching, it was time to whittle that problem away….
Big cuts were made across the board to  cut back government spending…..
But wait.  We are discussing 1937!
1937?  But I thought the Great Depression started in 1930 and lasted up until the war, 1941,  That's what we were always taught in school….
Ah.  You didn't let me finish…
One year later, the stock market would be at 50% of it's value.  Unemployment shot up from 14% back to 19%.  Manufacturing slipped 37% down from the previous year.  We were once again, indeed in the middle of  the Great Depression.
It came because we tried to force austerity way too soon.  The economy was only just rebounding,  We were imposing the economic equivalent for a quadruple bypass surgery patient,  a week after the operation, to be running in a marathon….
Exactly. Look what happened.  As the government contracted suddenly, the shock wave rippled through every person who had gone through it at least once before.  This time, they knew what to do.  Get out of the market immediately. Stop spending immediately. Cut to depression staff levels immediately.  They weren't getting burned like the last time…..
Although it is impossible to say today is the exact parallel to the man-made continuation of the Great Depression, there are startling similarities.
What is most striking, is that we never heard about this bubble of good economic data in our history books.  The result of  misapplied austerity simply continued the Great Depression, so that those  few good months just like we experienced, became quickly forgotten and swallowed up in the new upcoming crises.
Todays sequester and major cuts to spending, are our version of the austerity imposed upon the economy back in 1937…..

Chart Courtesy of Minyanville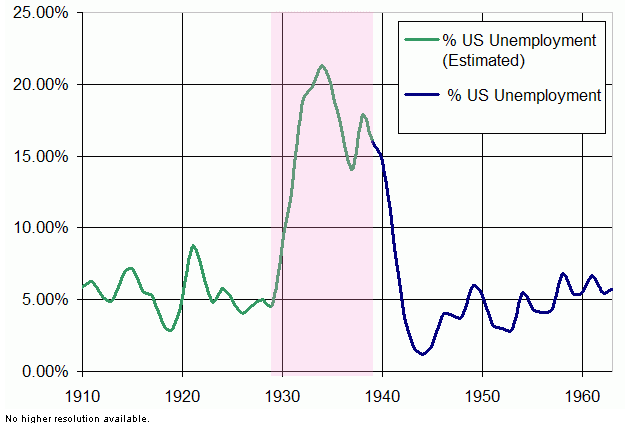 Courtesy of Wikipedia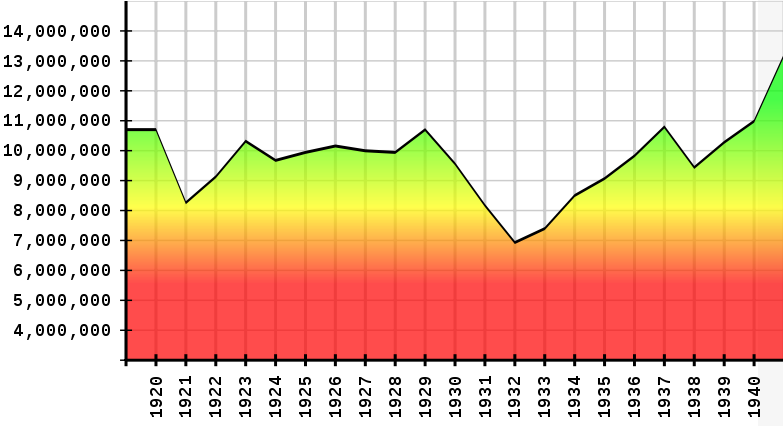 Courtesy of Wikipedia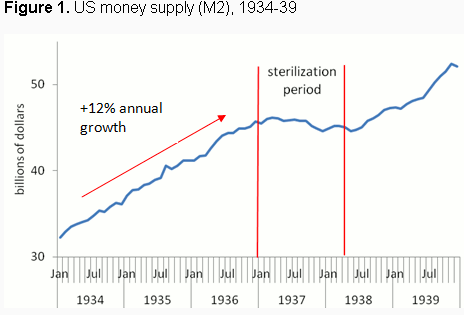 Courtesy of Wall St. Pit