Category Archive
You are currently browsing the category archive for the 'Spying on American Citizens' category.
October 20, 2011 in "It's a Wonderful Life", 12 Election Results, Health Care, Hube, republican ineptitude, Republican intimidation, Republican Lies, Republican Majority Leader, Republican National Committee, Republican soul, Republicans = Bad Guys, Republicans are Gay, Republicans R Babies, Republicans R Wrong, Rich Collins, rich get richer, Rising Insurance Premiums, sex should be private, slave labor, Sleaser Soddy Institute, South Carolina, Speaker of the House, Spying on American Citizens, State of Denial, stock market crash, Support Mind Altering Drugs For Republicans, Texas, top marginal tax rate | Leave a comment
And what happens in 2012? No, not the end of the world…. but the end of the world as we know it…..
For in 2012, pieces of the Affordable Care act begin to go into effect….. How awesome is that? And in our own lifetimes too?
What to expect…..
In 2012, thanks to the Affordable Care Act, additional benefits for the 150,000 Medicare enrollees in Delaware include lower prescription drug costs through a 50 percent discount on covered brand name drugs in the coverage gap – or "doughnut hole" – as well as wellness checkups and access to certain preventive care with no copayments, a benefit that all Medicare Advantage plans will offer starting in 2012. As a result, Medicare beneficiaries will be able to get free preventive screenings for heart disease, blood pressure, diabetes, Alzheimer's, and other chronic conditions. In 2011 alone, over 20 million Medicare beneficiaries received an annual wellness checkup or received other preventive services with no deductible or cost sharing.
Thank you President Obama. Thank you Democratic Party of the USA…!!!!!!!!!!!!!!!!!!!!!
How bad would we have been for us if Republicans had stopped this as they tried soooo hard to do?
It's going to be a great year!!!!!
August 9, 2011 in "It's a Wonderful Life", "Its the economy, "Stupid is, AOL, AP Wireservices, as stupid does", easy credit, Economic collapse, economic fallout, education, Math and Science, Spying on American Citizens, State of Denial, Stimulus Package, stock market, stock market crash, Support Mind Altering Drugs For Republicans, TARP, Tax policy, taxes, Tea Party versus Republicans, telemarketers, Timetable for Withdrawl, top marginal tax rate, torture, Trust in the political process, truth in advertising, Wall Street Journal, Want Some Tea, Weekend news cycle, wish it wasn't, Wrong Williams | Leave a comment
It is an event of national security.
Did Standard and Poors deliberately downgrade the U. S Rating to profit from selling the market short?
We capture all electronic data. We have every phone call, every electronic signal that was ever sent to or from inside of Standard and Poors…
We just need to save it, and investigate
It is an issue of national security; if such a motive exists, it is criminal and treasonous…
Was this done in good faith by some really, really stupid people, or…. is their a sinister motive underlying this very shady outcome?
Or it might be a case where perhaps their "Beers" went to their head?
Have the NSC pull up the files and let's find out for sure…. Everyone who didn't hear the tip and sell short, should get a little piece of him, don't you think?
This past week, while most of us were bitching about the heat and humidity, in a poorly air conditioned room, papers were filed that could, take Fox News off the air indefinitely…
Shareholders on Friday amended a prior complaint (PDF) in Delaware Chancery Court against News of the World parent News Corp. to allege "rampant nepotism" and massive failures of corporate governance. Filed by Grant & Eisenhofer and Bernstein Litowitz Berger & Grossmann, the shareholder derivative and class action suit seeks to block media mogul Rupert Murdoch's daughter, Elisabeth Murdoch, from taking a seat on the board, as well as to stop the family from allegedly treating the company as a family "candy jar."
Major investors previously had filed this objection over Murdoch spending money to to buy back his daughter's company put her on the board, all with a price tag of $615 million.
"Ignoring the distinction between the business of a public corporation and a family business, the Board has repeatedly permitted Murdoch to: (i) intertwine rampant nepotism in the conduct of Company business; (ii) undertake actions designed to maintain his control over News Corp; (iii) use News Corp resources for his own personal and political objectives; and (iv) reward himself handsomely with excessive compensation."
On July 8, 2011, an additional amendment was added, based on the news emanating from the disclosures that a Murdoch paper had hacked private communications to obtain news….
These new filings provide a very damning character assessment of Murdoch, as well as call into question his financial dealings..
Speaking of character assessment, there are rumblings that these actions in Britain violate the Corrupt Foreign Practices Act over here.
The News of the World was accused of making payoffs to police in exchange for information — a possible violation of the anti-bribery provisions of the act.
By shutting the paper Murdoch may be hoping to prevent any possible U.S. prosecution under the act, and also keep prosecutors from investigating whether the corrupt practices were used at some of Murdoch's other newspapers.
the scandal could potentially cost News Corp. its broadcasting licenses in the United States, This Week panelists said on the ABC News show.
The Federal Communications Commission has a "character" clause with which broadcasters must comply. One that is so extreme it threatened to derail the Comcast takeover of NBC, because someone said when they had installed cable, Comcast has hurt his building, and didn't pay him for it… That's laughable and impacted American business. There is nothing laughable about hacking into a missing 13 year olds phone. That is bad character.
Some of these stations, under the FCC character guidelines, could go off the air…..
WHEREFORE, Plaintiffs pray for judgment as follows:
a. for an order declaring that the Defendants breached their fiduciary duties to the Company;
b. for an order awarding damages, together with pre- and post-judgment interest to the Company;
c. finding that Individual Defendants will breach their fiduciary duties to the Class by agreeing to expand the News Corp. Board of Directors and appoint Elisabeth Murdoch to the created vacancy;
d. for Plaintiffs' costs and expenses incurred in this action, including, but not limited to, experts' and attorneys' fees; and
e. for such other and further relief as may be just and proper.
And Murdoch may be used to getting his way elsewhere… He hasn't stepped inside a Delaware Chancery Court before…
12. This Court has jurisdiction over this action pursuant to 10 Del. C. § 341.
13. As directors of a Delaware corporation, the Individual Defendants have consented to the jurisdiction of this Court pursuant to 10 Del. C. § 3114.
14. This Court has jurisdiction over News Corp pursuant to 10 Del. C. § 3111.
Murdoch has to show, because under Delaware Law:
"If such defendant corporation does appear (in court when summoned), the action shall proceed as in other cases, and if it fails to appear (in court when summoned), the plaintiff shall have judgment by default, service of the process being first proved
With things going so perfectly, there is very little to write about…
Perfection is defined as follows.
Obama has made solid decisions, benefiting all Americans.
All American is better of now that Democrats have control of both Houses of Congress.
Delaware has a governor that has elevated this state to a pinnacle unseen in modern times. No longer the butt of jokes (except for Castle), under our current government, Delaware leads the nation.
Delaware House and Senate, although not yet perfect (there are still a few republican seats) has performed better since FOIA was implemented. Democrats are why FOIA was implemented.
Delaware has one of the best state Justice systems. It's attorney general is currently a Democrat.
With everything going perfectly, there is very little to write about unfortunately. Even the buffoons we used to respond to, against whom we thought we were defending our nation's values…, have now been proven to be just mentally deficient vacuums, blubbering at the moon.
Things are going well. It is hard even to revisit the fact that it was the Republicans who caused every unemployed American to lose their job, and they did so, only because there were too few Democrats around to stop them..
Since then, America has come to its senses.
Republican philosophy doesn't work… Since that is so obviosly common knowledge now, it is even boring saying it…
Thank heavens America wised up and flushed out the Republicans clogging up our system … Things are much better now. Unfortunately, without them in power, …. there is nothing fun to write about…
Hence the ennui…
August 2, 2009 in "It's a Wonderful Life", Accountability, Alan Levin, Arnette McRae, Bill Lee, Blue Water Wind, breast feeding, Bush, Charlie Copeland, Cleavage Shots, Delaware, Delaware Bloggers, Delaware legislature, Delaware Public Service Commission, Delaware wind power, Delaware's energy needs, Delaware's Insurance Commissioner, Democratic pro tempre, Do Something!, Dumbing of America, early childhood development, Economic collapse, economic fallout, ethics, fact checkers, fiscal responsibility, FOIA, Gary Stockbridge, getting to know you, High Speed Rail, In God We Trust, Incumbant Party of Delaware, inflated gasoline prices, Jokers To The Right, Life and Death, manipulation of youth, money in politics, moving on, Much Ado About Nothing, Numbers Don't Lie, Offshore Drilling, oil futures, Ooga Ooga Ooga, open government, Pamela Thornburg, political favors, Randell Speck, republican ineptitude, Republican intimidation, Republican Majority Leader, Republican soul, Republicans are Gay, rich get richer, Russ Larson, Senator Adams, sex should be private, Socialist Republicans, Spying on American Citizens, The Pretenders, Thurman Adams, wind power | 30 comments
I know a women who once when the doors of her train opened accidentally, got up and pulled her husband off the train… In doing so, she stepped out on the platform in Vienna, and thereby escaped Communist suppression for the rest of her life…
Four years ago, she had polyps in her breast. She immediately underwent radiation and beat it. Until now.
If today's experimental treatment does not work, she will undergo a mastectomy next month and reconstructive surgery. It will be a shame for she has some of the most beautiful breasts … They're truly a natural wonder.
But the point I'm making is…. when dealing with cancer… you nip it in the bud… You don't play around.. You take necessary corrective action…
There is a deadly cancer in Delaware's blogworld today. You may have read something about the Caesar Rodney Institute. It too is a cancer; it too needs excised before it spreads its spores and contaminates our General Assembly and local idiots like Ron Williams…
WTF is a Caesar Rodney Institute?
The answer is two words: Garrett Wozniak…
WTF is Garrett Wozniak?
Hmmmmmmm… let's take a look together… shall we?
If we pull up Linkaden's page, we see his prime qualification is:
Campaign Manager at Citizens for Copeland
Oh.. so that's what makes him an expert in all things political… But wait… who is that guy Copeland? Isn't he that guy that just disappeared after last November 4th?.. Vanished into thin air? …
Sounds familiar… Hmmmm… Copeland…..Copeland…. Copeland…. Where have we heard that name before… hmmph..
Wasn't he that silly politician who insisted we should put oil rigs off of Rehoboth Beach? No couldn't be, for no one here in this state is that stupid… Oil Rigs off Delaware's number one tourist site… Oil rigs off Delaware's premier money making site? Never? There's a no brainer…
Wasn't he that silly politician who stalled the wind deal so Delmarva Power could charge us 60% more for our electricity? Wasn't he that person whose approval was required before our state paid out $35,000 so Richard Speck could lynch Arnette McRae on the public stand; she of course being the one in charge of Delaware's Public Service Commission, and therefore the one responsible for running the best open aired RPS this state has ever seen? So open, in fact, that Delmarva Power's lies were exposed for all to see for what they truly were? lies?
Wasn't he that silly politician who said he founded the Challenge Program, only to have Tommywonk say… uhn uhn… wasn't so?
Wasn't he that silly republican who begged Bill Lee to run for governor and then handed out flyers telling Wilmington blacks to vote for Obama, Markell, and himself? Selling his own friend down the river? lol.
Wasn't he that silly republican who spent lavishly at Wilmington's black churches thinking their votes could be so readily and cheaply bought? lol
Wasn't he that silly republican who gave his support to Thurman Adams, delivering to him in January 2007, the entire Republican caucus in his favor, and only after that deed was done, did he begin championing the cause of open government once he knew it could never happen? lol
Wasn't he that silly republican who believes even when proven wrong, that resolute determination can undermine actual facts proving the contrary? lol
If that's the same Copeland, that Garrett Wozniak supported, then it is hard to take him seriously… is it not? Oil rigs off of Rehoboth… What a card… lol
So what is it that makes Garrett Wozniak an expert? What is it that gives him credibility? Shall we take a look together?
* Campaign Manager at Citizens for Copeland
* Policy Director at Delaware House of 'Representatives
* Executive Director at Delaware Republican Party
Obviously his view are a little one sided.. Results are thus. These are facts now… not some policy dribble… Hard solid evidence…
As campaign chair, he barely mustered 38% of the vote for his candidate…. as my little kindergardener often says of his elders:FAIL
Even outspokenly gay John Brady received 41% of the vote… Wozniak's candidate couldn't even muster that amount…
Policy Director of Delaware's Majority Party at Delaware's House of Representatives. That means Republican caucus of the House of Representatives… As policy director of the majority party, nothing of importance was passed in two years that could get by the Senate. As they say at that other state blog: FAIL Consequently, voters rejected Republican candidates in November giving Democrats a plurality, (until Thornberg's friends threw out Paradee's win).
Executive Director of Delaware's Republican Party: As echoed across the tabulations of every voting booth across this state: FAIL
They lost by the largest margin ever in recent memory of anyone living or dead… Sort of like trusting the manager of the Cincinnati Reds to write a book outlining the strategy of winning a baseball game… lol
So we see under the profile of Gary Wozniak, what he is familiar with:
Extensive experience in all aspects of project management including supervising, fundraising, developing marketing strategies, organization/time management and researching federal and state laws.
I'll let you be the judge of whether he was successful at any of these?
And he sums up his credentials here…
Thorough knowledge of fundraising techniques, managing donor relations, and database management
Was this their most successful year ever? The results are in: you be the judge.
He goes on…
Able to work independently and collaboratively on multiple projects
• Have established positive relationships with most members of Delaware's General Assembly regardless of political affiliation
Again was this their most successful year ever? The results are in? You be the judge.
PROJECT MANAGEMENT/FUNDRAISING EXPERIENCE
• Responsible for statewide communications, fundraising, strategy, policy research, and general management/operations
• Successfully raised between $700,000 in a six month period
• Managed a budget of $800,000
• Supervised a staff of three employees and coordinated over 100 volunteers
• Created and implemented a district operations plan to allow legislators to more effectively and efficiently communicate with constituents
• Coordinated local campaigns, consulting on policy, budgeting, and strategy for over 30 candidates
• Served as Operations Manager responsible for budgeting, directing all fundraising efforts, developing finance plans and initiatives to grow the organization, and strategic planning
• Drafted press releases, legislation, and speeches; responded to constituent concerns; and planned events in a highly competitive non-partisan internship
• Developed comprehensive plans for municipalities
So how's he doin' now?
So why should we even listen to Garrett Wosniak and the Caesar Rodney Institute's ramblings?
Garrett Wozniak's Education
*
University of Delaware
MPA , Financial Management & State and Local Management , 2004 — 2006
*
Towson University
B.S. , Economics and Political Science , 2002 — 2004
*
Montgomery College
A.A. , Business Administration , 2000 — 2002
Because since high school graduation, his entire adulthood has only lived through the Republican era… He was only a baby of ten when Clinton cleaned up the former Republican's mess and barely 18 when he turned it over to the new generation of Republicanism to squander it away to nothingness…
He can't help it… He simply not old enough to know any better…..
But wait a second… His entire age group overwhelmingly voted for change. Most of his age group does indeed know better…. What's up with that?
Below are some wise words which should be applied to the Ceasar Rodney Institute the next time they meddle with state policy. For instead of being a thoughtful, introspective, outreaching organization that was dedicated to examining complicated issues to help educate the rest of us, we have a close-minded attempt by a failing philosophy to masquerade a voter rejected policy as intellectual fact….
"A cancer must be removed as soon as possible before it spreads and infects surrounding healthy tissue".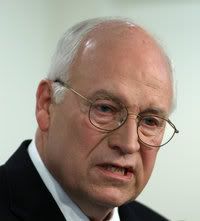 A Pentagon study released last year, based on a review of 600,000 Iraqi documents captured after the U.S.-led invasion, concluded that while Saddam supported militant Palestinian groups — the late terrorist Abu Nidal found refuge in Baghdad, at least until Saddam had him killed — the Iraqi security services had no "direct operational link" with al Qaida.
600,000.
By investigation, however, it was found that the vast majority of Guantanamo detainees captured in 2001 and 2002 in Afghanistan and Pakistan were innocent citizens or low-level fighters of little intelligence value who were turned over to American officials for money or because of personal or political rivalries.
Vast majority.
The decision to withhold the documents was announced by the CIA, which said that it was obliged to do so by a 2003 executive order issued by former President George W. Bush prohibiting the release of materials that are the subject of lawsuits.
Our official policy was known to become the subject of lawsuits.
While allegedly being tortured by Egyptian authorities, Libi provided false information about Iraq's links with al Qaida, which the Bush administration used despite doubts expressed by the DIA.
False information was used despite doubts expressed by the DIA.
The administration ignored warnings from experts in the CIA, the Defense Intelligence Agency, the State Department, the Department of Energy and other agencies, and used false or exaggerated intelligence supplied by Iraqi exile groups and others to help make its case for the 2003 invasion.
Ignored warnings from its own experts.
A bipartisan Senate Armed Services Committee report in December traced the abuses at Abu Ghraib to the approval of the techniques by senior Bush administration officials, including former Defense Secretary Donald H. Rumsfeld.
Top officials approved of the humiliation of prisoners of war.
Cheney said that the Bush administration "moved decisively against the terrorists in their hideouts and their sanctuaries, and committed to using every asset to take down their networks." The former vice president didn't point out that Osama bin Laden and his chief lieutenant, Ayman al Zawahri, remain at large nearly eight years after 9-11 and that the Bush administration began diverting U.S. forces, intelligence assets, time and money to planning an invasion of Iraq before it finished the war in Afghanistan against al Qaida and the Taliban.
Resources were diverted from finding Osama towards invading Iraq.
A top-secret 2004 CIA inspector general's investigation found no conclusive proof that information gained from aggressive interrogations helped thwart any "specific imminent attacks," according to one of four top-secret Bush-era memos that the Justice Department released last month.
No proof interrogations kept America safe… they prolonged the war.
Bottom line…
Torture was sanctioned by Vice President Cheney so it could be used solely to offer credulity to the invasion of Iraq, where there was oil.
America invaded for oil… America tortured for oil, … Every dead American soldier coming back from Iraq, died for oil….
On Armed Forces Day, it would be wise to question whether our members of the American military deserve better.. As individual citizens of this great country, we must make sure that no other future leader misrepresents the American way and abuses our system for their own private gain, as did Dick Cheney
Now as private citizen, it is time that the articles of treason be filed on Dick Cheney, former Vice President of the United States…
After all, he is innocent until proven guilty, but at least the opportunity to hold him accountable, must be taken now. For if no one is ever held accountable, then what is to stop the madness from ever occurring again, and again, and again, and again, and again, and again, and …..
Any person continuing to support private citizen Dick Cheney's contention's, should also be viewed as a suspect who is actively working against the best interests of all branches of the United States Armed Forces.
Happy Memorial Day.
Courtesy of the RNC and their shriveling funds
This has got to be one of the stupidest ads ever put out for public consumption… The knuckleheads who approved this should be laughed off the face of the planet… Remember how during the coup that took place in the Soviet Union, the one that imprisoned Gorbachev and liberated Yeltsin, how it was revealed those old farts in charge, locked themselves in a room with cases of vodka, during the entire session of their reign?
Obviously the same is happening to the party of Ronald Reagan… Someone is out of touch…
As the ad ends, the question comes up on the screen: DO YOU FEEL SAFER?
And after seeing the plane smash into the twin towers, and blowing up the Pentagon, and then seeing great respect shown to our president from the former enemies of the previous Republican adminstration? The Saudi's, Venezuela's Chavez, and the Cuban leadership, there is only one answer to their question…
Fuck yeah, I feel safer …
Duh.
April 20, 2009 in Death of Conservatism, Death of Democracy, Declaration of Independance, Delaware Libertarian, Homeland Security, open government, Patrick Leahy, Patriotism, Spying on American Citizens, stand down | 12 comments
Steve of Delaware Libertarian has been busy and is a little slow to respond tonight, so I thought i would help him out a little and at least get discussion started among those of mental worth, on how the Libertarian movement can capitalize on the demise of Republican Party philosophy…
There has to be a cause out there that resonates with voters…
Currently any support for the Republicans, means support for the practices that destroyed our economy.. When a Republican gets up, such as at a tea baggin', and starts his "blah, blah, blah", most of us roll our eyes knowing that following the course of "blah, blah, blah", has ruined many of America's banks, has put 10% of America out of work, and has given us a level of debt undreamed of during the Clinton years…..
They are losers and simply suck wind…
But the idea that we should rid ourselves of many laws, sort of the core belief that Libertarians seem to follow, does not bode well when the liberalization of regulatory rules and agencies, is what in fact, led to our financial meltdown…
We need more laws; not less one would surmise…
Democrats seem to have all the wind behind them at the moment… They "appear" to be right on everything….
But there is something that Libertarians can capitalize upon and define the message, and in doing so, start feeding a little life into themselves with dried tubers…
Again I'll borrow from Steve to show him, and others, they way……
It is also indicative of the fact that the problem in our society today is not which party is in power, but the reach of government power itself. We are rapidly discovering that many of the same tactics so abhorred by liberals and progressives during the Bush administration [surveillance, warrantless wire-tapping, political profiling] are suddenly legitimate tools to be employed against their political enemies.
The opposition party, whether a reborn Republican, or Libertarian, or any other misname one can construe, must run against power itself……
They will then find their following… They must be intent upon gaining office, to roll back the power with which they found themselves entrusted…
They must first develop a method, and then market it, on how to grant power back to the people.
For which ever party can follow through the fastest, will become the opposition party.
January 11, 2009 in A Dad's Responsibility, administration policy, America's morals, American Press Corp, American Right to Privacy, Cheney Coup, Cheney to Invade Iran, Cheney's map, civil disobediance, credibility, criminal intent, Crooks and Liars, Dumbing of America, Earmarks, Economic collapse, economic fallout, Elections 08, Energy Deregulation, Energy Task Force, environmentalism, ethics, Executive Privilege, fact checkers, fiscal responsibility, gasoline prices, Georgia, global warming, Great Depression, Greenland ice cap, High Crimes & Misdemeanors, Homeland Security, inflated gasoline prices, inner city schools, Insurance costs, intelligence sharing, iran, Iraq, Iraqi Oil Bill, Iraqi oil exploitation, Iraqi reconstruction, Iraqi troop surge, Iraqi War Deaths, Isreal, moslem fundlementalism, national defense, natural gas futures, New American Century, no bid contracts, nuclear option, nuclear weapons, political favors, political humor, political letters, poop, Presidental Pardons, Presidential Politics, Privitize Social Security, Protect Cheney Act, public schools, racism, republican ineptitude, Republican intimidation, Republican Majority Leader, Republican National Committee, Republican soul, Rush Limbaugh, Secret Government Searches, silver bullet, Socialist Republicans, South Ossetia, Soviet Union collapse, Spying on American Citizens, State of Denial, stock market, stock market crash, Syria, Viva Viagra, War on Drugs, women' rights, Women's Prerogative | 10 comments
The official results do not come out until later. But preliminary evidence has now proved beyond all doubt that no recession this grave has been experienced during the lifetime of anyone younger than 69 ( a good number by the way).
There are signs that those in the know like to watch, which tell the future years down the road and those signs now point to a Great Depression. It would be wise to note, that these "shades of what may be to come" as mentioned in Charles Dickens Christmas story can still be altered by changes in future events…
The fate was solidified with this which occurred on today's last broadcast of CNN's Late Edition. Vice President Dick Cheney, known among betting men, as "the man who is always wrong", today declared "that its premature to call it the worst economic crisis since the Great Depression."
Being the one to know, Mister "He-who-is-never-right"; with a record of wrong choices a mile long, some of which include statements such as: "I am the best person to serve as the Vice President of the United States"; "Deficits Don't Matter"; "Be Afraid, Be Very Afraid"; "There are stockpiles of WMD's in Iraq and we will find them"; "We have to make America the best place in the world to do business"; "We will in fact be greeted as liberators"; …… always seems to make sense at time, but after ample time has passed, seems to have strung us along, fully knowing what he was saying was not backed up by facts, and each time seems to have bettered himself financially by having us believe in what he says, and take him for his word.
So if we look at his record, we see that he was wrong on Iraq, wrong on Afghanistan, wrong on Iran, wrong on Israel, wrong on Syria, wrong on Georgia, wrong on tax breaks, wrong on the deficit, wrong on securities deregulation, wrong on the economy, wrong on global warming, wrong on renewable energy, wrong on Enron, wrong on education, wrong on environmentalism, wrong on ethics, wrong on Executive privilege, wrong on gasoline prices, wrong on immigration, wrong on privatization,wrong on racism, wrong on what's best for America; we can only assume by his track record that he is also wrong when he says it is too premature to call this episode equal to the Great Depression. Of course you can go against conventional wisdom and bet against him, ……… but the odds of winning are long…… way too long……
As his track record shows, he is fully aware of the facts, and each time he makes such a brash statement, it is ultimately proven to be wrong and designed to throw us off. Therefore the best option to take away from his last interview as Vice President on CNN is to accept the premise that we ARE in a Great Depression, and pull out all stops now to stop its slide, ….. before it is too late… That means pulling out ALL stops, so that the opposite of this foreboding last statement by Cheney is not given its chance to come due:
"The days of looking the other way while a despotic regime tramples human rights, robs it's nations' wealth, and then excuses it's failings by feeding it's people a steady diet of hatred … are over."
As of this writing we have 8 days and twenty hours before it really does comes true………. Let's not jinx ourselves by listening to any arguments being made by Cheney's compatriots now arguing against the passage of Obama's "Economic Jump Start". Remember all along, they were just as wrong too……..
October 11, 2008 in "It's a Wonderful Life", administration policy, America's morals, Charlie Copeland, China, Corporate Bankruptcies, Dave Burris, David Anderson, Frank Knotts, Hube, Pat Fish, republican ineptitude, Republican intimidation, Republican Majority Leader, Republican National Committee, Republican soul, Secret Government Searches, Soviet Union collapse, Spying on American Citizens, State of Denial | Tags: Charlie Copeland, Christine O'Donnel | 2 comments
The Federal government is buying up businesses. Government has becoming a competitive force deep within the heart of the financial private sector…
How ironic that those Republicans who are prone to call anyone who can read and think for themselves….a socialist, are the very ones instrumental in making America a socialist state, in less then ten days…!
It should make real socialists proud…
Like we said 8 years ago… That's what you get when you vote Republican….
Dave Burris, Hube, David Anderson, Frank Knotts, Pat Fish… You can all affirm your ties to Socialism by voting for a Republican, any Republican on November 4.
For as we can all accept by now, had the Democrats been in power that same time frame, regulations would have stayed in place, and we would be in a lot more capitalistic frame of mind right now, wouldn't we?