You are currently browsing the category archive for the 'South Korea' category.
Unless you read one of the big newspapers you will never hear of this… From yesterday's sequestration hearings on Capitol Hill:
United States Army Chief of Staff Raymond T. Odierno elaborated on the impact that these indiscriminate, across the board cuts would have on military readiness in the Pacific and the United States Pacific Command.
"First, as I talked about 80% of our force having to stop training this year that includes our forces in Hawai'i, that includes our forces in at Fort Lewis that are in PACOM so they will be significantly degraded capabilities that they would have to respond to anything that goes on within Pacific Command. Additionally, the Army is responsible for providing a significant amount of communication support, intelligence support, logistical support to the PACOM Theater. Their ability to do that will also be affected by sequestrations specifically in the Fiscal Year 13 but beyond. We have tried to fence our capability in Korea to make sure they are at the highest readiness level. We will continue to do that. But the cuts in family programs, cuts in soldier programs, cuts in our civilians will also impact Korea as well. So for us it has a significant impact on our ability in the Pacific for the next several years," said Odierno.
80% of our forces will have to stop training this year.
Communication support, intelligence support, logistical support to the PACOM Theater; their ability to do that will also be affected by sequestrations specifically in the Fiscal Year 13 and beyond.
Our capability in Korea to make sure they are at the highest readiness level. We will continue to do that to the best that our finances will allow us. But cuts in family programs, cuts in soldier programs, cuts in our civilians will also impact Korea as well…
Just as we trim the forces in South Korea, North Korea puts us on a Defcom 4.
It is obvious with yesterday's nuclear explosion on the northern half of the Korean Peninsula, we can't cut the Pacific. If we try we are going to run cost overruns. This is just as silly as your boss setting financial goals that have never been proposed before and you simply know you will go over them. You accept that because it is impossible to meet them.
So how can we fix it?
We need just $86 billion extra per year. That is a lot for you and me, but for the wealthy, that is nothing. In fact Kinder Morgan just bought out Caldone for 8% of that: $5 billion. Prior to that, it just spent $21 billion on El Paso Gas. One company buying another company it didn't need.  Comcast just  bought  NBC for $13 billion.  That's almost half the total amount needed, thrown away on another company that would have been fine if left alone.  See how easy it is?
Just a few more companies  like that, and we could pay enough to keep our military in top shape. We don't need sequestration.
Bill Gates, Warren Buffett, $86 billion is nothing to them. Each alone could cover the cost of our military.
Point is, we have the money just sitting there. Sitting out there all alone, saying "take me, take me."  All we have to do is go get it, and we can cut our deficit at the same time as we keep ourselves protected by having a first rate defense.
It is no different than a family of four on a tight budget, stopping beside a field of wild strawberries and picking their next few meals.
We can do this… $86 billion on just the top richest 400 people is only $215 million each… That is nothing, nothing to them. What farmer will miss having wild strawberries getting picked out of his hay crop? As a nation, let's just take it;  it is there, it is begging for it, and we'd be doing an awful lot of good for everyone involved….
Having recently seen the Harry Potter movie, it is scary. Ever since watching…. I now see giants everywhere. Before when I looked, I never knew they were there…
Two giants will be doing battle here in Delaware… (The recession is finally paying off for our little state.)
Papers were filed with the ITC (International Trade Commission) by the South Korean giant Samsung LED against a division of another giant this time from Germany, Siemens….. over 8 patient infringements.
Samsung LED also said it filed a lawsuit in the U.S. District Court in Delaware to seek damages and a permanent injunction to bar Siemen's subsidary, Osram's alleged patent infringement from entering this country.
At stake is the financial future of these two companies. One will win, and the other for lack of a better word, will be vanquished.
Since Siemens actually has a plant in Delaware, next to the Glasgow Park off Route 40 and 896, I'm putting my bets on that giant…. if they get hurt, it will cost jobs.
Hotels, restaurants, transportation companies all stand to be a little busier as this gigantic fight, gets under way…. It would be helpful to practice on the Korean and German dialects now, before the event gets under way…
Sprechen sie deutsch?
니미럴 개자식 ….
It should be an interesting fight.
First Algeria, then Tunisia, Yemen, Jordan, Egypt, and Albania. And I just heard Kyrgyzstan had riots too?
And no one is blaming Israel or the Great Satan? These are truly incredulous times…
So then, who is blame? A better question,…. once facts are on the table, is WHAT… is to blame?
The heart of the problem is in the dysfunctional nature of conservative, traditionalist Arab society. They fail to function economically, because of their values prohibit them from doing so.
Here is a case in point. Nine out of ten Egyptian women suffer genitalia mutilation. This act is not sanctioned by the government of Egypt, but is actually, officially opposed. Mubarak's wife, actively campaigns against it. Yet nine out of ten women continue to have this done:
Sheikh Yusuf al-Qaradawi - the president of the International Association of Muslim Scholars – explains:
The most moderate opinion and the most likely one to be correct is in favor of practicing circumcision in the moderate Islamic way indicated in some of the Prophet's hadiths – even though such hadiths are not confirmed to be authentic. It is reported that the Prophet (peace and blessings be upon him) said to a midwife: "Reduce the size of the clitoris but do not exceed the limit, for that is better for her health and is preferred by husbands."
That is not a Muslim view (the practice is rare in Turkey, Iraq, Iran and Pakistan), but an Egyptian Muslim view. In the most fundamental of matters, President and Mrs Mubarak are incomparably more enlightened than the Egyptian public. Three-quarters of acts of genital mutilation in Egypt are executed by physicians, meaning they are not being performed at religious ceremonies, but are instead being quietly paid by the very parents of the girls themselves.
Fact is, Egypt is wallowing in backwardness, not because the Mubarak regime has suppressed the creative energies of the people, but because the people themselves cling to the most oppressive practices of traditional society. And countries can only languish in backwardness so long before some event makes their position untenable.
So what broke the back of those toiling in Egypt? The price of wheat?
Wheat prices have almost doubled in the past year.
Egypt is the world's largest wheat importer, beholden to foreign providers for nearly half its total food consumption. Half of Egyptians live on less than $2 a day. Food comprises almost half the country's consumer price index, and much more than half of spending for the poorer half of the country.
Egyptians love their bread. The nation is the world's biggest consumer of bread with around 400 grams of bread consumption a day, easily eclipsing France at just 130 grams daily.
So, why can't the Egyptians buy wheat?
The prosperous Asians are buying it up first. The wheat flows to the area having the most money.
Earlier this year, after drought prompted Russia to ban wheat exports, Egypt's agriculture minister pledged to raise food production over the next ten years to 75% of consumption, against only 56% in 2009. Local yields are only 18 bushels per acre, compared to 30 to 60 for non-irrigated wheat in the United States, and up 100 bushels for irrigated land.
Prosperous Asians want their protein. And we all know it takes seven times as much wheat to make an equal amount of protein. The Asians have priced wheat out of the Arabs budget.
The trouble isn't long-term food price inflation: wheat has long been one of the world's bargains. The International Monetary Fund's global consumer price index quadrupled in between 1980 and 2010, while the price of wheat, even after the price spike of 2010, only doubled in price. What hurts the poorest countries, though, isn't the long-term price trend, though, but the volatility.
It turns out that China, not the United States or Israel, presents an existential threat to the Arab world, and through no fault of its own: rising incomes have gentrified the Asian diet, and – more importantly – insulated Asian budgets from food price fluctuations. Economists call this "price elasticity." Americans, for example, will buy the same amount of milk even if the price doubles, although they will stop buying fast food if hamburger prices double. Asians now are wealthy enough to buy all the grain they want.
If wheat output falls, for example, due to drought in Russia and Argentina, prices rise until demand falls. The difference today is that Asian demand for grain will not fall, because Asians are richer than they used to be. Someone has to consume less, and it will be the people at the bottom of the economic ladder, in this case the poorer Arabs.
Wheat supply dropped by only 2.4% between 2009 and 2010 – and the wheat price doubled. That's because affluent Asians don't care what they pay for grain. Prices depend on what the last (or "marginal") purchaser is willing to pay for an item….
It wasn't the financial crisis that undermined dysfunctional Arab states, but Asian prosperity. The Arab poor have been priced out of world markets. There is no solution to Egypt's problems within the horizon of popular expectations. Whether this regime survives or a new one replaces it, the outcome will continue to be a disaster.
So in each of these conservative Muslim states, no matter who remains or takes over, the conditions will not become better until they understand that… it is their conservatism, that is literally the thing killing them.
Duffy is God's answer to a prayer.. I miss the old days of blogging when we were debating principals instead of people… Duffy has stuck to the old line of debating principals with facts, and that is what makes him special in the eyes of bloggers everywhere…
Since the passing of Steve Newton, he has been the only one to challenge me in any argument, and usually some pretty good stuff comes out of both sides during the exchange… I have respected that.. Cause once again, opinions mean dick. Facts are what we steer by.. It is my hope that in responding to his challenge that an answer may make itself apparent.. Who knows? It may not come from me… But if I'm the catalyst for bringing it out in the open, then… none of this was in vain..
Why I like to debate Duffy is simple.. Neither side, he or I, is concretely set in their opinions… We accept it when the other side makes sense… I usually go into such debates having no idea where they'll end up… I hope the rest of you enjoy the ride as welI….
That said..
Duffy leads: Wall Street's problems were caused by Fannie and Freddie loaning money to people they knew couldn't pay and moreover, forcing banks to lend money to people who couldn't pay. That was not deregulation but misregulation
kavips rebutt's:Uh… Mr. President. That's not entirely accurate.
First off, the Community Reinvestment Act of 1977 was developed for, and locked in on, urban developmental areas and had no part of the subprime boom, which primarily occurred out in western desert regions where owning 4 to 5 investment homes was normal… Those homes were overwhelmingly funded by loan originators NOT SUBJECT to the act… We all know the crises was not because people couldn't afford a payment on their house. It came about, because with no occupants, people could not afford the payments of 4 to 5 houses….. Instead of one loan per borrower turning up in default; four to five were.

Second off, The housing bubble reached its point of maximum inflation in 2005.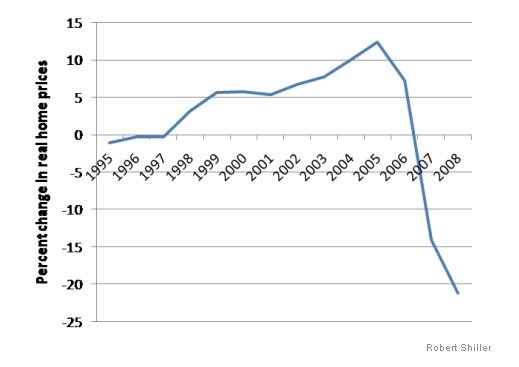 Courtesy of NYT
Third off, During those exact same years, Fannie and Freddie were sidelined by Congressional pressure, and saw a sharp drop in their share of loans secured by the Feds… Follow the dotted line on the very bottom of the graph…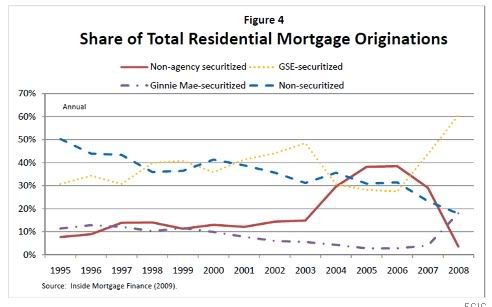 Courtesy of NYT
Fourth off; During those exact same years, private secures, like Delaware's own AIG, grabbed the lions share of the market.


Courtesy of NYT
Remember these graphs for later on when I discuss the results of deregulation, versus regulation… But like it or not, these graphs conclusively show that private insurers, who thanks to Marie Evans, we now know were deregulated by Phil Gramm in the 2000 Omnibus Bill, were the primary cause of the worlds financial collapse.. Probably put best by these words of AIG's spokesperson, who when asked why they didn't have sufficient funds to cover losses, said point blank, "We were deregulated. We were no laws requiring us to keep any funds, ..so we spent it…"
Duffy leads: The loosely regulated hedge funds escaped this mess largely unscathed. Why? They can't count on a bailout like the big banks. The Too Big To Fail banks were counting on a bailout (not unlike the S&L bailouts which started on the Republican's watch) and they got them.
kavips rebutt's:Uh… Mr. President. That's not entirely accurate. I agree that the hedge funds did survive better than the banks. Not because of bailouts, but because they sold short during the crises and made billions while firms closed and people got thrown out of work. There is nothing wrong with that; I did the same. In fact close readers may remember my warnings that the crises was impending almost a year earlier. Very close readers may remember my telling them exactly when to sell, and at what point the stock market would rebound… I must say: I called it rather well.
"Hedge funds were not in my understanding, at fault in the credit crisis," said David Ruder, former chairman of the Securities and Exchange Commission. "At the most what they did was to sell securities when some of their investments were declining and they needed to have liquid funds. They were not the architects of these problems."
De regulated hedge funds are not the issue… De-regulated, excessively leveraged, mortgage securities, are a different story however… They, not the banks that held them, are the cause of the crises…Years from now, when academics search for causes of the stock market crash of 2008, they will focus on the pivotal role of mortgage-backed securities. These exotic financial instruments allowed a downturn in U.S. home prices to morph into a contagion that brought down Bear Stearns a year ago this month – and more recently have brought the global banking system to its knees.
Where you err is when you state that banks too big to fail, assumed they would be bailed out… By implication, you say imply they failed from squandering money, and wanted the bailouts.. But your tax dollars didn't flow directly to the bottom line.
The roughly $200 billion the Treasury Department has handed out to battered banks was swapped for a special class of stock that pays a 5 percent dividend (rising to 9 percent after five years.) As of April 15, the Treasury had collected about $2.5 billion in dividend payments on its investment.
So in that sense, the bailout money represents an expense for banks. That's one reason a number of banks have said they want to give the money back as soon as possible.
You say big banks were counting on a bailout, and they got them? That didn't happen to these banks. New Mexico, Georgia, and Florida each lost a bank just last Friday. That brings to 8, the number of banks failed in June. Unfortunately if a bank is failing, it can't bet on itself to fail, as can a hedge fund.
Duffy leads: Banks have successfully lobbied to get their losses absorbed by taxpayers and gains are kept private. How nice for them. They felt comfortable making insane gambles because they knew they'd be bailed out. Most of them were right. Also remember that it was Bill Clinton who tore down the wall between retail and investment banking. The idea was to give banks more stability as they typically perform as exact opposites in bull and bear markets. (FWIW, I think that was a good idea and I can tell you first hand that two of the Fortune 100 banks I worked for were carried by retail banking in bear years. They may not have had bonuses those years but they didn't have layoffs either)
kavips rebutt's:Uh… Mr. President. That's not entirely accurate. The idea is that the banks made bad decisions knowing taxpayers would bail them out is the issue that is inaccurate. For the record, I have no qualms that it was the Clinton legacy who tore down the wall between banks and investment banking. Like you, I feel it was a good idea to do so… Again the problem was not primarily with banks making loans to people who could not pay.. Although, it was as late as October 2009, when I was made aware of one private Bank in Denver still exaggerating income to make loans look good enough on paper to get approval of securitization. What caused the collapse was the leveraging of those loans as securities, so that as the housing market became overextended, and the ARM jumped past the low cost opening years, the damage was 100 times worse because of leveraging. What made the collapse criminal, was that the insurance most financial institutions had bought from AIG, to cover such an improbable event, had already spent by that companies executives, out on bonuses to themselves. What made it doubly criminal, was that when they received government dollars through a taxpayer bailout, those same executives assumed it was to first go towards paying their bonuses again. However, very recent events may give some cover to the argument that some collusion was implicit in the bailing out of Goldman Sacs and AIG… Basically, once bailed out, AIG paid Goldman Sacs for shares twice as much as they were worth. The documents also indicate that regulators ignored recommendations from their own advisers to force the banks to accept losses on their A.I.G. deals and instead paid the banks in full for the contracts.