You are currently browsing the category archive for the 'Soup Kitchens' category.
By now, everyone knows the Republicans are the ones who created the sequester.  So let us look at what they did to us,here living  in  both the first state and second smallest state.
If sequestration were to take effect, some examples of the impacts on Delaware this year alone are:
Teachers and Schools Delaware will lose approximately $1.4 million in funding for primary and secondary education, putting around 20 teacher and aide jobs at risk. In addition about 2,000 fewer students would be served and approximately 4 fewer schools would receive funding.
Education for Children with Disabilities: In addition, Delaware will lose approximately $1.8 million in funds for about 20 teachers, aides, and staff who help children with disabilities.
Work-Study Jobs:Around 150 fewer low income students in Delaware would receive aid to help them finance the costs of college and around 50 fewer students will get work-study jobs that help them pay for college.
Head Start: Head Start and Early Head Start services would be eliminated for approximately 100 children in Delaware, reducing access to critical early education.
Protections for Clean Air and Clean Water Delaware would lose about $1.1 million in environmental funding to ensure clean water and air quality, as well as prevent pollution from pesticides and hazardous waste. In addition, Delaware would lose another $359,000 in grants for fish and wildlife protection.
Military Readiness:In Delaware, approximately 2,000 civilian Department of Defense employees would be furloughed, reducing gross pay by around $7.6 million in total.  Army: Base operation funding would be cut by about $0.6 million in Delaware.  Air Force: Funding for Air Force operations in Delaware would be cut by about $1 million.
Law Enforcement and Public Safety Funds for Crime Prevention and Prosecution: Delaware
will lose about $83,000 in Justice Assistance Grants that support law enforcement, prosecution and courts, crime prevention and education, corrections and community corrections, drug treatment and enforcement, and crime victim and witness initiatives.
Job Search Assistance to Help those in Delaware find Employment and Training: Delaware
will lose about $86,000 in funding for job search assistance, referral, and placement, meaning around 3,230 fewer people will get the help and skills they need to find employment.
Child Care:Up to 100 disadvantaged and vulnerable children could lose access to child care, which is also essential for working parents to hold down a job.
Vaccines for Children: In Delaware around 380 fewer children will receive vaccines for diseases such as measles, mumps, rubella, tetanus, whooping cough, influenza, and Hepatitis B due to reduced funding for vaccinations of about $26,000.
 Public Health Delaware will lose approximately $86,000 in funds to help upgrade its ability to respond to public health threats including infectious diseases, natural disasters, and biological, chemical, nuclear, and radiological events. In addition, Delaware will lose about $330,000 in grants to help prevent and treat substance abuse, resulting in around 400 fewer admissions to substance abuse programs. And the Delaware Division of Public Health will lose about $70,000 resulting in
around 1,800 fewer HIV tests.
STOP Violence Against Women Program Delaware could lose up to $19,000 in funds that provide services to victims of domestic violence, resulting in up to 100 fewer victims being served.
Nutrition Assistance for Seniors: Delaware would lose approximately $201,000 in funds that provide meals for seniors.
Delaware loses 15.1 million at least in funding forever if the sequester goes through….
Not only is that money lost, but the ripple effect impounds and deepens that loss.  With every loss of a government job, there is a loss of a .67 of a private sector job….  The predicted loss or 700,000 jobs in March will be accompanied by 469,000 in the private sector….
Roughly Republicans driving us over the cliff, will put another 1.2 million Americans out of work…. again…..
And if you read Republican blogs like this one, they are laughing and laughing at how bad they are going to hurt America, how they are going to teach us all a lesson because we didn't vote for their billionaire president…..   They are smirking over the hardship and suffering everyone else will be living…

Red = Areas receiving damage by June 22nd's storm
Blue= Areas spared damage by June 22nd's storm


Red = Republicans
Blue = Democrats
Need anyone say more? Ok, I'll drive home the point……
37 "Then the righteous will answer him, 'Lord, when did we see you hungry and feed you, or thirsty and give you something to drink? 38 When did we see you a stranger and invite you in, or needing clothes and clothe you? 39 When did we see you sick or in prison and go to visit you?'
40 "The King will reply, 'Truly I tell you, whatever you did for one of the least of these brothers and sisters of mine, you did for me.'
41 "Then he will say to those on his left, 'Depart from me, you who are cursed, into the eternal fire prepared for the devil and his angels. 42 For I was hungry and you gave me nothing to eat, I was thirsty and you gave me nothing to drink, 43 I was a stranger and you did not invite me in, I needed clothes and you did not clothe me, I was sick and in prison and you did not look after me.'
44 "They also will answer, 'Lord, when did we see you hungry or thirsty or a stranger or needing clothes or sick or in prison, and did not help you?'
45 "He will reply, 'Truly I tell you, whatever you did not do for one of the least of these, you did not do for me.'
46 "Then they will go away to eternal punishment, but the righteous to eternal life. "
Amen, … and Amen…
I find it odd to see in a paper two stories side by side… Both have local connections.
The first is our Wilmington Bishop's insistence on giving the Vice President-elect the sacrament, despite other bishops, including the one from Scranton, calling for banning the Vice President of the United States from ever receiving the Holy Wafer…
The second is another lawsuit aimed directly at a former Wilmington priest who abused a 10 year old, contributing to his death, and was spirited away to another state where he was found in bed with other children he was responsible for overseeing…
I know these are isolated events… but if ever Jesus's admonition that the log from one's own eye, must be removed before taking the speck out of another's… applied to any real world event, it would apply to this one…
We are talking about the future Vice President of the United States… Dissing him is dissing America… That America is the same country that has gone to war… not for land but to free other countries under tyranny, and once defeating the enemy, has quietly packed up, and returned home…  These rogue bishops are embarassing the Catholic Church and quite possibly refanning the fears of non Catholics against practicing Catholics; those same fears which existed for over two hundred years until finally John F. Kennedy's election put them to rest in 1960.  Through the normal actions of that man, rural Americans learned that Catholics were not freaks…  Unfortunately, today's headlines make one wonder if it has begun again.
Catholics should take heart… God is not dead; he has just left the hierarchy of the American Catholic Church…. apparently at least in several of our nation's bishop's parishes….  I would encourage Catholics to visit other denominations to see if they find another church with enjoyable people… Once they are outside the closed mentality that cloisters the Catholic belief,… they may find that real people still believe in a real God… Trust me. God is real… although if one was an American Catholic living today, and victim of either of these unprovoked actions representing the Church as a whole, I can understand why one would be sincerely skeptical…
The Church is right to be against abortion.  Abortion is a moral issue… Likewise our government which is responsible to its citizens, and overwhelmingly, our citizens say abortion should remain as it is today, is certainly within its rights to preserve abortion's legality… If the Catholic Church is to work effectively against future abortions, then it needs to do so on a personal basis… not an electoral one…   When every young mother faces that decision, the Catholic Church, as large as it is, can be an asset to her decision making process… not a hindrance in the form of a tyrant and hideous ogre…  Most Catholic women facing this unpleasant decision, resent its overbearing male presence, a presence based on " because I said so" and on stupidity, and not on love and understanding… The Catholic Church has the moral duty to offer an alternative… It does not have the duty to demand obedience and burn those at the stake it deems unrepentant….  We are no longer primitive; those days are gone..
If the Catholic Church wishes to remain viable, it needs to address the problem of how it is perceived by others.  As most fools do not understand when they are being made fun of, the Catholic Church seems carelessly dimissive of any criticism… Instead, it would be a good idea, to directly address the Church's inconsistencies,  to recognize them as being given by God himself, and to work with God to opportunitize those events to make a better world.
The Church will not be righted by changing what has worked well for it over thousands of years… Comparatively most other denominations are younglings… Instead, the Church will be righted by returning to its basics… love and caring for its neighbors and those less fortunate…  That even means loving him whom one considers to be a sinner, as well as those one holds up as saints…
Fortunately, i believe the Pope is on the right track.. I was impressed by his audiences this past summer. So too is our own bishop here in Wilmington…
But to protest an elected official of the world's economic savior and deny him the sacrament… meanwhile coddling a pedophile by moving him from place to place, and dismissing the trail of ruined lives as a necessary liability…. is….well…. you tell me….what's your opinion?
I was trying to find some references for a post, and was digging up my past, when I came across this comment by Mr. Anderson (remember the Matrix?)
I thought in light of today's news that it would be timely and  appropriate to share with all.
I think you are wrong on this one. The (Bush) administration has done a tremendous job with the economy. At no other time in our history have we had such unbroken growth and high employment when we faced the outside turmoil half the level we have had in the last 7 years. I bet you a dinner that by November you will see positive economic growth likely this summer.
Well, to be fair, it is not yet November…. but history has proven over and over again,  what usually happens to those who disagree with me, is that sooner or later  they realize , without my saying a word….. that "i told 'em so."
Although I appreciate the offer of a dinner, Mr Anderson (again the Matrix), I would be even more honored, if you would kindly take that amount to a food bank or a soup kitchen,  and donate it to them instead…
Right now, before the Senate, Senate Bill 228 has been amended, striking everything but this clause.
SENATE AMENDMENT NO. 1
TO
SENATE BILL NO. 228
AMEND Senate Bill No. 228 by striking Sections 3 through 6 in their entirety.
SYNOPSIS
This Amendment limits the scope of the Bill to clarifying (1) that the Contract Administrator is not required to be a non-profit entity, but (2) that the SEU is a non-profit entity.
It is worthy to note that the original bill would never have passed except for this clause stating that the Contract Administrator had to be a non-profit entity. If not, just imagine the pain caused if Delmarva Power were to be in charge of our green energy directives.
This bill needs killed.
Future energy credits are a commodity that belong to the people of a state and should never, ever be turned over to a for profit entity.
McDowell himself is in charge of a "for profit" entity called the Delaware Alternative Power Corp.
It has become obvious, that this amendment………is the sole reason Russ Larson was ordered to change his vote , and not vote his affirmation to the Agreement between Delmarva Power and Bluewater Wind.
This is it.
If you have not yet called………..
And your Senator is a Democrat leave a message here: (302) 744-4286
If your Senator is a Republican leave a message here: (302) 744-4048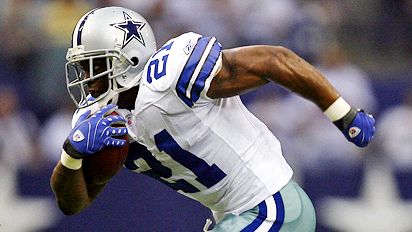 Courtesy of ESPN
While doing research on this weekend's games in order to show up Hube, I came across this file tape in Dallas Cowboy archives. I realized there was no way Dallas's quarterback could concentrate hard enough in the final minutes to pull it off this Sunday. I went with the Giants.
At least Romo will have a good weekend.
To paraphrase TO: "its not fair….it's….not….fair…"
Don't expect to see Campbell's, Lipton, Progresso, or any other soup company in line to offer Dallas's quarterback a lucrative advertising contract. Why?
Romo always chokes in the Bowl.