You are currently browsing the category archive for the 'school prayer' category.
And now it is Michelle Rhee herself.  The DC darling who was praised by both McCain and Obama during the 08 campaign, now has to contend with the fact that she knew all along the cheating was beyond the parameters of  normal and did nothing about it…   It is one thing if you don't know, and your underlings who you have told to "produce or else" change their scores underneath of you,   but it another to actually know  and understand the implications (that she and her principals erased and changed the answers from wrong to right), that what you may be proposing is false and to then go forward and propose it anyway using the compromised data to back you up….
Just this year, we had Texas acknowledge that the test results then under then  George W. Bush governorship, were faked.  That pilot project went on to become the "No Child Left Behind" which left a whole generation behind.
Again just this year we had almost the entire district of Atlanta whose amazing results sold the rest of the nation into diving towards Common Core and RTTT , indicted under falsifying all the test results…
You see.
This new fangled educational system does not work unless the results are fabricated.
This is the same new fangled educational system which the Markell administration and Mark Murphy seem to be forcing upon Christina School District as we speak.  This system is dependent upon holding teachers accountable to standards that don't work….  Then pulling out these faked test results from Texas, DC, and Atlanta, waving them and saying… we want results like these….
Ummm.  No thank you.   Things used to be much better before corporate got involved…
Anyone who has ever worked in any corporation, no matter what geographical spot you live or work in, knows very well your success depends on how you look doing it, not on whether or not things get done ethically…  On the other hand, our sports teams have the opposite philosophy.  To them, it is what you accomplish that matters, no matter how you look in achieving it.
It is time we switch and use the sports model, not the corporate model for our educational needs.  Our children deserve the best.
We are now receiving the hard data.  Throughout the Charter versus Public School debate, the concern on one hand was that allowing Charters to compete, would force Public schools to close, and once done, the charter schools would perform no better than did the public……
In the '90′s as these ideas were first proposed and debated upon their merits, but there was no evidence; it was all theoretical..  Now, we have actually  done it and are getting hard data….
Here is their history in one paragraph.  If a charter school opens up in a failing school system and the public money per student is allowed to follow that child, obviously parents at no cost to themselves will opt to put their children in a charter school.  Simply put, if their public school is rated  "F", the charter school can be no worse.  So the charter School being  someone's private  investment, now begins accepting children with public school money that comes from citizen's assessed property taxes… As more charter schools open up in that same failed district, they siphon even more public money into these private enterprises, pulling it of course  out of the public school system in that local area.  So the public school which was previously  failing, is now accepting a much lower number of students, yet trying to maintain the same infrastructure covering that wide geographical area..  For example, its school buses have to run the same routes whether they receive cash per student to carry 5 students or 35…  Obviously the public schools have to do with less, while the charter schools have to do with more… The charter schools choose their students in certain cases, and can send them back to public if they don't meet expectations.  The Public schools must take whomever is left,  in.  Gradually the quality and sheer numbers of students deteriorate so much, that these public schools have to be shut down.  Too many schools are too empty and that is too costly…  Consolidation must occur.
Philadelphia and Chicago are closing schools.  And Guess what?  Most of both are black.
The argument can be made that we are accidentally closing the door on the only one way a person can pull himself out of the inner city quagmire: with a quality education….
Now let us back up.  The argument for charter schools was that they would provide that door or that opportunity for these citizens to help pull themselves out. Theoretically,  if all charter schools had huge success stories, then this plan could be a viable option.
If such were the case, all of us including myself would be in favor of charter schools… As I look back over the past 20 years I can now see how we were seduced into allowing them to happen.  If someone had substituted the word  "private schools"  instead  of  "charter schools", no one would be against; we'd all be in favor….. private schools (which used private funds), competing with public schools would be a good thing.  People would have a choice if they could afford to let their children get a great education or a good one… I think Britain has functioned fine with its Eton School for Boys.
Then, when the argument became enhanced, that drawing such a line financially was not fair to underprivileged children who had talent,  a lot of us felt that yes  they should receive scholarships to go to good schools, and that was fair.  Then, when the lack of scholarships for the amount of private school openings became apparent, all were lulled into letting the public money for that child, follow the child where he wound up going… even if it was outside the school system and into someone else's private pockets….
Allowing public money to enhance private pockets, particularly in a urban environment where lots of potential students surround a converted building, opened up great possibilities for some to get wealthy…  Just a hundred students at $15,000 each per year, could bring one a gross of $1,500,000..  One could squeeze that few into  just three rooms of 35 students… Double that, and one gets $3 million.  Do it across the city, and gross $100 million….
So is it really that bad for someone to get wealthy IF… kids are getting a much better education?
And up to now, this was the dilemma .. No one really had that answer because no one really knew.  No one had ever tried it before….
That was then.  We now have results and can analyze this experiment and see, once and for all, how charter schools can impact the growth and development of our children!… This is truly awesome, actually!…. .
In Philly, over a quarter of the district's 195,000 seats are now empty. That is 48,750  empty spots…  But more important, is the number of the remainder:  146,250…
In Philadelphia, the proportion of students attending charter schools jumped to 23 percent in the 2011-12 school year from 12 percent in 2004-5, according to the National Center for Education Statistics.
The actual number of Charter School Students  within the Philadelphia School District, according to the National Alliance for Charter Schools,  is 47,800… just 950 student shy of the district's empty seats……..
Quite a coincidence!
In all 23.4% of Philly's children are enrolled in Charter Schools…. The district projects a 37 percent increase in costs associated with charter schools over the next five years, bringing the total charter cost to more than $800 million…. That will come out of the public school budgets.
Last year,  Philadelphia charters met AYP (Adequate Yearly Progress)at only 29 percent, yet that was still better than the 13 percent tally for Philadelphia's district-run schools…..
Mathematically that stacks up thusly….
(0.13)146,250  +  (0.29)47,800  =  Total Philly students meeting  requirements….   The math gives us this many successful students:  32,874…
In 2005,  there were 185,000 students in the city district's public schools.  At that time, 34% were deemed advanced or proficient….. Doing the math we get this result…. 62,900…. actual students who were advanced or proficient…
In 2005,  the Philadelphia School District put out 62,900 students meeting standards.  In 2012, after experimenting with Charter Schools,  the same geographical area spit out 32,874 students meeting standards…
Conclusion.  Having  charter schools and public schools duke it out over scarce resources, not unlike the recent movie Hunger Games,  cuts our actual passing students down by  almost half….
We now have evidence.
This is a dilemma. A red letter day for educators everywhere….
I get this call, paraphrased it went like this.
Hello,
My son was just issued a warning that he had missed more than Christina's required days of school(5). No longer am I, their parent, allowed to excuse them for being sick with a note from myself; he must now have a note from the doctor. We are one of those with no insurance, so you know how much that would cost us! There is nothing permanently wrong with my child; just over the fall, he woke up too sick (fever with sniffles) to go to school in our opinion, and we kept him home to get well, as well as not contaminate others. Usually the next day he was fine, and quite able to catch up on missed work and with this pattern he has kept his grades up well. Today, he sent a message home he was coughing up blood, and came home, announced he had the flu, and went to bed and is coughing now. I can't send him to school tomorrow; I have no money till payday next Monday. What can I do? Why do they have that stupid rule anyway? That's barely one sick day a month, so far, and there are 7 months left!
So that is what started this investigation.
First the Christina Code of Conduct to verify the story….. Remember this is based on state law, to which they have to comply. However, in the state code I did not see this limit on 5 excused absences requiring further documentation. I am hoping a comment can direct me there?
The fines were rather severe, particularly to families in financial dire straits which would probably include 99% of Christina's district.
First offense: fine of $25 to $300 or imprisonment for up to 10 days or both
Second offense: fine of $50 to $500 or imprisonment for up to 20 days or both
Third offense: fine of $230 to $1,150 or imprisonment for up to 30 days or both
It it my reading that these would only be used as a last resort. But the point I am making, is that the choice between a) sending a sick child to school; b) going to a doctor and paying 50% of one weeks salary to get a written excuse, and c) court settlement, fines, and imprisonment, choice a) is going to win every time.
And that is just plain wrong….
Now I actually remember why this was put in place. Schools were incapable of monitoring children who didn't show up. Parents were legislatively held responsible. If a parent is going to jail for not insuring their child is in school, there is a better chance than not, that the child will show up in school.. I get that. However what is appalling is that there is no safety valve, one allowing good students who get sick, to stay home with their parent's permission…..
It gets worse.
This flu is reported to be one of the deadliest in our lives. We appear to be on the cusp of a real pandemic. This is not the normal flu. This is one like the 1918 one. You have to read it to appreciate it's extent….
Just a quick search. Three dead in Vermont. 2 dead Orange County. 2 dead in Sacramento. 8 in Oklahoma. 9 in South Dakota. Fifteen dead in Indiana. 18 in Massachusetts. In Minnesota as of today, 27 people are dead, out of 400 infected. Making the death rate 6.7%. The flu of 1918 worldwide in a time of no modern medicine, killed at estimated a 10%-20% level. The normal level is 0.1%. Put in shock and awe language, that means there is a 6700 greater chance you will die from this flu, than any of the past in our lifetimes….
If this sounds uncharacteristically shocking, it is because I'm just finding out the figures now… Last week, we incurred 801 deaths from influenza and pneumonia (they work hand in hand so both are included). the CDC is probably processing a future warning right now.
The CDC is reporting that the week before 12/29/12, 2961 persons tested positive for flu. The next week, 801 died. If there is any correlation between the numbers, that means a death rate of 27.05%… That is too high to believe, but it should be enough to sound the alarm… We are in the middle of a crises.
Because looking on the surface, out of roughly 3000 cases of flu, 800 died…. I don't want to get too distracted upon the argument of just how bad this is looking, just want acceptance that is is bad…
If you look for national data on this right now, through the internet engines, it hasn't been compiled yet. This is just the first attempt to make sense of the raw data being reported by the CDC. For us in Delaware, this just appeared out of no where over Christmas break…. I don't think anyone has looked at this nationally on the scale required yet. We have flu's every year. In truth, the only reason I would be delving through it today, is because or the random request I mentioned at the top of this post….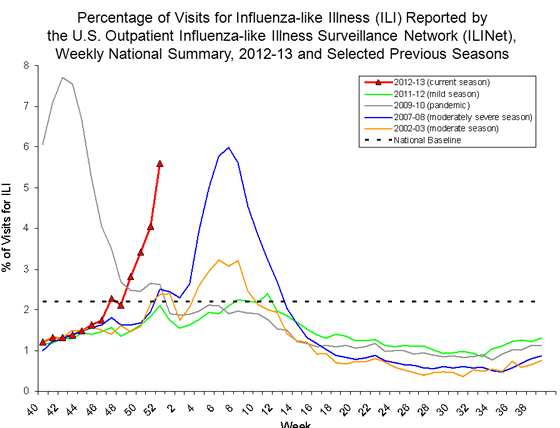 Courtesy of CDC FluView.
And that doesn't yet include the data from this past January 5th week.
Here is kavips recommendation on what should be done.
A) The requirement for a doctor's note for each absence needs a temporary abatement based on the virulent nature of this flu. One doctors note for a duration of absences needs to be sufficient.
B) All parents in the district and in the state, need an email blast alerting them to the extreme danger of this flu, which states that if a child is sick or exhibiting symptoms, he is required to stay home to stop the spreading contamination. It would be kind to mention that grace will be extended to all absences over this time, simply to put parents afraid of legal ramifications at ease and prevent them from being too scared to comply with the order.
C) If a school gets below 80% attendance level, it needs to close for a week. We don't need to teach something, and teach it again, and teach it again, and teach is again as the surviving students filter back into class. That is a waste of resources.
D) Recommend use of hand sanitizer whenever possible, at home, work, or school.
E) Warning that flu shots are a state priority, and should be mandatory considering the high rate of death this time. Those not having one, need one now.
To help our administration out, I'll point to this option in the state code regarding relaxing regulations in the schools.
The Department of Education shall have the authority to waive or suspend provisions of the Delaware Code in the implementation of programs authorized under this chapter; provided however, that such waiver or suspension of a provision of the Code shall not result in an increased financial obligation to the State. The Department of Education is also authorized to waive or suspend its rules and regulations in order to maximize the projected impact of programs authorized under this chapter. The State Board shall be advised of any waiver of a regulation it must promulgate or approve, and may deny such waiver within 30 days or by the next regularly scheduled meeting, whichever is earlier, of the waiver's approval by the Department.
(This was from another Chapter other than that previously quoted on attendance, but it shows the precedent and legal standing for exercising extraordinary measures in extraordinary times.)
As I alluded to, this is all coming so fast. It is as if trying to cross the street and peaking around a parked truck and seeing death in the form of a truck barreling down right on top of you. It's a little unnerving.
After every tragedy we've talked about doing something to stop random violence with assault weapons.
We talk.
The last person who "did" anything, was James Brady who said enough is enough and pushed the "Brady Bill" over the NRA's dead body into law.
It is time for the next step.
Every American must ask themselves. Since there will be no compromise, which is more important for America's future?

Photo Courtesy of KRCRTY
OR


Photo Courtesy of Amherst Gun Show
???
Did you choose?
Then we need to start to work. I think it is safe to say that after Newtown, Connecticut, we are done with options. It has now become,… an obligation for us to stop this trend….
We need to act soon, before the next perpetrator, tries to outdo even this tragedy……
It seems like only recently that atrocities are cropping up in Afghanistan. They may have been on going, but the rash today could be explained by the long years, and many repeat tours, which have taken a toll on our best and brightest.
War is not grade school. War takes a toll. And using the same people over and over, would cause the breaking down of moral fiber.
When you are in an impossible situation for a very long time, and it seems like it is such an absurd environment so that old rules don't apply; you tend to take those old rules for granted. Instead you move yourself into a surreal world; one where your emotions impact your perception of reality.
These atrocities are not new to mankind. If you haven't fought, just going to the movies should give you enough perspective to understand why these men react they way they do.
What's different lately, is not that our men are acting like barbarians. Instead, it is that they are not acting to the highest standards possible. That is the norm for the US military. But after being there too long, they are acting like normal men. Like men in every other army.
The same situation is occurring in our high schools. Currently Christina School District has three teacher incident investigations on going. Three. All three of these people would not doubt, still be teaching, had they not been forced to survive the bizarre environment that is high school for so long. An incident came up, and that part of us that constantly protects us from over reacting except in dire emergencies, released that pent up anger prematurely.
We blame the teacher because it isn't something all teachers are doing.
However we need to look at the system, the way the military is looking at solving their problem. Which is that men have been fighting longer than WWII without a break.
Our schools need more money, not cuts. We need to raise money. The General Assembly should double resources this year and raise tax rates to cover it.
We're done trying to stretch our schools thinner.. It is time to start building them back.
In Delaware's school board elections, big money secretly funneled into the campaign coffers of certain candidates, some of whom didn't even know it was there until the public notified them to check their checking balance…. did not pay off this time.
Every candidate the secret, big money supported lost….
It really was no contest…
But there are some troubling factors in the results. Check this posting John Young put up unofficially.
Val Harris is the slushee candidate… Saffer is the good one.
Bancroft and Bayard between the two, went for the slick-ad Val. by a factor of 8 to 1… The message didn't get to these that Val was a propped up stooge.
It was in the suburbs where Shirley Saffer won. Shirley's total margin of victory was 268 votes… She got 180 of that out of one school, Downes Elementary School.
My guess this was due to John and Connie Kowalko.
In areas where blogs are read, Shirley carried the vote by a two to one margin. In areas where blogs are not read, Val usually won.
So hats off to John Young, Kilroy, Pandora, Mike Matthews, and Steve Newton for blogging in response to the hate mail drop…
What does this tell us about next time.
Next time, they will buy a blogger. Someone will sell out for the price and blog the other side. Sleaser Soddy Institute comes to mind. For there is well another side of this, and that is that those with Vision 2015, cannot get their ideas past the DSEA, to get it done.
It will not be easier as anticipated, had the puppets of Vision 2015 been put in this time around.
We should point out that Vision 2015 is not all bad. it was their approach this election which was bad and was especially so bad, it even got me into the fight.. Shame on you guys… What on earth were you thinking?
We all want improved schools. And here is how it will work. We need to find a way where teachers are happy, parents are happy, and politicians are happy.. No other way will work.. You have happy children, happy politicians, but outraged parents? Won't work. You have happy parents, happy politicians, and outraged children… Won't work. You have happy parents, happy children, but politicians lose all federal educational funding, they're not happy.
Rodel is trying to break the backs of teachers. DSEA is trying to defensively protect teachers. They collided. Yet both want improvement in how kids get taught…
So, why don't you two work together to come up with an idea that works to teach kids better than they are now?
As everyone reading this knows the only way that works is a win-win situation. You have two positives; no negatives; and we move forward double speed.
In the old days, unions gave quality work. You went to a union for building and construction because of quality they provided. Handed down from the guilds apprentices worked alongside masters until they met the masters criteria then went out on their own.
The DSEA needs to focus on helping kids learn. They need to be locked up in a room, forced to stay there until they can agree on an outcome.
Once that has been created, it gets implemented by people who know everything about what they are talking.
Instead, we are bringing in someone from the outside, anointing them with a title and no authority, and sitting back for the fiasco to happen. The only way this new secretary will function is if someone on the inside altruistically chooses to guide them…
You wouldn't hire a Gore-Tek salesperson to run the company Nextel, now would you?
With every new catastrophic bungle, the Rodel 2015 looks sillier and sillier.
The concept is nice. Hire or fire teachers based on results. Of course we don't want bad teachers. Of course we'll keep good teachers. It's determination of results that is the issue.
How do you measure progress in education?
Tests?
Grades?
Completed Homework?
How do you compare standards from one school to the next?
State testing?
Compare cumulative scores from one school to another?
Perhaps.
So what is this evaluation crap? Where a teacher loses her job based on subjective criteria made up by her immediate supervisor, usually the principal? Wear knee pads, "ahhhhh, great review Miss. We'll do this next week". Been around the mill, teaching kids for hundreds of years… "Ommmmm , not good, Mrs. We will have to let you go."
Evaluations are totally arbitrary. The DSEA is totally correct to want to eliminate them….
So how do you measure a teacher's progress?
Results: do kids know anything when they leave her class?
If so, they did their job.
The SAT should be the one standard on which all Americans are rated.
We do not need to reinvent the wheel.
The lesson of this election, is… get off your high horses, and work together. Because if we have to do this fight again… it means nothing changed over a two year span, except 60,000 students in New Castle County, missed out on those two years….
Have the DSEA come up with a plan, run it by Rodel 2015, and have the Rodel back the money to implement it…
Christina District has it easy.  Two choices:  Good vrs. Evil….
Red Clay, is a little tougher…
Both campaign chairs have blogged enough about their candidates, to show that both are really great people…
In fact, if you read through the chatter (and there is a lot of it) you will see that both bloggers, looked at both candidates, both thought both were excellent candidates, and then for the subtlest of reasons, the tiniest of differences, they didn't choose the same ones.
When all is said and done,  Red Clay will win with either…..
It just so happens, that one (a surprise to her) is supported by the Rodel Vision 2015.  The other is supported by the DSEA…. 
So what happens when that phone rings… and a disembodied voice says…. "You're going to do this for me…."?  Hmmmm.
What would you do?  …  What will they do?
You know.
Obviously they will have two choices.  The first,  is to say, "Yes, Sir. I'll get on it right away," and then do it…
The second is to go against their backer, their supporter, their mentor, their own kind, and .."disobey"  their sponsor, their "employer", their facilitator, perhaps?
The second way takes great courage.  It can only be done once.  And it inevitably leads to one's demise everywhere but in the annuals of history.  The second choice only happens very rarely.  I doubt that even someone as stubborn, stodgy, cranky, disruptive, cantankerous, curmudgeon-like,  as myself, could bend so against the will of a friend…..
So do sides matter?  They matter only to the extent of the power of they hold.  If the force is weak, such as political  party alignments in previous school board elections, then no, sides really don't matter.  Same with row offices,  sheriff, register of wills, levy court in Kent County, political affiliation matters much less than character and empathy.  But this is not so, when power is strong.
Threats of… "if you don't do this, I will ruin you."  or  "don't ever expect to run in this state again.."  or "you will rue the day I ever hear your name get mentioned." are rather common and mostly roll like water off a ducks back…
They do make it hard to go against the person who put a bundle of cash down in your name, and said.."now run"…
So, if the power is strong, you get owned….
And that is how I've come to see these elections…
As an observer, those who've read my thinkology, know an evolution has occurred ever since it was revealed how much money has been shifted out of the economy by those currently wealthy, and how the pie for everyone else has shrunk considerably.
Since 2010, we have seen the darkness of  orange pekoe stain our US House of Representatives. (Ha, ha:  what an awesome metaphor!!! don't mind it I do..
 )
The radicals in the tea party, have against common sense, run some really stupid ideas out for all to see.  One of these, is that unions must go.
Now, as a historian, there were times when unions were not pulling this nation forward…  But, prior to that, unions WERE what shifted America from being the corrupt capitalist nation of the 1870′s, , to becoming an amazingly great supernation post WWII.
What our Congress did during the Depression, to prevent another Depression, was to pull money out of the capitalist hands, putting it back into ours…  We did rather well, thank you very much.  We had our own homes.  We sent our children through school.  We had boats.  We had pensions for our retirement. We have medical treatment until the day we die.
All of which are getting trimmed back, trimmed back, trimmed back, by little tiny shavings at a time…  sort of reminding one of their mom peeling a carrot and being more interested in telling an animated story;  pretty soon, no carrot or only a stub of one, is left….
So….
It is important who supports your school board member.   If you think humans are garbage and corporations are people too, then you probably want a school board that eases into what the Rodel 2015 is planning….
If you think the opposite, that human beings are wonderful and we need more of them working and less money being pocketed by shareholders, .. then you will need to vote for someone who… when they get that phone call…  will vote to put more people working and opt to have less money being pocketed by shareholders….
It is that simple…
Sometimes giant social waves do occur…  When that happens, the little bobbers on the surface, no matter how strong their intentions to stay true to their fixed location, .. get swept along for the ride…
Me,  after much soul searching, came to realize I have no choice but fight against Voices4Delaware.   Funny thing is, of  all the individual human beings involved,  none are evil.   It is their greater philosophy, which is... That is:  the idea that very few people can influence an entire election to achieve the results that benefit them,…  by throwing money….  
And calling people trash.  These are  "owners" of my school board,  I don't want…..
With this in mind, .. the "best of the best" are Shirley Saffer in Christina, and Kenny Rivera in Red Clay…
In an exchange below, the campaign manager of one of Voices 4 Delaware confirmed that the only reason his candidate was added to that group, and he insists (I believe him) it was unknowingly, is because the Teacher's Union, DSEA supported her opponent….
Outside money does not have a right to disrupt local school board elections.  They can because of Citizens United, but it means voters have to rally to make all that money spent on PAC's  a complete waste.
If every PAC loses, then Citizen's United is meaningless….
But, as pointed out in my Nasty Boys piece below, this whole school board race is about… busting the fuckin' unions.