You are currently browsing the category archive for the 'Sarah Palin' category.
Susan Rice is crispy around the edges. Republicans are refusing to endorse her… Why? When pressed by reporters the answer is… they don't know.
They tried to pin the Benghazi hearings on her. That backfired. She was telling what was thought at the time. Republicans say… you should have said you didn't know instead of saying what you thought was true…. Not many other then Breitbart readers are buying that one.
Her real sin, it appears, is that she is our UN ambassador. Republicans hate the UN.. Why? If the US wants to attack Canada for tar sands, the UN will object. If the US wants to attack Newfoundland to change its timezone by one half an hour…. the UN will object. If the US attacks Iraq to steal its oil, the UN will object……
That is why the Republicans don't like the UN. They can't attack random countries. The UN recently supported Palestine over their favorite child Israel, giving it another bad mark in Republicans eyes… For you see? Republicans have a basic flaw. If you hand them a giant bag of money, and tell them what to believe, THAT becomes what they believe… Forget facts.
Now, conservative pundits are becoming worried. It appears that all the noise they created, as of itself, pushed Susan Rice into the number one contender. Originally, no one outside of the beltway and New York, knew who she was. Now thanks to Republicans, we all know her name… And the more we see of her, the better she appears over other contenders to take over the Hillary Clinton legacy.
As anyone who has just come from seeing the movie "Lincoln" knows, the Secretary of State needs to be on a very personal relationship with the president. Obama and Clinton though once adversaries, did sit on quite a few stages together throughout the primary campaign. That relationship has worked well.
The president gets to chose who he wants. The Republicans have offered a list of those who they recommend. However, based upon the election, the direction the American people want to go, is directly opposite the way Republicans want to take us… In fact, it should be argued that the election proved concisely that Republicans are going in the wrong direction. Beaten back on every platitude they uttered, the American people said "no! We don't like what you say, how you act, or what your policies are."
So the Republican list, should read as…. these people are exactly the ones who should not be Secretary of State. In fact, based upon the election's results, by sitting back and seeing whom the Republicans object to the most…. should point the finger at who will become our best Secretary of State…
That person appears to be Susan Rice.
She is reportedly blunt, or crisp around the edges, at times. Yet, her detractors are decrying that on the talk shows… she was not blunt enough.. She was diplomatic, obfuscating, pleasant, and believable. So, since they are using her bluntness against her, and her non-bluntness against her at the same time, it is obvious that as with everything else on Capitol Hill right now, Republicans are in disarray. Repbumblicans don't know what they want… Which is why,… no news source should be noting their objections except to make fun of them.
If she has the president's confidence, it sounds like the Benghazi episode in itself, PROVES she has all the qualifications she needs… If she made the world believe the incident was caused by a video, (without intention of course) thereby buying time for the US to rescue it's informants, I would think she would have the perfect qualifications to be Secretary of State….
Some of us can remember a Chief Executive once saying: We do not have spy planes flying over Russia", less than a week before one got shot down…. Sometimes, you have to lie to your enemies….
The fact that John McCain, Susan Rice's biggest critic, thinks Sarah Palin is the smartest woman in the world (at least back in 2008) shows the world how good of a judge he is when it comes to women and that little matter of their intelligence.
So, if this Rice IS a little crispy wound the edges…. it is time to move forward and to serve the world a wondreful batch of: Rice Crispy Treats…..
Yep.   She beat Ryan bad.  Real bad.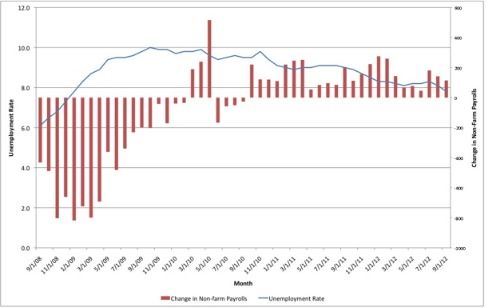 Here is the problem… The red on top of the line must equal the red on the bottom line before we can go forward. Currently there is now more red on the top of the line. We are indeed better off than we were four years ago. More of us are working…… 325,000 more of us incidentally.
This shows a more disturbing trend. This document does not go far enough back into the Bush administration files, but if one does follow, one sees red below the line all the way back to when Clinton handed off the reins to Bush. That was the last time we had red above the line until we (whoo hoo) just happened to vote for the greatest president in our lifetimes and his accompanying party, the Democratic one…
The Capitalist Party (formerly called the Republicans) don't really care about jobs. As Capitalist's (formerly called Republican's) they care about earnings per dollar. Jobs are a side effect, but when too many people impact their earnings per dollar, they get rid of them. When unions impact their earnings per dollar, they get rid of them. when the Chinese impact their earnings per dollar, they run to them, ignoring the slave conditions those human beings must endure in order to line the Capitalist's (formerly known as Republican's) pockets….
When can Capitalist's (formerly called Republicans) grow jobs? Only when they build a new plant here in the USA. Once it gets built, they have no use for the builders. they have no use for the opening team, they have no use for those extras needed to fill in when someone quits. Once it gets built, they fire people. They like to "fire people Romney says". (yeah, I know, I'm disingenuous).
If one looks back over the economic data from WWII one sees job growth steady until Ronald Reagan (benefit of doubt given to Nixon_Ford because of oil embargo).. As soon as Reagan got elected, we entered a horrible, horrible, horrible, horrible, horrible, horrible recession. People got termed left and right. Democrats in Congress were persuaded to lower taxes because of the economy. We had one year of growth. 2006, and then the slide. The 2008 tax law (a low 28% top marginal rate), immediately sucked out and flattened growth and sent it on a skid; we entered the worst recession until Bill Clinton raised taxes and instantly, we began our climb out. It was instantaneous as anyone who foolishly bet on the stock market against Bill Clinton, can well attest. Taxes on the wealthy are the most awesome thing ever created by mankind. The climb continued, America reached new heights of prosperity, and growth seemed like an endless proposition… That is, until the Bush tax cut. Growth stopped. Construction got laid off. And we began our descent. During the Bush years our descent was modified by a housing bubble the Capitalists (formerly called Republicans) created; we borrowed against their newly increased estimated value to survive and keep our Clintonian Standard of Living; it was also blunted by two trillion dollar wars, (imagine being given a credit card with unlimited balance on it; "whoo hoo, livin' it up, baby" spoken in Donviti style).) As soon as the Capitalist (formerly known as Republicans) were kicked out, the debt became due.
Bottom line, is on the chart above, Capitalists (formerly called Republicans) had a job slump in negative numbers stretching back across the time spans of two of these charts added on to the right.
So when Mitt Romney accuses our Commander in Chief, SURE YOU GREW JOBS, BUT YOU DIDN'T GROW JOBS FAST ENOUGH, one has to point out how his own policies under George W. Bush, did nothing to grow jobs either…. In fact, Mitt Romney's policies, cost America jobs. (See the evidence in the red below the line in the graph above).
But if you don't already know that Capitalist's (formerly called Republicans) economic policy is nothing more than a smokescreen for getting all the money out of your pocket and into theirs, then you aren't reading this blog… There are still dumb people out there who still believe in Republican values; they just can't read….
If you do read this, it can be assumed that you already know that every single economic fact ever truthfully told, shows that if you take money out of the middle class, your economy fails. It doesn't matter if you are a Capitalist (formerly known as Republican)… or a Communist. If you take money out of the middle class, your economy falls….
So how does one put money back into the Middle Class? It's one word but I'll say it twelve times, one for each term it has been in effect: Democrats, democrats, democrats, democrats, democrats, democrats, democrats, democrats, democrats, democrats, democrats, democrats…..
That is how one puts money back onto the middle class and grows one's nation and ones economy…
Don't take my word for it. Look at the chart above! And just imagine how wonderful it would be if we had not had a Capitalist (formerly known as Republican) House of Representatives intent on tubing the economy just to make Obama looked bad? Imagine how great our results would now be, if they had. instead chosen to help America get back up on its economic feet, instead of kickin' our ass with their pointy cowboy boots, while we were down?
One word leads to more jobs and Economic Growth. Democrats.
This is post number 2000.
The only real significance is it is 150 posts more than where Tommywonk stopped exactly one year and fifteen days ago…
If some future historian looks back, I can only guess they may kindly make some note of the quality of thought that underlies these efforts, but my guess, is no one will ever notice…
Irregardless, as long as the urge to put thoughts down for others continues, we will go on. As usual, with no goal, no direction, and no ulterior motive. Probably upon reflection, my biggest surprise, right here, right now … is that I still enjoy it so much, and can't wait to jot my thoughts down, click the button, and send them off to where ever cyberspace and the vast internet ocean, lets them drift….
For each of you who have become regular over the years, … thank you friend…
Jockstrap….
I just couldn't help but notice he supports almost every Johnson. (Even ones with Swiss spellings… Johansen ….)
Lol…