You are currently browsing the category archive for the 'Sam Latham' category.
Surprising the (thought of too late) proper answer to Romney's silly statement that: Corporations are people too… would be how I ended my post below, which is the headline above. People are capital, too.
Which means just like you have to invest in physical capital, one has to invest in human capital too.. Ironically the wisdom of this disappears in corporate boardrooms. They look at how to use capital to achieve more profitable ends. Therefore it falls upon the shoulders of Labor Unions, to bring this argument into daily discussion. sometimes by employing the action of a a strike.
Suddenly with a work stoppage, the idea that one needs to reinvest in human beings, makes itself readily apparent.
I'm tying together three threads to make a knot..
A. The election 2012 showed the end of political dominance by "white people" on the national stage.
B. John Stapleford wrote a derogatory piece in Wilmington's News Journal whining that "blacks and browns" (his words) were lazy, no good, bums and would always not vote for a white guy, no matter how fly…..
C. Martin Luther King Blvd. is renamed off of Duke of York Streets, William Penn Street, and Court Street….
This 2012 election bamboozled Republican strategists because they totally neglected to account for the votes of Blacks, Hispanics, Asians, who were heavily engaged in this election. To Republicans, these people never mattered. But, these people who never mattered, now have more votes. They, are the majority… and far more moral than any Republican Moral Majority could ever hope to be…..
John Stapleford's piece was an attempt to denigrate this very vote. By saying thugs had overrun the election, he could still attempt to keep his values above water. He was trying to say…."our outdated values are still the true path; we were overwhelmed by critters and just lost one round, that's all." It didn't fly. His audience almost to every man and woman, saw it as prejudice and nothing else. Instead, the die had been cast. This Obama was the direction America really wanted to go….
Dover changed the name. Now Dover is the 40th Capital City to have a Martin Luther King Boulevard. It will not be the last…. In a sad way, Delaware's Colonial Heritage is being lost to the 20th Century… The Duke of York put Dover in the same class as Williamsburg. The colonial aspect of Dover is now gone. It is just old buildings on a street that happens to be named after the bravest American of the last century… Before there was correlation…. Now, what's the correlation?
But that is … as it should be… Times change. And really… though sad to see 300 years of tradition swept away, exactly "who" is the Duke of York? How many of those voting in Dover itself, could have answered that question properly?
He, along with William Penn… have no meaning to people whose ancestors were sold, brought across the Atlantic, sold again, mistreated, and then once freed, quietly kept in second class status, until one man made so much noise it could be ignored no longer…..
It is proper and fitting that someone who has more name recognition and who deserves to be honored, replaces 300 years of tradition… We can only hope he may reign on that street sign, as long as did the Duke of York…..
The vote has passed. We are now in a new America, and it is good.
This is post number 2000.
The only real significance is it is 150 posts more than where Tommywonk stopped exactly one year and fifteen days ago…
If some future historian looks back, I can only guess they may kindly make some note of the quality of thought that underlies these efforts, but my guess, is no one will ever notice…
Irregardless, as long as the urge to put thoughts down for others continues, we will go on. As usual, with no goal, no direction, and no ulterior motive. Probably upon reflection, my biggest surprise, right here, right now … is that I still enjoy it so much, and can't wait to jot my thoughts down, click the button, and send them off to where ever cyberspace and the vast internet ocean, lets them drift….
For each of you who have become regular over the years, … thank you friend…
Of course one schedules a big announcement at an opportune time to divert attention from everything else. Suddenly not turning in tax returns is old. "Why you bringing up that shit for, you creepy old loser?" Suddenly, Bain Capital's fortunes made at the expense of working class heroes, is like last years Mason Jar-d green beans…..
But, did you know, (and it will get lost today for sure), did you know that NOT SINCE EISENHOWER, HAS THE STOCK MARKET EVER PERFORMED AS WELL AS IT HAS THIS PAST TERM OF PRESIDENT OBAMA?
Not during the Republican years of Richard Nixon
Not during the Republican years of Gerald Ford
Not during the Republican years of Ronald Reagan….
Not during the Republican years of George HW. Bush….
Not during the Republican years of George W. Bush……
HAVE WE EVER HAD A STOCK MARKET PERFORM THIS WELL!!!!!!
(ok, ok, in order just to be considered fair here…)
Not during the Democratic years of John F. Kennedy…
Not during the Democratic years of Lyndon Baines Johnson….
Not during the glorious years of Jimmy Carter….
Not during the most amazing years in American History, of William Jefferson Clinton……
HAS THE STOCK MAREKET PERFORMED AS WELL AS IT HAS UNDER THE TERM LED BY OBAMA AND THE DEMOCRATS IN THE SENATE……
Not since Eisenhower…
Let that sink in….. Not since Eisenhower…..
If this were the Philadelphia Eagles and we'd had three back to back Superbowl wins…..we'd be jumping up and down for joy… These results are absolutely awesome. Obama/Biden is really the best team we have seen in our lifetimes…..
Of course, you would never know it if all you listened to, was the Dallas Cowboy's …..
You see guys…. That's America today…. And you are listening only to the Dallas Cowboy's Network……
So if you want to see all the good news that got buried by today's Ryan grabbing headlines…… and it is definately worth it, I have a link for you here……..
Look through the collection and tell me, does Romney's choice really matter? REALLY?
(Courtesy of Delaware Liberal's Hot & On Top Reporting)
Health and Human Services (HHS) Secretary Kathleen Sebelius announced that 5,600 Delaware residents will benefit from $1.8 million in rebates from insurance companies this summer, because of the Affordable Care Act's 80/20 rule. These rebates will average $351 for the 5,300 Delaware families covered by a policy.
Obamacare is working!  Obamacare is saving people money.  They were at the mercy of insurance companies before.  Now, they have $1.8 million in their pocket.
It is not because of Republicans!.. They are the ones taking money out of your pocket, handing it to the insurance companies, and saying "don't forget about that campaign contribution in October."
No one can trust Republicans unless you are making more then 10 million a year. No one.
So when they say the first thing they want to do in January is repeal Obamacare,  and now you can see why.
That want insurance campaign contributions… and that is all.  They don't give a fuck about you.
Only Democrats can right the wrongs… Do what you know you must.  Swear on a stack of Bibles, never, never,  never, never vote for a squirmy, sluggish, beetle-infested, putrid, maggotty, caterpillerish, centipedific, millipederishes, multi-lensed eyeballed, appendage ringed mouthed, stinger-embedded, infectious bacterial infested, food coveting, ooze secreting, spontaneously defecating  insect who swears allegiance to the Republican Party….
Spray them with insecticide instead…..
(Wow, what a great demo idea for the Republican National Convention……)
Sometimes after reading truth like this, you just want to walk into a room of thronging with roaches, pretend they're Republicans and squish them each and every one ………
Look,….. for a blogger to be outraged at another blogger is just silly. Oh, you can whine and moan, and say you'd never stoop to a certain level, but when it comes down to it. a blogger blogs because he wants the world to know his perspective on things….
If a blogger is a sweet guy, he has a sweet perspective and his blogs are nice…
If a blogger is smart, and has a special insight on human nature, his blogs tend to be…. insightful….
If a blogger is an odious asshole, someone you'd leave the room before he even entered just because his face looks like a pile of excrement, and his complexion is the color of a vaginal infection, then his blogs will smell like shit and decayed sperm.
You judge the blogger by the blog.
So, since I'm slow on the uptake of this one, (Steve Newton alerted me… and I was slow to pick up the kickoff… sort of enjoying the first bouncing pigskin of the season.) I'll defer to Steve and then comment….
So, let us judge this blog Steve points us to in an insightful way, shall we? And perhaps we can gain insight as to the type of a person controlling this particular blog's content.
WOULD THE PROSECUTOR PLEASE ADDRESS THE COURT AND NOW PRESENT THE CHARGES AGAINST KENNY RIVERA…. (these are lifted from the blog)
Hi, your honor. I'm Evan Queitish. Here are the charges I'm bringing,… proving Kenny Rivera is a communist and implying he is unfit for office.
1) Mr. Rivera is the worst kind of teacher, a history teacher fresh out of the UD school of advanced Progressive policies who loves his union. gRRRR.
2) He has a progressive (read: Communist) pedigree and again… a teacher…. gRRRR.
3) His wife is a (sweet young woman)…. gRRRR.
4) He goes to church, not just to attend services, BUT HE EVEN GOES TO SECRET GET-TOGETHERS TO STUDY THE LORD'S WORD!!!!!!!!!
5) He once decried Capitalism always turned out to be oppressive, and as the world today certainly shows (as well as the history of the world up to 1932), unfettered capitalism does not work as an effective model.
6) He implied the Nation of God, our beloved Israel, actually had and fostered communes. Oh the horror.
7) There are only, only, only six degrees of separation between Kenny and Venezuelan dictator Hugo Chavez….
8) Kenny is not a true believer of the Biblical Worldview because he once mentioned on YouTube that teachers have to dig out of their own pockets to cover at least the minimum of supplies needed in their classrooms.
9) Through his association with Mike Matthews, Sam Lathem, and Frederica Jenner, Kenny is a communist. (And yes, we are totally ignoring his association with me, those in our group, our church the LoCC, and it's Pastor, Pastor Steve, which could just as well imply that since Kenny associates with those who worship Christ, by such association he could also be a Christian and therefore not a communist.).. But by his association with only these three people, Kenny is a communist.
IS THAT ALL THE CHARGES EVAN?
Yes…
WOULD THE DEFENSE LIKE TO ANSWER THESE CHARGES?
Yes your honor. We submit that these charges be dropped since they are based on a fallacy of reasoning. And any charge based on a fallacy, by rule of law, is to be immediately dismissed.
THE DEFENSE MAY NOW PROCEED.
"Your Honor,"
"In his charge, Evan Queitish, makes this statement that defines his Deistic statehood argument……"
"The concept that God created everything and therefore government should be subservient to Him, is sometimes hard for us to swallow but an important point nonetheless."
"Mr Queitish makes this the central argument of his case. God created everything and all things, including government, are subservient to God…"
"MR QUEITISH: IS THAT A FAIR ASSESSMENT OF WHAT YOU SAID?"
"Absolutely your honor…. Government is subservient to God."
Your Honor, as Mr. Queitish has just said, Government is subservient to God… If so, then it must follow that whatever Christian's believe, government should be made with that in mind. If Christians believe in small government, it should be small. IF Christians believe in no taxes, there should not be tax. If Christians believe in getting rid of unions, they should be gotten rid of. I believe if I understood Mr. Queitish correctly, he would not have problems with these scenarios?
"That is correct your honor…"
So, the argument that Even Queitish insists upon, is, that Christians who reverently believe in their values, should have the right to insist those values be also reflected in which ever governments they serve under… I believe Mr. Queitish would have no qualms with this reasoning….
Your Honor, that is correct….
And so, if a Christian believes in something God tells him to do, he is obligated to work to make that government reflect the vision that God has given him… is that not correct?
Absolutely; he is commanded by God to do so…..
So, that were God to tell a Christian that capitalism is not working and God then commands that Christian start a commune, is that Christian also obligated to then work to make his government reflect this vision that God has given him? Is that not correct?

Perhaps.
Would Mr. Queitish also concur, that the root of Christianity, comes as does the word from Christ? And would Mr. Queitish also concur that same Christ to be the Son of God?
Why, yes your honor.
Is Mr. Queitish familiar with the gospel according to Matthew, chapter 19; versus 16 to 30?
Not off the top of my head, but I've probably heard them before.
With your honor's permission, I will no enter as evidence, a passage of Matthew 19: versus 16 to 30. Would Mr. Queitish please honor the court with his reading of the Holy Word?
Certainly: 16 Now a man came to Jesus and asked, "Teacher, what good thing must I do to get eternal life?"
17 "Why do you ask me about what is good?" Jesus replied. "There is only One who is good. If you want to enter life, obey the commandments."
18 "Which ones?" the man inquired.
Jesus replied, "Do not murder, do not commit adultery, do not steal, do not give false testimony, 19 honor your father and mother," and "love your neighbor as yourself."
20 "All these I have kept," the young man said, "What do I still lack?"
21 Jesus answered, "If you want to be perfect, go, sell your possessions and give to the poor, and you will have treasure in heaven. Then come, follow me."
22 When the young man heard this, he went away sad, because he had great wealth.
23 Then Jesus said to his disciples, "I tell you the truth, it is hard for a rich man to enter the kingdom of heaven. 24 Again I tell you, it is easier for a camel to go through the eye of a needle than for a rich man to enter the kingdom of God."
25 When the disciples heard this, they were greatly astonished and asked, "Who then can be saved?"
26 Jesus looked at them and said, "With man this is impossible, but with God all things are possible."
Mr. Queitish, you are familiar with this passage, are you not?
Yes, your honor.
And you accept the notion of the Trinity, that Jesus is part of God, and God is part of Jesus, so when Jesus speaks, God also is speaking. Am I correct in assuming you too share that belief.
Your honor, I am proud to publicly share that belief.
Can you, Evan Quetish, please tell the court what must happen, for this man to get to heaven?
He.. He…. he…. must……. give…up….. his….. worldly….. possessions…. and give…. them…. to…. the ….poor… to follow….. Jesus….

You are correct Sir…
Mr. Evan Queitish has just confirmed that God says the only way this man could get to heaven would be to sell all he had and give to the poor…
Is Mr. Queitish familiar with the rules of an commune? Ie that they give up everything they own, and work for the greater good of their community?
Yes.
And is what Jesus specifically says, which Mr. Queitish expressly said just a moment before hand, that was the same as coming from God's mouth himself… exactly what people do in a commune?
Uhhh,
ANSWER YES OR NO, MR QUEITISH. YOU ARE UNDER OATH.
Yes.
So, boiling everything down, isn't the Christian who starts a commune probably a better Christian, at least in God's eyes, than the person who takes money from other people?
Yes.
And as Evan Queitish previously stated, isn't it a Christians duty to make his sovereign government reflect the vision that God has laid out before him?

Yes, I did say that.
And as Evan Queitish previously stated, isn't Communism a belief extolling the absence of God, so that if Kenny here happens to state that he believes in Matthew 19: 16-30, which Evan previously admitted himself, was uttered from the mouth of God, doesn't his following of Christ's word to the letter, make him then a non-communist?
You honor, the defense requests that this case be dismissed on insufficient evidence, and that new charges of communism and blasphemy be subsequently filed for Mr Evan Queitish, who, is promoting a concept of government that Jesus himself condemned, and who has just charged my client Kenny, to be a communist when he is actually a much better Christian than Evan Queitish ever could be, that is… if we can believe these words spoken by God himself….
MOTION ACCEPTED. CASE DISMISSED ON A FALLACY OF REASONING. KENNY, YOU ARE FREE TO GO. WILL THE BAILIFF AND PROSECUTOR PLEASE STEP FORWARD AND ESCORT EVAN QUEITISH TO THE HOLDING CELL WHILE CHARGES ARE FILED.
Wait, wait..NOOOOO … what are the charges?
PRIMARILY: IMPERSONATING AN AMERICAN…… SUBSEQUENTLY BY MAKING FALSE AND ACCUSATORY STATEMENTS…. BY MAKING UNCHRISTIAN-LIKE STATEMENTS…. BY LIABLE…. BY PRESSING FALSE CHARGES…. BY BREAKING VOWS OF CONFIDENCE UTTERED IN RELIGIOUS CONFINEMENT…. BY SLANDERING SAM LATHAM, MIKE MATTHEWS, ERICA JENNER, ALL WHO SEEM MORE IN LINE WITH JESUS'S TEACHING THAN THE CRAP YOU POSTED….
YOU ARE HEREBY JUDGED, BY THE POPULACE OF AMERICA, AS BEING UNFIT FOR OFFICE, IMMORAL, CREEPY, VISCOUS, UNPRINCIPLED, UNWELCOMED BY SOCIETY, AND A SILLY JOKE OF A MAN. A CLOWN. A FOOL. A SIMPLETON. SOMEONE WHO CONDEMNS ANOTHER THROUGH MEANS OF A CHRISTIAN ARGUMENT WITHOUT EVEN REFERENCING THE BIBLE. EVERYTHING YOU SAY FROM HEREON INTO THE FUTURE, WILL NOW, FOREVER BE JUDGED BECAUSE OF YOUR ACTIONS, FROM THIS PERSPECTIVE.
MAY GOD HAVE MERCY UPON YOU.
They cost you too…
The drop in payroll tax from 6.2% to 4.2% results in a savings of about $1000 a year to every wage earner.
(If truth were widely known, that tax cut is actually a bad idea. It hemorrhages a dying social security fund, requiring the eventual death of the program or an expensive emergency last ditch surgery in the future.)
But it is hard not to give a $1000 present to every voter. Even if it only comes out as $19 dollars and change each week… But, still again, if your electric bill is $198 and you only have $189 in your account, that additional amount is, well, a lifesaver…..
But, Republicans in the House, even after Republicans in the Senate voted passage, overwhelmingly voted….. not to vote on the measure…
They didn't vote against it… THEY VOTED NOT TO VOTE ON IT……
(speculation is that they lacked the votes to keep it from passing)..
So, how does that relate to you?
House Republicans (read Tea Party) just voted NOT TO VOTE on whether or not you will be losing an extra $20 a month out of your next paycheck.
Imagine what this is doing to payroll clerks around the country?
Imagine what this is doing to family budgets around the country?
Imagine what this is doing to businesses who rely on consumer spending around the country?
Imagine what this is doing to businesses heavily involved in the financial sector, around this country?
So what would normally happen?
Normally a group that can't find agreement, acknowledges the sad fact, and long before the deadline, announces that they failed to reach agreement and that things would continue as they were on a temporary basis, to unfortunately allow for more time to solve differences.
But NOOOOOOOOOOOO, …. WE ARE STUCK WITH A TEA PARTY THAT FUCKS THINGS UP.
Instead, we have a vote not-to-vote, then get all sorts of very lame excuses from those who are delaying, none of which apply to the real problem that Social Security is doomed unless drastic action gets taken (higher rates, not lower), and we get nothing….
The tax cut will expire…
It is like sequestering a jury in a room, where everyone after much fact-covering argument has agreed to a judgment, except for one person who's been bought off. And nothing, nothing, logic, emotional appeal, bullying, snuggling up to, befriending, produces any change. And you go years, every working day, to the same court house, the same jury room, they same chair at the same table, hear the same arguments, hoping against all odds, that today, he will see the light and switch. You go the next day.
That is today's Congress. Held hostage by Tea Party Republicans who live in a dream world untouched by the reality of living under $185,000 a year. Like that bought-out juror, every day, they hold up progress with the unjustified belief that, if they wait long enough, the other 11 jurors will give up and sway over to the sole juror's way….
Two things can happen… 1) return to the public and announce a hung jury, and do a complete retrial.. or 2) sneak up to that one juror, put a gun to his head, say nothing, pull the trigger, clean up the mess, dispose of the body, then go out to the public and announce what the 11 of you have decided…..
One is the nice way, sanctioned to due process of law. The other is the American Way.
It's time to initiate the kavipsian policy of expression or what is otherwise known as "Show Us How You Really Feel"… Who knows? It could become the next great movement? The next time someone you know (or don't), says anything about how millionaires should keep their tax cuts and the poor should pay, nod your head in agreement, smile a little bit, then hit them as hard as you can in their mouth, I mean as hard as you can! Put them flat on the ground holding their jaw… Then loudly say, "Don't every talk that stupid way to me again!" Who knows, if 99% or all 303,930,000 would respond that way to our fellow congressional delegates, and the other 3.9 million of their like who advocate such madness, we might actually get the very progress we need, not because of intimidation, but because such policy is right….
For those who argue expression of violence is un-American, I'll remind them that tonight, is John Wayne Night on AMC: view it!… I argue that such action is VERY American and perhaps it has been the lack of such spontaneous expressions of frustration from working American people, that has caused the logjam where nothing gets done because of one holdout, who thinks he can sway the world to his opinion and face no consequences… ….
Practice now, by punching brick walls.
The recession has popped a lot of dreams… It has forced a re-evaluation of priorities. It has put reality in the forefront.
So wiping off the table of everything, everything, and sitting down to a blank space, and asking myself, … what do I want, by the time I die.
It is:
A country where working people can earn enough to raise a family, build a modest savings, own a home and secure their retirement,"
After watching "It's a Wonderful Life" you can be sure it can't happen on a Republican's watch….. For that dream to happen, we need protection from corporations and Big Money; not giving them more and more of what we make.
We need more money funneled away from big business, to be reinvested into the Middle Class… Since they haven't done it voluntarily, we'll have to force it.
Republicans can't force anyone to do anything. They are putz's. It will take a government of all Democrats to make Americans who die, at least die happy that they were able to secure:
"A country where working people can earn enough to raise a family, build a modest savings, own a home and secure their retirement".
The story goes that Warren Buffet, rather worried about his investments early 2008, wanted to talk to God… God told him to use his phone and he'd send him the bill… He got and paid the $333 million dollar charge. His investments flourished, too… That would be the end of the story, except he was down in Sussex County recently, following up first hand on a corporate case being processed out of Georgetown… once again, he asked God for the right to call, and agreed to accept the charges… When he got his bill, he was fuming… He was only charged 25 cents… "God", he said, "you ripped me off on that first call, big time!"… God said, "Warren, don't you get it? In Sussex County, that's a local call…"
Local call or not, Sussex County is weighing in on whether to say a prayer before County meetings or to not… Here are a few takes on that policy: one, two, three, four……
As someone who grew up where prayers were always said before football games and county meetings, it isn't a big deal…… That is, as long as everyone agrees it isn't a big deal. You don't see prayers before meetings conducted in New York.
Not because New Yorkers are heathens, but because in New York, you have a multiplicity of religions, so praying a prayer from one of them, is a slap in the face for all others…
Why it's even an issue in Sussex County is because the Positive Growth Alliance, has been building condo's like ants, and lots of people who did not grow up in Sussex County, now live there. Many have different ideas of religion than those who've always been there all their lives…
If everyone believe in the same version of God as does David Anderson, then of course, duh, why are we even arguing about it… Of course we're going to pray to God to guide us through this meeting.. That's what He's for!
Suddenly, thanks to Rich Collins and the Positive Growth Alliance, we have tons of people who do object to having David Anderson's version of God, one who dislikes Homosexuals, and one who casts pox on Democrats, one who believes married people should have sex only when they have children, one who believes sex between animals is immoral, one who believes taxes are caused by the devil, one who believes that nature was made to bulldoze and pave with a combination of petroleum and gravel. … one who believes that oil companies have the divine right to pollute oceans, one who believes that animals were made for us to kill. … one who believes a national religious holiday should fall on the first day of deer season.. one who believes pick up trucks and baseball caps are proof that homosexuality is a sin,… on who believes killing someone with a gun is not a sin, but taking that gun away for the safety of others is…
(yes, I'm having fun and talking tongue in cheek)…
The point I'm making is that Sussex County is changing; and it is changing mostly thanks to Rich Collins and the Positive Growth Alliance.
Can you make new citizens join the current religion? If so, then by all means, just like the days of old, they will see no qualms in having a tiny prayer before the meeting.
But if they don't want to join that religion, then, to force one group of religious people to impose their prayers on others, is not American…In fact, it's kinda creepy…
If in an effort to show fairness, the Sussex County decided they would do prayers from all religions in alphabetical order, when they came to "B" and hit Buddahism, giving an Buddahist prayer before the session, most of those in the audience would be saying WTF! This is our nation, why do we have to listen to such crap…
Which is… exactly what those Buddahists think, who have opened a business in Millsboro, and have come before the county to ask for a variance on something or other that is in their antiqued code….
So… If it is unnatural for a Baptist to suffer a Buddahist prayer, it is equally unnatural for a Buddahist to sit through a Baptist prayer…
It's not about one religion being right and the other wrong. It's about who the citizens are that make up Sussex County. If you want to blame anyone over this controversy, the blame solely lies with those who built up Sussex County and brought in all these new people to begin with… Now that they are here, we have to make Sussex County as fair to them as New York, is fair to us, when we take our business up there……
Positive Growth, huh? Depends on your version of positive I guess………….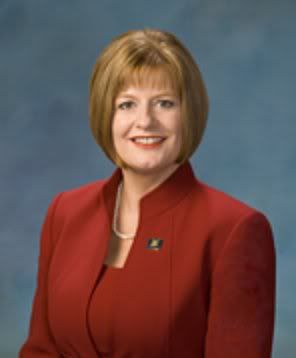 After one month and four days the campaign of Karen Harlley-Nagle is starting to stir…
Yesterday she received the unanimous 100% vote of the Delaware Chapter of the AFL-CIO.   Yes were also behind Mike Miller after he won his two previous primaries as well….  It is a step in the right direction with the honorable Sam Latham leading the charge… With a vulnerable Castle this season ( meaning that Republicans = Bush in most non-politico's minds)  Sam has a good chance at getting someone in Delaware's lone Congressional seat who is favorable to the interests of the common worker.
Secondly she also came out swinging against Castle for his snarky new-found beau known as "regulating the financial banking sector.."  He is after all a senior member of the House Financial Services sub-committee.   So who would have been in charge of all such legislation preventing this meltdown from ever happening?
Surely it would not be Delaware's lone Congressman who accepted contributions from Goldman Sachs, Lehman Brothers, Morgan Stanley, Countrywide Financial, Bear Stearns and Merrill Lynch. the very firms Delaware's Mike Castle was personally in charge of regulating?
He regulated them pretty well, didn't he?
Surely it would not be Delaware's lone Congressman who has already received as of September 2 of this year $436, 403 in contributions from many of the same contributors?
He will be overly tough on them next term, I'm sure, won't he?
Karen slams him better than Jason330 ever could….
"Mike Castle has taken in a lot of money and, in return, he has failed in his oversight responsibilities. Despite his position on the Financial Services Committee, Mike Castle has failed to take action to protect the residents of Delaware or the country from this crisis brought on in large part due to the growing abandonment of regulation of the financial sector."
This election cycle Delawareans need to ask… is Hartley-Nagle any different?
The answer is:
My candidacy asks Delawareans to rethink leadership. Can there be integrity in our politics when our futures are mortgaged to the financial services industry? As we slip into a depression, where is the hope?
It is time for Delaware's voters to consider who Mike Castle represents and send the message that he no longer belongs in Congress,"
Facts are facts… Sometimes the truth hurts… You look it straight in the face, and there it is, staring back at you….