You are currently browsing the category archive for the 'Rush Limbaugh' category.
Recently the Senate voted 54-46 in favor of extending background checks. And as we all know, under the current rules of the Senate, for anything to be passed over the minority, it has to have 60 votes as a minimum,
Although that may seem like a setback, it actually should scare the NRA and 2nd Amendment Activists our of their shells.  The equivalent metaphor was having a MOAB dropped on top of you that for some reason did not go off….
Let's explain.
Ideally to get something done, you need 50 votes in the Senate.  There are a hundred Senators, so 50 plus the VP should give you passage as it did for Clinton's tax package in '93.  Yes the one that gave us 8 years of continuous growth!
50 Senators would equal 25 states since there are 2 Senators per state….  So if we take a look at a state population table,  and measure up the population in the lowest 25 states, we see that amount comes to just under 50 million people, which represents  15.8%  percent of the whole population of this country.
Contrary to popular belief, this nation's government is based on geography, not population. Which means that 15.8% of the population controls the agenda of the Senate even without a filibuster.
With a filibuster, we need only 40 votes to control the Senate. So that means we back off the top 5 states since there are 2 senators per state, and the population of the lower 20 states amounts to…. 32 million or …. 10% of our population….
Therefore 10% of our population controls the Senate if we go with a filibuster of 40 votes….
Which if one reads the polls that 90% of Americans favor gun control and 10% don't, and one would assume those who don't certainly don't live in a urban area,  then the Senate vote is just about right.  It matches up to the polling data almost exactly.
But, what is interesting?  Is that Toomey and Manchin were the ones who created it, both A+ members of the NRA, and that a majority of Senators despite coming from rural America, all voted for it….
So to use a WWII analogy, in 2014 we have a race for the bridge at Ramagen… The Republicans have to hold that bridge across the Rhine at all costs, whereas 90% of the population is racing as hard as they can right at them to take it back….
Using their stance on guns to get out the urban existing  in those rural states, could just be the deciding factor in ridding us of Republicans forever!….
The reason I began listening to local station WDEL, was because they dropped Rush Limbaugh from their afternoon programing. Instead of hate and stupidness, I got to hear of matters important to me. My county government. My city government. My state government. And of course, national politics always interjected.
I can't get enough of it. I read the paper in the morning, and I can't wait for the local talk shows to come on. The progressives own the morning. The conservatives own the afternoon, and I'm still trying to figure out who owns the evening…
It is kinda silly, I know, but because I listen and hear the advertisements, my kids sing their jingles in the car. Driving down Main Street in Newark, they'll blurt out, "there's Alex and Ani's". The older kids insist they want music on, but I'm the boss.
Some of the advertisers seem like old friends. One hears them over and over, and even can go back and note the different commercials back through time. Calvert Plumbing and Heating is one I hope to use next time fate strikes. The best one, besides the "Alex and Ani" with sitar music put in place by Rick Jensen, is the DelmarvaJobs.com featuring the harp player. I hope that gets nominated for CLIO, the advertiser's equivalent of the Oscars….
And this should be in everyone's Northern Delaware bookmarks. It is the tower cam. One rarely thinks of us being in eyesight of downtown Philadelphia, but we certainly are. One can tell the weather with one visual click.
Anyways, the point of this was not to brag on WDEL and extol how fortunate we were to have it at our disposal, but to point to the dark side, which is about that human being whose leaving is what drove me to begin listening to WDEL in the first place.
Rush Limbaugh is in trouble. For a while he was harmless harping at Democrats, and we all know, sometimes Democrats need harping at. But as his worth became higher, he had to push buttons to justify his high expense. His audience no longer consisted of regular Joe's, but had to become fanatics who would listen and respond. And the biggest thing fanatics crave, is more fanaticism, and Rush obliged.
Now, he bashes the poor. Now he bashes every gay person. Now he bashes Liberals. And last March, he bashed a woman for simply being a woman.
That made people take notice. WHOA, this guy is an ass…… Seriously, when you demean 53% of the population (women), knowing that at least half the men are married and will dutifully side with their spouses (YOU'D BETTER!)….. ticking off 75% of the American population, can't be good for business.
That is bearing fruit.
Arising from that, several organizations are targeting his advertisers. This is not a hate campaign. It is a calm, respectable, and very businesslike campaign. They are calling up advertisers and saying …"yesterday your ad played on this station at this time, and this is what went before and after it… Advertisers were appalled…. Most of them do not support Rush Limbaugh, but buy ads with a local radio station…. The radio station then puts their ads in holes where ever they need them… Radio stations that carry Rush Limbaugh are bound by contract to still do so, and are having a terrible time scheduling just those advertisers who … so far… have not expressly said…" Make sure we aren't on Rush."
2200 sponsors have pulled their ads so far. At first these were mentioned but Rush supporters attacked these businesses with threats of shooting them with NRA sanctioned assault weapons (they were idle threats, no events occurred) that now, the names are kept hidden. But anyone listening over time, can certainly, after hearing only one advertisement on his program get played over and over, realize his brand is in deep trouble.
The show is doing so badly that Freedom Works, the Karl Rove PAC that garnered $300 million dollars, is using their money just to keep Rush on the air…
So in what seems like an outrageous chain of events, the only reason Rush Limbaugh is still on air it appears, is because billionaires have too much money on their hands… In 2013, Freedom Works plans to spend between $25 and $30 million. Glenn Beck is also included in its largess.
Freedom of speech is a right. No one is arguing over whether Freedom Works benefactor Stepheson can say what he wants with his $100 million donations. But that right goes both ways. Advertisers have the right to know what their money appears to be saying about themselves when their ads show up on Rush Limbaugh.
It says, "I the advertiser, support the embarrassment of the poor. I support the deportation of Mexicans. I support the incarceration of the entire black comminity. I support the killing of Liberals with assault weapons, and I support the rape of women"… In fact, supporting Rush, say something like this: " Hey, woman, come take your clothes off and dance for me….. After all, that's all you're good for!!!! Ha, ha, ha."
You too must join in taking him down, for the simple reason that it allows many more Americans to enjoy the benefits of local radio programming as we have here in Delaware for 6 years….
https://www.facebook.com/groups/flushrush/
https://twitter.com/search?q=stoprush
http://www.change.org/petitions/sign-here-tell-40-of-his-sponsors-like-amberen-sweetjack-and-genesis-diamonds-we-will-not-buy-products-that-support-misogyny-and-racism
The stuffing of the goose is done. Time to cook the goose, and at the feast, get back to being Americans again. Working together, and not against each other…..
The next time someone complains that increasing taxes on the top one percent is unfair, especially if the bottom half is not getting penalized too, agree with them….
Tell them we can take one half of their money, give it to the middle class, then the middle class can pay taxes on it… instead of the top one percent.
Sounds fair to me.
The top 1% would finally pay less in taxes.
Please feel free to copy and past and email various radio stations that carry Rush Limbaugh's show. In Delaware,
WDOV-AM   1410   M-F  12-3       Clear Channel   http://www.wdov.com/pages/contact.html
WDMG-FM   92.7    M-F  12-3       Resorts Broadcasting wgmd@wgmd.com                                                                                                                               WILM-AM   1415    M-F  12-3       Clear Channel http://www.wilm.com/pages/contact.html
_______________________________________________________________________
Dear  Advertiser  c/c station manager (of one of the above stations):
I was driving and heard your advertisement on Rush Limbaugh this afternoon.  I will no longer buy anything from you until Rush Limbaugh is removed from this radio station.  Allow me to explain why.
It's the hate.  I may be older than you but I remember such times whether hard or not, we all strived to get along.  That is not happening today.  Upon hearing Rush Limbaugh berate liberals, of which my children are (not me though), berate women (0f which I'm one) and berate blacks, Hispanics, and gays (all who go to my church), it occurred to me that this was the reason we can not get anything done.  People have to defend themselves against his accusations, whether founded or not.
I decided, that though I am one person, I had some small power to make a difference.  It may be $50 dollars, it may be $100 dollars, it may be my life's investments.  But if I hear any of my patrons being advertised on his show, I will drop them in a heartbeat….
Why?  Because my country deserves better.
Right now I plan to tell any advertiser in person, face to face,  as to why I am moving my business to his competitor.  However, if I can't get out like I used to,  I may not be able to fulfill this promise some day.
I would rather hear health news, like they have in a doctors office, or in depth reporting, or music.  I'm just tired of all the hate.  I know one letter matters little; I just hope others feel the same way..
Sincerely,
_________________
Please join in the national movement to rid America of Rush Limbaugh. Clear Channel which is partly owned by Bain Capital, is quietly trimming its payroll. It didn't want to open any fissures in Mitt Romneys campaign.
Please feel free to use the links above, send an email and cut and paste the body of this letter into the message. If you hear an advertiser, write it down, and when you get the chance send them the basic email you previously sent.
Just curious, if we do get him off the public airwaves, do you think someone will take his place, or is it only there because he has been doing it so long? I don't think anyone else can fill the vacuum. I think that if it obviously becomes commercially nonviable, that hate radio will disappear, hopefully replaced as is on Delmarva Broadcasting's WDEL with an outstanding news team….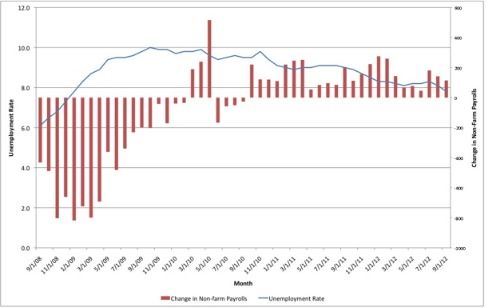 Here is the problem… The red on top of the line must equal the red on the bottom line before we can go forward. Currently there is now more red on the top of the line. We are indeed better off than we were four years ago. More of us are working…… 325,000 more of us incidentally.
This shows a more disturbing trend. This document does not go far enough back into the Bush administration files, but if one does follow, one sees red below the line all the way back to when Clinton handed off the reins to Bush. That was the last time we had red above the line until we (whoo hoo) just happened to vote for the greatest president in our lifetimes and his accompanying party, the Democratic one…
The Capitalist Party (formerly called the Republicans) don't really care about jobs. As Capitalist's (formerly called Republican's) they care about earnings per dollar. Jobs are a side effect, but when too many people impact their earnings per dollar, they get rid of them. When unions impact their earnings per dollar, they get rid of them. when the Chinese impact their earnings per dollar, they run to them, ignoring the slave conditions those human beings must endure in order to line the Capitalist's (formerly known as Republican's) pockets….
When can Capitalist's (formerly called Republicans) grow jobs? Only when they build a new plant here in the USA. Once it gets built, they have no use for the builders. they have no use for the opening team, they have no use for those extras needed to fill in when someone quits. Once it gets built, they fire people. They like to "fire people Romney says". (yeah, I know, I'm disingenuous).
If one looks back over the economic data from WWII one sees job growth steady until Ronald Reagan (benefit of doubt given to Nixon_Ford because of oil embargo).. As soon as Reagan got elected, we entered a horrible, horrible, horrible, horrible, horrible, horrible recession. People got termed left and right. Democrats in Congress were persuaded to lower taxes because of the economy. We had one year of growth. 2006, and then the slide. The 2008 tax law (a low 28% top marginal rate), immediately sucked out and flattened growth and sent it on a skid; we entered the worst recession until Bill Clinton raised taxes and instantly, we began our climb out. It was instantaneous as anyone who foolishly bet on the stock market against Bill Clinton, can well attest. Taxes on the wealthy are the most awesome thing ever created by mankind. The climb continued, America reached new heights of prosperity, and growth seemed like an endless proposition… That is, until the Bush tax cut. Growth stopped. Construction got laid off. And we began our descent. During the Bush years our descent was modified by a housing bubble the Capitalists (formerly called Republicans) created; we borrowed against their newly increased estimated value to survive and keep our Clintonian Standard of Living; it was also blunted by two trillion dollar wars, (imagine being given a credit card with unlimited balance on it; "whoo hoo, livin' it up, baby" spoken in Donviti style).) As soon as the Capitalist (formerly known as Republicans) were kicked out, the debt became due.
Bottom line, is on the chart above, Capitalists (formerly called Republicans) had a job slump in negative numbers stretching back across the time spans of two of these charts added on to the right.
So when Mitt Romney accuses our Commander in Chief, SURE YOU GREW JOBS, BUT YOU DIDN'T GROW JOBS FAST ENOUGH, one has to point out how his own policies under George W. Bush, did nothing to grow jobs either…. In fact, Mitt Romney's policies, cost America jobs. (See the evidence in the red below the line in the graph above).
But if you don't already know that Capitalist's (formerly called Republicans) economic policy is nothing more than a smokescreen for getting all the money out of your pocket and into theirs, then you aren't reading this blog… There are still dumb people out there who still believe in Republican values; they just can't read….
If you do read this, it can be assumed that you already know that every single economic fact ever truthfully told, shows that if you take money out of the middle class, your economy fails. It doesn't matter if you are a Capitalist (formerly known as Republican)… or a Communist. If you take money out of the middle class, your economy falls….
So how does one put money back into the Middle Class? It's one word but I'll say it twelve times, one for each term it has been in effect: Democrats, democrats, democrats, democrats, democrats, democrats, democrats, democrats, democrats, democrats, democrats, democrats…..
That is how one puts money back onto the middle class and grows one's nation and ones economy…
Don't take my word for it. Look at the chart above! And just imagine how wonderful it would be if we had not had a Capitalist (formerly known as Republican) House of Representatives intent on tubing the economy just to make Obama looked bad? Imagine how great our results would now be, if they had. instead chosen to help America get back up on its economic feet, instead of kickin' our ass with their pointy cowboy boots, while we were down?
One word leads to more jobs and Economic Growth. Democrats.
Paul Ryan's budget is up today. And Republicans are using it to promote fiscal responsibility. But, it balloons the deficit, making Republicans look like big spending Democrats, and Democrats look like tight fisted Republicans…..

Obama's budget just got scored by the CBO (Congressional Budget Office) at a $3.5 Trillion Deficit by 2022…..
Ryan's budget, will yield a whopping $36.5 Trillion by deficit by that same year. THAT IS OVER 10 TIME MORE !!!!
More details later, but it looks like Republicans are not only looney when they stick their heads up women's privates, but are just as looney when it comes to the math of putting numbers to paper.
Since when is a deficit 10 times bigger, called "cutting back?"
It's supposed to be a joke…….. right?