You are currently browsing the category archive for the 'Revolutionary War' category.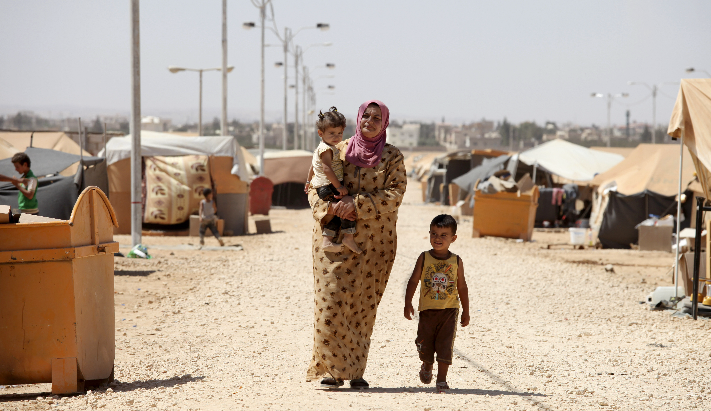 Senator Coons just returned this week from the Middle East. Lindsay Graham, Kelly Ayotte, John McCain, Sheldon Whitehouse, Richard Blumenthal went as well.
Jordan and Turkey have welcomed Syrian refugees with open arms. The camp visited, Zaatari, is at a population of 42,000 and absorbing 2000 a night. They need help before their scarce resources cause tensions within their own country.
This affects the US… Aid is in the United States' interest. If we can provide aid to the rebels on the ground inside Syria we are preventing a much greater future cost of a full blown jihadist regime sharing a border with Israel….
Currently the aid we actually are providing is going through NGO's into Damascus, where the Syrian government is distributing it to their supporters and away from the rebel towns who are hardest hit. The American people believe this aid is reaching the population they see on their televisions. Sad thing it isn't.
The Assad administration is" dug in pretty hard."
It is clear that air power is needed to protect people from Syria. A no-fly zone would even the odds. Currently the jihadists can stir up unrest. The war gives jihadist opportunity, The jihadists are the better fighters. When you as a people are being tortured and killed, the people fighting alongside of you gain legitimacy. Extremism always thrives inside anarchy. Any money now spent to facilitate the end of Assad is cheaper than what we will be grappling with jihadists at a later date.
It is time to give the Syrian Opposition Council more legitimacy, by recognizing it's rightful representation of the Syrian people
The window is closing for the US… Either we act now, or get caught inside another Mid East bubble just as it explodes….
Here is how we move forward.
A) Step up Aid to Syrian People
B) Send aid to Turkey and Jordan and direct to refugee camps.
C) Apply to Assad to US to accompany aid into Syria and to those opposition towns inside.
D) When he refuses, enable a No-fly zoned over the Rebel held zones to enable OUR AMERICAN aid to get through.
E) Step up diplomatic pressure on Assad and his supporters to step down…..
F) Invite China to be part of the peace process and send humanitarian troops and infrastructural aid…..
A. A woman, with two small children, separated from an abusive husband. He has just started violating a no-contact order, and is making threats over the upcoming divorce.
B. A father of three boys, married, lives in rural area. Owns 97 acres of woods. Has a two mile driveway. Then fifteen miles of one lane road to the nearest major highway, whose junction is 38 miles from the nearest police station.
C. A 15 year old urban dropout, who was jumped and beaten up badly when he was twelve in an act of random violence; he was in the wrong place when they were looking for something to do, allegedly to "teach him a lesson"; the reality? There was no reason for it.
D. A thirty year old man, who was raped over 100 times while a child by a neighbor, and that neighbor now is politically well connected, who boasts on talk radio of how big his arsenal is….
E. A bright, attractive professional woman of twenty five, who has a high powered job, lives alone out of necessity and convenience, lives on an international schedule, enters and exits often between midnight and 6 am.
F. A 43 year old mother, who at 18 became state's witness and testified against her acquaintance and he, is being freed tomorrow, sentence done….
G. A 62 year old pill popping DJ, who excels at conservative talk radio, by stirring up hate, spinning lies into truth, and coining derogative names to be recycled by bitter old white me, like "femminazi's"….
H. Pastor Washington, who has taken the calling of walking around the inner city on very cold nights, and persuade homeless people to swallow their pride and come inside to a warm shelter…
I. One day, you?
Brian Selander to those of you who don't know, is a really good guy… I bet he wishes (like most dads), that he had more time to spend with his children….
It happens quickly. You get a call. You just sat down at the dinner table. It's a Sunday, the only time you ever get to spend with your family, … and it's a reporter who says: "Occupy Delaware just defied the state government and is staking a claim at that plaza beside the Federal Building in Wilmington. Do you want to go on record with any statement or comment, considering you have now been defied and all?"
You want to say, "I'm eating dinner with my family. Leave me alone, Ms Reporter!"… but you don't.
Instead the words come out without you thinking as that delicious smell of food that you almost had in your mouth, becomes all you really care about, and that professional part of you that functions so much that it is automatic, takes over and says something like: "The state made a very reasonable offer with the use of state managed properties at Brandywine and Fletcher Brown park," Selander said. "It was an offer that respected constitutional rights to be heard and assemble. They've chosen a different path."
And it gets twisted like this: Brian Selander expressed dismay at the group's decision to defy the state, for the second straight day, by choosing not to accept the Brandywine Park permit.
Thinking you made a neutral statement that says nothing but holds them off for a while, you exit and go back to your dinner.
You can be forgiven. I WOULD HAVE SAID THE SAME THING, primarily because I wouldn't have had time to think about it first….
But thinking changes things, a lot.
This is not some ragtag group of protesters. These are former professionals, people currently employed or not, who are scared to death, that their country is going down the wrong path, fast. As much as you and Jack have been scrambling to bring jobs here to Delaware, YOU KNOW THEY ARE RIGHT!!
We ARE going down the wrong path, … and HAVE BEEN, ever since the 2000 elections! And the nuts who got elected from conservative districts in 2010, haven't helped!
What you have underestimated, Brian, is the amount of resonance this movement has. They, are expressing the sentiments of a vast majority of humanity. Those human beings have looked for "hope" when "change" was promised… and not delivered. They looked with "promise", when "throwing out the bums" was "delivered", but things got worse. What you may not realize is that most Americans look at this Occupy Movement, and say, "finally, finally, someone is saying what we feel. Even better, someone is doing something about it! It may not be much, but at least, SOMEONE IS DOING SOMETHING!"
You, dear colleague, have the most unenviable task. In a way, you are in the exact same position as was King George's governor of Massachusetts, attempting to put down the rebellious nature of its citizens…. If you remember history, you have only one time, ONE TIME, to get it right. Had the British immediately repealed the Stamp Act, and said, "thanks Colonies, for bringing it to our attention; you're right, it was stupid of us to try that! Forgive us, we'll do our best to act better in our future," seriously, we'd be speaking Kings English right now. There would be no United States of America because there would not have been an American Revolution. In fact, as things continued to unravel in the colonies, the British did just that: repealed the Stamp Act. (Yep, it was too late.)
Instead, the initial reaction was a response to those catcalls from the insignificants on the sidelines: "are you letting them get away with it? Are you some kinda pussy or something" (To be perfectly clear, I am talking about real cats here). They felt they had to show who was in charge and they cracked down, killing 6 in a massacre, and then later, sneaking off to the arsenals of Lexington and Concord to confiscate their powder and arms….
Bad plan.
Today no one knows off the top of their head, the name of that governor of Massachusetts. But his actions, at his expense, planted the seed that grew into the greatest nation this planet has ever known.
Since you are a great guy, and have a family, and are in a very, very difficult position right now, I'm going to advise you how to work your way out of it… I could do it in an email, but I fully believe in public disclosure, for the simple reason that if I do it here, all know, and if the possibility rises that a flaw exists, someone is sure to point it out in public, and the action in question can be amended to cover that detail. Make sense?
Never give into bullies. The bullies here are NOT the "Occupy Movement." They are Greg Lavelle and the 9/12 Patriots. How many Republicans are there in Delaware? You don't need them. You do need the rest of us. So what I would do, is strategically take this approach.
"These people are citizens of this nation. They are protected by the U.S Constitution like everyone else. We are a fee based society. Sometimes, like the poll tax, those fees get in the way of pure democracy. Heaven forbid, that democracy could only exist, for those who could afford to pay a fee. In fact, the Stamp Act by the British, that event that triggered the American Revolution, was exactly that. A fee for a permit. Currently, the Occupy Movement is representing the revolutionary spirit that created this country. Likewise, they represent the moral equivalent of those who felt slavery, despite it's being sanctioned by the Federal government, was intensely immoral, and an abomination. They too, like those who said it was wrong to have a second class citizenry, based solely upon the color of ones skin, even though that too, was approved and sanctioned by State governments around this nation.
For this reason, we are going to issue permits for this group. They have the same right as every citizen in America, to make their grievances known. When the wealthy lost an election, they had money to advertise, set up rallies, buy media spokespersons, pour unheard amounts of money into tiny local campaigns. But when the poor want to do the same, we say, sorry, you can't because you don't have cash…. and your checks come back stamped: insufficient funds.
One must wonder, if our current mayor, yes, that one who got his start during the Civil Rights movement right here in Wilmington, would be here today, if he, failed, yes, failed to lead a protest on some steps near here, because to do so, he would have first, had to pay a fee?
A fee/permit system is the surest method to silence the poor. Yet those who can't afford it, were expressly given the same rights under the Constitution of the United States of America. They were given them, simply because, we were going to be a nation designed like no other, where each person, no matter his income, had the equal right to life, to liberty, and to their individual pursuit of happiness..
Like Philadelphia to the north of us, Baltimore to the south of us, New York to the northeast of us, we too will allow these citizens of the Occupy movement, to make their grievances known, in their own way. Their symbol of communication, is with tents. We ask, and have been given assurances, that they will respect every other citizen's rights and property, in their pursuit of expressing their message.
We wish them luck with their endeavor.

Done.
Simple, short, to the point. Your second term is safe.
But, it couldn't hurt to have the entire line of Democratic office holders, sail by Greg Lavelle, the GOP, and the 9/12 with gun-ports open, cannons fully loaded and primed, and unleash a fusilade of the like that has never before been seen, equating Greg Lavelle, the GOP, and the 9/12 Patriots with the likes of King George, Southern Plantation Owners, and Southern Whites who enforced segregation. That's exactly what they are. Hanging on to power by impeding democracy; not celebrating it.
Did you get your IRA or Keogh plan financials yet?
Just wondering how much the "contrived" debt ceiling crises cost you?
The debt ceiling was raised 7 times during the Bush administration but it was never a crises… Why? Because it was the Republicans doing it..
Now, put a Democrat in the White House who is up for re-election, and presto… we have a crises…
The Republicans wanted to default the government. That is a pretty bad crises.
So how much did this Cantor-ization cost you? 6%?
If your plan currently has a value of $50,000 Eric Cantor directly cost you a cool $3,000.
At $100,000 Eric Cantor cost you $6,000.
At $150,000 Eric Cantor cost you $9,000.
At $200,000 Eric Cantor cost you $12,000.
At $250,000 Eric Cantor cost you $15,000.
At $300,000 Eric Cantor cost you $18,000..
In just 3 months. Multiply those by four to find out how much Republicans will cost you in just one year?…
Now add that cost to what the last recession cost you. A job? Your house? Lost savings?
Now you are beginning to see the true value of what Eric Cantor offers… the financial equivalent of death and destruction.
Don't be too hard on yourselves. You were fooled. Fooled by the very people profiting off every dollar you spend. You were not told the truth, so you cannot blame yourself for not knowing…
Truth is: Republicans are the touch of death……. Not the individuals who make up the party, not the people!… they didn't know either. Just like forgiving the German people for the sins of their leader, we carry no animosity for those who were corralled by their party, who supported Republicans for other issues, without understanding the consequences of their actions… They were victims too.
Everyone needs to call Republican out for what they are. it would have been nice if the same had happened in Nazi Germany during the '30′s…..
So? How much did Eric Cantor cost you?
How much will he cost you tomorrow?
How much will he cost you again next year?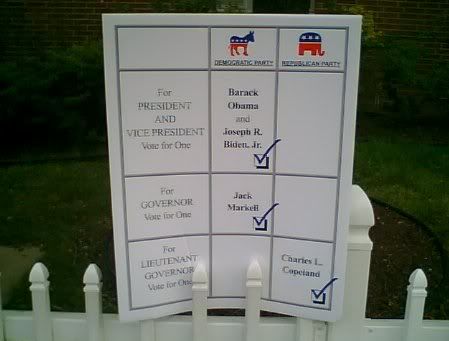 Artistic Photography Courtesy of Delaware Liberal
Poor Bill Lee… Copeland asks, then begs, then pleads with him to run as Governor so Charlie and Protack would not be running mates…. and Charlie turns around and endorsed Jack Markell?… Poor Bill Lee is crushed right now, and no expert spin performed by Ms. Evans could ever put a good face on that once great Republican again… Charlie appears to have sold out the entire party to salvage his own future career… What? No support for McCain? What? No support for Sarah Palin? What? No support for what was once said on circuit…"his good friend" Bill Lee? Just support Charlie Copeland for Lieutenant Governor?
Obviously no Republican will vote for him now… What's Charlie planning to do? Start the Dupont Political party beginning November? He had better think of something… In the meantime….Poor Bill Lee.
As an aside… why would anyone want to put in a snake into office… when such a hero is standing by? Matt Denn by his actions alone, has saved every insured Delawarean at least $100 on insurance costs, by delinking credit scoring with insurance rates…..
If Republicans can't trust Copeland… should you?

Photo Courtesy of Northington 08
It is hard to run a Congressional campaign… sometimes things go wrong…
But sometimes one does things right, and that in itself, is an achievement worth celebrating…
Jerry Northington has run a good campaign from his own bootstraps… Not only is it good, but running without the "backing" of the state's primary neutral Democratic party, he has emerged as one who has the potential to ruin Republican Mike Castle's dream of his last election…
And that, is what this years Delaware election is all about…
I don't need to preach to the choir about how Mike Castle has voted the Republican line… I don't need to preach to the choir about how Mike Castle has voted for the war of oil; I don't need to preach to the choir about how having a Republican in the extreme minority of the House (it will be entirely Democratic) will affect our slice of federal money; I don't need to preach to the choir about how having a Congressional Republican from Delaware, puts growth in this state on ice. No…. you all know that already.
You also know that the challenges we will face in the next four years, here at home, 200 miles away in Washington, and across the world, will require a new path to be taken. They will require new ideas to inspire. They will require smart people for a change…. smart enough to work out the details….
And what impressed me about Jerry… was his intelligence…
(Now don't get all hot and bothered if you support another candidate…I'm refusing to make comparisons…You can discuss it among yourselves if you wish…)
Intelligence… that IS a relative term…..Let me explain….I (cough, cough) have been called on occasion, by misguided people, "intelligent" at times for some of the posts I have written here…. But… I would not expect Dave or Hube to EVER utter such a compliment (except perhaps at my funeral) …. for based on what they represent….(making the assumption they are intelligent too)… my ideas appear bunk…
But, without them, the blogosphere would fall like a thud, cracking our asses wide open like a seesaw that someone has jumped off too quickly. The world needs some type of balance. We need those guys for constructive dialog, just as they need us….
So real intelligence is the understanding that even though we put the best argument for OUR side up for debate, we NEED another side to debate against, in order to get what we need done…..
I know… it is a big concept to grasp….(come back to it later, will you?) The big guys get it…. I think Clinton got it mid term… I actually heard Newt a year ago in New Hampshire, and I think he got it too. Despite our distaste now for Carper, I know he gets it… and the reason Castle has won so big so many times, is that he gets it…
So let me tell you about Jerry….
First if you haven't, you should check out the Congressional Primary Debate here.… You should, really… For we are talking about our strategy to navigate this state over the next ten years….
Usually since the beginning of this nation, an outgoing administration has set in place, plans that self perpetuate over several years before they become obsolete.. This administration, however, has been so preoccupied with day to day dilemmas, that they are leaving us with no future plan and an empty treasury starting January 20th……
We need to choose someone smart.
Why? For what happens in Washington, for those of you that do not know, is that a lobbyist shows up at your door with a pre-written bill, he wants you to sponsor it, you horse trade, and then you set your staff on bringing it to the floor… The bills are never read by Congressmen, maybe only by two staffers, and the rest is all hype. To really change Washington, we need smart people to say, "wait a second, why are you billing us for this…?" Dumb people, oh dear, will just rubber stamp…..
I am afraid to say that Mike Castle has become a rubber stamper,…. In his defense, if I had been there as long as he, as I got old I would probably evolve into the same… In the twilight years it just gets so hard to read reams of paper; the cocktail circuit is much more intriguing and fascinating…..
There comes a time, for an old general to retire…. His past victories though glorious, are meaningless if he leads us into one more battle that loses it all……..History is full of such generals who have stayed on a little bit too long…. The best way to preserve ones legacy, I think, is to walk away from it while it is still intact….
Jerry is tall enough to fill Mike Castle's shoes… To be honest, he is the first Democratic candidate since Mike and Tom flipped, to do so…
In listening to Jerry, one gets the sense that we will do ok if he represents us… He is not harsh like the last candidate…. He is open and understands that he has been led down a miraculous path, one he could ever imagined would continue as far as it did…..
The only reason he is not yet considered a strong contender, is because so few people have gotten to know him… My sources and calculations show him winning on Tuesday… Soon more will learn how good a candidate he really is… We know he's tough… His gentle toughness has got him this far… But what impressed me most, was that he is solidly balanced….He may not be the raving Liberal that some progressives want….
Unlike most previous candidates for that office, I sense he understands the need, that if America is to get better…. WE ALL HAVE TO GET BETTER AT THE SAME TIME… Conservatives too.
It's time we had a smart person in Congress. And Jerry can, I believe, push a moderate form of Health Care that will cover all Americans, without busting the budget…. His focus will be on prevention… If a pill taken early costs $3 dollars and a surgery costs $30,000, preventive heath care makes sense…
My favorite line, and the one I think that pushed me to understand that this man has not only the smarts to represent Delaware, but the charm, confidence, and intelligence to make things happen ON THE OTHER SIDE OF THE AISLE, was this one:
"Ladies, and gentlemen, I'm a veterinarian… My medical experience…is that;… taking care of sick animals… We have known in veterinarian science, that the cheapest, most cost-effective way to treat a large population of animals…. is through preventative health care… We have known that for 100 years….. Now if we have known that, and we can accomplish it for animals….why in hell's name,… can't we come to an agreement, to do it for Human beings?"
Yeah, I think,……… he's the one.
His image is on this week's top blog….
His statue stands in the center of Wilmington.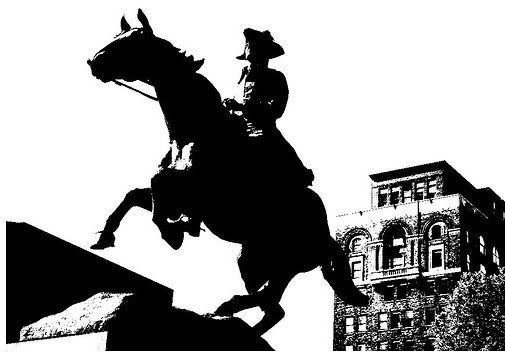 He represents Delaware to millions of coin collectors.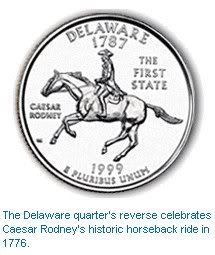 Just who is Cesar Rodney and where is his tomb?
Dana at Delaware Watch has laid the groundwork for the campaign to build a monument over his grave. Actually it is much easier to get done, than any of us realized. We know the location but just need to get the landowner's permission to make it happen…..
Whereas originally, eminent domain was not an option being touted, in this case, it may be justified. After all, had that now famous ride not occurred, and the unanimity of Delaware's vote not been upheld, the whole process could have folded, and today we would be exclaiming "eh?" like our Canadian brothers…
I for one would like to take my children there and give them the story, and impart to them the lesson, that sometimes, you gotta do…..what you gotta do…..
Delaware Watch has posted the original email, which is worth a full reading…
This excerpt was the clincher for me.
In his will, Rodney requested that his grave be marked with an appropriate memorial and that a brick fence be constructed around the family burial place. Unfortunately, the family's fortune had been so drastically reduced as a result of their support of the Revolution, his heirs were unable to accommodate….
"as a result of their support of the Revolution"
"we mutually pledge to each other our Lives, our Fortunes, and our sacred Honor." still echoes from this year's July 4th readings of the Declaration of Independence…..

As we look around at just how lucky we are compared to other citizens of other nations scattered across the globe……., to honor the one person who may have provided the tiny push which tipped the balance, would certainly be appropriate.
To many…. there is something special about being buried where one lived…. Perhaps when considering that, it may be better to rouse the entire citizenry of this state to rally around making some form of restitution to that one character, unwilling to disturb his own special bond with which he has with his own property….. so that he willingly acquiesces to the wants of history, and allows us to give a true patriot the honor he humbly requested….