You are currently browsing the category archive for the 'public option health care' category.
Women… especially…. "Boo, hoo, hoo… All these years… sniff, sniff, I believed him, and he was lying to me… lying, lying to me, the damn bastard…."
Guys too. "She told me she was working late, I had no reason to doubt her. I believed her… Why not? So I get a call at 2 am and she asks me to pick her up at jail… Jail? Why? Are you alright? Hurt?… "No," says she, " I got busted for prostituting an undercover officer…."
Parents…. who go storming into a teachers classroom,…. "How come my kid has an F, you gave him zero for classwork, but you never gave him any assignments he says.!" "What's the kid's name?…. Oh, that kid hasn't showed up for class all year…."
Americans are the dupiest race of people on this planet…..
Oh, Gas is high because we are not drilling offshore…. DUPED
Oh, Global warming occurred when there were dinosaurs. What! they drove cars? DUPED
Oh, Republicans will grow private sector jobs, and pull us out of he recession. … DUPED? Not yet….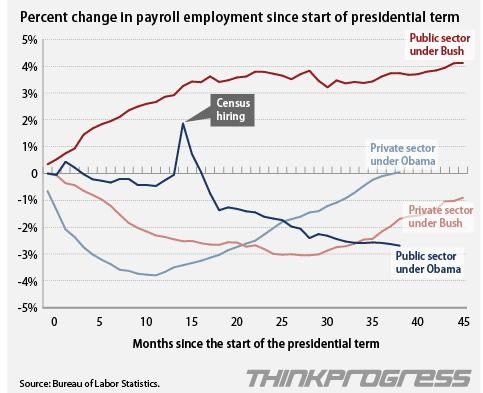 Chart courtesy of Think Progress
A tale of two parties… See the difference between private and public sector jobs…
Republicans say government is too big when they are out of power. When in power, they grow it like crazy to hide the fact that their private sector job policies do not work…..
Democrats, grow the hell out of private sector jobs… And because they don't have to hide their incompetence as do Republicans, they cut government jobs over their term… Reduce the deficit if you know what I mean…..
When a Republican says he will create a private sector job. it is a lie… Just like the housewife above.
When a Democrat speaks the same, it is probably true. Over time Democrats create twice as many private sector jobs as do Republicans…
Fact, not a lie….
So, what we have in today's economy, is Republicans who somehow took over the Congress, who have cut a Federal Jobs for every new job the private sector grows, then point to the total unemployment level… and scream… see? No improvement….
Sigh, if only we didn't have Republicans.. Zero. Not one. Nada, Let's look at the raw data above and see the possibilities that could occur?…. In the Bush era, the total unemployment level touted by Republicans stayed near 3%… that comprised a 4% growth in the public sector, and a negative growth of 1% in the private….
In Obama's term, we have increased from a negative four percent to flat in the private sector (a gain of 3%) … and the public sector has fallen below three percent. it's the public sector, that which is controlled by Republicans, which is what is keeping our economy in the pit toilet. Betchu, if Republicans had a Republican president, they would have kept the excess government employees, even hiring more as needed, and the unemployment level would be between 3 and 4% right now, instead of the *% it is… That is what would happen if they were in power. They are not. Now since they want to make the Democrat look bad, they gum up Congress so it can do nothing, and blame it on the President….
So obviously the natural response from Republicans will be… you're lying .. that's not true…
My answer? Show me facts; I'm not lying… Here are facts. Our side works. History proves it. It is called Bill Clinton Economics. Unlike Republican Vice Presidents: I don't have to lie…..
I'm trying to get the gist of the problem.. I comprehend the emotion, but the reason for it, seems at best to be a mis-perception on the part of Catholics over what this bill will do.
It appears that "someone" started the ball rolling, with the catch phrase:  "our religion is under attack."
It is actually a good thing, I think, that in America at least, this does get people excited as opposed to say,….  a European's big yawn…  After all, that constant friction between one's Belief and one's necessity of surviving daily life, is one of the true aspects of Americanism that makes this nation rather different from most others.
I'm not sure as of yet, exactly "why" Catholic institutions, such as hospitals and universities and schools, were included in the birth control mandate.  My guess it is budgetary, that in doing so, it would cheapen the insurance cost for everyone as opposing to raising the rates on everyone else, to allow such an exemption….
That is the only thing that makes sense… Unfortunately at this point I don't have any financial statistics to see if this is really true…
If so, then the option exists that the exemption will be honored to Catholic institutions just as it is to churches, IF, and only IF, they agree to pay a little more for the privilege of opting out.
There is precedent for this.
Corporate America, has charged the Amish more for their buggy insurance than if they drove a car… Reason is although property damage would be far less (a couple of pieces of plywood),  in an accident between the technology of two different centuries, without the safety equipment currently surrounding the occupants of today's motor vehicles, there is a far higher probability of death in a rear ended buggy and a exponentially higher payout,  from the insurer.
The Amish may have complained at one point, but the economic reality shut them up.
So if that is the case with the anticipated mandate for birth control, that it will cost others more by NOT providing Catholic Institutions a religious exception, then… that word needs to get out there,…..
They have a right to their beliefs…. but only if it doesn't come out of MY pocket….
With that said, …..  so far all the talk as been false outrage based on no evidence….  Let the evidence come forward first, and then, let us discuss all options….
Lifted from the Occupy Planning Committee….
1. Eradicate the Bush tax cuts for the rich and institute new taxes on the wealthiest Americans and on corporations.
Strong economies have a system that recirculates income throughout the system. The Bush Tax Cuts interrupt that system, by rewarding the removal of excess (profit) and gambling it on riskier items with the potential of superlative returns. Translated: Putting Billions on Animal Kingdom to win, place or show, doesn't create jobs.
2. Assess a penalty tax on any corporation that moves American jobs to other countries when that company is already making profits in America.
This is simple. Raise the wealthy's taxes across the board. Mandate that income earned overseas by American corporations gets taxed by America too. Then, allow a 100% write off on all physical investment here in America. Translated: Corporations will build here, when it becomes cheaper for them to build here.
3. Reinstate the Glass-Steagall Act, placing serious regulations on how business is conducted by Wall Street and the banks.
We tried deregulation. It didn't work. We reverted right back to where we were in the stock crash of 1929 after which Glass-Steagall was enacted to prevent that from ever happening again. Essentially Glass-Steagall says we need to separate our money that we require ourselves to live on, away from speculative investment… If you want to invest, do it by choosing to put your money at risk in an investment firm knowing full well that you could lose it all. However, safe money, needs to stay safe.
4. Join the rest of the free world and create a single-payer, free and universal health care system that covers all Americans all of the time.
There is a reason why other nations spend less on health care per person, and have much better results. THERE IS A REASON. One can wish for a lot of things; wish that private health care didn't cost so much, wish that private insurance covered everything, wish that our doctor could keep giving us free samples all the time…. Switching to single payer, if we use Japan as a model, would save every American $4,800 dollars a year. A family of four therefore would see a savings of $19,200 per year…. Imagine what a family could do with an additional $19200 a year plopped into their lap? What's really sad? The Japanese live much longer too… meaning we are paying more and getting nothing in return.
5. Immediately reduce carbon emissions that are destroying the planet and discover ways to live without the oil that will be depleted and gone by the end of this century.
Reducing carbon emissions is good for whatever reason. The idea that carbon fuel usage will deteriorate is not viable. The global energy requirements are growing exponentially. We need to insist that all new demand for power, be met by renewable resources (excluding ethanol). We will still need existing operations to continue just to keep our lights on.
6. We, the people, must pass two constitutional amendments that will go a long way toward fixing the core problems we now have. These include:
a) A constitutional amendment that fixes our broken electoral system by 1) completely removing campaign contributions from the political process; 2) requiring all elections to be publicly financed; 3) moving election day to the weekend to increase voter turnout; 4) making all Americans registered voters at the moment of their birth; 5) banning computerized voting and requiring that all elections take place on paper ballots.
b) A constitutional amendment declaring that corporations are not people and do not have the constitutional rights of citizens. This amendment should also state that the interests of the general public and society must always come before the interests of corporations.
An economic argument was made during the 19th Century that continued the practice of slavery until it was eventually settled by war. There were good arguments that said slavery needed to continue to maintain the economic health of this new nation…
Those who voted to continue that practice… were on the wrong side of history.
Likewise, during your very lifetime, arguments were made not to enfranchise descendants of slaves with laws protecting their Constitutional rights… Economic arguments again were made that helping the bottom tier of our population would bankrupt this nation, and cause required governmental intervention in schools and other institutions to enforce the Civil Rights Act… Those who opposed the Civil Rights Act, ….. were on the wrong side of history.
During your tenure in Congress, a funding bill was brought to Congress under the Clinton Administration that increased the rates of taxes… It passed the Senate by the one vote of the Vice President… As a result, our nation saw it budget balanced for the first time in anyone's lifetime. The greatest economic boom in our lifetimes occurred as as result of that bill.
Those who opposed it, were on the wrong side of history…
Your own party, voted to do away with that tax increase, and move this nation to deficit spending once again. It was passed by the one vote of the Vice President, and subsequent economic decline, destroyed our nation… All those savings from no taxes, were wiped out by deregulated hedge funds. Today WE are all worse off.
Those who supported the Bush tax cuts, were on the wrong side of history….
Mike Castle, you are up for a tight election.
No insurance companies will vote for you; only real human beings, all who are subject to health insurance are allowed to cast a vote. A no vote against this bill, as you can plainly see from outside the beltway, does nothing to outlaw pre-existing conditions, does nothing to prevent the dropping of patients who become too expensive, does nothing to limit the changing of rates and reimbursements with no warning.
You are in a tight spot..Mike Castle. You have to choose between today and tomorrow. The question of how you vote, will determine how you will be remembered, by your family, your friends, you acquaintances.
Your vote today may make you tomorrow's Judas? (That is actually a fitting metaphor.) Do you wish to be seen as a temporary hero, held up by the corporate insurance establishment for doing the "right" thing, then lambasted for as long as your name has life? Or will you choose to pierce through a brief spat of negativity from people who don't matter much, and have thy name inspire millions for years to come…
What side of history, Mike Castle, will you choose to be on?
Judas actions were predetermined. Your's do not have to be… You are treading the same line as he. Everything you have done up to this point, will be eclipsed by how you vote today.
Do you take the buzzer shot? …… Or pass?
Catholic hospitals Saturday rallied behind President Barack Obama's health care bill ahead of a House vote in which anti-abortion lawmakers could play a decisive role.
The chief executive of the Catholic Health Association, Carol Keehan, wrote on the group's Web site that although the legislation isn't perfect, it represents a "major first step" toward covering all Americans and would make "great improvements" for millions of people.
And the freaks are scared…
I was shocked when it was brought to my attention, really. This is a rather eventful pivot point.
The Catholic Church, through this venue, has decided that more good, will come about from President Obama's Healthcare Reform, than harm.. The Catholic Church. has come out in favor of Obama's Healthcare Reform Plan…
Why?
Because it helps people. It helps people get well. It helps people stay well. It helps drop costs down so more people can be treated…
The compassion and hope that this bill provides is so great, that the Catholic Church is willing to look the other way on the abortion planks… That shows you just how good this bill is seen to be by the Catholic Church… Who in their lifetimes would think the Catholic Church would look the other way on abortion? But Obama's healthcare reform bill is so good, so helpful, such a wonderful piece of legislation, that the Catholic Church simply cannot dismiss it.. In fact, the Catholic Church wants this bill to go through so badly, that it supports it, despite some qualms over abortion planks that may or may not be added…. Who would have ever thought they'd see the day!
If it is good for the Catholic Church, by default, it must be good for all Americans…. (You don't have to sell me)… Since looking at facts, I've been saying that for little over a year now… But some people need selling, and now, this group of Catholic hospitals, has decided that better health care for all Americans, is indeed a worthy cause to get behind…
The current legislation would allow private insurance plans operating in a new insurance marketplace to cover abortions, provided they do not use taxpayer funds. What makes that tricky is that many of the plans' customers would be receiving federal subsidies to help pay their premiums. So the legislation requires plans offering abortion coverage to collect a separate premium from their policyholders. Those separate checks would have to be kept in a different account from money for other health care services.
The radicals of the Right to Life movement, differ with the mainstream element of their church. Douglas Johnson, legislative director for National Right to Life, poo-poo'd the segregation of funds called for in the Senate bill as a bookkeeping trick. His group has bluffed it will count any vote for the House bill as support for taxpayer-funded abortion. "No Catholic hospital executive has ever turned out hundreds of volunteers to man the phone banks or walk the precincts for an endangered congressman or his challenger," Johnson shrieked in response to the hospital group's announcement.
I am grateful the Catholic Church is supporting Obama's version of Healthcare Reform.
Now, if we can only get them to excommunicate all those Republicans who won't support it….
After all, anyone who opposes legislation that represents a "major first step" toward covering all Americans and would make "great improvements" for millions of people, deserves to go to hell.