You are currently browsing the category archive for the 'Patriot Act' category.
It is time to fight back.
Predatory lawsuits are the next thing corporate America is trying.
You get a call from a lawyer that says you were looking at copyrighted porno on the internet, and you didn't pay for it.. someway, somehow.
You will be taken to court and it will cost you $10,000 in damages as well as $6-7000 in court costs… However…(there is always a however) if you pay to this lawyer who is calling you right now, a fee of $2,000, he will make this whole thing disappear; he knowing that you have learned your lesson, will no longer partake of illegal activity….
This lawyer is counting on these three things…..
One, the threat of an award of statutory damages and attorney fees
Two, that the plaintiff has no knowledge of their lawful rights.
Three, that the stigma of porn will cause the plaintiffs to settle.
Basically the corporation uses the discovery process to gather IP addresses and then shake down those people behind those addresses.
Incidentally, the court where the discovery takes place, often has no jurisdiction over where the recipient lives…
In an exact case, AH Holdings LLC, filed discovery in Washington DC, and received over a 1000 IP's… They could have easily paid a service to track down the IP's for them. But, that would have cost tremendous amounts of court costs to go after 1000 individuals wherever they supposedly committed the crime of watching free porn.
Instead, armed with the IP information(only 28 lived in the jurisdiction filed), their legal arm began to extort those recipients, even though they did not have the jurisdictional authority to do so..
So……
How do we fix this problem long term?
We make the internet a copyright free zone… No lawsuits over copyright infringement if the product is digital in nature…..
The legality comes down to this question. Is the internet a business or is it free speech?
If we decide it should be corporate, then let's regulate it. But if as a people, we decide it is free speech, then hand off… For over 136 years Americans have used the telephone… We paid our phone bill and what we said over the phone was ours, it was free… If we wanted to spoil the ending of the new upcoming Batman movie, .."Dad, you gotta see it, here is what happens…" we did not have a lawyer extorting us with attorney's fees for telling copyrighted information…
I don't know about you, but…. today all we do is communicate with digital information. We send links, we copy and paste, we click here, we click there, we like, we comment, we post, we twitter, we facebook, we take pictures of the advertisements on Time Square and send to all our friends…
That is what we do….
Voice is no longer our prime means of communication. We have evolved… It is time our laws catch up to the reality of our world.
Everything on the internet needs to be free… Period… Make your damn money elsewhere…..
End of Argument.
ADDENDUM: Elect no political legislator who does not subscribe to a totally free internet.
They didn't know they were saying it. But if you take the numbers given, 50 million daily users… Total of 1 billion registered….
50 million divided by 7 billion (earth's population) means 0.7% of the worlds population used MegaUpLoad on a daily basis. This population total includes those with no computer access, such as the rural Chinese, Indonesian peasants, and unknown Indians in the Amazon Rain Forest….
7 out of every 1000 people on this planet who used MegaUpLoad on a daily basis, is a rather large number if you think of it…
Estimates from major servers put around 500 million the number of computers on this planet… that means there were twice more users signed up at MegaUpLoad than there are computers active on the planet. 50 million daily users means one in ten computers on the planet, were involved with the server MegaUpLoad…..
Federal Prosecutors have said they are done with the data they needed. They have turned over the property rights of the items on the servers to those servers contracted to MegaUpLoad to store the information. Since MegaUpLoad's assets are frozen, the servers will begin deleting the information on Groundhog Day, February 2nd.
Within that deletion will be 0.00002% of those files that may be pirated. Also deleted, will be files by small businesses, job related data people stored at work, digital family pictures stored for safe keeping…
You see, when you have a server with free storage, a lot of people who access the Internet only through the means of a shared computer, … have a need for it.
If piracy is such a "huge" issue, then one would think more than 10 people or 0.00002% of its users, would be arrested… Those 10 who have charges filed against them, and who no doubt will be found innocent when given the chance to a trial before an impartial jury…., aren't really much of a threat at all.
The 99.99998% of the rest of its users, who are about to have their life's history erased , deserve to be a little miffed..
Unfortunately, to completely put this into proper perspective … out of the 100% of those who crashed the world's economy back in 2008…. the heads of Goldman-Sachs, J.P. Morgan, AIG, Bank of America, and other players on Wall Street … 0% have been arrested and charged…
Apparently, destroying the world's pension funds, bankrupting whole countries, dissolving entire banking empires, all on false information which you knew beforehand to be untrue, is far less a crime than not paying .89 cents for a song you got off of YouTube for free….
The world is a little topsy-turvey, don't you think?
Duffy is God's answer to a prayer.. I miss the old days of blogging when we were debating principals instead of people… Duffy has stuck to the old line of debating principals with facts, and that is what makes him special in the eyes of bloggers everywhere…
Since the passing of Steve Newton, he has been the only one to challenge me in any argument, and usually some pretty good stuff comes out of both sides during the exchange… I have respected that.. Cause once again, opinions mean dick. Facts are what we steer by.. It is my hope that in responding to his challenge that an answer may make itself apparent.. Who knows? It may not come from me… But if I'm the catalyst for bringing it out in the open, then… none of this was in vain..
Why I like to debate Duffy is simple.. Neither side, he or I, is concretely set in their opinions… We accept it when the other side makes sense… I usually go into such debates having no idea where they'll end up… I hope the rest of you enjoy the ride as welI….
That said..
Duffy leads: Wall Street's problems were caused by Fannie and Freddie loaning money to people they knew couldn't pay and moreover, forcing banks to lend money to people who couldn't pay. That was not deregulation but misregulation
kavips rebutt's:Uh… Mr. President. That's not entirely accurate.
First off, the Community Reinvestment Act of 1977 was developed for, and locked in on, urban developmental areas and had no part of the subprime boom, which primarily occurred out in western desert regions where owning 4 to 5 investment homes was normal… Those homes were overwhelmingly funded by loan originators NOT SUBJECT to the act… We all know the crises was not because people couldn't afford a payment on their house. It came about, because with no occupants, people could not afford the payments of 4 to 5 houses….. Instead of one loan per borrower turning up in default; four to five were.

Second off, The housing bubble reached its point of maximum inflation in 2005.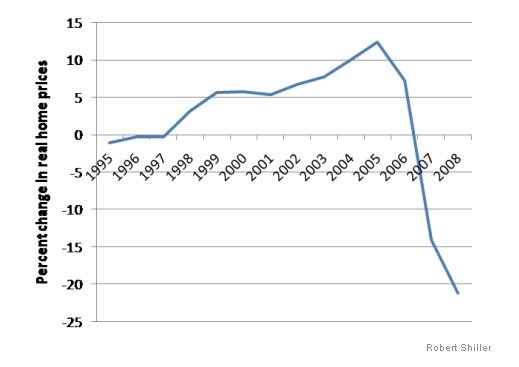 Courtesy of NYT
Third off, During those exact same years, Fannie and Freddie were sidelined by Congressional pressure, and saw a sharp drop in their share of loans secured by the Feds… Follow the dotted line on the very bottom of the graph…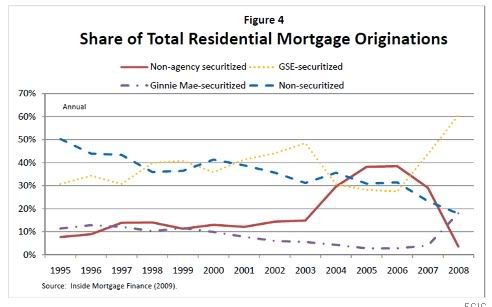 Courtesy of NYT
Fourth off; During those exact same years, private secures, like Delaware's own AIG, grabbed the lions share of the market.


Courtesy of NYT
Remember these graphs for later on when I discuss the results of deregulation, versus regulation… But like it or not, these graphs conclusively show that private insurers, who thanks to Marie Evans, we now know were deregulated by Phil Gramm in the 2000 Omnibus Bill, were the primary cause of the worlds financial collapse.. Probably put best by these words of AIG's spokesperson, who when asked why they didn't have sufficient funds to cover losses, said point blank, "We were deregulated. We were no laws requiring us to keep any funds, ..so we spent it…"
Duffy leads: The loosely regulated hedge funds escaped this mess largely unscathed. Why? They can't count on a bailout like the big banks. The Too Big To Fail banks were counting on a bailout (not unlike the S&L bailouts which started on the Republican's watch) and they got them.
kavips rebutt's:Uh… Mr. President. That's not entirely accurate. I agree that the hedge funds did survive better than the banks. Not because of bailouts, but because they sold short during the crises and made billions while firms closed and people got thrown out of work. There is nothing wrong with that; I did the same. In fact close readers may remember my warnings that the crises was impending almost a year earlier. Very close readers may remember my telling them exactly when to sell, and at what point the stock market would rebound… I must say: I called it rather well.
"Hedge funds were not in my understanding, at fault in the credit crisis," said David Ruder, former chairman of the Securities and Exchange Commission. "At the most what they did was to sell securities when some of their investments were declining and they needed to have liquid funds. They were not the architects of these problems."
De regulated hedge funds are not the issue… De-regulated, excessively leveraged, mortgage securities, are a different story however… They, not the banks that held them, are the cause of the crises…Years from now, when academics search for causes of the stock market crash of 2008, they will focus on the pivotal role of mortgage-backed securities. These exotic financial instruments allowed a downturn in U.S. home prices to morph into a contagion that brought down Bear Stearns a year ago this month – and more recently have brought the global banking system to its knees.
Where you err is when you state that banks too big to fail, assumed they would be bailed out… By implication, you say imply they failed from squandering money, and wanted the bailouts.. But your tax dollars didn't flow directly to the bottom line.
The roughly $200 billion the Treasury Department has handed out to battered banks was swapped for a special class of stock that pays a 5 percent dividend (rising to 9 percent after five years.) As of April 15, the Treasury had collected about $2.5 billion in dividend payments on its investment.
So in that sense, the bailout money represents an expense for banks. That's one reason a number of banks have said they want to give the money back as soon as possible.
You say big banks were counting on a bailout, and they got them? That didn't happen to these banks. New Mexico, Georgia, and Florida each lost a bank just last Friday. That brings to 8, the number of banks failed in June. Unfortunately if a bank is failing, it can't bet on itself to fail, as can a hedge fund.
Duffy leads: Banks have successfully lobbied to get their losses absorbed by taxpayers and gains are kept private. How nice for them. They felt comfortable making insane gambles because they knew they'd be bailed out. Most of them were right. Also remember that it was Bill Clinton who tore down the wall between retail and investment banking. The idea was to give banks more stability as they typically perform as exact opposites in bull and bear markets. (FWIW, I think that was a good idea and I can tell you first hand that two of the Fortune 100 banks I worked for were carried by retail banking in bear years. They may not have had bonuses those years but they didn't have layoffs either)
kavips rebutt's:Uh… Mr. President. That's not entirely accurate. The idea is that the banks made bad decisions knowing taxpayers would bail them out is the issue that is inaccurate. For the record, I have no qualms that it was the Clinton legacy who tore down the wall between banks and investment banking. Like you, I feel it was a good idea to do so… Again the problem was not primarily with banks making loans to people who could not pay.. Although, it was as late as October 2009, when I was made aware of one private Bank in Denver still exaggerating income to make loans look good enough on paper to get approval of securitization. What caused the collapse was the leveraging of those loans as securities, so that as the housing market became overextended, and the ARM jumped past the low cost opening years, the damage was 100 times worse because of leveraging. What made the collapse criminal, was that the insurance most financial institutions had bought from AIG, to cover such an improbable event, had already spent by that companies executives, out on bonuses to themselves. What made it doubly criminal, was that when they received government dollars through a taxpayer bailout, those same executives assumed it was to first go towards paying their bonuses again. However, very recent events may give some cover to the argument that some collusion was implicit in the bailing out of Goldman Sacs and AIG… Basically, once bailed out, AIG paid Goldman Sacs for shares twice as much as they were worth. The documents also indicate that regulators ignored recommendations from their own advisers to force the banks to accept losses on their A.I.G. deals and instead paid the banks in full for the contracts.
Whoever wins the White House will need bipartisanship to move Congress off its ass.  Like it or not, someone playing the center against the two parties benefits America better than a very strong political profile, where everyone is in lockstep, and a single agenda is pursued.
How do I know this?
Because the latter is what we have had the last 8 years, whereas the former, is what we had during the last six years of the previous administration.  America has tumbled downhill during the last eight years, and has done so from from its peak which was achieved during the previous six…
So how does one find bipartisanship?  One looks for one who works with the other side, (sort of the opposite of what McCain says he would do with Syria and Iran if elected)…  In this capacity Biden brings tremendous resources to the table….
In a report by David Broder, mentioned on a lot of blogs recently,  we see how Biden and Senator Lugar (a Republican), have kept a Senatorial committee running smoothly, irregardless of who is in charge, based on the composition of the Senate at a certain point in time.
These two professionals work together and their inter meshing has created a haven from the rife partisanship that often interrupts committee proceedings and makes a fool of our legislative branch. Consequently the entire committee has taken on the professional decorum exhibited by its two leaders, each of different parties.
Wise choices, but possible long shots for positions within the inner sanctum, both may not be in their spots next year.. Luger could be Secretary of State, for McCain or Obama, a man Luger recruited for foreign relations and a vocal admirer. Biden could be VP, based on rumblings still going on in Iowa's aftermath…….. Both have run for the highest office, both work well together….
It is in this spirit of bipartisanship that Obama surprised progressives when he made his controversial decision to weigh in on the compromise hammered within the House which destroys our freedom of unreasonable search and seizure. Hat's off to Delaware Dem for taking the issue dead on. Although initially disappointed, after reflection, I think this decision proves that Obama truly is the real thing. It has been several years since we have actually had a thinker in the White House. Obama sent a signal that he will approach every idea with an open mind.
His decision surprised me. Honestly, I didn't think he would chose that route.. But with both the FISA bill and his recent choice to refuse public funding, Obama has made two correct decisions required for achieving his vision of long term benefits to this nation, and he has calmed the center and right at the same time. Even though it must have rankled every grain of his fiber, when his "Lawrence of Arabia" moment arrived and he was forced to make a decision between his personal attachment, and what was best to keep the country together, he chose the latter and pulled the trugger.
I know from experience ….that is very hard to do… But Obama did it, and my estimation of him just jumped off the scale… even though as a progressive I am opposed to what he did…vehemently. This guy's got guts in the right places..
Totally unlike the current administration, who measures guts by holding on to an untenable position against 70, then 80, then 90, then 99 percent of the voting population, this guy measures guts by meeting with the other side, moving both sides to the center, finally hammering out an agreement, and then moving forward. Instead of repeated stalemates with which we have grown so accustomed, we get movement. And just by knowing that our country is headed by a rational and pragmatic individual, I feel safer that my basic rights will be protected in the future, despite the FISA decision, than I did when all security positions were hired, vetted, and staffed by kooks and partisan yokels….
It is in no way a perfect arrangement. I preferred that the telecoms squeal on the deal Cheney forced upon them and illuminate the criminal activities when and where they occurred, That won't happen, and Obama is the reason it won't.
A presidential candidate this shrewd will require a second in command solid and able enough to garnish considerable respect from the Senate floor. Biden and Dodd are two Democrats that meet that criteria. Lugar, Hagel are two from the other side who do as well. Instead of a party hack, (as one could certainly consider Cheney), Obama, by picking someone who embodies Democratic values, but respects the opinions of the other side, will be invaluable when the time comes to make the change forward that all America so desperately wants.
A year ago the idea of a Obama/Biden ticket would be preposterous. For those still embittered by conflict politics, it may still seem so.
But, Obama has shown us that even Progressives are just another scion of the political spectrum…..Tangible results are what matter. This country could use a few good men like these In fact the entire world would benefit from the spirit of bipartisanship exemplified by these few men. For each time America is unhealthy, so goes the world……