You are currently browsing the category archive for the 'oil futures' category.
We knew this but it  is now being published… and so it is in the news.
The world is getting warmer… and we can now predict our climate by looking at map at 300 miles south and guessing what our weather will be from that…
Just as plate tectonics and  Darwin's origin of the species were able to lay the groundwork of reason  for explaining puzzling observations, this simplifies what to expect from global warming rather startlingly.
Texas is now  what we alway thought of when we considered the weather of Mexico; Oklahoma is now West Texas; Kansas is now Oklahoma; Nebraska is now Kansas; South Dakota is now Nebraska, North Dakota is now South Dakota: Southern Manitoba is now North Dakota…..
If  West Texas had 3 days of rain, now Oklahoma is getting 3 days of rain;  If it snowed 12  times in South Dakota, it is now doing the same in North Dakota… and so on.
So, to predict our heat, rain, winters, etc, our guide would be North Carolina.  Longer growing seasons,  some winters with no snow, hot summers…
However due to Global warming, the East Coast has a caveat.  An anomaly so to speak  and actually some relief from the North Carolina summer heat we would normally expect….
With the unprecedented melting of the Arctic and Greenland icecaps dumping its excess into the Labrador Current, that cold water drops South hugging the East Coast shoreline all the way down to North Carolina's Outer Banks where it finally becomes neutralized…   Therefore even though we have hotter air masses, the colder ocean temperatures creates a buffer against Global warming off the entire northeastern US.
Europe, Japan, and Alaska all experience  the same mitigating effect, although with both Greenland and the Arctic Icecaps melting into the Labrador, the US East Coast gets a stronger volume of cold water.  Call it our icy shower effect….
Once melting stops and the currents dry up, we return to the North Carolina scenario of the twentieth century….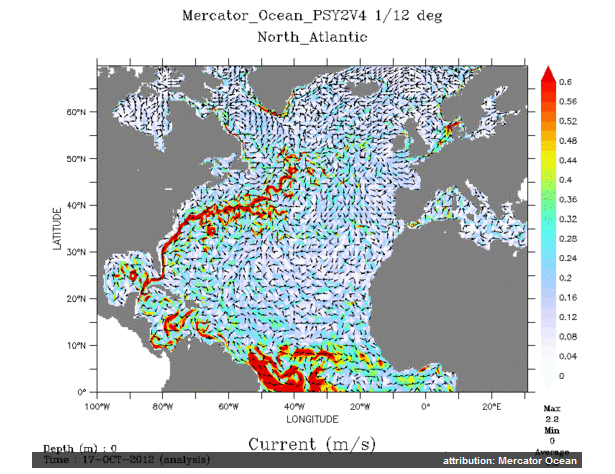 Chart Courtesy of NOAA
So, we in Delaware really get the best climate on the East Coast.    Warm winters, little or no snow, and cool breezy summers….. as well as a longer growing period, and… less dependence on fossil fuels for winter heating.
Gee, global warming isn't so bad for Delaware after all….  Oh, the rising seas?  There you go again… Why did you have to spoil the rosy picture I was painting?
Facts are a Republicans worst nightmare…..
Republicans zero'd out the Interagency Council on Homelessness. This agency is what makes churches and private taking care of homeless possible.
Republicans zero'd out $1.1 billion from Head Start. Putting 200,000 toddlers on the streets, and eliminating 55,000 teachers.
Republicans zero'd out the Administration on Aging, and cut out block grants which keep Meals on Wheels and Senior Centers alive.
Republicans cut out 81,000 people from getting food each day, by zeroing out the Commodity Supplemental Food Program, which provides food to low-income Americans….
Republicans zero'd out money being sent to poverty-focused international assistance programs, which will largely hurt women and girls who have no other source of food or medical help.
But they will not raise one penny on millionaire and billionaires…
These guys are really, really, really, really, really, really, really, really, really, really, really, … sick.
WHEREAS gasoline prices are almost at record highs, and are expected to break new ground this summer,
WHEREAS the economy is just beginning to pull out of the recession.
WHEREAS international turmoil has driven up fears over the amount and cost of barrels of oil this summer.
WHEREAS government of the United States of America has full right to apply any tax on items it chooses, during periods of national emergencies, as it did during WWII,
SO BE IT RESOLVED, that as long as gasoline prices are over $3.00 a gallon, a provision will be placed in the IRS code that taxes on all capital gains emanating from profits gained through hedge funds or all parts of hedge funds earning their income off of oil, at a rate if 95%.
Synopsis: This bill takes out all incentive of artificially driving up the price of oil, by taxing the capital gains made from doing so at 95%. It does not affect the hedging by American businesses, who seek to stabilize their energy costs over time, and actually receive and use the products they buy. The escalation of the price of oil, costs America tremendous amounts of money. This bill seeks to recapture the portion based on speculation, using that amount to assist in the emergency funding of the extra expense that higher gasoline prices exert on the day to day running of our government. ….
Duffy is God's answer to a prayer.. I miss the old days of blogging when we were debating principals instead of people… Duffy has stuck to the old line of debating principals with facts, and that is what makes him special in the eyes of bloggers everywhere…
Since the passing of Steve Newton, he has been the only one to challenge me in any argument, and usually some pretty good stuff comes out of both sides during the exchange… I have respected that.. Cause once again, opinions mean dick. Facts are what we steer by.. It is my hope that in responding to his challenge that an answer may make itself apparent.. Who knows? It may not come from me… But if I'm the catalyst for bringing it out in the open, then… none of this was in vain..
Why I like to debate Duffy is simple.. Neither side, he or I, is concretely set in their opinions… We accept it when the other side makes sense… I usually go into such debates having no idea where they'll end up… I hope the rest of you enjoy the ride as welI….
That said..
Duffy leads: Wall Street's problems were caused by Fannie and Freddie loaning money to people they knew couldn't pay and moreover, forcing banks to lend money to people who couldn't pay. That was not deregulation but misregulation
kavips rebutt's:Uh… Mr. President. That's not entirely accurate.
First off, the Community Reinvestment Act of 1977 was developed for, and locked in on, urban developmental areas and had no part of the subprime boom, which primarily occurred out in western desert regions where owning 4 to 5 investment homes was normal… Those homes were overwhelmingly funded by loan originators NOT SUBJECT to the act… We all know the crises was not because people couldn't afford a payment on their house. It came about, because with no occupants, people could not afford the payments of 4 to 5 houses….. Instead of one loan per borrower turning up in default; four to five were.

Second off, The housing bubble reached its point of maximum inflation in 2005.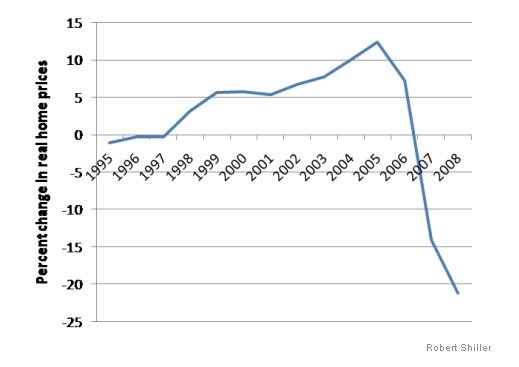 Courtesy of NYT
Third off, During those exact same years, Fannie and Freddie were sidelined by Congressional pressure, and saw a sharp drop in their share of loans secured by the Feds… Follow the dotted line on the very bottom of the graph…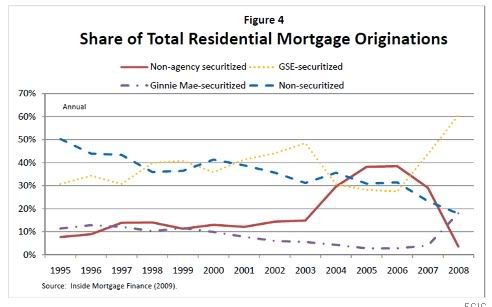 Courtesy of NYT
Fourth off; During those exact same years, private secures, like Delaware's own AIG, grabbed the lions share of the market.


Courtesy of NYT
Remember these graphs for later on when I discuss the results of deregulation, versus regulation… But like it or not, these graphs conclusively show that private insurers, who thanks to Marie Evans, we now know were deregulated by Phil Gramm in the 2000 Omnibus Bill, were the primary cause of the worlds financial collapse.. Probably put best by these words of AIG's spokesperson, who when asked why they didn't have sufficient funds to cover losses, said point blank, "We were deregulated. We were no laws requiring us to keep any funds, ..so we spent it…"
Duffy leads: The loosely regulated hedge funds escaped this mess largely unscathed. Why? They can't count on a bailout like the big banks. The Too Big To Fail banks were counting on a bailout (not unlike the S&L bailouts which started on the Republican's watch) and they got them.
kavips rebutt's:Uh… Mr. President. That's not entirely accurate. I agree that the hedge funds did survive better than the banks. Not because of bailouts, but because they sold short during the crises and made billions while firms closed and people got thrown out of work. There is nothing wrong with that; I did the same. In fact close readers may remember my warnings that the crises was impending almost a year earlier. Very close readers may remember my telling them exactly when to sell, and at what point the stock market would rebound… I must say: I called it rather well.
"Hedge funds were not in my understanding, at fault in the credit crisis," said David Ruder, former chairman of the Securities and Exchange Commission. "At the most what they did was to sell securities when some of their investments were declining and they needed to have liquid funds. They were not the architects of these problems."
De regulated hedge funds are not the issue… De-regulated, excessively leveraged, mortgage securities, are a different story however… They, not the banks that held them, are the cause of the crises…Years from now, when academics search for causes of the stock market crash of 2008, they will focus on the pivotal role of mortgage-backed securities. These exotic financial instruments allowed a downturn in U.S. home prices to morph into a contagion that brought down Bear Stearns a year ago this month – and more recently have brought the global banking system to its knees.
Where you err is when you state that banks too big to fail, assumed they would be bailed out… By implication, you say imply they failed from squandering money, and wanted the bailouts.. But your tax dollars didn't flow directly to the bottom line.
The roughly $200 billion the Treasury Department has handed out to battered banks was swapped for a special class of stock that pays a 5 percent dividend (rising to 9 percent after five years.) As of April 15, the Treasury had collected about $2.5 billion in dividend payments on its investment.
So in that sense, the bailout money represents an expense for banks. That's one reason a number of banks have said they want to give the money back as soon as possible.
You say big banks were counting on a bailout, and they got them? That didn't happen to these banks. New Mexico, Georgia, and Florida each lost a bank just last Friday. That brings to 8, the number of banks failed in June. Unfortunately if a bank is failing, it can't bet on itself to fail, as can a hedge fund.
Duffy leads: Banks have successfully lobbied to get their losses absorbed by taxpayers and gains are kept private. How nice for them. They felt comfortable making insane gambles because they knew they'd be bailed out. Most of them were right. Also remember that it was Bill Clinton who tore down the wall between retail and investment banking. The idea was to give banks more stability as they typically perform as exact opposites in bull and bear markets. (FWIW, I think that was a good idea and I can tell you first hand that two of the Fortune 100 banks I worked for were carried by retail banking in bear years. They may not have had bonuses those years but they didn't have layoffs either)
kavips rebutt's:Uh… Mr. President. That's not entirely accurate. The idea is that the banks made bad decisions knowing taxpayers would bail them out is the issue that is inaccurate. For the record, I have no qualms that it was the Clinton legacy who tore down the wall between banks and investment banking. Like you, I feel it was a good idea to do so… Again the problem was not primarily with banks making loans to people who could not pay.. Although, it was as late as October 2009, when I was made aware of one private Bank in Denver still exaggerating income to make loans look good enough on paper to get approval of securitization. What caused the collapse was the leveraging of those loans as securities, so that as the housing market became overextended, and the ARM jumped past the low cost opening years, the damage was 100 times worse because of leveraging. What made the collapse criminal, was that the insurance most financial institutions had bought from AIG, to cover such an improbable event, had already spent by that companies executives, out on bonuses to themselves. What made it doubly criminal, was that when they received government dollars through a taxpayer bailout, those same executives assumed it was to first go towards paying their bonuses again. However, very recent events may give some cover to the argument that some collusion was implicit in the bailing out of Goldman Sacs and AIG… Basically, once bailed out, AIG paid Goldman Sacs for shares twice as much as they were worth. The documents also indicate that regulators ignored recommendations from their own advisers to force the banks to accept losses on their A.I.G. deals and instead paid the banks in full for the contracts.
Failed. The Republican leadership has failed…
They are fighting a healthcare plan that benefits all Americans except those directly receiving compensation from the excessive profits being made by insurance companies…
You can't win by fighting everyone… Look locally at Copeland, Adams, McDowell, and DeLuca… They took on 94.9% of Delawareans over offshore wind and now (in same order as above), they are a joke, dead, silent, and flipped over to the winning side….
If there were such a thing as a smart republican (an oxymoron to be sure), they would be thinking on how to offer the Republican version of the public option.. NOT voting to kill that option outright… The public option is a necessity and all of America knows it. So it is inevitable that it will pass. Therefore voting against it, makes them losers. Not only losers with a big "L" but voting against the public option gives their opponents the ammunition needed to blow them out of political waters for the next thirty years… (thirty years being the living memory of most voters).. However, putting in a better plan than the ones being offered by the Democrats would set them as a positive force in the function of things… Even I would be interested in their version of a public option plan.
Sometimes a politician has to recognize the trend of the future… Like a giant wave off Hawaii, he needs to position himself on the crest and ride it into the beach… not stand firm and have it crash down on him, uniting his body parts with the jagged lava of the shoreline.
Republicans made a mistake. That is the result of their failure to lead….
They didn't lead, and for that reason, they can't be taken seriously… Using a local political analogy, one could say the national Republican party has been Copelandized…
A bridge to the future, if collapsed, takes you no where… –kavips
This chapter looks at rebuilding our infrastructure. We have highway problems, energy problems, educational problems, as well as health problems, environmental problems, and social problems. Can rebuilding our infrastructure be a tool to begin the mending process?
Up to now very little has been spent on maintaining our highways. Most highway money was earmarked for new growth.. It was as if no one gave consideration of the fact that maintenance of what we already had up and running was a cost that needed budgeted in.. After all, what political points are ever given for repairing a road before it goes bad? (Damn it, why are they tearing up good highway, costing me twenty five minutes in each direction?) But with the August 1, 2007 collapse of the Interstate 35 Bridge in Minneapolis, we see what happens when highway infrastructure is ignored.
For example in the United States alone, 25% of our bridges are deficient. In Delaware, 15.4 % of our bridges are either functionally or structurally deficient, which is actually good when compared to our fellow small state Rhode Island with 52.9% of its bridges deficient. As one travels back and forth, one crosses an unknown number of tiny bridges; of these, one out of four is deficient. How would you like to be on the I 95 bridge across the Susquehanna… when its time came to fall?….. or perhaps driving across the Chesapeake Bay Bridge between Kent Island and Annapolis? Thinking "one out of four" may raise your apprehension rate the next time you find yourself traveling unknowingly across a potential deathtrap…
The need to improve our infrastructure is obviously there. So if we have the labor available, how will we pay for the construction and repairs with our treasury bottomed out?
That depends on whether bonds still had any worth, meaning whether or not anyone still had any interest in buying them… Normally bonds are sold at a low interest rate, and the money taken in is used for construction. The notes are paid back in regular payments. But if there is no demand for, or more money out there with which to buy the notes, who will fund the infrastructure investment?
Today the bottom line is that the money will have to come from the Treasury. Being broke, that also means the Treasury will no choice but to print more money in order to accommodate the economy's need. As more money starts chasing fewer goods, inflation looks at us dead center down it's barrel. Unfortunately we are in such dire straits, that we have no choice but risk the chance of inflation just to keep the next Great Depression at bay….
The same scenario applies to our efforts to revamp our educational system. Now estimated to require between 45 to 50 billion (how much was AIG's bailout?) the infrastructure of our schools systems faces the same challenge of acquiring minimum funding, as does that of rebuilding our highway system.. Up until August of this year it could still have been done. Now due to insufficient funds, this accomplishment is unlikely. But if we choose to go forward, we will have to do so again funded by printed money with inflation drawing another bead upon the target on our own purchasing power..
Even today, there is enough work to employ every man, woman and child in America if we can find the resources to pay for them doing so… Work such as environmentally cleaning up Superfund Sites, energetically laying new transmission lines, socially integrating our square pegs into round holes, educationally teaching problem readers to become literate, or simply maintaining hospice care over those citizens who cannot survive long enough to see America turn its corner; yes, work can be found…
But the underlying question still remains as to how we will be able to fund the privilege of keeping America employed… and at whose expense? If we were unable to solve these problems during the past 8 years of plenty, how will we deal with them during a time of shortage?
Fortunately, we are not the first group of people in our lifetimes to rebuild our world around us… Three examples of what can be accomplished, are found in three post war states who after war's end, found themselves under American influence. That would be Germany, Japan, and South Korea. These are the models we need to turn to. Someway and somehow they bounced back from complete devastation to becoming the the second, third, and fourteenth largest economies behind that of the United States…
At war's end, there were very poor resources to spread around. Everything possible needed fixed at once. But with a small amount of seed money provided by the Marshall plan, a major currency adjustment, and a release from price controls, the German population pulled themselves up and today have roaring economies better than do any of our allies of that past conflict. (It doesn't seem fair.)
History shows us that for two years after the war, while post war punitive policies were kept in place, all of the occupied countries' economies decreased. The Soviet sector opted to maintain those policies and their economy continued to suffer accordingly until German Reunification in 1990. However in the western Allied sector, starting in 1948 with the abolition of price controls and most post war rationing, along with the devaluation of their currency designed to shrink the amount (by 93% contraction) of the money in circulation, their economy took off; lost days decreased by half, and industrial production climbed within six months by 50%. Both nations were blessed with the post war abundance of skilled cheap labor; therefore both nations were able to increase the flow of money into and around their country.
Rising to the challenge imposed upon them by history, all three countries had able leadership which was effective in communicating this to each countries' populations: … that their time and effort were to be properly considered as an investment. Their rewards would not be reaped immediately, …but would someday be magnificent. Their leadership was also effective in communicating that timing was critical. If they did not begin immediately… their nation's dreams would never materialize. It was their competent leadership that marshaled the populations of both WWII nations back to work "on the cheap" and that…. the bottom line, is how both counties bounced back. Not dictatorially, but economically. One should note that both of the two occupied economies fared much better than our Allies, who received far more Marshall Plan aid than did the conquered nations, and who did not have to pay for war repatriations as did both of the war-torn countries.
From here I pulled this little piece of history, showing the progressiveness that forced the German economy forward…..

Colonel:"How dare you relax our rationing system, when there is a widespread food shortage?"
Erhard:"But, Herr Oberst. I have not relaxed rationing; I have abolished it! Henceforth, the only rationing ticket the people will need will be the deutschemark. And they will work hard to get these deutschemarks, just wait and see."
That they did.
Obviously sitting in our armchairs looking forward, we too understand that we will face the specter of inflation. It MUST come with the copious amounts of money we are currently and anticipated soon to be printing. However as does any nation in a war, our country does what is needed. Currently and just like it was after WWII, the US right now is the only global entity strong enough to expand its money supply fast enough to put most of its citizens back to work. As we begin earning extra spendable income, our demand increases; when that demand pushes up prices, more and more entrepreneurs race to fill in the vacuum of goods… bringing them back down. Greed is good.
As for actual rebuilding of infrastructure, postwar Japan offers a slightly different model. In Japan we meshed the government, banking system, and large industrial players to fund, construct, and grow their infrastructure during the sixties. The local banks, backed by the government of Japan, used a system of overloaning. This policy is one which the Bank of Japan guarantees all loans issued by city banks to their industrial conglomerates. Because there was a shortage of capital in Japan at the time, industrial conglomerates borrowed beyond their capacity to repay, often beyond their own net worth, thereby causing city banks in turn to over borrow from the Bank of Japan. This gave the national Bank of Japan complete control over all dependent local banks until the loans were repaid.
The primary difference between the Japan of then and America today, is that today, the money is still not being lent out by those banks receiving Federal assistance. Instead, today's over loaning is being wasted on the buying up of other banks; today that mass infusion of capital is being used to consolidate the financial industry, instead of financing large projects that actually put citizens to work, and in turn funnel money back through the economy.
The question remains. Does rebuilding our infrastructure get us back on our feet?
Yes and no. The economic impact on the local level at the location where the federally funded project is being built, is huge. But it is a localized effect. For an economic turnaround to be effective, infrastructure building must occur simultaneously in almost every town or village across the United States. If funded solely by the federal government, that significant cost would appear prohibitive. But if instead of being funded solely by the Federal Government, it is done as did the Japanese during their infrastructural rebuild, (where all local banks simultaneously financed local projects close to their locations), much more capital becomes available. If we place our bets on the option that local banks WILL lend out the money, if we guarantee that they lose none of the amount lent out,…. then that outcome could start some infrastructure development in the very near future somewhere near every community's small bank, no matter where it may be located.
So if as a nation, we choose this plan, and we attempt the Japanese-tried approach, the question next arises over which infrastructural improvements will return the largest investment? The consensus seems to be that Energy, Education, and Technological advancement lead the pack.
As we now all know, even during prosperous times our nation gives up a large percentage of its income to other overseas nations just for oil. By simply keeping that dollar amount in the United States we could provide our economy a substantial boost. Furthermore, manufacturing and exporting new technology which help frees the rest of the world from their dependence on oil, would certainly assist us in turning the trade balance back in our favor. Both of these lines of thought converge to point out this: the increase of our energy independency could become the primary viaduct which could bring America back into prominence.
As for increasing our energy independency, there are several options for doing so. One, is to create new sources. Here is one startling fact: there is enough potential wind power in North Dakota alone to cover 25% of America's energy needs. The problem is getting it to where it needs to be used. Building transmission lines from America's heartland out to its extremities, where its largest users are, should be a first priority. For one, it actually uses the free market plan and opens markets to a cheaper supplier of that required product. Two, transmission costs are a significant portion of the energy costs we pay for electrical energy today. Three, poorly outdated transmission grids eat up a lot of energy that could instead be used to power America.
Likewise building transmission lines from our local shores to major metropolitan areas, provides those city areas with cheaper electricity from off shore wind, thereby increasing the likelihood that more wind power generating companies will set up off-shore. The larger the wind farms are off shore, the better our economy will weather that upcoming Depression that appears to be looming off our horizon… And if hydrogen is one day destined to become our replacement fuel, then locating their manufacturing plants in close proximity to offshore wind farms, in order to capitalize on a wind farm's free excess energy during non peak hours….. could certainly help build an industrial base to back up the tourist economies of rural shoreline counties.,.
Directly related to the new technology of wind power, would be the need to construct electrical storage facilities in areas that have no jobs. Western Pennsylvania and West Virginia would be ideal localities to build closed circuit water generators that use free excess wind power during non-peak times to pump water up a hill to reservoirs on top, from which water can then be released during peak times, flowing downhill turning a series of giant generators as it falls to the valley floor. These massive projects would put large numbers of Americans to work in those areas desperately needing new development.
But these three investment strategies are all dependent on the knowledge that wind driven energy will be a big player in the years to come. No one will make such an major investment in a climate of doubt. The Federal government over the next few years … has to make that clear.
For other hard hit areas, an investment in solar power out in America's Southwest can do the same. A conglomerate of local banks issuing out loans, guaranteed by the Federal Banking System, should have sufficient resources necessary to begin the immediate construction of a series of large solar farms in that area. With such an investment to attract large numbers of employees to that area hardest hit by the housing crises, local banks could with the Federal bank's support., begin paying workers who in turn would help out the local banks by buying back some of those foreclosed mortgages at market prices…
But unquestionably, the largest saving can be made by simply conserving more energy in our homes and businesses. Just re-insulating every home in America, can save the cost of its installation within a year. According to the Department of Energy, re-insulating a home can save between 5% and 22% of its energy costs per year. At their estimated energy cost of $1500 a year (seems low, doesn't it), the range would be from $75 dollars to $300 dollars a year. So paying someone a bounty of $75 dollars for each house, just to infra-red, then re-caulk it's leaky windows and insulate it's doors, would see its return within one year on every dwelling visited. Paying someone to go through a city's public housing could save that city government tremendous amounts of money which could be better spent putting its citizens back to work.
Educational infrastructure is likewise needed. Our nation's schools for the most part, have not been updated on a grand scale since they were originally built for the influx of baby boomers … What is more important than structural additions to existing buildings, is a revamping of the educational process itself.
America needs to regain their technological prowess… Our educational system ranks behind most of Europe and civilized Asia. One Duke study concluded that 137,437 engineering graduated in the United States, compared to 112,000 for India and 351,537 for China. Of course the quality of those foreign engineers are open to debate. But still, with lopsided numbers like that, it is obvious that over time…. we lose the technological war. Today… whoever is driving the global need for technology… drives the global economy.
Putting additional parents or motivators inside of class rooms, increasing allocations for science supplies (simply dropping sodium into water turns most students on to science as well as instantly explains the clarity of the periodic table), and increasing the social status of the "geeks" in teenage classrooms, are just some of the ways we can rebuild our educational infrastructural needs, without large investments of cash… Where we most often complain that the educational system is broken and in dire need of fixing, at the core of the problem is broken down people. Whether it is administrators, teachers, school board members, parents, or the students themselves, what we have throughout our education system is a group of talented, but leaderless individuals. All are spinning their wheels independently in their effort of trying to find some type of traction in improving education. Often within the same schools, different partners are spinning in opposite ways.
What American education needs is a grand goal, one that is set nationally and bought into by all of its people. Once again, America needs to be challenged. At its forefront it needs a leader capable and willing to stake his reputation on meeting and achieving that goal.. And most importantly, that challenge needs to me made without any financial strings attached. You know: the usual "we need to invest $$$ in …….". Instead, what is needed by our incoming leadership is to voice a measurable goal such as this one for example: that says by 2015 we will as a nation, turn out as many engineers as does China….. (Goal reaching against a competitor worked for reaching the moon). Perhaps to achieve it, some additional funding may be necessary. But what is more important, is that is sends a real signal to students that fun and games as they have been portrayed on children's TV, can no longer be tolerated within our high schools. Every young person now has the survivalist duty to apply themselves to the best of their ability, for the honor of their country in whatever the direction their talents lead them… (With proper leadership, this can be done fairly cheaply: it takes just one big speech.)
The long term return on this cheap investment is that by 2020, our engineers should be in the field working at top notch organizations, benefit them and us from their training and expertise…. The longer we wait… the further behind China and India we find ourselves… We are already talking twelve years from now before we can get any return on both ours, and our student's investment….
Likewise, tying in with improvement of our educational output, is our need to advance ourselves further along the road of technological innovation, ie. creating new patients. For which ever nation builds the most savvy technical gadgets, that is the country from whom all others will want to buy…
But in today's economical climate one must realize that a risky investment on some new technological device, untested in the market place, will have difficulty finding financiers. Once again, the Federal government, if it is spending its resources elsewhere, has the option of only printing more money to pay for this investment, assuming that private lenders are too scared to lend. Therefore as mentioned above, as in the post-WWII-Japanese model where the small city banks overloan to businesses and corporations allowing them to invest in research and development, if these loans are themselves guaranteed by the national bank, private lending can fulfill the need.
A very strong incentive to promote new research and development by corporations, would be to allow all such expenses devoted to the creation of new products, to become tax deductible under the newer higher rates that will be forthcoming shortly. Every bit of money spent on research and development, is our nation's best investment. Innovative new products lead to the quickest economic turnaround as those new developed ideas soon become commercially viable…
Other areas where infrastructure can also be propped up by an infusion of small loans made by city banks which are then guaranteed by the Federal Reserve, are in the areas of environmental protection, health care, social services. Western forest fire fighting companies, environmental detoxification companies, and tree reforestation companies, could begin putting people to work.
It could work like this. A company such as Guardian, on call for disaster, receives a payroll loan from a small bank guaranteed by the Federal Government to keep itself afloat until money comes in from charging an oil tanking firm for the mess they made… Most of that loan money is used to buy necessary additional equipment, which puts someone to work in the manufacturing plant where that piece of equipment came ….. As work eventually comes in, the Federally guaranteed loan is paid back to banks… In this and most cases, no direct Federal investment is required. They just stand behind the guarantee.
In the health care industry, private companies providing hospice care, watching over psychiatric patients, creating new MRI's, handling billing requests and follow up from insurance claims, can now receive a private loan from a small bank guaranteed by the Federal Government to carry them over until their money returns. Needing new equipment keeps a job at the plant where that piece was manufactured…
Companies specializing in assisting the poor, handicapped, impoverished, hungry, homeless, can also stay afloat by these private loans over lent by their banks, but guaranteed by the Federal Government. When the money returns from their clients, the loans are paid off.
In each of these areas, existing goods and services are maintained. The businesses don't fold. Here is a different way of looking at it. This Keynesian jolt of economic activity is metaphorically like starting a heart of a human being temporarily stopped in cardiac arrest. At that time, all the systems are in place to work…. the heart just needs pressed to get started….. Our economy is like that. Inattention to the core of our economic problem, which is money not flowing out of banks, will lead to the same result to us as it would to a patient who does not get his heart restarted….
So this chapter can be summed up this way. The Federal Reserve is given responsibility for making sure that all projects having a viable chance of success, receive funding from, and eventually pay back… the small local banks making those loans. The Fed just guarantees the loans won't fail….
Those out going loans should be focused on projects giving us our biggest bang for our money. Those areas providing the best return on their investment, are in the areas of energy, education, and technological advancement……
Instead of direct investment, the use of Federal guarantees in these three areas, coupled with the Federal Reserve's monitoring the effects of inflation, are one way our nation can capitalize on its current hardship, and pull itself out through our effort, grit, and tenacity….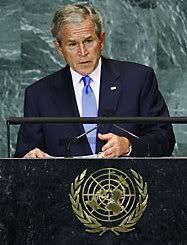 Perhaps you caught it, the leader of the free world dissed with a total lack of respect…
From the Christain Science Monitor:
George W. Bush's last speech as American president to the United Nations General Assembly stuck to a familiar theme: the global fight against international terrorism.
Calling the threat from violent extremists "the fundamental challenge of our time," President Bush on Tuesday reminded the world's assembled leaders that "every nation in this chamber has responsibilities" in the battle with terror.
Speaking before the United Nations, Bush railed at the threat of extremist terrorists, from who we have heard nothing from since the London attack which killed 52 innocent civilians… Out of a global population that amounts to 0.00000076 of today's estimated population.
We are currently pondering whether we can keep our economy alive to feed people, when everything crashes…
It shows our current administration, whom most would agree is just a precursor of what McCain will bring….is out of touch… The world is about to spin out of control financially, and "the greatest threat of our time"…..is fundamentalist extremists….
The question is not whether they are a threat…. it is a point of degree… Are they our 'GREATEST THREAT'?
Bush said so; and the world ignored him as one does at every town meeting, where the universal fool goes on far too long about the tiny crack in his sidewalk….
I have done a lot of talking with people who know what a Great Depression is like…
They all say, get food… Believe it or not it disappears… Against this backdrop, we are supposed to believe our 'GREATEST THREAT' is fundamentalist extremists…
And almost as an aside, Bush characterized "the UN as a critical force in the 21st century – one that is uniquely positioned to meet the challenges of extremism, poverty, authoritarian rule, and a lack of human rights. But its promise is too often limited, he said, by inefficiencies and member states' failure to work toward common interests."
Apparently even he realizes his unilateral approach, forced on him by the neocons surrounding him, was pure bunk…. Otherwise why would he pull out a page from Obama's position of foreign relations?
Sorry dude, the world has moved on… You and McCain just don't get it… Neither of you can lead, simply because you have no idea of what is really going on….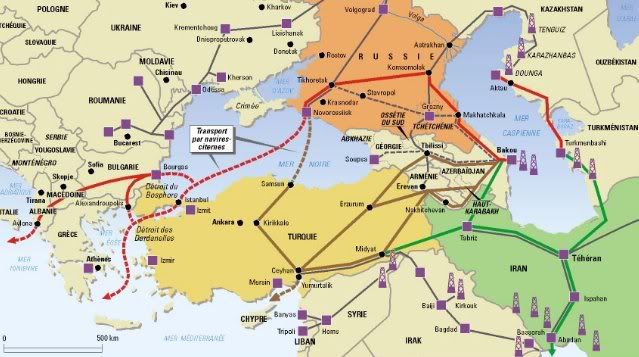 Mikhail Gorbachev, writing in The Washington Post on August 12, observed:
"What happened on the night of Aug. 7 is beyond comprehension. The Georgian military attacked the South Ossetian capital of Tskhinvali with multiple rocket launchers designed to devastate large areas. Russia had to respond. To accuse it of aggression against 'small, defenseless Georgia' is not just hypocritical but shows a lack of humanity. . . . The Georgian leadership could do this only with the perceived support and encouragement of a much more powerful force."
So as Gorbachev implies, does this mean that Georgia's invasion was a perhaps a "wag the dog" attempt to bolster the McCain campaign? Or was it solely a Georgian effort to embarrass Russia while Putin was at Beijing for the Olympic opening? Was it perhaps the "summer surprise" Karl Rove promised to a group of Dallas businessmen last winter?  Or was it the work of one of McCain's chief campaign directors, who was previously a paid lobbyist for the nation of Georgia, responsible for planting the seed in Georgia's president's head, that the US would back Georgia in its attack against the country of Russia?…
Wouldn't it be funny for any of the conspiracy theorists still floating around out there…. to put Karl Rove with Mikheil Saakashvili, Georgia's President, near Georgia just before the invasion? That would be just way too rich…..
Holy smokes… he WAS there ..
So why would Karl Rove be meeting with Georgian President Mikhаil Saakashvili who just happens to launch an unprovoked rocket attack on a sleeping civilian city just hours after declaring a cease fire with the South Ossetian separatist movement? And all this on the opening day of the Olympic Games. Hmmm.
Oh, Karl was on vacation… How convenient….
Remember that scene in the movie The Patriot where Bloody Tarleton burns down the church in which the villagers are hiding, with Keith Ledger's girlfriend being one of the victims? Vesti radio, a Moscow station is reporting that McCain's friends, the Georgians, did exactly that to a group of South Ossetians in the town of Tanara…
Remember that scene in the last Star War's episode, as the Dark Lord takes power and one by one, the Jedi knights are assassinated by members of their own troops? That too took place.. Russian peacekeepers "were killed by their own [Georgian] partners in the peacekeeping forces. There is a Russian battalion, an Ossetian battalion, and a Georgian battalion… and all of a sudden the Georgians, Georgian peacekeepers, begin shooting dead their Russian colleagues."
Those very hard questions are being asked among Georgians, right now… Why would their president do something bordering so close to the lines of lunacy?
The answer is, of course, that was confident he would be backed up by NATO, the European community, and the United States… But still, why on earth would he feel that we as a nation, bogged down in two wars already, would support his revenge war upon his province Ossetia, whom 99.99% of Americans had until he invaded, never heard of?
Because of the US, European, and believe it or not, Israel's desire for the pipeline coming from the Caspian region of Central Asia, to connection traveling through Turkey, and not being diverted instead through the Russian conglomerate network… Obviously Putin prefers the latter.. Most of the sophisticated weapons used during the conflict, were supplied to the Georgians, by Israel…
Finally there is McCain's foreign affairs adviser, whose partner received an $800,000 payment from the nation of Georgia just weeks ago… Obviously tied into the inner workings of Georgia's president's plans. McCain's adviser, commonly known as "Mr I-Was-Always-Wrong- On- Iraq"  Randy Scheunemann, would be in a very credible position to have advanced knowledge of the Beijing Olympics attack, and to have coordinated McCain's campaign with an event happening on the ground half a world away….
In a recent book, which just last week landed in the New Castle Library System, The Century of War, the case is made that if one of two opposing nuclear powers is able to first develop an credible, operational anti-missile defense, even primitive, that can dramatically weaken a potential counter-strike by the opposing side's nuclear arsenal, the side with missile defense has "won" the nuclear war.
That is the strategy behind our placing of missiles in Poland… If you can remember well enough, Poland signed the missile deal immediately after Russia extended their reach into Georgia proper….Until then, they had always played coy and balked….
Hmmmm. So let's see if we got this right….. We duped Georgia's own neocon president, Mikhail Saakashvili, into launching a  surprise attack against an overwhelmingly powerful neighbor, in order to ultimately provided our nation a defense against whatever missiles the Russians could send our way, should we at some later date, choose to invade an area (Iran?) that was deemed by them to be in their strategic interests… And through out the whole process, we could help send McCain into the White House, by drumming up an imminent war against our old foe,  "The Communists"….  Bloggers over seventy, still high as a kite off their blood pressure medications,  could then get all wet and excited and swing the vote over to McCain-Palin 2008.
All joking aside, this new venture will by viewed by the Russians seriously.
Just as we would be highly concerned if say the Russians provide military support for the breakaway province of Sonora, Mexico… Whereas our influence in Georgia would block Russia's strategic fist-grip over Caspian oil, the Russians in Sonora, would block our strategic access to undocumented workers…
Again all joking aside, this is no laughing matter… Because of the huge miscalculations being made across the board in this great mis-adventure, this international episode has Cheney's handwriting all over it… It was poorly planned, poorly executed, and poorly argued…
Yep, it's Cheney's all right….
Here is the evidence…as compiled by Mike Whitney.
"The United States and Israel are both neck-deep in the "Great Game"; the ongoing war for vital petroleum and natural gas supplies in Central Asia and the Caspian Basin. So far, Putin appears to have the upper-hand because of his alliances with his regional allies–under the Commonwealth of Independent States—and because most of the natural gas from Eurasia is pumped through Russian pipelines."
"As far as natural resources are concerned Russia's hand is very strong: It holds 6.6 percent of the worlds proven oil reserves and 26 percent of the world's gas reserves. In addition, it currently accounts for 12 percent of world oil and 21 of recent world gas production. In May 2007, Russia was the world's largest oil and gas producer."
Putin has proven to be as adept at geopolitics as he is at "deal-making". He has 1) collaborated with the Austrian government on a huge natural gas depot in Austria which will facilitate the transport of gas to southern Europe. He has 2) joined forces with German industry to build an underwater pipeline through the Baltic to Germany (which could provide 80% of Germany's gas requirements) He has 3) selected France's Total to assist Gazprom in the development of the massive Shtokman gas field. And he is 4) setting up pipeline corridors to provide gas to Turkey and the Balkans.
"Putin has very deliberately spread Russia's influence evenly throughout Europe with the intention of severing the Transatlantic Alliance and, eventually, loosening America's vice-like grip on the continent. Putin's overtures to Germany's Merkel and France's Sarkozy are calculated to weaken the resolve of Bush's neocon allies in the EU and put them in Russia's corner."
Putin is also attracting considerable foreign investment to Russian markets and has adopted "a 'new model of cooperation' in the energy sector that would 'allow foreign partners to share in the economic benefits of the project, share the management, and take on a share of the industrial, commercial and financial risks'". (M K Bhadrakumar "Russia plays the Shtokman card", Asia Times) All of these are intended to strengthen ties between Europe and Russia and make it harder for the Bush administration to isolate Moscow.
Putin has played his cards very wisely, which makes it look like the fighting in South Ossetia may be Washington's way of trying to win through military force what they could not achieve via the free market.
Clearly, no one, especially Cheney, was expecting Russia to react as quickly or as forcefully as they did. In a matter of hours Russian tanks and armored vehicles were streaming over the border while warplanes bombed targets throughout the south. The Bush-Saakashvili strategy unraveled in a matter of hours.
Poor Cheney. This past week he tried to drum up support for WWIII.
Cheney's week-long trip to the Caucasus was organized with two objectives in mind; to isolate Russia from its allies in Europe and speed up NATO membership for Georgia and Ukraine. He has failed on both counts.
Again Michael Whitney:
"The ashen-faced Veep flew from Baku to Kiev, from Kiev to Tiblisi, from Tiblisi to Cernobbio; rattling his saber and railing in typical Cold War style to anyone who would listen, but his efforts amounted to nothing. No one in Europe wants a confrontation with Russia or another decades-long year nuclear standoff. Besides, Putin has spent the last eight years building partnerships and creating an expansive energy network that provides vast amounts of oil and natural gas to European homes and industries. Europe depends on Russia now and wants to maintain friendly relations."
Sometimes prose is pure poetry. Ashen-face….how perfectly done.
Here my Republican friends, is how it happened. Cheney got bogged down in Iraq; Putin got Europe to see Russia as a better business partner. My Republican friends read the papers but can't connect the dots. While Cheney was in the Caucasus trying to drum up war… French President Nicolas Sarkozy was communicating to all parties and providing the solution.
The solution?   Keep stupid-ass, bumbling America out of the region entirely. This is the great Bush/Cheney/McCain legacy. The once powerful America, previously respected the world over during the Clinton era, has now been reduced to its mere shadow, a frenetic pool of celebrity struck gaga-girly-girls, chasing after any tidbit it can find involving a hot-looking 44 year old governor in a state with fewer people than Delaware…. That is the legacy of the Bush/Cheney/McCain administration.  Oh course my Republican friends can pretend like… it isn't so.. Of course my Republican friends can still  pretend like their party still has some self respect… But, as they will eventually find out…..sometimes truth hurts,.. sometimes you look inside your checkbook and realize that hey,… you are flat broke…No amount of blame-throwing, pretension, or ignorance will change that fact…. It's there .. It's a fact… and it hurts…
It's a fact that today no foreign power takes us seriously. Under the revolving leadership of French President Nicolas Sarkozy, the EU hammered out a deal with Russian President Dmitri Medvedev to replace Russian soldiers in South Ossetia with 200 EU observers who are scheduled to arrive by October 1. In exchange, Georgia agreed to Russia's demands not to use force against the two breakaway republics, Abkahzia and South Ossetia.
This went on despite Cheney's being in the area in an attempt to derail it… "Go home old man" the Caucasus region told him…. "Go home"… A once proud nation, the same nation that fought across two oceans.. the same nation that stood up against the seemingly unstoppable Soviet Union at Berlin, the same nation to which the whole world turned for guidance, and hope, and inspiration when the Soviet Union fell….has just been dismissed like a bitter, old fool, ranting and raving at a town meeting about a tiny crack in his stupid sidewalk…..
Russia has not only scored an important diplomatic victory; it has driven a wedge between Europe and the United States. And that wedge was not brilliantly orchestrated by an ex KGB officer who just happened to be elected President of Russia….. No,  it was undone by an American Vice President who picked himself for that position, and like Hitler before him, appointed himself to become his nation's Messiah of foreign relations.. Respect for our nation  was undone by the Cheney/Bush/McCain war in Iraq… It was undone by a Cheney/Bush/McCain attempted war with Iran. It was undone by the Cheney/ Bush/McCain miscalculation over Georgia…. It was undone by Cheney/ Bush/ McCain disdainful treatment of all foreign governments.. it was undone by a total disregard for any nations interest other than our own….Because of Cheney/Bush/ McCain, the beloved world respect for this nation which we had under Bill Clinton, is now gone forever…. Because of Cheney/Bush/McCain's malfeasance, this has become the manifestation of our new world order,.. one first declared by Putin in Munich two years ago, and just reiterated recently by Russia's new president Dmitry Medvedev.
"The world must be multi-polar. Single polarity is unacceptable. Russia cannot accept a world order, in which any decisions will be made by a sole nation, even such a serious one as the United States. Such a world order will be unstable and fraught with conflicts."
Because of Cheney/Bush/McCain…… today the rest of the big players in the global economy agree… The world must be multi-polar….
Because of our nations Republican philosophy's lack of vision, the future of America will be darker than its past… We are in grave danger of being marginalized as was the once all=powerful Britain during the past century…
Again Michael Whitney:
Russia's ties with Europe threaten to shatter the increasingly fragile Atlantic Alliance which is lashed together by G-7 banking cartel. If Europe sees a continuation of the same belligerent Bush unilateralism under the next US president, the popular backlash in Europe is likely to sever the Alliance once and for all plunging the United States into forced isolation. Reasonable people should want to avoid that possibility.
Back to Cheney. Cheney's Caucasus gambit is a desperate attempt to stir up trouble while making a last ditch effort for the oil and natural gas of the resource-rich Caspian Basin. So far, he and his colleagues in Big Oil have nothing to show for their 20 years of labor in this region, except a few under-performing puppets in Ukraine and Georgia.
Cheney is more disliked in Central Asia than he is in the USA. In fact, when Cheney arrived in Azerbaijan, neither President Ilkham Aliyev nor Prime Minister, Artur Rasizade, even bothered to meet him at the airport. Politicians everywhere know that its is political suicide to even be seen with him.
Since most of you probably don't pay attention to anything outside of Alaska these days, here is Cheney's current track record, vis a vis the Soviet Union…..
A. Iran declared it opposes any underwater Caspian Sea pipeline for ecological reasons, thereby stopping the Central Asian bypass of Russian control.
B. Moscow has clinched a new pipeline that will carry natural gas from Turkmenistan to Russia and signed a contract that will give it virtual control over Turkmenistan's gas exports.
C. Russia has also put out feelers for the establishment of a global gas cartel, an idea that it has discussed with Venezuela, and which is certain to put cartel members on a collision course with the White House.
D. Venezuela has also invited three prominent Russian companies to take over from their American counterparts, ExxonMobil and Conoco Philips.
E. Russia has agreed with Beijing on an energy initiative that would involve Russian oil and gas heading away from Europe toward Asia.
F. The Kommersant newspaper reports that Cheney was very annoyed by the results of the meeting with President Aliyev and even refused to attend a ceremonial supper in his own honor. Big Baby.
G The political progress the Bush administration felt they had made by fomenting the so called "Orange Revolution", now hangs by a thread. Popular sentiment is increasingly supportive of Moscow over Washington.
H. A major setback for Cheney and his friends at the far-right Washington think tanks who believed they were well on their way to encircling Russia and achieving their territorial ambitions. Ukraine will not be joining Nato anytime soon.
G. The Bush administration's aggressive lobbying hasn't persuaded any of the main players in the EU to support punitive measures or sanctions against Russia. The EU prefers diplomacy over belligerence.
H. As for the EU, there's simply no interest in provoking Russia and risking the cutting off cutting off vital resources to energy-dependent European countries. Common sense has prevailed over Bush's "freedom agenda.
I. And finally to wrap up his trip in Italy, Cheney was forced to the conclusion that his dreams have failed miserably. His tactics have backfired. His anger all this time has been misdirected… It should have been aimed directly at himself… In his own words, he echos the criticism the world throws back in his face…
"They (Russia) cannot presume to gather up all the benefits of commerce, consultation and global prestige, while engaging in brute force, threats or other forms of intimidation against sovereign countries…No part of this continent should leave itself vulnerable to a single country's efforts to corner supplies or control the distribution system"
Facts don't lie… Sometimes the truth hurts….
It is understandable that Cheney would be upset over Moscow's success in securing crucial hydrocarbons and pipeline corridors via the free market while the US has languished in Iraq and Afghanistan with nothing to show for its efforts except one million dead Iraqis, 4 million refugees, and a legacy of disgrace.
I'm sorry, I can't remember… can someone please help me again…What was it we wasted over 4000 American solder's lives for and are putting 140,000 American lives at risk for ….every day?
Americans will one day wake up and realize they have been duped by quite a few people, really…Republicans, CBS, CNN, MSNBC, ABC, NBC, Gannet News Services, New York Times, Washington Post, FOX News, Los Angeles Times, The awakening is inevitable…it has already started outside our sphere of influence… Eventually it has to happen here sometime… Facts are what they are… Eventually the sand hiding them blows away, and there they are….looking back right at us, plain as day.
The whole world watches us to see whether we wake up before the election,… or afterwards…
Meanwhile we are in the middle of our exotically spicy wet dream…. ummm Sarah…..
How come this country can't come up with someone of Gorbachev's stature when we most desperately need one?
If there was ever a time for a new direction based on expert advice and not on "a gut feeling"…. it is now.
There are less than 50 days left to save America…
McCain and Palin just won't cut it… Times aren't la-de-da fun and games anymore.. One man in control over all his minions, including the elected president of the United States of America, has collapsed in the cockpit, and forced this nation into a death spiral at full throttle… To save ourselves we have to first pull the body out of the seat, then pull back on the stick, and hope we do it before the ground races up to obliterate us…
It's not fun and games this year.  We can't sit back, wring our hands, and do nothing.  It is up to Biden and Obama to save us now… Americans, this time, have a duty to give us our version of a Gorbachev, a real hero….
From the San Francisco Chronicle:
The Senate will decide this week whether to follow in California's footsteps and pass legislation requiring cuts in U.S. greenhouse gas emissions to combat climate change.
Lawmakers are set to vote Monday to begin debate on a bill that could reshape the U.S. economy by requiring industry to pay to emit carbon dioxide and other heat-trapping gases.
Opponents call it a new tax on industry that could raise gas prices and energy bills for consumers.
Now before I knew anything about wind power coming to Delaware, I would be apprehensive about taxing carbon and "increasing the costs to power plants, distributors, and consumers…….
But knowing what I now know, that all carbon prices are about to go ballistic as did our automobile and truck fuel, the faster we leave a carbon based economy, the faster we will pull out of this recession.
Congess just cannot slap the tax on carbon immediately. My recommendation is to start the tax in 2014, giving America 5 years to wean itself off carbon based electricity. Five years could do it…
Wind, particularly offshore wind, if built large enough is the cheapest form of energy available to us today. If solar improves to where it crosses the 10 cents/kwh barrier, it too can become a player….
There is enough wind power capacity in North Dakota to fuel the entire grid of North America…..
The financials show it could be done today for 2.3 cents per kwh… Imagine, all of the US energy needs met at 2.3 cents per kwh. Your $200 monthly electric bill would instead be $40 dollars. Which is right about where it needs to be…….
But not all the wind needs to come from North Dakota, even though it has tremendous potential……Up and down the Eastern seaboard, giant wind farms could drop our prices and save on long distance transmission costs…. From Texas to North Dakota, the wind belt could drive America's mid section energy prices down to a tolerable level…..
By dropping worldwide demand, we could stop our dependence on energy coming from the Mid East. Being the sole planetary source of 2.3 cents per kwh of electricity, our manufacturing base could again begin to grow in places where it once walked away from union labor……Ohio and Michigan. What automobile company could pass up savings of 20 cents per kwh over what the paid in their home country?
Back to Carbon caps and taxes…..Taxing something that is bad for you at a rather high rate, is ironically a very good thing. It forces you to wean yourself off its toxic properties and seek another solution. It does so expediently. Forcing you to move quickly before your money disappears..unlike a government directive facing appeal after appeal after appeal…….
So raising the price of carbon is in the cards…..the higher the tax, the faster we move to a really cheap source of energy and power…..cheaper than all but the oldest of you can remember……
And if timed right, it won't cost us a penny. For paying a million dollars for a kwh of coal fired electricity is moot, it there is no kwh of coal fired electricity left to be taxed…. …..