You are currently browsing the category archive for the 'nuclear weapons' category.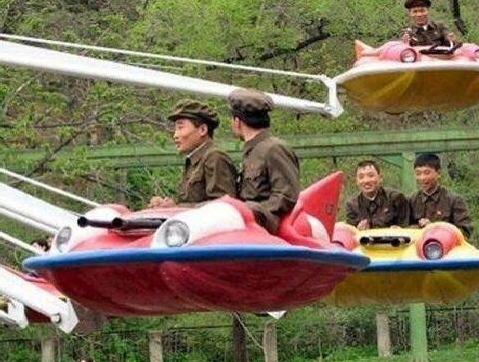 Courtesy of lolsnaps.com
When attacking an enemy it is best to hit them at their most vulnerable part….
With North Korea, that would be to sever the support their leader and the military gets from it's people. The entire extravaganza is being perpetuated for domestic consumption.. There are some serious cracks appearing in the North's support for the "kid".  And why wouldn't there be?  What legitimacy does he bring as the head of state?
In the past year, things have gotten worse for the citizens of North Korea.  This saber rattling is the "kid's" last chance to lead… Rumors abound of multiple  future plots being devised against him….
It is in the US and the rest of the world's best interest to make this dissolution happen. Someone less irrational, smarter, and a lot more stable would make everything in that region settled and stable.
Aggressive Military action has the opposite effect.  When the state is threatened people flock to the leader. Just look how democrats flocked to George W. Bush.  Engaging the "kid" in military fashion will solidify the people behind him….
Our goal is to have the people solidify behind someone else.  At the same time, keep our military prowess at top proficiency to prevent others from taking  us on simply thinking we are weak….
Here is how.
If provoked, we take out North Korea's air defenses.   Then we airdrop food by having it parachuted into starving neighborhoods with the words,  from your friends the United States of America….
We do and the point gets made.;. Gee North Korea, if you'd just take care of the "kid", your lives will quickly get a lot better.
The only recourse the kid would have, would be… see I made them drop food for you….
North Korean's aren't dumb.  Just knowing that the world is pulling for them to rid the "kid" might be enough to make one of those current rumors swirling around the impoverished countryside, turn into reality…..
A. A woman, with two small children, separated from an abusive husband. He has just started violating a no-contact order, and is making threats over the upcoming divorce.
B. A father of three boys, married, lives in rural area. Owns 97 acres of woods. Has a two mile driveway. Then fifteen miles of one lane road to the nearest major highway, whose junction is 38 miles from the nearest police station.
C. A 15 year old urban dropout, who was jumped and beaten up badly when he was twelve in an act of random violence; he was in the wrong place when they were looking for something to do, allegedly to "teach him a lesson"; the reality? There was no reason for it.
D. A thirty year old man, who was raped over 100 times while a child by a neighbor, and that neighbor now is politically well connected, who boasts on talk radio of how big his arsenal is….
E. A bright, attractive professional woman of twenty five, who has a high powered job, lives alone out of necessity and convenience, lives on an international schedule, enters and exits often between midnight and 6 am.
F. A 43 year old mother, who at 18 became state's witness and testified against her acquaintance and he, is being freed tomorrow, sentence done….
G. A 62 year old pill popping DJ, who excels at conservative talk radio, by stirring up hate, spinning lies into truth, and coining derogative names to be recycled by bitter old white me, like "femminazi's"….
H. Pastor Washington, who has taken the calling of walking around the inner city on very cold nights, and persuade homeless people to swallow their pride and come inside to a warm shelter…
I. One day, you?
As predicted in a post below, Iran is using the cover of Gaza and was caught removing spent fuel from the Russian reactor that had been signed over to it.
Most people believe Iran is so significantly behind in the spent fuel enrichment process, so this matters little. However, the comment that was given to the press by the security officer at the site was rather interesting in its bluntness.
"Pay no attention. Everything is under control here."
"That is exactly what I would say if I was up to no good…
Here are excerpts quoted from Reuters in the Chicago Tribune….
The U.N. International Atomic Energy Agency said in a report two days ago on Iran's nuclear program that fuel was unloaded from the Bushehr plant in October and transferred to a spent fuel pond. Russia is required to import the spent fuel back into its country.
It was plugged into Iran's national grid in September 2011. it reached 100% just months ago, August 30th. Iran did not give a reason for this past Friday's fuel removal at the 1,000-megawatt reactor near the Gulf city of Bushehr. A diplomat familiar with the issue said it meant the plant was shut down.
Early last year, Iran said it was having to remove fuel for tests.
Mark Fitzpatrick, a nuclear expert at the London-based International Institute for Strategic Studies (IISS) think-tank, said that early fuel removal at Bushehr in the "worst case" might provide weapons-usable plutonium.
Ali Asghar Soltanieh, Iran's envoy to the IAEA, suggested "It is a "very normal technical procedure (during the transfer) … to make sure every safety aspect is taken into consideration," he told Reuters, without giving details.
Bottom line: a nuclear plant that has been under construction for 37 years, finally goes on line 2 months ago; within months it apparently gets shut down, and while all eyes are on Gaza, the spent fuel is removed under only Iranian supervision….
Of course it could be nothing to worry about…. but on the other hand, it could also be that the timing of Gaza's rocket attacks upon Israel, was anything but randomly decided.
Bristol Palin and a friend go for lunch at McDonald's where she eats a salad on Wednesday (September 29) in Los Angeles.
The 19-year old was recently at an Anchorage bar where her Dancing with the Stars partner Mark Ballas performed. However, the Palin family attorney says that Bristol was with two people over 21, ate food and did not consume any alcohol.
(Point is: I give up ) If no one else wants to talk about the issues, especially when it comes to Christine O'Donnell, then why should I bother. Apparently our children's future will be decided by what our candidates eat. not by what they say, do, or to whom they owe money…
Has anyone talked about O'Donnell's platform? No?
We vote in 31 days.
Hube…
If government entities were all supposed to allow guns on their premises, then why do we spend so much money at every governmental building to insure that no firearms enter that very building?
Because those inside do not want to get shot…
If that is good enough for the General Assembly located in Legislative Hall, it is good enough for residents of Public Housing.
At April 4th's NATO summit, Barack Obama was appealing for support. During these recessionary times, his appeal may fall on deaf ears. Although many countries would like to assist the US in accomplishing it's peaceful goals in that region, they are out of money and would have politically a difficult time spending their nations resources halfway around the world from where they were more needed…
But despite the odds, the US has ratcheted up its own strength on the ground, and is looking for others to help do the same..
Adm. Michael Mullen, the Chairman of the Joint Chief's of Staff put it this way: the security situation in Afghanistan cannot improve until there's economic and political development in Afghanistan.
In other words we need to fix the economy in a nation on the other side of the world, simultaneously while fixing ours here at home…
The military problem inherent with fighting in Afghanistan, is that whoever holds the high ground, cannot be routed… The British tried but were unable to conquer. The Russians tried but our Stingers stung them.. It is now our turn…
Since the British were able to hold influence for over a period of a hundred years, and the Soviets barely held on for ten, it makes since that we should mimic the British approach as opposed to the choices made by the former Soviet Union….
What we can learn from the approaches of these two former powers, is that the only way we can make inroads in that territory, is to get the local population on our side…
The Victorian British were practical people. They realized that in a mountainous terrain, holding the entire country was impossible. Instead, they realized that controlling certain choke points could control the territory… That is how their handful of soldiers were able to subdue a vast area of wild, moutainous wilderness..
To win Afghanistan and Pakistan, we need to be seen by the local population as "the heros", and our opponents need to be seen as "the enemy"…. . In planning to insure our safety, half a world away, and with the possibility that Pakistan's nuclear weapons may fall into the hands of a nutty Taliban, failing our own Iron Man, we need a practical hands-on ground-approach that utilizes the local population working in our favor…
Our plan should be thus…
A. American armed forces are understood to be there simply to protect those locals who choose to support us, from retalitory attacks by the Taliban.. We have no imperial aspirations.
B. All Afghani's and Pakistani's who support us, are given free medical, dental, and health care. Feedback from the Special ops in the Phillipines, Columbia, Horn of Africa regions are consistent in the proof that medical care, is our greatest political tool… When the United States of America saves a man's child from certain death, we gain a friend for life… The Taliban, of course, have no counter weapon, except to randomly kill citizens of villages who choose to accept our free offer… That, of course, then opens up a goldmine of intelligence for our nation, and utilizing our armed forces can eradicate the problem rather quickly thanks to the better ground-game intelligence.
C. We must be respectful of their religion.. The British were.. The Russians weren't… Religion provides a reason to keep fighting, even when there is none… We need to respect its power, and remove religion from even being an issue. We must make it clear that we are there to protect our allies… We are not there to eradicate our enemies… They will be around forever.. Instead, our goal should be to make them see that their lives will be far better if they fight on our side, than if they fight against us..
D. Which means we have to "put up"… We have to get rresults, to make sure their lives ARE better because they support us. These are not just glib words, or press releases, or photo ops, or video shoots, all propagandizing for the folks back home so America can croon with a collective "Ahhhhhhh", and feel good about our efforts to "help" other people. These are determined by real results on the ground… determined by whether the people defy the Taliban to support us.
By real results on the ground, we mean educated students; we mean eradicating simple illinesses; we mean installing enough security so men can lay down their guns and play a game of football… We mean fostering an economy that feeds its own population…
If we were as smart as the British, we would buy the opium crop from indigenous farmers, and use the profits once sold over here after processing, to pay down our national debt… Just having us buy the poppies, would cut Taliban support instantly. Instead of this cheap reasonable approach, we choose to send recruits pouring into the Taliban's training camps each time we attempt to starve them by spraying their fields down with weed killers…
And finally we need to use this potential catastrophe as a portal to the new age, a new allignment. We should not be the ones policing Afghanistan or Pakistan. It should be the Chinese… It is closer to them, and by us even being there, no doubt we are making them nervous.. Imagine our concern were Mexico to be filled with Chinese Regular Soldiers?
E. We should take this opportunity to establish joint operations with the Chinese and work with them upon taking some international responsibility.. Doing so will later will later give us the possibility of pulling out and letting them run things, similar to how the Europeans now handle a similar disaster that occurred in the former Yugoslavia just a decade ago…
The Chinese are the ones who have the most at stake of preventing a nuclear conflageration off their southern border.. They have manpower and muscle to make the changes required of that region.. Our long range goal will be to teach them how to be a "good" international power, and then as we pull back, allow them the opportunity to rise to that challenge…
F. And we need to use our talents to muzzle the fanaticism of the muslim religion in that part of the world. Religion is good. Fanaticism is bad… We as a nation, and hopefully with the Chinese at our side, need to outline the distinction between being a muslim by one's actions, and being a muslim in name only; ie, not adherring to the teachings of Mohammed himself….
G. We need to stand up in support of the rights of women, and push forward the moderate version of Islam by refuting its insistence that women are nothing… By taking on that challenge, we earn the trust and respect of at least 50% of the population who may remain silent in front of their gun carrying spouses, but who secretly want us to win…
That my friends is how you take a country like Afghanistan, a country that has never been subdued, and turn it into a force for good…
It requires a practical approach unfettered by the poison of conservative philosophy…
It will require more ground forces…
Let us hope that the other, more important services such as medical, educational, and self sustaining economics, will be forthcoming to every Afghani or Pakistani in the very near future.. For removing from consideration their fears of starvation, infection, and economic survival, will create an environment where our aims are achieved with a minimal amount of military involvement.
Our military is there solely to protect those who choose to come to our side… To those choosing to stay apart and live otherwise as long as they leave us alone, we should return their show of respect and do just that: leave them alone…
That will be a future problem for the Chinese.