You are currently browsing the category archive for the 'news blackout' category.
Adolphus A. Busch IV, heir to the Anheuser-Busch beer fortune, resigned his lifetime NRA membership last night in a blistering two-page letter that called the gun lobby nothing but a corporate shill!
Acknowledging  the NRA is nothing but a overused scummy prostitute, Mr. Busch asks these questions….
A) Why did the NRA reverse its original position on background checks?
B) How can the NRA disregard the overwhelming will of its members?
C) How do assault weapons and large capacity magazines have any role in the original NRA vision?
D) The NRA I see today has completely, unequivocally, and undeniably undermined the values upon which it was established….
E) Your current strategic focus clearly places priority on the needs of gun and ammunition manufacturers while disregarding as irrelavent the opinions of your 4 million individual members."
So for people like Dan Short, State Senator in favor of guns, as well as for those who sneak off to another state to shoot pigeons in boxes, here is the simple math….
Budweiser =  real manly man.
Budweiser  ≠  NRA
Real manly man  ≠   NRA
Therefore NRA  =   sexless impotent men who wear Victoria Secrets finest under their pants.
Boo NRA people….  no one fears you anymore.  You are just a concubine good for only one thing….
So bend over.
As one progresses through life one becomes more humble.  When young, one believes it is his own actions that create his or her success.  Old age tells us it was just luck.  We see others come later, more talented, smarter, better looking, not achieving what we once did.  We have to accept we were just simply in the right place at the right time to grasp an opportunity.
Being thoughtful people, as one sees more, one ponders more.  Similarities do take place on opposite sides of the globe.  Similarities that perhaps could be random, but for them to occur in non random frequencies, belies something else might be in play.
It is with that in mind, I notice that across the red states of the United States, primarily a bastion of fundamentalist conservative theocracy, the weather is changing. Basically, there is no rain…. Secondly I have noticed that the weather in Oklahoma is every year, corresponding more and more like those dry, hot , sandy climes on the other side of our planet, which coincidentally, are also occupied by a bastion of fundamentalist conservative theocracies, practicing something very similar to Oklahoma policy but over there it is called Shara Law…
The unproven theory, one derived deeply out of the forges of possibility from quantum mechanics, is that as we evolve to think like Muslims, our weather evolves to behave like we are Muslims.
Currently there is no difference between those thought processes and actions of  legislatures of Oklahoma, and those existing in Muslim countries like Pakistan, Somalia, and Yemen…
The climate is racing to catch up to the Middle East with this three year drought in Oklahoma…. 
As any follower of monotheism well knows, when a people sin and go the wrong way, the weather catches up to punish them.   I simply am offering that is what is happening in Oklahoma…. 
You heard it yourself….. $5 Trillion Romney promised to cut in taxes, plus the $1 Trillion deficit already projected for 2013, plus $2 Trillion he is adding to the military budget over what Pentagon experts say will be pure waste…
Romney says it will balance the budget…. Those three numbers will equal 0.
$5 Trillion Plus $1 Trillion Plus $2 Trillion …. with no cuts (except Big Bird and Lehrer) will create a balanced budget.
These guys are literally insane… The Queen in "Alice In Wonderland" had better logic….
5 + 1 + 2 = 0 Really? Really? REALLY? REALLY? REALLY?
And YOU are saying … Obama lost the Debate?
5 + 1 + 2 = 0
There is just no way I can be the only person in this country who sees Obama just got Romney to lose this election. But of course, if all of you continue to focus on how well Mitt is doing, and fail to make THIS the issue, math that every American can understand, … well then, shame on you.
5 + 1 + 2 = 0
"I'm not familiar precisely with what I said, but I'll stand by what I said, whatever it was." Mitt Romney 2012
Supposedly on Newark High School's Junior Varsity, is a future threat to High Schools across the conference….
Playing linebacker next year, he has already given 10 concussions, broken 5 opponents bones, and had one kid tell the coach, he was the reason that kid wasn't staying on the team anymore…..
I heard this with raised eyebrow, and wondering if these values are truly the ones we want our kids to work for,…. decided to pass it on.
Lifted from Der Speigal:
And so the farce continues. The more mind-boggling its incarnations, the happier the US media are to cheer first one clown and then the next, elevating and then eliminating "frontrunners" in reliable news cycles of about 45 days.
Take Herman Cain, "businessman." He sat out the first wave of sexual harassment claims against him by offering a peculiar argument: Most ladies he had encountered in his life, he said, had not complained.
In the most recent twist, a woman accused Cain of having carried on a 13-year affair with her. That, too, he tried to casually wave off, but now, under pressure, he says he wants to "reassess" his campaign.
If Cain indeed drops out, the campaign would lose its biggest caricature: He has been the most factually challenged of all these jesters.
As CEO of the "Godfather's" pizza chain, Cain killed jobs — but now poses as the job-creator-in-chief. Meanwhile, he seems to lack basic economic know-how, let alone a rudimentary grasp of politics or geography. Libya confounds him. He does not believe that China is a nuclear power. And all other, slightly more complicated questions get a stock answer: "Nine-nine-nine!" Remember? That's Cain's tax reduction plan that would actually raise taxes for 84 percent of Americans.
Has any of that disrupted Cain's popularity in the media or with his fan base? Far from it. Since Oct. 1, he has collected more than $9 million in campaign donations. Enough to plow through another onslaught of denouements.
In following this movement I have notice one thing. A lot of effort is being made to keep these viral videos showing Police brutality, under wraps.
As the news broke about the University of Davis public relation's disaster, YouTube tried to suppress the video. It was on a search list, then pulled. ABC news published a white washed version without video, extolling the rowdiness of the students, nothing backing it up. Fox News was last to carry any mention. CBS flashed up the press release from the Chancellor condoning the use of force to remove tents, and saying it was absolutely necessary.
Only "the truth" of video, was their undoing. When what is now being called "The Empire Strikes Back", when Homeland Security coordinated the police sweepings of the camps of Denver, New York, Portland, Oakland, University Berkley, they seemed to not to account for the fact, that everyone today has a video camera, either on their phone or in HD.
Actually proving that people think in preconceived patterns, they BANNED the press from filming the police moving in… obviously not wanting any provocative pictures to sway peoples opinion. They seemed to have forgotten, that in America, everyone has video. Perhaps had the press also been allowed to film the cleanup, more restraint would have been shown by rogue police, and these events now galvanizing the OWS Movement, would not have taken place…..
Boston, the heart of Brain USA ( Braintree is their suburb) actually forbid the police from doing anything to interfere with people expressing their constitutional right to protest. Brilliant. One has to hand to to those Mass'es…
Here is how to handle dissent effectively.
Don't hide, run into the problem. Send the mayor into the Occupy Camp, unarmed.
As mayor, specifically say you agree that the 1% needs to be taxed and that their money needs to be gotten out of politics. As mayor, ask them for help, to make that happen. As mayor embrace the idea that low taxes on the wealthy create unemployment, unfunded mandates, too little money, and unfunded services.
As mayor, use the press to endorse the OWS Cause, saying these people who are camping here, ARE America's true heroes…
To make them fade back into society we need to tax the rich, and remove corporate money from every political campaign.
If, by magic that were to happen today, within one week, there would be no tents. There would be no protest… There would be no grievances.
Tax the rich; remove corporate money from all campaigns.
Delaware Liberal has the link. Here is Governor Markell's offer to the Occupy Movement and why that offer was unacceptable, even to the most reasonable…
The event area shall be to the north of the Interstate 95 overpass bordered by the north bank of the Brandywine River and North Park Drive and may extend northwest from the storm water culvert to the area adjacent to the ñrst dam up river. Please see attached map.
In this location the only people seeing this encampment would be those living in the upscale apartments. It would be invisible to the rest of the world.
Imagine the former Mayor Baker going to the city, hat in hand, asking to protest the fact that Wilmington's population was being treated unfairly because they were not white, and a ahort, pot bellied official, strode out of his Lincoln with Longhorn's attached to the front, and with a horn blast the echoed the "charge" theme played at high school football games, says, " Sure, we've got the perfect place for you… Go 5 miles out of town, take a left by the country store, go ten miles along that road, till you pass the last farmhouse, and there, in the forest, you'll see a split in the road, take the left one and go six more miles and you will see a clearing left by the logging operation years ago, and you, can have your demonstration right there. I'll write the permit right now….
The message from the Markell administration was equally insulting. Sure, have your little camping trip out where no one can see you…
"This is not Camping Delaware. It's Occupy Delaware,
"The tents are the statement. If the tents are in a campground, that's not much of a statement." – Akiva Dejack, Occupy member.
The Tea Party got the Mall in DC. Occupy Delaware gets a spot accessible only by an apartment complex driveway.
Totally unacceptable.
Moving on.
Permittee may not congregate, solicit the public, display signs, or distribute materials outside of the above mentioned designated area.
Really? For a protest, you are limiting their right to protest? Are you serious? Did you have limitations of Markell signs, those white plastic ones scattered across the entire state back during the summer and fall of 2008?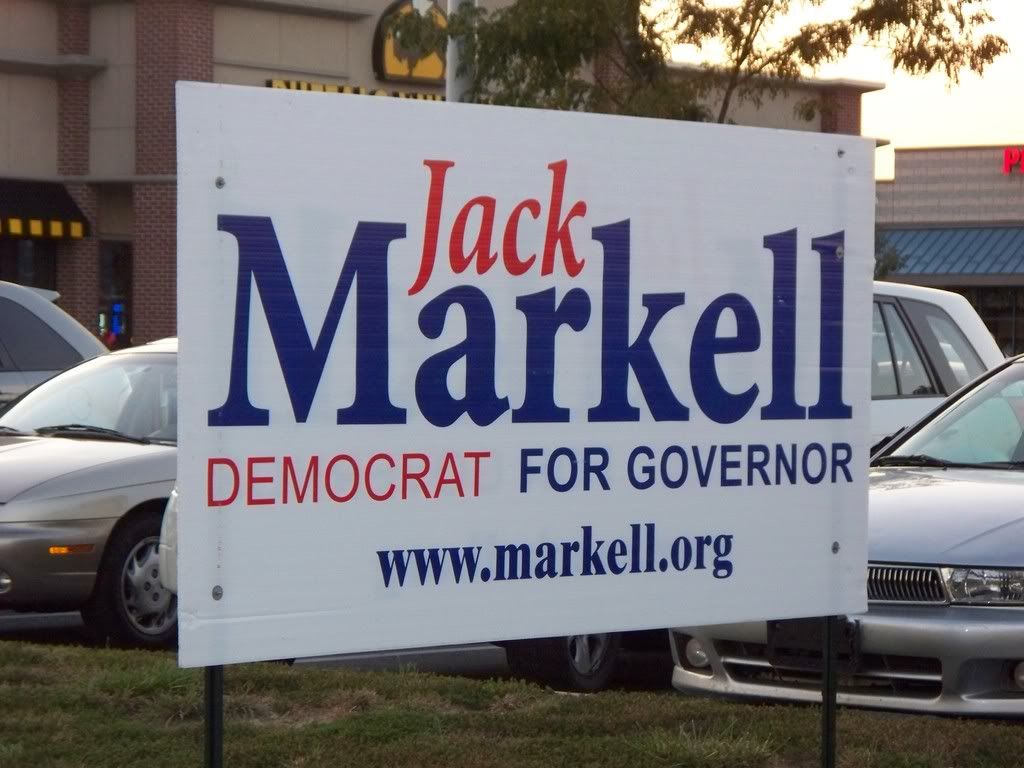 Right click on Picture for full image.
"Sure, you can run for governor, but you won't be allowed to hand out any campaign literature or post signs, unless it is in your own front yard?"
C'mon… You call that a fair offer? These people are protesting everything that's gone wrong because Republicans took over in 2000! And you're going to hide them up a cul de sac? Seriously?
Did you forget that if Republicans had lost that election, there never would have been a derivative driven financial crises? Our National Debt would have been "paid in full" as of 2008? We'd wouldn't be discussing cuts to the budget; we'd be debating upon which project to invest our Federal Funds for the next year?
So the permit was rather insulting. It did not meet the Constitutional muster required by the state to allow a peaceful protest. The tents are their protest.
In fact, "Occupy Boise", a Tea Party State if there ever was one, is having no trouble putting their protesters in a conspicuous spot. And we know Idaho.
Listen to this:
She was pleased with the meeting. "As long as they can keep control of their participants as they move forward, I think everything will be fine," said Luna.
Occupy Boise agreed to provide state officials with a copy of the "code of conduct" and the operational plan. Gunderson said "legal observers" would watch the camp and record video of any conflicts or issues.
Gunderson said the cities where protesters have clashed with public officials have garnered the most news coverage. But Boise is taking its cue from places where things have been more amiable, including Philadelphia.

If anything can be done in Philadelphia, it certainly can be accomplished in Delaware.
Well, Wilmington "could" be called River City. We have the Christina joining up with the Brandywine, both dumping into the Delaware Rivers… (For those reading this under age twenty-three, the headline alludes to a scene in the Movie "Music Man" starring Robert Preston.)
The article is here and the headline reads: Occupy Delaware members vote to defy law, stay in Fletcher Brown Park
Well, yes.. and no. Yes they opted to stay in Fletcher Park Saturday evening after contact with the Markell administration promised no eviction would take place that night if they promised they would not be there for when the day care brought out the kids. In other words, if they left Sunday night…
Since the group had voted that they would leave Sunday night, upon finding that there was no reason they had to pack up and move, … they voted to stay camped in Fletcher for just that one night…
The headline, omits the fact that a vote was taken prior and that the group with the exception of three who voted, was emphatic that they did NOT want to be in the park and disrupt the children's daily routine.
That is rather commendable. The reporter was present, and knew this.
Why did it not get reported?
The answer can be seen in the comments and at Delaware Politics. The head of that blog, a good man, jumped on the article and lambasted the Occupy Movement based on this articles faulty information… Based on the same faulty information I TOO WOULD HAVE LAMBASTED THE OCCUPY MOVEMENT. But the News Journal information is that: faulty, slanted, and misleading.
Likewise, the comments attached to that article's bottom are all slanted against "the anarchists" who do not respect the rule of law. Some rather prominent people were at that meeting; some of whom have run for city office. Rather interesting is the fact that they would be painted as being against the rule of law.
The News Journal cannot plead it was a mistake. THEY WERE THERE. THIS WAS SLANTED PURPOSEFULLY.
If you want the facts, they are this. The group conducted an open forum style of democracy. The entire movement voted first (two straw polls had been taken so far) to leave that evening (Sat) and set up in the Brandywine Park to meet the specs of the permit. When that became difficult to do because of the late hour, it was announced that the authorities would waive the requirement to not camp overnight, but would not waive it the following evening because of interference with the nearby preschool…
So, based on the permit … the Occupiers overstayed their welcome. Based on the word of the administration, they would be allowed to stay that night.
Depending on your interpretation, you could call it breaking the law. I would not call it that. Just like if told by a police escort to follow him through red lights to the Emergency Room, I would not consider that breaking the law as well… I would do what he said.
So why did the News Journal bend over so far backwards to mislead? Only they can answer that. (Here is their subscription number;1-800-801-3322; wanting new revenue, they ALWAYS answer their phones) and they can transfer you to whomever they want: but someone will at least hear your message. If you want the reporter directly, Contact Esteban Parra at 1-302-324-2299 or eparra@delawareonline.com.
Shoddy Journalism. Tsk, tsk. Almost to the point of lying.
Definition: Where American spending was brought up to the level where it should be, without the necessary revenue to support it.
(As evidenced by 154,000 private sector jobs being created in July.)
The problem is not with spending. The problem is the lack of taxing of the top 1%. The spending seems to be doing its job.