You are currently browsing the category archive for the 'military buildup' category.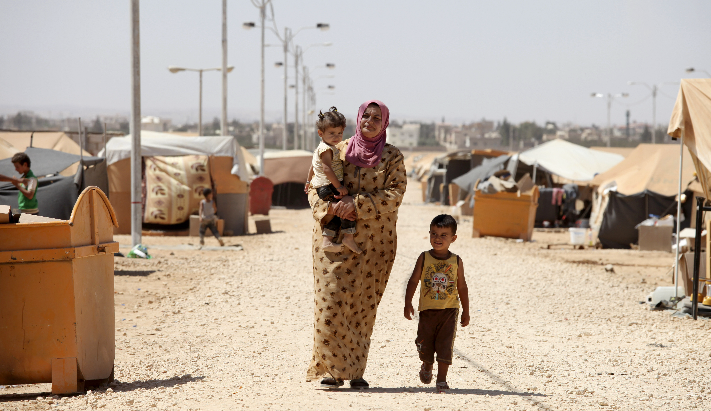 Senator Coons just returned this week from the Middle East. Lindsay Graham, Kelly Ayotte, John McCain, Sheldon Whitehouse, Richard Blumenthal went as well.
Jordan and Turkey have welcomed Syrian refugees with open arms. The camp visited, Zaatari, is at a population of 42,000 and absorbing 2000 a night. They need help before their scarce resources cause tensions within their own country.
This affects the US… Aid is in the United States' interest. If we can provide aid to the rebels on the ground inside Syria we are preventing a much greater future cost of a full blown jihadist regime sharing a border with Israel….
Currently the aid we actually are providing is going through NGO's into Damascus, where the Syrian government is distributing it to their supporters and away from the rebel towns who are hardest hit. The American people believe this aid is reaching the population they see on their televisions. Sad thing it isn't.
The Assad administration is" dug in pretty hard."
It is clear that air power is needed to protect people from Syria. A no-fly zone would even the odds. Currently the jihadists can stir up unrest. The war gives jihadist opportunity, The jihadists are the better fighters. When you as a people are being tortured and killed, the people fighting alongside of you gain legitimacy. Extremism always thrives inside anarchy. Any money now spent to facilitate the end of Assad is cheaper than what we will be grappling with jihadists at a later date.
It is time to give the Syrian Opposition Council more legitimacy, by recognizing it's rightful representation of the Syrian people
The window is closing for the US… Either we act now, or get caught inside another Mid East bubble just as it explodes….
Here is how we move forward.
A) Step up Aid to Syrian People
B) Send aid to Turkey and Jordan and direct to refugee camps.
C) Apply to Assad to US to accompany aid into Syria and to those opposition towns inside.
D) When he refuses, enable a No-fly zoned over the Rebel held zones to enable OUR AMERICAN aid to get through.
E) Step up diplomatic pressure on Assad and his supporters to step down…..
F) Invite China to be part of the peace process and send humanitarian troops and infrastructural aid…..
Israel is going forward with 1200 new settlements on the West Bank.
Expect the truce to end tomorrow afternoon as rockets arch the skies.
Once again, Israel takes advantage of what it believes is the US's inability to think for itself.
Our proper response, is to demand they stand down. When Israel says no, tell them our support for their country depends on no new settlements. If they go ahead, they do it alone; tell them as of now we begin our withdrawal in one week…. We stop when we hear they have voted to stop all new settlements.
This is not about friendship; we will always have a love for Israel. It is about business. Every insurance company has the right to decide whether to insure an at-risk beach property, or not. The United States of America is Israel's insurer of their right to exist. Israel's actions have simply made it too costly to continue our relationship….
It is not our choice if Israel goes forward with settlements. They get to choose their future. Our only duty is to precisely define the options so they completely understand all consequences….. That precisely worded statement, is that if they do so, they do it without any of our help or aid.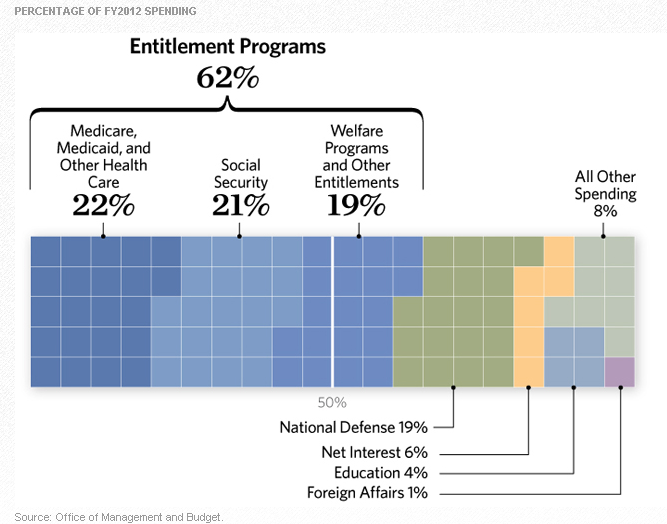 Courtesy of Office of Management and Budget.
The fiscal cliff. We are arguing over more revenue. We are arguing over tax hikes. We are arguing over the age of Social Security and Medicare commencement. We are arguing over defense. We are arguing over education. We are arguing over discretionary cuts….
When in truth, we should be taking the all of the above approach considering the problem….
This is our generation's WWII… We are in for the fight of our life, and we have to get this right. There is no room for error….
If one takes this analogy between our economy and WWII further, one could say we are in the pre-years of WWII now, the late 30′s. We are making small amendments to our armed services, buying a few planes here and there, and as the crises worsens, we send some of our stuff overseas.
But it takes the loss of our fleet in Pearl Harbor, to WAKE US UP!…. In a matter of days, the entire Pacific was under Japanese control. All of European civilization but for Britain, was under Nazi Germany's control…. Just like that…
Had we had our battleships in war mode, Pearl Harbor never would have happened. Had we rushed to France's aid, probably WWII would have stalemated, and who knows what kind of world we would have today….
Bottom line, is that we need to do all of the above right now… Republicans need to give in on taxes, Democrats need to give in on entitlements. Corporations need to start re-investing now, ahead of the curve. The wealthy, need to pay up a lot more. Everyone needs to chip in….
What we don't need are arguments because "my side" doesn't feel like it is treated fairly unless "your side" gives up something…
Just everybody give up everything… You going to later, if you don't do it now, so, … let's fix it now…. while the price is still low…..
Issa's hearing just got the lowdown on what happen that night Stevens died.
It is a very gripping tale of what went down. They were attacked. There was no warning. It was a 9/11 surprise that took everyone by surprise.
From the account of the attack, everything went according to plan. There were no glitches. There were no acts of cowardice. There were no mistakes made. Adequate and proper procedures were in place especially knowing the anniversary of 9/11 was intact. I was most impressed how the counsel of Turkey was walked out to the front gate by Stevens and they noticed the calmness of the city in the desert night. One hour later, Stevens would be dead.
Blaming the State Department for this incident is similar to blaming Rudy Giuliani for the 9/11 attack on New York, his city. It is stupid, arrogant, idiotic, and could only come from a Republican thug like Issa. He deserves to be deported.
There is something horribly sick in this Republican's brain. Imagine blaming Giuliani for the loss of the twin towers. This Republican thug Issa deserves punched in the face, a thousand times. This Republican thug deserves to be outcast from the country he stole all his money from. America is too good for this thug Issa.
These guys who died were heroes. Stevens is a hero. Not some scum like Issa implies, who deserved to die for his cowardice. Just like if Giuliani had been a Democrat, this same thug Issa would have probably said it is a damn shame Rudy Giuliani didn't die to rid ourselves of his disgusting caricature.
If someone had brought up that Giuliani was a hero, thug Issa would have dismissed that as poppycock. "He's only acting that way to disguise his role in the tower's collapse. He's the mayor, he needs to die."
Issa represents the soul of the Republican party at its darkest. That soul in hell would have no shame standing next to souls from parties such as the Nazis. Brown Shirts, or Red Communists, or the Spanish Inquisition. They would all be compatriots. Issa is simply in it for Issa. He is replaying Joe McCarthy's role,… not of cleaning out communists from America, but making Joe McCarthy famous and important, and a household word. Issa is disgusting.
This attack and the real drama that ensued makes the State Department's actions commendable. In offense and defense, truth is not a player. Obfuscation and distraction and fooling the other side, are as rightfully at home here, as they are on a football field. If the State department had announced the truth of the matter on the day Romney stepped forth and castigated in an embarrassing example of how he would lead in foreign affairs, then every Arab would see that every Embassy, every consulate was undermanned and an easy target.
All it took was forty men. You think you can't find 40 disgruntled men in every country in which we have diplomatic relations? Hell, you can find 40 disgruntled men in Issa's own district. Is he suggesting he now needs a bodyguard of 100 soldiers to now protect him?
The level of security to prevent this kind of surprise attack is unprecedented. In all honesty, we probably had sufficient security to repel such an attack in Baghdad. Other than that, every embassy, every consulate across the world was vulnerable to similar attacks.
It makes obvious sense that to protect American lives across this planet, especially those in areas where 40 disgruntled men having access to RPG's can easily be found, one would not give out details that showed how easily every embassy, every consulate could now be attacked.
Obama should be commended. His state department acted very professionally in this crises. One can assume now that this has become public knowledge, sufficient security at a very large expense, including A10′s are now stationed to be at any hotspot within 5 minutes.
If you are going to castigate the Commander in Chief for Libya, you had better throw Rudy Giuliani in jail right now too. This Republican sham is easily seen. Republicans are the true enemy of Mohamed. Not the America Public.
Issa should be zip stripped and gagged, and kicked out of a car in Freedom Square in Cairo, with a sign, Ugly American, pinned to his back.
I'm joking, but they are not. It is time all Republican scum be humiliated, and exposed for the ugly frauds they are in public. Romney, Ryan, Issa, Boulton, Dan Senor, Cofer Black, Christopher Burnham, Michael Chertoff, Eliot Cohen, Norm Coleman, John Danilovich, Paula J. Dobriansky, Eric Edelman, Michael Hayden, Kerry Healey, Kim Holmes, Robert Joseph, Robert Kagan, John Lehman, Andrew Natsios, Meghan O'Sullivan, Walid Phares, Pierre Prosper, Mitchell Reiss, Jim Talent, Vin Weber, Richard Williamson, Dov Zakheim.
Romney/Ryan excluded, these people are the ones responsible for $1.5 trillion dollars of the national debt categorized under Iraq and Afghanistan. $1.5 trillion that future generations of American children will have to pay, out of which we simply got nothing, nothing at all. Not respect, not financial gain, not even a simple "thank you." We've have exited Iraq, (Romney says we need to go back in) We are exiting Afghanistan in 2014 (Romney says we need to stay there indefinitely)
This new truth that came to light, really shows that President Obama was willing to take political heat just before an election which he could still lose, in order that American lives could be protected and made safe, before the truth came out. An America that can still elect a thug like Republican Issa, really doesn't deserve as great of a self-sacrificing man as we currently have as Commander in Chief of the United States of America, a man who would put American lives above his own career. This nation is truly blessed to count such a man among its citizens.
They cost you too…
The drop in payroll tax from 6.2% to 4.2% results in a savings of about $1000 a year to every wage earner.
(If truth were widely known, that tax cut is actually a bad idea. It hemorrhages a dying social security fund, requiring the eventual death of the program or an expensive emergency last ditch surgery in the future.)
But it is hard not to give a $1000 present to every voter. Even if it only comes out as $19 dollars and change each week… But, still again, if your electric bill is $198 and you only have $189 in your account, that additional amount is, well, a lifesaver…..
But, Republicans in the House, even after Republicans in the Senate voted passage, overwhelmingly voted….. not to vote on the measure…
They didn't vote against it… THEY VOTED NOT TO VOTE ON IT……
(speculation is that they lacked the votes to keep it from passing)..
So, how does that relate to you?
House Republicans (read Tea Party) just voted NOT TO VOTE on whether or not you will be losing an extra $20 a month out of your next paycheck.
Imagine what this is doing to payroll clerks around the country?
Imagine what this is doing to family budgets around the country?
Imagine what this is doing to businesses who rely on consumer spending around the country?
Imagine what this is doing to businesses heavily involved in the financial sector, around this country?
So what would normally happen?
Normally a group that can't find agreement, acknowledges the sad fact, and long before the deadline, announces that they failed to reach agreement and that things would continue as they were on a temporary basis, to unfortunately allow for more time to solve differences.
But NOOOOOOOOOOOO, …. WE ARE STUCK WITH A TEA PARTY THAT FUCKS THINGS UP.
Instead, we have a vote not-to-vote, then get all sorts of very lame excuses from those who are delaying, none of which apply to the real problem that Social Security is doomed unless drastic action gets taken (higher rates, not lower), and we get nothing….
The tax cut will expire…
It is like sequestering a jury in a room, where everyone after much fact-covering argument has agreed to a judgment, except for one person who's been bought off. And nothing, nothing, logic, emotional appeal, bullying, snuggling up to, befriending, produces any change. And you go years, every working day, to the same court house, the same jury room, they same chair at the same table, hear the same arguments, hoping against all odds, that today, he will see the light and switch. You go the next day.
That is today's Congress. Held hostage by Tea Party Republicans who live in a dream world untouched by the reality of living under $185,000 a year. Like that bought-out juror, every day, they hold up progress with the unjustified belief that, if they wait long enough, the other 11 jurors will give up and sway over to the sole juror's way….
Two things can happen… 1) return to the public and announce a hung jury, and do a complete retrial.. or 2) sneak up to that one juror, put a gun to his head, say nothing, pull the trigger, clean up the mess, dispose of the body, then go out to the public and announce what the 11 of you have decided…..
One is the nice way, sanctioned to due process of law. The other is the American Way.
It's time to initiate the kavipsian policy of expression or what is otherwise known as "Show Us How You Really Feel"… Who knows? It could become the next great movement? The next time someone you know (or don't), says anything about how millionaires should keep their tax cuts and the poor should pay, nod your head in agreement, smile a little bit, then hit them as hard as you can in their mouth, I mean as hard as you can! Put them flat on the ground holding their jaw… Then loudly say, "Don't every talk that stupid way to me again!" Who knows, if 99% or all 303,930,000 would respond that way to our fellow congressional delegates, and the other 3.9 million of their like who advocate such madness, we might actually get the very progress we need, not because of intimidation, but because such policy is right….
For those who argue expression of violence is un-American, I'll remind them that tonight, is John Wayne Night on AMC: view it!… I argue that such action is VERY American and perhaps it has been the lack of such spontaneous expressions of frustration from working American people, that has caused the logjam where nothing gets done because of one holdout, who thinks he can sway the world to his opinion and face no consequences… ….
Practice now, by punching brick walls.
Obama could not have picked a better 2nd man.
This is classic Biden to those of us who have watched him grow over the years… There is of course much denial-ability, so it will never get proven, … but the track marks are there… and I'm beaming, I'm so proud to be a Delawarean today…
If any of you have ever been in a decision making position, most of you know that you are being asked to decide the future of events that on paper you have jurisdiction over, but in reality, are way beyond your control.
The best way to get what you want is to point those larger forces in the direction you want to go,… so they carry you along in their current….
If Democrats and Republicans do not agree to another $1.5 trillion in cuts later this year, then automatic cuts of about $500 billion in both national security and Medicare provider spending will be triggered, beginning in 2013. Republicans think the threat of cutting Medicare will force Democrats to bargain, and Democrats hope that the threat of defense cuts will force Republicans to bargain
But what is really happening is something else: Both Democratic and Republicans leaders have realized that they don't have enough political heft on their own to cut a deal. So they are pointing a gun to the knee caps of corporate lobbyists for the defense contracting and medical provider communities and saying, "Help us, or else."
This is the part Biden helped craft….. And this is also the part to which Eric Cantor subscribed, giving him the rare praise of being a "smart man". John Boehner and President Obama, also joined in….
"Under the agreement, a failure to reach an agreement in December would lead to $50 billion in cuts per year in the 50% national security spending account for the next 10 years. So to save their own skin, military contractors, who spent $146 million lobbying Congress in 2010 with more than $16 million in political donations from PACs, will have to get in the game, urging Republicans to find savings in other places. In practice, that will likely mean new revenue, collected by ending corporate tax breaks and eliminating expenditures. If the plan works as Democrats would like, Republicans will be forced to raise taxes with the help of the military industrial complex."
Ah Ha! Gotchu!
Oh, but wait a minute….. isn't there another half?
"The other half of the trigger would cause a 2% decrease in reimbursements for Medicare providers (not recipients), pulling about $50 billion a year off their bottom line for a decade. That means lobbyists for hospitals and doctors will also have a dog in this fight. Hospitals and nursing homes alone spent more $107 million lobbying Congress in 2010."
"Hospitals have already started running ads on cable television protesting the potential cuts, under the banner of a group called The Coalition To Protect America's Health Care."
"Like defense contractors, they are the hostages now, and they must advocate for Democrats and Republicans to come together on a final deal in the fall, before the trigger gets pulled. In the deficit debate, Congress has proved itself inept at fighting for the common interest. In turning the gun on special interests, they are essentially outsourcing that job to Washington's most effective actors."
(Btw. Hats off to Michael Scherer; I've quoted him rather extensively for his writing was done so well. I could find little to improve upon)…..
Somewhere in the discussion, hopefully over a glass of Maker's Mark, came this question: how can we make our enemies (the lobbyists) be an integral part of this plan, thereby insuring it will pass?
(Note: Lobbyists are the biggest enemy to good government. Far worse than evangelists, socialists, and communists.)
So the brilliance of this agreement, is that it addresses the question: of how can we get the forces of Eisenhower's "military industrial complex" who've always scuttled budget control in the past, and the forces of the AMA, hospitals, insurance giants, and pharmaceuticals, who've always scuttled any attempts to control skyrocketing medical costs, to work together with Republicans and Democrats on controlling the budget deficit…..
We do it by pulling the trigger on a large chunk of their change, if an agreement is not forthcoming……
It's brilliant.
It's Biden…
His good sense didn't come from Scranton, so it must have been Delaware, that put it in there….
If only this had been offered up as evidence to the Supreme Court in December 2000.
I guess you get what you vote for.