You are currently browsing the category archive for the 'Michelle Bachman' category.
With Sandy's approach, words of warning went out to all campaigns.. Get your big signs down for the storm.  Feel free to put them up after the storm blows by.  Everyone got an email.
Democrats were in full force, and in New Castle County, not one Democratic sign was left standing…  By noon all  were stored for safe keeping…
There were no libertarian candidate's signs.  As dedicated citizens, the libertarian team scoured the county and by noon, their signs were all stored for save keeping.
The one Jill Stein sign I'd seen, was gone.  Secured by the Green Party….
In fact the only signs up as darkness approached,  were those of Alex Pires, which is understandable,  it being a one man operation, and those of the Republican line up, which apparently has even fewer supporters.
It looks like Kansas,  at intersections now, with only Republicans contesting a one man operation….
If the Green Party and Libertarian party can mobilize faster than the Republican, it is time to stop calling the Republican Party a "major" party.
Even the Wizard of Oz had more going for it than today's Delaware Republicans, who with their daily bumbles are rapidly creating a new definition of the English word pathetic.
Republican Issa, who is making an unprecedented foray into classified territory to try to indict the sitting president before the election, released documents that named every informer we had working for us in Libya.
When asked in private, Issa is reportedly to have said. "It won't matter as long as we get him (Obama) out of office." The Republicans in the room all churned up their approval.
Once again, Republicans show they don't care about human lives. In this case, the only reason for this release was for political gain.
The documents are intended to show what the US knew before Benghazi. They could have simply been processed with black marks over the names of those informers. However, for it to hit the news cycle before the debate, it had to leave the room by 2:30 that afternoon. The redaction would have taken two hours for the 4 staffers available.
Representative Issa made the call to send the documents out without redaction. There was a discussion over the morality of doing so, and Issa, made the call that those on the ground in Libya, were expendable for this chance at the President.
The documents prove that Obama was not in the loop. Although Issa is apparently too dumb to understand this?…
It reminds everyone of the quickness with which Romney himself tried to use Benghazi as a political tool, well before any facts had emerged over the death of the Ambassador.
These Republicans for lack of any better word, are fools. They are far more damaging to America's security than any Soviet spy…
Jockstrap….
I just couldn't help but notice he supports almost every Johnson. (Even ones with Swiss spellings… Johansen ….)
Lol…
The Wall Street Journal quotes Citibank's executives are preparing their investors for the worst!!!!!!!!!!!!
Receiving what is known as the doomsday scenario, a two step reduction in it's bond rating,  Citibank is going to cost it's investors billions…
It will suck their money right out of their accounts and right into the trashcan…  If you are invested in Citibank, kiss all your money goodbye..
But wait?
What about the Dodd-Frank Finance Reform Bill?  Doesn't that kick in or something?
What happens is that under the Dodd Finance Reform Bill, Citibank is required, because it's ratings are much more risky now, to have a higher amount in reserves than it does if it has a very high rating….
That money, has to come out of its profits.
So profit will be short by …. $4.7 billion for the required additional collateral for its holding company and its banking subsidiary….
$4.7 billion.
But wait a minute you should say.  Isn't that a good thing, at least much better than would have happened under Republican leadership just over 5 years ago?  Shouldn't a bad bank HAVE to keep more money in reserves than a good bank, so the chance of it failing, are decreased from extremely likely to zero?
One would think.  Unless of course you are one of these people.  Michelle Bachmann, Rick Santorum, Newt Gingrich, Rick Perry, Herman Cain, and Mitt Romney.  These six people believe the investors should get the $4.7 billion, and the federal government should bail out the banks when they fail…
This is what's behind their opposition of the Dodd-Frank Wall Street Reform Act.  The only reason one would oppose it, is because it protects the financial solubility of the institution, instead of the investor.
If a bank fails and we lose our money, that is just too bad in their eyes.  But for them to lose their money, is unthinkable.
Yes, they are indeed ridiculous.
So in reality, thanks in part to the leadership of Michael Kaufman from Delaware,  when a bank engages risky behavior, it must put more into its reserves, taking it away from the investors.
This is only fair.  For when things get in order, and reserves can be dropped again, it is only the investors who get that bonus in one fell sweep.
So we can see in a nutshell, why when it comes to economic issues, we cannot let Republicans again have the reins of power…  They would dismantle this reform, just like they dismantled the original protections put in place since the 1930′s, and that dismantling, was  the sole cause of the meltdown that put all those American's out of work…
So things are working as they should.  The bank was risky, and now  must pay the penalty.   What's nice about having Democrats in charge, is that the penalty they payed, was to themselves….
Democrats are intelligent.
Unfortunately, sadly, heartbreakingly so, there is a dire shortage of medication to treat Childhood Leukemia. … All five pharmaceutical companies that make the injection drug methotrexate, which treats acute lymphoblastic leukemia by slowing the growth of cancer cells, have either slowed and stopped manufacturing of the drug, according to the U.S. Food and Drug Administration. The companies have cited "high demand" or "manufacturing delays" as reasons for the shortage.
Where have we seen this before? In the oil industry. "Shut down that refinery until the price rises sky high."
We have a shortage of life giving medication, one that is isolated to children, one that will tug at the heart-stings of parents.
There is no shortage of raw materials. There is no shortage of manufacturing space. There is no shortage of labor. There is only a shortage, because 5 major pharmaceuticals, all at the same time, chose "not to make" that certain drug….
Now according to Dr. Michael Link, pediatric oncologist and president of the American Society of Clinical Oncology, some hospital pharmacies have reported having only a couple weeks of supply left.
Which means that kids start dying in 14 days…….
To counter this, President Obama on October 31, signed an executive order, instructing the Food and Drug Administration to broaden its reporting of potential drug shortages, expedite regulatory reviews that can help prevent shortages, and examine whether potential shortages have led to price gouging. The drug shortage has compromised or delayed care for some patients and may have led to otherwise preventable deaths.
This caused Christopher W. Hansen, president of the American Cancer Society's Cancer Action Network, to applaud the signing of the order, saying in a statement that it would "allow government, industry, providers and the public to more systematically analyze and understand the causes of specific drug shortages as they occur, and to develop real-time solutions that are also needed to address the acute problems that cancer patients live with daily."
But the order does not go far enough.
While the FDA can oversee imports of drugs that are in short supply, it cannot regulate how much a company can make. In fact, manufacturers are not required to report shortages to the FDA.
Isn't that what Romney touts? Isn't that Gingrich's modus operandi, Isn't that what Santorum lavishs, WE NEED LESS GOVERNMENT INTERVENTION???
Don't all of them recommend that government needs to slim down, cut back, and get off the backs of business in general to create jobs?
WELL…..
Here is a direct case of that policy in action. There is no government on the backs of Pharmaceuticals. They are completely independent, private, not regulated, and free to decided what drugs to make, and when to make them….
"Oh gee, let's see… we make 89 cents per pill on our placebos…. and only 64 cents on each bottle of methotrexate…. Let's close down the meth lab, and instead, make placebos instead…."
Mitt Romney's philosophy in action…
Because of it, there is now a shortage of highly necessary medications… Ones that have to be had, to maintain life…
(There is no end to the number of Sudafed knockoffs on drugstore shelves)….
Just a look at the top ten prescribed medicines in America, only one, Lipitor, is still under patent. All the others, have lapsed into generic….
The apparent problem is rather simple. In order to chase after profits for your stockholders, for the analysts of CNBC to mention your stock on their show, … you have to sell the top 15 drugs helping 100% of the population, and the 4000 or 5000 people needing your specialty drugs, are simply sick with the wrong disease…
Remember the death panel controversy made up and disseminated by Michelle Bachmann? Well, now, we see the real death panel….
"I'm sorry (not). I know he is your child; I know we have the medicine to keep him normal, I know he will die if he doesn't get it; I know we could easily makes some in less than 5 days; I know we could have never run short if we had wanted; I know all these things. But, we arbitrarily choose not to make it; your son is out of luck and will be dead in less than two weeks…"
Why?
Because you voted for Republicans…. Seriously, if you hadn't, what would have happened?
In an all Democratic Congress, when this shortage was brought up, legislation would be passed levying extensive fines if the drugs did not reach market by a certain date. The price would include only a ten percent markup. Meaning the pharmaceutical company would not lose on the proposition. How do I know this would work? It was the law of the land for 70 years, until Republicans began selling the concept that letting the market place settle everything, and the FDA got gutted.
Interestingly,…. due to the shortage, black market drugs have materialized…. As soon as a drug hits a shortage level, unreliable distributors pop up offering supplies of suspect origin at highly inflated prices, said Denver based Porter Adventist Hospital pharmacy director, Ryan Stice.
"I have a story about one of these vendors calling on a Friday night, lying to a staff member to get approval for shipment, and sending their products for Saturday delivery to avoid our normal safeguards on bogus shipments and invoicing," Stice said.
Premier Healthcare Alliance, which published data on drug price-grouging practices last week, said nearly 2,000 sales offers from "gray market" distributors amounted to an average price markup of 650 percent for drugs used to treat cancer and other critical illnesses, as well as sedate patients for surgery, that have been in short supply in recent months.
The highest markup was for the drug lebetalol, used to treat high blood pressure. Lebetalol usually sells for $25.90, but "gray market" offers priced it at $1,200.
When pressed, it appears there is little knowledge over where these "grey market" drugs come from. Most speculate that those drugs which are currently being dispensed on the "grey market" come with a majority of their kickback returning to the pharmaceutical companies. It was as if someone in the pharmaceutical business figured out: why sell this drug for $25 dollars when we can create a shortage and sell it for $1200 instead?
"Greed is good", if you remember the movie Wall Street.
Ironically, the similarities between both Mitt Romney's hairstyle and philosophy and those in that movie, are extremely uncanny.
If it is your son who is dying, obviously the market place is not where we want to take health-care. Their death panels are far more crooked than any other panel that would occur if we had any other system of medical insurance.
One must wonder why in any debate, not one panalist has yet brought up the question… "Mr. Republican, about your market philosophy…. when it comes to cancer drugs and others that are necessary for life,… there seems to be a problem…."
Then follow up with: "No, it appears you're wrong there, Mr. Republican Candidate. The obvious solution is for America not to vote for any Republican candidate…"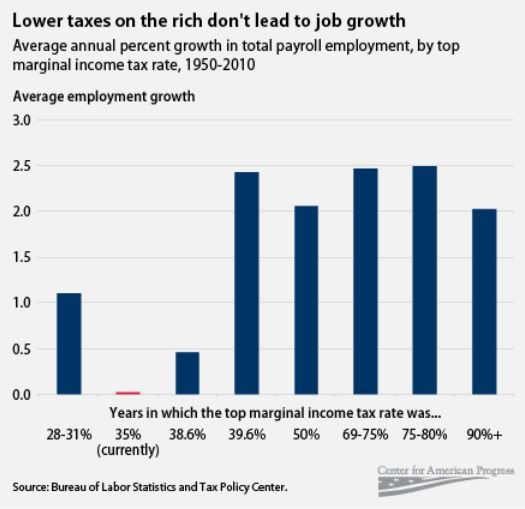 right click on chart to view full image
It is funny how so much time and effort is spent determining who will run on the Republican side of the Presidential race, when that whole contest is made meaningless by this one chart…..
Republicans don't want you to see this chart. Democrats simply lack the capacity to understand what it means…..
It means that if you want efficiency, then lowering taxes is good. That creates efficiency. But if you want jobs, then raising taxes is good, because that creates jobs…
The standard Republican argument against this: "That is bunk. Everyone knows cutting taxes grows jobs…." (end of argument).
What never gets done, except in the bottom comment sections of well meaning blogs, is the proper rebuttal….
If that is bunk, explain how and why history itself proves it otherwise?
And alas, they cannot answer that, because they are wrong… Low taxes do not create jobs. Higher taxes do….
Look for yourself.
Michele Bachmann essentially gave college students a Conservative 101 on the economy, national and foreign affairs and other important issues on Thursday in Iowa at Drake University.
Throughout her comments, Bachmann tailored her delivery seemingly to suit her young audience. "How many of you, this will be your very first presidential election to vote in? Let me see your hands," the candidate asked, receiving several raised arms from the students.
"We just heard that some of the (upcoming manditory) cuts would mean the military, which just took $400 billion in cuts, would take another $600 billion in cuts," Bachmann said. "The current Defense Secretary [Leon] Panetta said that would be like taking a bullet to the head."
When Bachmann opened the session to questions, some students asked relatively tame questions on what the U.S. position on Syria should be and where Bachmann stood on campaign finance reform. Some others pounced.
"You used the line of 'bullet to the head' for the American military," one student said. "Part of the super committee, is that there would be mandatory cuts on either side – on entitlement programs and the military spending aspect of it. I would classify it as a bullet to the American family's head if our entitlement programs in this country were cut drastically," the student added. "For the people who depend on that – that are in an unemployed situation where they need federal aid, they're the most vulnerable."
Bachmann responded by reiterating that the nation is spending too much.
Another student asked: "You said that you wanted to increase offshore drilling and just drilling in general for oil. So that you could decrease the price of oil in the near future. Don't you think that would kind of just be beating a dead horse instead of trying to find a reasonable solution for the long term?"
Bachmann reiterated her stance that the U.S. has tremendous energy resources, "But the problem is, even our own Department of Energy, won't let us access them."
Another student questioned Bachmann on national service programs, such as AmeriCorps: "You've gone on record as opposing those. So just wondering, if elected president, you might make that a part of your agenda? And if you think it's a good idea, during this economy, to take away opportunities for young people to serve their country?"
"Well it isn't the idea of young people not serving their country," Bachmann said. "The point is, we're broke. I don't know if you all have gotten that message yet from me this morning," Bachmann said.
As she criticized specifics of the nation's health care law, one student shouted: "So screw the sick and homeless?"
"Who said that?" Bachmann asked.
"You have," the student said.
"You could not be further from the truth," Bachmann shot back. "You're looking at someone who lived below poverty. Have you ever lived at that?"
Bachmann continued: "I know what I had to do. I got a job. That's what you need to do. You need to figure out how to get a job and make your way."
Bet when she was working the unemployment wasn't a whopping 25-30% for recent college graduates?
Republican philosophy cannot take pressure from real facts and real life situations. It caves instantly.