You are currently browsing the category archive for the 'Mayor Baker' category.
This is post number 2000.
The only real significance is it is 150 posts more than where Tommywonk stopped exactly one year and fifteen days ago…
If some future historian looks back, I can only guess they may kindly make some note of the quality of thought that underlies these efforts, but my guess, is no one will ever notice…
Irregardless, as long as the urge to put thoughts down for others continues, we will go on. As usual, with no goal, no direction, and no ulterior motive. Probably upon reflection, my biggest surprise, right here, right now … is that I still enjoy it so much, and can't wait to jot my thoughts down, click the button, and send them off to where ever cyberspace and the vast internet ocean, lets them drift….
For each of you who have become regular over the years, … thank you friend…
Delaware Liberal has the link. Here is Governor Markell's offer to the Occupy Movement and why that offer was unacceptable, even to the most reasonable…
The event area shall be to the north of the Interstate 95 overpass bordered by the north bank of the Brandywine River and North Park Drive and may extend northwest from the storm water culvert to the area adjacent to the ñrst dam up river. Please see attached map.
In this location the only people seeing this encampment would be those living in the upscale apartments. It would be invisible to the rest of the world.
Imagine the former Mayor Baker going to the city, hat in hand, asking to protest the fact that Wilmington's population was being treated unfairly because they were not white, and a ahort, pot bellied official, strode out of his Lincoln with Longhorn's attached to the front, and with a horn blast the echoed the "charge" theme played at high school football games, says, " Sure, we've got the perfect place for you… Go 5 miles out of town, take a left by the country store, go ten miles along that road, till you pass the last farmhouse, and there, in the forest, you'll see a split in the road, take the left one and go six more miles and you will see a clearing left by the logging operation years ago, and you, can have your demonstration right there. I'll write the permit right now….
The message from the Markell administration was equally insulting. Sure, have your little camping trip out where no one can see you…
"This is not Camping Delaware. It's Occupy Delaware,
"The tents are the statement. If the tents are in a campground, that's not much of a statement." – Akiva Dejack, Occupy member.
The Tea Party got the Mall in DC. Occupy Delaware gets a spot accessible only by an apartment complex driveway.
Totally unacceptable.
Moving on.
Permittee may not congregate, solicit the public, display signs, or distribute materials outside of the above mentioned designated area.
Really? For a protest, you are limiting their right to protest? Are you serious? Did you have limitations of Markell signs, those white plastic ones scattered across the entire state back during the summer and fall of 2008?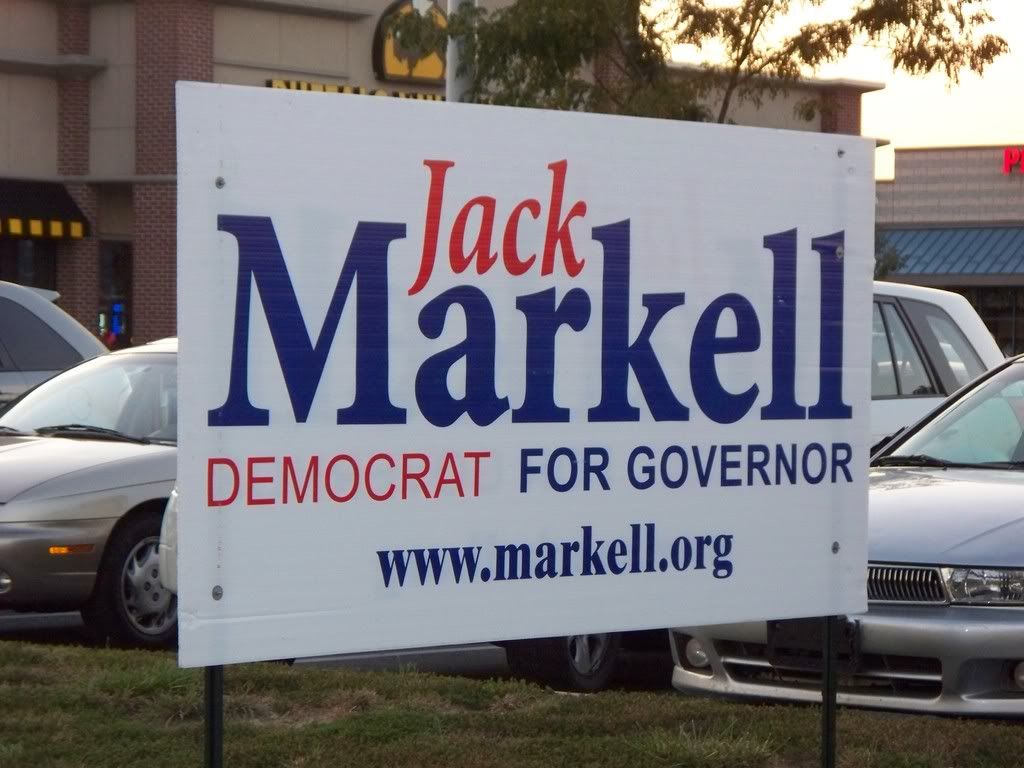 Right click on Picture for full image.
"Sure, you can run for governor, but you won't be allowed to hand out any campaign literature or post signs, unless it is in your own front yard?"
C'mon… You call that a fair offer? These people are protesting everything that's gone wrong because Republicans took over in 2000! And you're going to hide them up a cul de sac? Seriously?
Did you forget that if Republicans had lost that election, there never would have been a derivative driven financial crises? Our National Debt would have been "paid in full" as of 2008? We'd wouldn't be discussing cuts to the budget; we'd be debating upon which project to invest our Federal Funds for the next year?
So the permit was rather insulting. It did not meet the Constitutional muster required by the state to allow a peaceful protest. The tents are their protest.
In fact, "Occupy Boise", a Tea Party State if there ever was one, is having no trouble putting their protesters in a conspicuous spot. And we know Idaho.
Listen to this:
She was pleased with the meeting. "As long as they can keep control of their participants as they move forward, I think everything will be fine," said Luna.
Occupy Boise agreed to provide state officials with a copy of the "code of conduct" and the operational plan. Gunderson said "legal observers" would watch the camp and record video of any conflicts or issues.
Gunderson said the cities where protesters have clashed with public officials have garnered the most news coverage. But Boise is taking its cue from places where things have been more amiable, including Philadelphia.

If anything can be done in Philadelphia, it certainly can be accomplished in Delaware.
Courtesy of Tim Riley
Two days ago the Supreme Court heard the case of Delaware vrs New Jersey. How does a Supreme Court Justice choose between the First State, and the Garden State…..
If one bases it on seniority, then as the First State, Delaware has priority. On the other hand should one go with "one person-one vote" then with more than ten times the number of Delawareans, New Jersey wins.
As to which way it will go, mums the word. Samuel Alito, the newest judge, hails from the Trenton area of New Jersey….will that make a difference?
The real question that needs to be answered is whether laws made well over 200 years ago, should by now be accepted at face value and do they even need be discussed at all? For whatever happens in this case can have profound consequences and create a precedence for many states to change their boundaries at will….Prime example: Ohio like New Jersey, owns the river bank of the western side of the Ohio River, but not the river itself…..That boundary too, was also settled in colonial times.
The Justices appeared to be quite interested in this case. So did quite a few spectators who wanted to see the Supreme Court actually do what the Constitution set it up to do: settle a dispute between the states…..
Chief Justice Roberts framed a question that put everything in perspective.
If two people walked out to the end of a pier extending out from the shores of New Jersey, and one of them was murdered, which state prosecutes the crime.
Should it be in Delaware, where the crime actually occurred, or New Jersey from whence the criminal came. One has only to consider Elkton , Maryland to resolve this matter.
If someone walks from Stone Gate Apartments, robs the State Line Liquor Store of some New Castle Brown Ale, and returns to his Delawarean home to watch the Cowboys beat Green Bay,….the crime was in Maryland; all would agree. After all, what difference should it make to the law, as to whether water does or does not cover the ground? Maryland's laws apply above ground. Likewise Delaware's laws should equally apply to sub-aqueous territory as well.
But in 1905 Delaware allowed New Jersey natives to build docks that extended past the low water mark into Delaware's territory. Precedent? Not hardly……
My nice neighbors mow a foot or two across my line as a courtesy each time they do their lawn. We return the favor, but not as often. If any controversy over a boundary were to occur, we would simply pull the deed, and follow suit. No matter what actions had transpired, the deed still stands….should ownership eventually change, the deed is permanent: it still stands…..
In this case, the Deed gives Delaware rights up to the low water mark on the New Jersey shore. This is no little dock we are talking about. The monstrosity to be built, would seriously impact Delaware's Coastal Protection Act. Dredging alone would create an environmental hazard.
Safety is a secondary consideration. According to this anti-terrorist organization, one LNG ship has the explosive power of 55 Hiroshima type nuclear bombs. Goodbye Mayor Baker!
Common sense precludes Delaware should win….However surprises happen. We could wake up to find that Delaware has been joined to New Jersey by Executive Order and the whole issue becomes moot.
If Delaware does not win, it can only mean one thing.
I should have argued the case instead of David Frederick.
Ever since Google was complicit in working with the Chinese, I have been watching it's characterization of my site. We all know the formula for how the links are ranked, but occasionally some bizarre things happen upon that page.
For example when I have come out hard against certain of our public officials, holding them accountable for things as I should, the links, locations and descriptions, that have been consistent for months, suddenly are different. If one wanted to presume, he could comment that those links shown were an attempt to embarrass me or more likely, dissuade someone from looking further. Now those of you who read me, know this can hardly bother me. I can embarrass myself without help….. easily…..
But tonight Google was acting strangely on several sites within our blogsphere. The search would go nowhere. Of course the sites were available; one could easily click them from another location. And on Google, other non pertinent sites came up immediately, but for some reason some (the ones I wanted) were disconnected.
I am most concerned because Delaware Liberal, one whose site I visit a lot, has disappeared from Google. Well not completely , but their standard location…. spot 3 down from the top of page one…… is gone. Instead, you may find an archived version that says "Howard Dean Kicks Ass" posted on 11/15/2006 in the location of what used to be Delaware Liberal.Net's prime spot……
Other search engines are not affected. On those Delaware Liberal Net ranks at the top.
Back to the inconsistencies on my list, My featured cached post comparing the treatment bestowed on Paris Hilton, versus the pardon received by Scooter Libby, has temporarily replaced my post of Biden, which has remained in that spot for a long time. Yet my statistics do not show a single hit on that topic. So based on Google's formula, why would it change? This happened once before, and 2 days later, again no hits were involved, reality reemerged.
Don't know how many of you check your Google page , but seriously, I think now would be a good time to start. Those of you who do not poke around in areas where officials become uneasy, probably have little to worry about.
But if your Google page is being changed, for whatever reasons, at least you will be aware of it…….
I long to accomplish great and noble tasks, but it is my chief duty to accomplish humble tasks as though they were great and noble. The world is moved along, not only by the mighty shoves of its heroes, but also by the aggregate of the tiny pushes of each honest worker. (Helen Keller)
How true this is from a military perspective. We read of generals astride their horses, whose only contribution was to say, "let's attack here" . Their work is done. They then receive history's blame or credit depending on the outcome of those brave souls fighting for their lives.
The battle results are determined on the field by soldiers. Whether they choose to break and flee, or to stand their ground against impossible odds, alone determines the future reputation of their commander. History judges clearly.
Besides war, the same holds true for peace. Often it is more difficult to be non-violent, than to go into a rage. Yet those who propose peace, become castigated as being too cowardly to handle war, when in fact, the opposite is true. It takes deep spiritual devotion, and a strong belief in a higher power, to sail against the prevailing wind. To trust that peace will provide a dividend that is far greater than taking what you want to take with force……..requires great insight and courage, to make yourself believe in it……..
So who is brave?……. I learned that Marines (US) are brave. When shots were fired across Michigan Avenue in Fallujah, the uninitiated take cover. When they dare to look up, they see the Marines already running towards the sound of the shots. As you get to know Marines while off duty, you slowly arrive at the opinion, they are not that much different. But the moment live ammunition smacks around you, and you see them run at the source like fireman racing to a fire, you realize that courage has different levels.
We are taught from birth, (it may be instinct) that self preservation is a worthy cause. Survival is our primary concern. So when one takes the opposite tack, and puts survival below other considerations, those of us who witness it, call it courage.
It takes great courage to stand up to ones enemies. It takes even greater courage to stand up to ones friends. (Professor Dumbledore, Book 1) Think about it for a second………………..How easily do we lob insults at those representing the other side of the blogosphere? Too easy…………….Now how hard is it to do the same and to criticize those who have stood solidly with you and "watched your back" on other issues? Quite hard……..isn't it.
But sometimes one must go against ones gut, and do what is right. What kind of insanity must possess a person willing to trust his life to some nylon and some string, and then throw himself out the door of a shot-up B17 over enemy territory? The answer is that the insanity of staying inside a falling chunk of metal, is greater than the insanity of bailing out……..
So what kind of insanity must possess a person who today, is willing to abandon the wreckage of what has been the primary focus of our nation's foreign policy? Again, the answer is that the insanity of staying in a falling chunk of metal, is greater than the insanity of bailing out.
Wait a second: many of you by now are thinking. "Your analogy is not a good one. Many B 17′s were shot to hell and still made it back to English airfields. Those who persist in the war effort are like those few B17 crewmen who did not abandon their posts and persevered to safe harbor. Your analogy seems to support the opposite of your views?"
But there were also many who did not bail out over continental Europe, and then were force to bail out over the English Channel and certainly perish. By bailing early, their chances of survival would have been higher.
So rational people must look at each of these circumstances and make a decision based on their assessment of all the evidence. We are humans, we do this all the time.
For those who haven't yet "got it," the conversations we have about the war here within the blogosphere, mirror the conversations that took place within those shot up B17′s. The upcoming Petraeus report, is no more than a damage assessment sheet.
So with this upcoming report, how do we determine whether we throw our support against those who want to stay, or against those who vote to leave?……..We do it by performing a gut check.
Gut Check 1: If I lose my son or daughter in this war, will I always feel that they died to preserve my nation's freedom.
Gut Check 2: Would I be better served to have all my money spent on this war and not on something else?
Gut Check 3: Would I be worse off if we left the war, or would it be better off to stay the course and continue doing exactly what we are doing now?
If you can answer no to any of these questions, you need to be in Rodney Square Today, from 5 to 7 pm. The rest of the arguments offered by both sides don't matter one iota. The only thing that matters is your answer to these three gut checks.
Once you have decided that this war is not for you, then get moving to Wilmington's Rodney Square. Don't expect anyone else to do it for you. Even though the time will come when our policies dealing with foreign affairs will change for the better. But that will be because we can no longer afford the extravagance of war. This will occur when the American people realize that war causes too much suffering here at home, and the benefits of peace again become attractive to us all.
It is my humble opinion that America needs to change its policy. This change in policy can come easily once the people of this country decide that there is a better way to conduct ourselves throughout the world. Whenever the people turn against war as a tool to promote certain beliefs, the war ceases. That's what we need today. (Ron Paul)
As Helen Keller stated in the opening of my piece: "the world is moved along, not only by the mighty shoves of its heroes, but also by the aggregate of the tiny pushes of each honest worker. "
Today we are in desperate need of more honest solders for peace. Ask yourself this question: "if your showing up to this event, would make the actual difference and stop this war, could you then make a greater effort do it?" If you answered yes, then show up. Just showing up may be only the "tiny push: that Helen Keller spoke about, but if you passed the gut check, it is a push in the right direction………one requiring a great amount of courage……………………
Time to run like Marines towards those enablers who keep this war running; not duck and cover.