You are currently browsing the category archive for the 'Math and Science' category.
I'm afraid only John Young and Kilroy are going to have any interest in this one.  But yesterday Tennessee (that other state which is serious about education)  released their status report covering the 2011-2012 year.
The surprise to everyone but teachers:  educators are not really doing a bad job.  In fact, they are doing a very good job.
Tennessee went to a teacher evaluative process this past year as part of its Race to the Top.  The evaluative process was full of holes.  If you taught a subject that was not part of the evaluative process, you received the score from those who were evaluated.  For example, if you taught Latin,  French, or German, your evaluative rating was dependent upon how the Spanish students did.
Big hole.
But overall the process achieved results. That is the bottom line. First in my particular line of interest, here are the high school results.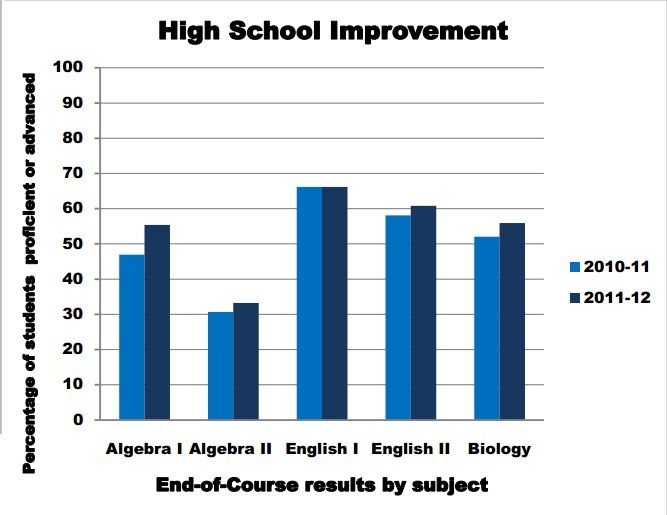 And here is the data:


The results show measured achievement.  Irregardless of why, results are apparent.
Now for those interested in entry levels:
And there is the data.  You will need to right click then click on image to show the last few columns.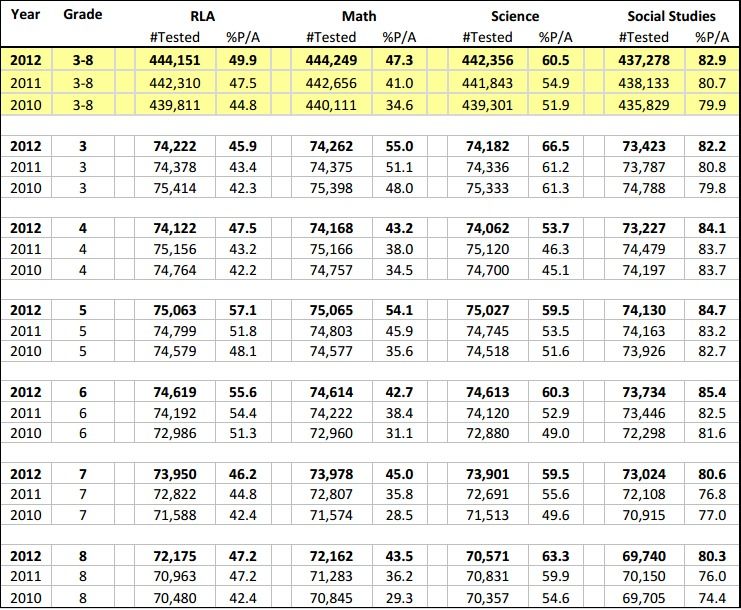 The evaluation process worked this way.  Every teacher gets a score that uses a lot of different methods to achieve a result.   50% of each teachers score derived from evaluations performed in their classroom by an outside observer.  15% came from a school team score that applied to all within that school which was based on how the entire school scored over that academic year.  And 35% was based on the test scores from the students tests themselves. Now, when all was said and done,  we  got these results.
The top line is the spread of students over the rubric of 1-5.  The bottom line is the spread of teacher's evaluations over the rubric of 1-5.  The discrepancy is disturbing to some. How can teachers who are doing such a great job as rated by objective evaluators, not be achieving growth in their students achievement scores?  Is there something flawed in the system?  Is there a bias on the part of administrators, who even after intensive training, multiple evaluations and thorough preparation,  are not making honest evaluations of those teachers who are achieving below level results?
Let me just take one minute to express how powerful these teaching results are. Level 1 was significantly below standard; Level 2 was below standard; Level 3 was performing at standard.  Level 4 was above standard.  Level 5 was significantly higher than standard. Of all the public school teachers in Tennessee, 97.6% were at standard or above.
The 4′s and 5′s together made up 76.2% of the teaching force.  In fact the only amount of teaching judged to be sub-par, was 2.2% of all teachers, with an additional 0.2% of teachers significantly below standard.
So after all the beating up of lazy, unproductive teachers embedded in the Tennessee Department of Education, it appears that when finally looked at, when finally evaluated, when finally putting someone into a class room to see just exactly what it is that teachers are doing and, when reporting that on a rubric scale of 1 through 5, ….. Tennessee teachers are doing a pretty fine job.
But the test scores of the students don't match up.  It now appears they have great teachers but somehow the students don't appear to be absorbing all that great teaching.
Ummmm.  Did you ever consider the problems just might lie with the students and their parents?
After all, this is the same state whose grandparents repeatedly voted in legislators who still believed  evolution is false science, who once believed that no black could never compete on the same level as a white person.
But that said, for all the flawed reasons, real change did occur.  At least 55,000 more students are now "at or above" the standard levels in math than were in 2010.  38,000 more students are "at or above" standard level in science than were in 2010.
In real terms, if you were one of those 55,000….. you now have a real shot at life …. Reasons this worked.
1)   Educators have a clear and more rigorous performance expectations.
2)  Educators are receiving more and specific feedback on performance.
3)  This is leading to more self-reflection and collaboration between teachers.
4)  New conversations about the impact of teaching styles on student learning.
5) The hoopla resulted in greater use of individual student data, and created a team atmosphere where this data was discussed among educators across the school.
6)  The evaluations highlighted the importance of individualized learning for teachers.
7) The system now provides principals with a clearer understanding what is required for excellent teaching in their schools.
8) Principal believe this model has moved student achievement forward.
9) Highly promising and diverse sets of practices have emerged across the four models chosen.
Again, the full report is here.
John and Kilroy; be prepared to spend a day putting Pandora's box back in order…
And as for my perspective, it appears that the evaluation process did rule out teacher incompetence as part of education's overall failure, but in a greater capacity, the entire process served its purpose by forcing the bosses to hop down into the dirt with the employees and that, as any student of management 101 will tell you, is always a good thing.
So, I'm in favor.
1) kids are naturally curious.
2) we all learn.
3) we remember what we use.
These tenets seem to be in our genes. If left alone on some deserted island, we would do our best to survive, passing down knowledge to our progeny.
Watch out for those round purple berries on the branch with NO thorns…
Where did we go wrong and what can we do about it?
History shows us that we went wrong when we put TV's in every household in America. And realistically, there is nothing we can do about that. As if we already tired that with Prohibition, and that was impossible to enforced upon only an ADULT population.
Now, I'm often accused of putting kids to sleep (it comes handy at 9:00 pm) just by elaborately answering their simplest questions. For example: "What is the sky."
For you see, I actually know what the sky is, and why it appears blue, and why clouds form and disappear, and why….
(Yawn.) We're doing this to our children.
I walked in on someone watching Little House on the Prairie and in the one room school, the teacher was running down the accepted rotes of mathematics. The class was chanting one plus one is two, two plus two is four…. three plus three is…
… and it dawned on me. In a simpler world, this is probably 60% of the auditory stimulation they received in one day. They could go to bed with this chant still ringing in your ears.
Not so today. Probably the theme song underwritten for a game, would be the most likely last final thought racing through that child's mind.
Our kids are learning all the time. And with genes, vitamins, and medical care, their minds are probably more fertile than mankind's have been since our origination.
It is just that they are learning about life, instead of school.
So if, we collectively got together and passed a law dictating that TV could no longer idolize "dumb people", but had to make all characters on all (children and adult) super intelligent, we might, by changing our children's heroes, change their attitudes towards learning.
If you wanted to see "dumb people", you would need to develop a 6th Sense.

Silly, huh?
Aye, but in all civilized countries which achieve greater scholastic ratings than we do, that compete against us for jobs, .. go, try to find any television show for public consumption, one that idolizes dumb people, and portrays smart people as yucky?
There are none.
Kind of odd. Kind of a coincidence?
Which means, if this is true, then all the hoopla of fighting over our school system's way of managing itself, is inconsequential. No matter how much better you make Brandywine's, Christina's, or Red Clay's school system, if school is still uncool, no one will be in the right framework to take advantage of any changes that do get implemented. …
Until schools learn that they are competing with TV, and not private versus public entities of the same problem, we will never get the results other countries so easily and readily achieve…..
Ahhhh,   Life starts before conception.
At least on your mother's side….
The egg that became you, was there when your mom was born…. Yep. it was already pre-made long before the minute she edged out of the womb…
The part of you that is you, came from your mom.  And it, was there…..  living,  breathing, processing carbon dioxide out of oxygen, maybe thirteen, maybe sixteen, maybe eighteen, twenty-one, twenty-five, thirty, forty, or in rare cases, maybe even more than fifty-five years (Sarah, Abraham's spouse was ninety-nine years)….. before you were conceived….
Before you were conceived.
Which means, your mom's egg, sat inside your grandmother a long, long, long time before she was born….. and of course, your grandmother's egg sat inside her mother(your great-grandmother) a long, long, long time before she was  born…
So in a very neat, defining way  for a moment of time while carrying her daugher,….. within that body of a woman  lies the fruit of that egg first created in your mother while in her grandmother, as well as the egg plant of herself, in addition is the egg plant of her daughter, and finally the egg plant of her hopefully-to-be future grand kids….. in modern times an elapse of  240 years….
At no time does the chain of life die, meaning that at least on our mothers side,  the life trail goes back immortal all the way to the Eve, whomever or whenever she was.
(Which means that in the religious scheme of things, men are nothing more than  sperm bank,  a random generator of code)   YOU GO GIRLS!…
So the point is… where then does life begin?
Historically for thousands of years, it was at birth.  "Honey?  Babies out. Looks like another girl.  Her name? …  Eve, ok?  And dinner will be up a little late. I gotta clean up first."
But then came technology, scientific knowledge, and as we learned what went on inside during gestation, we realized the miracle of life went on way before birth.  Because we now had the option of possibility,  we expanded our moral definition to fit the new boundaries.
Likewise, when we master time travel, those boundaries will expand again, and because we can do something about them, those eggs of your deceased mother and grandmother, will now, according the the right wing's philosophy of possibility, have to come under constitutional law as well.
We know that the line of eggs is eternal.  Each precious egg carries  the potential of a brand new newborn child.  No child can live with out one. The exact same tenant being used to extrapolate that the unborn are rightfully full grown people, will now are required by their former reasoning to extend to the protection of the egg. It after all,  lasts a lot longer.
Which means, over a  normal women's lifetime,   a minimum of 500 get dropped down the toilet.  Whoooooosh……
Women will soon  be required to collect their shedded residue,  sift through it to find the microscopic egg, and put it on life support.   After all, it is life.  It was there long before the woman herself was born…
So you see, …. this whole argument of where life begins, is really arbitrary.  Right now it is taking place inside the womb because that is the limit of our technology.  As our technology moves forward or backward, our interpretation of where we want to argue life begins, moves forward and back with it.  The biology doesn't change one bit.. From the dawn of our species creation to its future demise; the biology is consistent.  What changes is where we choose to arbitrarily draw the line.
I think it begins here.  You think it begins there.  Someone else thinks it begins back there.  Another thinks it starts way over there.
Visually explained, it is like this….
………………………………………………………………………………………………….
Which one of those dots represents the beginning of life:  pick one…
So for obvious reasons, if forced  to pick one,…  the one making most sense, that is from a legal standpoint, (not scientific, not religious, but legal) is that one when the baby pops out.
It gets a birth certificate. It gets a social security number.  It gets its first shots….
If it then dies, it gets a death certificate.
It is real…. It is here…. It is a person.
Nothing else makes one iota of any sense.
Otherwise, humankind needs to ask themselves: why then is the same egg NOT a living entity before it touches sperm, and a legal entity only afterwards?
Oh… because YOU say so….
Exactly. I rest my case.   Go above and pick a dot.
The largest reason Greece defaults are so big, is that that were hidden until it became too big to hide…
The problem if noticed earlier, could have been corrected by now, without letting the debt balloon into the crises we have now.
Republicans want to use the same scoring method used by the Greeks to hide our their proposed deficits.
Remember, Newt Gingrich's deficit is $7 trillion higher than Obamas. Santorum's deficit is $6 Trillion higher than Obamas. Romney's deficit is $2 Trillion higher than the deficit…..
So, the idea is that if you "pretend" that growth will be "off the charts",  because you cut taxes "too low", then all that "growth" will generate tons of revenue that will magically appear….
Before we jump into this, has this ever been tried before?
Yes… as mentioned, it was done in Greece…  Look how that turned out.
Yes, ..Bush W… taxes were cut too low… and instead of growth,  we got this Depression…….
Yes,..Ronald Reagan. 86.  taxes were cut too low, and instead of growth, we got a Massive Recession in 89.. Had Clinton not been elected it would have continued on into a Depression.
Yes,  The 1920′s… Taxes were cut too low, and instead of growth, we got "the" Great Depression…….
And now they want to do it again, with dynamic scoring….
Because they have a problem.  That problem is the CBO (Congressional Budget Office) by law is required to cost out budgets to see where they end up.  They've gotten pretty accurate lately. So when a Republican puts up a budget, it like the candidates listed above, look pretty bad…  So, Republicans want to change the formula.
The reason they want to use it is obvious.   Their idea that cutting taxes increases both jobs and revenue, is a fairy tale.. If it was true, it would have worked the four examples I gave above….
Cutting taxes leads to lower revenue and larger budget deficits. There are no two ways about this…
Republicans think this is not true.  Just like they think global warming is not true.  Just like they think the separation of Church and state is not in the Constitution. Just like they think birth control is too important a topic to let women decide how it should be used…..
Republicans are wrong on all counts.
And so, if we get a Republican Congress in 2012, we will then get dynamic scoring to deny how much their policies are costing us, as we too, will wind up bankrupt……
So if you don't want America to turn into Greece ( who would?)…… it is imperative that no Republicans make it into Congress this next time….
Their steadfast belief in nothing but psuedo-science, will be their undoing…..
1. The Earth is not the center of the universe.
2. The microbes are gaining on us.
3. There have been mass extinctions in the past, and we're probably in one now.  ( Thomas Jefferson saw mastodon bones from Kentucky, for example, and concluded that the giant animals must still be living somewhere in the interior of the continent. He asked Lewis and Clark to keep an eye out for them.)
4. Things that taste good are bad for you.
5. E=mc²
6. Your mind is not your own.
7. We're all apes.
8. Cultures throughout history and around the world have engaged in ritual human sacrifice.
9.  We've already changed the climate for the rest of this century.
10. The universe is made of stuff we can barely begin to imagine.
You are now wiser:  the details  are here….  
Case A: She was a single mom, working days as a medical assistant, and picking up shifts at a local restaurant… One night, after coming home almost empty-handed, she ranted on her Facebook page. Someone copied and alerted her employer. She lost her job.
Case B: Another local company, issued employee warnings to it's entire labor force; "Don't let a few moments on social media, cost you your job."
Case C: Melissa Kellerman, after getting knocked over in yesterday's game, had her twitter account pulled after commenting on it.

Photo courtesy of Yahoo Sports
The Cowboys Organization, called her in, and ordered her to delete her account…. Here are the tweets she deleted….
Here are a list of comments that one sees in public media whenever this topic is broached….
Only a fool believes Facebook is private.
Don't put anything on the internet you don't want everyone to see.
Social Media is just that. Social. Don't be shocked when your private life goes "social"….
And all those statements are true. When using the Internet, you need to be guarded lest your employer sees what you are saying…..
Now here's an interesting question: WHY?
WHY DO EMPLOYERS HAVE THE RIGHT TO DICTATE INTERNET PROTOCOL?
The initial response is that they get to protect their image.
When someone says something on the Internet, it is publicly damaging if negative.
But why not people? Why can't they be entitled to use their right to freedom of speech on the Internet?
If someone is complaining to another about being harassed by their superior, and it get forwarded and she gets fired, is that right?
If someone is complaining to another about improper mine safety and the deliberate non compliance of safety issues being forced upon them by management, and it gets forwarded and she gets fired, is that right?
If someone is complaining about being treated unfairly by their management team, and it gets forwarded and she gets fired, is that right?
Probably not.
The Internet is not private. but there can be reasonable assurances that some things on the Internet are private. Discussing topics on the Internet should be as safe as walking through the park, discussing items there… Sure, there could be someone behind the tree, listening to everything you say, but the fact that they had to hide behind a tree to hear it, means they weren't legally entitled to the knowledge. Likewise someone could steal letters out of a mailbox. Someone could tap a phone. Someone would listen to your cell phone with a scanner… All of which are illegal.
But, reading someones private inbox message because it is on the Internet, is not…
It needs to be.
The law needs to catch up to technology. People are allowed to say what ever they want. That is guaranteed.
It is time that same right is canonized into America's legal code. So that if a corporation acts aggressively upon someone's free speech, that company stands to lose a year's profit in damages and legal fees. That is the level of penalty required to protect the privacy of every American, when it comes to their using the Internet.
Titled Supernova of a Generation, it will be visible tonight, fading by the end of this week…
What may make this the most viewed supernova (requiring binoculars) is its location… It's near a well known astronomical landmark.
Titled SN 2011fe, it is located in the constellation Ursa Major, better known as the Big Dipper. "The easiest way to find it is to take the last two stars in the handle of the Big Dipper, form an equilateral triangle heading north and bang, you'll find the Pinwheel Galaxy,"
(A pair of 80 mm binoculars suffice to view the display, but a telescope with a lens measuring greater than three inches would be better.)
By Friday, the supernova could hit magnitude 10, still below the 6.5-magnitude threshold to be seen with the naked eye.
The last one occurring was in 1986; prior to that 1972…
In 1604 one burned so bright it was visible during daylight hours.
The 1%'rs are the target of the Occupy ______ Protesters.
The 1% are throwing back the argument that since 47% pay no income taxes, they have no bones in this argument.
Fact: 53% of Americans do pay all of the income tax… And a large part of that is actually paid by the top 1%… So why is everyone firing the guns their way? They are doing their part in pulling the wagon and the Democrats who pay no income taxes are riding the wagon for free!
That certainly sounds fair until you look at why those 47% are not paying income tax….. 46.2 million or 15% of America lived below the poverty line ($22,314). Yes, that still leaves an additional 32% of America above the poverty line who do not pay income tax.
So who are these slackers not paying their taxes?
Most of them have children, and gain a $1000 credit per child. Which means if you have 2,3,4 children you will at the 15% level have to earn respectively over $30,000, $37,000, and $43,000, in order to pay any tax.
Of course, these figures are straight income not counting deductions. If you add the standard deduction for four people, five people, six people, you get incomes at $48,000, $58,800, $74,000 before any tax gets paid…
Is that fair… ?
You can't quibble on the low end. Those people are having tough times. Perhaps you can squeeze a few dollars off the top end… since to stay afloat with a family of four these days here on the east coast, takes about $48,000 at the minimum.. That is just getting by.
Keep in mind the number of people these represent. Since 35% of Americans live on less the $35,000 a year, That means roughly 20% are between $22,000 and $35,000. Which leaves the additional 12%, ranging in incomes from $35,000 up to $74,000 (provided they had large litters.)
Out of the 47% paying no income taxes, 20% are below poverty, 15% are between 22,000 and 35,000, and 12% are the rest… Obviously Americans are simply too poor in today's current corporate based system to pay taxes.. That is why 47% of America does not pay income tax.
They do pay taxes… They pay gasoline taxes, they pay school taxes, they pay state and local taxes, they pay Medicare taxes, they pay FICA social security taxes, they pay water taxes, they pay electric taxes, they pay natural gas or propane taxes, they pay boiler taxes, they pay business taxes, they pay… oh hell, I got tired of writing, but I'm sure you can think of a few more…
These people who the federal government has deemed through Congressional action, as being too poor to pay Federal Income tax, actually pay a considerable amount of the fees and monies necessary to keep government services going…..
There are two solutions… tax those who have more money, and tax them alot! or…. pay those people a little more on the bottom and then we can afford to tax them too…
Corporate profits were in just one quarter = three months = 13 weeks = 65 business days (if no holidays) … $1.7 trillion. If you just took that figure, and divided it by those in the civilian work force, (154,017) you could have given a raise of $11,000 to every American worker, employed or not….
And the other three financial quarters would be untouched… Keep in mind, corporate profits are only the amount that is left over, after all expenses have been paid. It is quite possible for a company to run on almost zero profits indefinitely. . . (which is what happens when tax rates are higher as they were in the 1940′s, 1950′s, 1960′s, 1970′s, 1980′s, 1990′s…. we all did fine then…..)
So all this extra money, and all this need….
Hmm, very simple solution.
We are approaching the 45 anniversary of one of the foundations of our development. Even if we weren't followers, quite often our bosses, mentors, or best friends were, so we had to deal with the consequences and irregardless, were shaped in some ways by this event…..
This past September the Eighth, marked the 45th birthday of the series Star Trek. Who would have guessed it would have spawned 5 more series for a total of 6, 11 full length movies, dozens of games, hundreds of novels (all read by Hube of course), and a Las Vegas theme park?…..
It took me a while to "get it"… As a science fiction buff, I was into the special effects, the glory of something new every week, and believe or not, we discussed the concepts found in Star Trek in our higher math classes….
But coming back to it later… (it was cheesy seeing the special effects of the 60s with bulbous Christmas lights representing massive computers)..I see a fundamental truth illustrated that pretty well defines all mankind throughout our species' existence…..
When confronted with a crises, the decider(Kirk)listens to reason (Spock) and emotions (Bones) and then determines a best guess, and luckily each week it was the right one….
The interaction is hyped between the characters so one can plainly see that at times listening only to emotions will get one in trouble; at other times, listening only to reason will get one in trouble, so neither approach to such an argument is sacrosanct…….
Interestingly, reason or pure logic gets portrayed by an outside influence, a Vulcan in this case, someone not human…. At first glance this person representing "reason and logic" appears weird, possibly untrustworthy…..
But usually he is right.
The lesson carries today. Our conservative friends may quaff at the reason being given by one who is on the surface, different in appearance.
They, like Bones, are governed by emotions: fear, loathing, and hatred and sometimes, yes, love….. (seems to happen a lot in airport bathroom stalls)….
It will be a combination of both, that pulls us out of this weeks crises. Next week, stay tuned… same time; same channel…