You are currently browsing the category archive for the 'Math and Science' category.
One time last week as I was doing the grocery shopping I looked up at the clouds on that spectacularly beautiful day.  I call them West Texas clouds because they are the kind you see on the prairie,  small puffy cumulus clouds that never will give rain,  but stretch across the horizon from one end to another….
I looked right through them.  it was then I realized my perspective had changed.
Growing up, clouds were always the ceiling of my world.  The tall thunderstorms reached as high as clouds could go,  That was the upper limit of my universe.  The lower was probably the pit in Hibbing or Anaconda Mines.
Oh, I read books about things beyond that realm,  But they were out there, not me, not my daily living.
But my perspective has changed.  These clouds that used to set the upper boundaries, now were seen as only the first layer of a blanket touching earth. My mind instead of seeing the clouds gracing the ceiling, saw them only scuttling across the floor.
My center of perspective had changed.  And it was somewhere over the past two years.
I don't know why. or how.  Perhaps it is the constant YouTube bombardments of earth from 200 miles up.  Seeing Northern Lights from the perspective of looking down, Seeing land masses glow at night between the darkness of the oceans.  I truly wonder if it was the day off, shared by video with a man in a balloon as he rose to the highest one has been, then jumped out, falling downwards to again set feet on familiar ground.  One sees the clouds so close to the ground. Perhaps it is being in control of shuttles, battleships, while jumping across galaxies, with a Playstation console in my hand.  Perhaps it is the wealth of info, about the sun, the moon, the near planets, the far planets, the moons of the far planets, the fact we are digging on Mars right this minute.   Perhaps it is the pictures of Earth from Saturn, peeking out from underneath it's rings, that I recently saw.  Or the first time I saw earth from Mars.  Perhaps it is the picture of our solar system's sun, a mere dot in a sea of black, as Pioneer 1 goes trotting outside into the real, universe… space not beholden to our sun….I
Maybe it was the accumulation of all.  Or perhaps it is that though technology and first hand experience, these are a part of me, and not just something said by someone else. But now for whatever reason, when I see West Texas Clouds over the Delmarva peninsula , my reference is and will be how they must look from above.  That now, has become the central point of reference…
Have we evolved?
If two volcanos go as did Krakatoa at both ends of the San Andreas fault close to the same time, could it be enough for the Big One?
Kilroy thinks so and I am inclined to agree. Call it a sixth sense. I'll be looking forward to seeing if this mystical sense of certainty is indeed as real as old philosophers have impuned, or if it alas is just a figment of my imagination, which my rational side has insisted all along…
But one can't be a seer without making a prediction…
Pay no attention to that man behind the curtain… .Behold… The Great Wonderful  Oz……
Today's News Journal finally posts a piece giving the other side of the educational issue.  In a way that is kind of silly because some of the best writing written on this topic has been taking place in Delaware over this past session of Delaware Legislation, and the News Journal has kindly looked away and forceably ignored it, to it's own peril I might add…  Now faced with the inevitable, they have embraced truth.
The Education Program we endured, … that one which didn't work no matter how much we bore down harder to force it into a square hole…. was all based on sham…
It was lights, microphones, power points, and carefully sculpted results carved with meticulousness in dark rooms, then thrust into the public's eye as a random product achieved from following certain pathways…….
Did you ever sit down in a restaurant, look at the picture on the cover of their menu, say "I'll take this?", and then…..  wish you hadn't?
"What the hell?  This isn't the same thing that's in the picture?  That was so big, juicy looking!"
Dudes and Dudesses!  We were marketed!… so how does it feel?
Well, we still have the educational system we always did… One that is probably still the best in the world…  The bottom tier of our civilization is more worldly educated than the bottom tiers of any other civilizations on this planet… It should be!  Considering that as a nation, we spend one percent of our GDP on education each year, far more than any other nation on this planet….
How were we bamdoozled?  By false test results.  Having bad data replace the good.
Rhee's underling:  These tests results don't prove a thing…  Rhee:  Get everyone here for the weekend,  We are camping out until these results show something different,   And better buy a lot of extra erasures…"
We were lied to.    Now that no one is looking.  Now that no one is there changing test results between closing Friday and opening Monday, the children of DC are doing what they always did before Michelle Rhee took over.  Learning to their ability….  Apparently when you fire teachers who don't give you results you want, you don't get results you want anyway.
What does work?  The same thing that works with adults!  (Making the assumption you are an adult) …Are you more productive when you  a)  have to pretend to your boss  who you totally despise that you are being productive, or b)  when you throughly enjoy what you are doing, knowing you are really making a difference, and without you the results would be far inferior?
Kids are just small adults.  They have the same feelings.  Make a kid want to learn, and he will do most of the work himself..  As a nation we have been going down the wrong road, doing the opposite of what our human nature tells us really works…  An 11 to 1 teacher ratio.
So. In the big picture, how can we make inner city children learn math and science?   By making it relevant, and fun.
Seriously if you want to teach chemistry, spend the money, buy the chemicals and then go out to some swampland, mix them and blow things up… Chemistry will become the most sought after class in that school.. Then, you can limit those entering based upon their other grades.  You have just given them an incentive to learn…
Some may not like blowing things up.  Give them a reason to learn as well..
Almost every review points out that at some point in their lives, every child wants to learn.  In a recent video making the rounds titled Changing Education Paradigms, the claim is made that 98%  of all children are geniuses at age 5.  When you measure how a genius thinks, looks at things, analyzes and sorts, their thought processes rare as emeralds in the adult world, but at age 5, are present in 95% of all children… From that point, as children progress we dull that innate skill down to the infrequency we find it in the adult world…
That is the problem we have with education.. We make into a "have to" instead of a "want to"…..
The sad reality is that today's life outside of school, is the most exciting it has ever been in the history of the world.  In a couple of clicks, a menu of the entire earth's knowledge is at our fingertips.  Anything we want to watch; is available.  Anything we want to hear; is available.  Ideally if we could force the dulling down of the real world, and conversely make our schools more interesting than home, so children couldn't wait to get out of the house…. our scores could go up more than a bevy of teachers erasing and changing the answers could ever accomplish….
And so… we have silliness.  We are taking tests three times a year.  We are firing teachers; we are removing principals, we are closing schools, we are withholding funding…  … all for something that doesn't exist in the "real world"….   Even the tests are contrived so that children will fail. ..
I'm curious.  If we passed legislation that said all entities that provide education services must be a non-profit… if all this madness would simply go away.  No reports of failing schools. No bills  like SB51 change the 35th best teaching institution in America to something someone had in a dream once… None of that. None of that…
Just "Kids, …. today we are going to talk about _____________ ….."
The educational department of the University of Delaware is ranked 31st in the nation... That is at least out of 5000 accredited teaching schools…
Not only that, they are 31st in the top ranked educational teacher training country in the entire world… Apparently there is no educational crises in America when it comes to teachers receiving top notch training.
Overall, the top 10 countries in rank order are the United States, Sweden, Switzerland, Canada, Denmark, Finland, the Netherlands, Australia, Singapore and the United Kingdom….
What just passed last Thursday in Delaware, now requires the University of Delaware, again now ranked 31st in the top educator nation in the world,
to be judged solely on how its teachers administer Common Core when they go out into the field…
Common Core?
Just how good is this Common Core we are talking about?
New Attack on Common Core From Pennsylvania Democrats

Common Core Standards attacked by Republicans
'Common Core' Standards Come Under Attack By Lucas Johnson, Associated Press
Nation at Risk Anniversary, Common Core Under Attack
Common Core State Standards Under Attack
The RNC's Attack on Common Standards
The War Against the Common Core

911: Common Core Under Attack
Rotten to the Core: Conservatives spearhead drive at RNC meeting to stop Common Core
Weingarten Calls For A Moratorium on the Implementation of the Common Core: A "Save Harmless" Year for Planning That Includes Parents, Teachers and Principals.
Washington Post: Common Core is in Trouble
Common Core Standards Facing Increased Opposition
Indiana Among States Acting to Oppose Common Core Standards
Lisa Nielsen: Is the Common Core an Attack on Progressive Education?
Common Core: Education Without Representation
The Common Core: The Good, the Bad, the Possible
Your Children Need a Néw Brain for Common Core
Kentuckians Against Common Core Standards
Toynbee Predicted Privatization
One would think someone in Legislative Hall would have at least looked into Common Core before mandating that the 31st best teaching institution in the best ranked nation for turning out good teachers, would have to be judged on its effectiveness by the results of a program everyone is having so much trouble with.
Progressives are against it. Tea Party Advocates are against it. Democrats are against it. Republicans are against it.. Red States are against it. Blue States are against it. How could this be? Could it be possible they all have children?
In fact, it appears there is no one who is in favor of common core, across this entire great nation we are so fortunate to live in… No one except 59 Delaware legislators, who apparently didn't get the memo…..

Photo Courtesy of Wallops Island
Most people are unaware there are more NASA launch sites other than Cape Carnaveral. But listed as the newest one is the Mid-Atlantic Regional Spaceport (MARS), Delmarva Peninsula, Virginia which is located on Wallops Island in conjunction with NASA's Goddard Space Center. (Most of you know, Wallops Island is just south of Chincoteague)..
Wallops Island was our nations first space launch site. It was established in 1945 by the Langley Research Center as a pilotless aircraft research station. It was incorporated by NASA in 1959. It has always been the small boy of the three launch sites. In the initial days, is was in hot contestation against Cape Canaveral for the becoming the main launch site. The difference in winter temperatures decided the issue.
As an aside Delawareans should be interested to note, that the first seven Nazi rocket technicians of arrived in the United States at New Castle Army Air Field, just south of Wilmington, Delaware, on September 20, 1945. They were then flown to Boston and taken by boat to the Army Intelligence Service post at Fort Strong in Boston Harbor. Later, with the exception of von Braun, the men were transferred to Aberdeen Proving Ground in Maryland to sort out the Peenemünde (the Nazi Rocket base) documents, enabling the scientists to continue their rocketry experiments.
In 1998, the Virginia Commercial Space Flight Authority, later joined by Maryland, built the Mid-Atlantic Regional Spaceport at Wallops on land leased from NASA. In December 2006, the facility made its first launch. It was from here yesterday's successful launch occurred…. The launch sets the stage for a second company to begin resupply missions to the International Space Station.
California-based SpaceX became the first private firm to officially resupply the ISS last October. Its Falcon 9 rocket lifted off from Cape Canaveral in Florida carrying a Dragon capsule filled with cargo and science experiments. Today, Antares, built by spaceflight company Orbital Sciences of Dulles, Virginia, lifted off from the Mid-Atlantic Regional Spaceport on Wallops Island, Virginia, at 22.00 GMT (Sunday, April 21, 5 pm)..
This was just a test carrying a dummy payload corresponding to the weight and proportions of its Cygnus payload. But while Dragon can return from its missions loaded with cargo, no Cygnus craft will ever make it back to Earth. These craft will leave the ISS filled with trash and will burn up in Earth's atmosphere.
The next test is in June, and if all goes well, 8 flights have been contracted to occur over the next 3 years.
Unfortunately even though it is only 130 miles south, it cannot be seen from Delaware during the day, nor heard. However 21 minutes after launch a very low level rumbling of distant sonic booms were alleged to have been heard here in Northern Delaware.
But, of all places… Sleepy Delmarva. How cool is that?
We knew this but it  is now being published… and so it is in the news.
The world is getting warmer… and we can now predict our climate by looking at map at 300 miles south and guessing what our weather will be from that…
Just as plate tectonics and  Darwin's origin of the species were able to lay the groundwork of reason  for explaining puzzling observations, this simplifies what to expect from global warming rather startlingly.
Texas is now  what we alway thought of when we considered the weather of Mexico; Oklahoma is now West Texas; Kansas is now Oklahoma; Nebraska is now Kansas; South Dakota is now Nebraska, North Dakota is now South Dakota: Southern Manitoba is now North Dakota…..
If  West Texas had 3 days of rain, now Oklahoma is getting 3 days of rain;  If it snowed 12  times in South Dakota, it is now doing the same in North Dakota… and so on.
So, to predict our heat, rain, winters, etc, our guide would be North Carolina.  Longer growing seasons,  some winters with no snow, hot summers…
However due to Global warming, the East Coast has a caveat.  An anomaly so to speak  and actually some relief from the North Carolina summer heat we would normally expect….
With the unprecedented melting of the Arctic and Greenland icecaps dumping its excess into the Labrador Current, that cold water drops South hugging the East Coast shoreline all the way down to North Carolina's Outer Banks where it finally becomes neutralized…   Therefore even though we have hotter air masses, the colder ocean temperatures creates a buffer against Global warming off the entire northeastern US.
Europe, Japan, and Alaska all experience  the same mitigating effect, although with both Greenland and the Arctic Icecaps melting into the Labrador, the US East Coast gets a stronger volume of cold water.  Call it our icy shower effect….
Once melting stops and the currents dry up, we return to the North Carolina scenario of the twentieth century….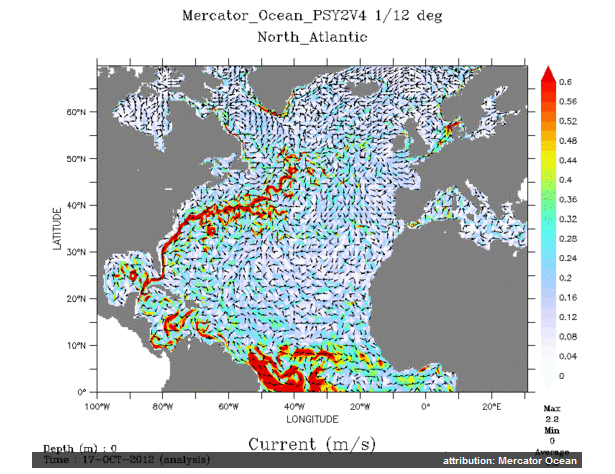 Chart Courtesy of NOAA
So, we in Delaware really get the best climate on the East Coast.    Warm winters, little or no snow, and cool breezy summers….. as well as a longer growing period, and… less dependence on fossil fuels for winter heating.
Gee, global warming isn't so bad for Delaware after all….  Oh, the rising seas?  There you go again… Why did you have to spoil the rosy picture I was painting?
Another hot button in both No Child Left Behind and the Race To The Top, is the teacher accountability piece as is related to the value added component.
I'm for the value added component.  I recommended it be enacted decades ago.  What that does is measure the ability of a child in September; and measure that child (through testing) in May, and if there is any difference, .. that child learned…  The teacher gets credit for adding value or more to that child's knowledge,  It lets us know who is teaching well.
Because face it:  personality polls by students don't work:  easy teachers get high marks.  Administration evaluations don't work:  brown nosers get good scores.  A final test doesn't work.  Those with good students coming in, look like great teachers; those with problem students coming in, look like problem teachers…
So to determine who was best at dicing apart knowledge in just the right way, so children could take the pieces and build them into structures of knowledge,  one needed to test the beginning and test the end….
Of course, I developed this idea long before corporate entities had a stake in failing a district in order to print and sell more tests…   Of course, this idea was up and running long before anti-unionists saw artificially low scores, could turn the public against their teacher and the teacher's unions.  And yes, this was before charter schools, or education for profit, was as big and as pushed for as it is today… ….
I saw it as a way of improvement….  There is a reason old teachers have better results than teachers coming right out of school… They learned tricks over time.  Through trial and error, they developed their own best way….  Someone new and just out of the gate, has to take the theories they were given in class, and try them… some are worth something, other won't be, but only time and coaching will give them, each new teacher,  their own best way.
So for a new first year teacher to learn that they are very good in English, but not so good in Math, is indispensable for that teacher's development!
It didn't turn out that way!
We the theorists, approached the legislatures and what we thought were helpful corporatists, with this novel method of measurement that would require their funding to implement.  Test for the value added by each teacher….
What we didn't expect, was this would somehow be pirated by those whose goal was to destroy the public education system and replace it with a privately funded one….
So accountability or a tool to improve one's teaching, somehow became subverted into a weapon one could wield to weed out any teacher who answered to a higher cause, other than improving the advancement of their supervisor….
Those supervisors tend to be a lot higher up than one's principal……
So here is Mr. Principal's Amorphous Catch-22.
Principals are caught in the middle: they want to offer frank feedback but are all too aware that any criticism is a black mark that can be used to deny a teacher's contract renewal or tenure. In this case, killing two birds with one stone—when those birds have about as much in common as a penguin and a pigeon—is extraordinarily ineffective….
So the principal is kept from giving honest value added feedback to potentially a marvelous teacher, because if he does, she gets fired….
How does this move us forward in improving our children's education, can anyone tell me?
There are ways around it. And good principals do it.  As anyone in a corporate environment knows, a good boss is one who protects his good workers from the confusions up the ladder…
The best way to handle an evaluation in this environment is to bring in a teacher for a conference, tell her you already did the evaluations on paper for the state, and hand it too her.  Most likely it will be favorable since you weren't bent of firing her. Tell her the consequences pro and con of the evaluation, either a raise, or demotion…
And then, put it aside, and say, these very important words…." that was for them, and the rest of this is for you... This is strictly off the record… "  At this point the principal sincerely points to ways he thinks each teacher can improve, and listens to their frustrations and figures out his part in clearing away the obstacles beyond her control…. In other words together they have a good business meeting designed around developing ways tobetter  improve the education of their charges..
Where you have principals who are good in this type of duplicity, you get good results.  They form the team that works together, they constantly improve year after year,  Guess who benefits the most?  Kids.
Of course compare that to the Republican model of administrator,  a person who is cursed with the fervor of accounting for everything, who fires half his staff every year because they aren't prefect enough for him.  Of course, … his student's results plummet every year… There is no carryover year after year!
But ironically, in today's mad state of affairs, this person is the hero because he is firing people who despite tremendous effort, simply weren't absolutely and unequivocally perfect at that certain time and place…..  I don't know about you, but I think it is time we parents, teachers, and local citizen controlled school boards  work to change the goals of who should be fired first, and instead,  fire administrators based on how well kids aren't learning and not based on how many teachers they can find to fire….
It probably hit mass culture with Star Wars. Where, when in a pickle, one made some adjustments to a computer, pushed a button, and one was suddenly in another part of the universe.
Then came the TV show Quantum Leap in the 80′s, where after a certain feat had been changed, one jumped through space and time into a new body, to begin a new episode the following week.  Remember Ziggy?
I was reading one of my earlier pieces that for some random reason yesterday had  caught a flicker of interest, and back then I had used that concept, that of "jumping", to explain why America was finally settling on Obama as their candidate of choice….
America had been milling around in stagnation and needed a "jump" to move us forward. Clinton and McCain could not engineer that, I proposed and that is why we needed someone new, to "make the jump" forward.
That was written during the campaign of 2008. This summer will be 5 years hence.
America still needs to make that jump.
But just as we almost get there, Republicans sabotage it by pulling the  computer's plug…
Now you reading this may be a Republican but please don't take offense. You are actually a big part of the solution which you will see, if you read through to the end.
Let's look at a few things.
Starting in the 80′s the Middle Class has consistently been losing ground against the top 1%. Now the Middle Class has spent their retirement savings just to pay normal expenses , and we are still heading downward.
Immigration reform was supposed to be completed and done in Reagan's time. Thirty years ago. We are just getting serious now.
Our interstate system is 50 years old. We haven't reinvested adequately. 11,000 bridges are held up by paint, and could drop out from under us at any moment.
Our tax system is still after 30 years, in disarray. The wealthy get breaks, the poor get pissed on.
Our Social Security and Medicare Programs are going bankrupt. They were also supposedly permanently fixed in Reagan's term, again 30 years ago.
We have been at the mercy of oil speculators for the past 13 years. We still are. What did you pay today?
Capital investment in America is at an all time low, yet the wealthy have parked $13 trillion in savings. Why no investment?
So America, why are we still stuck in the 1980′s?
Republicans.  That is why.  Conservatives.
That sounds so simple that one must wonder why we haven't moved them out of the way?
And that answer, is because for some crazy reason, we keep changing the rules to let them play longer.  Citizen's versus United is just one case in point.  Allowing one person to fund a candidacy opposing the people's true choice, obfuscates the entire playing field, and in the fog, makes the minority appear to have far more clout than is endowed to it by the American people.
Voting tallies prove that we have had over the past 24 years, 5 popular vote victories for Democrat presidents, and just 1 for Republicans, and to be fair, that was to a wartime president who barely got re-elected into office. Voting totals are the only non-spin, the only unobfuscated time we ever get to see how America truly feels.
The majority of America want us to jump forward.  They are tired after thirty years of nothing.
Right now, Republicans have killed the America dream.  College grads do not see them using their knowledge in their future jobs.  Retirees see their golden year's savings swallowed up by profits of gigantic medical corporations.  Everyone is making tremendous amount of money, except 99% of the American people.
The majority want to jump forward.  Yet it is always Republicans holding us back.
Holding us back on Immigration Reform.  Holding us back on higher revenue.  Holding us back on budget cuts.  Holding us back on health care reform.  Holding us back on Chuck Hagel's nomination….
It is just stupid..   It is done simply to achieve drama, and is only done for dramatic effect; it still is just a stupid waste of time and your money.  It is as if Republican behavior was patterned after that of a six year old child who drags his feet before going to school.  That child  knows he has to go there eventually, but he whines, supines, and acts recalcitrant, just to get attention…. maybe make someone feel "sorry' for them… Boo hoo.
America is playing the role of the parent to these recalcitrant Republicans and is damn tired of it.
One simply has to look at today's looming sequestration, which is strictly a problem Republicans created and brought down upon all of us,  and across this great nation, Americans  shake their heads in unison, remembering that if a Republicans had never been elected President  in the year 2000, by 2008 and Obama's election, our national debt was on track to have hit zero…   Yes,  Democrats would have paid off the entire National Debt by 2008, if we had never had George W. Bush slip into office.
And now, we preparing to slash $86 billion over the next 9 months.  Then do the same over the next 12  years…
Under the Budget Control Act by 2021 discretionary spending will be at 5.5% of GDP which is its lowest level of GDP since 1931.  (We all know what happened in 1932!)   And we propose to cut it lower?
Yet we have $13 trillion in savings owned by the top 1%.  $86 billion of $13 Trillion is…. 0.7th of  one single percent.   If you increased taxes on the wealthy by only one penny per every dollar over $1 million, we would have  yearly budget surplus... just like that.  One penny per dollar over $1 million.  That one penny would even give us an additional 0.3 of one percent extra which could be applied to lowering the deficit…   Unbelievably easy….  If you own trillions, who is going to miss a penny?
But we can't do it for one single roadblock.  Republicans won't raise taxes.
America needs to "make a jump"…… and we need to make that jump now.
If this were Hollywood or a television drama, Captain America would pull out his sidearm, kill the insubordinate (spy) officer, and ask his attache to step into his position. We would then,  finally be able to save our ship.
Americans could then dream again about prosperity.  There is only one reason we don't still  have it today.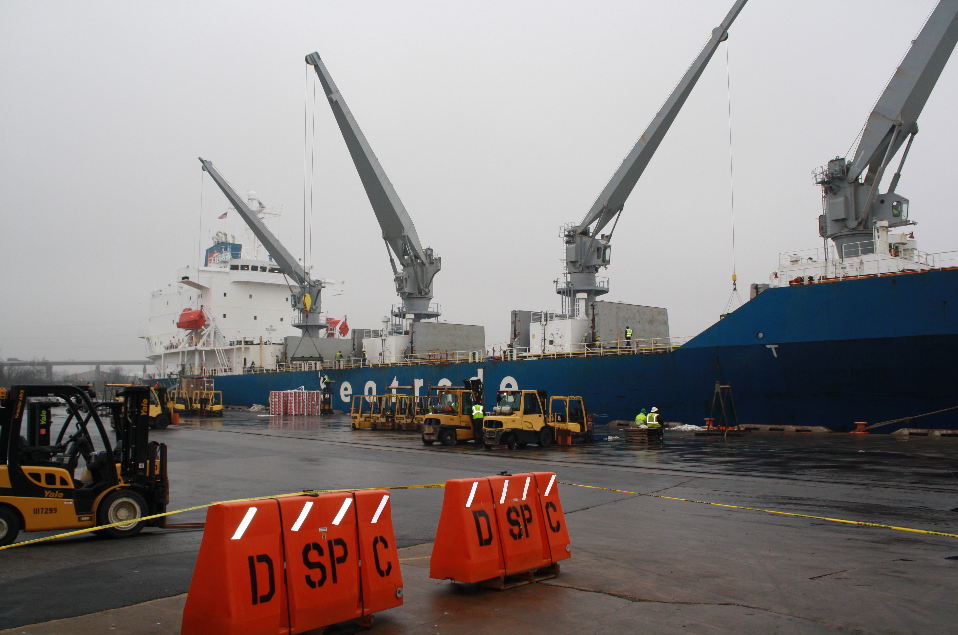 Courtesy of news.delaware.gov.
It wasn't that long ago, Markell and Alan Levin said: "With a private investor we were going to get $500 million invested in the port. There would be new upgrades, new docks poking out into the Delaware, new infrastructure", and the New Castle County construction industry, labor and contractors, saw that $500 million aimed at them….. .
Monday, February 11th, we finally heard the deal….
$5 million towards expansion.
It is being rolled out as a $200.5 million dollar deal. But, that comes spread over 50 years. $200.5 divided by 50 years is $4.1 million a year.
But wait again. We are getting $16 million up front, which disappears into the General Fund this year, and is gone forever. And some of those costs will go to infrastructure. So if we pull the $5 million for expansion, the $24 million for maintenance over 50 years (or $480,000 per year), and the $12.5 million for infrastructural improvements (or $250,000 per year), we have a lease payment coming in of…..$2.85 million a year….
$2,85 million is exactly the tiny bit the state of Delaware spent on funding Pencader Charter School, which is about to go belly up … Despite state investment the school has had difficulty working with its annual budget, leading to it having been at risk of closure in 2011, 2012 and again in 2013.. In October, 2011, the school fired three teachers who had been reported by the state for being paid a state pension at the same time that they were getting teaching salaries. They immediately rehired the fired teachers as independent contractors, a fact which came to light when one of the teachers was recorded calling a student a "bitch". That teacher, Bob Lewis (husband of school head Ann Lewis) was found to be being paid $6,500 a month for teaching a single class on morals and ethics…..
We are thinking of giving away our port for what it costs to fund a Charter School that teaches "morals and ethics"…
As previously mentioned, if the 420 dock workers have their union dissolved and make $10 less per hour, that bodes a deficit of $5 million every year to the City of Wilmington and County of New Castle economies…..
Delaware's seaport creates 4,300 family-sustaining regional jobs which produce $365 million in annual business revenue and $31 million in regional annual tax revenue. Port activity generates $34 million in annual Port revenue.
You can't blame Kinder Morgan. Anyone would jump on getting control of this port for $2.8 million a year….
The blame has to belong solely to whomever it was who decided to sell the 2nd best fruit and banana port in the entire global market, across the entire circumference of the planet, for almost nothing.
We cannot afford to lose the port of Wilmington and only to get a negative return back on it.
Forget absolutely everything else but money. This is just a plain bad deal….