You are currently browsing the category archive for the 'Life and Death' category.
Here is what we know.
Group of people put up money for film.   Allegedly  $5 million dollars.
Film gets made, and actors are later shocked to find their voices were dubbed over and that they were portrayed completely different from what was actually filmed.  Evidence is visible on trailer if you watch.
Film can find no Arabs who will play.  They use hillbillies and put on spray on tans ( rushed job; you can see where they missed)
Film gets edited , and  debuts in a theater in Hollywood, and all wait…  BOOM…. nothing happens….
Film finally debuts on website of that fake charlatan  who was in Florida burning Korans a little while ago.   That sets off search engine and the trailer hits Google.
That being a known, monitored anti-Muslim site, the film gets picked up in Egypt and goes viral.
Upset people riot.
Riot occurs in Libya, not where ambassador was, but at a consulate.  Ambassador goes to consulate and dies.
US announces that those attacking the embassy were not part of the riot, unless they created the riot as a diversion.
Romney criticizes Obama for causing the problem.
Romney defends his remarks despite the death of the ambassador.  Meaning did Romney, like John McCain over Georgia, have foreknowledge of the impending attack, and the ambassadors death was a freak accident, he stumbled in and discovered it was not an Islamic but a US operation?
Wishy Washy Romney,  is stuck, cannot give more fuel to the claim he doesn't think before speaking, so he buttons down harder on his original remark….
The director who made the film is a fictitious person.  Some reports say he is in hiding, but,  a producer, Steve Klein who is now taking full responsibility for the film, has a history.
This Steve Klein is not what reports said.  This Steve Klein is the author of a piece  called "Eric Holder: The Ugliest of Things" which uses the trial of Gitmo holdees in a civilian court way back when, to call for the impeachment and imprisonment of the US Attorney General for violation of the Constitution.  This is a very provocative piece made to defend the insanity of right wing thinkers, and the element of provocation fits very well with this film's provocative nature…  If put on a couch and analyzed Steve Klein would  be a person who has to shock and awe others  in order to consider himself worthwhile….. like a meth-head.
Steve Klein is connected to the whacky shell group called Courageous Christians United.  This strange group or eclectics  has a division that sparks hate with Muslims, a division that sparks hate with Jehovah's Witnesses, and a division that sparks hate with Mormans.
Obviously the anti- Morman connection is perfect, for who would expect Mitt Romney of orchestrating this fiasco, if it got traced back to Steve Klein.  The smart money would bet that Klein's group could be stoked to sponsor an anti Muslim film, and then those with the right connections could create the hassle in Libya that Romney needed to illustrate his lie which portrays that Obama is not truly the best president in foreign affairs we have ever had in our lifetime…  Everyone knows:  Flat out, he is.
That press statement of Romney was off; it didn't make sense as pundits were quick to point out.  It was like it had been rehearsed way too many times,  and was just waiting for the right second, to be spit out…   "Ok, Romney, it just went down. Got confirmation; it's a go..  in 5;   four, three, two, one. You're on!………………………………….."
The Republican Party is like a WWII bomber, missing its tail section and having both wings shot off..  It is going down……. They desperately needed a diversion to try to get the men out alive before it explodes on the ground.   Hey, fighter pilots… look over there.
This is a Swift Boat Attempt upon the current president. But instead of using film, a medium whose threads could be trace, they decided to use Muslims who have no accountability, and basically  pull out of the same play-book as 1980, and stage an embassy takeover to bring down Jimmy Carter and put Ronald Reagan (oh my… what a wonderful coincidence that the hostages get released as soon as Reagan ,pronounced as President of the United States of America, gets beamed to Iran…)  Oh, yeah that's right.  It was Dick Cheney was authored that. With that much guilt, I'd have heart attacks too…
The link got pulled within the past three hours,  but earlier according to Google, one of  the backers of this $5 million film was Sheldon Adelson, who once backed Gingrich,  and then flipped to Romney.   Very soon we will know who the others were.
So the theory stands even though it is still being put together, that this event was caused by the same people supporting Romney, this event was orchestrated in order to make it appear that Israelis made the film and the United States sanctioned it.  Truth is, we do have a contingent of America that is very unchristian and actually do believe whatever they are told, (our Tea Party Contingent), just as Muslim leaders have similar headaches within their own borders.
The more one looks into all the pieces that came together and the smooth planning that seamed all the pieces together leaving no loose ends, even though the idea is far fetched, and as yet, still speculative….  it is fun putting the pieces together, even if later they turn out wrong…..
The theory that makes the most sense out of Romney's ridiculous statement, is that he appears to have had fore knowledge and was uninformed at his speech that something had gone desperately wrong.
When you look at the evidence this is the only way it could be….  Just like our Commander in Chief's birth certificate is a forgery . It's the only way it could be…
Global warming. When someone knows they lie, they scream louder for the truth. That is what Ceasar Rodney Institute does when confronted with Global Warming…
As heard on WDEL (Rick Jensen show hosted by Flattery Bros on Monday August 20th) "these alarmists complaining the sky is falling… ha ha… haven't they ever heard of volcanoes. of, of, of thunderstorms… lightening flashes? There are lots of natural things that make the world hotter… Mankind is too small to have the power to make the world hotter…"
LOOK, WE ALL KNOW THEY ARE LYING……
But like a dog who messes up your carpet, it always feels good to rub their noses in it….. Maybe they'll bite their tongue next time…..

From Britain, the National Centre for Atmospheric Science at the University of Reading, determined that if all nature went totally berserk, ripshod crazy… it could only cause 30% of the current damage to the ice levels we now see.. And that was the best scenario… there were some cases where the most damage caused by natural phenomena… could only cause 5% of the damage we now see…
Sooooooooo, if only 30% of the damage comes from nature…. hmmmm… where does the other 70% come from?……
The authorities at Caesar Rodney, are left to conclude … God. Because if it was truly 70-95% man-made, then they have been totally wrong all these years….
That's sad.
Steve buried it first.
Tallahassee, the capitol city of Florida, a state of 19 million people, had a parade for veterans, … and nobody came…..
And this state went for Mitt Romney, overwhelmingly. And this state is also considered the birthplace of the Tea Party. And this state is so backward they don't arrest someone standing over the body of a dead man, because that dead man's skin is darker than the guy holding the gun….
And this state doesn't give a fuck about veterans. Yet they were the first to argue that American men and women go over to invade Iraq….
Selfish, selfish, selfish Floridians. And they… liked Mitt Romney the best…
This is exactly what we will get, if Mitt Romney becomes president. A country where no one cares….
Only one man can stop Mitt now. It is now, or never….
(Seriously, how could any person run for the American Presidency and hate American soldiers as much as he does…) Makes everyone want to punch him right in the middle of his square jaw….
Of course it was on Glenn Beck… His wife had just said that because of their daughter, when Obamacare was passed, it put a fire in her belly…
Rick then said…….
It's all about utilization, right? It's all about how do we best allocate resources where they are most effectively used? [...] Government allocating resources best on how to get the best bang for your dollars and it's all about utility. It's all about the usefulness of the person to society, instead of the dignity of every human life and the opportunity for people who love and care for people to give them the best possibility to have the best possible life.
The Lie: Under Obamacare there will be no more caring for rare diseases.
The Truth:
For the first time ever, … Obamacare has made it possible for children like Bella Santorum to always access health insurance, without lifetime caps and without the possibility for exclusion because of being born with a tragic illness or disability.
For the first time ever….. because of the Obamacare, children like Bella Santorum, born into a lifetime of medical challenges will never again face a time when they are denied the health insurance!
Fact: ….. organizations such as the American Association of People with Disabilities, National Organization For Rare Disorders, The Arc of the United States, and numerous additional widely recognized and respected groups whose sole purpose is to represent the needs of those, like Bella Sasntorum, who Santorum tells us will be deemed disposable, have not only registered their support for Obamacare, but have gone to the trouble,… and expense, …. to actually file an amicus brief with the Supreme Court to defend the law.
Why would someone aspiring to run the mightiest country in the world, purposefully play dumb about the main plank he is running on?
To scare parents? To win cheap political points?….
No wonder Pennsylvania, when they kicked him out, kicked him out as their biggest loser, ever…..
it's like one's house is infested with stinkbugs… Everywhere you turn, you find them… They're in your food, in you bathtub, sunning themselves on your toilet seat. You have to brush out your bed sheets before climbing in them… Their refuse is everywhere… You are always cleaning up their messes, washing dishes just before eating, washing clothes just before wearing, bleach off the table just before sitting down to it.
They contaminate everything they touch. You've squished a few, but the stench soon made you give that policy up.. You know you could spray them, and they'd die, but you are concerned over whether the chemicals will kill you too. if not immediately then somewhere down the road… And too, you have this innate sense that all nature's creatures are equal. All have a right to live and proper as they will. Who died and made you god, you say?
You tried placating them. You put food in a location next to where they enter, hoping they get what they need and go back.. Instead, they came pouring in for more. You made peace by giving them certain areas to live, out of your way, so you could live yours.. But no, it wasn't enough… Since you let them in there, they assumed you'd let them in anywhere….
You just can't believe their audacity. After all, you caved in and gave them everything they wanted.. You actually held back in a very humane way, and didn't use poison to kill them off, you didn't climate their colonies, wiping out their progeny and their possessions….
You actually were the perfect gentleman to them, and they didn't appreciate it one iota. What's the world coming to these days?
So, you give it up, sell your house for a loss, and move out.
Video and Transcript
Coons: Yes I think climate change is real, I think human activity has contributed significantly to it, and I think that the short and long term consequences of failing to act both by United States and many of the other industrial nations of the world could be tragic. I would act to make sure we make appropriate progress in reducing our emissions and in moving our economy to one that has less of a long term negative environmental impact. But I also believe we have to balance that, that obligation to act in the long term interest of our community, our country and our children, with not, in the short term shackling American businesses and American industry, because if our major competitors around the world do not make comparable steps, we could simply deepen the recession and put American companies at a greater disadvantage, So I would move to end what I think is the impasse on cap and trade or on climate change and vote for us to move forward. but I'd be sensitive and move to try to amend the legislation that's up in the Senate in a way that doesn't disadvantage American businesses..
Carney: Climate change is real I think the science on that is pretty clear and well accepted, so the challenge for us is what are we going to do about it. Obviously the first step is to come up with global agreements, it's one of those very difficult problems that is many years out in the future but we have to start doing things today:. with global agreements , national policy, and individual action. I agree with our senate candidate with respect to the framework for that. particularly keeping our eye on the ball with respect to businesses here and their impact on employment and that's why I strongly support investments in tax credits and incentives for green energy technology, particularly for establishing manufacturing facilities here in the United states and in the state of Delaware. We have tremendous opportunity, but we are falling behind. We are falling behind the Chinese, we're falling behind the Europeans, because we are not making that commitment that we need.
Urquhart: Climate has been changing; it has been changing for eons, getting colder, getting warmer. Right now, we're in a period where science says we are getting colder. I don't think there is any settled science according to David Legates, the Delaware State climatologist, there is no relationship that is documented between human activity and climate change, as is say right now it is getting colder. But the essential issue is what, what can we do something about. I mean, I support the reduction of pollutants like mercury and things like that, but carbon dioxide it not a pollutant…We have a Cap ant Trade bill that will cost Delawareans each about $2000 a year if it passes. It has massive penalties in it and it doesn't affect the rest of the world. It simply is another bailout of billionaires; its a bailout for Goldman Sachs, for Al Gore, and for lots of people who are exploiting it. But those businesses will move to China; the jet stream brings carbon dioxide this direction just as well, and until we address this globally, there isn't a solution, and we shouldn't penalize American jobs…
Compare and Contrast:
Is their a current Global warming crises that is the result of human activity?
Coons: Yes…. Carney: Yes…. Urquhart: No….

Will you act to reduce Carbon Dioxide?
Coons: Yes…. Carney: Yes…. Urquhart: No….
Will you support incentives to move America to cleaner, greener energy?
Coons: Yes…. Carney: Yes…. Urquhart: No….
Will you support Cap and Trade as it is in the Senate?
Coons: No…. Carney: No…. Urquhart: No….
Do you support Global Agreements to control global pollution?
Coons: Yes…. Carney: Yes…. Urquhart: Yes….
Is carbon dioxide a pollutant?
Coons: Yes…. Carney: Yes…. Urquhart: No….
Fact Check…
Your choice on this issue will depend on whether believe what you see: that Global warming is real, or believe what someone wants you to believe so they can still keep receiving their paycheck… Here is reality…

Courtesy of NASA
If you believe in thermometers, global warming is real. If you don't, only you can subscribe to the notion that Al Gore made it up and it has nothing, nothing to do with the constant removal of carbon from inside the earth and belching it back out into the atmosphere…
Urquhart emphatically says the world is getting colder…. And this was just day's after the news that we have just experience the 2nd hottest summer ever!
Here is real data with accomplishing grafts.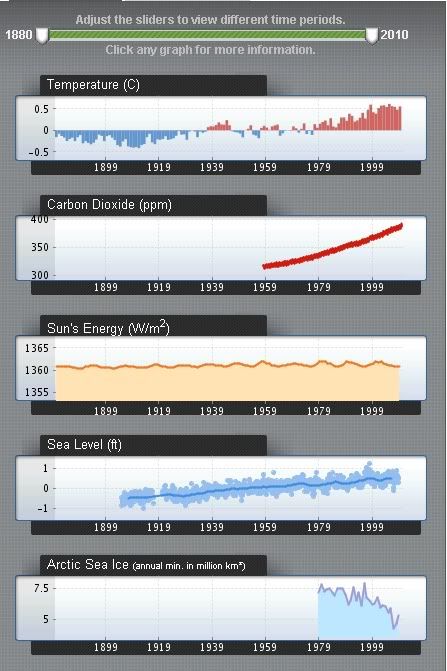 Courtesy of NOAA
Imagine pulling up to your private home and seeing thick black smoke pouring out of the roof of your house… Chris Coons is standing outside, and tells you "your house is on fire and you should call 911." John Carney rushes over and tells you "your house is on fire, and hands you his phone." Urquhart strolls up and tells you to "wait, there is no conclusive proof yet that your house is on fire. In fact, what you are seeing is condensation… because your house is actually getting cooler… He tells you David Legates said so." You then get a call from your old Realtor that says someone with a hard to pronounce name, just put a super low bid roughly 10% of its worth, on your property…
Would you trust a broker who didn't pay attention to the stock market? No?
Would you trust your child's education to a teacher who couldn't read? No?
Would you trust your life to a doctor who practiced witchcraft? No?
Would you trust a scientist who made up results out of nothing? No?
Then how can we trust someone to do what is right, when they won't look at facts?
How can we trust to be represented by our leadership when they lie to our face?
How can we put someone into office who refuses to accept the truth?
Bottom line: you can't.