You are currently browsing the category archive for the 'Liberal Geek' category.
This is post number 2000.
The only real significance is it is 150 posts more than where Tommywonk stopped exactly one year and fifteen days ago…
If some future historian looks back, I can only guess they may kindly make some note of the quality of thought that underlies these efforts, but my guess, is no one will ever notice…
Irregardless, as long as the urge to put thoughts down for others continues, we will go on. As usual, with no goal, no direction, and no ulterior motive. Probably upon reflection, my biggest surprise, right here, right now … is that I still enjoy it so much, and can't wait to jot my thoughts down, click the button, and send them off to where ever cyberspace and the vast internet ocean, lets them drift….
For each of you who have become regular over the years, … thank you friend…
There are the two extremes.
One, a person who makes an invention, should be able to make money off his idea, and not have it stolen out from under him, by someone else…
Two, we have a right to our own thoughts and since all thoughts are incorporations of other people's thoughts, for free speech to occur, we cannot hold everyone liable for everything borrowed they say….
Where do we draw the line?
"The Congress shall have power…To promote the progress of science and useful arts, by securing for limited times to authors and inventors the exclusive right to their respective writings and discoveries;"
Limited time.
So if I was talking to Nancy, and said, hey did you hear the new Radiohead Song about Christine O'Donnell and she said no, and I sang it to her (rather well I might add), then I would have violated the Constitution by violating the exclusive right of Radiohead to be the first one to let Nancy in on that song….
But, if pursued, I would be safe under the Free Speech clause of the Constitution…
So if I was talking to Liberal Geek, and had these great Pink Floyd lyrics that just fit a current event and repeated them to him, I would be violating the Constitution by not allowing Pink Floyd the exclusive right to be the first to let him on that correlation.
But, if pursued, I would be safe under the Free Speech clause of the Constitution.
And so, if using the Internet, I were to take a YouTube clip of a campaigner, say sucking on a corndog, and say this is what campaigning has boiled down to, why aren't we discussing issues anymore".. I would be violating the Constitution by not allowing that person, whomever it might be, the right to be the first to make that correlation….
Bit if pursued. I would be protected under my first amendment rights…. My right to free speech…
Now, lets say, I did post a corndog picture. or one of Obama smoking a cigarette, or one of Obama with a hole in his head… and got arrested….
I would say I was protected under the Freedom of Speech clause of the Constitution. Right?
No, not if the SOPA bill currently supported by Chris Coons, John Carney, or Tom Carper, gets voted on and passed…
Also, 99% of YouTubes videos will be yanked, if this bill becomes law.
Also, 99% of Googles information, will be pulled, or hidden, if this bill becomes law.
Also 99% of Yahoo's and the other search engines, will have to scrub a majority of their files… if this bill becomes law…
This is a dumb law.. Really, really, really dumb…
Just like the last dumb law pushed by the entertainment lobby. To make VCR's illegal.
"We are going to bleed and bleed and hemorrhage, unless this Congress at least protects one industry that is able to retrieve a surplus balance of trade and whose total future depends on its protection from the savagery and the ravages of this machine. … I say to you that the VCR is to the American film producer and the American public as the Boston strangler is to the woman home alone."
Jack Valenti before Congress April 12 1982.
The VCR business made millions for the entertainment industry.
I just used that without their permission.
I could be shut down, and so, could Wikipedia…
Without which, what's the point of having internet?
Correct me if I'm wrong. But today, I speak more on the internet than I do with real people. How about you? True or False?
We the people have the right, based on precedence and common sense, to have our own thoughts without having to worry about them being monitored, stored, and used against us at a later date.
It needs to be clear. The Internet is free. Copying a song and sending it, is the exact same thing as humming a tune to another person. Under no circumstances is if allowable for a government to shut down a site, that is involved with the dissemination of information. Information is not open for discussion. It is everything on the internet.
This bill is too loose and like the Patriot Act, too invasive. The entertainment industry already makes billions. None of that, or only a tiny fraction, goes to the personnel who created the object.
The fact that we should all never again speak freely, should always temper what we say, so they can make another $10,000… is absolutely obscene…
You need to let them know.
Here is an update (very late in coming) on the status of Dick, whose child's operation was postponed by his insurance company (State employee plan of Delaware through Blue Cross/ Blue Shield) at or about 4:00 the day before his 8:00 operation.
The next morning it was determined that the insurance company did not receive a critical piece of paper from the Doctor. Yet the physician's office claimed the paper had been sent weeks prior. The paper was re-retrieved by the office staff, and re-resent, and the operation went though at 3:00 causing family members to call off work for the evening.
How could that happen, just one business hour before the operation? Sinister motives?
Perhaps not. Here is the business day of one person who works in the medical insurance field.
"At 9:35 am a fax comes into my office (I work in the medical insurance field), from Hanover Hospital stating the physician had approved this specific procedure to be done. But at the top of the fax had jammed and the information of contacting had all run together. I had no idea of who the patient was, who the physician was, or which employee or private plan this incident concerned. Now we are a big insurance company with multiple offices, multiple floors in each office, and multiple cubicles on each floor. I have no idea where this approval is supposed to go."
"My only option is to call the hospital, and see if they can find out who sent the fax, and from there find out which patient's account the fax is for. So I spent most of my day tracing down this account and by 2:35, was finally able to route this information to the person responsible for that account. It was important; I felt I had to do it, even though it put my own accounts behind…"
"But I see how such a situation could happen."
In such a scenario, both parties could be right. The Doctors office: "We sent the information weeks ago"; ….. Blue Cross/ Blue Shield: "We never received the required authorization from this persons physician".
I'm thankful for this insight. Quick to bash the insurance company I was. Perhaps, maybe, perhaps not? Questions that could be solved by a national data pool that electronically handles all medical issues. Privacy could be jeopardized, but lives would not.
We can handle privacy issues by making the penalties for violating patient trust (such as an insurer telling a corporate entity about upcoming health issues of a certain employee), so severe, that the corporate entity would back off first, saying "don't tell me… I don't want to know". Headlines like "State of Delaware Lawmaker Tony DeLuca Loses 65 million Lawsuit on Violating Insuree's Privacy" would insure our privacy remains intact.
That is how you handle privacy issues.
And Dick extends his thanks to all who responded with support, caring, and offers of assistance. (All of which because of my slow response time, came long after the medical crises was averted.)

Courtesy of Department of Defense
"By the first light of the third day, look to the East!"
Everyone knows that living starts on the weekend… That makes Monday the third day… It is my sincere hope to return this feature back to its original time-slot so those starting their week, have something worthy to follow… Of course that leaves "Around the Horn" to synopsize on Friday, so between the two of us, we have full weekly coverage….
I apologize to Deldem of Delaware Liberal if this first return edition bashes up against his on vacation version of what went down this week…
So what happened this weekend?
Shirley opens with a story of what being an American is all about.   The teary eye part made me proud that America still recognizes its heroes, and goes out of their way to make sure they know it…  All of us can learn a lesson from this post…. When was the last time you went out of your way to make a member of our armed services feel welcomed?
She carries another idea that I will be stealing shortly.. It's from down under. and it certainly is worthy of the read, if you haven't caught it earlier…. it's just another way of self expression….
Aside from seven videos of varying topics, one an hour and twenty-six minutes long, and four quotes, the memorable posts on Delaware Liberals this weekend are the following… (We only covered the full first two pages, lol)… Their best was this one, The Morning After….. which describes the cuts to the state budget… "The Morning After" in this case does not refer to contraception, but is instead, related to the budgetary announcement made by Jack Markell on Thursday…. It begins with….
March 19, 2009 will forever be remembered as the date that Delaware's Gilded Age officially ended. An age that was literally 'built on a house of (credit) cards' is no more.
The interesting point is that ultimately, it is the responsibility of the wealthy to carry the weight of the rest of us. Pandora follows the same theme with "What's In The Water At CNBC": apparently someone argued on that show that Wall Street couldn't be run by anyone making under $250,000…… the unsaid premise is that the wealthy, who are overpaid for their results, need to make sacrifices so those making less, do not have to…
However the most uplifting piece of the entire weekend, was on this blog and had nothing to do with the economy… or the wealthy… It is about race, and in a spirited fashion on the weekend that Battlestar Galactica ended its 6 year run, Cassandra puts this vignette forward… I'm impressed she saw it, since she admits she doesn't watch the best show on television this decade. Next to Obama's Philadelphia campaign speech on the reality of "race", this is as good as it gets….
This blog has taken on new life with the economic crises swirling around us… In an amazing piece, Steve Newton (in real time) breaks down the implication of Markell's budget cuts and other attempts to balance the budget, and illustrates how those cuts will affect our employees… I can proudly say, it as good, or better than that other Delaware blogger who is prone to such analysis…… Again the same theme comes out…..
But the reality doesn't work that way. If you eliminate one unnecessary management position making $120K, then you have saved enough money to keep thirty employees at the $40K and below level from having to take a hit.

Again the message is simple: Cut off the top to save those on the bottom, holding everything up… The shocking truth of what happens when citizens are preoccupied with other matters than their government, showed up in this comment…. "a vacant position in my agency, one that had been vacant for 1 1/2 years got filled by someone on Minner's staff. Let me reiterate. WE DID WITHOUT THIS POSITION FOR 1 1/2 YEARS. AND NOW WE FILL IT? Luckily it is not a merit position, so it's possible that the position gets vacated anyhow. But this is one of those 120k positions. "
Again the message: cut the top to save the bottom….
Delaware Politics begins with their take on Markell's budget… One noticeable trend has been the life recently pumped back into conservative blogs. I have not yet commented upon it, but…. they were pretty shoddy all election season and up until the inauguration…. But with the Democrats now in the driver's seats, the conversation among the back seat drivers, has again become interesting to listen to… At least one can feel they are getting pumped up, perhaps stealing the energy leaking away from those liberal blogs, who are now getting tired, and starting to wind down in their ardor and intensity…
Dave Burris does his take on Markell's budget… Most notably he notices the lack of cuts in services…

"But when the rubber hit the road, not only did they fail to cut an agency, they didn't cut ANYTHING. That is a massive failure to lead. We got such a large deficit (I don't believe the numbers, but maybe you do) because we grew our government at a rate of 2.5 times inflation during the Queen Worthless administration. If we don't address that, we will continue to have this problem as more and more of the economy is eaten up by the government."
I noticed there was no mention that the failure of the Bush economy has drastically reduced ALL sources of revenue pouring into state coffers on which our government used to thrive during the last 8 years… But he does agree with Markell on across the board cuts: "I agree with the administration that cutting pay across-the-board is better than across-the-board layoffs in this environment, because layoffs would cost the state unemployment money,"
Interestingly, being conservative in a time of crises, leads to some silly conclusions… This one for example: "the gain from the Gross Receipts Tax increase is a pittance compared to what the state would get if they would just get out of the way and let these small business owners grow the economy". Really? Currently we have 7.5 % unemployed, and our largest employer, the state, is taking an 8% across the board pay cut? And paying more for medical? And more in taxes? Where is all that money going to come from to allow these small businesses to grow the economy? You can give them a zero tax rate, but it no one spends in their business, they don't pay taxes anyway… Nope, you need to make people spend, before any type of business aid makes sense…. Small businesses aren't going to grow… They are just trying to hang on and stay solvent! Screw growth!!!!! lol.
In another attempt at silliness the lovely Marie Evans is proposing the Greenville Casino… The land is available… Three casinos, she points out in a state 96 miles long, with some creative placing, puts one every 16 miles…( as I said: creative placing… lol).. Unfortunately since Greenville is too close to the northern edge, were one to go in up there, her 16 mile theory would be impossible…
Likewise the Special Olympians apology to our and their president, does crack a faint smile….
And I'm outraged, outraged that there is no mention of the Democratic Party in each of these instances.
And the DSEA? They also are outraged, outraged that while arguing for higher taxes on all other people, under Markell's budget…. THEY WILL HAVE TO PAY HIGHER TAXES TOO… OUTRAGEOUS!!! lol….
Welcome back to the fight guys!
Dana carries the AFSCME demostration over the cutbacks… They want the rainy day fund tapped out so they have their jobs… The only question, besides that is must be repayed every year., is that once spent, then what gets done next year…
Nancy covers the controversy over whether pensions should be capped at higher rates, than those just years away from retirement….
Mike Matthews has a job interview today… GOOD LUCK from all of Delaware's Blogosphere…
The same theme brought to you by Markell's budget cuts appears in Byron Short is Wrong (IMO)

In short, the most disappointing thing about Gov. Markell's proposal is he's shifting too much burden on the poor, lower-middle class and, in reality, isn't asking much of those state employees (cabinet heads, directors, etc.) who could stand a tightening of the belt. Or a complete axing of their positions.
Knock something off the top, to save the foundations supporting the bottom…. Where have I heard that before?…
Already two proposals are in state legislature that work to mitigate the effects of the cuts… One doesn't allow retirees to have the lower wages be used as a determinant of their pension size, and the other, gives two state employee's married to each other, less cuts than two single state employees sharing an apartment, would get… These bring up questions of fairness.. One can sense in both these proposals that these employees are "entitled" to earning more money.. It's a valid point.. They are lucky to have jobs… and if they get a "by" or a "pass", who is it then who gets hit with the charge for allowing them not to carry the load everyone else is being dealt… If they really wanted to have done something constructive… they could have worked for Kerry…. But nooooo, they didn't.. and now they are paying the price…. We all are.
However, a job is better than no job at all and this is not meant to be an insult! I didn't enjoy my pay cut and the traumatic impact. Unfortunately Governor Markell did the right thing. Those at the top of the pay scale will survive better than those at the bottom!
Where have we heard that sentiment before? I don't know… but it sounds vaguely familiar…
And some wise words to AFSCME union wannabe's who wish to increase their power within their organization… "Suck it up and be thankful you still have a job because others will be glad to take it."
Mike Mahaffie went to the last of the Markell meetings before this budget proposal came out… What is interesting is how the theoretical side of the equation seems dreamlike when compared to the reality all all the posts following the Thursday budgetary announcement… But although Markell was unable to attend due to the death of his father, Mahaffie does capture many of the sentiments "flickering" around the room…. One that stands out, was this gem:
As things wrapped up, Senator Simpson and Representative Carey, both Republicans, made a point of praising Governor Markell, a Democrat, for his bipartisan approach to the budget problem and openness to working together. They pointed out that Sec. Kee is one of several republicans in the Markell cabinet.
"On my count… all hands pull on the ropes…. Heave!"
One of those heaving is Brian from the Mourning Constitution. He tackles sports betting from the revenue side, and argues income beats job cuts….. Bringing money into the state, by making us the Vegas on the east coast, could keep some people some jobs…
For some facing job cutbacks, some good advice on how to survive a panic attack, can be seen here… This lesson might come in handy…. and then again, if you start foreseeing your own death.………
As for the current vacancies at the Delaware DOC – just a month ago at a meeting of the Corrections hearing before the Joint Finance Committee, there were 33 vacancies in order to assure MINIMUM staffing – while in actuality there are over 330 vacancies that need to be filled to assure smooth, safe, and efficient operation of Delaware's prisons.
Redwaterlily shows us what is occurring across the state simultaneously. Everyone is questioning their department, and wondering how they can afford any more cutbacks… Every department has needs… Every department has hard working employees who are not making the money they deserve… But as El Somnambulo points out above, by law,any extra money is spent in one sector, must be cut from another one…. The total amount is to remain the same… So each time one says they must keep their department open…. They are dooming another department somewhere in the State of Delaware, to double the amount of cuts….
Although quite prolific lately, this was a quiet weekend for the Colassus of Rhody… amounting to this list of what was NOT said by Obama on Jay Leno's show….
Tommwonk's weekend contribution deals with: Jack Markell's budget…. Tommy focuses on how this budget will be perceived by the staff budget meetings…
We are open to discuss other ideas to meet our financial challenges, and in fact encourage your ideas, because the $750M [deficit] we face now may be our best-case scenario, if the fundamentals of the national economy do not improve.
Our best case scenario.. In this sobering piece,
..
The actual budget proposal made by Markell is here…
Looking at our problems…. it is easy to get overwhelmed.. sometimes it helps to realize through out history greater problems have befallen greater numbers of human beings…. But somehow we muddled through… We will muddle throughout this time, ….
And to give us a greater perspective, as always, Duffy weighs in with two sentences… Sentence One….. and Sentence Two….
Remember how this opened? It was a celebration of an American hero… Like them, today we need our wealthy to contribute more to the nation that gave them opportunity. Today we need our wealthy stepping up and heeding the call of their country. Like our young boys who are on foreign soil, they too must suffer the sacrifice, and without grumbling, willingly pay more to the state to cover those expenses incurred assisting those less fortunate than themselves…

Courtesy of Department of Defense
So here is what is going on across Delaware's blogosphere….
The Colossus of Rhodey is bemoaning some publication's or journalistic attempt to describe the left side of the Supreme Court as being moderate… Like Jane Fonda's hell he says…. He also revisits John Edwards (remember him) sending a campaign staffer to by a Wal*Mart Playstation 3, while slamming Wal*Mart in his campaign speeches… The seventeenth of November was a light day for him, …but then Battlestar Galactica came on that evening… as his review on the eighteenth brings that episode back to life….
Duffy  has a post covering open ended gaming... it's worth it visiting to see his reminiscence of his reaction to playing on a 2600…. I didn't know that Americans spend more on games than movies? He also finished an extensive piece on religion and science.. Instead of debating between science and religion…we should include science in the classification of religion… I was intrigued by this statement….and after turning it over, I would have to say it is true… "There are many points of contention and conflict between Arab Islam and the West, but the chief religious contention between Islamists and the West is not really between Islam and Christianity but between Islam and Western scientific-materialism." And to show you that Republicans never learn... Trent Lott is again appointed to the Number 2 spot….. Wow.
Delmar's Dustpan covers a cover girl, a beauty of Delmar fame… Another Delmar, beauty, this architectural wonder, was once owned by the William Freihofer Baking company. But with new news of a priestly scandal, Delmar's Dustpan makes a surprising find about the difference between two Delmarva newspapers… The News Journal and the Daily (Salisbury) Times….. If one's blood has not boiled once yet today, they should view his catch (same link) of the FBI knowingly sending 4 men to jail to protect the identities of their informants… Two died.
Merit Bound Alley tells us of Joe's plan to hook up with Tyler Nixon for a seminar of alternative energy, featuring a symposium of solar, wind, and bio fuels.. Someone named William Kempton is speaking on wind. Joe M is still in the process of trying to find out how many Karen Peterson votes were written in during the election just passed… but the Department of Elections does not plan on releasing them until the next year… He also gives a head shout to another blogger who made his predictions for the next race… two years away…. titled appropriately… "True Addiction"… Equally fascinating was Joe M's personal vignette covering the problems being hidden within the Wilmington Catholic Diocese.
Delaware Watch recommends visiting Merit Bound Alley as well. (I didn't check out the audio…) Dana Garrett takes on the Republican Party's blame game among themselves and their propensity NOT to blame those who made the decisions …but underlings of those who made the decisions…. no matter what the economic status is within their families…. He also notes that Liberals have outed the Conservatives among our neighbor to the North… Apparently across the board, the term Conservative is equatable to Creationism, which was another once firmly held belief, despite the total absence of fact to back it up…. Dana also pokes holes in capitalist theory… Guess who's gross domestic product — a measure of all the goods and services in the economy — rose 10.2 percent from July to September compared to the same three-month period during the previous year? Did anyone say Chavez? "It's ironic, this revolution. The rich are even richer now." Dana also uncovers a little know legislative attorney who defends Rep Wagner's little past double dipping episode: charging in front of a judge, that anyone who wanted to sue against collecting from the state twice…. "had no standing to do so." Aye! Protecting the little guy, huh?
Nancy's The Delaware Way has a piece attributing the Democrat's win to Dean and moderate conservatives who left the Republican Party… Even she admits she is reeling from the events of this past week with her pictorial representation she posts here…. She appears to be going through a light phase… going back a week is her celebration that Andy Reid accepts that his play calling sucks….
From Down State, Mikes Musings, starring a blogger still remarkably self absorbed since 1962, shares with us one of his life changing moments….. But more important for us, is the changing of Delaware's status away from being the first state… nay, even being a state at all! But solutions are the real reason Mahaffie is happy. Using technology to bring back the best of olden times, is what technology is all about….
Tommywonk has his thing on Purple America…. He also celebrates another blogger's bump to the home page of Daily Kos… He takes time to eulogize an economist responsible for uttering these profound words of wisdom: What George W. Bush has done has been to shift taxes from the present to the future–and also made future taxes uncertain, random, and thus extra-costly from a standard public finance view. So no matter how high our taxes go… Democrats cannot be blamed….
This person is wondering what the difference is between a Republican and a Democrat… Do we see seeds of a future post? Perhaps… But nevertheless, he has picked a new chairperson for the Republican Party.. One who has combed through all evidence and knows their weaknesses inside and out… The name of their new chair, may surprise you….. And this, will make you want to hug your kids forever.
Dave Burris,  quotes an article from TIME, outcrying that Republicans were only 77,611 votes shy of taking control of the House of Representatives, and that just a shift of 2847 votes in Montana, could have kept them in control of the Senate…. In fact, instead of drowning his sorrows for the Republicans faulty showing, he is crowing that in a bad year, where they should have been squelched, they weathered the storm rather well… "In a year that was supposed to be a big, blue wave where Democrats dominated from sea to shining sea, it almost wasn't that at all. I can't imagine conditions that would favor the Dems more, so this will probably be the best they can do." he boasts.
Delaware Liberal, along with Tommywonk, and FSP, praise Joe M. for his work in pursuing the missing write in vote… a vote whose total was to be suppressed until after the choices were made for Senate leadership…. Also Jason goes out on the early line in his predictions for two years hence… I wonder how prognosticatable he will be? One of the interesting aspects of our blogosphere is the interaction between right and left… This interesting exchange covers Bush's handling of the Iraqi war…I hope no one eats their words…. He comments on FSP's head scratching over what was going on with the National Republican Leadership.. Dave Burris with this quote: "I spoke to the Sussex County Republican Women's Club on Wednesday, and one portion of my message to them was that I was certain that our leaders in Washington had gotten the message that voters sent on Election Day.
Now, I'm not so sure." And we have breaking News that Mike Castle has filed again…One must check out the link provided… We also have the traditional rant over the "liberal media" which is not so liberal after all.…. then proves it with this worthy piece about the News Journal burying an environmentally sensitive piece that might offend the entrenched powerful….even though not publishing it could kill someone over time….. That Delaware blogger had better slow down… He just might burn himself out….. lol
At least I'm glad to see he his taking a break… on this post election weekend….
Oh! And as if we needed another one……….From the ranks of our regular commentators, a new Delaware blog is now on the boards as of 11/17……Welcome. Here is its opening post…..We shall see if it makes any difference… Most likely, due to "the fix" that's in ….. this blog too will matter very little…….

photo from file.
(Overheard on his cellphone to his developer boss; paraphrased, coming from a skinny twenty something, logo'd in a golf shirt, khaki pants, standing in the vestibule corner as everyone filed out; "it's spinning out of control. E-v-e-r-y-b-o-d-y is angry. I don't think we can fix it. It's going the wrong way. I think we lost the election.")
Now I've seen many meetings.  Usually it's always the same comfortable group, the same participants, with one or two of the same troublemaker activists.  We all know each other, politely nod to our enemies,  and once our duty is performed, socializing progresses afterwards.  The short story version appears in the News Journal two days later….
Usually.
That was not what happened last night, August September 4th (
h/t rsmitty) inside the Crossroads Presbyterian Church, which had blissfully wonderful cushioned green seats; that is if you were early enough to grab one…
Standing-room-only would be too cliche to describe the turnout.  This issue at hand was so hot it swelled participation far above the 200  the organizers had expected…. (237 cars were counted; 500 participants?)  They had even forgotten to plan for a microphone, assuming normal voices would suffice.
They didn't, and fortunately a microphone was found.
Dignitaries (ie our politicos) sat across in front of the crowd… Dick Cathcart sat center, Bill Bell sat next to him.  Bill Powers sat and stood on Cathcart's left. Penrose Hollins drove down to represent Council. Bill Dunn, Bethany Hall Long, Earl Jacques, Rebecca Walker, Tom Scherer, Mike Protack, Bruce Ennis, members of the land use committee, and the Superintendent of the Appoquinimink School District showed up.  Ms Fitzpatrick (sp) came in place of Representative Lofink, who was unfortunately at his son's wedding rehearsal, to which one irate resident blurted out…."that's no excuse!" Her spouse, quickly put his hand on her leg, and warned her to calm down.."it's his son's wedding…."
Yes tensions were that high…..
But the real star of the entire evening was the map….  Yes, a silly map.  It stood tall over the entire meeting, dominating everyone's attention… It out staged the County Council Head, Penrose Collins, who stormed off when it became obvious that the audience was not interested in his point of view….
Most felt that was fair play…. for no one had taken the time to consider their point of view when these ordinances were passed, affecting the entire lower region of the New Castle County… That it turns out, appears to be true…. no one.
The map stood tall over the entire proceeding, reminding everyone, every minute of the immense changes coming soon.  And the changes were immense….
Here is the scale they are speaking off.
Three new schools will need to be built, one each year, to accommodate the new influx of  students.  The school district was surprised tonight; the plans were made without consulting them.  They have no money to grow.
Traffic will grow by 1800 cars.  What's the visual of 1800 cars?  At fifteen feet per vehicle, 27,000 feet total divided by 5280 ft/mile, equals a line of cars, parked bumper to bumper, a little over 5 miles long…  Imagine a line of cars parked on the shoulder of RT 1 from St. George's bridge to the heart of Odessa.  There is your visual image.  Deldot was surprised tonight.  The plans were made without consulting them. And they too, have no money to grow.
Most of the areas do not have sewer capacity yet; however in a rush, building will progress, anticipating promised waivers to use septic systems, until the county sewer system can catch up….. (Do you follow county finances?)  They have no money to grow…..
The wells to supply additional amounts of water; they are not yet drilled.  They are on hold, for they have no money to grow….
The anger seemed to grow exponentially within that room… (Thank heavens they held this disclosure within a church).
Hats off to a great job done by the organizers, including one Chuck Mulholland.  No one could have prepared them for what took place.  Their natural demeanor saved the day, rising to the challenge of the moment.  Particularly impressive was Chuck's impromptu changing of the agenda, as it became quite apparent that citizens were there to make their voices heard, not listen to failed excuses….  That change-up, diffused some tension, perhaps saving a riot…     I'll bet he never expected to put 3 miles on that evening, all the while carrying the microphone.
The question of the day?  How could this have happened…
The answer:
Mr. Pam Scott Paul Clark, President of County Council.
All these elements were rushed though, without vetting, to get developers in construction phase before the public could become aware of what was aimed at them.  No vetting was done, so no leaks would occur.  The last thing developers and Paul Clark needed,  was a large meeting of outraged citizens.
Obviously the details of the arrangements were made in his home, and presented fait accompli to the Council for its rubber stamp.   That is after all, what New County Council's  tend to do…
Therefore Paul Clark needs to go.
Councilman Bill Bell, who resembles the Stay-Puff Marshmallow Man, performed the role of a stool quite adequately.  "No one told me" was his response…." I didn't know…" he stammered.  The question which immediately popped into every head but one, was  " why not?"  That's your job…
Obviously his principal function was to be the Rose Margaret Henry of the County Council. Being put in that position by the developers and unions, means he obviously feels he doesn't need to call back his constituents, doesn't need to show up at their meetings, doesn't need to answer their letters or emails…  Like Margaret Rose Henry, all he needs to do is show up… and vote the way he is told..
When faced with 450 some people he began to get nervous.  His primary is days away…  His opponent Tom Scherer, who is having his own personal fight with the developers of his development, over their unfulfilled promises..  certainly does appear to be the better choice,  Towards the end, almost reduced to pleading for his seat, Mr. Bell promised too late, to "not support" the resolution that due to his complicity, has already been passed….
If there was another star, other than the map, the organizers, and the citizens themselves, it was Representative Dick Cathcart…  Angered at the incompetence bordering on deceit coming from   Mr Pam Scott Paul Clark and his Council, he promised legislation to forever put County Council growth under State oversight…. it's about time.
Bruce Ennis, surprised everyone in the room by coming down hard for a moratorium on all new development.  Two, three, four years  whatever it takes to get local citizens to become comfortable with the new developments.  He cited Kent County as a place where citizens took control and booted all developers our of governmental oversight positions….  That county is once again under control of its citizens; spawning a series of lawsuits from developers against it.  Ennis implied that as long as New Castle's citizenry supported the continuation of a moratorium against such lawsuits, he would as well.  Most nuisance lawsuits would be thrown out, costing nothing since they were filed with no legal grounds to support them, but still the stigma of having lawsuits might make some citizens feel uneasy….  The consensus in that room was: if you take on the developers…. we got your back….
Go get them Bruce.
They came to listen.  They got their earful.
Distilled to its basic elixir, here is the essence.
New Castle County  development is controlled by developers and the Building Trades Union who are linked together in their interest for growth.  Money for developers, jobs for employees.  They own the following:  Chris Coons, Paul Clark, Bill Bell, Bill Powers, George Smiley, and Bob Weiner….
Breaking that connection is the first step in returning Democracy back to those New Castle County citizens who live outside the city. Democratic Voters have the opportunity to sever that connection during Tuesday's primary, September 8th.   Voting Bill Dunn over Paul Clark, Tom Gordon over Chris Coons, Tom Scherer over Bill Bill, and Carl Colantuono over John Cartier, will do your part in returning Democracy to County Government. (Yeah, I know one is controversial, but if elected, we will own him, not the developers).
I've run out of time and space.  Not mentioned here was the citizens fear of falling property values; not mentioned here was one realtor who spoke 6 (?) times, warning citizens of how workforce housing would affect their property values, not mentioned here was the question of where these workforce housing residents, transferred from Wilmington's projects on the East Side, would find ever find work to pay for their housing, pimps, and bags of crack; not mentioned here was the cost of someone to cut down tennis shoes hanging from electric wires; not mentioned here was how noble Bill Dunn looked when working the crowd, compared to Paul Clark 4 years ago; not mentioned here was how poorly workforce housing residents obey driving laws; not mention here was how insufficient the current sewer systems are today, even without additional units; not mentioned here was how County Council increased the density levels, so developers could sell more houses per lot, more profit per lot; not mentioned here were the number of minority citizens who vehemently said they left the city to get away from the trash the County was again forcing upon them; not mentioned here was how hard everyone has worked, and suffered, to build their piece of the American dream, which now the County Council, at the bequest of Developers and Building Trade Unions, was about to destroy, WITHOUT EVEN CONSULTING THEM!
I wish I had more time…
Nancy, Geek?  Can you add more?

Courtesy of Department of Defense
Obviously the conventions would dominate those weeks in which they take place within our local blogosphere….
Since the Democrats began their convention, the number of posts relating to just national politics were as follows.
Delaware Liberal 77
Delaware Libertarian 6
Delaware Politics.Net 26
Delaware Watch 5
Delaware Way 5
Down With Absolutes 13
The Colossus of Rhodey 20
The number of posts relating to our state races were as follows:
Delaware Liberal 12
Delaware Libertarian 5
Delaware Politics.Net 5
Delaware Watch 2
Delaware Way 7
Down With Absolutes 13
The Colossus of Rhodey 6
Of course there were some judgment calls. Most particularly with our Senator running as Vice President, that always forced a judgment on whether the post should be considered local or national.
I say it should be no wonder that most local posts remained focused on the national fracus… For these are historic times… The first person with Afro-American blood is right now, running for the White House. The first conservative female (ever) is vying to survive the achievement of the Vice Presidency…. The first Delawarean in anyone's lifetime, is right now on the national ticket…There was even a storm that looked like Katrina all over again…and the Republican convention downsized accordingly…. Out West, the police busted up a group of drinking conservatives who allegedly threatened to assassinate Obama… The other convention's police, not to be outdone, were able to arrest Amy Goodman….
So I don't want to fault those who ignored local politics in order to focus on the national agenda…
I just want to debate whether that is the most effective use of our time, irregardless of whatever party we are discussing…. The underlying question begs to be asked…. Does anything we say or picture upon our blogosphere …make even the slightest difference in the National Race?
Meanwhile we have local people desperately trying to find out about their candidates, as well as candidates trying to get their message past the WNJ's blockade……and can't; because we are not talking about it…And it certainly wasn't a very quiet week in local politics.
The last week before the Primary begins today. On the Republican side, we have the hard liners fighting new blood… After 8 years of Bush, Republicans must consider whether they should stay the course, or molt into a new party still sporting the same name? Protack versus Copeland-Lee is about to determine that….Should Protack upset the regular party faithful, as his state's highest ranked candidate, he will have considerable input on the direction his party must take, at least until a new figure emerges…. Conventional wisdom considering his win, says there is no way…. But across this nation, Republicans have lost three seats in special elections, all in reportedly safe districts…. If enough of Delaware's Republicans want to force their party to run on issues, instead of running on slander, then Protack could just get enough bounce to go over the top…..
Stranger things have happened.
On the Democratic side, the governors race is heating up. But you would never know it if you only read the blogs for information (Unless you read Down With Absolutes)… Since a majority of bloggers consider themselves not only Democrats, but progressives, this is a tragic silence. Fortunately the News Journal stepped in, and took over the bloggers role this time, and published a great comparison of both candidates. Hats of to their editing department for their picturesque face off: that put bloggers to shame.
One would think there would be some buzz over the Democratic race to pick Mike Castle's successor. Granted, the candidate we wanted to run is either going to win or lose the governor's race next Tuesday, but irregardless, in a Democratic year, nothing substantial has been said about any of these candidates…
Fortunately WPVI Channel 6 stepped in and carried the bloggers role by televising their debate last Sunday morning…. But none would know by just reading the blogs…. It was actually a good chance to see who was honest and direct, who was prompted with canned answers, and who was trying to toe the center by not giving specifics and speaking in platitudes…..
And our insurance commissioners are infighting among the Democrats to see who takes on John Brady…. To be honest, the only one I know anything about is Gene Reed, and that is because of Mike Matthews. There have been three debates yet no one has mentioned them in blogworld…..
But the big, really big race. ie the one affecting us (up North) the most, is the Gordon-Coons battle. Tuesday decides it; there is no Republican challenger…. Fortunately this race has gotten some mention. Before the conventions started, cassandra m wrapped up a synopsis of their debate, that was not flattering to Gordon… But where we get our hard nuggets of info, are out of comments, as one side's supporters bash those representing the other side…. But the real question of who will better reign in our developers ravaging our countryside, has yet to be answered…..
Equally strategic, is whether Bill Dunn can upset Paul Clark…. Clark is better funded, but previously committed official endorsements for Clark are now dropping like flies, since Bill Dunn has now entered the race….At stake is the question of whether developers should have unlimited access to our county government? Or should they have only the same rights as everyone else? Dunn is for reform… Clark is "the way we were"……
Up North, the big General Assembly race is in the fourth… the seat previously held by Copeland…. Three Republicans, and two Democrats, are battling among themselves for the right to go to Dover… All are well funded for a Primary and the fourth is covered with election signs… However very little has been said about this race within the blogosphere. What will be done when they are elected, will be anyone's guess….
Democrats in the 6th Senate have a battle on their hands between John McKenzie and Mike Terranova. That race has not registered in our little blogosphere…. Nor has the Republican race for the 10th….between Andrea Daley and James Weldin…. Andrea is a frequent writer on Nancy's Blog, Delaware Way…… But has any blog covered the pros and cons of either candidate? No.
County Council 8 and 12 are up for grabs on the Democrat's side. In the 8th, John Cartier and Carl S. Colantuono go head to head for the grand prize… Carl Colantuono was previously highly recommended during a different race two years ago… In the 12th, the new guy Thomas Scherer is giving William Bell a run for his money…. Bell has all the trappings at his disposal that come with being an incumbent, but it appears that Tom is making up the discrepancy on the ground……
In town since Republicans do not exist in the city proper, the mayor, city council president, and the members of Districts 1,2,3,4,8 are all to be settled next Tuesday… But if one were reading the blogs for news, no one would ever know…. Before he left, Tommywonk featured Campbell Hay, who has the dubious distinction of being the only city candidate featured in blogland….
Kent County has a primary in the 3rd district of Levy court, just among the Democrats… and that winner goes against blogger David Anderson, I presume? Further south, Sussex County has a three way Republican race in the 2nd District, and a two way Republican race in the 3rd. In the last race, one of our states more insightful bloggers has put his hat into the ring… To find out his stance on everything, just Google Jud's Rants Delaware... It should lead you right there……
So all that aside, during this week of conventions, what did we learn locally?
1) We learned we are more exited about the national circus than we normally let on…. It can suck up all our energy…..
2) We learned that we did not live up to our reader's expectations; who will walk in to the booth on primary day, still in the dark, as if we didn't exist at all.
3) We learned that candidates need to use us by sending their info to be published, and in order to distinguish ourselves from the News Journal, we need to print it…..
4) We learned we need to apply endorsements based on our values, and adequately explain to readers why our support is forthcoming…..
5) We all have favorites. But if you read the local blogs during this past week of convention coverage….. you would never know it…..
With one week to go in the primaries, we can make some inroads. However the lesson that we take for this week, is that as thoughtful bloggers, we CAN make real impacts on local races decided by the slimmest of margins. Talking mostly about national campaigns, only helps keep things running in our state, the same way as they always have been.
And none of us would agree that running in the same way…is good…..

Courtesy of Department of Defense
Today is August 1st. For fifteen days the best of Delaware's first-half have been posted on this site for the academy and world to peruse and cast their votes. Today, we celebrate those chosen by you, to represent to the world, the best that Delaware has to offer.
The voting was on line. The results can be checked for accuracy. ( I'm actually proud of that).
Beginning with the first category:

Delaware Wind and Energy
And the nominees are:
Buying Power by Tommywonk:
Economics may be a dismal science, but evidence still matters, and the evidence has not confirmed the theory behind deregulation. Electric power generation is not a consumer driven business. The local market for electricity features one dominant buyer, several smaller buyers (large industrial users, one co-op and several municipalities) and the rest of us. Delmarva Power serves some hundreds of thousands of households, a small fraction of which have opted for alternate energy generation. The company's buying power is five orders of magnitude greater than mine. Delmarva Power can influence the market for power generation by using its buying power; I can't.

The Answer is Still Blowin' In the Wind… by Dave Burris formerly at Delaware Politics.Net……..
A week ago, one prominent Delawarean told me that the project was dead, the deal had been cut, that all of the players, including Senate leadership and the Governor candidates, were involved. It was over. DP&L was one of the good old boys and BWW was not and that was it.
I say that's bullshit. I have two kids that have to breathe in Eastern Sussex County for the next 80 years, God willing. It's only dead if YOU let it die. If you refuse to allow the "Delaware Way" to bury our energy future, all you need to do is make two phone calls today:
* Sen. Thurman Adams – 302-744-4318
* Sen. Anthony DeLuca – 302-744-4165
Wind Power is the Ethical Choice by Jason Scott at Delaware Liberal.Net……
It seems that every generation is presented with a stark ethical choice to make. Creating off-shore wind power is our ethical test. And make no mistake; the eyes of the world are upon us. Once again little Delaware can do so much for so many with if we pass this test.
Just as Caesar Rodney made his way to Philadelphia on July 2nd of 1776 to break a deadlock on the question of independence, we must make our way to the halls of power to break with the unethical and corrupt practices of the past. It is Delaware's destiny to push the country forward once again.

Time To Invest In Delaware First by Maria Evans at WGMD 97:
Let's face it, I'm not that green. I'm a global warming skeptic. I drive a car that's less than stellar on gas mileage. I would march a billion rats into a laboratory for testing to ensure I'd have one less wrinkle a decade or two down the road. But I'm in favor of the wind farm proposed to sit off the coast of Rehoboth Beach. Â Â Â Â
The wind farm construction, according to Bluewater Wind, will bring in around "400 – 500 construction jobs and 80 -100 operations and maintenance jobs for the life of the 25 year contract." Along with that, a regional shipping hub would be established at the Port of Wilmington and there's a commitment to a teaching and training program for wind farm technicians.
For Sussex County, I can imagine opportunities beyond what Bluewater Wind is offering the state.

The State Senate to Hold Hearings on Doing Something Else by Tommywonk.
As for Mr. Yingling's concern for ratepayers, I have pointed out that it is the State of Delaware, not Delmarva Power, that represents my interests.
The Public Service Commission staff report summarizes the findings of the yearlong process and recommends approval of the agreement with Bluewater Wind. Any legislative hearing that doesn't open by placing that report on the record as its first order of business should be viewed as a stalling tactic or worse.
The attitude of Harris McDowell and Delmarva Power seems to be: We're for renewable energy, just not here and now.
Not here means not in Delaware. Not now means let's scrap the agreement produced by the negotiations and start the whole process over without the requirement that Delmarva actually make a long term commitment to buy renewable energy.
(drumroll) And the winner is :
Tommywonk in Buying Power (Applause)
.
.
The second category is titled:
Delaware's General Assembly and/or Governor
And the nominee's are:
Never Have So Few Done So Much To Thwart The Will Of So Many by Maria Evans at WGMD 97:
The lawyer's name is Randall Speck, he's a Harvard Law School graduate, and according to sources at Legislative Hall, he's worked on "all sides" of the energy debate. My immediate thought was, "What side is he on today?"
That question was clearly answered by the smiles shooting around the chamber between energy company representatives as Speck questioned the Public Service Commission about their decision to choose a wind farm with a gas plant back up as the new, price stable, energy source for the State. I'm sure after the hearing there was a room somewhere in Dover filled with energy company employees desperately trying to muster up the coordination to successfully execute a few high-fives.
Report from the SEU Meeting by Liberal Geek at Delaware Liberal.Net:
Byrne got himself in hot water when he referred to the board as a public non-profit. When pressed for what the hell a public non-profit was, McDowell asked that the question be submitted in writing and would be reviewed by counsel. He then threw out a statement that the board gets many conflicting requests, and that they cannot all be acted upon.
Someone suggested that all submitted questions and their answers be posted on the website, to which McDowell responded that as a volunteer organization, their time was limited. One of the people in attendance asked why there were no provisions in the bylaws that would cover removal of sitting board members. She specifically said "the head of the board." McDowell kept coming back to transparency. The money quote is "I have never been involved in an organization that had as much transparency in my 30 years in the Senate." Having seen how the Senate operates, I believe it. He also said that he doesn't want to burden "this new baby" with a lot of rules that bog it down. Gotta love that in an oversight board.
Harris McDowell is using public office for personal gain – The Smoking Gun by Jason Scott of Delaware Liberal.Net

Actually, one person did notice McDowell's greedy machinations and that person did seem to mind. The story of that knowing and acting on the knowledge provides another layer to the sedimentary history of McDowell's serial abuse of the public trust. In fact, it is a glittery and interesting layer of that dank history because Harris McDowell was rebuked for his greed and indiscretion in no uncertain terms.
It was a rebuke so stinging that a person with a conscience would have had to resign from public office in shame. (McDowell has no shame however, so the normal rules of decent behavior seem to be lost on him.)
So who was this person who saw through McDowell's "green energy" champion act? You'll never guess so I'll tell you.
It was Ruth Ann Minner. Or at least the office of the Governor.
UPDATED: DNREC's Blatant Disregard For People, Aquatic Life And The Environment Leaves ME Speechless by Maria Evans at WGMD 97:
Did I even mention yet that the permit the Indian River Power Plant has been operating under expired 16 years ago and has been extended "administratively" ever since? Or how DNREC judges the fish kills to be acceptable by comparing them to the number of fish in the entire Atlantic fishery? Or the huge amounts of heavy metals released in the discharge?
And let me just add this: Sussex Countians endure the Indian River Power Plant polluting our air, water, land and the fish and shellfish we eat, while NRG Energy sells the power generated by the Plant into the grid. On top of that, DNREC, the state agency that is supposed to be protecting the fine people of the State of Delaware, doles out permits to the plant that are so permissive that NRG Energy can basically do anything and still be in compliance. But don't you ever catch and keep a fish that's one inch too short or you can be fined and/or arrested.
How To Buy A State Contract by Mike Matthews of Down with Absolutes.

Why, that would be Regulatory Insurance Services, Inc. (RIS); a family-friendly corporation that has made millions from auditing Delaware insurance companies for the Department of Insurance. The Insurance Commissioner awards this contract, and what better way to 'help' your chances than by paying for an elected official. The well-funded Insurance Commissioner candidate is none other than Gene Reed, Jr. Mr. Reed's much touted campaign fund is a direct result of the friends and families and related corporations of Regulatory Insurance Services, Inc. in pursuit of the multi-million dollar contract awarded by the Insurance Commissioner. What's a couple hundred thousand in campaign donations compared to a contract worth millions?
Sounds to me like a recipe ripe for foam-at-the-mouth profit-mongers more interested in installing a candidate who will serve their interests as opposed to those of the citizens of Delaware. But let's not rely merely on rhetoric and conspiracy theory-like claims. Could Gene Reed be a Donna Lee Williams-lite; the kind of Insurance Commissioner who doesn't give a damn about the consumer and who lives to serve the corporate behemoths who so richly line his campaign war chest?
(drumroll) And this category's winner is:….
Maria Evans in   UPDATED: DNREC's Blatant Disregard For People, Aquatic Life And The Environment Leaves ME Speechless (Applause)
.
.
One of the areas not often covered in Delaware's blogosphere, is the field of science. Obviously none of what we do could be done, had not technology advanced so far within our lifetimes…. This next category seeks to highlight those who have given us insight into this brave new world……
Delaware's "Science Prophet"
And the nominees are:
The Environmental Impact of Meat again by Tommywonk.
No this isn't another number crunching analysis of the food chain from Michael Pollan. It's by food writer Mark Bittman, who writes the popular "Minimalist" column in the Times. His piece, called "Rethinking the Meat-Guzzler," compares eating beef to driving an inefficient car:
To put the energy-using demand of meat production into easy-to-understand terms, Gidon Eshel, a geophysicist at the Bard Center, and Pamela A. Martin, an assistant professor of geophysics at the University of Chicago, calculated that if Americans were to reduce meat consumption by just 20 percent it would be as if we all switched from a standard sedan — a Camry, say — to the ultra-efficient Prius
UMC on Intelligent Design by Joe M of Merit Bound Alley
I have to say that I am surprised and delighted to read that the United Methodist Church has proposed and adopted this petition on ID. Here is the text:
Submitted Text
Evolution and Intelligent Design (80839-C1-R9999)
Add a new resolution as follows:
WHEREAS, the United Methodist Church has for many years supported the separation of church and State (paragraph 164, Book of Discipline, 2004, p. 119),
THEREFORE BE IT RESOLVED that the General Conference of the United Methodist Church go on record as opposing the introduction of any faith-based theories such as Creationism or Intelligent Design into the science curriculum of our public schools.
Rationale
Creationism and Intelligent Design are appropriate topics in public education classes such as comparative religion, literature, or philosophy since scientific method incorporates critical thinking processes. All truth is God's truth. The promotion of religion or any particular religion in the public schools is contrary to the First Amendment.

Unfortunately, not quite in time for Giordano Bruno. . . .by Steve Newton at Delaware Libertarian….:
Bruno, among other little intellectual peccadillos (like disbelieving in virgin birth), was found guilty in 1600 of believing in the existence of other worlds:
His trial was overseen by the inquisitor Cardinal Bellarmine, who demanded a full recantation, which Bruno eventually refused. Instead he appealed in vain to Pope Clement VIII, hoping to save his life through a partial recantation. The Pope expressed himself in favor of a guilty verdict. Consequently, Bruno was declared a heretic, handed over to secular authorities on February 8 1600. At his trial he listened to the verdict on his knees, then stood up and said: "Perhaps you, my judges, pronounce this sentence against me with greater fear than I receive it."

Pat Gearity Writes: by Nancy Willing at The Delaware Way:
ABOUT ARSENIC FROM NRG'S INDIAN RIVER POWER PLANT:
According to the EPA's 2006 Toxic Release Inventory, the NRG Indian River coal plant released 31,000 pounds of arsenic into the plant's landfill in 2006. The landfill leaches arsenic compounds and other chemicals into the underlying aquifer, which flows into Indian Creek and ultimately into the Indian River Inlet area. The coal plant also released 1000 pounds of arsenic into the air in 2006. According to the TRI report, the NRG coal plant is the only industrial facility in eastern Sussex County which emits arsenic and arsenic compounds.
The total toxic releases from the IRPP in 2006 were 3,722,456 pounds, according to the 2006 TRI. The NRG coal plant is the largest industrial polluter in Delaware, followed by Premcor Refining in Delaware City, and the Edgemoor/Hay Road power plant in Wilmington. WHAT DID THE LATEST DNREC FISH CONSUMPTION ADVISORY SAY ABOUT ARSENIC?
Nothing.
DNREC issued a Fish Consumption Advisory on May 17, 2007, for the Delaware Atlantic Coastal Waters including the Delaware Inland Bays for PCBs and mercury contamination of bluefish only. DNREC did not mention arsenic contamination as a contaminant of concern. DNREC did not warn against ingesting local species in the Indian River area such as weakfish, flounder and striped bass.

The Night Sky again by Joe M of Merit Bound Alley:
Just past the first quarter, the moon casts silver light on the Earth. We were there. Humans threw people out of the atmosphere and we walked on an alien world. People stepped out of a metal ship, watched as dust flew from their footprints in a perfect parabola and settled onto the ground. We planted the Stars and Stripes, and gathering rocks for scientific inquiry, jetted those brave men back home. There are men alive today who walked on another world!
Brilliant orange, Mars creeps it's way farther and farther from Pollux and Castor on the 2D map of the sky. If you look at that rusty dot, you are seeing robots that men and women hurled across thousands of miles to orbit or land, and send us amazing photos of that alien terrain. Soon, yet another robot will land on the ice caps and send us data about water on Mars!
Look far to the left and you will see Saturn, honey-gold and hanging in Leo, fighting the lion for brilliance and beauty! We sent another robot over one million kilometers away to orbit this ringed giant! This satellite, Cassini, landed a probe on one of the moons of Saturn, a completely different plantary system! We have video of the Huygens probe landing on the Saturnian moon of Titan, a world of thick yellow atmosphere and oceans of ammonia! If you look at that tiny golden dot in the sky, you can know that there is a human artifact out there, gathering data about other planets.
(Drumroll)….and the winner of the category of Delaware's Science Prophet goes to:……..
Ouch!  We have a tie between Tommywonk's  The Environmental Impact of Meat and Nancy's Pat Gearity Writes. (Applause)
.
.
As usual during any awards ceremony although all of the awards are well intentioned, the human mind just gets restless… so we have provided a compilation of jokes to enliven matters and hopefully after the breather, allow you to stay focused a little more strongly. This selection is entitled: Delaware's Jokes: What's Really Funny About Delaware"…..
"Thurman Adams, Charlie Copeland, Harris McDowell, and Ruth Ann Minner….."
We now return you to our original programing……
Our next category voted upon by the Academy captures the good and bad of whats transpired these past six months. Highlighting something that only Delawareans would comprehend or appreciate are the next five nominees in the category which is titled….
Delaware's Life and Hardships
And the nominees are:

4,000 Commas by Liberalgeek at Delaware Liberal.Net

I had a plan for a post that would have a comma for each of our soldiers that have perished as a result of George Bush's adventurism and need to overcome his fathers' inadequacies.
So please click below to see the 4,000 comma's that symbolize the soldiers sacrificed for this BS war
.,,,,,,,,,,,,,,,,,,,,,,,,,,,,,,,,,,,,,,,,
,,,,,,,,,,,,,,,,,,,,,,,,,,,,,,,,,,,,,,,,
,,,,,,,,,,,,,,,,,,,,,,,,,,,,,,,,,,,,,,,,
,,,,,,,,,,,,,,,,,,,,,,,,,,,,,,,,,,,,,,,,
,,,,,,,,,,,,,,,,,,,,,,,,,,,,,,,,,,,,,,,,
,,,,,,,,,,,,,,,,,,,,,,,,,,,,,,,,,,,,,,,,
,,,,,,,,,,,,,,,,,,,,,,,,,,,,,,,,,,,,,,,,
,,,,,,,,,,,,,,,,,,,,,,,,,,,,,,,,,,,,,,,,
,,,,,,,,,,,,,,,,,,,,,,,,,,,,,,,,,,,,,,,,
,,,,,,,,,,,,,,,,,,,,,,,,,,,,,,,,,,,,,,,,
,,,,,,,,,,,,,,,,,,,,,,,,,,,,,,,,,,,,,,,,
,,,,,,,,,,,,,,,,,,,,,,,,,,,,,,,,,,,,,,,,
,,,,,,,,,,,,,,,,,,,,,,,,,,,,,,,,,,,,,,,,
The Ever Duplicitous Senator Thurman Adams by Dana Garrett at Delaware Watch.
Surprise! Senator Thurman Adams recently announced that he would not keep his promise to Senator Peterson. The reason is juvenile. According to a source who allegedly heard it from his own lips, Senator Adams has decided not to let Senator Peterson's FOIA bill come up for a vote because–now get this–it would then appear he had caved in to media pressure regarding it.
Imagine that. Instead of being embarrassed and conscience-stricken for being exposed as the person who keeps Delaware's legislative branch closed to the taxpayers, Senator Adams views the prospect of the bill being voted upon as a personal attack on his fragile ego.
Thurman Adams is a 79-year-old baby. He is so thoroughly compromised and unprincipled, he cannot even be trusted to keep his own word.
Again: P-A-R-E-N-T-I-N-G by Hube at The Collossus of Rhodey….
Then, the kid walks up to me and starts tossing the plane directly towards my head.
Where is the parent, you may ask? Sitting right there — with a big smile on her face. Yep, there was mom, not saying a word to the kid like "Don't throw that at anyone," or "Get over here and sit down," or even grabbing the airplane and telling the kid to occupy himself with something else.
The kid kept saying to me, "Look! Look!" and then would proceed to launch the plane right at my face. (Good thing I wear glasses or I might've lost my cool.) I glanced over at "mom," with a scowl on my face which clearly indicated "Get your kid away from me NOW." No dice. I walked over to look at some photos on the wall, my back turned to the kid and mom. The kid persists: "Hey! Hey! Hey!" I don't turn around. The mom says, with a clear tone of condescension, "He might not want to play with yooouu …" Play? PLAY??!! Mercifully, my daughter came out then. We left quickly. There were two other waiting parents sitting down in the room, both of which had "oh my God" looks on their faces.
I sincerely hope I never have that kid in my classroom in however many years. I've a feeling I'll be sending him out of class quite often. No thanks to his "mom."
The History of the Delaware GOP's Broken Promise on Senate Bill 4 by Dana Garrett of Delaware Watch:

Did I ever have the wool pulled over my eyes. And it was not as though I hadn't been warned by many of my Democratic friends. "When it comes down to the moment of really doing what it takes to extend Delaware's Freedom of Information Act to the Delaware Legislature," they said, "the promises made by the Delaware Republicans in the State Legislature will vanish."
But I didn't listen to my friends. I praised the Republicans repeatedly for sponsoring open and good government bills, and I scolded Democrats for not following their lead. And now that Senator Karen Peterson (D) is once more forced to seek to petition her FOIA bill (SB 4) out of Senate Pro Tem Thurman "Slick and Slippery" Adams' desk drawer, the promises made by the GOP Senators so far (except Sen. Colin Bonini) have vanished.
Sen. F. Gary Simpson (R) won't sign the petition and the Senate Minority Leader Charles Copeland (R) appears to be against signing it as well:
Christine's Lesson in Insignificance yet again by Dana Garrett at Delaware Watch:

What civil rights give her justification to sue a former employer, except for breach of contract, as a conservative? She isn't a proprietor of ICI. Doesn't she believe that proprietorship gives an employer the right to hire and fire for any reason whatsoever?
Or does the sensible intuition lurk in the recesses of O'Donnell's pretty head that since, for most people, our society is structured to require employment for survival and to thrive that no employer should have the right to threaten one's survival or capacity to thrive without a compelling reason to do so?
Hopefully, O'Donnell will develop her intuition further and realize that when working individuals can't afford the expense of justice through lawsuits, they naturally join forces and form unions. It's the only way in our society that most of the "little people" in the workplace can make themselves significant.
(drumroll) And this category's winner is………
Hube with Again: P-A-R-E-N-T-I-N-G (Applause)
.
.
Being wonkish we tend to measure our self-worth in wonkish categories. We flip out our wonks and measure them side by side to see who has one that is bigger and better…. We forget sometimes that we are frail humans too. This category is one which shows us just how strong we can be when faced with adversity that is not of wonkish persuasion. This category is titled…..

Delaware: The Human Equation
The nominees are:
So….the autism thing by Duffy at Pencader Days:

Things you need to know about autistic people and parents of autistic people.
1. No, my son is not Rain Man. He cannot count cards, play piano or whatever. I appreciate you trying to put some sort of positive spin on this but you sound like an ass.
2. My 7 year old son may have a meltdown in the grocery store for reasons unknown (even to me). Staring at me like I'm a hapless parent is bad but I'll ignore you. Open your mouth and I'm giving you both barrels for your ignorance and lack of compassion.
3. Don't patronize him. He's not stupid and he understands what you're saying. Talk to him, he may surprise you, he may not. Give him the benefit of the doubt.
4. Caveat to above. Set expectations accordingly and know his limits. Don't set him up for failure. I do not bring him into areas with large crowds. He'd have a full blown meltdown that would probably have any nearby priests attempting an exorcism.
5. Don't pity me. Having a disabled child is not ennobling or heroic. It just is. I didn't choose this, it was chosen for me.
6. Caveat to above. It has made me a better person. I am far more patient and compassionate than I have ever been and perhaps why this was chosen for me.
Different Kind o Memory of Martin Luther King by Shirley Vandever at Delaware Curmudgeon….:

The traffic then wasn't like it it now. We could do that.
Push 'em Back ! Shove 'em Back ! Waaaaaaaay Back !
Wellll, we all had a "sneak out" planned and I snuck through all the sleeping young'uns, down to the basement and up the cellar stairs, and don't you know I heard my father's voice, "C'mon outta there, Charlie". He didn't know it was me, assumed it was some intruder. I was busted.
Oh boy was I in deep shit. In my 14-year-old mind I wasn't doing anything bad. Just sneakin' out to have some fun with my girlfriends. Parents were called, punishments were meted out. I think I may still be technically grounded.
There was one small problem, of which I was oblivious. The month was April. The year was 1968. Martin Luther King had been assassinated, and there were riots in Wilmington. The National Guard was occupying the city (it lasted for 10 months). All this was going on around me, and I didn't have a clue.
"C'mon outta there, Charlie !"
It was only years later that I heard and understood the fear in my father's voice.
Congratulations, Lady Ravens by Mike Mahaffie at Mike's Musings…
They were augmented by a group of girls, including Colleen (my eldest), who had been part of a lacrosse club last year and had some stick and ball-handling skills, but lacked game experience. They featured lots of sprinting towards the goal and plenty of shots, but little passing and strategy. Good teams beat them easily.
By the end of the season, though, the team had come together and found a nice balance. They still had a breakaway threat, but as often as not these girls made skillful passes, set-up plays, and manufactured goals with a touch of finesse. In their second-to-last game, they fought Caesar Rodney, one of the best teams in the league, down to the wire in a see-saw game that they lost only by one, last-minute goal.
So, congratulations, Lady Ravens. I'm looking forward to next year.
This is very strange … by Duffy at Pencader Days:
"Open it."
"What? Me? Why don't you open it when you get home?"
"What, you think this is a bomb or something? Who would want to blow me up?"
"Anyone who knows you really?"
"Very nice. Just open it."
"There's no note."
"What's in it?"
"Sam Adams Triple Bock."
"Hmmm…Complete strangers sending me rare and expensive beer unsolicited. My reputation reaches far and wide. I'm hoping this is the beginning of a new trend. People will send me beer for free. That would be awesome."
"Don't you find this very strange?"
"Of course I do. But free beer in the mail is a good kind of strange. Body parts in the mail is the bad kind of strange."
I can tell from her voice she's unnerved by this.

Their Milkshake is Better Than Yours by Joe M at Merit Bound Alley
There are some things that are absolutely great about living in Delaware: the one-degree of separation we all experience, Deerhead Hot Dogs, Deer Park, the beach, but most importantly to me is the annual rite of spring when The Dairy Palace reopens.
On Thursday, March 27th, The Dairy Palace takes the plywood off its windows and starts making the best damn milkshake in Delaware for 51 years running. If you haven't experience the soft ice cream milkshake plain or mixed with a candy of your choosing, you have not lived. Seriously, you haven't.
This Thursday, after lunch, I will journey down to Basin Road in New Castle, mosey up to the counter and order my usual, a medium vanilla milkshake. I can't wait. See you there.
Update
What the hell? Last night after dinner, I took the wife and boy down from North Wilmington to New Castle for a milkshake and the windows were still shuttered at The Dairy Palace.
And the winner of "Delaware: The Human Equation" category is……:
Another tie: Between Duffy for So….the autism thing and Shirley Vandever for A Different Kind o Memory of Martin Luther King (Applause)
.
.
The next category is titled Delaware's Best Original Blog Photo. Some of the genius behind blogging is to take an item discovered either over the internet or within our daily lives and give that object a story and a purpose… The object may not be originally created by author, but had it not been for the author pasting the image in their blog, none of us would have had the opportunity to view it….
Delaware's Best Original Blog Photo
In this category, the nominees are: Another Tie:  this time between Duffy for
Tombstone on the Florida Interstate posted by Nancy Willing of The Delaware Way…:

Live Red Clay Board Cam by Kilroy of Delaware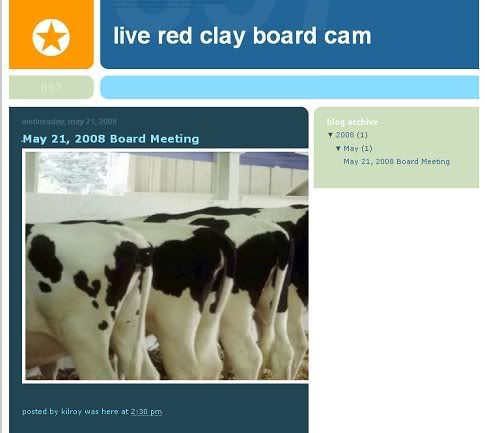 Uselessness by Delaware Liberal.Net


99,999 … and …100,000 by Mike Mahaffie at Mike's Musings.



Germans Poking Fun at US Pols by Nancy Willing of The Delaware Way……


(it's the expression on Hillary's face)
(drumroll)…. and the Best Delaware Blog Photo is………..
Our Last Tie……… between Delaware Liberal's  Uselessness and Mike Mahaffie's 99,999 … and …100,000 (Applause)
.
.
One of Delaware's most pressing opportunities lies within our state educational system. There are among our state several experts who have exercised considerable effort to better the lives of our children. The next category is titled:

Delaware's Educational Opportunities
And the nominees are:

Red Clay Object Codes Now On Line by Kilroy of Delaware….
The Reason I quit the Red Clay Consoildated School District Community Finanical Review Committee was because, I was led to believe the report couldn't be E-mailed as a pdf. file and couldn't be posted on the district's webpage as a stand alone file to maintain security of the finanical data base. It didn't take a fucking PhD to figure it out and took a half-whit like me with a GED and pocket full of college credits to presents this to you. A certain school board member claims it would be a major investment and finanical hardship to provide such service to the community. Well, it didn't cost a dam penny!
In my opinion, certian members of district and a certain board member seem to want to keep the community in the dark like mushrooms covered in shit.
Elementary-aged Girls (GASP) Like Math And Science Best by Nancy Willing at the Delaware Way…..
Feh, how often do cultural 'norms' create 'abnormal' effects? (link):
Girls like writing and reading; boys like math and science. At least that's the stereotype. But a new survey shows that girls in elementary school actually like math and science better than language arts.
Researchers at the University of Miami in Ohio surveyed nearly 2,000 girls in grades 4 through 8 at public and parochial schools and had them rate their enjoyment of four subjects, science, math, language arts and social studies, on a scale of 1 (strongly dislike) to 5 (really like).
Fourth-grade girls clearly liked science the best; their average enjoyment levels were:
4.11 for science
3.85 for math
3.5 for language arts
3.49 for social studies
As girls get older though, they seem to like science and math less, with science's average likeability score falling to 3.29 for girls in 8th grade.
But these subjects aren't alone, as girls seemed to lose a little interest in every subject.

Fixing High Poverty Schools ?????? by John Allison of Kilroy's Delaware:
Go in and check the profiles and you will notice Red Clay has many schools with very high poverty levels…. Red Clay sucks! I need to rethink this! Do you think maybe the poverty level is rising because Red Clay charter Schools, Charter School of Wilmington 3% poverty, Delaware Military Academy 11.2% and Odyssey (0% , can't be right but it's online) are pulling many students that are not high poverty out of the Red Clay Schools causing the % of poverty to go up
The First Debate: Education by Cassandra at Delaware Liberal.Net…..:
Attendees of the debate tonight between Democratic gubernatorial Jack Markell and John Carney on Education pretty much filled the lower space of the Grand and there were some folks who ventured up to the (cordoned off) area upstairs. Markell supporters were very visible – ranging from the kids outside with signs and cheers (having some fun with folks going into the building, I might add) to a fair number of attendees wearing their Markell pins. If I am judging reaction to applause lines correctly, though, there were plenty of Carney supporters in the house.
It was a very civilized event – the candidates certainly were friendly and gracious to each other. The format was very focused (I really liked this), the moderators kept it all moving (and the candidates themselves were good about sticking to the rules) and the audience was polite and engaged. This was the first time that I've seen either of these candidates in person and both did well in this format – although I kept getting the impression that Markell might have been happier moving around on the stage.
Paid To Study by Shirley Vandever at Delaware Curmudgeon….:
Paid to study? I find something inherently wrong with this. Maybe I'm just an old fogie, but I always thought that education was something to be worked at not only for the simple idea of self-improvement but for the hope of better long-term opportunities.
The program is privately-funded (thank goodness), oddly enough by the Learn and Earn initiative, conceived by former House speaker Newt Gingrich.
"The hope is that the bribes will boost students' motivation to learn, attend class and get better grades."
Would that this program had been in effect when I was attending Concord High School in the early 70′s ! It sure would have beat slinging burgers and Cherry Cokes at Grady's Bowling Alley. Although I did have the added benefit of learning how to play a pretty mean game of pool, it would have been alot easier to get paid to do what I already was doing on my own time (more money, as well).
(drumroll):  And the winner of the best blog post on education goes to…
Cassandra for The First Debate: Education (Applause)
.
.
Next category in line is:

Delaware's Funniest "Humor Posting"
And the nominees are:
Father/daughter blogging the Markell-Carney Education Debate by Steve Newton at Delaware Libertarian

My daughter liked Markell: sez the same thing as the other guy but at least he keeps me awake.
She's not so hot on Carney: he's kinda robotic and (kinda mean) but also a sissy.

Hey, I don't write her material.
On schools that "feel like family" (a Markell quote): maybe in Canada, but at [school name deleted] we detest our teachers.
On where they're going to find the money to pay for all this: they are going to steal it from New Jersey
On year round schools: take away my summer? You aren't planning to vote for them, are you?

…..My daughter's comment: when can we leave? all they do is promise everything to everybody and you know they won't do it.
It is probably obvious now that the wrong member of my family is in charge of this blog.
C.R.A.M by Frank Knotts of First State Politics (before changeover)….:
Some will say that I am giving the election to the Democrats, I would say that the Republican Party leadership did that when they chose this path, and if we continue down it , they will destroy the party and in my view this great nation.
We must not give in to the temptation of the easy way, we must fight for what we believe , and we must fight to win, but not just to win elections but to win this ideological battle. We can not win that battle by conceding control of the party to the liberals.
So if the only weapon left to the conservatives of the Republican Party is to cast no vote then so be it, "LEAVE THE BOX EMPTY"!!!!!!!!! And tell the liberals in this party to
C.R.A.M. it!!!!

CASTLE RECEIVES HIGH HONOR FROM ROCKFORD PARK DOG by Jason Scott of Delaware Liberal.Net.
Wilmington, DE – Delaware Congressman Mike Castle received unrestrained and boisterous affection from one of his neighbor's dogs in Rockford Park this afternoon. The canine wagged his tail furiously and nuzzled Congressman Castle's outstretched hand, at times licking it.
Rep. Castle has worked to build positive relations with of all manner of non-threatening dogs and has been a leader in the House advocating for the scratching of dogs behind their ears and saying things which dog's seem to like such as, "Hey boy. That's a good boy" and "Howzit going today Champ?"
In his remarks upon receiving the honor, Castle highlighted the need for a robust friendship with dogs. "I have the highest regard for all animal companions, however, as far as treating you like you are the best thing since sliced bread, there is nothing better than a dog."

If ABC Had Moderated the Lincoln-Douglas Debates by Tommywonk:

STEPHANOPOULOS: Excuse me, did an Elijah H. Johnson attend your church?
LINCOLN: When I was a boy in Illinois forty years ago, yes. I think he was a deacon.
STEPHANOPOULOS: Are you aware that he regularly called Kentucky "a land of swine and whores"?
LINCOLN: Sounds right — his ex-wife was from Kentucky.
STEPHANOPOULOS: Why did you remain in the church after hearing those statements?
LINCOLN: I was eight.
DOUGLAS: This is an important question George — it's an issue that certainly will be raised in the fall.
STEPHANOPOULOS: Do you denounce him?
LINCOLN: I'd like to get back to the divided house if I may.
STEPHANOPOULOS: Do you denounce and reject him?
LINCOLN: If it will make you shut up, yes, I denounce and reject him.
STEPHANOPOULOS: Do you denounce and reject him with sugar on top?
In the midst of this nonsense, Senator Douglas did find time to insert an important point:
DOUGLAS: When I was 11, my grandpappy and I chopped wood and shot bears.
It's true that in the mid 19th century, journalism was, in many ways, much rougher than today. But it's hard to imagine it could have been much dumber.

Bloggers Continue to Get Choice Political Posts by Liberalgeek of Delaware Liberal.Net….:

April 1st, 2008 by liberalgeek · 17 Comments
Last week we were all elated by the appointment of Mat Marshall to the post of Communications Director. If these things come in threes, there is only one to go.
Mike Protack has named activist/poet/blogger Dana Garrett as his campaign manager.
"My first foe in this battle to become Governor will be the Republican party itself. Dana has shown an ability to battle some of my biggest detractors, such as Dave Burris" said Protack.
"Once I have wrapped up the Republican nomination, I will need someone that can battle my Democratic opponent, whether that person is Carney or Markell, I know that Dana will be willing and able to excoriate them at every turn. He has been doing it for years."
This is really unbelievable. Congratulations, Dana. I am sure you will be a formidable opponent.
And the winner of Delaware's Funniest Humor Posting Is…….."
Tommywonk for  If ABC Had Moderated the Lincoln-Douglas Debates (applause)
.
.
And after a long night, we come to the last category of the evening… This category recognizes that a lot of blogging uses other peoples work. Much of our lives would be cantankerous if it were not for the tools called "cut" and "paste".. but creativity can take many forms. One of the forms used primarily in the past, is called "making things up." Today we have a high sounding name for this thought process and tend to call it "most original content." Even then, technology in the form of links, youtube, and images cannot be silenced…. This last category is…..

Delaware's Most Original (Any Category)
And the nominees are:
10 Things I Love About Drinking Liberally again by Jason Scott of Delaware Liberal.Net……:
6) Meeting blog fans. Especially fans who have jobs which prevent me from naming names. (you know who you are.)
5) Getting the inside skinny. (Does anyone say that…"skinny" anymore?) Anyway, some things just can't be emailed.
4) Meeting the awesome, charming attractive wives of bloggers. Let's face it when people see you two together that think, "What is she doing with him?"
3) The fact that there is no "Drinking Conservatively." So IN YOUR FACE CONSERVATIVES!!
2) The creativity & the strategizing. Some creative SOB is always throwing out some great idea.
1) Did I mention the drinking?

WPVI-TV's 6 ABC Action News On Mat Marshall by Nancy Willing of The Delaware Way…..
This Delaware teenager is pretty savvy when it comes to technology – and politics. That's why Mat Marshal is the new communications director for a congressional candidate. In the classroom Mat Marshall is used to listening to his teacher at the Cab Calloway School of the Arts. And among his peers, fellow students often take in his ideas. Video clips and sound bites are about to become a big part of this 16-year-old's life now that he's been named the new communications director for Karen Hartley-Nagle, a Democrat who plans to challenge Delaware Republican Congressman Mike Castle.
Delaware Blogging in 2007 by Tommywonk….:
If blogging were just about typing deep thoughts into a computer and posting them online, then this recognition wouldn't mean all that much. But Delaware bloggers have made their voices heard in ways that might have seemed improbable when I started TommyWonk in February, 2005. It's not unusual to hear bloggers like Dana Garrett of Delaware Watch and Mike Matthews of DWA doing stints as guest hosts on WDEL talk shows. Dana appears on roundtable segments on Channel 12′s Delaware Tonight, long a bastion of the usual suspects offering the usual opinions. Dave Burris of First State Politics has emerged as a force for change within the Delaware GOP. In short, bloggers are finding their voices as proponents of change in the wider public sphere.
Observations on Iowa by Duffy at Pencader Days…..:

Huckabee and Obama represent a different type of candidate. The Thoughtful Candidate. The gulf between the two groups is so glaring it's hard to unsee it once you've seen it.
Leaving Huckabee aside for a moment, I have to comment on Obama. Initially I wrote him off as a lightweight with little experience and little to offer. If you'll pardon a pun, the darkest of dark horses. But I noticed something. Whenever someone asked him a question, he got a peculiar look on his face that was absent on the faces of this competitors. He looked…pensive. Studying the other faces in the Democrat debates I could see they weren't listening so much as waiting to talk.
Quarantine 2008 has ended again by Duffy at Pencader Days….
I get to the office and my cell phone rings. Not good. My wife informs me that now all the kids are sick. Sick as in, simultaneously throwing up. Oh boy. I realize that I have to do what I have to do and get the hell back home ASAFP. In an hour and a half I'm done with the necessary stuff and I'm heading south fast. I do not feel well. Really bad. I'm burning up and my stomach hurts so much I can't stand up straight. Back in the car and down 95. Just before the Sandbox, I have to pull over. All of southbound 95 gets to watch me puke my guts out on a Monday morning. Morning everyone!
I get home and all seems to have calmed down. Baby is playing quietly with a noise making book. #1 is asleep on the floor (!). This is the kid with a sleeping disorder that requires medication to help him sleep and any kind of noise would ordinarily wake him. That he's sleeping in the middle of the living room does not bode well. The other two are on the couch tucked under a blanket watching something or other. My wife seems me and says "You are as white as a sheet. You didn't make it did you?" I shake my head and she ushers me off to bed (God I love this woman)
(drumroll) … And the winner is:
Duffy for  Quarantine 2008 has ended (Applause)
.
.
Finally, this was unannounced. But as the voting progressed it became apparent that we had multiple winners in each category but no one post or winner stood out entirely over the blogger's field.
Remembering that it is just a honor to be nominated, I thought that would be sufficient. But as posts came in, I thought of an arbitrary solution, removed from all subjectivity, which might garnish a post that stands out above the rest…
And so….
The post receiving the most individual singular votes, will be that one….. and for the last time……
(drumroll).… and the winner is…..
.
Ouch… What?  (Whisper, whisper)  Really? ..Oh my!  This is a letdown, but…. there was a four way tie for the post having the most votes.  After thinking of run off otpions, the academy has decided that there is no way anyone could realistically designate any one of these entries to be better than its brethern.  Therefore since there does not have to be one….. there will be no clear cut winner of the "Golden Hummer Award".  We will have to wait until Delaware Liberal's Oscars at year end to make that determination.  In the meantime congratulations to all of the nominees.  It is truly a pleasure to be considered among your number……
Courtesy of Department of Defense
If there is any correlating theme coming from this past week, would have to lie deep within the meaning of this word: fragments.
Whereas before, the blogging community seemed to be one amorphous blob, with all of its patrons joined together in a fight for survival against the study of the illogical (illogogy)…. it almost seems that with the passing of the Bluewater Wind controversy and the closing of Legislative Hall for another 6 months, that without a common enemy, the blogging world is running all over the place, like a week's worth of wind-up McDonald's toys set loose at the same time.
It was different last summer. The evil Stockbridge was the ogre of that time. (Copeland and McDowell surfaced as the insidious ones later in the fall)… During those lazy, hazy days, one could always on a slow day count on someone posting something about Mitt Romney. Others could be counted on to praise Obama, or damn Mike Castle, and many Ron Paul supporters were just beginning to get the wind beneath their wings. Giuliani even had a supporter or two, and one Sussex County person, was anticipating the great Fred Thompson's march all the way into 1600 Pennsylvania Avenue…. Last summer bred some exciting times. It was a great time to be a blogger…..
This week, each blog is on its own agenda. Even one fascinated with blogs as myself sometimes skims and clicks out if nothing jumps out like a fanged dog at me….That never happened last year… Did we overwork ourselves with all of our successful endeavors?
One difference between the two summers, lies in the march of events. Events have increased their frequency this summer. Every day destiny provides us with a fait accompli before we even get a chance to comment upon it.  We will have a presidential campaign soon upon us with two conventions. We will have the Olympics starting on the ominous day of 8/8/8. We are hanging by just a thread from collapsing into the abyss of bank closures, unemployment, with a broke federal government unable to guarantee any other bailout. We will have a good Phillies' team for once.
But for whatever reason each of us are starbursting, which is management speak for just bouncing around, making a scene, yet accomplishing little in the long term because of a lack of any follow-through…
Everyone is on their own agenda….. If you were new to Delaware's blog scene and just happened to visit us for the first time this week, you might think Delaware Liberal was misnamed. Although they smatter their posts with some liberal content, most of their time within posts and comments was tied up on the global significance of the Thursday election of Delaware's hottest blogger. Fortunately Donvitti provides pictorial relief from his blatant lobbying attempt to keep the title coming to himself….. This is worth the visit just to see what some rather famous names look like…..There are also some nice photo's of some trees…..and portable chairs….. On a serious note, mark your calendars for the Thursday July 31st fundraiser for Tommy….. Voting will be done on site…..
One controversy stirring among Delaware's elite, is over the use, or misuse of Democratic party funds to fund one candidate over its challenger.
In a detached way it almost seems like we are sifting too hard, forcing out controversies in otherwise everyday occurrences, then fanning the flames, just because we have too little to argue about… (and more like the main stream media than we would like to think)…… to draw attention to ourselves.. We are, after all, human beings too…. But when all is said and done, it still is the party's money to spend as they see fit. But in judging it's overall importance, after  looking over each blog's links,  this giant controversy also covered by our main stream media,  is mentioned in only two blogs, both of which lean towards Markell.  Is it then really such a big deal if it is only being mentioned by just one side?  Just asking…
Now, moving on……..
Delaware Watch jumps around between the national political scene and controversies occurring on the home front. Taking on the fickle Lee turnabout, it appears that the sentiments of the actual Republican Gubernatorial candidate, do not fall in line completely with his handlers. We in a glimpse see that their party's flagship candidate, who until he was restrained by his programmers, actually had a moment of courage and credibility. With his reversal, we see we are now exposed to just another hologram, a human face put on some shady backroom dealings….He is truly just following his handler's directions…… On the national front, Delaware Watch covers the real reason McCain reversed himself and went with offshore drilling…. It wasn't for America's interests……it was done in the interest of his campaign treasury… With his reversal…. his campaign treasury swelled with oil man's money. No doubt this was noticed by Christine O'Donnell who thought she could get free money as well……  Continuing…..
Delaware Way has dived down deep into New Castle County Politics. While struggling to protect The Grange's historical significance from the Scott- aided developers who are just itching to bulldoze that remarkable historical site under….. her commentary is long and full of information…. Truly this is corruption in its highest form. It is the local equivalent of Iraqi oil. We'll take it because we can, thank you very much….. As one nation under God, we fought against this concept of entitled royalty during our Revolution War. No wonder Clark-Scott want to remove any local traces of that rebellion from Delaware's future collective memory…. They are establishing themselves as the nouveau caste of elitists…. it's Capano and the Highway Radisson all over again………
On a side, this controversy reminds me that for one week in late summer of 1777, thirty thousand troops were camped in New Castle County. (To get a visual of that amount, climb to the top of St. Francis Hospital's parking garage and look out over all of Wilmington. Half of all you see, represents the number of troops, both British and American, being bivouacked here). Even more historic, is the fact that the war could have been settled here in the British's favor, had the British capitalized on one of Washington's errors….. They didn't. Clark-Scott want it covered up…. $$$$$$$ Shall we let them?
Oddly since mentioning Scott and Clark in the same sentence makes one want to throw up, the local blogosphere, perhaps in a subtle tribute to Al Mascitti, has decided to go the route of food critic. DWA's Dominique recommends juicy hamburgers, and Jason330 issues accolades for a tuna pineapple appetizer…. And for those who salivate at visual images…….
Next, getting to the spirit of political fundraising, we are shown two opposite approaches. Delaware Politics. Net has this article of one union shaking down its members to meet an arbitrary goal. Just when unions finally have an election season going for them, one of their members pulls a stunt like this…. Down With Absolutes has a tongue in cheek posting in similar vein. Apparently to facilitat their solicitation for donations, they need a mechanism that responds to sexual favors (see comments).
Meanwhile our favorite Curmudgeon is standing guard over our rights,… (naturally including our right give and receive sexual favors).(lol) Most particularly important to her, is the right to pursue our own form of happiness. That July 4th right is under attack by two local towns. A giant controversy, covered nowhere else, has its silence broken by Shirley. Apparently they do not have sex in Middletown. or at least certain elements of that city want to pretend that they don't…. Banishing Waters and dropping Bernhardt seems like much ado over nothing. Surprisingly this has not gotten airplay from anywhere else… But such controversies will forever haunt the human condition. It is what happens when you let stupid people into government….. Personally I'm looking forward to the response to Newark's singling out motorcycles for their noise abatement enforcement. I've never seen a million motorcycles before. I wonder if they could get that many to show? They have the mailing lists, and most bikers I know would drive at least 500 miles to an event like this….
On a side, I wonder how long it would take a million bikes to pass down Newark's Main Street? Taking the average of 5 feet per bike and going with a tight 4 bike abreast formation with twenty feet separating each row…. To pass by one point, the answer is 79 hours; from noon on a Friday until 7 pm Monday evening. Now that would be an event worth seeing. I don't think any other locality would dare venture so far as to single out motorcycles in the future, were bikers able to pull something like this off…….
The Colossus is starbursting from the other side… Now a movie critic they cover the The Great Debaters and The Dark Knight.. The latter was more of a Ms. Manners' commentary on the behavior of those watching with him. (No wonder boot-legs sell well on the black market.) (lol) But to test your brainpower acumen, check out the trivia question included near the bottom of The Dark Knight... I wonder whether sight unseen if you can guess the winner? If you guessed "Mr. Trivia", Allan Loudell, you are close….. almost.
Starbursting from the other side…. the staff of Colossus has decided to rule the Isle of Lost Causes and scours the media outlets for anything to throw at Obama. Most of them don't stick….but the theme picture is worth commenting upon. Here is pitch one, two, three, four, five, six, seven, etc…. and a couple of small arms fire, one and two, aimed at Protack. Perhaps I'm nuts, but the only thing missing in this exhaustive anti-Obama coverage, is any substantial argument as to why someone in their right mind would ever want to vote for Obama's opponent? Darn, after such extensive reading, I forgot his name…….
Third parties often are manned by well meaning dolts. One ducks and dodges them in any public event…..or fails to return their phone calls because of their tendency to focus on one narrow issue that appears to most, to be relatively unimportant. But,…. when a third party is manned by someone of superior intelligence, they offer a view of the other political parties unseen by those confined within…. Browsing through Delaware Libertarian recently, I was pleasantly surprised to find a rather good description of the Democratic Party…..
Using Delaware Liberal as a template, Steve Newton dissects the Democratic Party with a surgeon's precision. As his discussion evolves it becomes self-evident that perhaps Progressives of all parties need to unite and elect intelligent candidates for a change, instead of the usual ones put up by parties whose sole appeal lies in the fact that they obey orders….. His proposal for an amalgamated Progressive Party made of many parts (smart Dem's, smart Repub's, and smart Indi's), is a thinking man's proposal for finding a way out of our cardboard maze we have chosen to place ourselves inside. It is proposal worth pursuing…..For both Steve, Shirley, and myself are pulling for one Republican: Tyler Nixon. Common Sense may need a little help in this race.
In my pick for the best post of the week, we have the breakdown of our Medicare System. By breakdown, I mean totally….broken…..down….. Our medicare system is busted and in this post we actually feel a father's anguish of a daughter caught up in a bureaucracy-gone-wild under the current Republican unfunded mandates….. Read at your own discretion… It made me angry…. Just be prepared to laugh out loud when Copeland, Lee, Castle, and McCain say their administration has trimmed costs by reducing the rolls of those on Medicare. Be prepared to laugh them all the way down below 10%…. The post is truly non- partisan, but I guarantee your anger after reading it….will be partisan…..no matter what party you hail from…..
But be careful of what you say….. not.. Obviously Delaware Libertarian has been compromised by the Fed's searching for information on face it, this and other local deviants, who they fear more than any blah-blah propagandist. For they have no defense against facts. Facts pertaining to what they have done wrong , facts showing they care not for their constituents, facts that will anger a population so much that their power base will shift to another…. They must find those who prevent their story line from being seriously taken at face value and take them out….
Commendation must be given to the Delaware Libertarian for following the letter of the law, but posting the warning for all to see is genius. I had not yet thought of that form of civil disobedience which is perfectly legal, ( I checked) since it is a blanket warning and is not one expressly tipping off the person that their records are being culled. I encourage all others receiving such notification to follow this defiant act. At this early stage, searching through the records of one blogger (obviously not a threat to this or any other nation, but equally obviously a threat to an already very dead political movement within this nation), may be legal, but is very hard to justify politically. Now is the time to push back, and not wait until after Israel bombs Iran and we go into Emergency Powers……
But running scared is the opposite of what we bloggers do. If you have ever trained as a United States Marine, you know that when you hear enemy fire, you race hell bent towards it… So that is what we are doing…. Causalities are a cost of doing battle with evil… To this poor soul, violating the laws of the Constitution of the United States, is about as close to treason and evil as anyone can get…..
Thanks Steve for finding that solution… Of course if it was done as a "punk", it worked well enough so that we have acquired a defense against a Department of Homeland Security staffed only by sick Republicans….. if everyone posts a similar notice we can show the world that within our own country, our freedom is under attack…..
Joe M of Merit Bound Alley comes out of his two month sabbatical, no doubt, because of the hostility given to his view posted in Delaware Liberal's comment section regarding the pope. He applies scientific principals to the Catholic position, and proves that the church's stand on this issue, is, if not completely unsound, still rather controversial.
Now on a lighter note… much needed I think after that…… Ok…we had our food critics….we had a movie critic…. and now, (drumroll please) from lower Delaware, we get our automotive critic. Mike Mahaffie has left the hybrid community. "What? No more mileage posts?" Gone is the Prius. Mike's Musing's author has settled on a new Scion as his next best thing…..Being familiar with anime artistry, I laughed at his quote…."The styling is sharp; a colleague described the front view today as like a Japanese anime character. I can see that." if needing a good game of golf to relax, you can find it here…. But making vehicle changes is not the only change his blog has undergone… the blog itself has received some major housekeeping….
Last but not least, as he prepares for Thursday's Drinking Liberally accompanied by the sideshow of choosing Delaware's Hottest Blogger, Tommywonk is getting his writing ready for the big time of national politics in Denver…. His three posts about Obama, naturally are sandwiched between three posts about energy…… Obviously Christine's illogogy has gotten his dander up a little, as she did mine….. To paraphrase Dusty's admonition to Bill, the tornado chaser in the 90′s thriller...Twister…. "(She)'s gonna rue the day (she) goes up against "The Extreme." Better give it up Christine O'Donnel, challenger to Joe Biden's Senate seat,…. By going against Tommywonk, you are simply competing out of your league………..
So you see…. we are all fragments… our blogosphere has lost its cohesiveness…. A vast pit of randomness is what we have become, disconnected, diverse, looking away from each other and chasing our own rainbows…
Which reminds me to take off my hat and give David Anderson a deep bow of respect for deciding to make a difference by running for office... Watching David's writing change over the last two years, has been a pleasure. It's been a while now, since he has started writing from his own heart, instead of his party's standard talking points. I'm thankful for the insights which his view has provided, some of which have grounded my own views with a deeper truth… I know he ran before. But based solely on his writing, this time in my heart, I believe he is ready to do what is needed for his constituents, and not follow what is asked of by his party's higher up's. Thumbs up, David. You represent us all. Make us proud……
So fragments we collectively are.. and you know… as I processed all this information, I realize that being fragmented so is not all that bad, as you too can now see by this rather lengthy, exhaustive post…
Unless, of course, the economy has dealt you a blow. Unless, of course, you are desperately trying to make ends meet with no steady stream of finances. Unless, of course, by this time all you have left is fragments…. and it shows up in your writing style…. because that is how your life………………… is.