You are currently browsing the category archive for the 'Law and Order' category.
This will make you sick. (So before you read any further, get a small trash can, put a impermeable trash bag in it, and set it right next to you…. )
Ok, ready?
Knowing that the gun bills are starting to come onto the floor of Congress, the NRA is attempting to amendmentize the revenue bills….
One sponsored amendment that was attached today, … would prohibit the Bureau of Alcohol, Tobacco, Firearms and Explosives from requiring gun dealers to conduct annual inventories to ensure that they have not lost guns or had them stolen… What precisely is to be gained by not requiring a gun dealer to check to see if weapons have been stolen, perhaps by store employees and sold privately to people prohibited from owning firearms? Like violent felons or individuals with serious mental illnesses that make it too dangerous for them to own guns.
Another amendment would prevent the A.T.F. from refusing to renew a dealer's license for lack of business. Allowing one's spouse to remain a "dealer" for years, and able to illegally sell guns to people not able to pass background checks.
Another measure would widen the definition of antique guns, which can be imported into the United States outside of normal regulations.
And the final one, would require the bureau to attach a disclaimer to data about guns to indicate that it "cannot be used to draw broad conclusions about firearms-related crimes." what purpose is served by a provision that requires the ATF to ignore evidence that, say, a certain kind of firearm or certain region of the nation is conducive to more gun-related crimes? "If as many people were dying of a mysterious disease as innocent bystanders are dying from firearms, a cure would be our top priority," Elizabeth Warren said. "But we don't even have good data on gun violence. Why? Because the NRA and the gun industry lobby made it their goal to prevent any serious effort to document the violence."
Clearly there is only one purpose the NRA is doing this… To make putting guns into the hands of criminals easier and more profitable for gun dealers…..
You get shot, so they can sell to criminals and not get in trouble for it…..
Nice.
Photo Courtesy of newshopper.sulekha.com
NRA Says Having Piles Like These Outside Every Courthouse Door Would Have Prevented Today's Shooting
I'm really sick today.. You see, when I was growing up, I was a history buff. I read childhood biographies of famous people, usually with the book behind the textbook while the teachers droned on and on, but once as a tyke, who upon seeing the obligatory National Park Film in the Williamsburg Visitors Center, after Patrick Henry sat down, I swore, I would always fight to protect the Constitution…. At that moment, even little as I was, I think I understood that I was temporary… But the Constitution like God, needed to be around forever…
With childish enthusiasm I imagined myself at times on the bridges of Lexington and Concord, roaming the swamps of South Carolina, and firing my muskets at King's Mountain, and most importantly, crossing that line in the dirt on December 31, 1776 when no one else wanted to, to enlist till the end of the war.. . When it made the real difference, I said, I would step up at my own peril..
Today, I feel as George Washington must have, perched upon his horse on the New Jersey banks of the Hudson, watching the British inhabit New York and knowing there was nothing he or anyone else could do about it… Overmatched, the cause of freedom had taken a body slam.
Perhaps it is more like going back 2000 some years though. And being full of great optimism and hope for a burgeoning empire, a group of city states destined to prosper and rise, one whose morals would be impeccable, and suddenly without warning, ones best friend pulls out a knife and shoves it into your flesh and others pull out theirs, opening wounds where they can.
The Fourth Amendment to the US Constitution states that …. oh damn, here it is in it's entirety.
"The right of the people to be secure in their persons, houses, papers, and effects, against unreasonable searches and seizures, shall not be violated, and no warrants shall issue, but upon probable cause, supported by oath or affirmation, and particularly describing the place to be searched, and the persons or things to be seized."
Granted there have been times, particularly at war, when protecting Americans meant going against the grain of this… If someone is about to shoot you, I mean, it certainly would help if you know about it first…..
The problem with too much accumulation of information, is that once you have it, it can be used. Assurances along the lines of "I'll never do that"… always down the line get replace with platitudes of…. " I did it because I could…" or… " I needed to."
So having every thing you've ever done electronically in a file instantly accessed by simply typing in your name, can be a bit disconcerting… It's a catch 22. If you have not a single demerit because you lead such a bland life, you get castigated for being a wallflower and uninteresting. On the other hand, if you take risks to live life fully, you get castigated for the errors you made… Either way, those with the power will use it to castigate you for something…. And though disguised as their trying to put you in your place, it is really their effective attempt to prove to others they wield power…
Today's Senate voted overwhelmingly to continue the FISA Admendments Act. Like ACTA or CISPA or any other internet freedom restricting acts, had opposition been organized, it may have demanded another outcome. But today's bill arose out of nowhere, and leadership demanded it pass, and pass it did….
Numb today, I understand the implications. It is like we chose to keep Japanese interned in concentration camps after the war was over. It is that bad.. If we are doing it for the Japanese, eventually someone argues, why not anyone else? And really, how else can one answer such an argument except to expand the offense to a greater scale?
I didn't find about the attempted coup until waking up 3 am today. I did see outrage that Zuckerman's picture was Twittered off a private feed! The silence over government taking our freedom, and the outrage over the release of privacy, is a stunning comparison. It begs the question: what is wrong with all of us? Shouldn't the outrage be the other way around?
For the first time that I can find, we as a nation, have chosen to continue a war-powers act, on into peace-time. 9/11 is gone. Bin Laden is dead. We've preditor'd out Al Qaieda's 2nd, 3rd, 4th, 5th, 6th, in command. We are out of Iraq. We will soon be out of Afghanistan. We are not in a war for our nation's survival. So why does the government need access into every American's email, facebook account, twitter, photo's? Why does the FBI need to show up at your facebook friends home, with a letter stating that you are under surveillance and then asking questions of their relationship with you, then forcing their silence by telling them that they can be prosecuted themselves if they even reveal to you that they'd had contact with government officials? Gee, did you ever had a friend get weird on you suddenly, like for no reason?
Should our government be allowed to do that?
According to the text of the Fourth Amendment listed above…. Absolutely Not.
And it was over before the child in me could even get his powder cartridge out of his gunnysack…
Between 2010 and 2011, California experienced a drastic 20 percent decrease in juvenile crime–bringing the underage crime rate to the lowest level since the state started keeping records in 1954.
1954.
In that one-year period, the number of arrests for violent crimes dropped by 16 percent, homicide went down by 26 percent and drug arrests decreased by nearly 50 percent.
The vast majority of the drop resulted from far fewer arrests for marijuana possession…..
California's 2010 law did not legalize marijuana, but it officially knocked down "simple" possession of less than one ounce to an infraction from a misdemeanor–and it applies to minors, not just people over 21. Police don't arrest people for infractions; usually, they ticket them. And infractions are punishable not by jail time, but by fines–a $100 fine in California..
The study, entitled "California Youth Crime Plunges to All-Time Low" and released by the San Francisco-based Center on Juvenile and Criminal Justice, looked at the number of people under the age of 18 who were arrested in the state over the past eight decades.
It appears it took a while for America to get smart. While experiencing the enlightenment of marijuana….. kids aren't committing violent crimes…
It is time to reduce juvenile crime across the entire country…..
Reading a recent critique of the debates, it focused on a fact. Millions of Americans are not enjoying the benefits of this economy. Romney had the lucky position to point out all that was wrong, without the responsibility of finding any solution to fix it.
His line, "bring down the rates, broaden the base." simply has not worked. It didn't work in Reagan's time. It didn't work for Bush HW. It didn't work for Bush W. It is called: "trickle down".
Clinton, who practiced kavipsian Economics, raised the rates, causing profits to revert back into the economy stimulating even more growth; that growth grew people's incomes. That is the key. People will take lower wages if they know they will grow out of them. But ever since Republican Tax Rates went into effect, wage growth immediately stopped. 99% of Americans are earning exactly what they did in 2000. It's been twelve years since wages for the 99%, increased. Higher taxes takes away all incentive for any employer to pay his people more.
Here is the funny part. To actually do something about the economy, President Obama has to eradicate the Republicans. Get rid of them. Make them a non player. Republicans and republicans alone, are the reason the economy is in such a slump.
Let's review.
Republicans fought the stimulus.
Republicans fought the car buying incentive.
Republicans fought infrastructure development.
Republicans fought giving Veterans jobs upon returning to USA after fighting for years.
Republicans fought lowering insurance rates.
Republicans fought lowering gas price legislation.
Republicans fought regulating big banks from literally stealing your money.
Republicans fought against balancing the budget.
Republicans fought against payroll increases for all Americans.
Republicans fought against lowering medical costs.
Republicans fought against a better economy.
Republicans fought against hiring more policemen.
Republicans fought against hiring more fireman.
Republicans fought against hiring more school teachers.
Republicans fought against building roads and bridges that were sorely needed.
Republicans fought against not defaulting on the US Dollar.
Republicans fought against strengthening America Abroad.
Republicans fought against stopping corporate corruption.
Republicans fought against fighting wealthy tax cheats.
Republicans fought against closing the loopholes Romney used to get rich.
Republicans fought against raising wages for all Americans.
Republicans fought against legislation that allowed workers to ask for more money without being fired.
yeah. There is a reason the economy is bad. It is called the Republican Party.
Having "No Republicans" equals massive investment back into our economy. The formula for a successful America is…..
NO REPUBLICANS EVER ELECTED AGAIN = MASSIVE AMERICA ECONOMIC GROWTH
So Obama, you are at fault according to Mitt Romney and the Conservative Cheer-leading squad… Because you didn't get rid of Republicans… Shame on you!!!!
I guess it is up to us, to do so if we EVER want our economy back.
If not… I guess every vote for a Republican is a vote in support of Communist China…..
The easiest way for a politician to get himself out of trouble, is to stir up a firestorm he can blame on outside forces. Saddam Hussein and the Ayatollah Khomeini were masters of this.. You create a crises so that people turn to you for guidance…
This crises is to deflect our view from what really happened.
Today, because of the high unfunded liabilities of pension funds, Wisconsin public workers are being stripped of their union bargaining rights. Their argument flows like this: since we can't pay the amount of premiums to keep these plans solvent, and since unions won't let us dissolve these plans and roll them over into the Wisconsin treasury, let us make unions illegal so we can then help ourselves to all that money…
That is the underlying cause behind the shenanigans taking place today…
We are told the pension plans are underfunded, and will require massive amounts of tax payers money to keep them paying off their commitments…
In truth, Republican governors all moved the investment of their pension plans away from secure assets, such as treasury bonds, over into the volatile mix of derivative swaps, accompanied by the excessive fees imposed by Wall Street firms now handling that money.
"The average Wisconsin pension is $24,500 a year, which is hardly lavish. But what is stunning is that 15% of the money contributed to the pension fund each year is being funneled to Wall Street in fees.
Economist Dean Baker, has determined in his paper that: "Most of the pension shortfall is attributable to the plunge in the stock market in the years 2007-2009. Keep in mind that if pension funds had earned returns just equal to the interest rate on 30-year Treasury bonds in the three years since 2007, their assets would be more than $850 billion greater than they are today."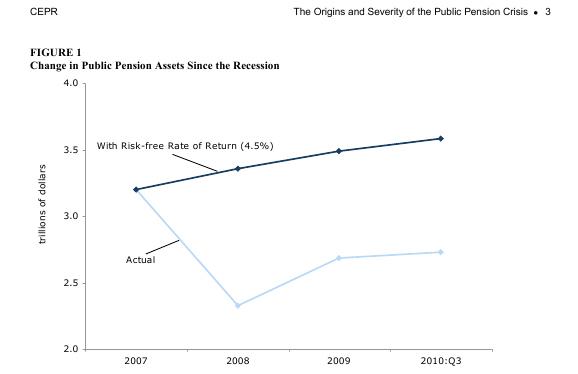 image courtesy of CEPR
Why was this done?
As a lead off to answer that question, I'll borrow a phrase from the movie The Patriot, where Tarleton meets behind closed doors with Cornwallis, and says: "Tell me about… Ohio…"
"Ohio's Governor Kasich was an employee for Lehman Brothers and was intimately involved with getting the state of Ohio's pension fund to invest in Lehman Brothers and buy mortgage-backed securities. And of course Lehman Brothers lost all that money".
(Editors note: In 2001, Kasich took a job as managing director of the Columbus investment banking division of Lehman Brothers. He remained at the company until its collapse in September 2008. During 2008, Lehman Brothers paid Kasich $587,175 in salary, bonuses, and other benefits. Over $400,000 of that bonus is credited to Kasich using his political connections to facilitate investment of $480 million from the state pension fund with Lehman Brothers. That money was lost to the state.)
So, as succinctly stated by Matt Taibbi in his Rolling Stone interview with Amy Goodman,
"Essentially a gigantic criminal fraud (was hatched) where all the banks were taking mismarked mortgage-backed securities, made up of very, very dangerous, toxic subprime loans. The banks were in a sense chopping them up, reassembling them, and then packaging them as AAA-rated investment vehicles, then selling these rat-trap vehicles to state pension funds, to insurance companies, to Chinese banks and Dutch banks and Icelandic banks."
And, of course, these things, these vehicles, started blowing up, as rat-trap vehicles are apt to do, and all those pension funds then proceeded to go broke.
But what Kasich, Walker, and every other Republican governor are doing now, is blaming the people who were collecting these pensions–they're blaming the workers, they're blaming the firemen, they're blaming the policemen–whereas, in reality, these workers were actually the victims of this fraud scheme, and certainly not the people responsible for planning the scheme or executing the scam that followed!
Governor Scott Walker's party is the cause of the pension fund's demise.. But no, he can't blame himself… he has to blame those pensioners …. firemen, policemen, teachers, and rescue workers….
That, in reality, is what is going on…. Deflection of the attention of the masses….. A deflection that has full cooperation of the main stream media…..
And there is even a further deception. Watch how the Associated Press reports this act.
"Friday morning, the Wisconsin state assembly passed a bill that would, as the Associated Press put it, "require public workers to contribute more to their pensions and health insurance and strip them of their right to collectively bargain benefits and work conditions."
This is under the guise of saving the state money. But, the pensions are funded 100% by the state employees. It is their money, being contributed in the form of pensions, instead of landing in their checking account…..!
But, …. "Pension funds, like paid vacation days and salaries are a negotiated part of public workers' total compensation. In Johnston's view, when Governor Walker says that he wants workers to "contribute more" to pension funds, one correct way to put this would be that the governor "wants to further reduce the cash wages that state workers currently take home in their paychecks."
So, we have a republican governor no different than Bernie Madoff, trying to cover up that his party invested poorly, losing the pensions of thousands of workers, who is now, because he can, is taking away their money in order to pay for his incompetence…
And ironically, the Wisconsin fund is one of the best funded in the nation. One that could easily be rectified as soon as the economy bounces back… At most, it is underfunded by 0.02%… which means 20 cents off every $100 dollars... That is it…
Even treasury bonds, risk free, can make that amount up…
Duffy is God's answer to a prayer.. I miss the old days of blogging when we were debating principals instead of people… Duffy has stuck to the old line of debating principals with facts, and that is what makes him special in the eyes of bloggers everywhere…
Since the passing of Steve Newton, he has been the only one to challenge me in any argument, and usually some pretty good stuff comes out of both sides during the exchange… I have respected that.. Cause once again, opinions mean dick. Facts are what we steer by.. It is my hope that in responding to his challenge that an answer may make itself apparent.. Who knows? It may not come from me… But if I'm the catalyst for bringing it out in the open, then… none of this was in vain..
Why I like to debate Duffy is simple.. Neither side, he or I, is concretely set in their opinions… We accept it when the other side makes sense… I usually go into such debates having no idea where they'll end up… I hope the rest of you enjoy the ride as welI….
That said..
Duffy leads: Wall Street's problems were caused by Fannie and Freddie loaning money to people they knew couldn't pay and moreover, forcing banks to lend money to people who couldn't pay. That was not deregulation but misregulation
kavips rebutt's:Uh… Mr. President. That's not entirely accurate.
First off, the Community Reinvestment Act of 1977 was developed for, and locked in on, urban developmental areas and had no part of the subprime boom, which primarily occurred out in western desert regions where owning 4 to 5 investment homes was normal… Those homes were overwhelmingly funded by loan originators NOT SUBJECT to the act… We all know the crises was not because people couldn't afford a payment on their house. It came about, because with no occupants, people could not afford the payments of 4 to 5 houses….. Instead of one loan per borrower turning up in default; four to five were.

Second off, The housing bubble reached its point of maximum inflation in 2005.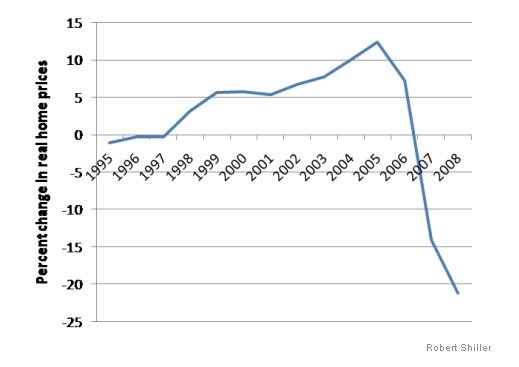 Courtesy of NYT
Third off, During those exact same years, Fannie and Freddie were sidelined by Congressional pressure, and saw a sharp drop in their share of loans secured by the Feds… Follow the dotted line on the very bottom of the graph…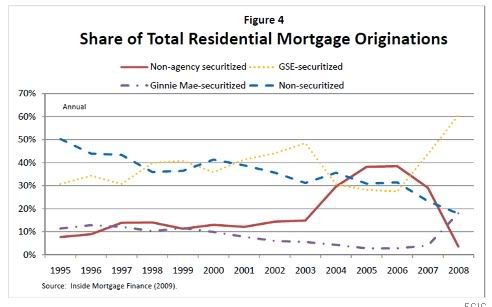 Courtesy of NYT
Fourth off; During those exact same years, private secures, like Delaware's own AIG, grabbed the lions share of the market.


Courtesy of NYT
Remember these graphs for later on when I discuss the results of deregulation, versus regulation… But like it or not, these graphs conclusively show that private insurers, who thanks to Marie Evans, we now know were deregulated by Phil Gramm in the 2000 Omnibus Bill, were the primary cause of the worlds financial collapse.. Probably put best by these words of AIG's spokesperson, who when asked why they didn't have sufficient funds to cover losses, said point blank, "We were deregulated. We were no laws requiring us to keep any funds, ..so we spent it…"
Duffy leads: The loosely regulated hedge funds escaped this mess largely unscathed. Why? They can't count on a bailout like the big banks. The Too Big To Fail banks were counting on a bailout (not unlike the S&L bailouts which started on the Republican's watch) and they got them.
kavips rebutt's:Uh… Mr. President. That's not entirely accurate. I agree that the hedge funds did survive better than the banks. Not because of bailouts, but because they sold short during the crises and made billions while firms closed and people got thrown out of work. There is nothing wrong with that; I did the same. In fact close readers may remember my warnings that the crises was impending almost a year earlier. Very close readers may remember my telling them exactly when to sell, and at what point the stock market would rebound… I must say: I called it rather well.
"Hedge funds were not in my understanding, at fault in the credit crisis," said David Ruder, former chairman of the Securities and Exchange Commission. "At the most what they did was to sell securities when some of their investments were declining and they needed to have liquid funds. They were not the architects of these problems."
De regulated hedge funds are not the issue… De-regulated, excessively leveraged, mortgage securities, are a different story however… They, not the banks that held them, are the cause of the crises…Years from now, when academics search for causes of the stock market crash of 2008, they will focus on the pivotal role of mortgage-backed securities. These exotic financial instruments allowed a downturn in U.S. home prices to morph into a contagion that brought down Bear Stearns a year ago this month – and more recently have brought the global banking system to its knees.
Where you err is when you state that banks too big to fail, assumed they would be bailed out… By implication, you say imply they failed from squandering money, and wanted the bailouts.. But your tax dollars didn't flow directly to the bottom line.
The roughly $200 billion the Treasury Department has handed out to battered banks was swapped for a special class of stock that pays a 5 percent dividend (rising to 9 percent after five years.) As of April 15, the Treasury had collected about $2.5 billion in dividend payments on its investment.
So in that sense, the bailout money represents an expense for banks. That's one reason a number of banks have said they want to give the money back as soon as possible.
You say big banks were counting on a bailout, and they got them? That didn't happen to these banks. New Mexico, Georgia, and Florida each lost a bank just last Friday. That brings to 8, the number of banks failed in June. Unfortunately if a bank is failing, it can't bet on itself to fail, as can a hedge fund.
Duffy leads: Banks have successfully lobbied to get their losses absorbed by taxpayers and gains are kept private. How nice for them. They felt comfortable making insane gambles because they knew they'd be bailed out. Most of them were right. Also remember that it was Bill Clinton who tore down the wall between retail and investment banking. The idea was to give banks more stability as they typically perform as exact opposites in bull and bear markets. (FWIW, I think that was a good idea and I can tell you first hand that two of the Fortune 100 banks I worked for were carried by retail banking in bear years. They may not have had bonuses those years but they didn't have layoffs either)
kavips rebutt's:Uh… Mr. President. That's not entirely accurate. The idea is that the banks made bad decisions knowing taxpayers would bail them out is the issue that is inaccurate. For the record, I have no qualms that it was the Clinton legacy who tore down the wall between banks and investment banking. Like you, I feel it was a good idea to do so… Again the problem was not primarily with banks making loans to people who could not pay.. Although, it was as late as October 2009, when I was made aware of one private Bank in Denver still exaggerating income to make loans look good enough on paper to get approval of securitization. What caused the collapse was the leveraging of those loans as securities, so that as the housing market became overextended, and the ARM jumped past the low cost opening years, the damage was 100 times worse because of leveraging. What made the collapse criminal, was that the insurance most financial institutions had bought from AIG, to cover such an improbable event, had already spent by that companies executives, out on bonuses to themselves. What made it doubly criminal, was that when they received government dollars through a taxpayer bailout, those same executives assumed it was to first go towards paying their bonuses again. However, very recent events may give some cover to the argument that some collusion was implicit in the bailing out of Goldman Sacs and AIG… Basically, once bailed out, AIG paid Goldman Sacs for shares twice as much as they were worth. The documents also indicate that regulators ignored recommendations from their own advisers to force the banks to accept losses on their A.I.G. deals and instead paid the banks in full for the contracts.