You are currently browsing the category archive for the 'labor unions' category.
Remember Sweeney?  That character who was lampooned across the nation for his nonfactual support of Kinder-Morgan's taking over our port?   Instead of being objective, his editorial board pieces are that of a pinch hitter for an administration again caught on the wrong side of an issue!  Remember the jokes? The aside comments that he has lost his touch?  Remember all the snide references that he must be on crack?
It is to those references (sincerely I doubt he does crack) and the acknowledgement that in popular culture today that phrase is often applied to everyone who tries to reform facts into a fairy tales, that I attached his name to it in the title…
In Sweeney's defense through the manipulation of language, one can say anything.  Granted.  Romney certainly tried that tact. And the truth came out to hurt him.  "Jeeps in China", my ass. "Benghazi was all Obama's fault", my ass.
So as old as Sweeney is, (he seems to mean well ), the facts he uses are simply not true…  If you put bad in, you get bad out.  Now if I were an aged,old authority figure, and if you were deemed childlikely to accept what I say is true, … I can tell you about a jovial man living at the North Pole, who has nine reindeer that fly and travels the world in one night delivering presents to every boy and girl in the world,… and of course you are going to look up at me with wide big eyes and go "wow, so that is how its done…".
Alas, poor Sweeney, he doesn't have the same beguiling audience.  Instead we have facts that show the opposite….
One of the facts WE the People have, is that the tests results coming from districts using this plan that show great results, were all obtained through cheating by high officials changing the answers over to correct ones after the students had taken them.
Two:  teachers under this system are spending too much time explaining to their superiors everything they do in order to be evaluated,  instead of teaching.  More time is spent in evaluation, than on lesson plans.  This hurts teacher. This hurts student.
Three: the curriculum being forced upon these classrooms is far inferior to what teachers themselves are able to dole out.  Education only works when a student's interest is held.   These corporate templates are as interesting as your corporate financial  meetings.  Teachers do a much better job.
Four: low income students don't have technology the rest of us take for granted.  Broadband costs money. Computer power costs money. Software costs money. Laptops cost money. Notebooks cost money.  The best way to raise low income students scores is to put them on par with students who have technology.  You can't just tell someone how to log in and expect them to remember it whenever they next  see a computer.  They have to do so to learn how.
Five.  Testing at the beginning, the middle, and the end, is a great tool.  It evaluates a student's progress over time.  BUT!  Holding a teachers job accountable to results over which they have absolutely no control, means…  a) all teaching by that teacher is geared to only what will be on that test… and b) since poor scores demand the loss of one's livelihood,  rampant cheating is bound to occur…. We saw this in Atlanta, Texas, and DC.
Six.  The only proven and effective way to improve teaching, is to increase the number of teachers so there are 11 students per teacher.  Teaching is a personal science, like counseling, psychology, and doctor's visits.  Without a personal relationship between teacher and student, there is no incentive to learn.  Studies as well as our personal experience, show that if we aren't psyched to learn, we don't….
Seven.  The students who do the poorest are the ones who have the largest social dishevel in their lives.  A person from this background can learn from a teacher just as easily as anyone else, if he believes the teacher is pulling for them, and they don't want to let that teacher or their peers down.  That can and does  happen with a 11-1 ratio…
Eight.  Teachers DO NOT GO  into teaching to get rich.  They go to help children learn.  If you don't know this, you have no human right to ever write another editorial on education.  That is just plain stupid not to know.  If you want to motivate teachers, the best way is to give them MORE resources with which to teach….  More maps, more books, more software, anything to provide more excitement to their classrooms.
Nine.  We all incorporate what we learn, into the categories we already have inside our heads.  Being an inner city child with no mother (on crack), no father (never knew him), living with grandma (forgets who I am sometimes), dodging getting beaten up by the drug lords every time you walk home from the bus to porch (its safe in the morning; they're still asleep), disappearing when the molesting uncles happen to drop by, … reading about Sally having to choose between buying a candy bar or putting  all her cents into a piggy bank, doesn't cut it.  You'd think Goldman-Sachs created the curriculum (they paid for it)…
Enough background…..  At least you know Sweeney is on metaphorical crack  just like he was with Kinder Morgan. (Panama Canal ships sailing up the Delaware, Sheesh)….
The heart of the matter lies in the News Journal's phrase….Teachers that have earned highly-qualified credentials..
One would think that having a master's degree or a doctor's degree in education would qualify…  But no. Mr. Sweeney, it does not.  Mind if  WE, the People interrupt for a second to ask  if you happen to have a masters degree?  A doctor's degree?  Is it in education?  No?  So, tell us again,  what makes you such an expert can we ask?  We, the People are dying to know.
Now get this.  To be one of these  "teachers that have earned highly-qualified credentials"  you have to first have attended a corporate seminar, one from a pandering company to which the state paid $180 dollars a person; you have to sit through 6 hours of power-point presentations; your  know-it-all instructor was just hired out of college by this corporation, and they proceed to tell you everything ever known about teaching without ever having been in a classroom. After this, you then take a test, having been given the answers ahead of time by clues of where the instructor casually says "this will be on the test", and then, if you passed, you get a certificate saying you are a teacher with highly-qualified credentials.  Just like that.   You are now a highly qualified credential teacher; so who needs a masters, who needs a doctorate, who needs to read a stinkin' Gannett publication? You got all the knowledge anyone ever needs to know.  You got a certificate that cost the state $180 dollars!….  You are now, eligible for a bonus… (if we (the DOE)  like you enough we choose to give it to you…
So if there are 8640 public school teachers in Delaware, at a cost of $180 per teacher, over time this company that originated out of nowhere, helps itself to $1.5 million dollars of our annual budget…   Now, not counting for the printing I can buy 8,000 sheets of  8 X 11  pieces of  24 lb. paper for around $71 dollars at Wal*Mart.  It would only take 20 sheafs of printer paper.   So to dole out $71-80 worth of pieces of paper printed with the words "Congratulations, You Are Certified", our state is investing $1.5 million of your dollars… Why?  Can you say umm … kickback?  Personal favor?  Thanks for all you did back then?
In case one hasn't been paying attention to the educational field, one would know that in the Christina district primarily due to our economy there are very few vacancies open from year to year.  One would also know, that in the  Christina district we have really good teachers practically in every classroom, who do better than the job that is expected except when they have to pull themselves away to do RTTT paperwork and explain to their evaluators how they are reinventing the wheel of teaching, or are on a pilot program teaching the Common Core agenda and cannot deviate.
So the Christina Board says this is ridiculous.  The Christina Board recognizes that teachers with a lifetime of experience, with masters and doctors degrees, know more about education then some punk out of college who passes the corporate litmus test.  After all, one would think, right?
The DSEA representing ALL THE TEACHERS IN DELAWARE,  and the Christina Education Association are fully backing the Christina Board on this.  As stated, teachers primarily want to teach.  This state program is very, very bad for teaching….  Although Mr. Sweeney might think otherwise, what teachers think, matters.  Especially if they are the ones teaching our kids.
Teachers are our most valuable resource as a society.  They are more important than our President.  They are more important than our Governor.  They are more important than any Mark Murphy or Lillian Lowery.  They are more important than the head of Goldman Sachs.  What?  You scoff?
Tell me, Mr. Sweeney?  When you look in the mirror in the morning… what president do you thank for making you who you are?   "Aww… Richard Nixon… Thank you so much for your leadership which was soooo inspiring, it made want to be like you…. I'm eternally grateful for all you did to inspire me, coach me, teach me, and give the the building blocks to make me as I am"   But sincerely, like all of us, I would damn well bet that somewhere in your growing up, there was one teacher or two, who is responsible for everything you've become.
In the book of We, the People … that teacher out ranks any governmental official…. any day…
I'll close with an analogy to a story told long ago…  A woman was brought before Jesus accused of adultery.  They asked what should be done to her.  Jesus asked who was condemning her… knowing they too would be guilty of adultery if they admitted.  They left.  Jesus asked her, "who has condemned you?"  She looks around, and says " no one Sir."   "Then neither will I condemn you.  Arise, Go, and sin no more…"
It would be wise for Mr. Sweeney to remember this, before he goes writing his next editorial condemning the wrong people………..
Although the year is barely out, we do have our first nomination for the spot to be announced in December 2013.  With the Kinder Morgan Deal now on hold semi-permanently, even they are pointing to our hero of the year as the man most responsible for allowing the port to remain state owned….
I can say it was Julius Cephas who was behind almost every move to combat the loss of good jobs at our port.  He is being pointed out as the villain by the capitalists at Kinder Morgan.  In Delaware's eyes, that elevates his hero's stature even more…
In truth, he is no villain and knowing him, he will probably shun the acclimations being made by us common folk as being our hero.  In his eyes, he was just doing what needed to be done because no one else was there at that very moment to do it, and as that task swelled, it took a lot out of him….
Capitalists always need a villian.  But it was the "truth" which actually is what killed this deal.  Kinder Morgan WAS going to cut back on jobs, and their change of heart and blaming Julius instead of others, points exactly to the core of their problem with our port… …
People in Texas, do not understand unions.  They simply can't fathom or understand how there can be an actual law that lets people strike and shut you down, whenever you try to pay them less..  In their eyes, you work for what they want to give you and if it is too little, ..humph.  go elsewhere….
The second culprit (after the "truth"),  was our office of economic development.  We gave Kinder Morgan too many "eager" signals that set us up as being seen as an easy pick.  They truly thought they could waltz in, pick up a top notch East Coast Port for a song, and we would eagerly give it up…  Again, that was because everything was done in secret.  Had a meeting been forthcoming in the very beginning,  Kinder Morgan might have moved on earlier when it became readily apparent, that southern Texas practices do not bode well in the Northeast…
Of course, being a corporation, they will blame the whistle blower.  (Ironic since the whistle blower of Enron works for them)..   Of course.  It is not like they find anything immoral in taking a state asset for a song, in firing those skilled dock workers, and replace them with some Spanish speaking Texans who never even heard of a union….
And Julius did blow that whistle. .  Like Rose on the Titanic, he took the whistle off of Jack (pun intended), and blew softly at first, then harder, and harder.   Gradually the sound registered on others ears….
Without Julius, Bob Marshall would not have pushed through Senate Bill 3.  Without Julius, most of the links showing up in everyone's blog, would have not been found.  Without Julius, the case for protecting workers would not have even made the rounds of the Norman Oliver show….
There were many helpers. Bob Marshall, Nancy Willing, Norman Oliver, Norinda, Helene Keeley, Al Mascitti, Liz Allen, John Kowalko, and (an other blogger too shy to be mentioned here). When one looks back through all of them one sees from everywhere, there in the center of the universe,  stands a normal human being just like us, known to most … as Julius.
There will come a time when a better deal will arrive.  Could even be this year. There will come a time when a suitor who does care about Delaware, who does care about unions, about human beings, about those businesses on the outside, and who will want to upgrade the port for everyone's interest, not just their own… And that suitor in this day and age, could even come from abroad.  Germany is very committed to union labor, to the environment, to being a good neighbor…. There are a great many possibilities out there that are immeasurable…. We definitely dodged a Texas bullet with this one….
When that suitor arrives… Julius's stature will be set in cement….  For he did nothing really Herculean, except argue the truth…  He didn't lie.  He didn't connive,  He didn't threaten….
That was done by our office of economic development.  Instead and unlike them, Julius told the truth.  He told the truth to anyone who would listen.  He told the truth enough, so many "did" listen….
And that is why, he  deserves this nomination as Delaware's Man of the Year.  I know it is early into 2013, but great things just do not wait!!….
You will hear smears that Julius tubed the deal… I saw the letter and it is already out on WDEL and the Delawareonline's News Journal… But as an impartial blogger, I can tell you exactly what killed this deal.
It was "the truth".  The truth of what this deal would cost us Delawareans….. is what turned the tide and caused the outcry that rose up against it….
If Kinder Morgan really wanted this deal, they could have easily said… "we are expanding and putting 5 new berths out into the river.  We are buying the port for the bargain price of $5 billion.   We need those businesses outside the fence because the jobs we get, will soon be too big, we can't do it ourselves.  We will keep the union just as it is;  Wilmington needs good jobs and we are going to do our part….  We are also going to contribute into an emergency fund to be used for any spill or environmental accident that takes place under our tenure….
Kinder Morgan could have done any of those things, … and didn't…. The blame doesn't lie with Julius after all…. Especially when you consider the following…
This Economic Council erred on Fisker Automotive.  Then it erred on Bloom Energy.  Then it tried to Kinder Morgan us out of our port…..   Someone rushed in  with a save to make sure that last one didn't happen.
That person is now hereby nominated for Delaware's Person of the Year…….
If you were supposed to be getting married and found your future spouse out on a date with someone else,  there is probably a good chance you won't be getting married.   One could alway hope.  Perhaps it was a business meeting.  Perhaps it was an old friend?  Perhaps a long talk with a former love?
But in all probability, your fiancée is probably going to call the wedding off.
It is in this framework that we hear that Kinder Morgan,  the only approved suitor for the Port of Wilmington, has just bought out Copano for $5 billion.   Let's see.  The total cost of their Wilmington Port investment up front fee was $16 million or 0.32 of One percent of what they just spent on buying out Copano.
That gives you an idea of how important Wilmington was  to them.
Today they signed an agreement totaling $30 million investment in improvements down in Southern Texas with Calpine, a power generating company.
At the same time they were meeting with the Diamond State Port Authority here just off 13 south of  State Road….
The Wilmington Port nor Diamond State Port have commented at this time….
Looking at the money there is a good chance we just got brushed off……
They had centralized education.  We had local school boards, unionized teachers, and PTA's.
So who won?
Earlier this year in one of Christina School's teacher/parent open houses, where the parent is given the child's schedule and follows that child's schedule room by room, block by block, a single parent anxiously anticipated seeing the child's English teacher. This parent had been an avid reader and throughly enjoyed her English classes growing up which turned her onto literature and writing.
After all the adults had wriggled themselves into the kids seats by sucking in their loose bellies, the teacher began with "this year I will be following the Common Core Curriculum."
She continued she had been educated in it over the summer in a number of seminars. "I don't really agree with it but I really have no choice. I was told that this is what we are going to learn, this has achieved results, and that results, bottom line, are what we are after."
Each day, she told us, she was to distribute the corporate-created handout and the class would then read it together, go over it for meaning and technique, and then write paragraphs at the end of each class.
Near the end of the session this parent raised her hand.
"Yes?"
"Will they be reading any literature, and if so, which historical period is it that they will be reading?"
"Umm, that's a great question" was the response. "I hope as it gets close to the end of the year, to sometime pull out a book for extra credit if we get ourselves through the curriculum, but right now, the curriculum is so well organized that we have to follow it exactly until we get to the end. Hopefully, then, we can do something interesting. I read some good books over the summer and I would love to analyze that with the class."
"Was it 50 Shades of Gray?"
"Ohh, I did read that. i, umm, loved that book."
Well that was last fall…..
This January the grades came out. And I happened to be talking to this mother's daughter…. "Oh, wow, you really dropped in English. That was your best grade last year? What's different?
"It's SOOOOOOOOOOOOOOOOOO boring.!" "Last year we were performing Romeo and Juliette, and actually writing Sonnets, poetry, Haiku's and reading and discussing some really great stories. "
"What is this year like?"
"We get this paper and it is sooo boring. Just like reading those things on the DST, where they have one paragraph and you have to answer questions about that paragraph."
"What are these paragraphs about? Aren't the topics even interesting? Like Literature? "
"They are soooooo stupid. Here is today's… i was sooooo bored I forgot to turn it in…. "
===============
"Inventory" was almost here. Miguel had to count all the product on his shelves. He didn't have time. In the morning deliveries came and had to be stocked and rotated. Once he opened his doors, he had to handle customers, and never was a time that no one was in the building. Then in the evening, he had to stay to make sure his evening shift was running smoothly. His assistant came in at five, and Miguel would wait to make sure all staff was present and accounted for, that no manpower shortages would occur, and that all equipment was working properly, before he could leave. He started every day at 5 am…"
DISCUSS THOROUGHLY
ANALYZE CORRECTLY
WRITE THE NEXT SENTENCE
VOCABULARY
inventory
deliveries
customers
assistant
accounted
manpower
shortages
properly
WHAT IS THE KEY POINT OF THIS PARAGRAPH
WHAT IS THE AUTHOR TRYING TO SAY
WRITE A 5 PARAGRAPH TEXT ON HOW YOU WOULD SOLVE MIGUEL'S PROBLEMS.
===============
From Shakespeare to this….. This is Common Core, ladies and gentlemen. This approaches the most basic, lowest common denominator level of educating students to the barest minimum. Whereas you may look into this story for additional insight and perspective as one would be prone to look to literature for the same, and if you did, you would be marked wrong.
Because the answers expected here, are not profound. Common Core is asking students who have never run a grocery store or even been employed, to fill in the last sentence of something that is entirely alien to them. None have ever taken management 101. At most, their only experience with time-management was balance two homework assignments in the same evening. The correct answer to the question asking for the key point of this paragraph, (drumroll please), is….. "Miguel doesn't have time to do inventory". Duh? If you had said, "Miguel needs more help", "Miguel needs to hire more people", "Miguel should fake inventory," you would be wrong with a big red X. There is nothing open to interpretation here. Common Core is always right.
You are beginning to see the problem here. Common Core went to employers to find out what was missing in the education pieces in what they were receiving. My guess one of them was a manager.. To "him", this is a big dilemma: no time to do inventory because of all ones regular duties. To "him", overcoming this problem was the biggest challenge in his early career. I'm sure he means well when he puts this problem down for all to consider. To "him", the subtleness of Marc Anthony's speech in Julius Caesar is completely lost. After all, it is irrelevant to his world, which consists of putting product on a shelf and selling it to neighborhood customers.
Shakespeare's Julius Caesar is the reason today I fight so hard for democracy, and understand why democracy and autocratic competence are always in opposition… It was when i was in this little child's grade that I read that and then stood in front of my class as did everyone else, and recite…."Friends, Romans, Countrymen. Lend my your ears." (I always wanted to hand out plastic Mr. Potato ears to the entire class and have us all throw them at the first person who got up to recite….)
We are creating a nation of shelf stockers who will never think past "first let me put up this can, then next, I'll put up that can, and then I'll put up another can." Right now I can hear Steve Martin saying "that person hates cans!"
America needs shelf stockers. But I think society is made better when those shelf stockers do what they have to do to make a living, and then go home and write their novel….
Just as Budweiser got watered down to broaden its appeal to non beer drinkers who would balk at a Dogfish IPA 90. Just as television dumbed down it's comedy so even the most stupid would still tune in just to see tits and ass; just as newspapers write on a 8th grade level to sell more papers to those who can understand what they are discussing, …. the success we currently see on Common Core taught class tests, is simply there because no un-watered-down knowledge is required. The tests are created so simple that everyone will pass. If of course, they are given the "right" code and "know" the "prompts" for the "correct" answer to each question that will be asked…..
We are not educating America. We are turning off America from really learning….
"But you do so well on taking the tests," I said!
"Oh, the final exams are only 10% of the grade. The classwork is the other 90%. And I'm pretty good on tests. I can tell which is the right answer by reading how they ask and how they offer the answer, even if I have no idea of what they are talking about. "
Wow. I had no idea it was this bad.
So, guys. what are we going to do about it?
From Nancy at Delaware Way, we have info regarding the vote today.  The House committee overseeing this bill, cleared it by a 7-1 vote.
The Speaker of the House has offered a new amendment...  This allows for the Bond Bill Committee formerly known as the JOINT COMMITTEE ON CAPITAL IMPROVEMENT, to oversee the bill, and report back to both chambers with its recommendation.   Both chambers will then vote, and if the Governor approves, it gets signed into law.
Who is on the Bond Committee?  The following people:
Sen. Robert Venables (Chair)
Sen. Brian J. Bushweller
Sen. Bethany Hall-Long
Sen. David P.Sokola
Sen. Colin R. J. Bonini
Sen. Gerald W. Hocker
Rep.Quinn Johnson (Co-Chair)
Rep. Helene M. Keeley
Rep. Michael P. Mulrooney
Rep. Dennis E. Williams
Rep. Michael Ramone
Rep. David L. Wilson
Out of this list we have the following people who voted against the bill when it was in the Senate….
Sen. Robert Venables (Chair)
Sen. Brian J. Bushweller
Sen. Colin R. J. Bonini
Sen. Gerald W. Hocker
Known sponsors are….
Rep. Helene M. Keeley
Rep. Michael P. Mulrooney
Sen. Bethany Hall-Long
Sen. David P.Sokola
We have 4 for, and 4 against, and 4 still thinking.  If it goes along party lines, the vote will fall as a tie. 6 to 6.
Alan Levin has expressed concern that the bill not pass the General Assembly because doing so might jeopardize the deal.
The Schwartzkopf Amendment might cause just such a non-passage….
For this bill to pass, we must count on the House, where there are sufficient votes, to defeat the Schwartzkopf Amendment, and then pass the bill as approved by committee straight from the Senate.  It can then go to the governor's desk,….. where…..
.
When you are getting married, for the short term you can enjoy the sex, the presents, the booze, the going out, but for a marriage to work you really have to know the other person's heart. If you err, it costs a big bundle, it financially sets you back a decade, and it affects your life forever…
As any great mom or dad will tell their progeny…. If you don't want to go through with it, don't. It is easier to call if off now, then it will be 10 years from now. Plus, all that time isn't wasted finding your real love.
Alan Levin is looking for a suitor. His bride is the Port of Wilmington. The dowries match up, the agreements between families work ok, but how can he tell if his daughter will be happy with the arranged marriage? He needs to discern the heart of the suitor, find out what lurks within. Is it malice, or self sacrifice. Is it selfish? Or selfless?
Finally we have a glimpse…..
In February
2011, for example, the US Department of Labor sued Kinder Morgan, arguing that the
firm had been underpaying nearly 4,600 workers for overtime for at least two years.
The company contends that its incentive plan shouldn't be considered part of an employee's regular hourly pay because whether any bonuses are paid —as well as how much an employee might get — is at the discretion of management and the boards of directors,
The Labor Department, which filed the lawsuit February 2011 in federal court, alleges that the pipeline company did not include the bonuses it paid its employees when it calculated their overtime pay. Federal labor law requires companies to include bonuses when overtime pay is calculated,
The Labor Department brought the lawsuit after its investigation uncovered what it called "systemic violations" of federal overtime laws at 11 Kinder Morgan locations in Arkansas, Colorado, Louisiana, North Dakota and Texas. According to the Labor Department, Kinder Morgan improperly rounded work hours in the company's favor and failed to pay employees at several locations who attended meetings before their shifts began.
The federal Fair Labor Standards Act of 1938 spells out how employers must calculate overtime pay. Many don't realize they have to include bonuses that are related to meeting or exceeding production, efficiency or attendance goals, according to the Labor Department. Employers put the programs in place as an incentive for employees to work faster or more efficiently. Such bonuses — including quarterly and annual awards – must be included in total compensation and used to calculate the base hourly rate that determines the amount of an overtime premium such as time-and-a-half.
The company agreed to settle the suit, paying out $830,000 in back pay.
In business there are two kinds of people. Those that screw over their employees, and those that don't. I'm sure over the course of your personal experience you will agree. What is particularly of interest here, it that this mistake could only be made in a non-union organization, and two, the rounding down systemically occurring across the nation, shows that directive comes from the top….
If one is pushing one's employees to work harder and faster, and then cheating them on pay, one doesn't have their best interests at heart.
So, we've glimpsed the heart. Since the deal over the port of Wilmington mysteriously revolves around the compensation of those current union employees who unload this and every week's cargo, knowing how Kinder-Morgan will eventually view our employees behind their backs, should play a big part of the decision whether or not we want to allowed them into our family…….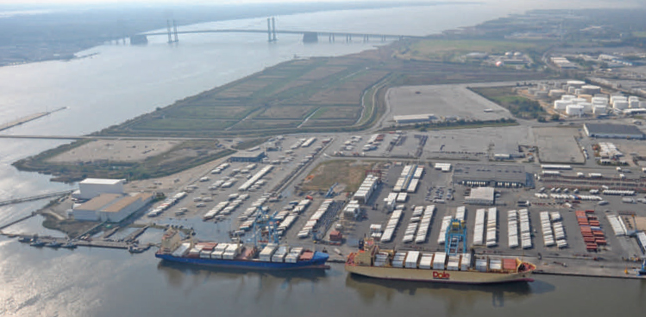 Courtesy of WDDE
Total employment – job counts have two major limitations: (1) they don't necessarily reflect the quality of employment opportunities, and (2) they cannot be easily compared to the public costs of attracting those jobs (through subsidies, tax breaks or public investments).
Aggregate personal income measures the monetary  increases as pay levels rise and/or additional workers are hired. This works as long as nearly all of the affected workers live in the study area.  This guide is  a reasonable measure of the personal income benefit of a project or program.
Value Added Corresponds to the GDP.  It reflects the total sum of wage income and corporate profit generated within the study area. However, in today's increasingly global economy, value added can be an over-estimate of the true income impact on a local area, insofar as it includes all business profit generated there — all of which gets paid out as dividends to owners of the business who do not reside in the study area, and that which is reinvested into corporate facilities that lie outside of the study area.
Business Output (also referred to as revenue or sales volume) is the broadest measure of economic activity, as it generates the largest numbers. It includes the full (gross) level of business revenue, which pays for costs of materials and costs of labor, as well as generating net business income (profits).  Much of that money bypasses the local economic area.
Property Values  can rise in a community as a result of a new business increasing the demand for property, which may be a direct consequence of increasing aggregate personal income or the re- investment of business profits. It is also important to note that when property values go up in one neighborhood but down in another neighborhood, there may be a sufficient redistribution of wealth but no net change in the overall level of local wealth or incomes.
The point of this illustration is to educate you for when Alan Levin says, this will bring $100 million into the port of Wilmington, you can ask,… how much of that goes into the community?  The answer, if Kinder Morgan moves in, will be just the amounts paid in wages for operations and for future construction.
Currently, because the operation is under the auspices of the state of Delaware,  all of the revenue impacts the state and local economy.  With the moving in of Kinder Morgan, property values will decline, thereby adding a negative economic drag to the possible boost the sale is predicted to provide.
A very similar comparison would be to compare Alan Levin's Happy Harry's to the current Walgreen's today.
Walgreen's put money into each unit.  Construction dollars flowed to those hard hit in construction trades.  Those working at higher wages with Happy Harry's are no longer there.  They were replaced with cheaper labor.  The quality of product that abounded at Happy Harry's has now been streamlined.  The cost of everything but pharmaceuticals has risen.  The pharmaceuticals because of Walgreen's size, have themselves become cheaper.   The profits originally went to Alan Levin who lives here in Delaware.   Today,  profits are transferred out of state to the headquarters in Deerfield, Illinois.
So was the transfer of assets good for Delaware?   You can see the problem with trying to assess the change of the Port of Wilmington's ownership.  It could be Alan's enthusiasm is driven by the success of his former negotiation…
The prime issue is jobs versus wage rates.
Here is a quick illustration.
$300,000 =  10 jobs at $30,000.
$300,000 =  15 jobs at $20,000
$300,000 = 30 jobs at $10,000
$300.000=  40 jobs at minimum wage and 20 hours per week.
So when you have massive unemployment, being able to say you will create 40 new jobs creates a big political boost in your favor.  One can see why corporations hire as cheap as possible.  Isn't it better to have a pool of 40 people who can work, and are hungry for work, than 10 who are less productive?
But the downside, is those 40 people can't buy anything.  There is no money for anything but subsistence living.   The state and town's resources get strained covering the additional costs such cheap labor requires, like medical care, like food stamps, like EIC, all which are a drain of resources being taken away from other sources….
Keep in mind, it is the same $300,000 by the corporation that is being paid out.  So from a town's point of view, having 10 people fixing their houses, paying their taxes, hiring yard work and carpenters, buying cars, buying higher priced food, affording their own insurance,  donating money to charities, is better than 40 people costing it food stamps, sucking up Medicaid, bleeding out supplemental unemployment, SIS benefits,  forcing extra police coverage, necessitating  anti drug efforts, causing  higher crime patrols, etc.
By far, it is better for the city to have workers who contribute, instead of cost.
Which is why, the privatization of Wilmington's Port, is not in the best interest of Wilmington and New Castle County,  unless the union can negotiate a prevailing wage floor, unless local workers get to do the construction and re-investment, and unless no decrease in neighboring property values is ever allowed to occur……
And … as we learned from Fisker, unless a special clause is inserted guaranteeing the State gets first in line to receive assets if Kinder Morgan goes bankrupt or walks away from Delaware and Wilmington should it ever decide the rate of return is not what they expected…..

Courtesy of Wikipedia
Is the economic model being used to evaluate the impact of privatizing the Port of Wilmington, the exact same one used to determine the economic benefit from both Fisker and Bloom Energy?
Delawarean's probably ought to know.
If yes, might it be possible that here could be some flaws inside that formula?
Five bills, HR 3-7 were laid on the table by Briggs-King.
Number 3 This bill prohibits certain ticket scalping for musical concert events at the Delaware State Fair
Number 4 AN ACT TO REINCORPORATE THE TOWN OF GEORGETOWN.
Number 5 An act to water down the state's low emission vehicle program.
Number 6 Excessively raises the ceiling thresholds below which Prevailing Wage Laws DO NOT APPLY.
Number 7 Allows contracting agencies to opt out of the requirement that prevailing wages be paid to mechanics and laborers performing work on public works projects.
These 5 bills if successful, will create huge changes that will disrupt Delaware's economy in a big way. Obviously someone is positioning themselves to ingratiate themselves to Greg Lavelle's former political contribution list.