You are currently browsing the category archive for the 'Koch Brothers' category.
The State Department dropped objections to the Keystone Pipeline….
Days later, the flaws are being drawn out.
"EnSys Energy has worked with ExxonMobil, BP and Koch Industries, which own oil sands production facilities and refineries in the Midwest that process heavy Canadian crude oil. Imperial Oil, one of Canada's largest oil sands producers, a subsidiary of Exxon, was the firm responsible for the study.
Environmental Resources Management (ERM) Group – which TransCanada hired on behalf of the State Department to do the EIS. was paid an undisclosed amount under contract to TransCanada to write the statement, which is now an official government document," "The statement estimates, and then dismisses, the pipeline's massive carbon footprint and other environmental impacts, because, it asserts, the mining and burning of the tar sands is unstoppable."
ERM was involved in discrediting cancer was caused by cigarettes.
Go figure.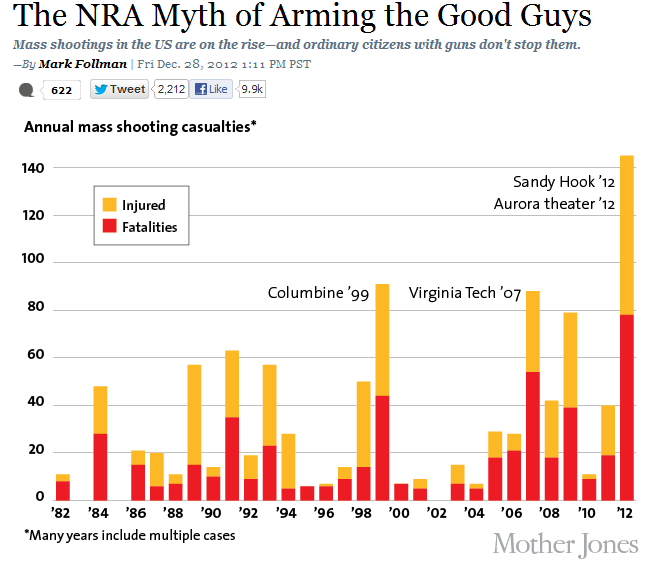 Courtesy of Mother Jones
There are many holes in the argument of banning assault weapons. Briefly there are three. One, assault weapons are not the cause of most murders. Two, assault weapons are hard to define exactly. Three, once something is banned, it can be modified, sold legally, then once the sale is approved, unmodified to make it banned again…
So it is difficult and when one argues with a gun enthusiast one gets bogged down. However, I heard Biden mention if first and spent a long time to look up the data…..
For some reason, even though the assault ban was full of holes, when it came to mass murders in public places, the ban seems to work. One must note that Columbine occurred during this time frame. That proves nothing is fail safe. But it also shows that despite a tragedy occurring during this time, for some unknown reason, an assault weapon ban achieved the desired results…
This is just being discovered right now, so data is reduced to speculation.
I speculate the following.
Because an assault rifle could not be replaced, collectors were less likely to give it to creepers up to no good.
Because assault rifles were de-glorified, simply going ballistic wasn't cool anymore…
Because these weapons were banned, they kept a very low profile, in order to avoid confiscation.
Here is a chart of all the data Mother Jones compiled over the past three decades involving mass murders.
If you look, you can see assault weapons were very few of the weapons of choice in these mass killings. Most were done with semi-automatic handguns.
So why are we not banning handguns? One step at a time. We know that banning assault weapons in the past lowered the rate of mass murders… In fact it appears that over this time frame exempting Columbine most of the incidents were work related. Revenge for "I got fired so now I'm firing this at you."
What is missing during the assault ban are those crazies mad at the world and going out and wasting everyone away. Oddly, they show up again, just as soon as the assault ban is dropped in 94. Yet they use semi-automatic handguns as their primary tools, not assault weapons…..
It is almost as if, when we say that "carrying any gun any where is good American behavior", the crazies get guns and pay society back for their hurt…
But when we say,…. "guns are bad, some have to be banned and regulated", that the crazies agree somewhat, and stay away from getting these "bad" guns and shooting up innocent people to pay us back for their hurt….
As I said… "it is as if…" I think it would be impossible to determine it now after the fact. However, for whatever reason, there was a period of quiet time between mass murders, that except for Columbine was aligned perfectly alongside of the assault ban passed and signed and named after Ronald Reagan's press secretary, Jim Brady.
Weird huh?
So why are there so many gun killings this year, and there is one giant manhunt going on in Southern California right now?
It appears to the the fault of ALEC… Did you know gun laws on a state by state basis have been rolled back and eliminated since 2009? Mother Jones provides a chart that handily shows the damage that was done. if we had ways of tracing before? They are gone now. Thanks to the Tea Party and ALEC> When you go to that page, and it is a must see, on the map make sure you click on the tabs across the top first. Then go across one tab at a time to see and fully understand why so many crazies are shooting up so many innocents 2012 and beyond…
All evidence points to reigning in these anarchists. As long as people want people to have guns that are untraceable, there can be no order…
Ban Assault weapons and high capacity clips.
Register every gun so any gun can be traced back to a human being.
Any gun owner whose gun is used in a crime, is a co-conspirator.
License every gun owner and require they prove they are competent enough for the responsibility.
Create one law for one people. Gun laws become a Federal standard and are not bendable by any state legislature.
This way, any gun owner can have their gun. There is no change in anyone's gun behavior, unless of course they are a criminal.
And we really don't want criminals to have guns now, do we?   Unless, of course, we are a spokesperson for the NRA that is.
So, I know the title gives it away, but what do the:
Ambulatory Pediatric Association,
Gray Panthers,
Congress of Neurological Surgeons,
National Association of Chain Drug Stores,
United Methodist Church,
General Board & Church Society,
Drew Barrymore – Actress,
Christie Brinkley – Model,
Doug Flutie – NFL player,
Art Garfunkel – Singer,
Helen Hunt – Actress,
Britney Spears – Singer,
James E. Carter – Former President,
C. Everett Koop – Former Surgeon General,
A & M Records,
Ben & Jerry`s Homemade, Inc.,
Blue Cross Blue Shield – Kansas City,
Hallmark Cards,
Kansas City Chiefs,
Levi Strauss & Co.,
Sara Lee Corporation,
Southwestern Bell Telephone- St. Louis,
St. Louis Rams,
Stoneyfield Farms Yogurt,
The Christian Publishing Society,
Gannett News Service,
Motorcycle Cruiser Magazine
and the YWCA of the U.S.A…….
all have in common?
They are listed along with a couple of thousand other well known people, organizations, and American businesses, as being an ENEMY of Wayne LaPierre and the NRA….
Can you still tell me with a straight face that these aren't kooks, or weirdos, or crazies? The NRA is the pond scum of America. I'm all for legitimate gun rights as everybody knows… but fellow gun owners? These guys ain't doing you no favors!

Courtesy of Reuters per Daily Kos
After every tragedy we've talked about doing something to stop random violence with assault weapons.
We talk.
The last person who "did" anything, was James Brady who said enough is enough and pushed the "Brady Bill" over the NRA's dead body into law.
It is time for the next step.
Every American must ask themselves. Since there will be no compromise, which is more important for America's future?

Photo Courtesy of KRCRTY
OR


Photo Courtesy of Amherst Gun Show
???
Did you choose?
Then we need to start to work. I think it is safe to say that after Newtown, Connecticut, we are done with options. It has now become,… an obligation for us to stop this trend….
We need to act soon, before the next perpetrator, tries to outdo even this tragedy……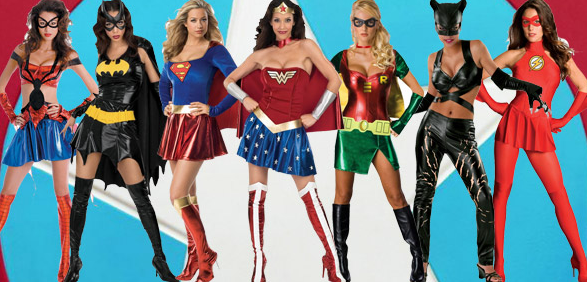 Photo courtesy of Big Girl In A Straight World
There is no war on women… War is what's going on in Syria. War on women, is what the Taliban did to that poor Pakistani girl.
But that said, this whole binder thing, has opened my eyes like no other. I can remember when we women had things much worse. For example, if we refused sex, we'd get fired and had no recourse to sue. "Shouldn't have asked for it was all the police would say." So from that perspective I'd have to say I was intrigued, but a little distant from all the angst todays Republicans were bringing to bear….
Delaware Liberal had a conversation about Morning Joe after the debate, when the female brought up the binder issue, and Joe Scarborough and his male friend, jumped all over her… Don't bring up that slip of the tongue, it has no relevance to this election." In a sense, they dismissed her as stupid, right there on national television.
If they'd thought about it beforehand, I'm sure they'd phrase it differently. Obviously there were major items that the male mind was still struggling to grasp from the night before. Like who was the tougher guy? Who won? Who had the best offense, best defense? They couldn't be bothered by a joke about binders when the candidate probably didn't even know how funny what came out of his mouth was…..
But what Mitt said, burns with a hot flame in the consciousness of every woman that hears it. Because we've heard it all before. It's not the words being spoken; it is the hidden disdain lurking underneath what is being said….
Here is how Mitt came across… "Wait, there are women voters too. Do we have any women on our staff? We need some women as window dressing. Bring me some binders of women. I want to pick a couple out…. so I can say I have one working hard under me… ha ha…nudge, nudge. (and while you're out there, pick up a couple of knee pads, will you?)… We've heard it all before. Sometimes to our faces, thinking they are funny and we are just like them so we will approve, but usually we hear about it second hand, and act like it comes with the job…
It does come with the job.
Not saying we don't have fun with it too. We're human. But most men we work with have more harassment nooses around their neck than a drunk queen on Bourbon Street has beads… They are so lucky we haven't hit the button for that trap door….
Here is what you men don't get. Mitt Romney ran the Olympics, worked at Bain Capital, campaigned for Governor and won all before this incident. Are we to assume no women were involved in "trustworthy" positions during the previously 20 years, so now, he had to study binders full of women, to find one to hire?
That is the anger behind this women in binders. It has nothing to do with binders, or resumes, or diminutive women living out in plastic cover cardboard with three silver rings inside….
It is that Mitt Romney, at that point in time, did not feel women were equal to men. They were flawed, they had periods, they had children, they couldn't stay late but had to be home by 5! Sheesh. How can a government run, when it's workers have to be home by 5? Oh well, she's just window dressing, we'll humor her and let her dally home each day. I'll count on my men for the real work I'll need…
Then, you compare this glaring example of someone who pays lip service to women, who understands he needs "window dressing" when it comes to women, and you realize that even if you made the company twice as much profit as did any man, this Mitt Romney guy, would pocket it, dismiss your contribution, and reward someone else for the work you did…..
It happens to every woman. Mitt Romney is THAT guy.
So when you compare it with his answer to the Lilly Ledbetter Act, and he said he would not support it, and several weeks ago, when asked if he'd rescind the act when he got into office, the answer, .. after looks back and forth between staffers, was literally… "Uhhh, we'll get back to you on that one."…. when all those are taken into account, Mitt Romney is THAT Guy… Oh, I'm glad to have some women in the office, it seems like home, can you get me some coffee, I'd like two sugars, and one cream please, and then you can dust those shelves over there. They get dusty when I'm out campaigning… "
And that is why the binders are so important. They show us he is THAT guy. The one we trade departments to get out from underneath, the one we look for new employment, because opportunity has stopped at HIS desk, the one that in the middle of the night, upsets our whole family routine, because he infuriates with his smug condescending nature….
Women work twice as hard as men. Men can't keep a house running for shit. I know a lot of men. As soon as they get home, they are done. Window dressing here or there. But food needs fixed, kids need bathed, floors need mopped, the bills need paid…. "Honey, the Eagles are playing tonight… you got this… ok?"
So, is there a war on women? If you mean like Syria… of course not. But America when it saw the psychological tools that were used to keep blacks down in the South, was appalled. American (except for Southern Radicals) collectively said, "you can't treat people like that."
Would you have called that a war on blacks? You could have and explained you were speaking metaphorically. And that's what we women are doing now. Speaking metaphorically. There IS a war on women. It is meant to keep us in our place.
"You tell, anyone, … you are fired, got that lady?"
Reading a recent critique of the debates, it focused on a fact. Millions of Americans are not enjoying the benefits of this economy. Romney had the lucky position to point out all that was wrong, without the responsibility of finding any solution to fix it.
His line, "bring down the rates, broaden the base." simply has not worked. It didn't work in Reagan's time. It didn't work for Bush HW. It didn't work for Bush W. It is called: "trickle down".
Clinton, who practiced kavipsian Economics, raised the rates, causing profits to revert back into the economy stimulating even more growth; that growth grew people's incomes. That is the key. People will take lower wages if they know they will grow out of them. But ever since Republican Tax Rates went into effect, wage growth immediately stopped. 99% of Americans are earning exactly what they did in 2000. It's been twelve years since wages for the 99%, increased. Higher taxes takes away all incentive for any employer to pay his people more.
Here is the funny part. To actually do something about the economy, President Obama has to eradicate the Republicans. Get rid of them. Make them a non player. Republicans and republicans alone, are the reason the economy is in such a slump.
Let's review.
Republicans fought the stimulus.
Republicans fought the car buying incentive.
Republicans fought infrastructure development.
Republicans fought giving Veterans jobs upon returning to USA after fighting for years.
Republicans fought lowering insurance rates.
Republicans fought lowering gas price legislation.
Republicans fought regulating big banks from literally stealing your money.
Republicans fought against balancing the budget.
Republicans fought against payroll increases for all Americans.
Republicans fought against lowering medical costs.
Republicans fought against a better economy.
Republicans fought against hiring more policemen.
Republicans fought against hiring more fireman.
Republicans fought against hiring more school teachers.
Republicans fought against building roads and bridges that were sorely needed.
Republicans fought against not defaulting on the US Dollar.
Republicans fought against strengthening America Abroad.
Republicans fought against stopping corporate corruption.
Republicans fought against fighting wealthy tax cheats.
Republicans fought against closing the loopholes Romney used to get rich.
Republicans fought against raising wages for all Americans.
Republicans fought against legislation that allowed workers to ask for more money without being fired.
yeah. There is a reason the economy is bad. It is called the Republican Party.
Having "No Republicans" equals massive investment back into our economy. The formula for a successful America is…..
NO REPUBLICANS EVER ELECTED AGAIN = MASSIVE AMERICA ECONOMIC GROWTH
So Obama, you are at fault according to Mitt Romney and the Conservative Cheer-leading squad… Because you didn't get rid of Republicans… Shame on you!!!!
I guess it is up to us, to do so if we EVER want our economy back.
If not… I guess every vote for a Republican is a vote in support of Communist China…..
Well, yes. Of course there is… Duh.
When most Afro-Americans were being held as slaves by their white masters and kept chained either by iron or psychological control, there was no possible way they could be violent to whites, unless those whites got careless, making it the white person's fault through negligence if they got killed by one of there financial properties.
So yes, of course there is… End of story.
Not quite, … Should we go back to enslaving a large group of humans based on the amount of melanin in their skin, just to go back to the quite comfort of white on white violence? How about white on Mexican violence? Here is one rivaling Stalin/Hitlers killing off the Jews… How …. about…. white…. on …. American Indian…. violence.. That was cool stuff apparently … Colin Flattery grew up idolizing that on black and white TV…..
You'd expect a book like this from someone who once thought F Troop was real.
Rick Santorum is a Catholic.  He has incessantly called all Catholics who use contraceptions against Church doctrine, as being "non Catholics", as worshiping some phony religion.   Santorum minces no words when he declares Catholics have to follow the teaching of their church…..
In an op-ed piece in the Philadelphia Inquirer in December of 2009 entitled "The Elephant in the Room: Catholics Must Heed Teachings,"  Santorum wrote, "Catholics must be true to their consciences. But that is not a free-floating guide that we can define ourselves. A Catholic is required to form his conscience in accordance with the church's teachings on faith and reason, and to act in a morally coherent and consistent way, both privately and publicly."
That bold line bears repeating…
A Catholic is required to form his conscience in accordance with the Church's teachings….  Rick Santorum (2009)
That is a very dangerous thing to say because the Church has been around for a long time…  Over its life-long history,  the Church has said quite a bit…
For example, one of the things the Church under  Pope Leo XIII said back in 1891…. was that the Church would always be solidly supportive of labor unions…. and solidly against unfettered Capitalism….. 
In the Rerum Novarum  (1891- Pope Leo XIII)  occurs the following……
"Let the working man and the employer make free agreements, and in particular let them agree freely as to the wages; nevertheless, there underlies a dictate of natural justice more imperious and ancient than any bargain between man and man, namely, that wages ought not to be insufficient to support a frugal and well-behaved wage-earner. If through necessity or fear of a worse evil the workman accept harder conditions because an employer or contractor will afford him no better, he is made the victim of force and injustice…"
Among the remedies it prescribed were the formation of trade unions and the introduction of collective bargaining, particularly as an alternative to state intervention.
 Rerum Novarum also recognized that the poor have a special status in consideration of social issues: the modern Catholic principle of the "preferential option for the poor" and the notion that God is on the side of the poor were expressed in this document.
Why does Santorum want to get rid of labor unions?  To do away with these (listed below) responsibilities ordained to be done by the Catholic Church?
Some of the duties of employers are:
1) to pay fair wages
2) to provide time off for religious practice and family life
3) to provide work suited to each person's strength, gender, and age
4) to respect the dignity of workers and not regard them as slaves…
(Fair wages are defined in Rerum Novarum as at least a living wage, but Leo recommended paying more than that: enough to support the worker, his wife and family, with a little savings left over so that the worker can improve his condition over time…)
Just ask any teacher in Nashville, which this year wiped out all teacher's unions, whether or not they can fulfill these requirements sanctioned by the Supreme Holiness himself….?
(The answer is :  NO, THEY CAN'T)….
The Catholic Church sanctioned Labor Unions for a good reason… so much so that it codified deep within it's canon, that protecting Labor Unions would be a necessary requirement for every Catholic to comply with….
So when you see Rick Santorum next time,  ask him why it is that women, … MUST obey the Catholic Church canon,  but large corporations…. must not?     Either it works both ways, Rick,  or… it works neither way……   You don't get to pick and choose…
Anyone against the formation of  labor unions is in violation of  Catholic Church Doctrine  ……….
Because… ..
A Catholic is required to form his conscience in accordance with the Church's teachings….  Rick Santorum (2009)