You are currently browsing the category archive for the 'Justice Department' category.
On the green at Lexington, April 19th, 1775, two sides stood forth, eye to eye, musket to musket…. the tension, the silence, neither side wanting to be the one to strike first…..
Then, a shot was fired… and after all the muskets had discharged, each side blamed the other….. 8 Americans dead; one British wounded….
In their glee, after being mustered into General Assembly, their commanding officer allowed them to fire a victory shot….
It was premature…
By the time those troops had returned to Boston, 19 officers and 250 of Britain's finest, would never experience another fine spring day….
TODAY, MEGAUPLOAD WAS TAKEN OUT….. To show the Entertainment Industry that politicians who were in their pocket, would not waver, the orders were unsealed … and FBI arrested 4 people, and shut down the server in Virginia….
The New York Times quoted FBI sources that this was the 13th largest entity on the Internet up to the moment it was shut down.
This was not a domain move. This was taken out; shut down. The IP addresses do not work.
Curious, with enough outrage, this could elevate Ron Paul's candidacy. He is the only candidate today, protecting the Internet. He seems to be the only one who understands that the loss of liberty, is taken in tiny steps. The gassing of Jews during the Nazi Holocaust, was the culmination of a long chain of freak events, any of which a vigilant society COULD HAVE STOPPED…..
This could stop Obama in his tracks. This is the equivalent of taxing tea. Everyone uses the Internet.
Everyone has benefited from MegaUpload.
The shot has been fired. Time to line up on either side.
Case A: She was a single mom, working days as a medical assistant, and picking up shifts at a local restaurant… One night, after coming home almost empty-handed, she ranted on her Facebook page. Someone copied and alerted her employer. She lost her job.
Case B: Another local company, issued employee warnings to it's entire labor force; "Don't let a few moments on social media, cost you your job."
Case C: Melissa Kellerman, after getting knocked over in yesterday's game, had her twitter account pulled after commenting on it.

Photo courtesy of Yahoo Sports
The Cowboys Organization, called her in, and ordered her to delete her account…. Here are the tweets she deleted….
Here are a list of comments that one sees in public media whenever this topic is broached….
Only a fool believes Facebook is private.
Don't put anything on the internet you don't want everyone to see.
Social Media is just that. Social. Don't be shocked when your private life goes "social"….
And all those statements are true. When using the Internet, you need to be guarded lest your employer sees what you are saying…..
Now here's an interesting question: WHY?
WHY DO EMPLOYERS HAVE THE RIGHT TO DICTATE INTERNET PROTOCOL?
The initial response is that they get to protect their image.
When someone says something on the Internet, it is publicly damaging if negative.
But why not people? Why can't they be entitled to use their right to freedom of speech on the Internet?
If someone is complaining to another about being harassed by their superior, and it get forwarded and she gets fired, is that right?
If someone is complaining to another about improper mine safety and the deliberate non compliance of safety issues being forced upon them by management, and it gets forwarded and she gets fired, is that right?
If someone is complaining about being treated unfairly by their management team, and it gets forwarded and she gets fired, is that right?
Probably not.
The Internet is not private. but there can be reasonable assurances that some things on the Internet are private. Discussing topics on the Internet should be as safe as walking through the park, discussing items there… Sure, there could be someone behind the tree, listening to everything you say, but the fact that they had to hide behind a tree to hear it, means they weren't legally entitled to the knowledge. Likewise someone could steal letters out of a mailbox. Someone could tap a phone. Someone would listen to your cell phone with a scanner… All of which are illegal.
But, reading someones private inbox message because it is on the Internet, is not…
It needs to be.
The law needs to catch up to technology. People are allowed to say what ever they want. That is guaranteed.
It is time that same right is canonized into America's legal code. So that if a corporation acts aggressively upon someone's free speech, that company stands to lose a year's profit in damages and legal fees. That is the level of penalty required to protect the privacy of every American, when it comes to their using the Internet.
Here is the blog that has been quoted recently by the mainstream press, especially after the video went viral, and they had to scramble to cover up the fact they originally tried to whitewash the incident.
"DUMB COLLEGE KIDS", the right wing pundits squeal…
Not so…
Try an Assistant Professor in the Department of English, who organized the peaceful demonstration.
Or try an Associate Professor of English, who was grabbed by her hair, thrown on the ground.
Or try Associate Professor Geoffrey O'Brien who was injured by baton blows.
or try Professor Robert Hass, former Poet Laureate of the United States, National Book Award and Pulitzer Prize winner, who was also struck with a baton.
I wonder how this child's mom feels right now: One of them, forty-five minutes after being pepper-sprayed down his throat, was still coughing up blood.
Or the dad who was there, bedside, to welcome this bundle of joy into the world.
Or the Grandparents of these children… When students covered their eyes with their clothing, police forced open their mouths and pepper-sprayed down their throats.
What's the point? What were you trying to prove, Mr Rogue Policeman? Ohhhhh, that you were sooooooooo tough… I bet all the women flock to you now, don't they?
What were you trying to prove, Chancellor Katehi? That you have an iron will? Or that you didn't care? You had to appease the wealthy donors. The tents were such an eyesore and had to be removed, even with the potential for a loss of life?
What were you trying to prove, Republicans? Cutting taxes. Underfunding institutions of learning. Trimming school budgets so the wealthy wouldn't have to pay their fair share of the cost of living in American society…
Go ahead. Save them a couple of pennies…. Beat the student's senseless.. Fill their lungs with pepper spray… Ram their lower abdomens with your batons. Make them unable to ever bear children…. Do it for your wealthy master. All so millionaires can save one more penny on the dollar they've already taken from us…
Oh, no… Wait… Why didn't we think of that before… If you kill us all off now, you won't get back your student loans we borrowed from you at those exorbitant amounts of interest you so graciously parted your money for….
You all felt it on the East Coast, shaking windows and hanging lights; moving top floors a few inches in each direction….
The USGS provides some rather interesting data. Originally listed as being <.1 kilometer, that correlates to 316.8 ft. The data has sensed been revised to stand at this writing, at 6 km, or 3 miles and 1281.6 yds,,, Only once before did this area experience a quake.
A quick satellite look at the epicenter shows an area crisscrossed with drilling roads and well sites.
What is at stake is the natural gas buried under the Marcellus Shale. This shale is impermeable and trapped the methane gas decomposing underneath. Most old wells went down to the shale level and stopped. Since 2009, new technology uses wastewater and high pressure to fracture that shale layer. Once fractured, the gas can escape upwards…..
Now, imagine filling up an old bathtub with sand… then going to sleep on it…. It would be quite comfortable… Now suppose your significant other brings in a garden hose, turns it on and leaves it. At first the water goes into the sand. Eventually the water gets too much, that the sand/water mix can no longer hold up your weight, and you go splat, to the bottom of the tub.
That is what happens to whole layers of rock when this process is applied. All the layers of rock on top, suddenly drop several feet. Whoomp…
This whoomp covered the whole east coast….
Two years ago, a team fracking (fracturing the shale layer) in central WV, caused a tremor felt outside of Pittsburgh, PA… In the past year, West Virginia, a state that has never had seismic activity, is suddenly being shaken with 2.2 to 3.4 tremors…
This video gives you some insight into the problems that come with fracking. And this industry video shows the protections that are in place when frakking is involved. Take note of how the drill sites are set up.
Officials in WV, usually company operators themselves have dismissed any connection between the new technology being developed across their state, and all the new earthquakes that have come out of nowhere during the same time.
The same occurrence took place in Arkansas. Fracking and novel earthquakes. And not just on this continent, but a 3 mile deep well drilled near Basil, Switzerland caused a 3.4 earthquake in that geologically tame region, so the well was shut down. (Unlike WV, neither Switzerland or Arkansas receive 75% of their income from energy) Out of Memphis, Steve Horton, an earthquake specialist at the University of Memphis and hydrologic technician with the U.S. Geological Survey notes: "Ninety percent of these earthquakes that have happened since 2009 have been within 6 kilometers of these salt water disposal wells,"
Likewise, ever since the West Virginia Oil and Gas Commission forced the disposal companies to cut back on their injection rate and pressure, the professor said, the earthquakes there seem to have dissipated. (Recently WV put emergency rules in place that require operators to file water management plans when using saltwater for fracking. The emergency rules require operators to file water management plans when using more than 210,000 gallons, citing the source and anticipated volume of withdrawals, as well as measures to protect aquatic life. The companies also must list their "anticipated additives" and say how they plan to dispose of wastewater.
Arkansas went one step further. They place a moratorium on fracking to see if there was a correlation between the two. The data was implicating, but not totally conclusive. In ten days preceeding the moratorium, Arkansas experienced 100 quakes with it's largest quake in 35 years at 4.7. In the following six months, 60 quakes occurred and only one was over a 3. Most were between 1.2 and 2.8. After shocks.
Just two Virginia counties away, permits to frack have already been sought in Rockingham County by a Carrizo Marcellus, LLC, a Texas company.
And as any driller in Central Virginia knows, there is a wide belt of phyllite bedrock that extends across central Virginia through eastern Albemarle and western Louisa counties. This is a very soft rock that does not have the ability to hold open fractures under the confining pressures that exist beneath the surface. As a result, groundwater is scarce, and successful wells are difficult to construct.
Compare this map with this satellite photo and see how the area of phyllite bedrock matches the area that is too poor a quality to farm and remains forested for that reason….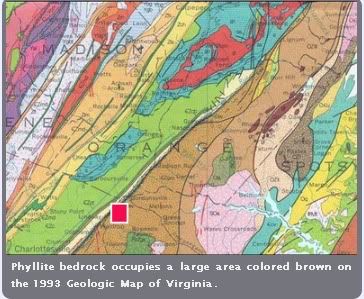 Courtesy of caggiotech.com
Below is a Google Map shot where the green arrow pinpoints the coordinates of the August 23rd epicenter, 5 miles south of Mineral, VA.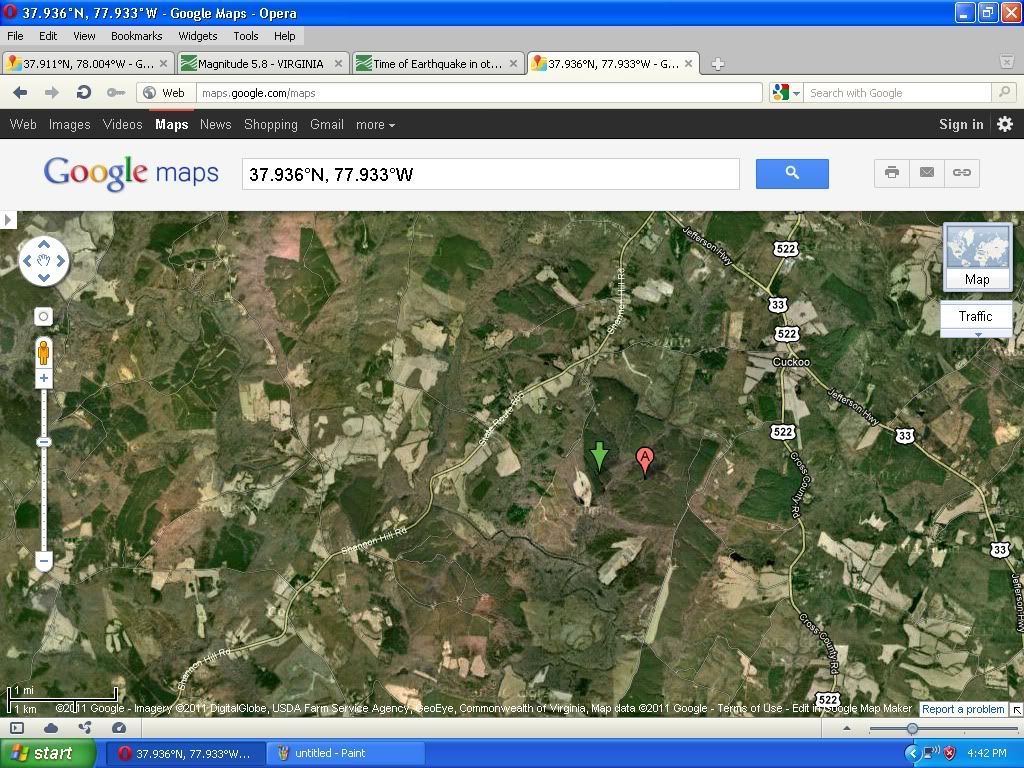 Next is a shot of the homestead on whose property the quake was centered (remember originally it was only 300 feet below the surface.)
Seeing some interesting uncharacteristic activity, here is the closeup of that picture above. Use the zoom function or your own computer to let you zoom in closer.
These structures are different from any other buildings in the area. There also are a lot of heavy equipment on the property.
And notice the surrounding soil is a different color.
Looking northeast of the green arrow on the top of the three images, one sees, across the expanse of forest, what looks like a new road, bright white the ends in a circle.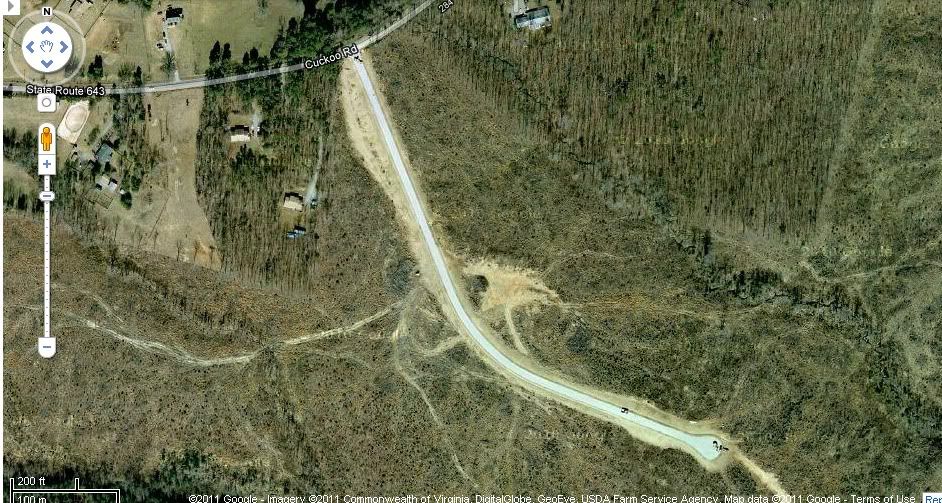 On that circle are several pieces of equipment. Remember the video that depicts the white covering of a well site, as well as berm appearing on the north side? It looks eerily similar.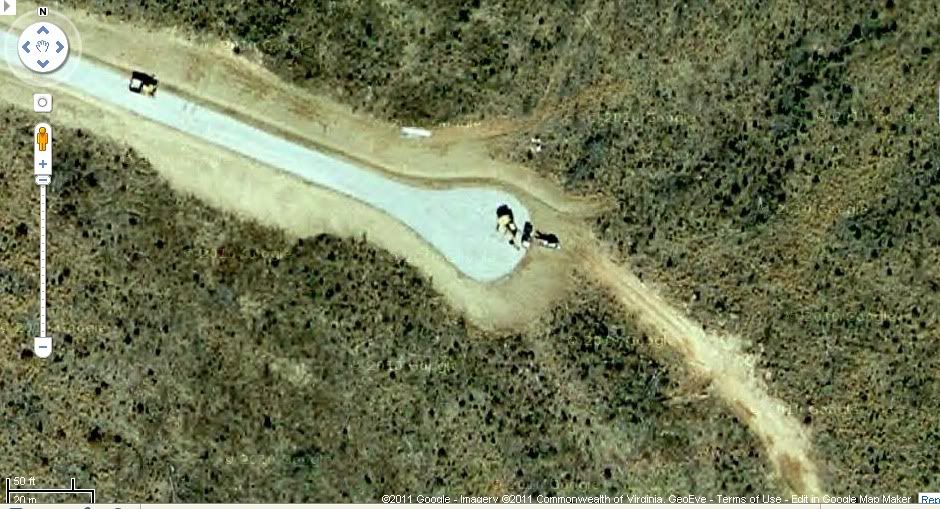 At the end of the circle, one can see tracks continuing over the area, quite possibly to wildcat drill sites. And what is peculiar, is that the road shows up brilliantly on the satellite, but on the map version of Google Maps, it does not… (Maps are updated faster than the satellite photos.) Whereas the driveway into the previous owners property is mapped out,this one is not.
It's all rather interesting, and needs further proof. To arrive whether it is definitely a possibility of having a man-made quake scare the crap out of the entire east coast, but as they say in a courtroom, there is the preponderance of evidence that it is so…..

Review:
Quakes happened across the world in stable areas far from faults, once fracking is done.
As soon as fracking is done with less pressure, or discontinued, the quakes stop. Despite the practice occurring in several different geographical and geological areas.
Satellite photos show drilling activity near the epicenter of the August 23rd quake.
Surprisingly, no permit was filed with the Department of Virgina Mining Bureau, or Louisa County for this activity.
Every driller knows that Louisa County, is permeated with a very soft shale that shatters extremely easily.
And unbeknown to most of you, another quake occurred almost simultaneously, in southern Colorado near the New Mexican Border, at very similar latitude in an area also crisscrossed by mining roads and drilling activity…. A 5.8 at 1:46 EDT… Ours was a 5.8 at 1:51….

Having recently seen the Harry Potter movie, it is scary. Ever since watching…. I now see giants everywhere. Before when I looked, I never knew they were there…
Two giants will be doing battle here in Delaware… (The recession is finally paying off for our little state.)
Papers were filed with the ITC (International Trade Commission) by the South Korean giant Samsung LED against a division of another giant this time from Germany, Siemens….. over 8 patient infringements.
Samsung LED also said it filed a lawsuit in the U.S. District Court in Delaware to seek damages and a permanent injunction to bar Siemen's subsidary, Osram's alleged patent infringement from entering this country.
At stake is the financial future of these two companies. One will win, and the other for lack of a better word, will be vanquished.
Since Siemens actually has a plant in Delaware, next to the Glasgow Park off Route 40 and 896, I'm putting my bets on that giant…. if they get hurt, it will cost jobs.
Hotels, restaurants, transportation companies all stand to be a little busier as this gigantic fight, gets under way…. It would be helpful to practice on the Korean and German dialects now, before the event gets under way…
Sprechen sie deutsch?
니미럴 개자식 ….
It should be an interesting fight.
A eight year old is to be tried by Conservative laws as an adult… Today we see that perhaps he was coerced into his confession..
WDEL devoted a portion of the Rick Jensen show on this topic…
Questions that occurred to me during the playing of the videotape of the confession.
!) Will trying the 8 year old as an adult, help either of the two victims cope with what has happened?
2) Will trying the 8 year old as an adult, keep him from repeating his crime?
3) Will trying the 8 year old as an adult, serve as a disincentive for other 8 year olds who are thinking of attempting the same crime?
When all these questions get asked, the answers one gets make the whole thing seem silly.
(He is 8 years old.)
Obviously, when you look at who will benefit from trying this child as an adult……. this is being done solely for the benefit of the prosecutors, just so they can brag "Look how tough I am.., I even sent an eight year old to the electric chair…."
Well, where I come from…….to ramrod an 8 year old boy for the sole benefit of a prosecutor…. seems to demean the world's definition of the word "justice'.
The first time I heard this story, I got mad.  The prosecutors were asking for 30 years for Osama's driver.  "Hey, can you drive me to Walgreens?"  Obviously this was an extension of the Cheney camp hell bent on putting arbitrary excessive punishment on anyone they could….  They are just plain mean.
To put it into perspective, Albert Speer, one of Hitler's right hand men, his Minister of Armaments, and sometimes called "the first architect of the Third Reich,  was only imprisoned twenty years for his association with Hitler and his role in that war.
And this guy was just a poor schmuck who drove a car…. probably because his wife and kid would no longer live if he refused……
But the second time I heard the story, I was proud.  The best part of America, it's forgiving side, had given him a lighter sentence..  This was not a civilian jury.  This was a jury of the  world's best military.  Ours.
Metaphorically they sent a resounding statement saying "Bullshit" aimed right squarely at Cheney's head.  Apparently they learned from Cheney, how to hunt…too……..