You are currently browsing the category archive for the 'just the facts' category.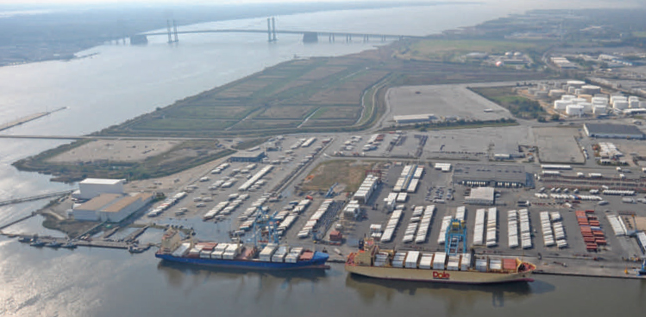 Courtesy of WDDE
Total employment – job counts have two major limitations: (1) they don't necessarily reflect the quality of employment opportunities, and (2) they cannot be easily compared to the public costs of attracting those jobs (through subsidies, tax breaks or public investments).
Aggregate personal income measures the monetary  increases as pay levels rise and/or additional workers are hired. This works as long as nearly all of the affected workers live in the study area.  This guide is  a reasonable measure of the personal income benefit of a project or program.
Value Added Corresponds to the GDP.  It reflects the total sum of wage income and corporate profit generated within the study area. However, in today's increasingly global economy, value added can be an over-estimate of the true income impact on a local area, insofar as it includes all business profit generated there — all of which gets paid out as dividends to owners of the business who do not reside in the study area, and that which is reinvested into corporate facilities that lie outside of the study area.
Business Output (also referred to as revenue or sales volume) is the broadest measure of economic activity, as it generates the largest numbers. It includes the full (gross) level of business revenue, which pays for costs of materials and costs of labor, as well as generating net business income (profits).  Much of that money bypasses the local economic area.
Property Values  can rise in a community as a result of a new business increasing the demand for property, which may be a direct consequence of increasing aggregate personal income or the re- investment of business profits. It is also important to note that when property values go up in one neighborhood but down in another neighborhood, there may be a sufficient redistribution of wealth but no net change in the overall level of local wealth or incomes.
The point of this illustration is to educate you for when Alan Levin says, this will bring $100 million into the port of Wilmington, you can ask,… how much of that goes into the community?  The answer, if Kinder Morgan moves in, will be just the amounts paid in wages for operations and for future construction.
Currently, because the operation is under the auspices of the state of Delaware,  all of the revenue impacts the state and local economy.  With the moving in of Kinder Morgan, property values will decline, thereby adding a negative economic drag to the possible boost the sale is predicted to provide.
A very similar comparison would be to compare Alan Levin's Happy Harry's to the current Walgreen's today.
Walgreen's put money into each unit.  Construction dollars flowed to those hard hit in construction trades.  Those working at higher wages with Happy Harry's are no longer there.  They were replaced with cheaper labor.  The quality of product that abounded at Happy Harry's has now been streamlined.  The cost of everything but pharmaceuticals has risen.  The pharmaceuticals because of Walgreen's size, have themselves become cheaper.   The profits originally went to Alan Levin who lives here in Delaware.   Today,  profits are transferred out of state to the headquarters in Deerfield, Illinois.
So was the transfer of assets good for Delaware?   You can see the problem with trying to assess the change of the Port of Wilmington's ownership.  It could be Alan's enthusiasm is driven by the success of his former negotiation…
The prime issue is jobs versus wage rates.
Here is a quick illustration.
$300,000 =  10 jobs at $30,000.
$300,000 =  15 jobs at $20,000
$300,000 = 30 jobs at $10,000
$300.000=  40 jobs at minimum wage and 20 hours per week.
So when you have massive unemployment, being able to say you will create 40 new jobs creates a big political boost in your favor.  One can see why corporations hire as cheap as possible.  Isn't it better to have a pool of 40 people who can work, and are hungry for work, than 10 who are less productive?
But the downside, is those 40 people can't buy anything.  There is no money for anything but subsistence living.   The state and town's resources get strained covering the additional costs such cheap labor requires, like medical care, like food stamps, like EIC, all which are a drain of resources being taken away from other sources….
Keep in mind, it is the same $300,000 by the corporation that is being paid out.  So from a town's point of view, having 10 people fixing their houses, paying their taxes, hiring yard work and carpenters, buying cars, buying higher priced food, affording their own insurance,  donating money to charities, is better than 40 people costing it food stamps, sucking up Medicaid, bleeding out supplemental unemployment, SIS benefits,  forcing extra police coverage, necessitating  anti drug efforts, causing  higher crime patrols, etc.
By far, it is better for the city to have workers who contribute, instead of cost.
Which is why, the privatization of Wilmington's Port, is not in the best interest of Wilmington and New Castle County,  unless the union can negotiate a prevailing wage floor, unless local workers get to do the construction and re-investment, and unless no decrease in neighboring property values is ever allowed to occur……
And … as we learned from Fisker, unless a special clause is inserted guaranteeing the State gets first in line to receive assets if Kinder Morgan goes bankrupt or walks away from Delaware and Wilmington should it ever decide the rate of return is not what they expected…..

January 1-3
January 11-13
I getting a bad feeling about this. Who can tell us? What's this mean?
Btw. There is a monster hurricane approaching Alaska with a low of 943mb. Category 4 if it were an actual hurricane. It is so huge it would stretch from the East Coast of the US to Denver.
A. A woman, with two small children, separated from an abusive husband. He has just started violating a no-contact order, and is making threats over the upcoming divorce.
B. A father of three boys, married, lives in rural area. Owns 97 acres of woods. Has a two mile driveway. Then fifteen miles of one lane road to the nearest major highway, whose junction is 38 miles from the nearest police station.
C. A 15 year old urban dropout, who was jumped and beaten up badly when he was twelve in an act of random violence; he was in the wrong place when they were looking for something to do, allegedly to "teach him a lesson"; the reality? There was no reason for it.
D. A thirty year old man, who was raped over 100 times while a child by a neighbor, and that neighbor now is politically well connected, who boasts on talk radio of how big his arsenal is….
E. A bright, attractive professional woman of twenty five, who has a high powered job, lives alone out of necessity and convenience, lives on an international schedule, enters and exits often between midnight and 6 am.
F. A 43 year old mother, who at 18 became state's witness and testified against her acquaintance and he, is being freed tomorrow, sentence done….
G. A 62 year old pill popping DJ, who excels at conservative talk radio, by stirring up hate, spinning lies into truth, and coining derogative names to be recycled by bitter old white me, like "femminazi's"….
H. Pastor Washington, who has taken the calling of walking around the inner city on very cold nights, and persuade homeless people to swallow their pride and come inside to a warm shelter…
I. One day, you?
After every tragedy we've talked about doing something to stop random violence with assault weapons.
We talk.
The last person who "did" anything, was James Brady who said enough is enough and pushed the "Brady Bill" over the NRA's dead body into law.
It is time for the next step.
Every American must ask themselves. Since there will be no compromise, which is more important for America's future?

Photo Courtesy of KRCRTY
OR


Photo Courtesy of Amherst Gun Show
???
Did you choose?
Then we need to start to work. I think it is safe to say that after Newtown, Connecticut, we are done with options. It has now become,… an obligation for us to stop this trend….
We need to act soon, before the next perpetrator, tries to outdo even this tragedy……
Slammed by Obama in his press conference, where it was brought up that penalizing the UN Secretary who had no direct knowledge of Benghazi attack, McCain, Graham, Ayotte, and Johnson are right now, all running for political cover… However, earlier today before they got embarrassed for looking childish, petty, inept and unmanly, they had a press conference to illustrate the 5 unanswered questions that now need answered……
5. Why were we not prepared and have enough counteractive punch in place and on the ground to prevent the loss of life in Benghazi on September 11th.
4. Why were we going on with "oh, life is normal" on the morning of September 11, 2001 when on August 6th, we had a CIA dossier that explicitly said…."Bin Laden Determined to Attack US"…. Why? Why weren't there forces employed? How could we have been so unprepared?
3. Why were we not prepared and were caught completely off guard on January 30th, 1968 when Viet Cong and North Vietnam staged a surprise offensive that was able to take over and hold the embassy in Saigon once thought impregnable, at the same time they attacked 100 major South Vietnam towns and cities…. How could we be so unprepared?
2. Why were we not prepared and why were we surprised on the morning of December 7, 1941 when four aircraft carriers were able to navigate across half the Pacific Ocean unseen, and launch two air attacks on our sleeping crew and battleships in Pearl Harbor? This is outrageous. How could we not be so unprepared?
1. Why were we not prepared and had adequate security aboard the battleship Maine, before it was sabotaged in the harbor of Havanna on on February 15th, 1898…. 266 people died… This is outrageous. How could we be so unprepared….
These are serious concerns. They need an open hearing.
Therefore they suggested a Watergate style hearing along the lines of Iran Contra Hearings, or a 9/11 Commission to clear the air, ask tough questions and get tough answers…. The order of importance they should start with, should be item number one and work their way back up to the least important intelligence failing of them all…. Benghazi.
It is called: perspective.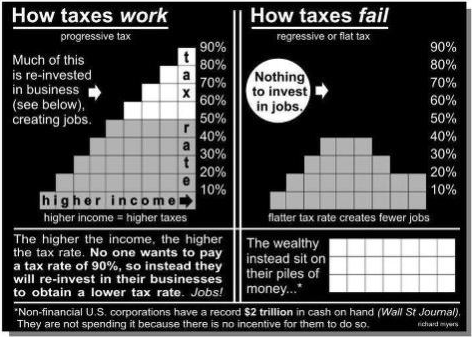 Image Courtesy of Atlas Shrugged Today
Kinda obvious, isn't it? Higher Tax Rates Create More Job Investment
In reality, there's remarkable consensus among mainstream economists, including those from the left and right, on most major macroeconomic issues.  92 percent of top-ranked economists say the 'stimulus' lowered unemployment.
Here are 6 areas that economists agree on….
The Recovery Act ('Stimulus') was a success, part of a historic turnaround.
The American Jobs Act should be passed at once.
The economy needs MORE federal spending, not LESS
Repairing and upgrading our infrastructure is job 1
Lower tax rates on top incomes make things worse, not better, as in:
The income gap, which fueled this crisis, is a big drag on growth.
Every Republican who disses the Stimulus Funding is simply dead wrong.   Every Republican who does not even have an idea of what they are talking about…   Job growth went from -800,000 per month under Bush to an average net gain of 160,000. That's a turnaround of nearly 1 million jobs per month! A historic achievement that gives tangible meaning to change we can believe in. 92% of economists or 100% of those NOT on Romney's payroll, concur.
Moody's Analytics estimated the American Jobs Act would create 1.9 million jobs and add 2% to gross domestic product.
The Economic Policy Institute estimated it would create 2.6 million jobs and protect an addition 1.6 million existing jobs.
Macroeconomic Advisers predicted it would create 2.1 million jobs and boost GDP by 1.5 percent.
Goldman Sachs also predicted it would add 1.5% to GDP.
Policy advisers to Presidents Reagan, Bush and Clinton, Nobel prize winners, IMF and World Bank analysts, private forecasters, Goldman Sachs, Forbes…The Consensus is clear: our economy needs MORE Federal spending, not LESS.   The world's top economists warn austerity policies are pushing the world economy toward disaster.
The American Society of Civil Engineers is calling for a 5 year, $2.2 trillion dollar program to repair, rebuild and update our infrastructure, beginning immediately. That's $400 billion a year, every $1 billion dollars of which will create 23,000 jobs. That translates into 9.2 million jobs a year.  Romney wants to spend the same amount on our military.  Our military is already larger than the twenty next armies combined….
Tax cuts on top incomes likewise produce no return. A study by the Congressional Research Service reviewed tax, investment and growth data beginning in 1945, the first year for which they're available.  Their analysis showed tax reductions on top incomes do not increase investment or growth.  In fact, growth has consistently been more robust during periods when top tax rates were higher.
Instead of making the economic pie larger, the CRS found, reductions on top tax rates change how the pie is sliced, concentrating income at the top.  (ie the kavipsian Economic Theory)  Romney's approach leads us on the road to Greece.
The effect of income inequality on economic growth is negative.  But inequality, especially of the U.S. variety, is bad for growth. The country grew faster in the decades after World War II — when it was also growing together, with all groups seeing increases in income. But those at the bottom were growing the most.  those in the middle, ordinary Americans who work for a living, let alone those at the bottom, are getting a smaller slice of a pie that is smaller than if we had continued growing as we did postwar. The net result is disheartening: Most Americans are worse off today than they were 15 years ago."   Income inequality in America peaked in 1929 and in 2007 – just before massive economic contractions.  It is about to again and will, if Romney's 5 Trillion tax cut is allowed to progress unimpeded…..
President Obama's policies are as needed in our time as President Roosevelt's were in his.  Roosevelt struggled for a time, too.  America didn't toss him out and send Hoover back to Washington.
Fresh from yesterday's victory, President Obama spoke in DelRay, Florida this morning and went on to Dayton, Ohio.
Mitt Romney began his "apology" tour…..