You are currently browsing the category archive for the 'just the facts' category.
Today is School Board Elections…Polls are open 10-8…  If anyone is sponsored by Markell or Rodell or RTTT or WSFS, don't vote for them.. If anyone is sponsored by DSEA, they are on the students side. They are safe.
So go out and vote like a goat… Be…  B-a-a-a-a-a-a-a-a-a-a-a-a-a-a-a-a-D
Remember Sweeney?  That character who was lampooned across the nation for his nonfactual support of Kinder-Morgan's taking over our port?   Instead of being objective, his editorial board pieces are that of a pinch hitter for an administration again caught on the wrong side of an issue!  Remember the jokes? The aside comments that he has lost his touch?  Remember all the snide references that he must be on crack?
It is to those references (sincerely I doubt he does crack) and the acknowledgement that in popular culture today that phrase is often applied to everyone who tries to reform facts into a fairy tales, that I attached his name to it in the title…
In Sweeney's defense through the manipulation of language, one can say anything.  Granted.  Romney certainly tried that tact. And the truth came out to hurt him.  "Jeeps in China", my ass. "Benghazi was all Obama's fault", my ass.
So as old as Sweeney is, (he seems to mean well ), the facts he uses are simply not true…  If you put bad in, you get bad out.  Now if I were an aged,old authority figure, and if you were deemed childlikely to accept what I say is true, … I can tell you about a jovial man living at the North Pole, who has nine reindeer that fly and travels the world in one night delivering presents to every boy and girl in the world,… and of course you are going to look up at me with wide big eyes and go "wow, so that is how its done…".
Alas, poor Sweeney, he doesn't have the same beguiling audience.  Instead we have facts that show the opposite….
One of the facts WE the People have, is that the tests results coming from districts using this plan that show great results, were all obtained through cheating by high officials changing the answers over to correct ones after the students had taken them.
Two:  teachers under this system are spending too much time explaining to their superiors everything they do in order to be evaluated,  instead of teaching.  More time is spent in evaluation, than on lesson plans.  This hurts teacher. This hurts student.
Three: the curriculum being forced upon these classrooms is far inferior to what teachers themselves are able to dole out.  Education only works when a student's interest is held.   These corporate templates are as interesting as your corporate financial  meetings.  Teachers do a much better job.
Four: low income students don't have technology the rest of us take for granted.  Broadband costs money. Computer power costs money. Software costs money. Laptops cost money. Notebooks cost money.  The best way to raise low income students scores is to put them on par with students who have technology.  You can't just tell someone how to log in and expect them to remember it whenever they next  see a computer.  They have to do so to learn how.
Five.  Testing at the beginning, the middle, and the end, is a great tool.  It evaluates a student's progress over time.  BUT!  Holding a teachers job accountable to results over which they have absolutely no control, means…  a) all teaching by that teacher is geared to only what will be on that test… and b) since poor scores demand the loss of one's livelihood,  rampant cheating is bound to occur…. We saw this in Atlanta, Texas, and DC.
Six.  The only proven and effective way to improve teaching, is to increase the number of teachers so there are 11 students per teacher.  Teaching is a personal science, like counseling, psychology, and doctor's visits.  Without a personal relationship between teacher and student, there is no incentive to learn.  Studies as well as our personal experience, show that if we aren't psyched to learn, we don't….
Seven.  The students who do the poorest are the ones who have the largest social dishevel in their lives.  A person from this background can learn from a teacher just as easily as anyone else, if he believes the teacher is pulling for them, and they don't want to let that teacher or their peers down.  That can and does  happen with a 11-1 ratio…
Eight.  Teachers DO NOT GO  into teaching to get rich.  They go to help children learn.  If you don't know this, you have no human right to ever write another editorial on education.  That is just plain stupid not to know.  If you want to motivate teachers, the best way is to give them MORE resources with which to teach….  More maps, more books, more software, anything to provide more excitement to their classrooms.
Nine.  We all incorporate what we learn, into the categories we already have inside our heads.  Being an inner city child with no mother (on crack), no father (never knew him), living with grandma (forgets who I am sometimes), dodging getting beaten up by the drug lords every time you walk home from the bus to porch (its safe in the morning; they're still asleep), disappearing when the molesting uncles happen to drop by, … reading about Sally having to choose between buying a candy bar or putting  all her cents into a piggy bank, doesn't cut it.  You'd think Goldman-Sachs created the curriculum (they paid for it)…
Enough background…..  At least you know Sweeney is on metaphorical crack  just like he was with Kinder Morgan. (Panama Canal ships sailing up the Delaware, Sheesh)….
The heart of the matter lies in the News Journal's phrase….Teachers that have earned highly-qualified credentials..
One would think that having a master's degree or a doctor's degree in education would qualify…  But no. Mr. Sweeney, it does not.  Mind if  WE, the People interrupt for a second to ask  if you happen to have a masters degree?  A doctor's degree?  Is it in education?  No?  So, tell us again,  what makes you such an expert can we ask?  We, the People are dying to know.
Now get this.  To be one of these  "teachers that have earned highly-qualified credentials"  you have to first have attended a corporate seminar, one from a pandering company to which the state paid $180 dollars a person; you have to sit through 6 hours of power-point presentations; your  know-it-all instructor was just hired out of college by this corporation, and they proceed to tell you everything ever known about teaching without ever having been in a classroom. After this, you then take a test, having been given the answers ahead of time by clues of where the instructor casually says "this will be on the test", and then, if you passed, you get a certificate saying you are a teacher with highly-qualified credentials.  Just like that.   You are now a highly qualified credential teacher; so who needs a masters, who needs a doctorate, who needs to read a stinkin' Gannett publication? You got all the knowledge anyone ever needs to know.  You got a certificate that cost the state $180 dollars!….  You are now, eligible for a bonus… (if we (the DOE)  like you enough we choose to give it to you…
So if there are 8640 public school teachers in Delaware, at a cost of $180 per teacher, over time this company that originated out of nowhere, helps itself to $1.5 million dollars of our annual budget…   Now, not counting for the printing I can buy 8,000 sheets of  8 X 11  pieces of  24 lb. paper for around $71 dollars at Wal*Mart.  It would only take 20 sheafs of printer paper.   So to dole out $71-80 worth of pieces of paper printed with the words "Congratulations, You Are Certified", our state is investing $1.5 million of your dollars… Why?  Can you say umm … kickback?  Personal favor?  Thanks for all you did back then?
In case one hasn't been paying attention to the educational field, one would know that in the Christina district primarily due to our economy there are very few vacancies open from year to year.  One would also know, that in the  Christina district we have really good teachers practically in every classroom, who do better than the job that is expected except when they have to pull themselves away to do RTTT paperwork and explain to their evaluators how they are reinventing the wheel of teaching, or are on a pilot program teaching the Common Core agenda and cannot deviate.
So the Christina Board says this is ridiculous.  The Christina Board recognizes that teachers with a lifetime of experience, with masters and doctors degrees, know more about education then some punk out of college who passes the corporate litmus test.  After all, one would think, right?
The DSEA representing ALL THE TEACHERS IN DELAWARE,  and the Christina Education Association are fully backing the Christina Board on this.  As stated, teachers primarily want to teach.  This state program is very, very bad for teaching….  Although Mr. Sweeney might think otherwise, what teachers think, matters.  Especially if they are the ones teaching our kids.
Teachers are our most valuable resource as a society.  They are more important than our President.  They are more important than our Governor.  They are more important than any Mark Murphy or Lillian Lowery.  They are more important than the head of Goldman Sachs.  What?  You scoff?
Tell me, Mr. Sweeney?  When you look in the mirror in the morning… what president do you thank for making you who you are?   "Aww… Richard Nixon… Thank you so much for your leadership which was soooo inspiring, it made want to be like you…. I'm eternally grateful for all you did to inspire me, coach me, teach me, and give the the building blocks to make me as I am"   But sincerely, like all of us, I would damn well bet that somewhere in your growing up, there was one teacher or two, who is responsible for everything you've become.
In the book of We, the People … that teacher out ranks any governmental official…. any day…
I'll close with an analogy to a story told long ago…  A woman was brought before Jesus accused of adultery.  They asked what should be done to her.  Jesus asked who was condemning her… knowing they too would be guilty of adultery if they admitted.  They left.  Jesus asked her, "who has condemned you?"  She looks around, and says " no one Sir."   "Then neither will I condemn you.  Arise, Go, and sin no more…"
It would be wise for Mr. Sweeney to remember this, before he goes writing his next editorial condemning the wrong people………..
It is time to sanction gay marriage.   Gay marriage is different from civil unions. Gay marriage means much more.  Someone who is gay, who can now be married for life is finally an equal citizen.  Without that certainty the rest of  their rights are meaningless….
"Oh, we've got nothing against gays!.  You are equal to the rest of us, except, snicker, snicker, when YOU marry, we will give it a lower second class status and call it a civil union."
Until Gay Marriage is made legal gays are only second class citizens….
It is interesting that very conservative parents of gay children, see it with open eyes… "Yeah, why can't they get married?" Senator Portman who was flirted with as Romney's running mate, and the odious Dick Cheney are both in favor of gay marriage. They credit their openness to learning from their children… every parent wants their child to be happy.
As a nation we've been here before.  Blacks were given freedom by the Federal government, but local governments who disagreed, would not allow them to marry whites.  Obviously the signal being sent was no, they weren't equal after all.  Mexicans in the West, legal and forced to be accepted so by whites, had to deal with local laws disallowing mixed marriages… After all, they "really" weren't equal, not even close?."  American Indians, even though there were many interracial lifelong monogamous sexual unions during the exploration of our frontier, those unions were banned by laws intent on maintaining the purity of the Caucasian race, "Indians, equal with the white man?  Get real!"…
All these laws have fallen away, shredded by common sense and common decency.  It it easy to label a group with which we have no connection, as a "they" and say "they" are different, allowing it to be "ok" to treat "them" with disdain……
It is when "they" become part of "us" and we finally realize that treating "them" with disrespect is exactly the same as "us" being disrespectfully treated; we certainly would find that to be unfair. …
It is upon that realization, that discrimination against them…  finally becomes unfair….
Our Constitution and Declaration of Independence are pretty clear…   all humans are equal at birth… and once we widen our perception of what is human, we are forced by our beliefs to accept them into our family as well….
Hard as it was for the South, we finally accepted that slaves were human beings, and therefore agreed they should be afforded the same protection as their owners….
Hard as it was for mankind, we finally accepted that women were human too, and therefore agreed they should be afforded the same protection as their "owners"….
We later had to revisit the treatment of those whose ancestry derived out of our former African slaves, even to the point of guaranteeing them by law, actually making it punishable to treat them with disrespect, in order to drive home this point to Southerners, that…. all people are created equal….
Any baby born within our borders becomes a citizen.  Whether its parents are or not… They were born here; they are equal to the rest of us…  We allow any baby to grow up and marry any other baby who grew up here, unless they are gay.
The overwhelmingly majority of our culture has recently come to the realization that people who are gay, are created that way. They can change it no more easily than one can molt the color of  their skin, or alter the slant of their eyes, or raise or lower their cheek bones…  That is how God makes them…..
For anyone to vote no against Gay marriage in Delaware's General Assembly, they will have to first  imagine themselves in a Twilight world, one where genes gave dominance to gays, and heterosexuals occurred rather rarely… Being one of those heterosexuals, who had deeply fallen in love with someone of another gender, would you, a Delaware Representative, settle for only having  civil unions for you and your heterosexual spouse, when all the gays around you were getting married and raising families?
Their gay clergy would spout:   "Oh, you are one of those… We can't let you marry…."
If you  CAN'T  IN  GOOD  CONSCIOUS  agree that you yourself should be discriminated against because you happen to be heterosexual in a gay world, something you were born with and couldn't change, then you cannot vote AGAINST gay marriage when it comes up for a vote with any good conscious.
Voting against gay marriage, carries the same moral price as did the voting against the freeing of slaves, as did the voting against allowing women to vote, as did the voting against letting blacks finally be allowed to succeed….
Now, since all of those are so much woven into the fabric of our society, we forget today that back then there were people who actually argued vociferously against allowing these citizens to become  equal members of our society… it was just like people argue against gay marriage today.
They arguing were wrong then.  Those same people doing it to gays, are wrong now….
Settling for Civil Unions instead of marriage is a slap in the face.  It has only one point and that it to say:  "Oh, you aren't as good as us, and never will be."
Each time in our nation's past, it took the will of strong people to overcome the strong wills of weak people…. Delaware needs to allow gay marriage, simply because not doing so is the morally wrong thing to do….  Those crying against it with self thought-up platitudes, will come around eventually after the deal is done and the battle is over…
They have to!… One can only argue against what is right, … for so long.
Whatever your opinion may be of charters, there's no question that the District has failed to explain its inconsistent approach of allowing charter expansion without regard to expense or academic quality while insisting on draconian and widespread sacrifice among District schools. This despite the fact that many of the District schools targeted for closure outperform some of the charters that the SRC renewed and expanded last spring.
Is this a "Damn The Public" boondoggle in the making? Are we running roughshod over evidence, children, teachers, structures, reality, in order to promote Charter Schools?
When something like this usually happens, it is the result of someone being on the take.
The Charters countered with this…. "The closings are inevitable for a district that must manage within the framework of a harsh fiscal reality. Given this scenario, the good news is that not only are charters educating children at a fraction of the cost, but they in turn are able to channel more money to children remaining at district schools."
A student who leaves Philly schools for charters takes $10,170, leaving $5,879 with the district.
Philadelphia charters have more than 40,000 students on waiting lists. It is tragic that only a very small percentage of families ultimately "win" a seat. It is especially disheartening to turn away thousands of children and families seeking a quality education.
Recently I documented a comparison between 2005 and now, and illustrated that now there were only 950 fewer students (both public and charter) in Philadelphia less than the public school's seating capacity, and that half as many graduates today were as college prepared as were those back when public school supplied over 88% of Philadelphia's educational needs.
If using the criteria of judging education by how well it educates students, the Charter experiment has failed in Philadelphia.
We knew this but it  is now being published… and so it is in the news.
The world is getting warmer… and we can now predict our climate by looking at map at 300 miles south and guessing what our weather will be from that…
Just as plate tectonics and  Darwin's origin of the species were able to lay the groundwork of reason  for explaining puzzling observations, this simplifies what to expect from global warming rather startlingly.
Texas is now  what we alway thought of when we considered the weather of Mexico; Oklahoma is now West Texas; Kansas is now Oklahoma; Nebraska is now Kansas; South Dakota is now Nebraska, North Dakota is now South Dakota: Southern Manitoba is now North Dakota…..
If  West Texas had 3 days of rain, now Oklahoma is getting 3 days of rain;  If it snowed 12  times in South Dakota, it is now doing the same in North Dakota… and so on.
So, to predict our heat, rain, winters, etc, our guide would be North Carolina.  Longer growing seasons,  some winters with no snow, hot summers…
However due to Global warming, the East Coast has a caveat.  An anomaly so to speak  and actually some relief from the North Carolina summer heat we would normally expect….
With the unprecedented melting of the Arctic and Greenland icecaps dumping its excess into the Labrador Current, that cold water drops South hugging the East Coast shoreline all the way down to North Carolina's Outer Banks where it finally becomes neutralized…   Therefore even though we have hotter air masses, the colder ocean temperatures creates a buffer against Global warming off the entire northeastern US.
Europe, Japan, and Alaska all experience  the same mitigating effect, although with both Greenland and the Arctic Icecaps melting into the Labrador, the US East Coast gets a stronger volume of cold water.  Call it our icy shower effect….
Once melting stops and the currents dry up, we return to the North Carolina scenario of the twentieth century….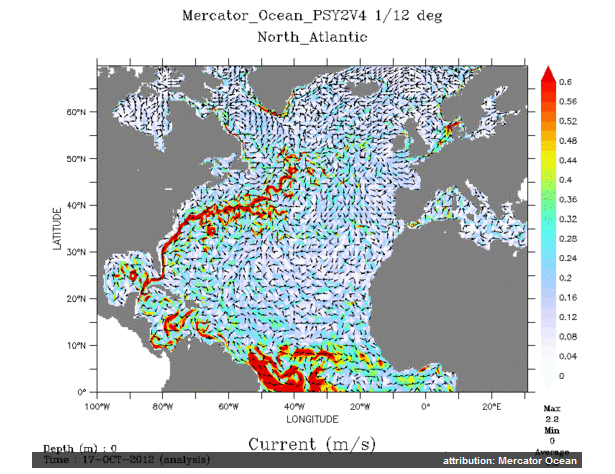 Chart Courtesy of NOAA
So, we in Delaware really get the best climate on the East Coast.    Warm winters, little or no snow, and cool breezy summers….. as well as a longer growing period, and… less dependence on fossil fuels for winter heating.
Gee, global warming isn't so bad for Delaware after all….  Oh, the rising seas?  There you go again… Why did you have to spoil the rosy picture I was painting?
We are now receiving the hard data.  Throughout the Charter versus Public School debate, the concern on one hand was that allowing Charters to compete, would force Public schools to close, and once done, the charter schools would perform no better than did the public……
In the '90′s as these ideas were first proposed and debated upon their merits, but there was no evidence; it was all theoretical..  Now, we have actually  done it and are getting hard data….
Here is their history in one paragraph.  If a charter school opens up in a failing school system and the public money per student is allowed to follow that child, obviously parents at no cost to themselves will opt to put their children in a charter school.  Simply put, if their public school is rated  "F", the charter school can be no worse.  So the charter School being  someone's private  investment, now begins accepting children with public school money that comes from citizen's assessed property taxes… As more charter schools open up in that same failed district, they siphon even more public money into these private enterprises, pulling it of course  out of the public school system in that local area.  So the public school which was previously  failing, is now accepting a much lower number of students, yet trying to maintain the same infrastructure covering that wide geographical area..  For example, its school buses have to run the same routes whether they receive cash per student to carry 5 students or 35…  Obviously the public schools have to do with less, while the charter schools have to do with more… The charter schools choose their students in certain cases, and can send them back to public if they don't meet expectations.  The Public schools must take whomever is left,  in.  Gradually the quality and sheer numbers of students deteriorate so much, that these public schools have to be shut down.  Too many schools are too empty and that is too costly…  Consolidation must occur.
Philadelphia and Chicago are closing schools.  And Guess what?  Most of both are black.
The argument can be made that we are accidentally closing the door on the only one way a person can pull himself out of the inner city quagmire: with a quality education….
Now let us back up.  The argument for charter schools was that they would provide that door or that opportunity for these citizens to help pull themselves out. Theoretically,  if all charter schools had huge success stories, then this plan could be a viable option.
If such were the case, all of us including myself would be in favor of charter schools… As I look back over the past 20 years I can now see how we were seduced into allowing them to happen.  If someone had substituted the word  "private schools"  instead  of  "charter schools", no one would be against; we'd all be in favor….. private schools (which used private funds), competing with public schools would be a good thing.  People would have a choice if they could afford to let their children get a great education or a good one… I think Britain has functioned fine with its Eton School for Boys.
Then, when the argument became enhanced, that drawing such a line financially was not fair to underprivileged children who had talent,  a lot of us felt that yes  they should receive scholarships to go to good schools, and that was fair.  Then, when the lack of scholarships for the amount of private school openings became apparent, all were lulled into letting the public money for that child, follow the child where he wound up going… even if it was outside the school system and into someone else's private pockets….
Allowing public money to enhance private pockets, particularly in a urban environment where lots of potential students surround a converted building, opened up great possibilities for some to get wealthy…  Just a hundred students at $15,000 each per year, could bring one a gross of $1,500,000..  One could squeeze that few into  just three rooms of 35 students… Double that, and one gets $3 million.  Do it across the city, and gross $100 million….
So is it really that bad for someone to get wealthy IF… kids are getting a much better education?
And up to now, this was the dilemma .. No one really had that answer because no one really knew.  No one had ever tried it before….
That was then.  We now have results and can analyze this experiment and see, once and for all, how charter schools can impact the growth and development of our children!… This is truly awesome, actually!…. .
In Philly, over a quarter of the district's 195,000 seats are now empty. That is 48,750  empty spots…  But more important, is the number of the remainder:  146,250…
In Philadelphia, the proportion of students attending charter schools jumped to 23 percent in the 2011-12 school year from 12 percent in 2004-5, according to the National Center for Education Statistics.
The actual number of Charter School Students  within the Philadelphia School District, according to the National Alliance for Charter Schools,  is 47,800… just 950 student shy of the district's empty seats……..
Quite a coincidence!
In all 23.4% of Philly's children are enrolled in Charter Schools…. The district projects a 37 percent increase in costs associated with charter schools over the next five years, bringing the total charter cost to more than $800 million…. That will come out of the public school budgets.
Last year,  Philadelphia charters met AYP (Adequate Yearly Progress)at only 29 percent, yet that was still better than the 13 percent tally for Philadelphia's district-run schools…..
Mathematically that stacks up thusly….
(0.13)146,250  +  (0.29)47,800  =  Total Philly students meeting  requirements….   The math gives us this many successful students:  32,874…
In 2005,  there were 185,000 students in the city district's public schools.  At that time, 34% were deemed advanced or proficient….. Doing the math we get this result…. 62,900…. actual students who were advanced or proficient…
In 2005,  the Philadelphia School District put out 62,900 students meeting standards.  In 2012, after experimenting with Charter Schools,  the same geographical area spit out 32,874 students meeting standards…
Conclusion.  Having  charter schools and public schools duke it out over scarce resources, not unlike the recent movie Hunger Games,  cuts our actual passing students down by  almost half….
We now have evidence.
It probably hit mass culture with Star Wars. Where, when in a pickle, one made some adjustments to a computer, pushed a button, and one was suddenly in another part of the universe.
Then came the TV show Quantum Leap in the 80′s, where after a certain feat had been changed, one jumped through space and time into a new body, to begin a new episode the following week.  Remember Ziggy?
I was reading one of my earlier pieces that for some random reason yesterday had  caught a flicker of interest, and back then I had used that concept, that of "jumping", to explain why America was finally settling on Obama as their candidate of choice….
America had been milling around in stagnation and needed a "jump" to move us forward. Clinton and McCain could not engineer that, I proposed and that is why we needed someone new, to "make the jump" forward.
That was written during the campaign of 2008. This summer will be 5 years hence.
America still needs to make that jump.
But just as we almost get there, Republicans sabotage it by pulling the  computer's plug…
Now you reading this may be a Republican but please don't take offense. You are actually a big part of the solution which you will see, if you read through to the end.
Let's look at a few things.
Starting in the 80′s the Middle Class has consistently been losing ground against the top 1%. Now the Middle Class has spent their retirement savings just to pay normal expenses , and we are still heading downward.
Immigration reform was supposed to be completed and done in Reagan's time. Thirty years ago. We are just getting serious now.
Our interstate system is 50 years old. We haven't reinvested adequately. 11,000 bridges are held up by paint, and could drop out from under us at any moment.
Our tax system is still after 30 years, in disarray. The wealthy get breaks, the poor get pissed on.
Our Social Security and Medicare Programs are going bankrupt. They were also supposedly permanently fixed in Reagan's term, again 30 years ago.
We have been at the mercy of oil speculators for the past 13 years. We still are. What did you pay today?
Capital investment in America is at an all time low, yet the wealthy have parked $13 trillion in savings. Why no investment?
So America, why are we still stuck in the 1980′s?
Republicans.  That is why.  Conservatives.
That sounds so simple that one must wonder why we haven't moved them out of the way?
And that answer, is because for some crazy reason, we keep changing the rules to let them play longer.  Citizen's versus United is just one case in point.  Allowing one person to fund a candidacy opposing the people's true choice, obfuscates the entire playing field, and in the fog, makes the minority appear to have far more clout than is endowed to it by the American people.
Voting tallies prove that we have had over the past 24 years, 5 popular vote victories for Democrat presidents, and just 1 for Republicans, and to be fair, that was to a wartime president who barely got re-elected into office. Voting totals are the only non-spin, the only unobfuscated time we ever get to see how America truly feels.
The majority of America want us to jump forward.  They are tired after thirty years of nothing.
Right now, Republicans have killed the America dream.  College grads do not see them using their knowledge in their future jobs.  Retirees see their golden year's savings swallowed up by profits of gigantic medical corporations.  Everyone is making tremendous amount of money, except 99% of the American people.
The majority want to jump forward.  Yet it is always Republicans holding us back.
Holding us back on Immigration Reform.  Holding us back on higher revenue.  Holding us back on budget cuts.  Holding us back on health care reform.  Holding us back on Chuck Hagel's nomination….
It is just stupid..   It is done simply to achieve drama, and is only done for dramatic effect; it still is just a stupid waste of time and your money.  It is as if Republican behavior was patterned after that of a six year old child who drags his feet before going to school.  That child  knows he has to go there eventually, but he whines, supines, and acts recalcitrant, just to get attention…. maybe make someone feel "sorry' for them… Boo hoo.
America is playing the role of the parent to these recalcitrant Republicans and is damn tired of it.
One simply has to look at today's looming sequestration, which is strictly a problem Republicans created and brought down upon all of us,  and across this great nation, Americans  shake their heads in unison, remembering that if a Republicans had never been elected President  in the year 2000, by 2008 and Obama's election, our national debt was on track to have hit zero…   Yes,  Democrats would have paid off the entire National Debt by 2008, if we had never had George W. Bush slip into office.
And now, we preparing to slash $86 billion over the next 9 months.  Then do the same over the next 12  years…
Under the Budget Control Act by 2021 discretionary spending will be at 5.5% of GDP which is its lowest level of GDP since 1931.  (We all know what happened in 1932!)   And we propose to cut it lower?
Yet we have $13 trillion in savings owned by the top 1%.  $86 billion of $13 Trillion is…. 0.7th of  one single percent.   If you increased taxes on the wealthy by only one penny per every dollar over $1 million, we would have  yearly budget surplus... just like that.  One penny per dollar over $1 million.  That one penny would even give us an additional 0.3 of one percent extra which could be applied to lowering the deficit…   Unbelievably easy….  If you own trillions, who is going to miss a penny?
But we can't do it for one single roadblock.  Republicans won't raise taxes.
America needs to "make a jump"…… and we need to make that jump now.
If this were Hollywood or a television drama, Captain America would pull out his sidearm, kill the insubordinate (spy) officer, and ask his attache to step into his position. We would then,  finally be able to save our ship.
Americans could then dream again about prosperity.  There is only one reason we don't still  have it today.
With just ten minutes left for one Senator to possibly scramble upstairs and cast a vote that would not change the outcome, Chuck Hagel's secretary of defense nomination was sent to the Floor….
One of the more surprising moments was the very Senatorial response given by Mazie Hirono, the replacement for Dan Inouye, who passed away after the election.
In a brief statement she noted (at exactly the 2:00 mark) that the national security need for an immediate Secretary of Defense was necessary, and to abort the process and begin anew was irresponsible, for with sequestration, budget reductions, downsizing after Afghanistan, re-pivoting to the Pacific, challenges of North Korea, Syria, North Africa, cyber attacks to our data systems, power grid, infrastructure, all requiring immediate attention. Chuck Hagel exemplified himself in war, as a CEO, and in the chambers of the Senate itself. That puts him as equally qualified as anyone else in that room. Simply put, we need someone now, this man is capable, he has my vote.

Courtesy of C Span
I guess she hasn't learned to be long winded yet.
Which brings up the Republicans… What on earth is wrong with them? Are they nuts?
Every unbiased report confirms they are nuts.
Republican foreign policy is farce, not even worthy of Shakespeare.
So Republicans have decided that Afghanistan doesn't exist. At last summer's Republican National Convention, Mitt Romney never mentioned the Afghan War (that was left up to Clint Eastwood).
During Hagel's seven and a half hours of questioning by the Senate Armed Services Committee last month, the country where 66,000 American troops are still fighting, and dying, was mentioned 27 times. How many mentions did it receive from the Armed Service Committee's 12 Republican members combined? Four.
Drones, Zero mentions.
Cyber warfare, two came from Committee Republicans..
China, only one mention came from a Senate Republican. (and that occured when Texas Sen. Ted Cruz asked Hagel if he had traveled to China with Chas Freeman, a former American diplomat known for critical views toward, you guessed it, Israel.)
Israel (178 Republican mentions)
America must help Israel prevent the development of Iran's nuclear weapon. (171 mentions)
The GOP campaign against him has descended even deeper into triviality. Republicans on the Armed Services Committee are now refusing to vote on Hagel's nomination until he provides evidence that no organization he was affiliated with received foreign funding over the past decade? WTF? Every Republican on that committed gets foreign political funding from AIPAC….
His answer: no.
Republicans stoop even lower.
Republicans are demanding that he prove that no company or non-profit he has been involved in has received any foreign funding either!
Chuck Hagel's answer? "That information…is legally controlled by the individual entities and not mine to disclose."
This is "unprecedented," as well as "ridiculous and outrageous," especially since there's zero evidence that Hagel—a decorated Vietnam veteran—has ever subverted the interests of the United States in service of a foreign power.
One senses Chuck Hagel's ridiculous farcical hearing process, brought to its knees by these Republicans, has not one iota of relevance to Mr. Hagel's qualifications, and every bit of relevancy to fending off a potential evangelical Tea Party primary challenger chomping for a run against these Republicans in the next election season….
Not really.  But think.  If the NRA had helped us keep guns out of the hands of criminals, instead of proposing that guns could be sold and bought by anyone with no questions asked….
This wouldn't have happened.
Call your Senators and Congressmen.  Tell them to list the NRA as a terrorist group.
It might make their day!
Republican Offices
Phone (302) 577-8723
Fax (302) 577-6396
Republican Offices
Phone (302) 744-4171
Fax (302) 739-2773
Legislative Hall Office
411 Legislative Ave.
Dover, DE 19901
Phone: (302) 744-4172
Fax: (302) 739-2773
The News Journal published an opinion piece on the Port of Wilmington. In it were several errors.
"taxpayers..(do not) have the money to pay for the hundreds of millions of dollars of improvements that are needed. Today, no state or city has that kind of money…"
Although this is true, this is also misleading since no state or city ever pays out cash sums for public large public projects, In fact whether it is owned by Delaware River Bay Authority or Kinder-Morgan, the port will get their capital from the same source: a Goldman Sachs type investment house. Whoever will be doing it, will borrow the money and pay it back over the long term of the loan. Our state always uses bonds to fund large projects like the Indian River Bridge ($150 million), like the interchange at 202 and 95 (26 million), and like the interchange at Route 1 and 95($86 million)…. Goldman Sach's put money into our account, we pay them back a little over many years. For as little as $5 million a year, the Port of Wilmington can upgrade… Quite a few Delawareans spend that little amount like it is pocket change.
We know the News Journal knows this. They cover the Bond Committee every legislative session. Whether this was a deliberate attempt to mislead, or was just thoughts escaping off the top of their head, I don't know. But to imply the state would have to pay hundreds of millions immediately up front, presents a perception that is not true….
The DRBA could upgrade the port without going private, if that is what we really wanted to do.
Secondly, there was another misrepresentation in that piece.
The Delaware River will be deeper. It will be able to handle these larger ships. Will Wilmington? No.
Perhaps I am more familiar with this topic but when I heard that, it didn't ring true. A quick search verified that.
Ships crossing through the Panama canal will be displacing 50 feet. That means they will need 55 feet of water.
The Delaware River is being dredged to a depth of 45 feet.
This was brought out in the original GAO report that said back in 2002 that dredging the river from 40 to 45 was pointless because of the scarcity of ships that were deeper than 40 ft. The original Panama Canal depth which has set the standards for ship sizes since 1914, is 39.5 feet.
Bottom line: these new ships coming through the Panama Canal…. won't be coming to Wilmington… unless we re-dredge the Delaware River one more time from the mouth of the Christiana River all the way down to Broadkill Beach, and this time instead of taking 5 feet off the bottom, we will be dredging up 10 feet off the bottom…. (Well, we do need beach sand after Hurricane Sandy…)
And to do so, we will have to pay a lot more of the cost than last time. One of the reasons the Delaware dredging project didn't originally go for 50 feet, was because at that depth, the Feds through the Corp of Engineers, only pay 40 percent of the cost. The State pays the other 60%. But at 45 feet and under, the Feds pay 65% and we slip by with just 35%…. That was the reason we dredged too little too late…
But the News Journal piece does make one valid point. The canal opens in a year and a half. That kinda hit me and I appreciate that part being in the article. Right now on the East Coast, there is only one port where ships of 50 feet can reach: one port: Norfolk/Hampton Roads. New York/New Jersey should have their dredging done by the time the canal opens, but whether they can raise the Bayonne Bridge 64 feet by then, is a different story. Savannah is trying to arrange for dredging. Charleston SC is trying to arrange for an impact study upon their dredging. Miami should be getting their money for dredging next year…..
Philadelphia and Delaware have an advantage over other ports. No low bridges. However that does little good if the big ships hit bottom just past Lewes…