You are currently browsing the category archive for the 'Jobs lost' category.
Whatever your opinion may be of charters, there's no question that the District has failed to explain its inconsistent approach of allowing charter expansion without regard to expense or academic quality while insisting on draconian and widespread sacrifice among District schools. This despite the fact that many of the District schools targeted for closure outperform some of the charters that the SRC renewed and expanded last spring.
Is this a "Damn The Public" boondoggle in the making? Are we running roughshod over evidence, children, teachers, structures, reality, in order to promote Charter Schools?
When something like this usually happens, it is the result of someone being on the take.
The Charters countered with this…. "The closings are inevitable for a district that must manage within the framework of a harsh fiscal reality. Given this scenario, the good news is that not only are charters educating children at a fraction of the cost, but they in turn are able to channel more money to children remaining at district schools."
A student who leaves Philly schools for charters takes $10,170, leaving $5,879 with the district.
Philadelphia charters have more than 40,000 students on waiting lists. It is tragic that only a very small percentage of families ultimately "win" a seat. It is especially disheartening to turn away thousands of children and families seeking a quality education.
Recently I documented a comparison between 2005 and now, and illustrated that now there were only 950 fewer students (both public and charter) in Philadelphia less than the public school's seating capacity, and that half as many graduates today were as college prepared as were those back when public school supplied over 88% of Philadelphia's educational needs.
If using the criteria of judging education by how well it educates students, the Charter experiment has failed in Philadelphia.
Yep, the Paul Ryan budget was released today. As expected it is a budget designed to protect the top 1% from any bad thing that could possibly occur to them. As was poetically so well put by Romney during the past campaign…. " ha, ha, ha, ha, ha…. The rest of us don't matter…."
Today prominent theologians of all religions universally excommunicated the Republican Party of the United States of America from any pretension of anything corresponding to organized religion.
"They're a cult, I tell you!!!"
Republicans in congress. God is watching you. And if you Fundamentalists would read your Bibles, you'd already know whose side He is on.
The rest of us… If you thought Republicans would come to their senses and start reinvesting in America, the joke is on you.
Nothing will ever change until America gets mad enough to rid ourselves of this pestilence forever…. You don't have to vote for a Democrat. Most of you won't… But you do… have to not vote for a Republican….
Unless you no longer consider yourself a moral individual, change your Registration…. TODAY!!!!!!!
Here is the compilation of John Boehner's House of Representatives over this last two year period of Congress. During this time frame the public opinion of Congress slipped from an approval rating of 60% to 7%.
Two Years Ago, John Boehner promised to be "Laser Focused on Jobs and the Economy" So what has the GOP House been up to?
House Bills passed:
46 Bills on Abortion
113 Bills on Religion
73 Bills on Family Relationships
36 Bills on Marriage
72 Bills on Firearms
604 Bills on Taxation
437 Bills on Govt Investigations
Bills attempted and failed to be passed even by the GOP:
33 attempts to Defund Obamacare…..Failed
15 attempts to Cut Funding for Planned Parenthood……Failed
3 Attempts to Cut Funding for VA Hospitals…….Failed.
GOP blocked bills:
Blocked bill to aid Small Business
Blocked Unemployment extension
Blocked Bank Reform Bills
Blocked Campaign Finance Reform and open Contributions Law
Blocked MULTIPLE Jobs Bills
Blocked Infrastructure Bill
Blocked Ending Tax Breaks for companies that Outsource Jobs
Blocked Wall Street Reform
Blocked Energy Legislation
Blocked Mine Safety Bill
Blocked Oil Spill Liability Cap increase
Blocked Bill to lower Oil Company Tax Breaks
Blocked Bill to impose charging American Oil Companies on Oil achieved in the Gulf
Number of TRUE Jobs Bills even allowed to come to a vote in the House….NONE.
One year ago, September 8th, 2011, the greatest President in our lifetime (you may not agree now, but you will, you will) laid out the American's Jobs Act.
The plan included stimulus spending in the form of immediate infrastructure investments, tax credits for working Americans and employers to encourage consumer spending and job growth, and efforts to shore up state and local budgets to prevent further layoffs of teachers, firefighters, police officers, and other public safety officials…..
IT NEVER BECAME LAW.
One month later, the GOP blocked the bill in the Senate, preventing the creation of more than a million jobs and the added growth that multiple economists predicted would occur if the bill passed…..
1 million jobs, Republicans like Mitt Romney, Paul Ryan, Eric Cantor, Mitch McConnell, and every single person running this election under the banner of Republicanism… cost you..
1 million jobs. One million jobs.
Jobs bills are seeds that usually sprout and give fruit in other jobs. If ten people in your community suddenly get jobs, they will spend some of that in your community. It could be groceries. It could be gasoline, It could be the Indian liquor store. It could be Radio Shack. But they get it. When the government creates jobs, we get the benefit.
Republicans killed 1 million jobs. Why? So Obama would not get re-elected.
Where would unemployment be now?
12.5 million unemployed minus 1 million employed equals= 11.5 million unemployed. Today our rate would be with no additional growth in the private sector, 7.4% (11.5/154.6= 7.4%)
Republicans are the reason our economy sucks. They didn't want Obama to do his thing…. and grow those jobs…..
Here is what others said the Jobs Bill, killed by Republicans so Obama wouldn't get elected, ……
–Moody's Analytics estimated the American Jobs Act would create 1.9 million jobs and add two percent to gross domestic product.
–The Economic Policy Institute estimated it would create 2.6 million jobs and protect an addition 1.6 million existing jobs.
–Macroeconomic Advisers predicted it would create 2.1 million jobs and boost GDP by 1.5 percent.
–Goldman Sachs estimated it would add 1.5 percent to GDP.
Republican Tea Partiers have also cut 700,000 jobs since 2010. Public-sector job cuts also cause job loss in the private sector, for a couple of reasons. First, public-sector workers need to use inputs into their work that are sourced by the private sector. Firefighters need trucks and hoses, police officers need cars and radios, and teachers need books and desks. When public-sector jobs are lost, it stands to reason that the inputs into these jobs will fall as well, and indeed research shows that for every public-sector job lost, roughly 0.43 supplier jobs are lost.
And they blame Obama? Gee, what a great president we have who has to work with garbage and still, does what is right for the American people. 96,000 brand new, never before, created jobs in July…. Surely we live in the times of the "Best President Ever"
If America can just wipe out every single Republican on the ballot, whose party is solely responsible for the crash in 2008, the fall in 2009, the crises in 2011… today's sluggish growth… we would get roaring.
Republicans can do no right. At least when it comes to your money…
Their money? Oh, no problem.. "I'll bet you $10,000 dollars, right here…."
The headlines should read:
OBAMA GROWS 96,000 JOBS DESPITE REPUBLICANS CONTROLLING HOUSE.
Now that, is a proper headline.
When the luckluster May figures came out, Republicans and their minions in the media were quick to point out that only 66,000 new jobs were created during that month.
That was down from the number of jobs created the month before.
Romney gets up and states: "It shows that Obama's plan is not working."
But, using the graph featured prominently in the post below, one can see quite readily in fact, that those very same performance levels were superiour than those of 54 months of the Republicans administration.
Yes, 54/96 Bush months had worse economic data than this past May….
Did we hear this gloom and doom back then?
No. back then, reporters did their jobs. They filtered out the shit, or called people out for expressing it.
Shame, shame, shame on you reporters of today…. You are a failure to your nation, your family, and your progeny.
A wiser man than me once said… " The electorate is divided as such…  If you take a cross section of America, two thirds of them think like Democrats,  (that the People should be in charge of their government), and the others don't.  But usually only one half of people thinking like Democrats even go to the polls, … which means we have this fine line of two armies who are almost equal, so that we constantly keep fighting over…."
Which is why, when that segment becomes engaged, we have these lopsided elections like we did in 2008, then bounce back to disasters like 2010 when they stay at home…
Now the primary reason that one third that doesn't vote,  is that they do not feel up to speed on the issues…  For them the issues in national elections are sort of like what we may have felt back when we voted for the first time, and got hit at the bottom of the ballot with state reps, state senators,  county councils, register of wills, and a sheriff…..   As we checked them off, we were thinking I hope I'm doing the right thing… based on a name, a party affiliation, or some arrangement of tea leaves on the carpet floor the night before….  (It used to be such decisions came solely from the News Journal guide published prior to elections).
It is to this group, too afraid to vote, that we need to bring knowledge.  Of course, on the opposite end it is also to this group, the business class needs to prevent that knowledge transfer from happening….
What we can do, is use real world analogies to dissolve the lies being made by the other side.
Facts in our favor…. If you are middle class, then…..
WE pay more in actual medical costs now, than we did before Republicans.
WE pay more to insurance companies, than we did before Republicans.
WE pay more in utilities now, than we did before Republicans…
WE pay more to big banks now, than we did before Republicans….
WE  had higher incomes before, we had to deal with Republicans….
WE had safer food, before inspections of it were dismantled by Republicans…..
WE had a healthier environment, before Republicans dropped environmental controls and brought back pollution.
WE had  cheaper food than we did, before Republicans…..
So ask them… Pivotal moment:  who would you trust with your future?  A party that builds itself up as being the protectors of your future?  Whose credibility and power are won or lost solely on how well you do?   Or,…  a party that worries more how to protect those people stand to make money off of your future, and whose credibility and power are won or lost by how well they can deliver on THAT promise….
You see, there is only one answer.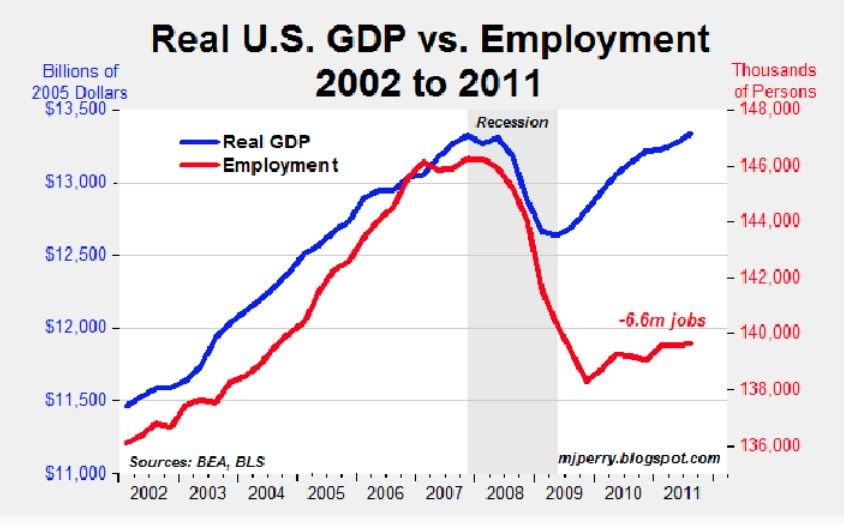 Right click on chart to view full image.
Take a ruler, to the far right corner, and hold it horizontally over the entire page… The real GDP is at the level it was before the crash of 2007…. The recession is officially ended…
Why no fireworks?
Because the GDP reached that historical level with 6.6 million less employed. We are getting the same results we had in 2007, the same GDP, with 6.6 million fewer persons working… The rest, are outside the job force…
That is the dilemma..
The possible solutions.
WE can grow the economy by requiring forced investment, eventually reaching full employment.
WE can grow government, hiring those unemployed, eventually reaching full employment.
WE can ship off our unworking population to third world countries lowering our population enough to eventually reach full employment.
WE can also incinerate those undesirables within our population, thereby lowering our countries population enough to reach full employment.
Or, we can raise the top marginal tax rate to the point where it takes care of all of the above problems for us…. by making it cheaper for a company to expand, than to have high cash profits that it turns over to its investors.
No one can say Obama did not achieve what he said he would set out to do.. He resurrected the worst economy in our lifetime…
It is fixed.
Now we need to go the next step, which Republicans are fighting every step of the way….
Is this. They take money away from other schools…
The idea of charter schools is Republican at best. You take a school, make it excel, and parents will want to send their kids there. You then close other schools that fail…
The problem that was never addressed, was what then do we do with all those students who for whatever reason, can't get into a charter school.
The answer provided by the Charter School Program, is that we consolidate them into even more problematic, even more underfunded, and even more unstructured environments where if they couldn't learn before, they certainly can't learn now….
There is a maxim in both business and the military. You are only as good as your weakest point. The same could be said for dykes around New Orleans. Having a real strong dyke on the wealthiest side of the city, does little when the water comes in from behind, because you forgot to account for a barrier on the poor side of the city.
That's the problem with Charter Schools…..
Some Charter schools do well. But a lot do no better than public. Charter Schools get to pick their students. If Charter schools had to accept special needs students as do public schools, they would be forced to close…
What Charter Schools do provide, is a haven for parents to send kids so they will not be infested with ghetto values. Pencader School of Business was founded on these principles by Principal Dave Jones. There was no ghetto value along the shore of the Delaware River, overlooking New Jersey.
Some Charter Schools do well. Some Public Schools do well. What both have in common, is a principal who has autonomy to run his school… No DoE's. No mandates by Dover. None of the normal bullshit that politics has laid at the feet of those just trying to help today's youth make it in tomorrow's world.
Another common factor, is that successful schools have community involvement. The community looks up to the schools with respect, and the schools look out to the community with respect. When the community and schools are in line and working off the same page, they are successful; whether private, charter, or public, makes little difference.
It is apparent after reviewing the literature covering both sides of the Charter issue, that the successes on both extremes, have these common values. Good leadership and community support.
It appears current society's focus needs to re-establish those two cores. Good leadership and community support.
The Department of Education needs to bug out of student's learning.
The answer to education is simple.
You need a great reward for graduating students to make learning worthwhile. My generation was motivated by the fact that we would one day be paid based on how well we achieved academically. That was a lie. Today's children know it by 2nd grade.
Second, you need a great reward for educators and principals to achieve the impossible. People rise to the occasion presented. A simple $20,000 bonus if every child in your class, simply met objectives, with $1000 minus off for each of those that did not, would certainly fix education in one year.
Third, you need to give principals autonomy. Their bonus should be $200,000. Then, you rank each principal on the percentage of teachers he has, who received the full $20,000 bonuses…… IF his salary is dependent on how many of his teachers get their full bonuses, his primary goal, will be to work with every teacher for that endeavor. Not as is currently proscribed, working against them…
If every student, every teacher, every principal is working diligently for the same goal, you will not need a Department of Education. You will not need Governmental Interference.
You will need structure (prisons) for lost causes. You will need school transportation funding. You will need upkeep on buildings. You will need new technology. You will need investment in music, art, and drama. You will need investment in sports.
School defines who we are. Cutting down our options, diminishes our future potential.
Mankind can do extraordinary things. We have, when the needs have arisen, done so… Just this tiny bit of money, placed in the right investment category, can change the entire scenario of a failed school district, into a thriving one.
Definition: Where American spending was brought up to the level where it should be, without the necessary revenue to support it.
(As evidenced by 154,000 private sector jobs being created in July.)
The problem is not with spending. The problem is the lack of taxing of the top 1%. The spending seems to be doing its job.