You are currently browsing the category archive for the 'Japan's banking crises' category.
When I was young, and thought I ruled the world, I went car shopping. it was about time for a new car, I wasn't really in the market, but repairs were due and perhaps I could leap into a new car, and let the dealer fix up the old one on his dime…. I walked into the Honda dealer on Cleveland Avenue 15 minutes before closing , way back when Honda Accords were listed for $12,000….
I test drove then sat down with the salesman/manager (he negotiated back and forth with himself), and I said, it's a nice car, but I can't go over $8000. He got all exasperated, and flustered about, and said, .. "if you sign it tonight, I can give it to you for $8500…. Right here. Right now…" That scared me. I began to wonder what on earth was wrong with the car; still, I could have sold it the next day for $9000. But, it was too fast for me, and I said so. "I can't sign tonight, I have to look at all the options including finances."
I spent all night trying to find a way I'd lose money on that deal.. I couldn't find one. So at 10:00 am I drove to Cleveland Ave, … the car was gone! I approached the manager I'd had the conversation the night before, and thinking they were prepping it up for me, I said … I decided to take that offer now…"
"Sorry, kid. That was for last night. It is gone. Would you like another vehicle?" I didn't want to pay more than $8500. so i said "no:….
As a caveat 7 years later I saw that same model, same year, on the used car lot with a price tag for a used car, of $14,800…. My left shin was black from all the kicks I gave it…
To this day, I've always wondered why he went so low that one night? It has definitely been the best deal ever on a vehicle I've seen, and I haven't figured out any rational reason why he would do such a thing…. Being the sales manager, the man in charge, it obviously had some import….
This relates to the fiscal cliff in this way. Just because an offer was made… doesn't mean it has to stand. It was made for a limited time only.. That time frame is at the discretion of the seller.
Did you ever try to use a coupon that has expired? What happens? It doesn't work.
If Republicans do not act on this in a timely way, the price goes back up… That way, they will have more respect, as did that young car buyer, of in the future, acting in a timely fashion…
If they don't accept now and firm a deal, it is time to pull the offer. Later on, we can settle for keeping the tax cuts on those under $250,000 and Republicans will sit out in the cold…..
We wanted to sell it today, we gave them an offer they couldn't refuse, they refused and the offer got pulled…
It was for a limited time … only.
Definition: Where American spending was brought up to the level where it should be, without the necessary revenue to support it.
(As evidenced by 154,000 private sector jobs being created in July.)
The problem is not with spending. The problem is the lack of taxing of the top 1%. The spending seems to be doing its job.
The World Cup for Women is not the only thing escaping the grasp of America… Private investment money is fleeing our nation as if the party is over and the last one left in the room, will be presented with the check. Each time a Republican insists that default on US obligations is a valid price to pay to enforce a "no tax pledge" on the wealthiest one percent, billions more flow out of our country.
Those billions, not millions, are our future jobs, going elsewhere….
It's happening each time a Republican opens his mouth and insists that taxes on the wealthy, will NOT be part of the deficit reduction act.
In April, $67 billion flowed into our country from overseas. After all, we were recovering from the Bush Depression. Then, as the debt ceiling crises made clear that Republicans were insane in their insistence that only cuts would balance our deficit, the net outflow flipped to 67.5 Billion…
In one month, Republicans caused a $134 billion flip in the amount of money available in the US for future investment.
That investment is now being done overseas. Those people are getting the jobs that should have, would have been here if Republicans had acted responsibly. Ironically that is exactly the same amount $134 billion, that the Congressional Budget Office, estimated the American Recovery and Reinvestment Act would increase the deficit in 2011.
The stimulus we pumped into the economy for the entire year of 2011, was wiped out in one month, by Republicans whose scare tactics chased that much money out of our country.
Small people all know this. Democrats reward investing in the USA… Republicans reward getting your money out, and keeping your money the hell out of the USA.
It is crystal clear; there is absolutely, unequivocally no other way to see it.
If you had lived back in 1776, and decided to take up your gun, and fight back those anarchistic rabble rousers who wanted to overthrow your king and his stable system of government, you may have thought you were doing the right thing at the time. Maintaining God's order in the universe. As each one of your musket balls found its home in an American Continental soldier's body, you may have rejoiced that you were doing your part to bring order and decorum back into society. But…… History proved you wrong. You may have felt you were right; but you weren't.
You weren't.
Today, July 2011, Republicans are doing far more damage to our nation's future, than one or two musket balls could ever cause… the loss of $134 billion in future investment. Can we afford to sit ideally by and let this self inflicted bleeding continue?
Anyone supporting the Republican party, is simply a Royalist traitor transported to today's world.
That is fact. That is truth. That is reality. That is getting pounded in the face.
They could be nice people; they could believe in what they do; they may mean well; I certainly don't mean to imply that they ARE bad people… But, whether they are good, bad, or indifferent, the results of their actions are hurtful. For example, I'm sure termites are fascinating creatures, amazing to study, and in their own way, admirable examples of God's creation. But, …. we don't allow them to take over our houses….
America: Republican just cost you $134 billion dollars… They're not saving you money: they are bleeding you dry, dry of every penny you've ever earned…
But, whatever…. It's your country and I'm just one person… You guys vote and support whoever you want; it's no sweat off my brow. Whatever happens, I'll survive either way.
But America needs to look at the bigger picture occasionally and realize that the only thing we got going for us is our unique, talented, and gifted people. Those same people who give hope to the world over, that their nations can, one day, be like us.
You burn that up as fuel, and all this nation's got leftover, is ashes…….
Having recently seen the Harry Potter movie, it is scary. Ever since watching…. I now see giants everywhere. Before when I looked, I never knew they were there…
Two giants will be doing battle here in Delaware… (The recession is finally paying off for our little state.)
Papers were filed with the ITC (International Trade Commission) by the South Korean giant Samsung LED against a division of another giant this time from Germany, Siemens….. over 8 patient infringements.
Samsung LED also said it filed a lawsuit in the U.S. District Court in Delaware to seek damages and a permanent injunction to bar Siemen's subsidary, Osram's alleged patent infringement from entering this country.
At stake is the financial future of these two companies. One will win, and the other for lack of a better word, will be vanquished.
Since Siemens actually has a plant in Delaware, next to the Glasgow Park off Route 40 and 896, I'm putting my bets on that giant…. if they get hurt, it will cost jobs.
Hotels, restaurants, transportation companies all stand to be a little busier as this gigantic fight, gets under way…. It would be helpful to practice on the Korean and German dialects now, before the event gets under way…
Sprechen sie deutsch?
니미럴 개자식 ….
It should be an interesting fight.
Senator Hatch's own words….
"We've been down this road before," he said. "In 1990 Congress and the president struck a deficit reduction deal that combined spending cuts with tax increases. Unfortunately, while the tax hikes remained, the spending restraint did not, and our debt has marched higher."
The Reality: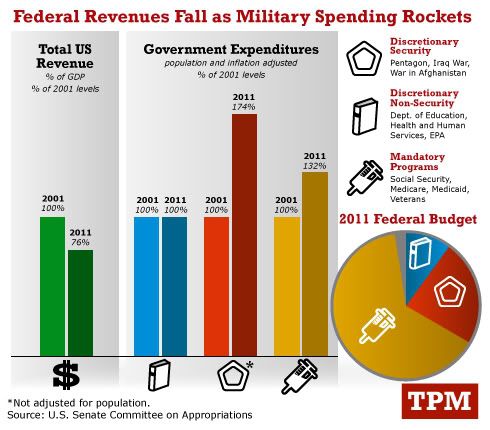 Courtesy of TPM
So if you knock off the 74% overspent on both wars, and knock off the 32% overspent on the Medicare Medical Profit Enhancement Act signed by Bush in 2003, spending is flat relative to GDP.
Revenue isn't… Hatch says it worked great then… As reality shows, the only difference between then and now, is we aren't taxing enough… Any Republican who says we are taxing too much, is like Hatch, a big, fat liar….
Poor Roger Clemens: Apparently it's more of a crime to lie before Congress, than it is for a member of Congress to blatantly lie on CNN to the American people?
Did he just say (1:00) "although the tax hikes remained (uhh, is he so old his memory skipped over the Bush tax cuts?) … our spending cuts (see above chart) did not?
Caught in the act, Big Fat Liar…. Got some water to pour on to your pants?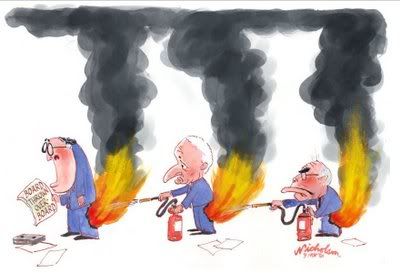 Image Courtesy of Cape Cod Living
Today the White House issued this Executive Order.
"Should the debt ceiling not be lifted in time by May 16, in order to prevent the Treasury from running out of funds, I am hereby using the emergency powers given to the Chief Executive by the Constitution, to temporarily suspend the Bush Tax Cuts until: 1) either we can legally borrow the funds to continue paying on our commitments, or 2) we bring our debt down to the 2008 level by having much more tax revenue pour in.
This is in effect, immediately, and I have instructed the IRS to recalculate all 2010 tax forms over the level of $2 million dollars, and asses those individuals and companies, for the differences.
We must take this action because Republicans want to pay politics with your lives. As Chief Executive, I am responsible to you, not them. I won't let that happen.
With these tax cuts out of the way, and with our austerity programs already in effect, that windfall of profit the Treasury will receive, will be entirely funneled towards the paying off our debt.
This policy will continue until Republicans can act reasonably and in a productive fashion.
Barack Obama.
Beginning with a 7.2 quake on Wednesday, March 09, 2011 at 11:45:20 AM at epicenter, there were 21 quakes registering over 5.0 leading up to the big one.
All were very near where the big one was to take place….
Then, for almost thirteen hours, there were none… Preasure was building…. and building, … and building…..
Since the big one, up to this posting, there have been 240 more over 5.0…..
The tragedy is sad, and as the death toll rises it will get sadder…..
But my original takeaway was that very little damage occurred… Considering this was the worlds largest earthquake near a modern nation, the damages were less than anticipated.
Why? Intelligent people came up with intelligent solutions. Call it the superiority of science over religion….
We still have a nuclear situation that may grow out of hand, and we still have to pull a lot of money out of the globe and funnel it back to Japan, but overall, watching the videos of the quake, I was impressed by how little damage actually occurred. This was the 5th recorded largest in the world! Total damage: two bottles of red wine?
The tsunami was a different matter. Those images shook me up. I remember after seeing them while listening to Rick Jensen discuss the Wisconsin Walker fiasco.
That radio discussion suddenly seemed so little and petty, after watching cars, then boats, then ocean liners flow down city streets. What scared me most, after seeing Sumatra's video's 7 years ago which I thought I could survive, was the flow of what looked like nothing less than a garbage pile, marching unchallenged over fields and into towns, taking them with it. How does one survive that, I wondered?…..
Obviously, for a tsunami's in a urban area, the answer is to build shelters that are tall. A tall concrete tower with a rounded concrete surfaces to lessen the impact from large floating objects, is obviously the best solution. The water flows in, around, and back out to see.. Multiple of these around a coastal city with sufficient warning, could drastically cut down causalities in urban areas closer to zero….
I was equally impressed by the sirens and loudspeaker systems that were evident in the videos filmed across Japan. Socially, the Japanese are organized much better than are we… Almost immediately after the first tremor, instructions were broadcast across towns for all to hear…
Secondly, I noticed that unlike American homes, most interiors appearing in the Japanese videos showed little furniture. Instead, utility shelves, like the ones seen in store stockrooms and warehouses, seemed to adorn all the homes shown, with computer screens, terminals, cameras and other electronic devices taking center stage. It was as if you went home to a computer screen, that is all you needed.Also I noticed all their cars and trucks looked new. As if all their personal income was spent on electronics, cars, and real estate.
It seems the Japanese learned much from the Kobe quake of 95. I was relieved to see that the damage was mitigated by good engineering..
It's a lesson we should bring to this nation, if and when we get smart and stop electing Republicans…..
.