You are currently browsing the category archive for the 'Iraqi troop surge' category.
Here is what we know.
Group of people put up money for film.   Allegedly  $5 million dollars.
Film gets made, and actors are later shocked to find their voices were dubbed over and that they were portrayed completely different from what was actually filmed.  Evidence is visible on trailer if you watch.
Film can find no Arabs who will play.  They use hillbillies and put on spray on tans ( rushed job; you can see where they missed)
Film gets edited , and  debuts in a theater in Hollywood, and all wait…  BOOM…. nothing happens….
Film finally debuts on website of that fake charlatan  who was in Florida burning Korans a little while ago.   That sets off search engine and the trailer hits Google.
That being a known, monitored anti-Muslim site, the film gets picked up in Egypt and goes viral.
Upset people riot.
Riot occurs in Libya, not where ambassador was, but at a consulate.  Ambassador goes to consulate and dies.
US announces that those attacking the embassy were not part of the riot, unless they created the riot as a diversion.
Romney criticizes Obama for causing the problem.
Romney defends his remarks despite the death of the ambassador.  Meaning did Romney, like John McCain over Georgia, have foreknowledge of the impending attack, and the ambassadors death was a freak accident, he stumbled in and discovered it was not an Islamic but a US operation?
Wishy Washy Romney,  is stuck, cannot give more fuel to the claim he doesn't think before speaking, so he buttons down harder on his original remark….
The director who made the film is a fictitious person.  Some reports say he is in hiding, but,  a producer, Steve Klein who is now taking full responsibility for the film, has a history.
This Steve Klein is not what reports said.  This Steve Klein is the author of a piece  called "Eric Holder: The Ugliest of Things" which uses the trial of Gitmo holdees in a civilian court way back when, to call for the impeachment and imprisonment of the US Attorney General for violation of the Constitution.  This is a very provocative piece made to defend the insanity of right wing thinkers, and the element of provocation fits very well with this film's provocative nature…  If put on a couch and analyzed Steve Klein would  be a person who has to shock and awe others  in order to consider himself worthwhile….. like a meth-head.
Steve Klein is connected to the whacky shell group called Courageous Christians United.  This strange group or eclectics  has a division that sparks hate with Muslims, a division that sparks hate with Jehovah's Witnesses, and a division that sparks hate with Mormans.
Obviously the anti- Morman connection is perfect, for who would expect Mitt Romney of orchestrating this fiasco, if it got traced back to Steve Klein.  The smart money would bet that Klein's group could be stoked to sponsor an anti Muslim film, and then those with the right connections could create the hassle in Libya that Romney needed to illustrate his lie which portrays that Obama is not truly the best president in foreign affairs we have ever had in our lifetime…  Everyone knows:  Flat out, he is.
That press statement of Romney was off; it didn't make sense as pundits were quick to point out.  It was like it had been rehearsed way too many times,  and was just waiting for the right second, to be spit out…   "Ok, Romney, it just went down. Got confirmation; it's a go..  in 5;   four, three, two, one. You're on!………………………………….."
The Republican Party is like a WWII bomber, missing its tail section and having both wings shot off..  It is going down……. They desperately needed a diversion to try to get the men out alive before it explodes on the ground.   Hey, fighter pilots… look over there.
This is a Swift Boat Attempt upon the current president. But instead of using film, a medium whose threads could be trace, they decided to use Muslims who have no accountability, and basically  pull out of the same play-book as 1980, and stage an embassy takeover to bring down Jimmy Carter and put Ronald Reagan (oh my… what a wonderful coincidence that the hostages get released as soon as Reagan ,pronounced as President of the United States of America, gets beamed to Iran…)  Oh, yeah that's right.  It was Dick Cheney was authored that. With that much guilt, I'd have heart attacks too…
The link got pulled within the past three hours,  but earlier according to Google, one of  the backers of this $5 million film was Sheldon Adelson, who once backed Gingrich,  and then flipped to Romney.   Very soon we will know who the others were.
So the theory stands even though it is still being put together, that this event was caused by the same people supporting Romney, this event was orchestrated in order to make it appear that Israelis made the film and the United States sanctioned it.  Truth is, we do have a contingent of America that is very unchristian and actually do believe whatever they are told, (our Tea Party Contingent), just as Muslim leaders have similar headaches within their own borders.
The more one looks into all the pieces that came together and the smooth planning that seamed all the pieces together leaving no loose ends, even though the idea is far fetched, and as yet, still speculative….  it is fun putting the pieces together, even if later they turn out wrong…..
The theory that makes the most sense out of Romney's ridiculous statement, is that he appears to have had fore knowledge and was uninformed at his speech that something had gone desperately wrong.
When you look at the evidence this is the only way it could be….  Just like our Commander in Chief's birth certificate is a forgery . It's the only way it could be…
"The events in Egypt and Libya show the failure of the Egyptian and Libyan governments to uphold their obligations to keep our diplomatic missions safe and secure and the regard in which the United States is held under President Obama in these two countries," he told Foreign Policy's Josh Rogin. "It's all part of a broader scheme of the president's failure to be an effective leader for U.S. interests in the Middle East."
Wrong… Wrong… Wrong
It was because of a movie.   A really bad movie… in fact.   I was offended by it.  Deeply so.
If  someone made a similar movie about Jesus,  the American Tea Party would have done exactly the same as did those Muslims.  They would have attacked a black church, killed the preacher and burned it to the ground.
The problem is the movie., not Obama.  A movie that was incidentally funded by groups also providing support to the Romney Campaign, and to the Republican Party.  The same benefactors.  As soon as the New Century Club's  name come up,  it begs for a comparison to using public events to mold and formulate policy.  It now appears that the riots were staged as a cover up for the murder.
Delaware Liberal provided a list of those advising Romney on foreign policy.  Many of  those names  give credence to the unthinkable, that this event was staged by supporters of the Romney campaign, to make Obama look bad…….
It is obvious Romney is being advised by nuts.  People who are just nuts.  They are nuts on foreign policy. They are nuts on economic policy.  They are nuts on women.  They are nuts on religion.  Simply put, they are nuts.
How can anyone who is a real Christian, support these nuts?
Today's joke:   Why did Romney's staff scatter when the convention was over?  They thought they saw a squirrel…..
It's kinda odd…
It is like hearing only the one point of view coming from the woman, that she and her man of 35 years were splitting up, and in that report was her accusation that he was a deadbeat, wouldn't show her affection, couldn't perform when it counted, and was selfish, uncaring, and just impossible to live with… Then you hear from another source, that it was her who abandoned the family, and ran off with another man, leaving her husband of 35 years to care for the children, and run the household as a single dad.
But no one reports that. All they talk about is how she should take him for every penny and that she deserves to be happy too…
It is sort of that way with the war. It has almost been a full week since Obama has announced the end of the Iraqi War.
What fills the media?
That every Republican Presidential candidate has said it is a mistake. That Republicans in Congress, while they are taking credit for all the happiness coming from the news back home, in Washington, are trying to stymie the winding down of military action… That even within the Obama administration enterprising reporters were still able to find some voices of dissension that perhaps we were being a little too hasty in running out on Iraq…
All the argument is over Iraq…
Uhh, hello?… whose money is it that we're spending?.. Uhh.. Shouldn't that huge portion of the argument get some play?
I mean it would around a family dinner table. "Dad, I want to go to Harvard… It will cost $40,000 a year… " "Nope, can't afford it. You'll need to rethink your future."
Or in a bedroom, "Honey, we need all new furniture. I'll put in on layaway this next Monday… " "Nope, can't afford it. You'll need to rethink your priorities."
Or in ones car. "Dad, I need the PS3.. My PS2 and PS1 games are all out of date." "Nope, can't afford it. You'll need to rethink your spare time."
Just the actual occupation of Iraq, cost us $720 million each day.
Isn't it ironical that those who very same who were willing to gamble with our nation's credit rating to cut expenses, are the very ones calling out Obama for turning off the spigot? Doesn't that just sound like a bunch of hypocrites?
Just to give you an idea as to what that money could be otherwise spent on, here is a list compiled by a group that is against the war. No doubt it has probably had it's numbers bumped up, but still it gives you a general feeling and some insight into what else that $720 million could be used…
One Day of the Iraq War = 720 Million Dollars, How Would You Spend it?
One Day of the Iraq War = 84 New Elementary Schools
One Day of the Iraq War = 12,478 Elementary School Teachers
One Day of the Iraq War = 95,364 Head Start Places for Children
One Day of the Iraq War = 1,153,846 Children with Free School Lunches
One Day of the Iraq War = 34,904 Four-Year Scholarships for University Students
One Day of the Iraq War = 163,525 People with Health Care
One Day of the Iraq War = 423,529 Children with Health Care
One Day of the Iraq War = 6,482 Families with Homes
One Day of the Iraq War = 1,274,336 Homes with Renewable Energy….
One Day of the Iraq WAr = $2.34 dollars each day into the pocket of every American man, woman, or child… One week =$16.38… One month = $70.36 .. One quarter gets rounded up to $213 and if cumulated over an entire year… 365.25 days… Every man, every women, every child, every toddler, every infant, is being costed by the war…$854 dollars!!!!
So why is no one talking about it?
Let's backtrack to 2003 one month before we went in.
In a March 16, 2003 Meet the Press interview of Vice President Dick Cheney, held less than a week before the Iraq War began, host Tim Russert reported that "every analysis said this war itself would cost about $80 billion, recovery of Baghdad, perhaps of Iraq, about $10 billion per year. We should expect as American citizens that this would cost at least $100 billion for a two-year involvement."
And here is the actual outcomes.
FY2003 Supplemental: Operation Iraqi Freedom: Passed April 2003; Total $78.5 billion, $54.4 billion Iraq War
FY2004 Supplemental: Iraq and Afghanistan Ongoing Operations/Reconstruction: Passed November 2003; Total $87.5 billion, $70.6 billion Iraq War
FY2004 DoD Budget Amendment: $25 billion Emergency Reserve Fund (Iraq Freedom Fund): Passed July 2004, Total $25 billion, $21.5 billion (estimated) Iraq War
FY2005 Emergency Supplemental: Operations in the War on Terror; Activities in Afghanistan; Tsunami Relief: Passed April 2005, Total $82 billion, $58 billion (estimated) Iraq War
FY2006 Department of Defense appropriations: Total $50 billion, $40 billion (estimated) Iraq War.
FY2006 Emergency Supplemental: Operations Global War on Terror; Activities in Iraq & Afghanistan: Passed February 2006, Total $72.4 billion, $60 billion (estimated) Iraq War
FY2007 Department of Defense appropriations: $70 billion(estimated) for Iraq War-related costs
FY2007 Emergency Supplemental (proposed) $100 billion
FY2008 Bush administration has proposed around $190 billion for the Iraq War and Afghanistan
FY2009 Obama administration has proposed around $130 billion in additional funding for the Iraq War and Afghanistan.
FY2011 Obama administration proposes around $159.3 billion for the Iraq and Afghanistan wars.
Kind of a little more than the total cost of $100 billion that Cheney alluded to.
That's the problem with Republicans… "We gotta go to war. We gotta go to war. If we leave they might collapse… "
with no clue of how to pay for it.. No clue that going to war costs money. So it becomes a choice of where better to spend our money. Here at home? or in Iraq?
Drumroll please: The obvious answer is……….
Clueless as Republicans were, they put that war on our credit card. They did not raise revenues one tick to cover the extra expense. They took out a loan to finance the entire operation.
According to a Congressional Budget Office (CBO) report published in October 2007, the U.S. wars in Iraq and Afghanistan could cost taxpayers a total of $2.4 trillion dollars by 2017 when counting the huge interest costs because combat is being financed with borrowed money. The CBO estimated that of the $2.4 trillion long-term price tag for the war, about $1.9 trillion of that would be spent on Iraq, or $6,300 per U.S. citizen….
So Cheney's $100 billion will cost us $2.7 Trillion counting interest paid… And the cost of caring for the humans who survied, is not even included.
We just can't afford it. Some may say it is a hard decision. Some may say it is a wrong decision. Most will say it was an overdue decision, and it's about damn time that someone did it.
It's just funny how no one, no one is reporting the finances lurking behind this decision that made such a decision a no-brainer. There is no other choice really, but to let Iraqi's handle their affairs themselves.
It is such a great time. The cold front has passed, warm moist air flowing in, misty rain, not enough to get you wet, but enough to wake you up as it dances across the face. In it one can feel the snow coming two days early… For a weekend night, outside it's peaceful… Those with money, have finished shopping. Those without, are waiting for that last check before the holidays…
The annual tradition of trading favorite YouTube'd carols over the internet, has begun in earnest… Strains of Mozart, Celtic Women, Cat Stevens, Bon Jovi, Metallica, and tons of favorite carols by assorted artists, have caused all the stress, pain, heart attacks, symptoms of short breathing,……….. to melt away somewhere into the distant future, as we float back into all those happier times as we remember fond memories of our past……..

Courtesy of All American Patriots

Courtesy of Pat Dollard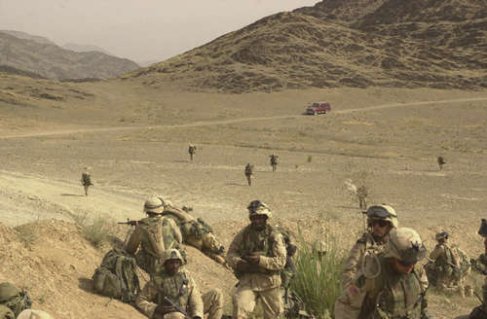 Courtesy of Theodore's World
Things aren't so nice for 100,000 plus Americans now fighting in Afghanistan. Things aren't so nice for their families, friends, and lovers back home,… now that things have really heated up over there….
Take a second: Imagine you're a Taliban fighting this foe invading from a very distant land. Imagine the hope, and shot in the arm a headline like this from the United States, would instill in you upon having it read to you. Imagine how quickly its words would resonate in your blood, and how less inclined you would be to throw in the towel against overwhelming odds? Imagine if you had rounds of waterproofed AK 47 ammo hidden in your well, how inclined you must now be to pull them up, and lay in wait for an American serviceman, any American serviceman, to come close enough to fire a killing shot.
That Headline….
Republicans Shoot Down $700 Military Appropriations Bill Funding War in Afghanistan. Bill Not Passed.
Republicans just aided and comforted our enemy…. Can you hear the Taliban cheering?
It's the holiday season;  I'll be honest.
David Anderson: you served. How can you stomach supporting the Republican Party when they refuse to fund American servicemen in combat?
Frank Knotts: How can someone with your passion for all that America has stood for, still call yourself a Republican when they play games with Americans living and dying for our shared values?
Hube:  What gives?  Where is the line across which the Republican Party stops supporting America, and the Tea Party begins to represent the Conservative's cause?
Tyler Nixon: How can any ex service man, support the party that is so self centered, they have no clue of how their vote to, not fund the war, emboldens our enemies?
Kilroy of Delaware: What kind of political party would play with funding for troops in active combat? How can that be tolerated?
Oh, well, it's not skin off my teeth. It's your party… do what you want. I don't care… But I'll tell you this… This nation needs a little old one horse Tea Party for this one reason alone: so conservatives have somewhere else to go without crawling on their knees to suck up to the moral backruptiveness of the Republican Party, that's why…
Oh, well, I've said too much already. It's not my problem. I just think that:
Our servicemen deserve better.
Conservatives deserve better.
Our republic, the United States of America, deserves better.
Conservatives: isn't it way past time to switch your parties affiliation?  It's the holiday season!  What better gift to your kids and grand-kids  could you possibly give?
Anyone who reads this blog knows that comments are where the action is.. The best writing is usually below the canal, where smart minds give and take and dissect the others points of view… Having spent an inordinate amount of time on one such comment, I thought today's epistle would be, something that in the olden days would have been titled: "Comment Rescue… "
(Since I didn't garnish another's permission, I'm not naming him or her, but if they want to come forward on their own, they most certainly are welcome… They probably will, because their comment is not that hard to find.. But I thought the overall give and take was done well enough to showcase to others how all argument should take place on blogs, and use this as a measure upon which all other future commentary can be judged…)
"Bush is the person who fought a war in which Americans died for oil." Where was Congress? I seem to remember they voted to send troops but that can't possibly be so, can it?
There are two ways an administration can approach Congress… One is to say look at all the evidence and come to your own conclusion… The other is to say, take our word, we have the intelligence that says this will happen, we need your support as a fellow American… The latter was the path that was taken… Today, trying to pin Congress in on the instigation of the Iraq War, is nothing but a cowardly attempt to shift blame… Those of us who know human nature, chuckle at each such attempt, because we know that is done only by people who KNOW they are guilty… The act of blaming Congress actually drives home our point that Republicans were guilty and got caught! The proof is there. Cheney constructed the threat of Iraq and sold it… We found out too late it was nothing but a contrivance…
"Bush is the person who bankrupted our nation by spending every dollar of the surplus and then ran our nation on deficit spending for 8 years…Let our children pay for it!" So you're a deficit hawk then. Great. Please direct me to the post where you go bananas when Obama takes a mere 143 days to surpass Bush's 8 years of spending which included not one but two wars.
There are two kinds of deficits. one is flagrant spending of favors to bolster the Republican party's power; the other is to borrow to save a nation… Deficit spending saved us during WWII… The deficit spending that was spent recently, is an investment that saved the entire financial global network. The government of the United States of America, absorbed the stupid Republican-caused collapse. We now own shares of the banks. When the economy grows, we can cash those shares in at a profit. Your deficit argument is like castigating a well-meaning American homeowner for going into debt for a house… After all, someone signing a $250,000 note while making $30,000 is scary. But it is a good thing for the rest of us, that a lot of homeowners have balls, isn't it..
Republicans obviously don't have balls or brains. … Their wimpy whinings are no more relevant than the naive advisor who says "don't buy a house, rent… You don't want to go in debt." Bottom line, the deficit of saving a nation, worked.. or has so far. The previous administration's deficit, of making the wealthier even wealthier, didn't work. Instead it fucked up this nation….
"Bush is the person who pushed the Medicare Reform that first tripled the cost of pharmaceuticals and then reimbursed drug companies three times over what the drugs originally were worth." Cite please. I agree that the program was ill conceived and even poorly executed but I've not seen anything approaching these numbers.
If you bought drugs over the counter and paid $40 dollars for your supply before the Medicare pharmaceutical supplements came to be passed by the Republicans, today those same drugs cost $120 dollars, and the government covers $80 of those dollars and you pay….. $40 dollars… What has changed for you? The pharma companies are now getting $120 dollars for the same drugs they once got $40 for…. you pay the same $40, and your children and grandchildren pay the $80, which assuming interest will accrue, could amount to about $240 dollars depending on how long we allow the debt to continue unchecked…… The sacrilege comes from the fact that the $80 dollars part, was added to the deficit, so the wealthiest 1% could receive a tax cut… We doubled the cost, while cutting the revenue stream in half…
Smart Republican policy… WE are all paying for our nations stupidity now, aren't we? As for citation… go to you own bills or ask you parents… That is far better citation than I could ever give… Go look.
"Bush is the person who deregulated our finance industry, so it collapsed on his watch."
Nope. Bush warned three times that Fannie Mae and Freddie Mac were headed for trouble and he was rebuffed three times. Misregulation was the cause not deregulation. The largely unregulated hedge fund industry (Cerebrus Capital notwithstanding)skated through while the very tightly regulated insurance and banking were devastated.
Fannie Mae and Freddie Mac were not the problem although Bush was right to warn us of their unwieldiness… No, they were secondary symptoms caused by the main problem which was in Phil Gramm's Commodities Act, a clause he inserted which allowed all derivatives to be unregulated. Insurance on these derivatives, was also unregulated… When the time came for AIG to cough up? There was no money! It had all been spent on bonuses… and when the Feds coughed money to save AIG, they tried again to spend it on their bonuses… such malfeasance among our corporate brethren, can only happen on a Republican's watch… "do what you want… we Republicans won't interfere." The Democrats would have been all over that before a crises had occurred…
"Bush is the person who sent your manufacturing jobs overseas." Really? Did he put them in boxes or…? Labor and regulatory costs sent them overseas. Blame our high standard of living.
No, our jobs went overseas because it was cheaper under the tax codes made up by Republicans to make something in another country and bring it back over… Under a better tax package this would not have occurred, we would not have had as deep of a deficit, and we would have had a much healthier economy. As pointed out in the Kavipsian theory of economics, the difference of only 5% in our top rate, is all we needed to keep our economy steaming forward as it did during the Clinton years.. Pure and Simple. It is the Republican financial philosophy that caused us to experience what earlier this week became official: 0 % real job growth over the entire Republican presidency… That is just plain sick.
"Bush is the person who tried to remove your social security." If remove = privatize then yeah he made a half-assed attempt and then quit.
Facts are in: Had Social Security been privatized.. as of around somewhere in November 08… It would not have existed. I call that getting rid of Social Security.

"Bush is the person who tried to get rid of Medicare." By increasing funding?
Medicare has always been on the Republican chopping block. Bush was nothing new at putting lip service into eradicating it… The increased funding you mention, was passed on to future generations… That shows real responsibility… "Here, spend as much as you can on your health… Don't worry! Your children and grandchildren will foot the bill…"
"Bush is the person who came close to nuking Iran." Define close.
As for defining usage of nuclear weapons upon Iraq, that is what all were saying… In fact, one ranking officer said he would refuse the order if given to bomb Iran… Everyone who wasn't a neocon, received a sigh of relief…
"Bush is the person whose policy made the US hated around the world." Really? How's Barry's Charm Offensive going? Poland hates us, he snubbed the King of Norway and the UK, our closest ally isn't returning our calls. Bang up job there Barry. Oh, and Muslim terrorists are still trying to blow up our airplanes.
As for Barack, I haven't seen the evidence you mention… I do know, however, that the entire globe breathed a sigh of relief to see the former president step down…
"Bush is the person who destroyed the economy…" Please keep it straight. Is he a dunce or an evil genius. He can't be both. (I'll give you a hint. Liberals typically make Bush the dunce and Cheney the Evil Genius.) YMMV.
So say what you will about Barack… He is no Bush and for that, every American can be thankful…..
Since taking office, he has saved this nation several times… Bush in eight years… with help from all Republicans, mind you… destroyed it… At the rate were are currently on, (knock on wood) we should be in good shape to remove the rest of Republicans from office by this November…
With lies about Barack circulating about, yes, we do have some work to do, but then again, everything wonderful that ever happened to this nation, has always had some work behind it….
It has been an amazing day on the international news front… These three stories are all tied together, thanks to the skill of the new administration…
1) The opening of dialogue with Cuba.
2) The handshake with Chavez of Venezuela
3) The UN walkout of the president of Iran's diatribe of Israeli racism…
All three show a break from outdated Republican policies….
First with Cuba… A State Department's go-slow approach was shocked by the admission of Raul Castro, that he is ready to discuss "human rights, freedom of the press, political prisoners… everything." He said: "We could be wrong.. We admit it. We're human beings too.
Ok, so how long have we had the embargo? And now…. we get the admission.. If you want progress, you must have dialogue… Those who punish first, expecting capitulation, are just plain wrong.. That of course includes the entire Republican Party…As most of you are now just finding out, they are just plain wrong…
The handshake from Chavez was motivated more by how much Obama is worshiped in Venezuela than by any policy change… Chavez cannot afford the appearance of being the enemy of one so admired by his own constituents… Therefore as long as the US interests do not directly impinge upon the welfare of Venezuela's citizens, we should have an ally in Chavez who must appear to be on our side, especially since he may have his own domestic challengers… And as most of America knows, the criticism Chavez leveled at our former administration, was shared by 65% of Americans as well… In fact, America went to the polls in record numbers to elect our current president, simply because our last one was so bad…
Now with a simple handshake, we have far more political inroads into Venezuela than we ever would have had Obama dissed Chavez as did Bush… You might remember how stupid every American was seen to be, because Bush would never mention Chavez by name? We were the joke of civilization… and well deserved we should be.. Anyone out there who still thinks we should treat Chavez as a stepchild, is simply ignorant… And yes, they are also all Republicans….
Third, the president of Iran got up and railed against Israel's racist policies… He was jeered off stage and half of the crowd walked out… Here we gave him the rope, and he hung himself… Today he gave the United States' cause for the support of Israel, far more credibility than had we as the old administration would have done, forbid him from coming and speaking… The old policy gave him support among his allies… Today, based on his personal implosion, his allies are running away for cover…. He is far more isolated upon the world's stage, than at any time over the past administration's misjudgements….
Hence the brilliance of the Biden/ Obama tact… Let our enemies do our work for us.. Let them ruin their stature in the world by themselves, without us damaging ours in the process…
But if one of our former enemies can outmaneuver us on the global stage, so that they truly appear willing to change, and anxious to open new relations up with us, then after all these wasted years it appears they weren't really our enemies after all…
Of course Republicans will complain they are… But then, by now, we all know that when it comes to governing, Republicans don't know much of anything.