You are currently browsing the category archive for the 'impending attack' category.
Con's against Illegal Immigration.
Lowering wage rates
Sapping our entitlement system
Lack of accountability; no drivers liscense, no insurance
Not fair to those waiting in line.
Two language society.
Pro's for Making Illegal Immigrants Legal
Acquisition of Drivers Licenses = Accountability to the law.
Can report employers attempting to pay under minimum wage.
Can get private insurance, and not sap hospitals with free medical
Forces those waiting first in bureaucratic lines through faster.
One people; one language.
If you are like me, you can see the answers are pretty apparent. Both side's arguments get solved, by making the 16 million people living, working, raising families here, legal. The only argument that does not get solved, and it is irrelevant, is that since I don't like them, they can't be here. That is your personal problem and I suggest you get over it.
Worried about the downward pressure of wages? Unionize them. Most would be glad to join, and then wages begin climbing for all.
Giving them legal status, means they can buy medical insurance from their employer. Their employer pays the medical cost and passes it on in every product. It is not paid by every other insurer out of THEIR premiums.
Every illegal citizen would love a drivers license. They want them so bad, there is an entire cottage industry that forges them, then sells them for a hefty price. Help make all drivers licenses legal. Legalize the owner so he can get a valid one.
Use the forced legalization of Mexican residents, to purge our lists of those who have played by the rules and waited in line. Fill the Rose Bowl up, swear them in, and be done with it. Once the books are clear, we can begin processing those who have been in this nation 20 years, then work backwards. Those on the list would find they "owe" the original wetbacks for taking care of the red tape placed there for no reason, other than make it appear hard to enter the USA legally.
And if you require English as the language of choice, go ahead, and make it a requirement for citizenship. You want citizenship, you can learn English. They don't have to know the kings English, because no one knows the Kings English in America. We need to be loose with the difficulty of our English tests, or be fair, and make rednecks, inner city blacks, and gays from Provencetown, lose their citizenship until they can speak with American accents too…
So you see, … making those who have lived here 20 years in the shadows breaking numbers of laws to look like model citizens and respectable members of society, is rather easy.
It's just prejudice that stands in the way. And boy, do they hate Mexicans in Arizona.
MegaUpload said they had tried to comply with all of the copyright requests, and they had…
Listen how the Obama Justice Department twists that into a crime.
Courtesy of the LA Times.
MegaUpload provided no index or search function to the public, and sister site MegaVideo filtered its search results to remove copyrighted content. Wait, doesn't that sound like good thing? Wait, see how the Obama justice department twisted that around….. The indictment contends that it's a bad thing because it made it harder for copyright holders to see how much piracy was occurring on the service. WHAT?
The list of the "Top 100″ files at MegaUpload is edited to exclude copyrighted works. Wait, that sounds like a good thing…. The indictment, however, asserts that it "makes the website appear more legitimate and hides the popular copyright-infringing content that drives its revenue." WHAT?
Users could not stream a file on the affiliated MegaVideo site for more than 72 minutes unless they were paid subscribers to MegaUpload. (72 minutes is too short to copy a copyrighted movie) The indictment contends that the point wasn't to discourage illegal movie viewing, but rather to monetize it. WHAT?
The Conspiracy made no significant effort and the company is being faulted for not monitoring what each of its users did on its service, not inspecting content as it was being uploaded for copyright violations, and not combing through its servers for infringing material. But that's inconsistent with the rulings from several federal courts, which have held that online companies have no duty to police their services to prevent infringements or detect them after they occur.
Justice David Souter wrote, "in the absence of other evidence of intent, a court would be unable to find contributory infringement liability merely based on a failure to take affirmative steps to prevent infringement, if the device otherwise was capable of substantial non infringing uses."
This indictment was done in haste and is not a condemnation of MegaUpload, a COMPANY THE INDICTMENT ITSELF, CONFIRMS WAS TRYING TO COMPLY WITH EXISTING COPYRIGHT LAWS……
This was served in Federal Court in Richmond. The same court that says that National Health Care is unconstitutional, even though a number of courts have ruled opposite.
This is a rogue court. This court has proven twice, it is not representative of America, and New Zealand should suffer for not questioning the authority of the order it was given… Injunctions across America need to be filed immediately in more circumspect courts, all aimed halting this injunction issued by this rogue court.
Here is the blog that has been quoted recently by the mainstream press, especially after the video went viral, and they had to scramble to cover up the fact they originally tried to whitewash the incident.
"DUMB COLLEGE KIDS", the right wing pundits squeal…
Not so…
Try an Assistant Professor in the Department of English, who organized the peaceful demonstration.
Or try an Associate Professor of English, who was grabbed by her hair, thrown on the ground.
Or try Associate Professor Geoffrey O'Brien who was injured by baton blows.
or try Professor Robert Hass, former Poet Laureate of the United States, National Book Award and Pulitzer Prize winner, who was also struck with a baton.
I wonder how this child's mom feels right now: One of them, forty-five minutes after being pepper-sprayed down his throat, was still coughing up blood.
Or the dad who was there, bedside, to welcome this bundle of joy into the world.
Or the Grandparents of these children… When students covered their eyes with their clothing, police forced open their mouths and pepper-sprayed down their throats.
What's the point? What were you trying to prove, Mr Rogue Policeman? Ohhhhh, that you were sooooooooo tough… I bet all the women flock to you now, don't they?
What were you trying to prove, Chancellor Katehi? That you have an iron will? Or that you didn't care? You had to appease the wealthy donors. The tents were such an eyesore and had to be removed, even with the potential for a loss of life?
What were you trying to prove, Republicans? Cutting taxes. Underfunding institutions of learning. Trimming school budgets so the wealthy wouldn't have to pay their fair share of the cost of living in American society…
Go ahead. Save them a couple of pennies…. Beat the student's senseless.. Fill their lungs with pepper spray… Ram their lower abdomens with your batons. Make them unable to ever bear children…. Do it for your wealthy master. All so millionaires can save one more penny on the dollar they've already taken from us…
Oh, no… Wait… Why didn't we think of that before… If you kill us all off now, you won't get back your student loans we borrowed from you at those exorbitant amounts of interest you so graciously parted your money for….
As I've written, and read, it appears very hard to discuss this Great Divide that has occurred between the 1% and the 99% …. without sounding shrill or hateful… by either side…
Murdoch's publications probably just like me, think they are presenting facts. But in the way they do so, it seems like all the scripts for their showy, sexy voiceboxes, are being written by little warped, frustrated old men….. And there have been times when I've just simply stating facts, and then upon the final edit, caught a vague feeling that a caustic tone had crept unawares into the body of my work….
One sees the same reading comments on Delaware Liberal,…. and Delaware Politics…. on the Daily Kos, and on all the major media news stories.. at the bottom….
Each time one senses a restraint is trying to be upheld by the individual authors, but that the issue itself burns through it…
Somewhere, somehow, someway… all of us have come to the conclusion that argument is a contest like muscling the ball across 100 yards… The louder we shout, or the crazier we sound, the more hits we get…
And that last statement may be true…
Sadly that means there can be no end; the crescendo escalates as the metronome marks each passing measure….
And it's not just politics. It's our life…
This is probably no exaggeration to say that over the past 24 hours, I have seen San Fransisco's coach decapitate the opposing coach of that game probably over 100 times… . Well,
…. with all the coverage, outrage, animosity, and discussion, one would think it would rank as something on that level, n'est pas? (Seriously, I don't think the actual one that occurred during the Iraqi Occupation, received as much commentary and commotion. IT… should have…)
So why is there no balance to truth these days? Why is everything being investigated as if it were a lie? Why is everyone so ungrounded in their values? Why is everyone reacting with ferocity instead of humor? With bombasticity instead of clever congeniality?
I think it has to do with the economy. Everything is getting stretched too thin, and is being held up by slights of hands, and not solid economics… Families are tense, finding themselves on the edge of losing everything. Banks are tense, hoping no one looks too closely to understand that they too are also on the edge of losing everything. Republicans are tense; their politics are about to be exposed as a sham and bluster, is the only weapon they have that can throw their opponents off before ever having their fraud be discovered. Just looking at the ads repeated across yesterday's games. .. Not one ad attempted to persuade me to buy of anything. All, were demanding, almost yelling at me, that I'd better buy their product and not buy anything else. Television audiences are eyeing this years great selections of new computer games: probably because on screen, they seem more real than the world we're actually live in…
Those who study Europe of 100 years ago… will recognize these same patterns. From art, music, and theater, came the sense of the unreal that was pervasively permeating their lives. That unreal grew 1911,1912,1914,1915,1916, … until the guns fell silent, on the eleventh hour, of the eleventh day, of the eleventh month of 1917…. Then true reality set in… 10 million of Europe's sons, lay dead, eliminated by the war; 20 million more died of starvation, and disease, that were caused by it.
And as it ended, each nation's boundaries were remained pretty much the same….. Except for Austria-Hungary, nothing changed. Thirty million people perished … for what reason?
Because everyone was tired (bored) of all the posturing and jabbering, and decided to fight it out as something different, to finally settle the matter… Any party could have walked away,… and it would never have happened… Instead it was like a Pre-Super Bowl week with all the hype bantering back and forth from team to team… by day five it's already too much but it continues: there are still 2 days to go… By Sunday, everyone is sick of it, and just wants it to be over. But when it died down near the end of 1917, instead of a Lombardi trophy, we had the decimation of Europe……
We are there again now…. But this time it "ain't" Europe.
So how do we fix it. What measures can we take?
One solution: don't do what they did 100 years ago. Back then,autocrats handled the debacle.
It appears that only a "people's movement" can restore rationality, calmness, thoughtfulness, back into our lives… something that DIDN'T happen in Europe. Their political system simply didn't have that option; as they weren't designed for that.
Through the labor movement, and through Teddy Roosevelt, that populist movement and subsequent calming effect, did happen in the United States.
Ways and Means…
Boycott every advertiser on Fox.. All television companies are corporate entities, but boycotts only work where one entity suffers, and the other three profit handsomely at their expense. Boycott everything advertised on the Fox network, and spread the word as to why you are doing it… "You want your country back."
Threaten bankruptcy each and every time someone tries to collect a past due payment. "Sorry, I simply don't have the money. We're probably going to declare bankruptcy soon.. so if you call us again, it had better be with a ridiculously low offer.. like 5% of what we owe to wipe the debt out entirely."
Seriously the idea of moving your money out of Bank America is a good one. Again, for this to work, one entity has to suffer while the other three prosper. If all giants suffer, no giants budge, because they are not losing ground to their competitors in that sort of environment. But if Bank of America folds, and the other three giants grow, then we will never again see a $5 increase in our swipe fees….
Use Facebook to organize a global attempt to shift all money out of Murdoch's empire on the same day, say 11/11/11.. Everyone targets that just that one company. Again for it to work, one company must fail, while the others all prosper…
Have a National Holiday From Work Day. If 90% of Americans simply don't show up for work to say, protest Congress's incompetence. "Cough, cough… Uh, She-Boss-man, I'm a little under the weather… cough, cough… Been up all night; didn't get a lick of sleep; just got done throwing up and then it came out that "other" end way, way, way, way, way, way, way, way, way, way, way, way, way, way, way, way, way,… too fast… " (damn tequila!) …
Find a friend, neighbor, and go occupy something cool that close by…
When your mom gets cancer. You don't hate your mom. You hate the cancer.
Likewise, it was hard not to like the German people during WWII. It was easy to hate the fact that they were trying to kill you.
And so it is with Republicans… 99% of them are just like us. They too love their country; they too want it fixed; they too are angry, frustrated that events are not moving at fast-forward..
They are wonderful people; who also, happen to be Americans. We can never forget that if we were together in a bar with beer, wine, and spirits flowing like milk and honey, we'd all have a "gay ole time" (Flintstones' reference) …
We want the same things, and we should be working together on fixing America… but we can't….
Because of the Cancer…..
That cancer is not necessarily the Republican Party, but it is, the force that IS currently manipulating the Republican Party. That cancer is not a single person in the Republican hierarchy… It is instead that revision of the old cancer, that originally was against recognizing new states into the Federal Union. It is that old cancer that kept slavery legal for thirty years beyond when it should have been eliminated. It is the revision of that old cancer that kept blacks as second class citizens across the South. It is the cancer that fought against giving the Negro their Civil Rights. It is that cancer that denied Tobacco caused cancer. It was the same cancer that encouraged the killing of 4 students at Kent State, to teach those dirty hippies who listened to the Doors, a lesson they wouldn't forget. It is the same cancer that denied the process of evolution, denied birth control, denied NPR, and ran rampant against all evidence of global warming…… Each time; they were wrong.
It is the same cancer that blew up a building in Oklahoma City.
It is the same cancer that fired bullets into working men and women who were refusing to work, until they got a raise…
It is the same cancer that took out Gabby Gifford……
With all these offenses, it is easy to point your finger and say, "Damn you Republicans.." It is in fact, way too easy.
But is not the people voting Republican who are to blame… They, like the German people, are bystanders. often gaping wide eyed when shown the truth, of what their support for the force of evil did to innocent men and women.
It is easy to turn all Republicans into demons if you don't talk to them. But listening to them talk, (and we're talking real people here, not their David Korsch's) it is very easy to find common ground.
That common ground is this: sure, you tax the wealthy, and we'll cut spending and together we'll have high revenue with less expense, and be out of this mess in no time….
This is what every card carrying Republican is telling me, that is of course, if they don't subscribe to the "cult-like" Republican meetings…. They say: "tax the fuckin' wealthy; it won't affect me; Just make sure that extra money is not wasted but is used to pay down the waste we already spent!"
Democrats have already offered to cut Medicare, Social Security, Defense Spending, all those things dear to their heart… So the problem isn't them.
The problem is with the Republicans, who have balked on the tax issue, especially when it comes to raising taxes on millionaires… yet they have no qualms raising taxes on the middle class and poor. Republicans have shut down the Federal Government four times this year. Four times! They did so each time because the obvious was about to happen. WE were about to get a consensus among the rational members of both parties on how we were going to raise taxes and cut expenses (at the same time) which would bring us into line.
They pulled out of negotiations and said: we will not raise taxes one penny… and also, we will not do any business either in the House or Senate, until the Bush Tax Cuts are permanent.
And that,in one sentence, is why nothing gets done.
It's as if a terrorist broke into your workplace. Under gunpoint he straps C4 to several of your firm's employees, and starts firing his gun out the window to get everyone's attention….
Rule Number 1: You don't negotiate with terrorists.
That is the problem Obama and the rest of America is faced with, raising this question:
Do we attack (shut down government) and later clean up, or do we negotiate something we can both live with?
What do you do with cancer… Leave it? live with it?
There's your answer to today's political gridlock.
Removing all Democrats will be like having the Brits flee France across the channel, leaving the Nazi's to run France without contention….
Removing all Republicans will be like marching triumphantly into Berlin.
It is pretty obvious who is the cancer and who is not. WE, THE PEOPLE, can't let it linger any longer. The cancer must go, preferably without killing its host in the process…
First it was Donald Trump's amateur fillies… now it's the professionals… Delaware has lost twice to California…
In the Ms USA pagent, Delaware's own Katie Hanson, lost to Ms California who naturally, took the crown… When it came to Thoroughbreds, Delaware did a little better……
Delaware's Havre De Grace, took the lead and California's blind luck, just came up in time for the wire.
Even when he drew even with Havre de Grace, Gomez said he was unsure Blind Luck was going to get past her.
"We came up to her and she fought back," her rider, Gomez said. "I thought I might be in a little trouble. But with this filly, as soon as you pull her out and she pins her ears back, she accelerates in two jumps."
It was all the horse…..
"My horse dragged me to the front, and turning for home she gave me all she had and really kept on digging," said Dominguez, who was the dominant rider at Delaware Park when he rode there from 2003-2008. "It was just a head bob and the other filly got up just in time."
The final time of 2:01.28 was the fastest running of the Del Cap since Unbridled Belle's 2:01.16 in 2006.
It may seem unfair that "great big ole California" beats out the state with the fewest number of counties (only 3) … but, if you compare populations, the simple fact that quite often Delaware and California are pitted neck to neck just before the final wire, it is fair to say that with California's population of 37,253,956 versus Delaware's of 897,934 it takes roughly 41.49 Californians, to match up to and equal one Delawarean…..
We may be small, but we ARE tough!
It is such a great time. The cold front has passed, warm moist air flowing in, misty rain, not enough to get you wet, but enough to wake you up as it dances across the face. In it one can feel the snow coming two days early… For a weekend night, outside it's peaceful… Those with money, have finished shopping. Those without, are waiting for that last check before the holidays…
The annual tradition of trading favorite YouTube'd carols over the internet, has begun in earnest… Strains of Mozart, Celtic Women, Cat Stevens, Bon Jovi, Metallica, and tons of favorite carols by assorted artists, have caused all the stress, pain, heart attacks, symptoms of short breathing,……….. to melt away somewhere into the distant future, as we float back into all those happier times as we remember fond memories of our past……..

Courtesy of All American Patriots

Courtesy of Pat Dollard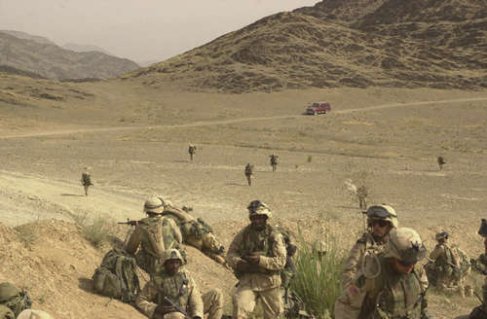 Courtesy of Theodore's World
Things aren't so nice for 100,000 plus Americans now fighting in Afghanistan. Things aren't so nice for their families, friends, and lovers back home,… now that things have really heated up over there….
Take a second: Imagine you're a Taliban fighting this foe invading from a very distant land. Imagine the hope, and shot in the arm a headline like this from the United States, would instill in you upon having it read to you. Imagine how quickly its words would resonate in your blood, and how less inclined you would be to throw in the towel against overwhelming odds? Imagine if you had rounds of waterproofed AK 47 ammo hidden in your well, how inclined you must now be to pull them up, and lay in wait for an American serviceman, any American serviceman, to come close enough to fire a killing shot.
That Headline….
Republicans Shoot Down $700 Military Appropriations Bill Funding War in Afghanistan. Bill Not Passed.
Republicans just aided and comforted our enemy…. Can you hear the Taliban cheering?
It's the holiday season;  I'll be honest.
David Anderson: you served. How can you stomach supporting the Republican Party when they refuse to fund American servicemen in combat?
Frank Knotts: How can someone with your passion for all that America has stood for, still call yourself a Republican when they play games with Americans living and dying for our shared values?
Hube:  What gives?  Where is the line across which the Republican Party stops supporting America, and the Tea Party begins to represent the Conservative's cause?
Tyler Nixon: How can any ex service man, support the party that is so self centered, they have no clue of how their vote to, not fund the war, emboldens our enemies?
Kilroy of Delaware: What kind of political party would play with funding for troops in active combat? How can that be tolerated?
Oh, well, it's not skin off my teeth. It's your party… do what you want. I don't care… But I'll tell you this… This nation needs a little old one horse Tea Party for this one reason alone: so conservatives have somewhere else to go without crawling on their knees to suck up to the moral backruptiveness of the Republican Party, that's why…
Oh, well, I've said too much already. It's not my problem. I just think that:
Our servicemen deserve better.
Conservatives deserve better.
Our republic, the United States of America, deserves better.
Conservatives: isn't it way past time to switch your parties affiliation?  It's the holiday season!  What better gift to your kids and grand-kids  could you possibly give?