You are currently browsing the category archive for the 'Hillary Clinton' category.
Breaking.  and this is an ongoing story that reminds me so much of the Russian coup against Gorbachev that looked so frightening at first, then the coup leaders were all found locked in a room, half naked, drunk off their asses.  What bumblers…
We had three scandals in three days…
Benghazi.
AP Reporters getting wiretapped.
IRS searching up Tea Partiers…
Turns out none are scandals.
A)  Obama and Hillary are absolved from the Benghazi episode.  The ABC email that started it all, was doctored. The whole thing was built off a piece of misinformation.
B)  The AP Reporters?  A very serious leak compromising considerable resources needed to be tracked down.   The  House Bill which would have made listening to journalist illegal was voted against by none other than Darral Issa..  Only 20 others were extremely discombobulated enough to do so.  Though is passed overwhelmingly over Issa's objection,  a Republican filibuster killed it in the Senate.  Obama then a Senator, had committed to voting for it.  "Republicans killed it" quoted Patrick Leahy, forever known for his episode in Dark Knight.
C)  IRS searching up Tea Partiers.  The IRS is a non partisan machine and is in a complete disconnect with any administration.  The head of the IRS during this time-frame was a Bush appointee.  The head of the division what oversees these tax exempt organizations, was appointed by Bush and approved by the Republican Senate in 2005…  Why either of these would target the Tea Party for political means is unfathomable.   But to do so because these organizations being investigated were formed to promote the NOT PAYING OF TAXES….. well, wouldn't you do the same?
All three cases were complete duds. There was no "there", there.  All the prophecies of you had better watch out, …were premature.
The big question is… why are we even talking about this?  Can you say poll results?
December 12, 2012: Kentucky: Hillary Clinton would beat Paul, Rubio in 2016

January 10, 2013: Clinton could be unstoppable if she runs in 2016

January 17, 2013: Clinton could beat Bush and Rubio in Florida in 2016

January 31, 2013: Clinton could win Texas in 2016

February 8, 2013: Clinton potentially competitive in Alaska

February 14, 2013: Clinton tied or ahead against GOP candidates in Louisiana

February 28, 2013: Clinton would beat Walker, Ryan in Wisconsin in 2016

March 21, 2013: Clinton's popularity soars in Florida while Rubio stumbles

April 11, 2013: Clinton and Paul are neck and neck in Kentucky

April 25, 2013: Clinton would be dominant in New Hampshire in 2016

May 8, 2013: Republicans decide it's time to find out just how responsible Hillary Clinton is for the deaths of four Americans in Benghazi
Can you say …. "getting trounced in Red States"?
Here is a copy of Markell's State of the State speech. i wanted to take his speech and break it down, piece by piece, and analyze it.
Bear with me. If your are following along or wrote this speech, I am only concerning myself with the part under the headline: A Great Economy Demands Great Schools…
The impetus seems to be on: providing a world class education…. That sounds great and when I heard it first, I cheered it on. But now if you pressed me I couldn't define it. How does one determine a world class level for education? Especially nations where many different languages are spoken? Some nations require many languages in their curriculum. They succeed but at a cost to high math scores. Some nations do well on math scores. They fail on creativity and ethics. We will soon be competing with the world for jobs. So do we model our education on Finland? On India? On China? or do we stick with Belgium, Netherlands, England, France and Switzerland? Or do we use the methods of Brazil?
Anyone who has traveled globally knows exactly what I'm talking about. There are so many methods being used across the globe, that using the term "world class education", could describe situations different as the interior of Mali and downtown Sydney….
So then before beginning, we must ask for a clearer definition of "world class"…
Moving on.
Let's make this about the children, not the adults. For my part, I speak on this issue not only as a governor, but as a father. When it comes to decisions about education, our kids deserve our total focus and commitment.
Now here is the biggest bone of contention right now. Based on feedback from a) parents, b) teachers, c) administrators, and d) students, these new changes we are undertaking are not helping children. They are putting them further behind.
Now I don't mean to be nasty or put anyone down. There was a lot of evidence presented to us that implied a "get tough" attitude on poor schools improved test scores. But instead, the reality was not what we were told. One of the great examples that led to this program being rolled out nationwide, was the success of Atlanta's inner city. We were told a miracle had taken place. Inner city children were rapidly learning. Alas, .. we were fooled, there was just widespread cheating going on. They didn't learn anything after all.
Michelle Rhee has been campaigning for cracking down on inner city schools. But allegations of cheating occurred during her reign as controller of DC's schools. Test scores that climbed magnificently, while the children have no idea how to do the problems when the meet them again in the next grade.
Texas was the granddaddy of them all. The great scores of Texas's inner city youth, so great they compelled the "leave no child behind " mandate across America (look at Texas we were told), whose many parts were reincorporated into Race to The Top.– all those great scores were faked. Texas dropped on knowledge vis a vis with other states despite higher test scores. We were given false results and the whole nation pursued a program that did not work the first time, or the second….
It appears that none of these programs actually do what is wanted: which is to help the children.
And what does work? Human relationships. A love bond between teacher and student. A teacher teaches her best because that is what she was born to do. A child learns his best, because he wants the teacher to be proud of them.
Can we put that into an institutionalized setting? I don't know. But I think most baby boomers had that growing up. So, it can be done, but how to return to that setting in todays modern time, will take some experimentation…
Moving on.
Built upon four cornerstones that stand on their own:
• Improving student readiness by holding them to high standards.
• Effectively using student data to drive classroom results.
• Ensuring teacher quality.
• Turning around persistently low-performing schools.
Holding students to higher standards. The worst possible thing one can do to a child, is force him to give up. Raising standards without raising the curve, does exactly that. An A student who strives to keep up his grade average, gives up when all he gets are C's. What's the point. A C student who dutifully studies to keep a passing grade, gives up when all he gets are F's… In both cases they were doing all they could do. Society considers them good students. But the same test they took last year, is now graded higher. If one got a 5 at a score of 900, now it takes 950 to get the same. If one got a 3 at the score of 750, now it takes an 800 to achieve the same….
This in no way helps students. All it does is demoralize those who get shuffled downward by the curb.
We just had Delaware Women fall out of the final 16. We are all proud. But what if we arbitrarily changed the rules? What if we said, the final 8 will be determined not by whom was beaten by whom, but by the total number of baskets their team shot across the entire tournament. Suddenly a team that scored in the 80′s instead of the 50′s, goes forward, even though they'd been beaten in the first round by a team with fewer tournament points. Suddenly Delaware's great run means very little. We are a loser like everyone else. "Oh, you should have tried harder to make baskets" they all say. I wonder who returns back to their home court with their heads high. I wonder who tries harder the next year. I wonder which teams recruit only guards with very high three point kill rates?
Higher standards do not work. They just mean fewer people can reach them. The do nothing for the top few elite who will be above 950 anyways. They ruin lives for everyone else… Higher standards on tests hurt our children. There is nothing wrong with what we are teaching now. The problem is that we are not teaching what we are teaching well enough so those on the bottom get it. Teaching even more, will do nothing to elevate the bottom. It will do nothing to put more into the top. All it will do, is make children think they are failures and give up….
Second. Using student data to drive classroom results. There have been cartoons this year showing students taking tests and the administrators joking that firing the teachers and just testing every school day could save them money. There is some sense to using technology to help students. However, theoretically, if tests are given 2 hours each day, how much instruction does that bite into? 10 hours a week? 40 hours a month? 360 hours a year? That last total is the equivalent at a 6 hour day, of 60 days spent taking tests. Remember, we are only talking about 2 hours a day, which in High School, is pretty accurate. Under which scenario does one learn new things better? During instruction? Or taking tests… ummm a? b? c? or d? On the other hand, the new software integrating parents, students, and teachers on the same page as grades get posted on a daily basis, is a godsend. Putting parents into the mix is rather helpful in creating a positive learning experience for each child.
Third. Ensuring teacher quality. This is a noble goal. But one of the great mysteries of Ancient Greece was that the Spartans who were rigorously disciplined and toughened to the highest order, almost always lost to the Athenians who were dilettantes in comparison. Imposing structure erases creativity. There is a tendency among government types to make all state employees into solders. That means drill Sergent techniques; it means battlefield toughening. In a military application, those techniques are necessary because in battle the mind gets blown; training has to take over. The only equivalent in a class room to such an experience, is if a student puts a gun to a teacher's head… Our techniques are jeopardizing the sole proven tactic of transferring knowledge. A positive bond between teacher and student…. an understanding that success depends solely on the amount of knowledge downloaded from one to the other.
Here is where our education is facing its biggest problem… We are using the wrong tests to determine if a teacher should stay or go. We are putting teachers into a spot where they must cheat or fail. Since all up the ladder are accountable for the results that teacher brings, they do not insist with too much effort, that cheating does not occur. The best way to have a measurment of a student's progress, is to remove teacher accountability from the testing. If a teacher keeps her job anyways, she does not have to cheat to get good results. Our results are accurate as to what a student knows or does not know. Of course, once we know exactly what a student does not know, we can rectify it.
Getting rid of all standardized testing is not the answer. Removing job safety concerns from these tests, is the answer. Ontario has done this. The tests are tools, opening a window into the soul of each child, and a teacher can then, fill in the blanks that got missed somewhere down the line…. Ontario, is probably the best in North America, to show real growth in their children across the board.
Turning around low performing schools. This is easy to do… Logically, focus on what works. A loving teacher and student relationship. To achieve that in a higher need school, you need more teachers. The ideal number would be eleven students for one teacher. If using the test scores, we were able to group students based off their scores into groups of eleven, so the average deviation between scores was 50 or 100 points, great headway could be made. For example in a grade of two hundred twenty students, twenty teachers would be needed. Using the bell curve the lowest eleven would be in one class, the second lowest eleven in another, as well as the highest eleven in another class, the second highest eleven in another, and so on. Those in the middle on the cusp of the curve, would probably be within one or two points of each other. But the beauty is that classes would be homogenized around their standard ability. A teacher wouldn't be answering a top students question, when the person right next to him, had no clue what was even asked. They also wouldn't cover a basic idea, thirty times until the student gets it, boring the top student next to him into giving up….
Testing is not the answer. Testing is a tool. Teachers are the answer. Teachers are not tools….
A student who can barely read or do math, does not need to be guessing at a physics problem far above his level. Likewise, for a physics student to answer a question of what is 2 +2 =__, is equally a wasted effort…. And this is where we err. Thinking that tests and corporate programs we buy into, can make that low performing student, suddenly get excited by a physics problem far above his grade level, and suddenly decided to become a math whiz. Reality fails to work that way….
Moving on.
But it is not enough to set high standards. Our students have to meet them. To do so, Delaware will use its rich data system and new assessment to support decision-making in the classroom. Good use of the data will make teachers and schools more effective. Parents and students will be able to use this information to demand that schools deliver.
Exactly what I said. But don't use it to get rid of teachers or all we will get is teaching to the test and more cheating. The kids will learn how to take tests; not learn anything about the subject matter.
To that end, we will work with our institutions of higher education to establish teacher residency programs. We will develop a pipeline for strong principals by establishing leadership preparation programs. And we must better compensate teachers who produce results in our most challenging schools.
This sounds good and I find no fault with it's aims. However your compensation packages are not effective. Being corporate hounds, monetary incentives are the first motivator one thinks of. I did the same. However, interaction with teachers, students and parents, has led me to believe there are better rewards. Teachers did not sign up to teach as a career for money. In public schools, I don't think you can find one who is there to get rich. Talk to any teacher, and once they trust you, you understand they are there because they love to teach… THAT is what moves them. THAT is what moved each of our mentors that stick out from our early educational days. They love to teach. So the best way to motivate teachers is not with compensation, but, in making them teach even better by giving them more resources than they have now.
And the best way to get teachers to teach better is to limit their classes to 11 students… Whoever can achieve that goal first, will be the top educator in the world. Business will flock to that location just to absorb the talent of that labor pool…
If we are serious about education, we need to invest in more teachers, more schools, more infrastructure, and get our class sizes down to 11 students per teacher….
Only then, when every student doesn't want to let either their peers or their teacher down, will we begin the resurrection of our educational system.
But, some people still don't get it.
"We are requiring that new teachers show appropriate levels of student growth before receiving tenure. In addition, we have adopted a robust evaluation system under which teachers whose students do not show satisfactory levels of growth cannot be rated "effective." Teachers whose students do show satisfactory levels of growth cannot be rated "ineffective." We will also improve teacher preparation programs by linking teacher performance to the schools from which they graduated."
It is still all about the test. This has to change….
But having world class schools does not alone ensure that all our children will get a world-class education. For that, we need an increase in parent's engagement with their children's education.
Parents need to realize the tests are hurting their kids. Across America this season, as tests are being rolled out in state after state, it is the parents who vote, who are asking their legislators the tough question. How does this test help my kid? When asked, the legislators agree with them that tests don't.
Education has gotten worse since we went to standardized testing. Parents in Delaware need to increase their engagement with Delaware's legislators and appeal to Governor Markell with their concerns.
My concern started because a little girl who loved English last year, who is in Common Core this year, says this year she has learned absolutely nothing… Nothing new.
When you think of the great United States of America and all the hopes, dreams, and visions it once held…. that is just so sad. So sad.
So impressed was Leon Panetta with Hillary Clinton's taking out the Republican opposition for 2014/2016, he said, "Damn! Women can sure fight good!"
Immediately thereafter, he overturned the ban on women in combat.
Susan Rice is crispy around the edges. Republicans are refusing to endorse her… Why? When pressed by reporters the answer is… they don't know.
They tried to pin the Benghazi hearings on her. That backfired. She was telling what was thought at the time. Republicans say… you should have said you didn't know instead of saying what you thought was true…. Not many other then Breitbart readers are buying that one.
Her real sin, it appears, is that she is our UN ambassador. Republicans hate the UN.. Why? If the US wants to attack Canada for tar sands, the UN will object. If the US wants to attack Newfoundland to change its timezone by one half an hour…. the UN will object. If the US attacks Iraq to steal its oil, the UN will object……
That is why the Republicans don't like the UN. They can't attack random countries. The UN recently supported Palestine over their favorite child Israel, giving it another bad mark in Republicans eyes… For you see? Republicans have a basic flaw. If you hand them a giant bag of money, and tell them what to believe, THAT becomes what they believe… Forget facts.
Now, conservative pundits are becoming worried. It appears that all the noise they created, as of itself, pushed Susan Rice into the number one contender. Originally, no one outside of the beltway and New York, knew who she was. Now thanks to Republicans, we all know her name… And the more we see of her, the better she appears over other contenders to take over the Hillary Clinton legacy.
As anyone who has just come from seeing the movie "Lincoln" knows, the Secretary of State needs to be on a very personal relationship with the president. Obama and Clinton though once adversaries, did sit on quite a few stages together throughout the primary campaign. That relationship has worked well.
The president gets to chose who he wants. The Republicans have offered a list of those who they recommend. However, based upon the election, the direction the American people want to go, is directly opposite the way Republicans want to take us… In fact, it should be argued that the election proved concisely that Republicans are going in the wrong direction. Beaten back on every platitude they uttered, the American people said "no! We don't like what you say, how you act, or what your policies are."
So the Republican list, should read as…. these people are exactly the ones who should not be Secretary of State. In fact, based upon the election's results, by sitting back and seeing whom the Republicans object to the most…. should point the finger at who will become our best Secretary of State…
That person appears to be Susan Rice.
She is reportedly blunt, or crisp around the edges, at times. Yet, her detractors are decrying that on the talk shows… she was not blunt enough.. She was diplomatic, obfuscating, pleasant, and believable. So, since they are using her bluntness against her, and her non-bluntness against her at the same time, it is obvious that as with everything else on Capitol Hill right now, Republicans are in disarray. Repbumblicans don't know what they want… Which is why,… no news source should be noting their objections except to make fun of them.
If she has the president's confidence, it sounds like the Benghazi episode in itself, PROVES she has all the qualifications she needs… If she made the world believe the incident was caused by a video, (without intention of course) thereby buying time for the US to rescue it's informants, I would think she would have the perfect qualifications to be Secretary of State….
Some of us can remember a Chief Executive once saying: We do not have spy planes flying over Russia", less than a week before one got shot down…. Sometimes, you have to lie to your enemies….
The fact that John McCain, Susan Rice's biggest critic, thinks Sarah Palin is the smartest woman in the world (at least back in 2008) shows the world how good of a judge he is when it comes to women and that little matter of their intelligence.
So, if this Rice IS a little crispy wound the edges…. it is time to move forward and to serve the world a wondreful batch of: Rice Crispy Treats…..
As Florida heats up, I couldn't help but reminisce four years ago, when the race between Obama and Clinton was equally hot and heavy….
One giant, notable difference was striking…
As Mitt and Newt each hammer at negatives as to why the other is morally contaminated and bankrupt, and SHOULD NOT be president, I could not help but juxtapose that against the Clinton-Obama contest,… where each candidate was arguing his own positives, as to WHY THEIR personal qualities would make THEM the better president….
It's a difference of arguing "I'm bad; but not THAT bad"… versus "She's good, but I'm so much better…."
Why would anyone want to vote for a party that can't even pull it's own top candidate,.. out of the gutter…?
They cost you too…
The drop in payroll tax from 6.2% to 4.2% results in a savings of about $1000 a year to every wage earner.
(If truth were widely known, that tax cut is actually a bad idea. It hemorrhages a dying social security fund, requiring the eventual death of the program or an expensive emergency last ditch surgery in the future.)
But it is hard not to give a $1000 present to every voter. Even if it only comes out as $19 dollars and change each week… But, still again, if your electric bill is $198 and you only have $189 in your account, that additional amount is, well, a lifesaver…..
But, Republicans in the House, even after Republicans in the Senate voted passage, overwhelmingly voted….. not to vote on the measure…
They didn't vote against it… THEY VOTED NOT TO VOTE ON IT……
(speculation is that they lacked the votes to keep it from passing)..
So, how does that relate to you?
House Republicans (read Tea Party) just voted NOT TO VOTE on whether or not you will be losing an extra $20 a month out of your next paycheck.
Imagine what this is doing to payroll clerks around the country?
Imagine what this is doing to family budgets around the country?
Imagine what this is doing to businesses who rely on consumer spending around the country?
Imagine what this is doing to businesses heavily involved in the financial sector, around this country?
So what would normally happen?
Normally a group that can't find agreement, acknowledges the sad fact, and long before the deadline, announces that they failed to reach agreement and that things would continue as they were on a temporary basis, to unfortunately allow for more time to solve differences.
But NOOOOOOOOOOOO, …. WE ARE STUCK WITH A TEA PARTY THAT FUCKS THINGS UP.
Instead, we have a vote not-to-vote, then get all sorts of very lame excuses from those who are delaying, none of which apply to the real problem that Social Security is doomed unless drastic action gets taken (higher rates, not lower), and we get nothing….
The tax cut will expire…
It is like sequestering a jury in a room, where everyone after much fact-covering argument has agreed to a judgment, except for one person who's been bought off. And nothing, nothing, logic, emotional appeal, bullying, snuggling up to, befriending, produces any change. And you go years, every working day, to the same court house, the same jury room, they same chair at the same table, hear the same arguments, hoping against all odds, that today, he will see the light and switch. You go the next day.
That is today's Congress. Held hostage by Tea Party Republicans who live in a dream world untouched by the reality of living under $185,000 a year. Like that bought-out juror, every day, they hold up progress with the unjustified belief that, if they wait long enough, the other 11 jurors will give up and sway over to the sole juror's way….
Two things can happen… 1) return to the public and announce a hung jury, and do a complete retrial.. or 2) sneak up to that one juror, put a gun to his head, say nothing, pull the trigger, clean up the mess, dispose of the body, then go out to the public and announce what the 11 of you have decided…..
One is the nice way, sanctioned to due process of law. The other is the American Way.
It's time to initiate the kavipsian policy of expression or what is otherwise known as "Show Us How You Really Feel"… Who knows? It could become the next great movement? The next time someone you know (or don't), says anything about how millionaires should keep their tax cuts and the poor should pay, nod your head in agreement, smile a little bit, then hit them as hard as you can in their mouth, I mean as hard as you can! Put them flat on the ground holding their jaw… Then loudly say, "Don't every talk that stupid way to me again!" Who knows, if 99% or all 303,930,000 would respond that way to our fellow congressional delegates, and the other 3.9 million of their like who advocate such madness, we might actually get the very progress we need, not because of intimidation, but because such policy is right….
For those who argue expression of violence is un-American, I'll remind them that tonight, is John Wayne Night on AMC: view it!… I argue that such action is VERY American and perhaps it has been the lack of such spontaneous expressions of frustration from working American people, that has caused the logjam where nothing gets done because of one holdout, who thinks he can sway the world to his opinion and face no consequences… ….
Practice now, by punching brick walls.
In this past month's news cycle, the state visit by the Chinese delegation, … got little attention. Yet, Historians will probably look back on that visit as the most important finishing touch of the past decade, even though it happened a few days into this current one. (Decades begin in the 1 years).
Alas, giant snowstorms and football playoffs have the tendency to suck up America's attention in January.
What was notable;
A. China and the US are now equal players, both dependent on what the other does.
B. Both sides recognize that the other entity will do what is best in their self interest, and that neither party can make the other change course.
C. Both countries suffer malignancies the their hard line conservative movements (the mother-in-law syndrome), that slow the machinations of better relations.
The best description we have in today's world to describe this relationship, at least that comes to this mind, is that of a marriage.
For an enjoined relationship has now grown up between these two partners; one that appears beneficial on all fronts for us both to continue; but one, which if ever split apart, will cost us both, ….. half of everything we own ad infinitum.
With that in mind, … the unilateral dominance that America has enjoyed since the breakup of the Soviet Union, is no more. We have a marriage now, whose new rules may cause us both some internal turmoil, but one that is better resolved through negotiation and discourse, than unilateral actions to the contrary………..
The US and China relationship …. has matured.
U.S. staff in embassies around the world were ordered by Secretary of State Hillary Clinton to obtain frequent flyer numbers, credit card details and even iris scans, fingerprints and DNA of foreign officials.
Can you imagine the innocent picking a dangling hair off an others sweater is not as innocent as it looks?
Soon all diplomacy will be across a giant screen as typified in Star Trek, to prevent the spread of DNA information. Why do we need DNA?
To make lookalike clones which we can insert in their place, … of course.
Duffy is God's answer to a prayer.. I miss the old days of blogging when we were debating principals instead of people… Duffy has stuck to the old line of debating principals with facts, and that is what makes him special in the eyes of bloggers everywhere…
Since the passing of Steve Newton, he has been the only one to challenge me in any argument, and usually some pretty good stuff comes out of both sides during the exchange… I have respected that.. Cause once again, opinions mean dick. Facts are what we steer by.. It is my hope that in responding to his challenge that an answer may make itself apparent.. Who knows? It may not come from me… But if I'm the catalyst for bringing it out in the open, then… none of this was in vain..
Why I like to debate Duffy is simple.. Neither side, he or I, is concretely set in their opinions… We accept it when the other side makes sense… I usually go into such debates having no idea where they'll end up… I hope the rest of you enjoy the ride as welI….
That said..
Duffy leads: Wall Street's problems were caused by Fannie and Freddie loaning money to people they knew couldn't pay and moreover, forcing banks to lend money to people who couldn't pay. That was not deregulation but misregulation
kavips rebutt's:Uh… Mr. President. That's not entirely accurate.
First off, the Community Reinvestment Act of 1977 was developed for, and locked in on, urban developmental areas and had no part of the subprime boom, which primarily occurred out in western desert regions where owning 4 to 5 investment homes was normal… Those homes were overwhelmingly funded by loan originators NOT SUBJECT to the act… We all know the crises was not because people couldn't afford a payment on their house. It came about, because with no occupants, people could not afford the payments of 4 to 5 houses….. Instead of one loan per borrower turning up in default; four to five were.

Second off, The housing bubble reached its point of maximum inflation in 2005.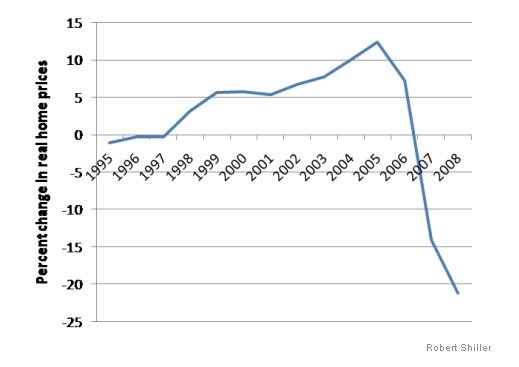 Courtesy of NYT
Third off, During those exact same years, Fannie and Freddie were sidelined by Congressional pressure, and saw a sharp drop in their share of loans secured by the Feds… Follow the dotted line on the very bottom of the graph…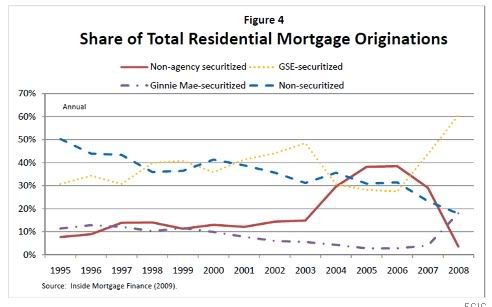 Courtesy of NYT
Fourth off; During those exact same years, private secures, like Delaware's own AIG, grabbed the lions share of the market.


Courtesy of NYT
Remember these graphs for later on when I discuss the results of deregulation, versus regulation… But like it or not, these graphs conclusively show that private insurers, who thanks to Marie Evans, we now know were deregulated by Phil Gramm in the 2000 Omnibus Bill, were the primary cause of the worlds financial collapse.. Probably put best by these words of AIG's spokesperson, who when asked why they didn't have sufficient funds to cover losses, said point blank, "We were deregulated. We were no laws requiring us to keep any funds, ..so we spent it…"
Duffy leads: The loosely regulated hedge funds escaped this mess largely unscathed. Why? They can't count on a bailout like the big banks. The Too Big To Fail banks were counting on a bailout (not unlike the S&L bailouts which started on the Republican's watch) and they got them.
kavips rebutt's:Uh… Mr. President. That's not entirely accurate. I agree that the hedge funds did survive better than the banks. Not because of bailouts, but because they sold short during the crises and made billions while firms closed and people got thrown out of work. There is nothing wrong with that; I did the same. In fact close readers may remember my warnings that the crises was impending almost a year earlier. Very close readers may remember my telling them exactly when to sell, and at what point the stock market would rebound… I must say: I called it rather well.
"Hedge funds were not in my understanding, at fault in the credit crisis," said David Ruder, former chairman of the Securities and Exchange Commission. "At the most what they did was to sell securities when some of their investments were declining and they needed to have liquid funds. They were not the architects of these problems."
De regulated hedge funds are not the issue… De-regulated, excessively leveraged, mortgage securities, are a different story however… They, not the banks that held them, are the cause of the crises…Years from now, when academics search for causes of the stock market crash of 2008, they will focus on the pivotal role of mortgage-backed securities. These exotic financial instruments allowed a downturn in U.S. home prices to morph into a contagion that brought down Bear Stearns a year ago this month – and more recently have brought the global banking system to its knees.
Where you err is when you state that banks too big to fail, assumed they would be bailed out… By implication, you say imply they failed from squandering money, and wanted the bailouts.. But your tax dollars didn't flow directly to the bottom line.
The roughly $200 billion the Treasury Department has handed out to battered banks was swapped for a special class of stock that pays a 5 percent dividend (rising to 9 percent after five years.) As of April 15, the Treasury had collected about $2.5 billion in dividend payments on its investment.
So in that sense, the bailout money represents an expense for banks. That's one reason a number of banks have said they want to give the money back as soon as possible.
You say big banks were counting on a bailout, and they got them? That didn't happen to these banks. New Mexico, Georgia, and Florida each lost a bank just last Friday. That brings to 8, the number of banks failed in June. Unfortunately if a bank is failing, it can't bet on itself to fail, as can a hedge fund.
Duffy leads: Banks have successfully lobbied to get their losses absorbed by taxpayers and gains are kept private. How nice for them. They felt comfortable making insane gambles because they knew they'd be bailed out. Most of them were right. Also remember that it was Bill Clinton who tore down the wall between retail and investment banking. The idea was to give banks more stability as they typically perform as exact opposites in bull and bear markets. (FWIW, I think that was a good idea and I can tell you first hand that two of the Fortune 100 banks I worked for were carried by retail banking in bear years. They may not have had bonuses those years but they didn't have layoffs either)
kavips rebutt's:Uh… Mr. President. That's not entirely accurate. The idea is that the banks made bad decisions knowing taxpayers would bail them out is the issue that is inaccurate. For the record, I have no qualms that it was the Clinton legacy who tore down the wall between banks and investment banking. Like you, I feel it was a good idea to do so… Again the problem was not primarily with banks making loans to people who could not pay.. Although, it was as late as October 2009, when I was made aware of one private Bank in Denver still exaggerating income to make loans look good enough on paper to get approval of securitization. What caused the collapse was the leveraging of those loans as securities, so that as the housing market became overextended, and the ARM jumped past the low cost opening years, the damage was 100 times worse because of leveraging. What made the collapse criminal, was that the insurance most financial institutions had bought from AIG, to cover such an improbable event, had already spent by that companies executives, out on bonuses to themselves. What made it doubly criminal, was that when they received government dollars through a taxpayer bailout, those same executives assumed it was to first go towards paying their bonuses again. However, very recent events may give some cover to the argument that some collusion was implicit in the bailing out of Goldman Sacs and AIG… Basically, once bailed out, AIG paid Goldman Sacs for shares twice as much as they were worth. The documents also indicate that regulators ignored recommendations from their own advisers to force the banks to accept losses on their A.I.G. deals and instead paid the banks in full for the contracts.