You are currently browsing the category archive for the 'Harry Reid' category.
The inaugural commission created a menu balanced across the palate of the United States of America… Featuring Maine Lobster, hickory grilled bison from South Dakota, Hudson valley apple pie, wines from Lake Eire region. The decision was made by a committee…
Mrs. Debbie Boehnor
Mrs. Diani Cantor
Mrs. Honey Alexander
Mrs. Iris Schumner
Mr. Paul Pelosi
Mrs. Landra Reid
They tasted thousands of different items representing areas across this , and came to a consensus… How hard is that? You try it. It is very hard!
If Americans who have no connection other than their spouses chose to run for office and won, can come together to figure out a complicated endeavor, why can't we figure how to keep guns out of school, how to raise our debt ceiling, how to cut spending fairly and how to balance our budget?
The reason is the bullies on the outside. Those groups who yell, "don't you give one inch". Those groups who say "they're trying to take rights away from you". Those groups who growl: "take everything; give them not one penny in return".
Usually those bullies are powerful because they are bullies. They live and survive on your donations… IF they can freak you out, that you give up some of your hard earned money, they get rich…
There is an industry that thrives on conflict. That gets rich off discontent. That fans flames to grow their pockets.
That industry is who to blame for our nation's intransigence. Fox News gets the lions share, because they were first. But Rush Limbaugh, Sean Hannity, Bill O'Reilly, Ann Coultier, Glenn Beck, are all to blame. Because we see them in surroundings that mirror our memories of Ed Marrow, Walter Cronkite, Tom Brokaw, Peter Jennings, we drop the pretense that what we are hearing is not news. It is a business whose income depends upon the temperature of our hate. Pure and simple. The more we hate, the richer they get..
Would a consensus on a menu reflecting all of America have been so easily obtainable if Limbaugh, Hannity, O'Reilly were shrieking about each item? Exhorting any viewers to call and complain?
You know the answer… Proof is without the bullies on the outside, you put a handful of Americans on any committee, and things get done….
We've got to silence the bullies on the outside… Let's do it, and eat in peace…
The Republicans do not have the votes to push their legislation forward.
That is why they have to be the disruptor.
The Democrats have the final say, and a chamber of Congress that can pass appropriate legislation….
They also have the executive; the one with final say.
The weaker side in this argument is the Republican Party. That means if America crashes, turning us into another Britain after the end of WWII, it will solely be the Republicans fault. Bottom line, they are the ones who have to give in, now, … rather quickly. Yes, they are solely to blame.
When this started, the Republicans said they would not vote to raise the spending cap, unless the $2.7 trillion increase in the debt limit, was balanced by a 2.7 decrease in longterm spending….
That makes sense.
What doesn't make sense is, in this economy, pressing forward so hard to insist, that the pain be leveled only on the poor, by demanding that the burden SHALL NOT BE SHARED by anyone making over $100,000,000,000 dollars a day…..
What does make sense, is that with 80% of Americans now in dire financial straits, that the 1% at the top, at literally at no hardship to themselves, put "our" money that "THEY" have, back into the economy…
That's what taxes do. They take money from the wealthy, reinvest it into the bottom of the economy, so it can rise again, benefiting all.
In Congress right now, sponsored by the Democratic Senate, is a budget bill that does exactly, exactly what the Republicans stated was their original objective.
It cuts $2.7 trillion in expenses in return for $2.7 debt ceiling raise..
Again. that is what is needed, sorry to say…
Republicans are of course "opposed". Because it's not "theirs", of course…..
Republicans are like a screaming child in a restaurant.. Someone needs to take them out.
Today the White House issued this Executive Order.
"Should the debt ceiling not be lifted in time by May 16, in order to prevent the Treasury from running out of funds, I am hereby using the emergency powers given to the Chief Executive by the Constitution, to temporarily suspend the Bush Tax Cuts until: 1) either we can legally borrow the funds to continue paying on our commitments, or 2) we bring our debt down to the 2008 level by having much more tax revenue pour in.
This is in effect, immediately, and I have instructed the IRS to recalculate all 2010 tax forms over the level of $2 million dollars, and asses those individuals and companies, for the differences.
We must take this action because Republicans want to pay politics with your lives. As Chief Executive, I am responsible to you, not them. I won't let that happen.
With these tax cuts out of the way, and with our austerity programs already in effect, that windfall of profit the Treasury will receive, will be entirely funneled towards the paying off our debt.
This policy will continue until Republicans can act reasonably and in a productive fashion.
Barack Obama.
Led by Pelosi, the House Democrats did not back Obama's tax compromise bill.
In a raucous, closed-door meeting on Capitol Hill, mutinous Democrats chanted: "Just say no!" as they vowed to overhaul Obama's plan to extend lower tax rates for nearly all Americans, according to lawmakers in the room.
It is different in the Senate. Legislation aimed at avoiding sweeping tax increases looks headed for Senate approval after negotiators added sweeteners to promote ethanol and other alternative energies.
Tax provisions designed to increase production of hybrid cars, bio-diesel fuel, energy-efficient homes, coal and energy-efficient household appliances would be extended through the end of 2011.
Senate Majority Leader Harry Reid set the vote for Monday at 3 p.m. (2000 GMT).
Obama said on Thursday he expected the agreement would eventually pass, for the simple reason that should the House balk, the Republican House in three short weeks, will pass anyway. And that bill, the one in January, will be stripped of all its sweeteners.
Duffy is God's answer to a prayer.. I miss the old days of blogging when we were debating principals instead of people… Duffy has stuck to the old line of debating principals with facts, and that is what makes him special in the eyes of bloggers everywhere…
Since the passing of Steve Newton, he has been the only one to challenge me in any argument, and usually some pretty good stuff comes out of both sides during the exchange… I have respected that.. Cause once again, opinions mean dick. Facts are what we steer by.. It is my hope that in responding to his challenge that an answer may make itself apparent.. Who knows? It may not come from me… But if I'm the catalyst for bringing it out in the open, then… none of this was in vain..
Why I like to debate Duffy is simple.. Neither side, he or I, is concretely set in their opinions… We accept it when the other side makes sense… I usually go into such debates having no idea where they'll end up… I hope the rest of you enjoy the ride as welI….
That said..
Duffy leads: Wall Street's problems were caused by Fannie and Freddie loaning money to people they knew couldn't pay and moreover, forcing banks to lend money to people who couldn't pay. That was not deregulation but misregulation
kavips rebutt's:Uh… Mr. President. That's not entirely accurate.
First off, the Community Reinvestment Act of 1977 was developed for, and locked in on, urban developmental areas and had no part of the subprime boom, which primarily occurred out in western desert regions where owning 4 to 5 investment homes was normal… Those homes were overwhelmingly funded by loan originators NOT SUBJECT to the act… We all know the crises was not because people couldn't afford a payment on their house. It came about, because with no occupants, people could not afford the payments of 4 to 5 houses….. Instead of one loan per borrower turning up in default; four to five were.

Second off, The housing bubble reached its point of maximum inflation in 2005.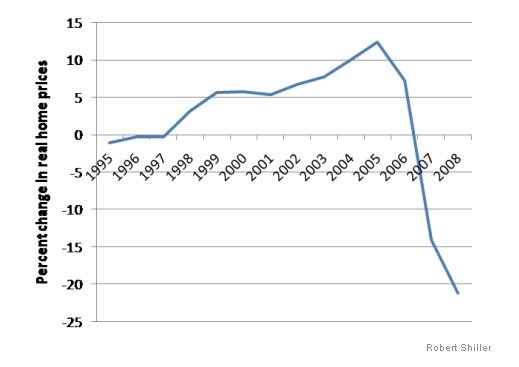 Courtesy of NYT
Third off, During those exact same years, Fannie and Freddie were sidelined by Congressional pressure, and saw a sharp drop in their share of loans secured by the Feds… Follow the dotted line on the very bottom of the graph…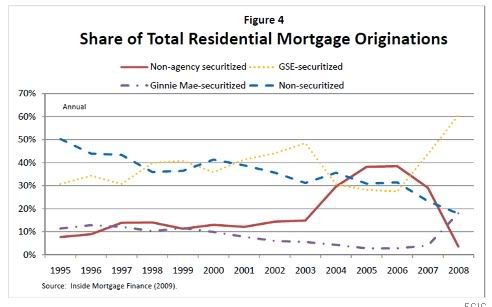 Courtesy of NYT
Fourth off; During those exact same years, private secures, like Delaware's own AIG, grabbed the lions share of the market.


Courtesy of NYT
Remember these graphs for later on when I discuss the results of deregulation, versus regulation… But like it or not, these graphs conclusively show that private insurers, who thanks to Marie Evans, we now know were deregulated by Phil Gramm in the 2000 Omnibus Bill, were the primary cause of the worlds financial collapse.. Probably put best by these words of AIG's spokesperson, who when asked why they didn't have sufficient funds to cover losses, said point blank, "We were deregulated. We were no laws requiring us to keep any funds, ..so we spent it…"
Duffy leads: The loosely regulated hedge funds escaped this mess largely unscathed. Why? They can't count on a bailout like the big banks. The Too Big To Fail banks were counting on a bailout (not unlike the S&L bailouts which started on the Republican's watch) and they got them.
kavips rebutt's:Uh… Mr. President. That's not entirely accurate. I agree that the hedge funds did survive better than the banks. Not because of bailouts, but because they sold short during the crises and made billions while firms closed and people got thrown out of work. There is nothing wrong with that; I did the same. In fact close readers may remember my warnings that the crises was impending almost a year earlier. Very close readers may remember my telling them exactly when to sell, and at what point the stock market would rebound… I must say: I called it rather well.
"Hedge funds were not in my understanding, at fault in the credit crisis," said David Ruder, former chairman of the Securities and Exchange Commission. "At the most what they did was to sell securities when some of their investments were declining and they needed to have liquid funds. They were not the architects of these problems."
De regulated hedge funds are not the issue… De-regulated, excessively leveraged, mortgage securities, are a different story however… They, not the banks that held them, are the cause of the crises…Years from now, when academics search for causes of the stock market crash of 2008, they will focus on the pivotal role of mortgage-backed securities. These exotic financial instruments allowed a downturn in U.S. home prices to morph into a contagion that brought down Bear Stearns a year ago this month – and more recently have brought the global banking system to its knees.
Where you err is when you state that banks too big to fail, assumed they would be bailed out… By implication, you say imply they failed from squandering money, and wanted the bailouts.. But your tax dollars didn't flow directly to the bottom line.
The roughly $200 billion the Treasury Department has handed out to battered banks was swapped for a special class of stock that pays a 5 percent dividend (rising to 9 percent after five years.) As of April 15, the Treasury had collected about $2.5 billion in dividend payments on its investment.
So in that sense, the bailout money represents an expense for banks. That's one reason a number of banks have said they want to give the money back as soon as possible.
You say big banks were counting on a bailout, and they got them? That didn't happen to these banks. New Mexico, Georgia, and Florida each lost a bank just last Friday. That brings to 8, the number of banks failed in June. Unfortunately if a bank is failing, it can't bet on itself to fail, as can a hedge fund.
Duffy leads: Banks have successfully lobbied to get their losses absorbed by taxpayers and gains are kept private. How nice for them. They felt comfortable making insane gambles because they knew they'd be bailed out. Most of them were right. Also remember that it was Bill Clinton who tore down the wall between retail and investment banking. The idea was to give banks more stability as they typically perform as exact opposites in bull and bear markets. (FWIW, I think that was a good idea and I can tell you first hand that two of the Fortune 100 banks I worked for were carried by retail banking in bear years. They may not have had bonuses those years but they didn't have layoffs either)
kavips rebutt's:Uh… Mr. President. That's not entirely accurate. The idea is that the banks made bad decisions knowing taxpayers would bail them out is the issue that is inaccurate. For the record, I have no qualms that it was the Clinton legacy who tore down the wall between banks and investment banking. Like you, I feel it was a good idea to do so… Again the problem was not primarily with banks making loans to people who could not pay.. Although, it was as late as October 2009, when I was made aware of one private Bank in Denver still exaggerating income to make loans look good enough on paper to get approval of securitization. What caused the collapse was the leveraging of those loans as securities, so that as the housing market became overextended, and the ARM jumped past the low cost opening years, the damage was 100 times worse because of leveraging. What made the collapse criminal, was that the insurance most financial institutions had bought from AIG, to cover such an improbable event, had already spent by that companies executives, out on bonuses to themselves. What made it doubly criminal, was that when they received government dollars through a taxpayer bailout, those same executives assumed it was to first go towards paying their bonuses again. However, very recent events may give some cover to the argument that some collusion was implicit in the bailing out of Goldman Sacs and AIG… Basically, once bailed out, AIG paid Goldman Sacs for shares twice as much as they were worth. The documents also indicate that regulators ignored recommendations from their own advisers to force the banks to accept losses on their A.I.G. deals and instead paid the banks in full for the contracts.
This is a guessing game. It's supposed to be fun. You do the guessing. I'll reveal the answer at some point in the future. Bottom line, I am interested in how this plays out. (To keep answers out of moderation, no links please.) You may use the categories above for some helpful hints, but knowing me, don't expect to find the answer that easily.)
1) Foreign policy/defense: I want American imperialism rolled back and American interventionism halted, as the same time we begin to pull free from the military/industrial complex by slashing the budgets for defense and homeland security to reasonable levels.
2) Civil libertarian issues: I want to see gay marriage legalized; drugs decriminalized; Real ID abolished; the Patriot Act gutted; and immigrants viewed as human beings. I want intrusive government the hell out of my life.
3) Fiscal sanity: I want a government that stops growing and taking an ever-expanding bite out of my paycheck; I want to see wasteful programs cut, and to have Congress faced with the same sort of imperative the Delaware General Assembly had to face this year: balancing the budget.
Recently there seems to be an effort put on by Republicans to show the world just how bipartisan they truly are…..I have had the fortune to see some amazing video footage, of Harry Reid speaking in Louisville at a function sponsored by Mitch McConnell, and lately see the pairing of Trent Lot and Tom Daschle on stage together at UMiss.
Seeing these pairings together has the similar effect of one seeing Dick Cheney and Hillary on the floor of a closet pounding shots of Jose Cuervo…..One looks twice and mutters "it can't be…"
In both cases the subject of the talk was the same; we need to work together to get things done……One gets the feeling that these adversaries actually like each other, but something always pops up to keep them apart……
All of them talked about the "air of partisanship" that permeates the inner beltway of Washington… Now I don't know about you, but the "air of partisanship" is some sort of vague term that does not translate well into a person, place, or thing…. Where's the target? How can we, the citizen find the source of this bad "air of partisanship", and pluck it out from the ground, like one would a skunk cabbage…….
And then, the answer came from Trent Lott, of all places….. Like a searchlight on top of stockade tower that scans the surrounding ground, he picked out the enemy…. and locked on.
Paraphrased, here is what he said…..in a response to a question that a guest posed to Tom Daschle….
"The amount of partisanship in Washington! My Goodness! A case in point is this immigration bill. Now early on, I never gave it (immigration) much mind, since we do not have an immigration problem in Mississippi, I stayed low and worked other issues. But then as I was listening to it go on, it came to mind that I was elected to the Senate to fix America's problems, not just Mississippi's and that perhaps I could provide some balance to the discussion since, not being personally concerned with the issue, I could rationalize with both sides……
So we worked that bill up and down both aisles, and hammered out an agreement where no one got everything they wanted , but everyone got something out of it…..It was a classic compromise. We had enough votes put together, and with a weekend coming up, we scheduled the vote sometime the following week and went home and forgot about it…….
But we made a mistake. We forgot about the talk shows. The talk shows! Man alive! They ate us up…..They pummeled me, of all people…..And I consider myself on the same side as Rush Limbaugh, Laura Ingram, and Newt Gingrich, but boy, did they beat me up…..And they're my friends…..But this radio talk show circuit got on the air, and where we had a twelve point plan that outlined the bullet points, they had on their side one word: amnesty! They got on the air and said this bill was amnesty, and by the time we got back on Monday, my phone lines were jammed all day….Mail flooded the office dominated by one word: amnesty…
And we worked hard to make sure amnesty was not in the bill. But where we did a great job on crafting the bill, and I should say, in all my years in the Senate, this bill is the closest one I've worked on where all the participants put aside their politics and tried to do what was best for the country as a whole. We did a great job on creating a great bill….but in the end we did a lousy job on marketing it……
While we were gone, the conservative talk show hosts killed us and stopped this bill, which could have begun to solve this great problem we have now. The bill was dead on arrival…….
What struck me first was that a conservative, one of the most conservative of the conservatives, was dising the conservative talk show network in his conservative home state……Either Trent Lott has become a liberal, (not very likely)_ or the conservative radio circuit has dropped off all charts that measure human sanity……"
As you can see Trent Lott, in a nice way, holds these hosts responsible for driving an impossible wedge between both parties…..Because of fearing this group, it is impossible for any Republican to confer with the "enemy" on a bipartisan agreement, without being called out publicly for "appeasement" by these freaks, especially if ones constituents happen to live where these fools are the only source of entertainment; ie, no cable, no TV, no FM radio.
Officially these hosts have every right to say whatever they want. The are protected by the Constitution….But no is allowed to yell "fire" in a crowded theater. And in a sense, that is what these talk show hosts do…….
Many of you are unfamiliar with Tokyo Rose, or Lord Ha Ha. But during WWII these two talked nightly to troops huddled in foxholes and chided them for fighting idealistically for the wrong side…….The troops never took them seriously, but by listening to them, they heard music and learned news of our own nations operations in other areas, and so the US military kept the stations unjammed……So the issue we face today, is not really with either the programming or the hosts; they are just entertaining us…..The true problem lies with those Americans who haven't got a clue……and are incapable of separating fact from fiction…..
But those few are a tiny inconsequential flames. The problem is that the talk show hosts keep throwing gasoline on them…………………………
So it stands to reason, that if we contain these flairs, and isolate them so they flash without secondary burning, we can ignore the talk show radio as did our GI's ignore the Axis propaganda in WWII……….
Bottom line, is that we, the American people, must realize that these talk show celebrities, are just that, celebrities……they might as well be Nicole Richie and Paris Hilton……
Either one of those two would make more relevance to simple life than either Rush Limbaugh or Sean Hannity…….
But as for now, that old guard of talk show hosts, the very ones who destroyed this bipartisan bill that was crafted and achieved with the support of both parties, still continue to drive this nation apart, and in doing so, screw all of America in the process.