You are currently browsing the category archive for the 'Governor Markell' category.
Steve is on top of this….Gov. Jack Markell is backing legislation that would allow Alabama-based HealthSouth Corp. to build a rehabilitation hospital in Middletown without a state review, despite a legal challenge and claims that the governor exerted improper political influence to move the deal forward. That would be excusable if HealthSouth Corp was a pristine company.  One that truly benefited all those fortunate to come into its good graces… But it isn't….
Several separate lawsuits filed by private parties and the United States Securities and Exchange Commission ("SEC") claim that HealthSouth Corporation ("HealthSouth") and others provided investors with false and misleading information that artificially inflated the value of HealthSouth securities, in violation of federal securities laws….….
They were guilty of…" failing to make and keep books, records, and accounts,"   Obviously there is a good reason this company does not want a regulatory body looking over its shoulder.
Its court decision in 2006 cost it $215 million and its insurance companies $230 million. This was on top of the $325 million paid to the US Government.to settle its Medicare Fraud claims, and the $100 million paid to the SEC for its $2.7 committed in fraud....
Fifteen former HealthSouth executives pleaded guilty in the fraud, and five finance chiefs who worked under their former CEO Scrushy testified that he directed the scheme. Obviously there is a good reason this company does not want a regulatory body looking over its shoulder.
Additional suits, not included above were filed for…  "bad faith for wrongful failure to provide coverage."
Obviously there is a good reason this company does not want a regulatory body looking over its shoulder…
It is still undergoing a lawsuit based on its subsidery versus a Michigan firm, seeking  $376 million….
And we want to let this company come into Delaware and perform health work without any regulatory body looking over its shoulder… 
Just yesterday, April 30th, 2013,  HealthSouth Corporation announced that the Circuit Court of Jefferson County, Alabama denied the Company's motion to vacate the decision of the American Arbitration Association (the "AAA") panel which, on December 18, 2012, dismissed the Company's claims against Ernst & Young. This firm litigates like crazy. And we want to let this company come into Delaware and perform health work without any regulatory body looking over its shoulder… 
It was sued by its very own employees who held that "the fiduciaries to the ESOP breached their duties to loyally and prudently manage and administer the ESOP and its assets in violation of sections 404 and 405 of the Employee Retirement Income Security Act of 1974, 29 U.S.C. § 1001 et seq. ("ERISA"), by failing to monitor the administration of the ESOP, failing to diversify the portfolio held by the ESOP, and failing to provide other fiduciaries with material information about the ESOP. HealthSouth Corp. and its insurers agreed to pay $25 million to settle lawsuits by workers over losses in their company retirement fund, .
And we want to let this company come into Delaware and perform health work without any regulatory body looking over its shoulder… 
Here are some of the wrongful death ruling decided against Health South Rehabilitation. The exact same firm coming into Delaware that Governor Markell, wants to change Delaware's existing statutes so this company will have no regulatory body overseeing it…..
"Mr. Darling, the patient who is suing HealthSouth, said that practice caught him by surprise. "I was under the assumption that everybody in the building was licensed. "It turns out that the man who put the weights on my leg is called a technician. They were all wearing identical polo shirts with HealthSouth logos and the same ID badges.HealthSouth's business plan at the time encouraged clinics to use unlicensed employees to perform physical therapy. That allowed their licensed therapists to perform more expensive tasks, bringing in more money at clinics." Growing Concerns on the Health of HealthSouth New York Times September 19, 2002
And we want to let this company come into Delaware and perform health work without any regulatory body looking over its shoulder… 
A South Carolina jury sent a message to Health South, a rehabilitation nursing home hospital, by awarding $12.3 million in damages to the family of a man whose stage four bedsores contributed to his death. The home's conduct was so outrageous that the jury awarded consisted of $8 million in punitive damages.
And we want to let this company come into Delaware and perform health work without any regulatory body looking over its shoulder… 
Two months after falling and breaking his hip while a patient at Healthsouth Rehabilitation Center-Beaumont, Roland LeBoeuf died.."While a patient at Healthsouth,  LeBoeuf sustained a fall during physical therapy and broke his hip," the suit says.  He never recovered. The suit also accuses the center of the following: • Failing to actively perform ongoing nursing assessments on the patient to be aware of potential problems • Failing to put care plans into place for the patient • Failing to put in bed and chair alarms
And we want to let this company come into Delaware and perform health work without any regulatory body looking over its shoulder… 
Meyers was reportedly moved to HealthSouth in June, where her symptoms progressed. Doctors at this institution also allegedly discussed neurological testing but never ordered any tests, the news provider reports.   The lawsuit claims that a doctor finally ordered an MRI in July when Meyers began to lose movement in her legs.   The MRI procedure allowed doctors to discover a tumor on the woman's spinal cord, and she allegedly needed to have it removed through a surgery that left her paralyzed.   There was a two month delay of failing to do what they recognized they needed to do all along," Feller said. "It was just never ordered for her, despite the doctors attending to her saying, 'We need to rule it out,' they just never performed it."
And we want to let this company come into Delaware and perform health work without any regulatory body looking over its shoulder… 
A Richland County jury awarded a Batesburg-Leesville woman $12.3 million Friday in a nursing malpractice case against Columbia's HealthSouth Rehabilitation Hospital.
And we want to let this company come into Delaware and perform health work without any regulatory body looking over its shoulder… 
My mother was transferred to Healthsouth Rehabilitation Hospital. The arrangements were made by Bone and Joint Hospital. While at Healthsouth Rehabilitation Hospital, my mother, Edd Robbins, was conscious and complained all the time of great pain, in the area of the surgery. Her wound from the surgery was draining. I trusted Dr. Tkach, McBride Clinic, and Healthsouth and Bone and Joint Hospital to provide the proper care to my mother. A few days after my mother was transferred to Healthsouth Rehabilitation Hospital, I observed her when I came in to visit sitting unattended in a wheelchair saturated from the waist down from drainage coming from her surgical wound. I was upset and pointed out this condition to the staff at Healthsouth. My mother was in agony from her pain.
And we want to let this company come into Delaware and perform health work without any regulatory body looking over its shoulder… 
So… can anyone out there tell me… WHY?  we replaced the board that first disallowed them into Delaware, and who then later resigned in protest instead of allowing this same company to enter Delaware, and why Rep. Quinn Johnson is now filing a bill that exempts just this one company from every single  rule and regulation that have been in place for ages to insure that those in medical treatment centers remain safe?
Markell has said the hospital should be built, claiming it would create 80 permanent jobs and encourage health care competition.
Really?  Really?
So we are going to force our current rehabilitation homes to go out of business, because they have to compete with a company that does not have to play by ANY rules…
Really?  That is what we call encouraging competition these days?
If the HealthSouth came in to abide by Delaware;s long term rules and regulations, and competed on a level playing field, … well, that's just plain competition.  I'd be good with that.  But to hurt Delawarean patients by bringing and a company known for neglect, known for malefeasance, misfeasance, and nofeasance,  so they can undercut those local firms doing medical care correctly, is nothing short of  criminal.
In fact it IS criminal, until you change the law so it is no longer a crime…
Today HB 35 is up. This will make background checks required for criminal purchases as well as for those of good citizens. Currently, if one is a good citizen, one must go through a back ground check to buy a gun.. But if one is not a good citizen, and would probably have difficulty passing a good citizen's back ground check, the NRA has many places one could buy a gun without any type of background checks whatsoever….
Killed ten people already? We have just the gun for you….
This is not something to be taken lightly. Delaware has always been right when the nation has been wrong…. That is because unlike Georgia, Kansas, or Mississippi, we have mostly good people here. People who do what is right, not what is wrong and then scream and cry for protection from the law for the crimes they perpetuate…. We are good people…
Good people always get the bad end of the stick… The bad people cry and in the vacuum, get what they want… After all, everyone tries to calm a crying baby…..
But it is when the good people stand up, and say enough is enough, that the bad people have to take a back seat… There is no requirement that bad people always get what they want, and that good people always have to take it on the chin. They can only do so, because good people being good people, are too busy doing good in their personal lives to have time to argue….
Like the little Who who saved the civilization in Horton Hears A Who, a child's book by Dr. Seuss, who was jerked out of her room and added to the screams of the entire population screaming for their survival, your voice may just be the one heard….
If you don't call, it is certain failure. If you do, it is one more step towards righting a wrong that can affect us all…
Give criminals the right to walk in and buy a gun? Not on Delaware's watch… Here are the numbers….
Colin R. J. Bonini Phone: (302) 744-4169        senator-colin@prodigy.net
Catherine Cloutier Phone: (302) 744-4197  catherine.cloutier@state.de.us
Gerald W. Hocker Phone: (302) 539-9662    Gerald.Hocker@state.de.us
Gregory F. Lavelle Phone: (302) 577-8714   greg.lavelle@state.de.us
David G. Lawson Phone: (302) 744-4237      Dave.Lawson@state.de.us
Ernesto B. Lopez Phone: (302) 744-4136       Ernesto.Lopez@state.de.us
Brian Pettyjohn Phone: (302) 858-0694       Brian.Pettyjohn@state.de.us
F. Gary Simpson Phone: (302) 744-4134        gsimpson@udel.edu 
And for good measure, add a call to the main desk and they will record your call and send it to each legislator as a tally… So you get twice the power…
Republican Offices
Phone (302) 744-4048
Fax (302) 739-5049
Be the most important citizen in our state. Call before 1 pm today! You might want to share this line with them…
Tell them if they ever want to get their party mainstream again in this state, they must vote in favor of at least, at least, making criminals have to jump through the same hoops responsible people all have to do to get a gun; tell them you don't give a damn what the NRA says otherwise!… Criminals should not be allowed to get guns easier than good citizens. This bill will stop that. Encourage them to vote for the Comprehensive Background Check reform bill…..if they ever want a Democrat to cast a vote that way again….
Especially that Greg Lavelle in former Senator Katz's territory….. He should be reminded that with his very tight victory last election year, that 90% of America is solidly behind stronger background checks with zero NRA criminal loopholes embedded in….
Eli Broad — the CPA-trained-billionaire-businessman-turned-public-education-reformer — informed Diane Ravitch, a distinguished education expert, about what needs to be done to education in America.  . According to Ravitch, "We talked about school reform for an hour or more, and he told me that what was needed to fix the schools was not all that complicated: A tough manager surrounded by smart graduates of business schools and law schools."
According to Slate quoting Vanity Fair, Eli Broad boasted back in 2006 that he  "plans to virtually take over the Delaware school system in 2007, pending approval from that state's legislature." He backed the winning slate of candidates for the local board of education in 1999 and helped hire the superintendent.
Eli Broad trains Superintendents.  Christina School District has been the unfortunate beneficiary of his largess.  Joe Wise, followed by Lillian Lowery, followed by  Marcia Lyles, all are from Eli's School of Superintendencies….Dr. Joe Wise was selected as a Broad Fellow by Eli Broad Institute for School Boards (2005), was appointed to the Eli Broad Urban Superintendents Academy as a Fellow (2003), and serves on the Broad Academy's adjunct faculty and advisory committee. Although Broad Superintendents come in highly qualified, they often leave disgracefully. Joe Wise, may have been one of the first. Recently, across this nation many Broad Superintendents have been let go. All trained by the Broad Superintendents Academy: Maria Goodloe-Johnson (class of 2003) of the Seattle school district, LaVonne Sheffield (class of 2002) of the Rockford, Illinois school district, and Jean-Claude Brizard (class of 2008) of the Rochester New York school district. Brizard resigned to take the job as CEO of Chicago schools, but his superintendency in Rochester had been mired in controversy. Another Broad-trained Superintendent recently announced his resignation: Tom Brady (class of 2004) of Providence, Rhode Island, as well as these others from before: Arnold "Woody" Carter (class or 2002), formerly of the Capistrano Unified School District; Thandiwee Peebles,( class of 2002), formerly of the Minneapolis Public School District; and John Q. Porter (class of 2006), formerly of the Oklahoma City Public School District.
Ms. Lillian Lowery (class of 2004), Wise's replacement after supposedly cleaning up Joe Wise's disaster, was put in charge of all Delaware's schools, and now, is in charge of Maryland's. Broad's influence has touched every Delaware Student… and is about to touch all those of Maryland.
Our current head of the Department of Education, Mark Murphy, hails from a group NLNS funded by Eli Broad
If this was a good thing, it would be good.
So, what is the Broad influence?
Here is one take. It is one of the three influencers of education. Along with the Gates Foundation and the Walton's, it exerts a powerful influence, good or bad. It calls itself a venture philanthropy, as in venture capitalist. Meaning it invests in philanthropy expecting to yield a return on its investment. As an example, it can fund a study that says computers will help inner city kids learn, then sell those recommended computers to that school district.
Here is how it infiltrates a school district. Christina School District to be exact…
The Broad Foundation plants one of its elements in a school district, it is then highly likely they will plant another one along with it, so their influence is maximized.
For instance, an element might be:
- The presence of a Broad-trained superintendent
- The placement of Broad Residents into important central office positions
- An "invitation" to participate in a program spawned by the Foundation (such as CRSS's Reform Governance in Action program)
- Offering to provide the district with a free "Performance Management Diagnostic and Planning" experience
The Broad Foundation likes to infiltrate its targets on multiple levels so it can manipulate a wider field and cause the greatest amount of disruption. Venture edu-philanthropists like Gates and Broad proudly call this invasive and destabilizing strategy "investing in a disruptive force." To these billionaires and their henchmen, causing massive disruption in communities across the nation is not a big deal.
The Broad Foundation has spent nearly $400 million on its mission of "transforming urban K-12 public education through better governance, management, labor relations and competition."
That sounds nice. So let us look closer….
The signature effort of the Broad Foundation is its investment in its training programs…The Broad Superintendents Academy runs a training program held during six weekends over ten months, after which graduates are placed in large districts as superintendents. Those accepted into the program ("Broad Fellows") are not required to have a background in-education; many come instead from careers in the military, business, or government. Tuition and travel expenses for participants are paid for by the Broad Center, which also sometimes covers a share of the graduates' salaries when they are appointed into district leadership positions. The foundation's website boasts that 43 percent of all large urban superintendent openings were filled by Broad Academy graduates in 2009.
The Broad Superintendents Academy's weekend training course provides an "alternative" certification process which has come to supplant or override the typical regulations in many states that require that individuals have years of experience as a teacher and principal before being installed as a school district superintendents….
The Broad Residency in Urban Education is a two-year program, during which individuals with MBAs, JDs, etc. in the early stages of their careers are placed in high-level managerial positions in school districts, charter management organizations, or state and federal departments of education. The Broad Center subsidizes approximately 33 percent of each Resident's salary.
The Broad Foundation founded the New York City Leadership Academy, which trains individuals to serve as principals in the city public schools, several of whose graduates have been accused of financial misconduct, as well as arbitrary and dictatorial treatment of teachers, students and parents. This was recently featured by Delaware's WDDE reporting on Reshid Walker who is training in Cape Henelopen under the Delaware Leadership Project. DLP is an alternate certification program that this year is preparing six candidates to work as principals or assistant principals at public schools serving high-risk students in Delaware. Alternate Certification means it sidesteps requirements that a principal has to have stepped foot inside a school before. Through four days a week of on-the-job training, and no certification from an accredited college or university, he will soon be in command of your child's education.
The Broad Institute for School Boards provides three training programs for elected school board members and non-Broad-trained superintendents conducted in partnership with the Center for Reform of School Systems (CRSS). The Institute trains new board members at a one-week summer residential setting…The Broad Foundation underwrites 80 percent of all program costs through a grant to CRSS.
The Broad Foundation also supports a broad range of pro-charter school advocacy groups, as well as alternative training programs for non-educators who want to work as teachers and principals (Teach for America, New Leaders for New Schools). In addition, the foundation offers free diagnostic "audits" to school districts, along with recommendations aligned with its policy preferences. It produces a number of guides and toolkits for school districts, including a "School Closure Guide," based on the experiences of Broad-trained administrators involved in closing schools in Boston, Charleston, Chicago, Dallas, Washington, D.C., Miami-Dade County, Oakland, Pittsburgh, St. Louis, and Seattle…..
Closing public schools to open opportunities for charters seems to be it's prime directive. Although not officially enshrined as such, it does seem to be the consistent pattern of each of its graduates.
The foundation provided start-up funding for Parent Revolution (formerly the Los Angeles Parent Union), the group which developed the "Parent Trigger" legislation, designed to encourage the conversion of public schools to charter schools. Broad has also has given large amounts of money to Education Reform Now, a pro-charter school advocacy organization…
Eli Broad has said he "expects to be a major contributor" to Students First, former D.C. Chancellor Michelle Rhee's organization that advocates for the expansion of charters, vouchers, and an end to seniority protections for teachers. The pro-Rhee biography, The Bee Eater, was subsidized by the Broad Foundation as is mentioned on the book jacket.
Of course, there are campaign contributions (you will need to type in Broad, Eli) to facilitate the corporatizing of education… A quick look certifies that his coverage is a who's who across party lines in Congress. Obviously there will be support for Charters streaming down from the top lines of government.
Ok, so how does all of this affect Delaware's public school's families?….
One of the tenets of his philosophy taught to his graduates, is to produce system change by "investing in a disruptive force." Continual reorganizations, firings of staff, and experimentation to create chaos or "churn" is believed to be productive and beneficial, as it weakens the ability of communities to resist change.
A hallmark of the Broad-style leadership is closing existing schools rather than attempting to improve them, increasing class size, opening charter schools, imposing high-stakes test-based accountability systems on teachers and students, and implementing of pay for performance schemes. The brusque and often punitive management style of Broad-trained leaders has frequently alienated parents and teachers and sparked protests. A long laundry list of Broad Supertendants run out of town can be found here, near the bottom. But you can get an idea of what to expect, from just this one: Robert Bobb (class of 2005), the Emergency Financial Manager of the Detroit Public Schools, recently sent layoff notices to every one of the district's 5,466 salaried employees, including all its teachers, and said that nearly a third of the district's schools would be closed or turned over to private charter operators. At a recent town hall which Bobb had called so he could go over his plan, angry students, parents, and teachers drove him from the meeting. He was escorted out by his six bodyguards….
Disruption and chaos indeed…..
Delaware is fortunate to have a large parenting network of watch dogs who communicate well with legislators. Whereas the Christina District has had a rough go with Broad graduates, the rest of the state has so far been unscathed…..
Without the oversight being provided by parents and teachers watchdog organizations, the fate of Delaware's students might be that of Philadelphia, Chicago, or Detroit.
if you are a parent or know one, you probably feel this way as well. Parents Across America considers Broad's influence to be inherently undemocratic, as it disenfranchises parents and other stakeholders in an effort to privatize our public schools and imposes corporate-style policies without our consent. We strongly oppose allowing our nation's education policy to be driven by billionaires who have no education expertise, who do not send their own children to public schools, and whose particular biases and policy preferences are damaging our children's ability to receive a quality education.
In fact, this entire philosophy of forcing change upon children, strikes every parent as coming from those types of people we all run across, … who hate children…. "Someone smack that kid who's crying."
Amen And Amen.
Here is a copy of Markell's State of the State speech. i wanted to take his speech and break it down, piece by piece, and analyze it.
Bear with me. If your are following along or wrote this speech, I am only concerning myself with the part under the headline: A Great Economy Demands Great Schools…
The impetus seems to be on: providing a world class education…. That sounds great and when I heard it first, I cheered it on. But now if you pressed me I couldn't define it. How does one determine a world class level for education? Especially nations where many different languages are spoken? Some nations require many languages in their curriculum. They succeed but at a cost to high math scores. Some nations do well on math scores. They fail on creativity and ethics. We will soon be competing with the world for jobs. So do we model our education on Finland? On India? On China? or do we stick with Belgium, Netherlands, England, France and Switzerland? Or do we use the methods of Brazil?
Anyone who has traveled globally knows exactly what I'm talking about. There are so many methods being used across the globe, that using the term "world class education", could describe situations different as the interior of Mali and downtown Sydney….
So then before beginning, we must ask for a clearer definition of "world class"…
Moving on.
Let's make this about the children, not the adults. For my part, I speak on this issue not only as a governor, but as a father. When it comes to decisions about education, our kids deserve our total focus and commitment.
Now here is the biggest bone of contention right now. Based on feedback from a) parents, b) teachers, c) administrators, and d) students, these new changes we are undertaking are not helping children. They are putting them further behind.
Now I don't mean to be nasty or put anyone down. There was a lot of evidence presented to us that implied a "get tough" attitude on poor schools improved test scores. But instead, the reality was not what we were told. One of the great examples that led to this program being rolled out nationwide, was the success of Atlanta's inner city. We were told a miracle had taken place. Inner city children were rapidly learning. Alas, .. we were fooled, there was just widespread cheating going on. They didn't learn anything after all.
Michelle Rhee has been campaigning for cracking down on inner city schools. But allegations of cheating occurred during her reign as controller of DC's schools. Test scores that climbed magnificently, while the children have no idea how to do the problems when the meet them again in the next grade.
Texas was the granddaddy of them all. The great scores of Texas's inner city youth, so great they compelled the "leave no child behind " mandate across America (look at Texas we were told), whose many parts were reincorporated into Race to The Top.– all those great scores were faked. Texas dropped on knowledge vis a vis with other states despite higher test scores. We were given false results and the whole nation pursued a program that did not work the first time, or the second….
It appears that none of these programs actually do what is wanted: which is to help the children.
And what does work? Human relationships. A love bond between teacher and student. A teacher teaches her best because that is what she was born to do. A child learns his best, because he wants the teacher to be proud of them.
Can we put that into an institutionalized setting? I don't know. But I think most baby boomers had that growing up. So, it can be done, but how to return to that setting in todays modern time, will take some experimentation…
Moving on.
Built upon four cornerstones that stand on their own:
• Improving student readiness by holding them to high standards.
• Effectively using student data to drive classroom results.
• Ensuring teacher quality.
• Turning around persistently low-performing schools.
Holding students to higher standards. The worst possible thing one can do to a child, is force him to give up. Raising standards without raising the curve, does exactly that. An A student who strives to keep up his grade average, gives up when all he gets are C's. What's the point. A C student who dutifully studies to keep a passing grade, gives up when all he gets are F's… In both cases they were doing all they could do. Society considers them good students. But the same test they took last year, is now graded higher. If one got a 5 at a score of 900, now it takes 950 to get the same. If one got a 3 at the score of 750, now it takes an 800 to achieve the same….
This in no way helps students. All it does is demoralize those who get shuffled downward by the curb.
We just had Delaware Women fall out of the final 16. We are all proud. But what if we arbitrarily changed the rules? What if we said, the final 8 will be determined not by whom was beaten by whom, but by the total number of baskets their team shot across the entire tournament. Suddenly a team that scored in the 80′s instead of the 50′s, goes forward, even though they'd been beaten in the first round by a team with fewer tournament points. Suddenly Delaware's great run means very little. We are a loser like everyone else. "Oh, you should have tried harder to make baskets" they all say. I wonder who returns back to their home court with their heads high. I wonder who tries harder the next year. I wonder which teams recruit only guards with very high three point kill rates?
Higher standards do not work. They just mean fewer people can reach them. The do nothing for the top few elite who will be above 950 anyways. They ruin lives for everyone else… Higher standards on tests hurt our children. There is nothing wrong with what we are teaching now. The problem is that we are not teaching what we are teaching well enough so those on the bottom get it. Teaching even more, will do nothing to elevate the bottom. It will do nothing to put more into the top. All it will do, is make children think they are failures and give up….
Second. Using student data to drive classroom results. There have been cartoons this year showing students taking tests and the administrators joking that firing the teachers and just testing every school day could save them money. There is some sense to using technology to help students. However, theoretically, if tests are given 2 hours each day, how much instruction does that bite into? 10 hours a week? 40 hours a month? 360 hours a year? That last total is the equivalent at a 6 hour day, of 60 days spent taking tests. Remember, we are only talking about 2 hours a day, which in High School, is pretty accurate. Under which scenario does one learn new things better? During instruction? Or taking tests… ummm a? b? c? or d? On the other hand, the new software integrating parents, students, and teachers on the same page as grades get posted on a daily basis, is a godsend. Putting parents into the mix is rather helpful in creating a positive learning experience for each child.
Third. Ensuring teacher quality. This is a noble goal. But one of the great mysteries of Ancient Greece was that the Spartans who were rigorously disciplined and toughened to the highest order, almost always lost to the Athenians who were dilettantes in comparison. Imposing structure erases creativity. There is a tendency among government types to make all state employees into solders. That means drill Sergent techniques; it means battlefield toughening. In a military application, those techniques are necessary because in battle the mind gets blown; training has to take over. The only equivalent in a class room to such an experience, is if a student puts a gun to a teacher's head… Our techniques are jeopardizing the sole proven tactic of transferring knowledge. A positive bond between teacher and student…. an understanding that success depends solely on the amount of knowledge downloaded from one to the other.
Here is where our education is facing its biggest problem… We are using the wrong tests to determine if a teacher should stay or go. We are putting teachers into a spot where they must cheat or fail. Since all up the ladder are accountable for the results that teacher brings, they do not insist with too much effort, that cheating does not occur. The best way to have a measurment of a student's progress, is to remove teacher accountability from the testing. If a teacher keeps her job anyways, she does not have to cheat to get good results. Our results are accurate as to what a student knows or does not know. Of course, once we know exactly what a student does not know, we can rectify it.
Getting rid of all standardized testing is not the answer. Removing job safety concerns from these tests, is the answer. Ontario has done this. The tests are tools, opening a window into the soul of each child, and a teacher can then, fill in the blanks that got missed somewhere down the line…. Ontario, is probably the best in North America, to show real growth in their children across the board.
Turning around low performing schools. This is easy to do… Logically, focus on what works. A loving teacher and student relationship. To achieve that in a higher need school, you need more teachers. The ideal number would be eleven students for one teacher. If using the test scores, we were able to group students based off their scores into groups of eleven, so the average deviation between scores was 50 or 100 points, great headway could be made. For example in a grade of two hundred twenty students, twenty teachers would be needed. Using the bell curve the lowest eleven would be in one class, the second lowest eleven in another, as well as the highest eleven in another class, the second highest eleven in another, and so on. Those in the middle on the cusp of the curve, would probably be within one or two points of each other. But the beauty is that classes would be homogenized around their standard ability. A teacher wouldn't be answering a top students question, when the person right next to him, had no clue what was even asked. They also wouldn't cover a basic idea, thirty times until the student gets it, boring the top student next to him into giving up….
Testing is not the answer. Testing is a tool. Teachers are the answer. Teachers are not tools….
A student who can barely read or do math, does not need to be guessing at a physics problem far above his level. Likewise, for a physics student to answer a question of what is 2 +2 =__, is equally a wasted effort…. And this is where we err. Thinking that tests and corporate programs we buy into, can make that low performing student, suddenly get excited by a physics problem far above his grade level, and suddenly decided to become a math whiz. Reality fails to work that way….
Moving on.
But it is not enough to set high standards. Our students have to meet them. To do so, Delaware will use its rich data system and new assessment to support decision-making in the classroom. Good use of the data will make teachers and schools more effective. Parents and students will be able to use this information to demand that schools deliver.
Exactly what I said. But don't use it to get rid of teachers or all we will get is teaching to the test and more cheating. The kids will learn how to take tests; not learn anything about the subject matter.
To that end, we will work with our institutions of higher education to establish teacher residency programs. We will develop a pipeline for strong principals by establishing leadership preparation programs. And we must better compensate teachers who produce results in our most challenging schools.
This sounds good and I find no fault with it's aims. However your compensation packages are not effective. Being corporate hounds, monetary incentives are the first motivator one thinks of. I did the same. However, interaction with teachers, students and parents, has led me to believe there are better rewards. Teachers did not sign up to teach as a career for money. In public schools, I don't think you can find one who is there to get rich. Talk to any teacher, and once they trust you, you understand they are there because they love to teach… THAT is what moves them. THAT is what moved each of our mentors that stick out from our early educational days. They love to teach. So the best way to motivate teachers is not with compensation, but, in making them teach even better by giving them more resources than they have now.
And the best way to get teachers to teach better is to limit their classes to 11 students… Whoever can achieve that goal first, will be the top educator in the world. Business will flock to that location just to absorb the talent of that labor pool…
If we are serious about education, we need to invest in more teachers, more schools, more infrastructure, and get our class sizes down to 11 students per teacher….
Only then, when every student doesn't want to let either their peers or their teacher down, will we begin the resurrection of our educational system.
But, some people still don't get it.
"We are requiring that new teachers show appropriate levels of student growth before receiving tenure. In addition, we have adopted a robust evaluation system under which teachers whose students do not show satisfactory levels of growth cannot be rated "effective." Teachers whose students do show satisfactory levels of growth cannot be rated "ineffective." We will also improve teacher preparation programs by linking teacher performance to the schools from which they graduated."
It is still all about the test. This has to change….
But having world class schools does not alone ensure that all our children will get a world-class education. For that, we need an increase in parent's engagement with their children's education.
Parents need to realize the tests are hurting their kids. Across America this season, as tests are being rolled out in state after state, it is the parents who vote, who are asking their legislators the tough question. How does this test help my kid? When asked, the legislators agree with them that tests don't.
Education has gotten worse since we went to standardized testing. Parents in Delaware need to increase their engagement with Delaware's legislators and appeal to Governor Markell with their concerns.
My concern started because a little girl who loved English last year, who is in Common Core this year, says this year she has learned absolutely nothing… Nothing new.
When you think of the great United States of America and all the hopes, dreams, and visions it once held…. that is just so sad. So sad.
It is time to sanction gay marriage.   Gay marriage is different from civil unions. Gay marriage means much more.  Someone who is gay, who can now be married for life is finally an equal citizen.  Without that certainty the rest of  their rights are meaningless….
"Oh, we've got nothing against gays!.  You are equal to the rest of us, except, snicker, snicker, when YOU marry, we will give it a lower second class status and call it a civil union."
Until Gay Marriage is made legal gays are only second class citizens….
It is interesting that very conservative parents of gay children, see it with open eyes… "Yeah, why can't they get married?" Senator Portman who was flirted with as Romney's running mate, and the odious Dick Cheney are both in favor of gay marriage. They credit their openness to learning from their children… every parent wants their child to be happy.
As a nation we've been here before.  Blacks were given freedom by the Federal government, but local governments who disagreed, would not allow them to marry whites.  Obviously the signal being sent was no, they weren't equal after all.  Mexicans in the West, legal and forced to be accepted so by whites, had to deal with local laws disallowing mixed marriages… After all, they "really" weren't equal, not even close?."  American Indians, even though there were many interracial lifelong monogamous sexual unions during the exploration of our frontier, those unions were banned by laws intent on maintaining the purity of the Caucasian race, "Indians, equal with the white man?  Get real!"…
All these laws have fallen away, shredded by common sense and common decency.  It it easy to label a group with which we have no connection, as a "they" and say "they" are different, allowing it to be "ok" to treat "them" with disdain……
It is when "they" become part of "us" and we finally realize that treating "them" with disrespect is exactly the same as "us" being disrespectfully treated; we certainly would find that to be unfair. …
It is upon that realization, that discrimination against them…  finally becomes unfair….
Our Constitution and Declaration of Independence are pretty clear…   all humans are equal at birth… and once we widen our perception of what is human, we are forced by our beliefs to accept them into our family as well….
Hard as it was for the South, we finally accepted that slaves were human beings, and therefore agreed they should be afforded the same protection as their owners….
Hard as it was for mankind, we finally accepted that women were human too, and therefore agreed they should be afforded the same protection as their "owners"….
We later had to revisit the treatment of those whose ancestry derived out of our former African slaves, even to the point of guaranteeing them by law, actually making it punishable to treat them with disrespect, in order to drive home this point to Southerners, that…. all people are created equal….
Any baby born within our borders becomes a citizen.  Whether its parents are or not… They were born here; they are equal to the rest of us…  We allow any baby to grow up and marry any other baby who grew up here, unless they are gay.
The overwhelmingly majority of our culture has recently come to the realization that people who are gay, are created that way. They can change it no more easily than one can molt the color of  their skin, or alter the slant of their eyes, or raise or lower their cheek bones…  That is how God makes them…..
For anyone to vote no against Gay marriage in Delaware's General Assembly, they will have to first  imagine themselves in a Twilight world, one where genes gave dominance to gays, and heterosexuals occurred rather rarely… Being one of those heterosexuals, who had deeply fallen in love with someone of another gender, would you, a Delaware Representative, settle for only having  civil unions for you and your heterosexual spouse, when all the gays around you were getting married and raising families?
Their gay clergy would spout:   "Oh, you are one of those… We can't let you marry…."
If you  CAN'T  IN  GOOD  CONSCIOUS  agree that you yourself should be discriminated against because you happen to be heterosexual in a gay world, something you were born with and couldn't change, then you cannot vote AGAINST gay marriage when it comes up for a vote with any good conscious.
Voting against gay marriage, carries the same moral price as did the voting against the freeing of slaves, as did the voting against allowing women to vote, as did the voting against letting blacks finally be allowed to succeed….
Now, since all of those are so much woven into the fabric of our society, we forget today that back then there were people who actually argued vociferously against allowing these citizens to become  equal members of our society… it was just like people argue against gay marriage today.
They arguing were wrong then.  Those same people doing it to gays, are wrong now….
Settling for Civil Unions instead of marriage is a slap in the face.  It has only one point and that it to say:  "Oh, you aren't as good as us, and never will be."
Each time in our nation's past, it took the will of strong people to overcome the strong wills of weak people…. Delaware needs to allow gay marriage, simply because not doing so is the morally wrong thing to do….  Those crying against it with self thought-up platitudes, will come around eventually after the deal is done and the battle is over…
They have to!… One can only argue against what is right, … for so long.
Another hot button in both No Child Left Behind and the Race To The Top, is the teacher accountability piece as is related to the value added component.
I'm for the value added component.  I recommended it be enacted decades ago.  What that does is measure the ability of a child in September; and measure that child (through testing) in May, and if there is any difference, .. that child learned…  The teacher gets credit for adding value or more to that child's knowledge,  It lets us know who is teaching well.
Because face it:  personality polls by students don't work:  easy teachers get high marks.  Administration evaluations don't work:  brown nosers get good scores.  A final test doesn't work.  Those with good students coming in, look like great teachers; those with problem students coming in, look like problem teachers…
So to determine who was best at dicing apart knowledge in just the right way, so children could take the pieces and build them into structures of knowledge,  one needed to test the beginning and test the end….
Of course, I developed this idea long before corporate entities had a stake in failing a district in order to print and sell more tests…   Of course, this idea was up and running long before anti-unionists saw artificially low scores, could turn the public against their teacher and the teacher's unions.  And yes, this was before charter schools, or education for profit, was as big and as pushed for as it is today… ….
I saw it as a way of improvement….  There is a reason old teachers have better results than teachers coming right out of school… They learned tricks over time.  Through trial and error, they developed their own best way….  Someone new and just out of the gate, has to take the theories they were given in class, and try them… some are worth something, other won't be, but only time and coaching will give them, each new teacher,  their own best way.
So for a new first year teacher to learn that they are very good in English, but not so good in Math, is indispensable for that teacher's development!
It didn't turn out that way!
We the theorists, approached the legislatures and what we thought were helpful corporatists, with this novel method of measurement that would require their funding to implement.  Test for the value added by each teacher….
What we didn't expect, was this would somehow be pirated by those whose goal was to destroy the public education system and replace it with a privately funded one….
So accountability or a tool to improve one's teaching, somehow became subverted into a weapon one could wield to weed out any teacher who answered to a higher cause, other than improving the advancement of their supervisor….
Those supervisors tend to be a lot higher up than one's principal……
So here is Mr. Principal's Amorphous Catch-22.
Principals are caught in the middle: they want to offer frank feedback but are all too aware that any criticism is a black mark that can be used to deny a teacher's contract renewal or tenure. In this case, killing two birds with one stone—when those birds have about as much in common as a penguin and a pigeon—is extraordinarily ineffective….
So the principal is kept from giving honest value added feedback to potentially a marvelous teacher, because if he does, she gets fired….
How does this move us forward in improving our children's education, can anyone tell me?
There are ways around it. And good principals do it.  As anyone in a corporate environment knows, a good boss is one who protects his good workers from the confusions up the ladder…
The best way to handle an evaluation in this environment is to bring in a teacher for a conference, tell her you already did the evaluations on paper for the state, and hand it too her.  Most likely it will be favorable since you weren't bent of firing her. Tell her the consequences pro and con of the evaluation, either a raise, or demotion…
And then, put it aside, and say, these very important words…." that was for them, and the rest of this is for you... This is strictly off the record… "  At this point the principal sincerely points to ways he thinks each teacher can improve, and listens to their frustrations and figures out his part in clearing away the obstacles beyond her control…. In other words together they have a good business meeting designed around developing ways tobetter  improve the education of their charges..
Where you have principals who are good in this type of duplicity, you get good results.  They form the team that works together, they constantly improve year after year,  Guess who benefits the most?  Kids.
Of course compare that to the Republican model of administrator,  a person who is cursed with the fervor of accounting for everything, who fires half his staff every year because they aren't prefect enough for him.  Of course, … his student's results plummet every year… There is no carryover year after year!
But ironically, in today's mad state of affairs, this person is the hero because he is firing people who despite tremendous effort, simply weren't absolutely and unequivocally perfect at that certain time and place…..  I don't know about you, but I think it is time we parents, teachers, and local citizen controlled school boards  work to change the goals of who should be fired first, and instead,  fire administrators based on how well kids aren't learning and not based on how many teachers they can find to fire….
Although the year is barely out, we do have our first nomination for the spot to be announced in December 2013.  With the Kinder Morgan Deal now on hold semi-permanently, even they are pointing to our hero of the year as the man most responsible for allowing the port to remain state owned….
I can say it was Julius Cephas who was behind almost every move to combat the loss of good jobs at our port.  He is being pointed out as the villain by the capitalists at Kinder Morgan.  In Delaware's eyes, that elevates his hero's stature even more…
In truth, he is no villain and knowing him, he will probably shun the acclimations being made by us common folk as being our hero.  In his eyes, he was just doing what needed to be done because no one else was there at that very moment to do it, and as that task swelled, it took a lot out of him….
Capitalists always need a villian.  But it was the "truth" which actually is what killed this deal.  Kinder Morgan WAS going to cut back on jobs, and their change of heart and blaming Julius instead of others, points exactly to the core of their problem with our port… …
People in Texas, do not understand unions.  They simply can't fathom or understand how there can be an actual law that lets people strike and shut you down, whenever you try to pay them less..  In their eyes, you work for what they want to give you and if it is too little, ..humph.  go elsewhere….
The second culprit (after the "truth"),  was our office of economic development.  We gave Kinder Morgan too many "eager" signals that set us up as being seen as an easy pick.  They truly thought they could waltz in, pick up a top notch East Coast Port for a song, and we would eagerly give it up…  Again, that was because everything was done in secret.  Had a meeting been forthcoming in the very beginning,  Kinder Morgan might have moved on earlier when it became readily apparent, that southern Texas practices do not bode well in the Northeast…
Of course, being a corporation, they will blame the whistle blower.  (Ironic since the whistle blower of Enron works for them)..   Of course.  It is not like they find anything immoral in taking a state asset for a song, in firing those skilled dock workers, and replace them with some Spanish speaking Texans who never even heard of a union….
And Julius did blow that whistle. .  Like Rose on the Titanic, he took the whistle off of Jack (pun intended), and blew softly at first, then harder, and harder.   Gradually the sound registered on others ears….
Without Julius, Bob Marshall would not have pushed through Senate Bill 3.  Without Julius, most of the links showing up in everyone's blog, would have not been found.  Without Julius, the case for protecting workers would not have even made the rounds of the Norman Oliver show….
There were many helpers. Bob Marshall, Nancy Willing, Norman Oliver, Norinda, Helene Keeley, Al Mascitti, Liz Allen, John Kowalko, and (an other blogger too shy to be mentioned here). When one looks back through all of them one sees from everywhere, there in the center of the universe,  stands a normal human being just like us, known to most … as Julius.
There will come a time when a better deal will arrive.  Could even be this year. There will come a time when a suitor who does care about Delaware, who does care about unions, about human beings, about those businesses on the outside, and who will want to upgrade the port for everyone's interest, not just their own… And that suitor in this day and age, could even come from abroad.  Germany is very committed to union labor, to the environment, to being a good neighbor…. There are a great many possibilities out there that are immeasurable…. We definitely dodged a Texas bullet with this one….
When that suitor arrives… Julius's stature will be set in cement….  For he did nothing really Herculean, except argue the truth…  He didn't lie.  He didn't connive,  He didn't threaten….
That was done by our office of economic development.  Instead and unlike them, Julius told the truth.  He told the truth to anyone who would listen.  He told the truth enough, so many "did" listen….
And that is why, he  deserves this nomination as Delaware's Man of the Year.  I know it is early into 2013, but great things just do not wait!!….
You will hear smears that Julius tubed the deal… I saw the letter and it is already out on WDEL and the Delawareonline's News Journal… But as an impartial blogger, I can tell you exactly what killed this deal.
It was "the truth".  The truth of what this deal would cost us Delawareans….. is what turned the tide and caused the outcry that rose up against it….
If Kinder Morgan really wanted this deal, they could have easily said… "we are expanding and putting 5 new berths out into the river.  We are buying the port for the bargain price of $5 billion.   We need those businesses outside the fence because the jobs we get, will soon be too big, we can't do it ourselves.  We will keep the union just as it is;  Wilmington needs good jobs and we are going to do our part….  We are also going to contribute into an emergency fund to be used for any spill or environmental accident that takes place under our tenure….
Kinder Morgan could have done any of those things, … and didn't…. The blame doesn't lie with Julius after all…. Especially when you consider the following…
This Economic Council erred on Fisker Automotive.  Then it erred on Bloom Energy.  Then it tried to Kinder Morgan us out of our port…..   Someone rushed in  with a save to make sure that last one didn't happen.
That person is now hereby nominated for Delaware's Person of the Year…….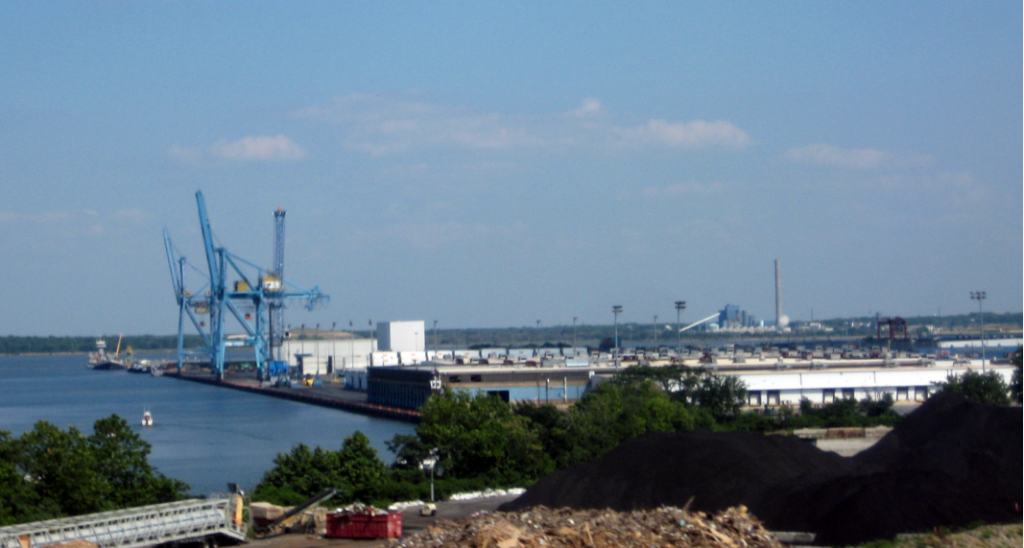 Courtesy of Wikipedia
There are no universal rules about how long the life of a concession should be. Economic theory on regulation indicates that the longer the life-span, the more incentives the private concessionaire has to make adequate investments to enhance the assets, since profitability will be dependent on the state of the facilities.
However, the longer the period between two concessions, the less information the regulator may have on cost and demand conditions. Therefore, there is a trade-off between incentives and information for regulating a concessionaire optimally…..
50 years is a long time.   Most people over 50, won't see the end of the lease.  Only 6% of those now between 40 and 50 years old, will be around go see it revert back to the state.   An egg, fertilized tonight, will be moving around as a 50 year old when this port lease expires…..
Can a lot change in 50 years?   Let's look back… 50 years ago was 1963… Let that sink in….  If our ancestors had leased the port in 1963, while John F. Kennedy was president, while Lyndon Baines Johnson was Vice President, while Robert Kennedy was Attorney General, it would still be in the lessor's control….  What would it be?   Would it have grown as it did as as public entity?   Kinder Morgan is an energy company…  How many of these are still around?   Amoco, Getty, Esso, Sinclair, Atlantic, Texaco, Gulf, Pure, Phillips 66, ….
A quick reminder of our local refinery may drive home the point.   Originally Delaware City refinery was started in 1956 and as of 1963 was owned by Getty… In these 50 years past, it has gone through a progression of Texaco, Star Enterprises, Motiva, Premcor, Valero, and after a brief shut down, it is now run by PBF Enterprises…  I wonder how many of the original promises that Getty made to get approval and the refinery built, are still edified in the practices of the current owner?
Kinder Morgan says it has no plans for Liquid Natural Gas…  but, what about its third owner, its fourth, its fifth?   The only thing constant is change….  When people tell me Kinder Morgan is going to be around a long time,  I tell them that early last year, El Paso Gas was saying exactly the same thing….
Bottom line, none of us would lease our house out for 50 years locked at today's low rent prices, yet that is what we are doing with Kinder Morgan.  We are giving them a cut throat bottom rate for 50 years with no  renegotiations….. And speaking strictly for myself, if I were Kinder Morgan, … those last 15 years I would put as few pennies as I could into my investment, knowing full well, I'd soon just be turning it over to the state in 2064…
Which means, that after the end of 50 years the State receives an beat down, unmarketable entity, and not the same shining port we are giving up today:  the number two largest fruit port of the entire world…..
So, what do other ports lease for?
http://info.worldbank.org/etools/docs/library/64583/2181seaport.pdf
As one can see, only one port is leased out for 50 years:  La Harve in  France. The average lease on the chart above, is 23.3 years. Furthermore, in such agreements it is very common to have penalties and fines to guarantee adequate compliance with the terms of a concession agreement… Concession contracts have long lives, and therefore it is important that port authorities are able to establish strong positions from the start of the concession, and be allowed to perform regular inspections to verify assets are being kept in top condition. The potential threat of fines must be written into the contract to ensure compliance.
It is because concession contracts have long lives that it is important the port authorities are able to establish strong positions from the start of the concession. Re-negotiation of a concession contract is probably the rule and not the exception, and should not be perceived as a failure. Since concession contracts are typically long-life documents, it is impossible that at the moment of drafting the contract the parties can foresee all possible future contingencies….
Bottom line, the excessive length of this contract for this small port is odd, and is definitely laid out in the favor of the renter, who in this case will be Kinder Morgan.  At this point, without balance embedded deep within the contract, we are really doing nothing more than selling our first born daughter to the very first man who comes along….
Most of you missed this, but Alan Levin and Senator Bob Marshall stopped by coincidentally at the same time to visit Rick Jensen of WDEL, and smooth as he was, Rick convinced both to sit down for an hour and go head to head over the topic of  privatizing the Port of Wilmington….
First Alan Levin;  Delaware Economic Development Office….
a.  Delaware river will be dredged to 45 feet.
b.  Panama canal will open to new big ships from the Pacific, which will be coming up the Delaware River.
c.. Ships if not coming here, may go to ports north to Philly, Paulsboro, Newark NJ, Norfolk.
d.  If we don't accommodate these larger ships, jobs will go elsewhere taking 3000 jobs. By 2016 we should start seeing them.
e. Was not a sweetheart deal. Competing bids were proffered.  Local  ILA (International Longshoreman) even asked the state to search out new private/public partnership bids back in Sept 09
f. Turns out that the  Bank of Montreal was advisor for port transactions, the division was located in San Francisco. It's job is to  just finance ports.  Sent out 70 inquiries  17 expressed inquiries for further information,   4 actually made bids.  2 were called non responsive.  leaving 2 good. Kinder Morgan and one private equity group financed by local individuals.
g. Of the two bids received, the Kinder Morgan bid secured workforce. The other group said they would rob workforce pension and union bust to squeeze their profit out of efficiencies.
h. Kinder Morgan bid grants a three year guaranteed security, to the  ILA, to the  teamsters, to the businesses outside..  What other business gives you a three year guarantee?
i.  Kinder Morgan would grow profits by increasing tonnage.  They want to add 3 additional warehouses  200,000 square feet each, and 28 additional jobs.  The other bidder, made up of local cutthroats, would cut the workforce to squeeze out its profit.
j. Kinder has the ability to bring in additional volume, to negotiate and bring other companies in.  The other bid doesn't.  Improvement costs are substantial.  $12 million per crane. It costs between $60-70 million to replace berth 5 and 6, just the repair of which will cost $8-10 million. We need the long term lease. Companies want return over time.  they won't do it for 5, they won't do it for 10. That's why it is a 50 year lease.  The people of Delaware want commitment as well.  They don't want someone saying "we're outta here" after 5 years.
k. BDO did an independent audit.  As does the State Senate  they also show a $ 3 million yearly loss.  Reports are posted in their auditor's office.  BDO is independent and won't jeopardize  their reputation by lying about the port of Wilmington.  It is bottom line business.  Net profit in the end, is minus $3 million dollars.  The General Assembly is putting in $10 million a year for improvements.  That $10 million doesn't get us past where we are. It doesn't get us out to the large ships.  We need to get out into the Delaware  and that will cost $100′s of millions of dollars.  Kinder Morgan has considered expanding the Delaware River auto berth, built 20 years ago to accommodate Volkswagon.  The berth goes southward. Kinder would go northbound, and put two berths, with two cranes which will service the 3 warehouses being built.l.
l. LNG is off the table,  that has been committed to in the General Assembly and will also be in the lease. Can Wilmington accommodate LNG tankers?  No!  The port of Wilmington is not big enough to do LNG.  And two, they will not increase coal over today's level; our same level of 100,000 tons of coal is stipulated for the next 50 years.
m. Protests against the port are  having negative effect. Both Mr. Kinder and Mr. Foster came with the understanding we were the ones seeking and they were not expecting negativity. They understand the ebb and flow, but were not prepared for this huge outcry. it was us. We invited them to the party. Had they come to us as a hostle takeover, the outcry could be right and proper… So far we've done  what we thought was right.  We got to find a way to stop the annual spending of the $10 million because the $10 million won't get us out to the river. Kinder proposed and promised and has done it elsewhere.
n. Kinder Morgan if they have a customer who needs to get to the river, they then will build to go to the river; they can make the extension at that time.  But Kinder (like any successful business) does not promise or commit to anything except what it is prepared to do today.
o. If deal falters, the future of port will be tenuous.  It will continue to have great management, and a great workforce, but won't have the proper resources to go to river.
p.  If deal collapses, no,  the port won't go bankrupt.  but collapsing the deal  is not responsible.  Being responsible is doing something to stop the $10 million  bleeding.
Now… state senator Bobbie Marshall…author of Senate Bill 3 signed by Jack Markell, overseeing the lease of port….
a. Big problem is… we do not have details of Kinder Morgan.  No written proposal,
b.Expansion is something we all favor. but deal  receded into one of " no expansion", but we will now have to turn over the entire port. including the 300 acres owned by Delaware citizens, managed by Diamond State Port Authority to someone we don't know.
c. Port is actually  a profit making entity if you remove the depreciation yearly. Actual operation is profitable.
d. Port could grow jobs within the  interior 250 acres if port grows and expands, and with new money, more employment opportunity exists if expansion occurs…
e. Point out that Julius Cephus (ILA) has rallied people, businesses, and elected officials, and has pointed out that this may not be beneficial in long term.
f. Preliminary proposal at this time, the due diligence will be present by end of month which will allow presentation to bond bill and bond bill will hold hearings on the proposal… Senate Bill 3 requires review by bond committee.
g. Members of legislature representing the state of Delaware, passed bill in 1994 to allow Diamond State to operate the day to day operations, but never was it place  in the code, to give either Diamond State or the governor sale and total control of 300 acres of port property.  General Assembly and its citizens are the tenant. Diamond State Port is the renter.
h. Port of Wilmington Directors are responsible to exercise "all function" of port….including the leasing of lands to companies…. That is different from" selling" the land of the taxpayers out from under them.  The state taxpayer keeps ownership but leases to Kinder Morgan.
i.  All  interested parties, need to read Miami Herald and how expansion of Panama Canal will affect the ports of the east coast. We need to invest the Delaware river side of the port and that is not happening with Kinder Morgan.
j.  This is a lease, this is not a sale to Kinder Morgan. The Diamond State board can do leases….  Alan's understanding is if the bond bill committee approves Kinder Morgan deal, it goes to the House and Senate for up or down vote with no debate.  But Marshall say debate will be impossible to quench.
k. Any one can appear before the bond bill committee… Alan will appear. Senators can appear. Kinder Morgan will be given total control of port. Diamond State Board will still be in place, will still have oversight, but not its running on a day to day basis.  They make sure agreement is in force, and if not, they will take appropriate action.
l. Worried about control  People getting laid off?  Kinder Morgan will automate and cut employees down to one.  Low skilled people will get shut out,  Has happened all over the country.  Failed private ports run by Kinder Morgan, cut people.  (Which ones ask Jensen.)
m. Kinder Morgan is interested in the fruit business, Kinder Morgan is paying premium for fruit; they want to build three warehouses. Already they are seeking  long term contracts with Dole, Chiquita, and the Chilean Pacific Seaways in order to get their fruit.  They have to have to be given the chance.
n.  (Jensen) Depreciation needs to be on the form to comply with IRS. Depreciation is where the loss of the port is coming from. Without it, the port is profitable according to Marshall.
o. Kinder Morgan is a bulk and liquid bulk company. (John Vitale):  Concerned this deal will cost him money; his business is on the outside of the port.  Container experience is limited to one 10 acre container port in Florida. Taht is all the experience they have.  Products generating most jobs in ports are containers, breakable containers as in fruit, and automobiles. Handling bulk products are the least job creators.   The outside area around the port has grown because the conscious decision not to handle bulk, because they didn't mix with fruit and automobiles… .
p.   Ok, (John Vitale) With Kinder Morgan switching to bulk, we could end up out on the river, but we still would have 20 percent of today's  jobs.
q.  Flat out,(John Vitale)  bulk products are far more profitable and will drive out costlier containers which are labor intensive, forcing the outside businesses to go out of business. High number of jobs at the port are there because of fruit, these will be lost by not sticking to containers…. A for-profit company will not be in the best interest of the  existing port.
r.  Ferrous alloys, fertilizer, liquids are not competitive with the outside businesses. (Alan).  We can promise this:  employees will last three years, we will get an income stream to the people of Delaware, and that capital improvements will happen.  Check out Vancouver where Kinder Morgan has spent in last two years, $140 million spent on improvements for cargo bulk containers, something they didn't anticipate when they leased it two years ago. …They are  willing to pay a premium for our expertise. They think fruit is good business.
s. Concern that we are putting too much faith in hope. Kinder Morgan is a Wall Street for-profit stockholder company.  Delaware's General Assembly's support is contingent on growing business to the river. Legislators are very worried about the external  businesses existing outside the port.  i
t.  Bonds $7 million owed to the city (Roger Roy) ..  In 1994, we made two deals with Wilmington: one to pay them over time, and the other was to take over  the bonds they owed,  which is to pay off their bonds which they currently have.  State still owes city close to$7 million..
u. (Kowalko).  We will debate the bill on the floor. … Alan is saying the Bond Bill Committee will debate the pre proposal proposal… not the proposal because at this time, there is  no proposal.  Issue is not about Kinder. …  The bond bill was to discuss t he ethics of privatization of the port, not the deal itself.  Therefore when it goes on the floors, that will be the only time to debate the actual Kinder Morgan proposal.
v. (Liz Allen)  Vancouver contract shows Kinder Morgan is not liable or loss for any cargo, not liable for any delay, strikes, fires explosions, or acts of god, and Kinder Morgan is indemnified from all losses…. Both (Alan and Rick) spoke up that sounded like a standard hold-harmless contract, one required for all business.  So who is responsible if there is an explosion (Liz)?   Responsibility goes to Kinder Morgan, they have the liability(Alan), their insurance covers that, and we are not absolving them of liability.  All obligations go to the person leasing the deal, not the lessor…
w. (Rick)  Emotion doesn't make sense. Why so much negative  emotion?. (Bob Marshall)  Those interested and raising concerns are those who work in the port, work in businesses  around the port.  Kinder Morgan is a profit making company, former operator working as Enron officials, that raised a red flag. Rick asks:  is everyone at Enron a criminal?   No.
x. (Alan) Trepidation is about change to what we know.  We have tried to mitigate  that concern on everyones issue.  Bottom line is people of Delaware can no longer afford putting $10 million a year to upgrade the port.
y. (Alan)we take money away from everyone else in the state to bolster the port. We have an obligation to the port of Wilmington, but we can't take anything away from Seaford, and Laural, and education and public safety….
If you are like me traveling through this interchange is exciting since with every commute, and nightly lane closure, something new and different has been erected.
It has gotten hard with all the complexity, to visualize just where each bridge and ramp will lead…
Hope this helps… It does make one proud of Delaware, … "where roads get thought out first….."