You are currently browsing the category archive for the 'Gerald Hocker' category.
Said Senator Hocker yesterday. …
"I don't think you can redefine marriage when God is the one who defined marriage, as between one man and one woman. Some people say well I don't believe that! You might as believe nothing, not to believe that! I believe God's word is infallible; it was inspired by God. You believe everything in it or believe nothing! Why take those pages and tear them out,because you don't believe them? God defined marriage. Man is now saying we don't believe what God has defined and we want to change it. For man to redefine something that God was very clear defining.. God will win.
"I have gay/lesbians working for me, family members, close family members, my wife has them as close family members, I don't hold anything against them, but don't ask me to go against God for something that they feel is equality….. "
Which reminded me of someone else:
"But there is higher authority for the determination of this question, than any thing we have yet suggested. The existence of domestic Slavery was expressly allowed, sanctioned, and regulated by the Supreme Lawgiver, in that divine economy which He gave the Hebrew state. The fact is open and undisputed; the record and proof of it are in the hands of every man who has in his possession a copy of the Bible. All the ingenuity and art of all the Abolitionists in the United States can never destroy the necessary conclusion of this admitted divine sanction of Slavery, that it is an institution which may lawfully exist, and concerning which Governments may pass laws, and execute penalties for their evasion or resistance."
"You believe everything in the Bible or believe nothing!" said Hocker.
From Nancy at Delaware Way, we have info regarding the vote today.  The House committee overseeing this bill, cleared it by a 7-1 vote.
The Speaker of the House has offered a new amendment...  This allows for the Bond Bill Committee formerly known as the JOINT COMMITTEE ON CAPITAL IMPROVEMENT, to oversee the bill, and report back to both chambers with its recommendation.   Both chambers will then vote, and if the Governor approves, it gets signed into law.
Who is on the Bond Committee?  The following people:
Sen. Robert Venables (Chair)
Sen. Brian J. Bushweller
Sen. Bethany Hall-Long
Sen. David P.Sokola
Sen. Colin R. J. Bonini
Sen. Gerald W. Hocker
Rep.Quinn Johnson (Co-Chair)
Rep. Helene M. Keeley
Rep. Michael P. Mulrooney
Rep. Dennis E. Williams
Rep. Michael Ramone
Rep. David L. Wilson
Out of this list we have the following people who voted against the bill when it was in the Senate….
Sen. Robert Venables (Chair)
Sen. Brian J. Bushweller
Sen. Colin R. J. Bonini
Sen. Gerald W. Hocker
Known sponsors are….
Rep. Helene M. Keeley
Rep. Michael P. Mulrooney
Sen. Bethany Hall-Long
Sen. David P.Sokola
We have 4 for, and 4 against, and 4 still thinking.  If it goes along party lines, the vote will fall as a tie. 6 to 6.
Alan Levin has expressed concern that the bill not pass the General Assembly because doing so might jeopardize the deal.
The Schwartzkopf Amendment might cause just such a non-passage….
For this bill to pass, we must count on the House, where there are sufficient votes, to defeat the Schwartzkopf Amendment, and then pass the bill as approved by committee straight from the Senate.  It can then go to the governor's desk,….. where…..
.
With Sandy's approach, words of warning went out to all campaigns.. Get your big signs down for the storm.  Feel free to put them up after the storm blows by.  Everyone got an email.
Democrats were in full force, and in New Castle County, not one Democratic sign was left standing…  By noon all  were stored for safe keeping…
There were no libertarian candidate's signs.  As dedicated citizens, the libertarian team scoured the county and by noon, their signs were all stored for save keeping.
The one Jill Stein sign I'd seen, was gone.  Secured by the Green Party….
In fact the only signs up as darkness approached,  were those of Alex Pires, which is understandable,  it being a one man operation, and those of the Republican line up, which apparently has even fewer supporters.
It looks like Kansas,  at intersections now, with only Republicans contesting a one man operation….
If the Green Party and Libertarian party can mobilize faster than the Republican, it is time to stop calling the Republican Party a "major" party.
Even the Wizard of Oz had more going for it than today's Delaware Republicans, who with their daily bumbles are rapidly creating a new definition of the English word pathetic.
I'm calling on all readers to step up to the plate.
I have begun boycotting all Happy Harry's. I'm using Rite- Aid.
I don't see how anyone who loves Delaware, can stomach walking into any Happy Harry's right now.
We are asking all to sacrifice. Many out there lost jobs and have no choice but to sacrifice. And we have a company that will not take a 2% reduction in the payment of medicaid benefits?
Well, FUCK THEM. FUCK THEM WHERE IT HURTS. They are getting 0 dollars of my money, and my money is going directly to their competitor…
Any legislator who dares walk in to a Happy Harry's had better pray no one inside has a camera phone. Because their picture will be posted on this site for eternity.
Any political officials who dare do the same, had better think twice before venturing through those doors. We cannot afford to let some spineless or forgetful official represent our constituent's interests.
I am calling on Jack Markell and Matt Denn to step up to the plate and issue a directive that NO STATE BUSINESS will be conducted through any Happy Harry's establishment. All of that must now go to Rite Aid.
I'm calling upon John Kowalko and House Speaker Gilligan to demand that no business and request that no citizen of this great state, the first state of this nation to ratify the Constitution that made this awesome nation possible, walk through those doors.
I'm calling upon hero Karen Peterson, to demand that Walgreens rescind their order or that punitive legislation directed solely towards that one company, will be passed by both houses before this July 1st deadline…
I'm calling on Delaware's Insurance Commissioner to show her critics that she indeed has spunk. I'm calling on KWS to prove her balls, to stand up to, organise, and carry this boycott forward from her bully pulpit, and not sit back and allow her critics to justify their accusations…
I'm calling on the Progressives of Delaware (PDD), to stand solidly behind those supporting this boycott. They have led on everything good for Delaware so far. They need to support this as well.
I'm calling on the mouthpieces of all three of Delaware's political parties, to support the statewide boycott of Walgreen's Happy Harry's. For one, it needs to be effective, and two, the results need to be devastatingly severe to prevent any other uppity out of state corporation, from attempting similar processes.
(and as a personal FYI, if you own stock in Walgreen's, dump it immediately, for it's value will only go down, down, down, as word of this boycott leaks…. this is damned serious: kavips says: get out now).
Send Walgreen's this message. You want to be petty. WELL FUCK YOU. We're not wishy-washy Washington state. We're far too serious and just to busy to play childish games. We have an 800 million deficit to take care of…
To step up the pressure, I am asking every citizen to consider picketing in front of every Walgreen's owned Happy Harry's to demand that they rescind their order.
I'm calling on all labor unions to likewise organise and set up pickets outside every Happy Harry's in this state to demand that Walgreen's rescind their policy which is unfair to all working people. Any company these days that is willing to blackball American citizens over a piddly 2%, deserves to go bankrupt as fast as possible. They deserve to go bankrupt. Deserve.
I ask Darlene Battle to organise all of ACORN and rapidly hand out petitions asking all of Delaware's citizens to boycott every Happy Harry's in this state and take their business elsewhere, Rite Aid is willing to work with this state. Give them your business!
So that's what I'm asking. I want every Delawarean who still has some love for this state, to take their business elsewhere… Show them we will not back down. Rite Aid can take care of all our pharmaceutical and beauty needs. Screw Walgreen's Happy Harry's.
For every dollar spent in a Happy Harry's from this point forward, funds the coffers of an enemy of the state of Delaware.. Every penny given to them, is a hundred dollars taken from us over time in our future…
So look Walgreens! If you want to play games, go ahead and play them. You are about to enter the marketing nightmare Delmarva Power lived in last year and about to suffer very similar consequences…
But you obviously didn't research this state well before you came to your decision. For you left yourselves are far more open and vulnerable. Delmarva Power suffered severly even though most Delawareans did not have a choice; but with you, it's two blocks down the road. We don't have to give you money.
You should reconsider and fire the person accountable for the idea. Hell, it's only 2%.. You're paying more than twice that on the interest covering the financing you used to buy and expand the Happy Harry's franchise… Let's see how well you do with NO money coming in…
Delaware deserves better than anything Walgreen's Happy Harry's can offer. It's time we stand together and prove it once again, that we are not called the "fighting Blue Hens" for nothing….
I was given this story……
It was in the '60′s, in a small West Virginian town. An existing dam across the New River had been built for flood control with leftover WPA funds, forcing the creation of a large lake behind it. Part of the dam had been built for future power generation, but that part had not been finalized.
Appalachian Power wanted to put hydroelectric turbines in that dam.
The community below that dam, was trying to build tourism as its source of income. Responsible for that town's revival were a group of WWII veterans and young men, known as the Hinton Jaycees.
A hearing was to be held before the state regulatory board, and a decision was to be handed down. With no opposition, the power company thought it would turn into a slam dunk. The Jaycees thought differently and the small town editor covered the meeting which discussed the upcoming regulatory board meeting. He mentioned they would attend the meeting.
The next day, the bank informed all participants that if anyone showed up for the meeting, the bank would call their loans…..The only one who they had no hold over was a back-woods preacher; no problem, they needed some opposition to give the hearing some legitimacy, What harm could some religious kook do?
The hearing progressed and the "focal point" of the regulators quickly became exactly what the power company meant by "run of river."
The power company said that was hardly anything at all. It meant that if they didn't need power, they filled the lake. if power was needed they released it. No big deal. Water level rise and fall all the time; every time it rained. Silly to let good jobs go over concern over something that occurs naturally. And they would not stop with this one dam. They wanted to build a series of dams down the river, all the way to Charleston. Doing so gave them the potential to supply much of the energy required of the growing Mid Atlantic area….. and there would be no pollution to boot……
The backwoods preacher was called to testify. Thinking it was over the power exec's and their lawyers made a presentation of leaving the room. After the commotion was over, the preacher began to speak.
With him he said, were the past night's data showing the release of Appalachian Power's Radnor Virginia dam upriver. The data showed the rise of six to eight feet in as little as twenty minutes. Flood stage was set at fourteen feet. It did not take great imagination to realize that there could be no fishing below any dam releasing sporadic flows of such volume. For one, the fish would not survive such turbulence, and two, any fisherman, getting their foot caught in a crevasse (a rather common occurrence) while racing to beat the rising water, would also not survive. Secondly he brought a topographical map showing that the water level of one of the proposed dams, would cover a planned state lodge with forty feet of water. The board was amazed because the proposed dam was so far away from the site of the planned state park, but it was such a shallow rise, that indeed, the planned hotel would be under water……
The regulatory board looked at the release data provided (which incidentally the power company said they had no way of providing), and the topographical maps, and voted to kill the power project right then and there….
Had that project gone forward, and it was considered by all to be a slam dunk, (just as the Connectiv gas turbine here in Delaware was also once considered to be a slam dunk…) the New River Gorge National River, would never have come about. Instead we would see a series of lakes, stair stepping down the New River Gorge, all with "run of the river.".
There is a lesson to be learned from this little tale……of a battle that took place against a power company "far, far away……"
You fight powerful power companies with facts.
They can't run from facts.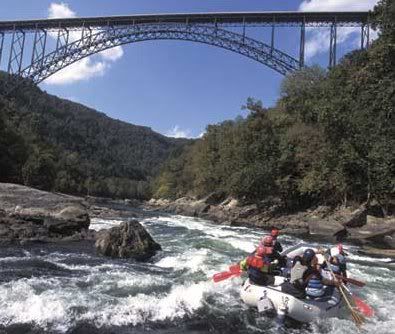 This would have been under water had the deal gone through.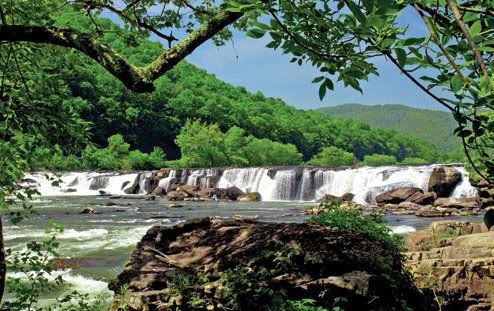 This landmark, Sandstone Falls, would have been buried underneath one of the dam's lakes.
This Grandview, would have appeared differently.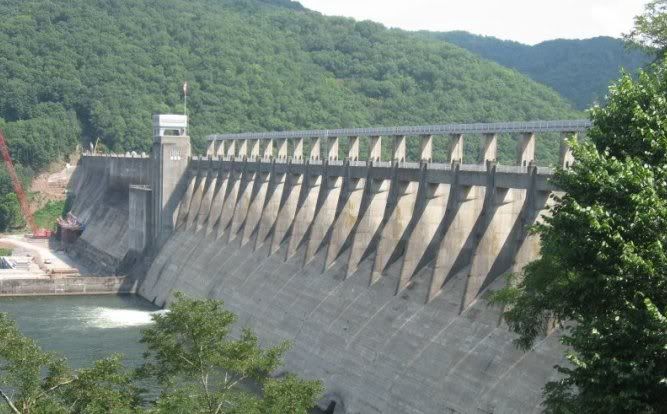 Below this dam in question, is the spot rated best fishing East of the Mississippi by many fishing magazines, primarily because of its constant stream flow, because there is no "run of river" at this location.