You are currently browsing the category archive for the 'FOIA' category.
I'm really sick today.. You see, when I was growing up, I was a history buff. I read childhood biographies of famous people, usually with the book behind the textbook while the teachers droned on and on, but once as a tyke, who upon seeing the obligatory National Park Film in the Williamsburg Visitors Center, after Patrick Henry sat down, I swore, I would always fight to protect the Constitution…. At that moment, even little as I was, I think I understood that I was temporary… But the Constitution like God, needed to be around forever…
With childish enthusiasm I imagined myself at times on the bridges of Lexington and Concord, roaming the swamps of South Carolina, and firing my muskets at King's Mountain, and most importantly, crossing that line in the dirt on December 31, 1776 when no one else wanted to, to enlist till the end of the war.. . When it made the real difference, I said, I would step up at my own peril..
Today, I feel as George Washington must have, perched upon his horse on the New Jersey banks of the Hudson, watching the British inhabit New York and knowing there was nothing he or anyone else could do about it… Overmatched, the cause of freedom had taken a body slam.
Perhaps it is more like going back 2000 some years though. And being full of great optimism and hope for a burgeoning empire, a group of city states destined to prosper and rise, one whose morals would be impeccable, and suddenly without warning, ones best friend pulls out a knife and shoves it into your flesh and others pull out theirs, opening wounds where they can.
The Fourth Amendment to the US Constitution states that …. oh damn, here it is in it's entirety.
"The right of the people to be secure in their persons, houses, papers, and effects, against unreasonable searches and seizures, shall not be violated, and no warrants shall issue, but upon probable cause, supported by oath or affirmation, and particularly describing the place to be searched, and the persons or things to be seized."
Granted there have been times, particularly at war, when protecting Americans meant going against the grain of this… If someone is about to shoot you, I mean, it certainly would help if you know about it first…..
The problem with too much accumulation of information, is that once you have it, it can be used. Assurances along the lines of "I'll never do that"… always down the line get replace with platitudes of…. " I did it because I could…" or… " I needed to."
So having every thing you've ever done electronically in a file instantly accessed by simply typing in your name, can be a bit disconcerting… It's a catch 22. If you have not a single demerit because you lead such a bland life, you get castigated for being a wallflower and uninteresting. On the other hand, if you take risks to live life fully, you get castigated for the errors you made… Either way, those with the power will use it to castigate you for something…. And though disguised as their trying to put you in your place, it is really their effective attempt to prove to others they wield power…
Today's Senate voted overwhelmingly to continue the FISA Admendments Act. Like ACTA or CISPA or any other internet freedom restricting acts, had opposition been organized, it may have demanded another outcome. But today's bill arose out of nowhere, and leadership demanded it pass, and pass it did….
Numb today, I understand the implications. It is like we chose to keep Japanese interned in concentration camps after the war was over. It is that bad.. If we are doing it for the Japanese, eventually someone argues, why not anyone else? And really, how else can one answer such an argument except to expand the offense to a greater scale?
I didn't find about the attempted coup until waking up 3 am today. I did see outrage that Zuckerman's picture was Twittered off a private feed! The silence over government taking our freedom, and the outrage over the release of privacy, is a stunning comparison. It begs the question: what is wrong with all of us? Shouldn't the outrage be the other way around?
For the first time that I can find, we as a nation, have chosen to continue a war-powers act, on into peace-time. 9/11 is gone. Bin Laden is dead. We've preditor'd out Al Qaieda's 2nd, 3rd, 4th, 5th, 6th, in command. We are out of Iraq. We will soon be out of Afghanistan. We are not in a war for our nation's survival. So why does the government need access into every American's email, facebook account, twitter, photo's? Why does the FBI need to show up at your facebook friends home, with a letter stating that you are under surveillance and then asking questions of their relationship with you, then forcing their silence by telling them that they can be prosecuted themselves if they even reveal to you that they'd had contact with government officials? Gee, did you ever had a friend get weird on you suddenly, like for no reason?
Should our government be allowed to do that?
According to the text of the Fourth Amendment listed above…. Absolutely Not.
And it was over before the child in me could even get his powder cartridge out of his gunnysack…
They are shills.   They may be nice people too, to be honest I don't know,  but they are shills….  It's like voting for a candidate endorsed by Dick Cheney.   Ewwwwww.
You know there has to be an ulterior motive, somewhere.
Patricia Oliphant  –  Indian River
As the job reports came out, Republicans were quick to jump up Obama's butt.
Mitt Romney: "He's going to have a hard time putting perfume on this pig,"
In the past that is what would have been reported. But, since the Occupy groups have pointed out the hyprcrisy in the press, many of the major new organizations are finally steering back to the age old tradition of reporting facts…
When facts get thrown around, Republicans look pretty shabby.
Fact 1: If one separates the private sector away from the public sector jobs being formed, the economy looks rather good. For 21 straight months, the number of private-sector jobs has grown, by a total of 2.9 million. The reason for the growth has been federal stimulus funneling money back into the economy…..
Fact 2: The prime factor for the entire unemployment figure being steady and unchanging, is the loss of 603,000 government employee jobs over the same period. That loss is because of the Tea Party Republicans refused to pass any legislation, even if critical, until they got the right to start closing departments. If Republicans are not eliminated completely out of power, this trend of losses would continue.
Thereby adding Fact 1 and Fact 2, we see how bad Republicans are for the economy on two fronts. One, their policies kill jobs in the private sector, as well as cut jobs in the public sector….
Put bluntly, what happens when you fire a teacher and she goes to work for McDonald's at 30% of what she once made? The entire local economy suffers…
Here we have the Republicans keeping America from getting back to work, and blaming Obama for their actions creating a bad economy…. The best way to get the economy roaring gangbusters, is to have a House of Representatives that is 100% Democratic, and a Senate ( it can't be 100% because not all Senators are up for Election)… that is… 63% Democratic…
Then watch the economy take off……
But what is far more interesting, is now that along with me and the foreign press, since the Occupy Movement struck a chord in America's soul, major American journalists are now getting back on the bandwagon of truth.
Today the White House issued this Executive Order.
"Should the debt ceiling not be lifted in time by May 16, in order to prevent the Treasury from running out of funds, I am hereby using the emergency powers given to the Chief Executive by the Constitution, to temporarily suspend the Bush Tax Cuts until: 1) either we can legally borrow the funds to continue paying on our commitments, or 2) we bring our debt down to the 2008 level by having much more tax revenue pour in.
This is in effect, immediately, and I have instructed the IRS to recalculate all 2010 tax forms over the level of $2 million dollars, and asses those individuals and companies, for the differences.
We must take this action because Republicans want to pay politics with your lives. As Chief Executive, I am responsible to you, not them. I won't let that happen.
With these tax cuts out of the way, and with our austerity programs already in effect, that windfall of profit the Treasury will receive, will be entirely funneled towards the paying off our debt.
This policy will continue until Republicans can act reasonably and in a productive fashion.
Barack Obama.
Reading through much, and reading what others have read, I can say I've seen nothing much to be concerned.
People are people, and always will be. If someone acts pompously, expect to get called out on it. Learn from it and move on.
What is funny, is that I'm sure they have opinions of individuals within our state department, that are far more condescending of us, than anything so far leaked about them.
There is a lot to read, but so far, nothing drastic has hit the fan. It makes little difference whether they were published, or kept in secret forever.
Just like a marriage, when secrets come out, it's a good thing. Things unsaid and therefore never acted upon, can now be fixed.
Were these leaks about hardware, that would be different entirely. They are only about people, and opinions people have about other people. And as everyone who reads this knows, opinions are worth a bag of crap.
Still reading.. Will let you know if something changes. But right now, it's as if all the hoopla lead up to the release of The Lord of the Rings, only to get The Last Airbender.
Like having bad farts locked up in the bathroom, it's about time we opened the door and cleared the air.
Duffy is God's answer to a prayer.. I miss the old days of blogging when we were debating principals instead of people… Duffy has stuck to the old line of debating principals with facts, and that is what makes him special in the eyes of bloggers everywhere…
Since the passing of Steve Newton, he has been the only one to challenge me in any argument, and usually some pretty good stuff comes out of both sides during the exchange… I have respected that.. Cause once again, opinions mean dick. Facts are what we steer by.. It is my hope that in responding to his challenge that an answer may make itself apparent.. Who knows? It may not come from me… But if I'm the catalyst for bringing it out in the open, then… none of this was in vain..
Why I like to debate Duffy is simple.. Neither side, he or I, is concretely set in their opinions… We accept it when the other side makes sense… I usually go into such debates having no idea where they'll end up… I hope the rest of you enjoy the ride as welI….
That said..
Duffy leads: Wall Street's problems were caused by Fannie and Freddie loaning money to people they knew couldn't pay and moreover, forcing banks to lend money to people who couldn't pay. That was not deregulation but misregulation
kavips rebutt's:Uh… Mr. President. That's not entirely accurate.
First off, the Community Reinvestment Act of 1977 was developed for, and locked in on, urban developmental areas and had no part of the subprime boom, which primarily occurred out in western desert regions where owning 4 to 5 investment homes was normal… Those homes were overwhelmingly funded by loan originators NOT SUBJECT to the act… We all know the crises was not because people couldn't afford a payment on their house. It came about, because with no occupants, people could not afford the payments of 4 to 5 houses….. Instead of one loan per borrower turning up in default; four to five were.

Second off, The housing bubble reached its point of maximum inflation in 2005.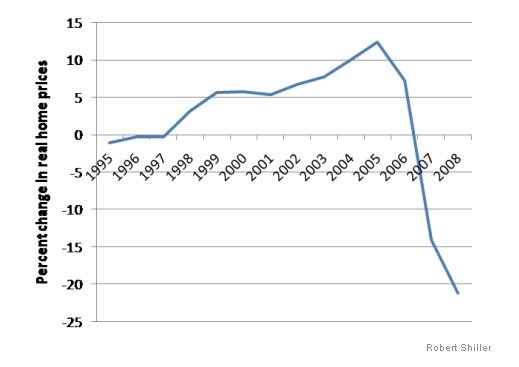 Courtesy of NYT
Third off, During those exact same years, Fannie and Freddie were sidelined by Congressional pressure, and saw a sharp drop in their share of loans secured by the Feds… Follow the dotted line on the very bottom of the graph…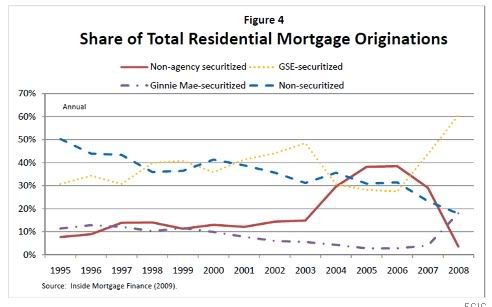 Courtesy of NYT
Fourth off; During those exact same years, private secures, like Delaware's own AIG, grabbed the lions share of the market.


Courtesy of NYT
Remember these graphs for later on when I discuss the results of deregulation, versus regulation… But like it or not, these graphs conclusively show that private insurers, who thanks to Marie Evans, we now know were deregulated by Phil Gramm in the 2000 Omnibus Bill, were the primary cause of the worlds financial collapse.. Probably put best by these words of AIG's spokesperson, who when asked why they didn't have sufficient funds to cover losses, said point blank, "We were deregulated. We were no laws requiring us to keep any funds, ..so we spent it…"
Duffy leads: The loosely regulated hedge funds escaped this mess largely unscathed. Why? They can't count on a bailout like the big banks. The Too Big To Fail banks were counting on a bailout (not unlike the S&L bailouts which started on the Republican's watch) and they got them.
kavips rebutt's:Uh… Mr. President. That's not entirely accurate. I agree that the hedge funds did survive better than the banks. Not because of bailouts, but because they sold short during the crises and made billions while firms closed and people got thrown out of work. There is nothing wrong with that; I did the same. In fact close readers may remember my warnings that the crises was impending almost a year earlier. Very close readers may remember my telling them exactly when to sell, and at what point the stock market would rebound… I must say: I called it rather well.
"Hedge funds were not in my understanding, at fault in the credit crisis," said David Ruder, former chairman of the Securities and Exchange Commission. "At the most what they did was to sell securities when some of their investments were declining and they needed to have liquid funds. They were not the architects of these problems."
De regulated hedge funds are not the issue… De-regulated, excessively leveraged, mortgage securities, are a different story however… They, not the banks that held them, are the cause of the crises…Years from now, when academics search for causes of the stock market crash of 2008, they will focus on the pivotal role of mortgage-backed securities. These exotic financial instruments allowed a downturn in U.S. home prices to morph into a contagion that brought down Bear Stearns a year ago this month – and more recently have brought the global banking system to its knees.
Where you err is when you state that banks too big to fail, assumed they would be bailed out… By implication, you say imply they failed from squandering money, and wanted the bailouts.. But your tax dollars didn't flow directly to the bottom line.
The roughly $200 billion the Treasury Department has handed out to battered banks was swapped for a special class of stock that pays a 5 percent dividend (rising to 9 percent after five years.) As of April 15, the Treasury had collected about $2.5 billion in dividend payments on its investment.
So in that sense, the bailout money represents an expense for banks. That's one reason a number of banks have said they want to give the money back as soon as possible.
You say big banks were counting on a bailout, and they got them? That didn't happen to these banks. New Mexico, Georgia, and Florida each lost a bank just last Friday. That brings to 8, the number of banks failed in June. Unfortunately if a bank is failing, it can't bet on itself to fail, as can a hedge fund.
Duffy leads: Banks have successfully lobbied to get their losses absorbed by taxpayers and gains are kept private. How nice for them. They felt comfortable making insane gambles because they knew they'd be bailed out. Most of them were right. Also remember that it was Bill Clinton who tore down the wall between retail and investment banking. The idea was to give banks more stability as they typically perform as exact opposites in bull and bear markets. (FWIW, I think that was a good idea and I can tell you first hand that two of the Fortune 100 banks I worked for were carried by retail banking in bear years. They may not have had bonuses those years but they didn't have layoffs either)
kavips rebutt's:Uh… Mr. President. That's not entirely accurate. The idea is that the banks made bad decisions knowing taxpayers would bail them out is the issue that is inaccurate. For the record, I have no qualms that it was the Clinton legacy who tore down the wall between banks and investment banking. Like you, I feel it was a good idea to do so… Again the problem was not primarily with banks making loans to people who could not pay.. Although, it was as late as October 2009, when I was made aware of one private Bank in Denver still exaggerating income to make loans look good enough on paper to get approval of securitization. What caused the collapse was the leveraging of those loans as securities, so that as the housing market became overextended, and the ARM jumped past the low cost opening years, the damage was 100 times worse because of leveraging. What made the collapse criminal, was that the insurance most financial institutions had bought from AIG, to cover such an improbable event, had already spent by that companies executives, out on bonuses to themselves. What made it doubly criminal, was that when they received government dollars through a taxpayer bailout, those same executives assumed it was to first go towards paying their bonuses again. However, very recent events may give some cover to the argument that some collusion was implicit in the bailing out of Goldman Sacs and AIG… Basically, once bailed out, AIG paid Goldman Sacs for shares twice as much as they were worth. The documents also indicate that regulators ignored recommendations from their own advisers to force the banks to accept losses on their A.I.G. deals and instead paid the banks in full for the contracts.
Every Republican lives in fear… They go about their lives, hoping no one finds the truth… They fear one day, all will be revealed.. They fear that Delawareans will one day learn the truth… So they use their wealth to spin their lies, and huddle like scurvy little spiders… sucking the juices out past year's kills…
Delaware woke up this morning to find Ginger Gibson got there first… Like Frodo in the cave of Shelob, a brilliant light seared their retina's as the first rising Republican casually glanced over the News Journal page this morning… There for all to see…. Critics say GOP abused its perks: Shocking' expenses slashed in Del. House!
First one call to Westover, then two calls, then four.. Soon, the phones began ringing all over Republican land… " Wake up! Get digging! This is bad! We're Doomed! Damage Control! Who squealed!" although for some reason the calls never made it as far north as Yorklyn… Heard all over Republican land, were these word muttered under every Republican's breath… "That damned Spence… Why did he have to put his name on all those checks…"
Spiders everywhere retreated to their den… Holed up… Hibernating till 2016……
House Republicans who could knowledgeably dispute the facts would not be interviewed for this article. Spence did not return phone calls seeking comment.
Republican Party Chairman Tom Ross said he couldn't speak to specific allegations but characterized them as partisan attacks likely fueled by election-year politics.
Absolutely… Which is why it is always important when listening to a Republican, to click on links… Like this one to the side of Ginger's story…..
It is addressed to Vincent Lofink,
Dear Mr. Lofink:
As recommended in a report from the State Auditor's Office, I am writing to ask that you reimburse the House of Representatives for tuition reimbursements you received while serving as a state representative… The total amount you were reimbursed is $12,124.50.
Since this is a partisan attack fueled by election year politics one would assume the State Auditor would be of the opposite party…. What, the state auditor is a Republican?
Oh, my…. He's a Republican.
… and since he took the Republican House leadership to task, he is apparently a damned good Republican too… By rough calculation, I'd be guessing he, Kilroy, and Rsmitty are the only three good one's left…. JoAnne might still be one of them, I don't really know anymore… And Hastings, I don't want to forget.
Obviously Delaware's State Republican Party is still not familiar with how to act within the light of open government … Am I the only one remembering how they tried to take credit for being the only ones truly supportive of opening the General Assembly to FOIA?
Probably.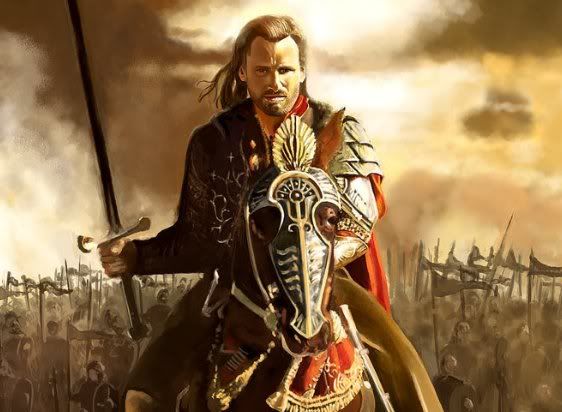 Desperate times demand bold actions… Yesterday Delaware Governor Jack Markell, who won the past election with the support of many from both parties, addressed the full houses of both Legislatures giving a "state of this State", message…
The commentary across the blogs and airwaves, is all over the place.. So for those who missed it, here is the meat…
A. We're in the middle of a Great Depression.
B. Wake Up, Old Farts! We're short $780 million!
C.We shall share the burden fairly, and not cater to the sqeamy baby whiners…
D. (1) Cut spending by $331M; (2) Cut funding to special funds by $40M; (3) Utilize $155M in one-time federal stimulus funding; (4) Raise at least $55M by re-authorizing a sports lottery and getting a fairer deal for taxpayers; (5) Increase our revenues by $166M; and (6) raise fees and fines by $12M.
E. If you see one of our State's Casino operators out shopping or walking down the street, do the whole state a favor and bitch slap some sense into the moron.
F. We have 10 weeks; or 70 days; or 1680 hours; 100,800 minutes…. to correctly set Delaware's course to solubility over the next three years… Every second squandered, every breath of hot air, pushes us backwards from where we came…
G. Only complete openness and accountability can make government more efficient.
H. "We must shift our reliance on expensive institutional care for our senior population by fostering community and home based care."
I. This state funds local governments.. We wonder what THEY are doing with that money we give them…. Hmmmm.
J. Education sucks up and wastes much money… We will consolidate our school districts as soon as we render inconsequential those legislators who have their tongues permanently stuck up their union's ass, ….
H. We will free teachers from the impediments imposed upon them by unions and ill informed legislators, and let them teach… Let teachers teach.
I. Teaching to the DSTP — dead
J. Want more money? Then teach better… We'll make sure you get it.
K. The only long-term answer to our problem is getting Delaware back to work
L. We propose to train 40-50 year olds how to use computers. We propose to use 5 million to leverage 50 million to start up small businesses. We propose to push green energy from the top to generate jobs and cheaper energy for Delawareans than ever Pepco or Delmarva Power could ever provide. Since the blogging world is now keeping a close eye on Harris McDowell, we can use the good parts of his plan, and even mention his name in public again in a positive way… Will wonders never cease?
M. We seek legislation that requires utilities to achieve, by 2015, a per capita electricity consumption reduction and peak demand reduction of 15%.
N. We propose to establish a statewide priority order for new electricity generation – requiring that we look first to cost-effective efficiency measures to meet new demand, followed then by cost-effective renewables. Only after those resources have been exhausted should we look to conventional fossil fuel sources.
O. Delaware must become the center for Green energy. Not China.
P. So let's work to encourage turbine manufacturers to make the turbines and assemble the towers here in Delaware, with easy access to the Atlantic Ocean. These wind turbines require thousands of parts and we should work to make sure they are made in Delaware.

Q. Nod to Gilliagan, DeLuca, and Carney… Hey… How are you?
R. Look folks, it's this simple.. We're dead in the water, the enemy ship is swinging around to rip us apart with a final broadside from 55 cannons…. Do we grapple, tie ourselves, board, and take the fight to them, or…. do what we always have done and quibble about who gets the credit and who carries the blame…
S. Damn it. I'm going aboard. Who is with me?
In typical kavipsian fashion no punches were pulled.. Our crisis is too big for subtle niceties… "Gee, Tony, what nice suspenders!"…. The effectiveness of the speech, lies in the answer to the last question: who is with him?
For one, I am. And I pity whoever gets in my way….
lol.