You are currently browsing the category archive for the 'fiscal responsibility' category.

Courtesy of Obamarmy
Ok kids, Look at the graph…. and see who can be the first to tell me….. Why do we really need to ramp up the education of our black and brown kids now?!!!!
Tax the Rich. Hire teachers to reach an 11 to 1 ratio. Test beginning, mid, and end of cycle only to evaluate the student's needs ( don't use them to close schools, fire teachers, or divvy out bonuses to your friends and supporters)… and lets get it done….
Btw, it has to start with the first one.
Although the year is barely out, we do have our first nomination for the spot to be announced in December 2013.  With the Kinder Morgan Deal now on hold semi-permanently, even they are pointing to our hero of the year as the man most responsible for allowing the port to remain state owned….
I can say it was Julius Cephas who was behind almost every move to combat the loss of good jobs at our port.  He is being pointed out as the villain by the capitalists at Kinder Morgan.  In Delaware's eyes, that elevates his hero's stature even more…
In truth, he is no villain and knowing him, he will probably shun the acclimations being made by us common folk as being our hero.  In his eyes, he was just doing what needed to be done because no one else was there at that very moment to do it, and as that task swelled, it took a lot out of him….
Capitalists always need a villian.  But it was the "truth" which actually is what killed this deal.  Kinder Morgan WAS going to cut back on jobs, and their change of heart and blaming Julius instead of others, points exactly to the core of their problem with our port… …
People in Texas, do not understand unions.  They simply can't fathom or understand how there can be an actual law that lets people strike and shut you down, whenever you try to pay them less..  In their eyes, you work for what they want to give you and if it is too little, ..humph.  go elsewhere….
The second culprit (after the "truth"),  was our office of economic development.  We gave Kinder Morgan too many "eager" signals that set us up as being seen as an easy pick.  They truly thought they could waltz in, pick up a top notch East Coast Port for a song, and we would eagerly give it up…  Again, that was because everything was done in secret.  Had a meeting been forthcoming in the very beginning,  Kinder Morgan might have moved on earlier when it became readily apparent, that southern Texas practices do not bode well in the Northeast…
Of course, being a corporation, they will blame the whistle blower.  (Ironic since the whistle blower of Enron works for them)..   Of course.  It is not like they find anything immoral in taking a state asset for a song, in firing those skilled dock workers, and replace them with some Spanish speaking Texans who never even heard of a union….
And Julius did blow that whistle. .  Like Rose on the Titanic, he took the whistle off of Jack (pun intended), and blew softly at first, then harder, and harder.   Gradually the sound registered on others ears….
Without Julius, Bob Marshall would not have pushed through Senate Bill 3.  Without Julius, most of the links showing up in everyone's blog, would have not been found.  Without Julius, the case for protecting workers would not have even made the rounds of the Norman Oliver show….
There were many helpers. Bob Marshall, Nancy Willing, Norman Oliver, Norinda, Helene Keeley, Al Mascitti, Liz Allen, John Kowalko, and (an other blogger too shy to be mentioned here). When one looks back through all of them one sees from everywhere, there in the center of the universe,  stands a normal human being just like us, known to most … as Julius.
There will come a time when a better deal will arrive.  Could even be this year. There will come a time when a suitor who does care about Delaware, who does care about unions, about human beings, about those businesses on the outside, and who will want to upgrade the port for everyone's interest, not just their own… And that suitor in this day and age, could even come from abroad.  Germany is very committed to union labor, to the environment, to being a good neighbor…. There are a great many possibilities out there that are immeasurable…. We definitely dodged a Texas bullet with this one….
When that suitor arrives… Julius's stature will be set in cement….  For he did nothing really Herculean, except argue the truth…  He didn't lie.  He didn't connive,  He didn't threaten….
That was done by our office of economic development.  Instead and unlike them, Julius told the truth.  He told the truth to anyone who would listen.  He told the truth enough, so many "did" listen….
And that is why, he  deserves this nomination as Delaware's Man of the Year.  I know it is early into 2013, but great things just do not wait!!….
You will hear smears that Julius tubed the deal… I saw the letter and it is already out on WDEL and the Delawareonline's News Journal… But as an impartial blogger, I can tell you exactly what killed this deal.
It was "the truth".  The truth of what this deal would cost us Delawareans….. is what turned the tide and caused the outcry that rose up against it….
If Kinder Morgan really wanted this deal, they could have easily said… "we are expanding and putting 5 new berths out into the river.  We are buying the port for the bargain price of $5 billion.   We need those businesses outside the fence because the jobs we get, will soon be too big, we can't do it ourselves.  We will keep the union just as it is;  Wilmington needs good jobs and we are going to do our part….  We are also going to contribute into an emergency fund to be used for any spill or environmental accident that takes place under our tenure….
Kinder Morgan could have done any of those things, … and didn't…. The blame doesn't lie with Julius after all…. Especially when you consider the following…
This Economic Council erred on Fisker Automotive.  Then it erred on Bloom Energy.  Then it tried to Kinder Morgan us out of our port…..   Someone rushed in  with a save to make sure that last one didn't happen.
That person is now hereby nominated for Delaware's Person of the Year…….
MSNBC just put up a critique of Texas education.. Texas  was the instigator of No Child Left Behind which when Obama took over, became Race To The Top.
It started in Texas.  It is about to end, … in Texas.
A coalition of parents nicknamed  Mothers Against Drunk Testing has taken the fight to the Texas Legislature.   Soon, it appears Texas will lead the nation again on education,… by banning the role testing plays in analyzing the competency of education.
The problem underlying both No Child Left Behind and Race To The Top is not in its philosophy. It is not in its intent.  It is not in its principles.   It is … the test.
There is a reason these tests are top secret.  Here is the story of one that leaked out…   The Hare and the Pineapple…..
Subsequent inspection showed…." On the fourth-grade exam, one question has two correct answers, the department warned. The eighth-grade test contains one question with no correct answer at all."
Needless to say, both came out of a firm, Pearson,  receiving a 5 year $32 million dollar contract from New York State….
Grown ups are now taking the tests.  Florida school board member with a bachelors degree and two masters degrees made national news when he flunked his state's 10th-grade math test.  Seattle teachers boycotted the giving out of their tests based off the faults inherent in their texts.
Then, we got the results.
Texas started to lose 70,000 kids a year, most dropping out before they had to take the 10th-grade tests that would count against the school.
A third of kids in Texas who started high school never finished.
Scores on the Texas test rose, but SAT scores for prospective college students dropped.
The Texas tests designed by Pearson primarily measured test-taking ability, researchers discovered.
National Assessment of Educational Progress scores were cherry picked to show progress, but Texas lost ground to the rest of the country.
According to Julian Helig, who released this report to examine the education for the Texas Legislature,
"The reason why we're seeing, well, what we're seeing, after ten years of No Child Left Behind is the fact that we didn't close the gaps, the fact that our graduation rates haven't gone anywhere, our dropout rates haven't improved, because Texas never did that in the 1990s," said Heilig. "Over the last ten years now that we have Texas-style accountability and policy in the whole United States, the reason why it didn't deliver is because it never delivered in Texas."
Texas revolted back in 2009.  The parents and teachers that is.  But Republican Governor Perry refused to sign the bill banning standardized testing,  saying he would not sign it unless the legislation doubled down on accountability….
So instead of the testing being eliminated, kids in elementary school and middle school would be required to pass tests—or else. To get out of high school they'd have to pass not two, but 15 tests. Pearson got a new $468-million contract to write and administer all these new tests…..
Sandy Kress, a Democratic lawyer from Dallas, who first got Texas Governor George W. Bush's ear with the expression:  "soft bigotry of low expectations, has moved on to a high paying job with Pearon and was on Texas Governor's Educational advisory committee when he doubled down on standardized testing.
Now, and only now, as a result of all this data, even the Republican Texas Chief of Education,  Robert Scott, is calling the fatuation with all this testing, … a perversion.
Speaking to the Texas State Board of Education late last month, Scott said that the mentality that standardized testing is the "end-all, be-all" is a "perversion" of what a quality education should be. What's more, he called "the assessment and accountability regime" not only "a cottage industry but a military-industrial complex." And he attacked the Common Core Standards Initiative as being motivated by business concerns.   It is the heart of the vampire, so to speak."
It's too soon to say whether a near-unanimity of opposition to high-stakes testing from school boards, superintendents, parents and education researchers will succeed against Perry and Pearson, but there's a better chance than ever that the false education doctrine that Bush started in Texas and then spread across the country will finally meet its end in the same building where it started.
It can best be described by the Republican appointed Texas Commissioner of Education at a Dallas Board Meeting.
I say this all the time: Parents care about kids, teachers care about kids, individuals in this room care about kids.  "The system doesn't give a damn about kids unless you make it care."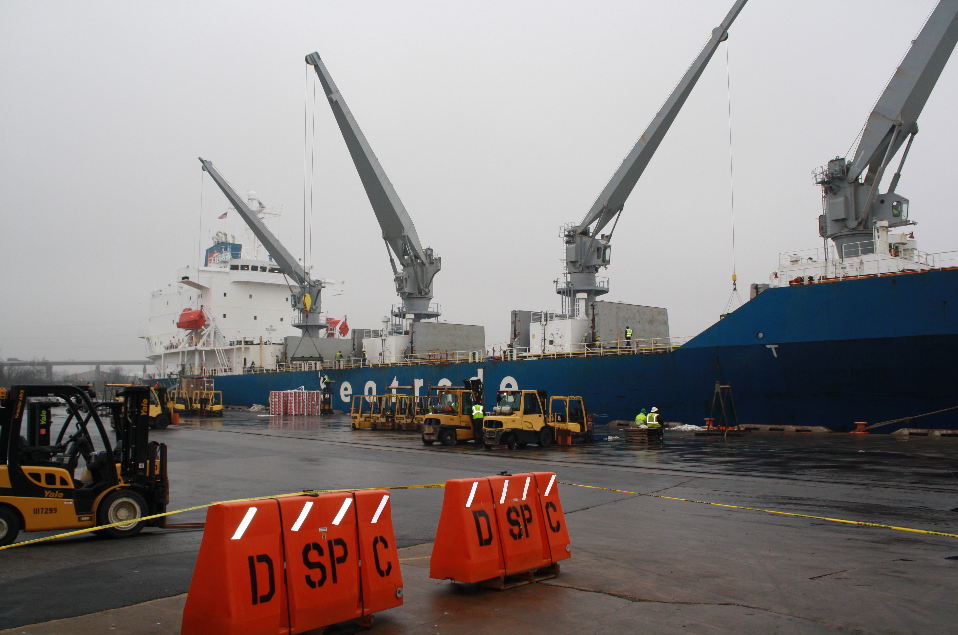 Courtesy of news.delaware.gov.
It wasn't that long ago, Markell and Alan Levin said: "With a private investor we were going to get $500 million invested in the port. There would be new upgrades, new docks poking out into the Delaware, new infrastructure", and the New Castle County construction industry, labor and contractors, saw that $500 million aimed at them….. .
Monday, February 11th, we finally heard the deal….
$5 million towards expansion.
It is being rolled out as a $200.5 million dollar deal. But, that comes spread over 50 years. $200.5 divided by 50 years is $4.1 million a year.
But wait again. We are getting $16 million up front, which disappears into the General Fund this year, and is gone forever. And some of those costs will go to infrastructure. So if we pull the $5 million for expansion, the $24 million for maintenance over 50 years (or $480,000 per year), and the $12.5 million for infrastructural improvements (or $250,000 per year), we have a lease payment coming in of…..$2.85 million a year….
$2,85 million is exactly the tiny bit the state of Delaware spent on funding Pencader Charter School, which is about to go belly up … Despite state investment the school has had difficulty working with its annual budget, leading to it having been at risk of closure in 2011, 2012 and again in 2013.. In October, 2011, the school fired three teachers who had been reported by the state for being paid a state pension at the same time that they were getting teaching salaries. They immediately rehired the fired teachers as independent contractors, a fact which came to light when one of the teachers was recorded calling a student a "bitch". That teacher, Bob Lewis (husband of school head Ann Lewis) was found to be being paid $6,500 a month for teaching a single class on morals and ethics…..
We are thinking of giving away our port for what it costs to fund a Charter School that teaches "morals and ethics"…
As previously mentioned, if the 420 dock workers have their union dissolved and make $10 less per hour, that bodes a deficit of $5 million every year to the City of Wilmington and County of New Castle economies…..
Delaware's seaport creates 4,300 family-sustaining regional jobs which produce $365 million in annual business revenue and $31 million in regional annual tax revenue. Port activity generates $34 million in annual Port revenue.
You can't blame Kinder Morgan. Anyone would jump on getting control of this port for $2.8 million a year….
The blame has to belong solely to whomever it was who decided to sell the 2nd best fruit and banana port in the entire global market, across the entire circumference of the planet, for almost nothing.
We cannot afford to lose the port of Wilmington and only to get a negative return back on it.
Forget absolutely everything else but money. This is just a plain bad deal….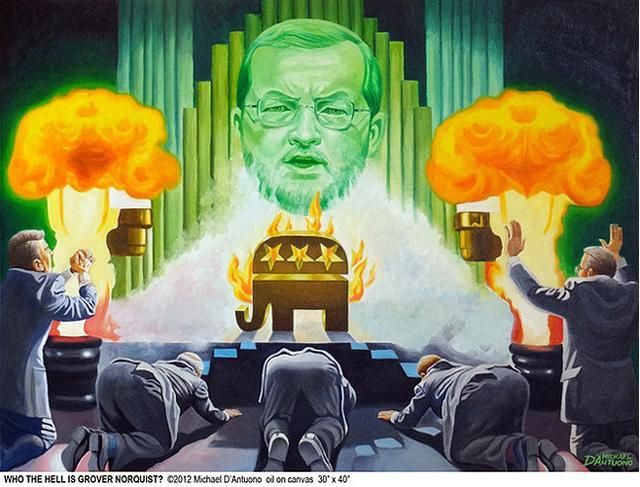 Courtesy of ©2012 Michael D'Antuono oil on canvas 30″ x 40″
In an insightful meeting at the Delaware Republican's Lincoln Day dinner Saturday night, Grover Norquist, the featured speaker, came to give the locals an idea of what was going on in Washington…..
More gridlock.  More obstruction. More intransigence,  In his speech, the prime points were that there would be no compromise.  Republicans were dedicated to seeking full sequestration.  They were going to cut spending no matter what was going to happen.  They don't care if Dover AFB is going to close; its a good thing because the military budget will be cut in half.  They don't care if Highway funding is going to be fully put all upon the states; sequestration is going to cut the budget  in half.  They don't care if there will be no beach rebuilding this summer; Republicans are going to cut the Federal budget in half.  There will be no agriculture support payments; Republicans are going to cut them in half.  There will be no Federal Medicare or Medicaid payments reimbursements made to the states; Republicans are going to let sequestration cut them in half.  When heaven forbid, an oil tanker turns the beaches and marshes of Rehoboth to Ocean City Md, into this century's Valdez calamity, Both state's will have to use their general fund to clean it up; the Republicans are going to say no to all new money…. Remember the last East Coast hurricane relief?  You were lucky, was the implication. Forget about any more for any storms in the future…
On the revenue side, huge tax breaks must continue going to oil companies and oil hedge funds; Republicans are going to say taxes were raised too much already.  Huge off-shore tax breaks will be maintained by billionaires and millionaires; after all taxes are raised too much already for any more loopholes to be closed.  (If pressed, they might do away with the mortgage interest deduction since that doesn't affect billionaires; it only affects the middle class so it won't create any economic impact.. The implication was that Republicans will do that if necessary, but at the bottom of the upper class; that is where they draw the line… )  The clear message was: it is time to make the poor suffer more; after all, the rich have suffered too much already.
More gridlock.  More obstruction. More intransigence,
"You can't have compromise when both parties are going in the opposite directions."  said Grover.  "It doesn't do any good to say no, no, no, …yes.  It has to always be no, no, no… no."
More gridlock.  More obstruction. More intransigence,
There was little that was new.  Grover did express hope that as the Obama/McCain wave of democratic Senators comes up for a vote this next election, many in traditional Red states, playing a no-gain defense until the new team comes on board, is their best option.. Grover Norquist also made the point that due to the Republican redistricting, the red districts will outnumber the blue in the House until the next redistricting in ten years.
A decade of decadence is a long time.  
Grover did bring up an interesting concept.   That we have red states and blue states and they will be a laboratory of who is right, red or blue… We will see within these experiments whether theology can trump economics, whether philosophy can support a family, or whether an idle belief, can pay the bills….  He seems to believe that side by side experimentation will bode well for the red states instead of the blue.  He is thinking only as a rich person.  We shall see if voters agree with him, if they prefer living in a first class blue state or would rather forebear a third world red state…. His idea will backfire…
He praised Indiana erroneously, calling that a school choice state.  Instead voters threw out their gung-ho school-choice education head and replaced him with a Democrat who is going slow..  He praised Indiana's privatization plan of the Indiana Turnpike without mentioning this road had not had upgrades to it in over 5 years. It is called the most dangerous Turnpike in America. (The money collected is going to the investment bankers)…  He derided California which has finally achieved a balanced budget.  He praised Wisconsin's eradication of public unions without mentioning that because of Scott Walker's governmental pay cuts, the economy in Wisconsin was collapsing while all others were bouncing back from the recession.  So though his scenario as presented painted a glowing picture to those Republicans seated before him, it was full of errors.
But I confess, I agree with his premise.  I too would like to see vindication that in order to run a stable economy you need what's been missing: a balance between profits, taxation, and job growth and the only way to achieve that is to tax the top echelon much, much more so they reinvest in their state to avoid paying higher taxes…..  As was just done in California, Illinois, Massachusetts, Maryland; all economies that are now rising while those of red states are falling or staying the same.
Unfortunately we will have to make the states our laboratory.  We will have no choice but to rely upon the state level to analyze what is working and what is not and then derive from pure evidence, which one of our two parties we need to completely eradicate and do away with…. so government can begin to compromise and to work again.
For on the national scale, Grover promised it: All we are going to have is….. More gridlock.  More obstruction. More intransigence,
We will have it; because Mr. Norquist said so. He promised it in a keynote address, at Dover Downs in Dover Delaware on February 9th, 2013….
Today inside the Senate a vote was taken on Bob Marshall's bill that requires the General Assembly's approval if the Port of Wilmington gets sold to Kinder-Morgan. The deal has caused considerably concern because it has been shrouded in secrecy. No one knows of any of its details. Someone may make billions off of this, so it is important that people look over the arrangement to see who or who isn't hurt by this major public to private transfer…..
ACT TO AMEND TITLE 29 OF THE DELAWARE CODE RELATING TO STATE GOVERNMENT AND THE DIAMOND STATE PORT CORPORATION.
Synopsis: This act would require the Diamond State Port Corporation to obtain the approval of a majority of both Houses of the General Assembly and the Governor, through the passage of legislation, before entering into any agreement or transaction whereby the Corporation would transfer, sell, privatize, or lease all or substantially all of the Port of Wilmington to a single entity, or to a related group of entities.
Here are the cosponsors of the Bill.
Sens. Henry McDowell, Blevins, Townsend, & Reps. Keeley, Mulrooney , Brady, J.Johnson, Osienski
The bill passed with 11 votes yea and 9 votes nay, and one vote not cast. It was released out of committee on the same day with 2 favorables, 3 on the merits, and 1 unfavorable…
Unfortunately it was not an unanimous vote…
Originally published on the Office of Management and Budget blog and picked up here off the Treasury Blog… the magic number of deficit reduced is $737 billion.
Put into perspective.
That total is for the entire span ranging from 2013 to 2022, covering this presidential term and the next two.
This is compared to the $4 Trillion Grand deal that was agreed to by everyone back in August 2011, then scuttled by Paul Ryan (Romney's VP pick), who walked out of the agreement taking the Tea Party Republicans with him… The agreement was there, it was right there on the table; Obama had signed on. Democrats in the Senate had signed on. Republicans in the Senate had signed on. Democrats in the House had signed on. And the Republicans in the House had signed on… But then, to everyone's surprise! Paul Ryan, said no, it raised taxes, so he and his Tea Party couldn't vote on it… The deal was scuttled. And we got sequestration, a new debt ceiling, and the expiration of the Bush Tax Cuts all at once… . .
Last Monday, Paul Ryan voted to raise taxes. So what was the Big Deal?
This table shows the relief from last years policy. This year, we will cut the proposed deficit by 4 billion. That is in jeopardy, because the Hurricane Sandy relief which has been promised to be passed by the new House of Representatives sworn in yesterday, is already 60 billion over what was previously budgeted…. Next year we may get some of that back; this bill drops our deficit $42 billion.
The point I'm making is that this bill although a victory, actually saves very little…. Obama originally said we'd go with $1.6 Trillion in new revenue. $2.4 Trillion of cuts would be on top of that. Now, including both revenue and cuts, we have not even half of that. Over 12 years, we save $737 billion with $329 billion coming from the last three years of the second term of whomever gets elected after President Obama!
What we got …. was a deal. That says something. America should be grateful for small wonders. America also got time to debate the cuts. They would have happened immediately without debate had we done nothing. SURPRISE!!! 500,000 ARE UNEMPLOYED AS OF TODAY!! America got unemployment insurance extended. America got the wind credit tax extended, very necessary right now. America got higher taxes on the top half of the 1%.… As they scramble to bury their money into our economy, we could see job growth come out of it… And that is really what was important. That the 2$ Trillion sitting outside the economy, get taxed so it becomes now cheaper to invest in our nation's infrastructure and not in the stock market…. That was the whole idea for high taxes. Force investment into the economy…. Those 400 people who own the top 1/10th of the top one percent of the wealth, now… have to do something with it.. or lose it…
But as for affecting the deficit, it could actually help if the economy takes off and 12 million new jobs open up as anticipated. Those new jobs will pay tax money too, more than making up what the incomes between $250,000 and $400,000 got to keep.
But Delaware's Senator Tom Carper is correct here. This bill he voted no for, simply kicks the can down the road, where had it not been passed at all, the laws on the books would have begun to eat up the deficit like bacteria in a sewage tank… Like taking an antibiotic, which makes you initially get sick the first day, then you begin getting better almost immediately, this deal against which Carper voted "no" would have caused a recessionary blip, then pulled us into prosperity.
This flashing, daring, last minute grand compromise, as Carper rightfully states, is the equivalent to opting NOT TO TAKE THE ANTIBIOTIC BECAUSE IT MAKES YOU A LITTLE SICK THE FIRST DAY…..

Courtesy of NY Times. Right Click For Full Image
This color designates the nineteen Republicans who retired immediately after this vote; five of which were placed by Democrats….. 
This color designates the 2010 Freshman Class… 
ALASKA
Don Young (R-Alaska)
ARKANSAS
Steve Womack (R-Ark.)
CALIFORNIA
Brian Bilbray (R-Calif.)
Mary Bono Mack (R-Calif.)
Kevin Calvert (R-Calif.)
Jeff Denham (R-Calif.)
David Dreier (R-Calif.),
Eton Gallegly (R-Calif.)
Wally Herger (R-Calif.)
 Dan Lungren (R-Calif.)
Buck McKeon (R-Calif.)
Gary Miller (R-Calif.)
Ileana Ros-Lehtinen (R-Calif.)
Ed Royce (R-Calif.)
FLORIDA
Vern Buchanan (R-Fla.)
Anders Crenshaw (R-Fla.)
Lincoln Diaz-Balart (R-Fla.)
Bill Young (R-Fla.)
GEORGIA
Mac Thornberry (R-Ga.)
IDAHO
Mike Simpson (R-Idaho)
ILLINOIS
Judy Biggert (R-Ill.)
Bob Dold (R-Ill.)
 Tim Johnson (R-Ill.)
Aaron Schock (R-Ill.)
John Shimkus (R-Ill.)
Adam Kinzinger (R-Ill.)
 Don Manzullo (R-Ill.)
KENTUCKY
Hal Rogers (R-Ky.)
LOUISIANA
Rodney Alexander (R-La.)
MICHIGAN
Dan Benishek (R-Mich.)
Dave Camp (R-Mich.)
Candice Miller (R-Mich.)
Mike Rogers (R-Mich.)
Fred Upton (R-Mich.)
MINNESOTA
Jon Kline (R-Minn.)
MISSOURI
Jo Ann Emerson (R-Mo.)
Blaine Luetkemeyer (R-Mo)
NEBRASKA
Jeff Fortenberry (R-Neb.)
NEVADA
Joe Heck (R-Nev.)
NEW JERSEY
John Runyan (R-N.J.)
Rodney Frelinghuysen (R-N.J.)
Leonard Lance (R-N.J.)
Frank LoBiondo (R-N.J.)
Chris Smith (R-N.J.)
NEW YORK
Chris Gibson (R-N.Y.)
Michael Grimm (R-N.Y.)
Richard Hanna (R-N.Y.)
Nan Hayworth (R-N.Y.)
Peter King (R-N.Y.)
Tom Reed (R-N.Y.)
 Bob Turner (R-N.Y.)
NORTH CAROLINA
Howard Coble (R-N.C.)
OHIO
John Boehner (R-Ohio)
Bill Johnson (R-Ohio)
Steve LaTourette (R-Ohio)
Bob Latta (R-Ohio)
Steve Stivers (R-Ohio)
Pat Tiberi (R-Ohio)
OKLAHOMA
Tom Cole (R-Okla.)
John Sullivan (R-Okla.)
Frank Lucas (R-Okla)
OREGON
Greg Walden (R-Ore.)
PENNSYLVANIA
Lou Barletta (R-Pa.)
Charlie Dent (R-Pa.)
Mike Fitzpatrick (R-Pa.)
Jim Gerlach (R-Pa.)
Tom Marino (R-Pa.)
Tom Meehan (R-Pa.)
Tim Murphy (R-Pa.)
Joe Pitts (R-Pa.)
Todd Platts (R-Pa.)
Bud Schuster (R-Pa.)
Glenn Thompson (R-Pa.)
SOUTH DAKOTA
Kristi Noem (R-S.D.)
TEXAS
Kevin Brady (R-Texas)
Lamar Smith (R-Texas)
WASHINGTON
Jamie Herrera Beutler (R-Wash.)
Cathy McMorris Rodgers (R-Wash.)
Dave Reichert (R-Wash.)
WISCONSIN
Paul Ryan (R-Wis.)
Reid Ribble (R-Wis.)
That is probably the biggest take-away historians will keep when they use today's fiscal crises in future civic's lessons across this country, precisely in order to teach students just how well put together this nation's govermnent is…..
I have long blamed the filibustering Senate for intransigence.  Whenever we have an emergency, the House passes legislation quickly, and the Senate takes it's time.  Things just   s  l  o  w   down in the Senate.
I have also blamed that in part upon the old age of Senators, and the cliques that evolve from spending 20 to 30 years together…  Senators are more worried about upsetting the feelings of Joe So-and-So instead of quickly passing the House's legislation.  Legislation also gets tabled as a favor to Ms. La-La-La, for a favor she extended 15 odd years ago…
But it is precisely these negatives that allowed the Senate to take up the fiscal cliff legislation that was all-but-dead on arrival in the House….
John Boehner, was forced to give up his lead and capitulate, when his caucus voted down giving even billionaires a tax increase.  His caucus had too many Tea Partiers, who were still green behind their ears, and put their own personal principals, … over top the rest of the financial world's welfare, including the USA….
John couldn't control his caucus.  Why was that?  Because the founding fathers wanted the House to be reelected every 2 years.  The idea was that these people who were invested with the responsibility of spending the "people's" money,  needed to be directly responsible to those back home, who's money they were spending!  As a result, the Tea Party contingent, whose home-spun philosophy plays well on country porches, has no idea of how things work.  We don't let two year olds drive cars for a reason.
But,…. who did solve the crises and bring both sides into agreement?
The top two members of the Senate, … The Vice President and  Mitch McConnell, a Louisville Cardnals fan.
For both, a deal was necessary and they crafted one that would sell.  It definitely sold the Senate… 89 to 8….  It sold the problem House of Boehner as well:  257-167 including….. with more Democrats voting for it… 172  than Republicans voted against it… 167.
85 House Republicans voted in support of this McConnell-Biden adaptation, keeping us from going over the cliff before the markets opened up in Asia…. (which at time of print are all up between .6% and 2.2%)..
Through a personal relationship based on a long history of dealing with each other in a non adversarial fashion, a deal was struck.  We were clued in two weeks ago that the $400,000 level would be the floor.  No surprise there.
But, now it is clear that Social Security will no longer be on the chopping block in two months.  Medicare will no longer be on the chopping block in two months.  Unemployment compensation (for those dismissed by their corporate employers for working too many hours under Obamacare), now will still dribble some cash to get by.  The Earned Income Credit, the best part of the year for anyone earning less than $30,000, is no longer on the chopping block!
For this, the increases in additional taxes on income, estates, and investments, were softened a bit.  Even though there will now be less movement of cash from the private sector to the Treasury than occurred under the boom years under Clinton, but… as long as the economy takes off, we can worry about that later.
For that, is why this bill was passed.   Signs are encouraging that the economy is getting better, now that the world KNOWS no Republican (whether he really wanted to be president or not) will run the country.
To nix that up, and again, hurt those who were most hurt before, is unconscionable.
For most Americans, working and living and dying in our towns, this is what is important.  It never could have happened under the dynamics of the House of Representatives.  Only in the Senate, could such an agreement even be possible….
Only there buried within the term of 6 years, is enough distance available to exercise good judgment on what is necessarily right for this country, then have time to deal and fix the political repercussions back home… Only there is an opponent also a dear friend, one you take seriously and trust, causing you to give up a little more on both sides.
Only there.  Once again, we see the great wisdom possessed in those we call The Founding Fathers…. Who could have known?