You are currently browsing the category archive for the 'Exchange of ideas' category.
This is Common Core. Point is: we are determining a student's future, a teacher's future, a school's future, and the entire future of the combined Educational Departments of the University of Delaware, Delaware State, and Wilmington University's …. based on a race between a pineapple and a hare…
Please send more examples… Thank you.
Today is School Board Elections…Polls are open 10-8…  If anyone is sponsored by Markell or Rodell or RTTT or WSFS, don't vote for them.. If anyone is sponsored by DSEA, they are on the students side. They are safe.
So go out and vote like a goat… Be…  B-a-a-a-a-a-a-a-a-a-a-a-a-a-a-a-a-D
I'd never thought I'd write that.  How could anyone in their right mind be against raising teacher's standards… After all it is our kids we are talking about who will suffer….
Exactly,  Passing SB 51 with S/A 1 Amendment attached, will cause our kids to suffer. That's how I can write that. Otherwise I'd be full force behind this bill just as was every senator who voted for it….
You ask, how can raising standards on teachers, hurt our children?
I will ask you back;  "How would you like to take your brand new car you just purchased to Joe The Mechanic's Auto Shop and have him work it over? How could that possibly hurt your car?"
Basically that's what this law does for education. It is as if we passed a law for cars that said every new car purchased had to be re-certified by Joe The Mechanic's Auto Shop.  The entire premise on this auto legislation lies in this one single question: gee, who is Joe?
If Joe is someone who is the world's best mechanic, factory trained by every car manufactured, a man or woman who can analyze myriads of problems by just with listening with a fine-tuned ear, then maybe this bill could possibly be ok.  But if Joe has no knowledge of electronic computers, but learned his mechanics back in the days of steel and oil, and is a complete loss when he sees a car with no distributer cap,  then taking your car that runs perfectly to Joe The Mechanic's Auto Shop, can damage your car pretty darn bad.
And THAT is the problem with SB 51…  We don't know who Joe is….
What we do know, is that our car is purring perfectly, heck we just bought it, everything was tuned at the factory.  Since it is straight from the factory, it is running very well,  no play in the wheel, clean car smell, all items are working, and even our factory tells us to make sure we take it back to a "factory approved shop" for all repairs in order not to void the warranty….  But our government is making us take it to Joe The Mechanic's Auto Shop.… And we still don't know who Joe is?
And we are not too enthralled by all the junk cars piled up in its back lot…….
That is what is wrong with SB 51….
Our great educational  training program that is functioning very well, is going to be tested and inspected by someone who doesn't know crap…
That should scare the hell out of every single parent….
The educational system of America over the last 13 years has been disrupted. Good teachers have been fired, to be replaced with bad ones.  Students used to read literature, and now they are handed "packets" and read test questions. Schools that have been opened for a century,  have been closed…. The educational system is in disarray; a disarry that appears to have been forced down from the top.
We've all been there… The new boss walks in, and yells "things are going to be different now".  Some are excited, some are afraid, but this boss is out of control… He arbitrarily fires, can't hire fast enough, and the  business breaks down.  It becomes broken.  He came into fix, and it got put… into a fix.  So he storms out, blaming all those left for his need to make an exit.  And then everyone is asked to put it back together, and they do, then the next boss is hired…  If you work in America, you're guaranteed to have  been through this scenario.
We are going to do that with teachers?  Who's this guy, Joe again?  Is this test going to be made by the same ones that lowered Delaware's results?  Is this test going to be like those 5th grader tests loaded with 7th grade questions using letters a,b,c in algebraic math?
As that car owner, we have the best educational system bar none.  Delaware educators have among toughest standards in the country. Counting every school, even the most stringent Ivy League schools, the University of Delaware is ranked 37th in the nation. That's ahead of  Rutgers, Temple, and even Boston University. Delaware State University is solid Tier 2 school.
Currently in Delaware's educational programs, only one third make it through the tough gauntlet into teaching. All students graduating from UD, DSU, and WU have passed Praxis I and II; have logged hundreds of hours of observation and additional hundreds more hours of supervised teaching under the watchful eye of master teachers in our public schools. Compared to the standards even 10 years ago, new Delaware teachers graduated by these universities are the best prepared to enter the classroom in our history.
Delaware should be pretty damn proud. Instead we appear to be on the verge of committing a rash act full of unintended consequences. Our head is in the sand. Ok, the argument may go…. "If we're so good, what possiblE harm can befall us if we take our new baby to Joe The Mechanic's Auto Shop?
Apart from the fact that we do not know who "Joe" is or will be when we get there, there are these reasons. The changes in SB 51/SA-1 actually lower some credentialing standards rather than raise them [see the section on now accepting Composite Scores].
Currently all Delaware student teachers take the Praxis One and the Praxis Two. No pass, no teach. These are the factory cars in the educational equation. There are composed by NCATE, National Council for Accreditation of Teacher Education. This is a very solid organization. If you go to their website right now, you will see that they pre-published their accreditation standards for public view and comments. They also dropped Wesley College's accreditation for not living up to the standards.
This bill would replace these standards with ones created by the Delaware Department of Education. Returning to the Joe The Mechanic's Auto Shop analogy, one has to wonder how a 3 year Phys Ed elementary teacher, can do better than a national organization that accredits schools.
Delaware has the 37th BEST teacher school ranked in the nation. And after this bill is passed, we are going to completely gut our entire program out of all we do so well, and have a 3 year elementary Physical Education Teacher rebuild our entire program from scratch….. One who has never gone through the RTTT testing he inflicts on others? One who quite questionably doesn't meet the minimum 5 year requirement necessary to be a DOE?
It's in the bill. that is what it says.
Would we let someone who has never been a doctor create the state's medical certification program? Would we let a non-lawyer create the state's Bar exam? Would we let a manager of McDonalds create our state's nutritional guidelines?
With this administration and this Senate, I really don't know. We just might, based on what I'm seeing right before me!
So, you are saying you would really take your BMW, Rolls, or Cadillac to Joe The Mechanic's Auto Shop to be certified to drive it in Delaware? Wouldn't you be afraid he'd mess it up, especially since it is working rather well right now? Ranked 37th!..
I can hear "Joe" now… "What are all these damn stupid wires for. (Rip,rip,rip) My old Model T never had this crap"…
It's our kids. We can't rush this, and this bill has been rushed far too fast through the Senate. The House needs to slow down and debate this one…
We can't afford to lose our 37th top spot in the nation for which we worked so hard and so long to get….. We got to stop this bill that will make our cars all go to "Joe's" .
Kendall Massett wrote a piece in todays News Journal. "It's time to change the conversation on charter schools."
The point behind the article was that charter schools do some great things too.
It reminded me of a middle aged executive who fell in love with his secretary, and had carried on an affair over years while maintaining his family status, buttressed with a wife and two sons. Who, now that the news was out was sitting with her on her bed, head in hands, looking at losing all in a divorce settlement, being banned from his kids, losing his job on a morality clause, and now, with no future in front of him, for the first time, accepting his responsibility in what he'd done…. Looking at the tears streaming down his face and through his hands, his young, voluptuous secretary tries to console him… "Well, it's not ALL bad.. Look at it this way… At least the sex was good…"
Kendall Massett's assertion that we must continue Charter Schools because some good may come out of it, in itself is a losing argument. It ignores the bad. When making decisions, one can't ignore the bad.
I have found the best way to explain the "charter school versus public school problem" is with a parable. Go figure, but most people will grasp a parable when facts, figures and numbers roll off their eyes and out their ears.
"Once upon a time, there was a loving single dad. A dad who was blessed with one child. He was poor, still paying off the funeral bills for his former wife and the kid's mother. But they got along ok. There was enough to live on and that's what they did. However one thing bothered this dad. Being with only one child, the dad had nothing to compare that child to. He questioned himself. Was this dad doing everything he could for his child? So the dad, had a great idea. He would adopt another son of the same age, so they two could compete together. Which ever was the best, would get rewarded first and through the competition his son would eventually get the best upbringing he possibly could. What the Dad did not figure upon, was that feeding two kids cost more than one. He only had enough to feed one. So he came up with a plan that which ever son did better at running around the block each morning got to eat first, and the other got to eat what was left over. Every morning, rain or shine, at 5:30 am, the race would occur. Knowing what was at stake both sons tried their best. Sometimes one won. Sometimes the other. But the Dad began to grow concerned because he was timing the races. Originally he had to rush to get the food ready before the first one burst in. But over time, the found he had more and more and sometimes plenty of time to set the table before the first would come through the door. For some unknown reason, they were running slower and slower and slower. He invited an expert in to see why? The expert asked what he fed the first kid when they were alone. It amounted to 1000 calories. The expert said… "Ah Ha" You are feeding two people on what you fed one. No matter how much running they do, together they can never do what originally one was able.
Kendall Massett doesn't cover this issue. Obviously common sense would decree that if we are going to have charter schools, we need to fund them independently and not take away the funds from public schools. Trying to make someone do better with less resources may be possible on a percentage scale, but the overall result, will be a loss. If charter schools want to experiment with private or parochial funding, and people want to go there, excellent. We have choice. Likewise, if we increase taxes on the top 1% just to pay the entire budgets of charter schools so that then we can experiment, great, let's do it and have choice. But to expect better results on half the calories, is impossible. And that is the expectation of what charters will do.
This study of next door Philadelphia, shows that test scores in Philly were collectively higher when there were NO charter schools, then when there were. Meaning that allowing Charter schools to come in and compete with Philly public schools, lowered Philadelphia's cumulative test score average…. Simply put, in any other venue when two teams compete, they both have independent sponsors. Splitting ones resources to fund two teams competing against each other, well… common sense tells you that when they go up against other teams whose funding was unlimited… they are going to lose badly…
Finally one other factor in Kendall's piece that burns. When an scientist does experimentation, he throws out all those episodes where something goes wrong and his hypothesis doesn't work. When you experiment in education, all that "stuff" you throw out, is our own children.
The internet will be abuzz with posts shortly.  The excitement was great.  No one knew if it would pass. It did.
Melanie _____.______. Smith (lol)  Girl you did it.  Hats off to a rather well crafted bill designed to make it through.  You earned your bottle of wine tonight.
Bryan Townsend is amazing.. A Patrick Henry when it comes to what is just.  I kept seeing Tony Deluca in that position, knowing full well we would have an entirely different outcome had it been so.
Patty Blevins as should be, worked the background brilliantly.  Knowing what must take place to do these things, she gets a shout, because the quiet ones, are the ones you have to watch… It takes a lot of structure to put on a pageant such as this…
Clothier, Marshall and Bushweiller had tough choices.. out of  a thousand voices in their ear, they chose to hear the right ones.  We are so small standing next to them.
Karen Peterson rocked the house.  "If my happiness somehow demeans or diminishes your marriage, you need to work on your marriage"  certainly seems like it would apply to Senator Venables. That dude has some work to do…..
In this hearing and vote, it becomes very clear.  If you look straight into the heart of America,  each and all the values we grew up under, the Democrats embody.
The evil that also lies in America, is Republican to the core… Never in my lifetime did I expect to see people use God to promote bigotry.  For as the vote was failing, as the house of sticks was crumbling around them, as they worked themselves into a fever pitch to make one last gasp to undo the damage, the clear, unadulterated hatred, the pure crystal of evil burned from underneath their skin.  Hatred. Hatred at all these people was their fuel.
I now know what those brave souls walking across the bridge at Selma saw in the eyes looking back.  I now know what those women in children sleeping in Wounded Knee saw when their tents were slashed open.  I now know what those female slaves in Alabama saw in their overseer's eyes… I now know what every Southern black African American man saw, when he heard the phrase… Boy, better move a long now, you know you don't belong here."
Because I saw it staring back at me on the floor of the Delaware Senate. It was in each of those Republican's eyes as they got up and tried to embarrass, put down, demonize an innocent  group of people they deemed inferior, beneath them, slovenly, trash.  It was in the eyes of every fake pastor or priest to got up to twist God's word in such a way as to demean the very one whose words they praise on Sunday.
This is the undercurrent of America we don't like to talk about. This is the sewage that come with building a society.  This is America's most horrible accomplishment.  The underbelly of our just laws and our freedom to say or do what we please.  There are people who only gain worth by putting others down, and because they are Americans, they have every right to do so.  Prejudice will continue.
Seeing it in person was unnerving. Seeing it for real made one sick.  We have a real problem in our country, One that must be put down like a poisonous snake… Sure we can live with it.  But one day it will bite us, or even worse. Our children….
But today, we beat them.  Like George Wallace in the schoolyard doorway, they showed America the stinkin oafs they truly are….
The only reason they voted no… was to fuel their hate.  Delaware and America can and need to do much better…
And lastly. Bethany Hall- Long….. Oh my…   it takes great courage to stand up to one's enemies… It takes even greater courage… to stand up to one's friends….
I have to go now. I cannot fight back the tears…
My friends, we are gathered here today to celebrate one of life's greatest moments, to give recognition to the worth and beauty of committed marital love, and to add our best wishes to the words which shall unite these two people in marriage.  In the words of our Creator, what God hath brought together, let no one cut asunder.
The commitment that the two of you are about to make, is the most important commitment that two people can make; you are about to create something new, the marriage relationship, an entity that never ends.
As you stand here today, are you now prepared to begin this commitment to one another? (I am)
Have you come here freely and without reservation to give yourselves to each other in marriage? (I have)
I would ask that you both remember to treat yourself and each other with dignity and respect; to remind yourself often of what brought you together today. Give the highest priority to the tenderness, gentleness and kindness that your marriage deserves. When frustration and difficulty assail your marriage – as these do to every relationship at one time or another – focus on what still seems right between you, not only the part that seems wrong. This way, when clouds of trouble hide the sun in your lives and you lose sight of it for a moment, you can remember that the sun is still there. And if each of you will take responsibility for the quality of your life together, it will be marked by abundance and delight. 
Will you have this person to be your wedded partner? (I will)
Will you love and comfort then, honor and keep them, in sickness and in health, and forsaking all others, keep yourself only unto them as long  as you both shall live? (I will)
Will you have this person to be your wedded partner? (I will)
Will you love and comfort them, honor and keep them, in sickness and in health, and forsaking all others, keep yourself only unto them as long as you both shall live? (I will)
Since it is your intention to enter into marriage, join your right-hands, and declare your consent (before these witnesses) by  repeating after me: 
I, take you to be my partner, to have and to hold from this day forward, for better or for worse, for richer or for poorer, in sickness and in health, to love and to cherish, as long as we both shall live. Take this ring as a sign of my commitment and fidelity to you. …
I, take you to be my partner, to have and to hold from this day forward, for better or for worse, for richer or for poorer, in sickness and in health, to love and to cherish, as long as we both shall live.  Take this ring as a sign of my commitment and fidelity to you. 
In so much as the two of you have agreed to live together in Matrimony, have promised your commitment to each other by these vows, (and) the joining of your hands (and the giving of these rings), by the authority vested in me by the State of  Delaware, I now pronounce you a married couple.  Congratulations, you may now kiss as a married couple….
Ladies and Gentlemen here who are witnesses.  May I present to you the world's newest couple…. 
Awwwww.  How can anyone vote against something as wonderful as that?
Do you think this is odd?
Exhibit A:
"We are conducting a national search for an exceptional leader capable of transforming Delaware into one of the leading charter school systems in the nation…."
Exhibit B:
"The federal tax exemption of each organization listed below was automatically revoked for its failure to file a Form 990-series return or notice for three consecutive years.:  PENCADER EDUCATIONAL ASSOCIATION"
Exhibit C:
"The standoff between the state Department of Education and Pencader Charter is over after the state agreed Thursday evening to pitch in $350,000 to brace the troubled school's budget through the end of the year,  "Make no mistake, this is a burden to the State,"
Exhibit D:
The Colonial School District will lay off 72 people, including 58 teachers, if voters don't approve a tax increase, according to a plan approved by the school board Tuesday night.. Even if voters approve the increase, the district would still have to cut as many as 25 jobs, 8 to 12 of which would be teachers."
Exhibit E:
Vision – A firm belief in the value of charter schools in public education,.  As the Executive Director of the Charter School Office, the core of your work will be to ensure that we create an environment in Delaware that is conducive to a high-performing charter system. You will lead an effort at the state-level to ensure that our laws, regulations, practices and policies reflect best practice nationally, and create an environment that attracts, supports and sustains high performing charters while holding them accountable for results.
Right:  Just Like Pencader.
But the argument for increasing Charter Schools is that they increase student performance.
Do they?
No. the performance by Charters in the state of Delaware is at best equal and at worst lower than that of public schools.  Sending a child to a charter is demeaning his potential.  A child performs better in a public school. whose funding is being stripped as in the Christina School District, than he does in a charter who is sucking away $350,000 of Department of Education money away from schools doing their jobs.
And now it is Michelle Rhee herself.  The DC darling who was praised by both McCain and Obama during the 08 campaign, now has to contend with the fact that she knew all along the cheating was beyond the parameters of  normal and did nothing about it…   It is one thing if you don't know, and your underlings who you have told to "produce or else" change their scores underneath of you,   but it another to actually know  and understand the implications (that she and her principals erased and changed the answers from wrong to right), that what you may be proposing is false and to then go forward and propose it anyway using the compromised data to back you up….
Just this year, we had Texas acknowledge that the test results then under then  George W. Bush governorship, were faked.  That pilot project went on to become the "No Child Left Behind" which left a whole generation behind.
Again just this year we had almost the entire district of Atlanta whose amazing results sold the rest of the nation into diving towards Common Core and RTTT , indicted under falsifying all the test results…
You see.
This new fangled educational system does not work unless the results are fabricated.
This is the same new fangled educational system which the Markell administration and Mark Murphy seem to be forcing upon Christina School District as we speak.  This system is dependent upon holding teachers accountable to standards that don't work….  Then pulling out these faked test results from Texas, DC, and Atlanta, waving them and saying… we want results like these….
Ummm.  No thank you.   Things used to be much better before corporate got involved…
Anyone who has ever worked in any corporation, no matter what geographical spot you live or work in, knows very well your success depends on how you look doing it, not on whether or not things get done ethically…  On the other hand, our sports teams have the opposite philosophy.  To them, it is what you accomplish that matters, no matter how you look in achieving it.
It is time we switch and use the sports model, not the corporate model for our educational needs.  Our children deserve the best.
Here is a copy of Markell's State of the State speech. i wanted to take his speech and break it down, piece by piece, and analyze it.
Bear with me. If your are following along or wrote this speech, I am only concerning myself with the part under the headline: A Great Economy Demands Great Schools…
The impetus seems to be on: providing a world class education…. That sounds great and when I heard it first, I cheered it on. But now if you pressed me I couldn't define it. How does one determine a world class level for education? Especially nations where many different languages are spoken? Some nations require many languages in their curriculum. They succeed but at a cost to high math scores. Some nations do well on math scores. They fail on creativity and ethics. We will soon be competing with the world for jobs. So do we model our education on Finland? On India? On China? or do we stick with Belgium, Netherlands, England, France and Switzerland? Or do we use the methods of Brazil?
Anyone who has traveled globally knows exactly what I'm talking about. There are so many methods being used across the globe, that using the term "world class education", could describe situations different as the interior of Mali and downtown Sydney….
So then before beginning, we must ask for a clearer definition of "world class"…
Moving on.
Let's make this about the children, not the adults. For my part, I speak on this issue not only as a governor, but as a father. When it comes to decisions about education, our kids deserve our total focus and commitment.
Now here is the biggest bone of contention right now. Based on feedback from a) parents, b) teachers, c) administrators, and d) students, these new changes we are undertaking are not helping children. They are putting them further behind.
Now I don't mean to be nasty or put anyone down. There was a lot of evidence presented to us that implied a "get tough" attitude on poor schools improved test scores. But instead, the reality was not what we were told. One of the great examples that led to this program being rolled out nationwide, was the success of Atlanta's inner city. We were told a miracle had taken place. Inner city children were rapidly learning. Alas, .. we were fooled, there was just widespread cheating going on. They didn't learn anything after all.
Michelle Rhee has been campaigning for cracking down on inner city schools. But allegations of cheating occurred during her reign as controller of DC's schools. Test scores that climbed magnificently, while the children have no idea how to do the problems when the meet them again in the next grade.
Texas was the granddaddy of them all. The great scores of Texas's inner city youth, so great they compelled the "leave no child behind " mandate across America (look at Texas we were told), whose many parts were reincorporated into Race to The Top.– all those great scores were faked. Texas dropped on knowledge vis a vis with other states despite higher test scores. We were given false results and the whole nation pursued a program that did not work the first time, or the second….
It appears that none of these programs actually do what is wanted: which is to help the children.
And what does work? Human relationships. A love bond between teacher and student. A teacher teaches her best because that is what she was born to do. A child learns his best, because he wants the teacher to be proud of them.
Can we put that into an institutionalized setting? I don't know. But I think most baby boomers had that growing up. So, it can be done, but how to return to that setting in todays modern time, will take some experimentation…
Moving on.
Built upon four cornerstones that stand on their own:
• Improving student readiness by holding them to high standards.
• Effectively using student data to drive classroom results.
• Ensuring teacher quality.
• Turning around persistently low-performing schools.
Holding students to higher standards. The worst possible thing one can do to a child, is force him to give up. Raising standards without raising the curve, does exactly that. An A student who strives to keep up his grade average, gives up when all he gets are C's. What's the point. A C student who dutifully studies to keep a passing grade, gives up when all he gets are F's… In both cases they were doing all they could do. Society considers them good students. But the same test they took last year, is now graded higher. If one got a 5 at a score of 900, now it takes 950 to get the same. If one got a 3 at the score of 750, now it takes an 800 to achieve the same….
This in no way helps students. All it does is demoralize those who get shuffled downward by the curb.
We just had Delaware Women fall out of the final 16. We are all proud. But what if we arbitrarily changed the rules? What if we said, the final 8 will be determined not by whom was beaten by whom, but by the total number of baskets their team shot across the entire tournament. Suddenly a team that scored in the 80′s instead of the 50′s, goes forward, even though they'd been beaten in the first round by a team with fewer tournament points. Suddenly Delaware's great run means very little. We are a loser like everyone else. "Oh, you should have tried harder to make baskets" they all say. I wonder who returns back to their home court with their heads high. I wonder who tries harder the next year. I wonder which teams recruit only guards with very high three point kill rates?
Higher standards do not work. They just mean fewer people can reach them. The do nothing for the top few elite who will be above 950 anyways. They ruin lives for everyone else… Higher standards on tests hurt our children. There is nothing wrong with what we are teaching now. The problem is that we are not teaching what we are teaching well enough so those on the bottom get it. Teaching even more, will do nothing to elevate the bottom. It will do nothing to put more into the top. All it will do, is make children think they are failures and give up….
Second. Using student data to drive classroom results. There have been cartoons this year showing students taking tests and the administrators joking that firing the teachers and just testing every school day could save them money. There is some sense to using technology to help students. However, theoretically, if tests are given 2 hours each day, how much instruction does that bite into? 10 hours a week? 40 hours a month? 360 hours a year? That last total is the equivalent at a 6 hour day, of 60 days spent taking tests. Remember, we are only talking about 2 hours a day, which in High School, is pretty accurate. Under which scenario does one learn new things better? During instruction? Or taking tests… ummm a? b? c? or d? On the other hand, the new software integrating parents, students, and teachers on the same page as grades get posted on a daily basis, is a godsend. Putting parents into the mix is rather helpful in creating a positive learning experience for each child.
Third. Ensuring teacher quality. This is a noble goal. But one of the great mysteries of Ancient Greece was that the Spartans who were rigorously disciplined and toughened to the highest order, almost always lost to the Athenians who were dilettantes in comparison. Imposing structure erases creativity. There is a tendency among government types to make all state employees into solders. That means drill Sergent techniques; it means battlefield toughening. In a military application, those techniques are necessary because in battle the mind gets blown; training has to take over. The only equivalent in a class room to such an experience, is if a student puts a gun to a teacher's head… Our techniques are jeopardizing the sole proven tactic of transferring knowledge. A positive bond between teacher and student…. an understanding that success depends solely on the amount of knowledge downloaded from one to the other.
Here is where our education is facing its biggest problem… We are using the wrong tests to determine if a teacher should stay or go. We are putting teachers into a spot where they must cheat or fail. Since all up the ladder are accountable for the results that teacher brings, they do not insist with too much effort, that cheating does not occur. The best way to have a measurment of a student's progress, is to remove teacher accountability from the testing. If a teacher keeps her job anyways, she does not have to cheat to get good results. Our results are accurate as to what a student knows or does not know. Of course, once we know exactly what a student does not know, we can rectify it.
Getting rid of all standardized testing is not the answer. Removing job safety concerns from these tests, is the answer. Ontario has done this. The tests are tools, opening a window into the soul of each child, and a teacher can then, fill in the blanks that got missed somewhere down the line…. Ontario, is probably the best in North America, to show real growth in their children across the board.
Turning around low performing schools. This is easy to do… Logically, focus on what works. A loving teacher and student relationship. To achieve that in a higher need school, you need more teachers. The ideal number would be eleven students for one teacher. If using the test scores, we were able to group students based off their scores into groups of eleven, so the average deviation between scores was 50 or 100 points, great headway could be made. For example in a grade of two hundred twenty students, twenty teachers would be needed. Using the bell curve the lowest eleven would be in one class, the second lowest eleven in another, as well as the highest eleven in another class, the second highest eleven in another, and so on. Those in the middle on the cusp of the curve, would probably be within one or two points of each other. But the beauty is that classes would be homogenized around their standard ability. A teacher wouldn't be answering a top students question, when the person right next to him, had no clue what was even asked. They also wouldn't cover a basic idea, thirty times until the student gets it, boring the top student next to him into giving up….
Testing is not the answer. Testing is a tool. Teachers are the answer. Teachers are not tools….
A student who can barely read or do math, does not need to be guessing at a physics problem far above his level. Likewise, for a physics student to answer a question of what is 2 +2 =__, is equally a wasted effort…. And this is where we err. Thinking that tests and corporate programs we buy into, can make that low performing student, suddenly get excited by a physics problem far above his grade level, and suddenly decided to become a math whiz. Reality fails to work that way….
Moving on.
But it is not enough to set high standards. Our students have to meet them. To do so, Delaware will use its rich data system and new assessment to support decision-making in the classroom. Good use of the data will make teachers and schools more effective. Parents and students will be able to use this information to demand that schools deliver.
Exactly what I said. But don't use it to get rid of teachers or all we will get is teaching to the test and more cheating. The kids will learn how to take tests; not learn anything about the subject matter.
To that end, we will work with our institutions of higher education to establish teacher residency programs. We will develop a pipeline for strong principals by establishing leadership preparation programs. And we must better compensate teachers who produce results in our most challenging schools.
This sounds good and I find no fault with it's aims. However your compensation packages are not effective. Being corporate hounds, monetary incentives are the first motivator one thinks of. I did the same. However, interaction with teachers, students and parents, has led me to believe there are better rewards. Teachers did not sign up to teach as a career for money. In public schools, I don't think you can find one who is there to get rich. Talk to any teacher, and once they trust you, you understand they are there because they love to teach… THAT is what moves them. THAT is what moved each of our mentors that stick out from our early educational days. They love to teach. So the best way to motivate teachers is not with compensation, but, in making them teach even better by giving them more resources than they have now.
And the best way to get teachers to teach better is to limit their classes to 11 students… Whoever can achieve that goal first, will be the top educator in the world. Business will flock to that location just to absorb the talent of that labor pool…
If we are serious about education, we need to invest in more teachers, more schools, more infrastructure, and get our class sizes down to 11 students per teacher….
Only then, when every student doesn't want to let either their peers or their teacher down, will we begin the resurrection of our educational system.
But, some people still don't get it.
"We are requiring that new teachers show appropriate levels of student growth before receiving tenure. In addition, we have adopted a robust evaluation system under which teachers whose students do not show satisfactory levels of growth cannot be rated "effective." Teachers whose students do show satisfactory levels of growth cannot be rated "ineffective." We will also improve teacher preparation programs by linking teacher performance to the schools from which they graduated."
It is still all about the test. This has to change….
But having world class schools does not alone ensure that all our children will get a world-class education. For that, we need an increase in parent's engagement with their children's education.
Parents need to realize the tests are hurting their kids. Across America this season, as tests are being rolled out in state after state, it is the parents who vote, who are asking their legislators the tough question. How does this test help my kid? When asked, the legislators agree with them that tests don't.
Education has gotten worse since we went to standardized testing. Parents in Delaware need to increase their engagement with Delaware's legislators and appeal to Governor Markell with their concerns.
My concern started because a little girl who loved English last year, who is in Common Core this year, says this year she has learned absolutely nothing… Nothing new.
When you think of the great United States of America and all the hopes, dreams, and visions it once held…. that is just so sad. So sad.
We knew this but it  is now being published… and so it is in the news.
The world is getting warmer… and we can now predict our climate by looking at map at 300 miles south and guessing what our weather will be from that…
Just as plate tectonics and  Darwin's origin of the species were able to lay the groundwork of reason  for explaining puzzling observations, this simplifies what to expect from global warming rather startlingly.
Texas is now  what we alway thought of when we considered the weather of Mexico; Oklahoma is now West Texas; Kansas is now Oklahoma; Nebraska is now Kansas; South Dakota is now Nebraska, North Dakota is now South Dakota: Southern Manitoba is now North Dakota…..
If  West Texas had 3 days of rain, now Oklahoma is getting 3 days of rain;  If it snowed 12  times in South Dakota, it is now doing the same in North Dakota… and so on.
So, to predict our heat, rain, winters, etc, our guide would be North Carolina.  Longer growing seasons,  some winters with no snow, hot summers…
However due to Global warming, the East Coast has a caveat.  An anomaly so to speak  and actually some relief from the North Carolina summer heat we would normally expect….
With the unprecedented melting of the Arctic and Greenland icecaps dumping its excess into the Labrador Current, that cold water drops South hugging the East Coast shoreline all the way down to North Carolina's Outer Banks where it finally becomes neutralized…   Therefore even though we have hotter air masses, the colder ocean temperatures creates a buffer against Global warming off the entire northeastern US.
Europe, Japan, and Alaska all experience  the same mitigating effect, although with both Greenland and the Arctic Icecaps melting into the Labrador, the US East Coast gets a stronger volume of cold water.  Call it our icy shower effect….
Once melting stops and the currents dry up, we return to the North Carolina scenario of the twentieth century….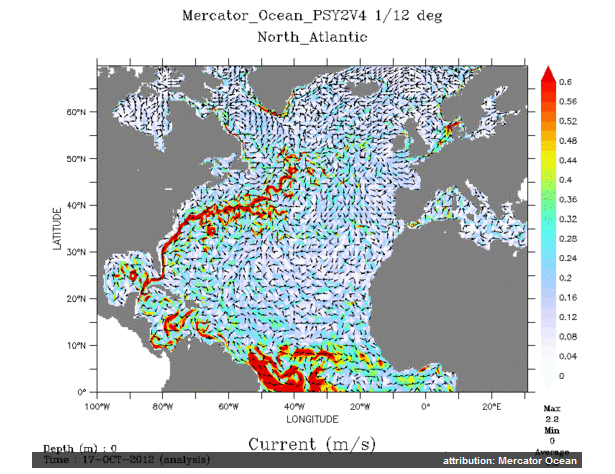 Chart Courtesy of NOAA
So, we in Delaware really get the best climate on the East Coast.    Warm winters, little or no snow, and cool breezy summers….. as well as a longer growing period, and… less dependence on fossil fuels for winter heating.
Gee, global warming isn't so bad for Delaware after all….  Oh, the rising seas?  There you go again… Why did you have to spoil the rosy picture I was painting?