You are currently browsing the category archive for the 'electrical transmission lines' category.
We knew this but it  is now being published… and so it is in the news.
The world is getting warmer… and we can now predict our climate by looking at map at 300 miles south and guessing what our weather will be from that…
Just as plate tectonics and  Darwin's origin of the species were able to lay the groundwork of reason  for explaining puzzling observations, this simplifies what to expect from global warming rather startlingly.
Texas is now  what we alway thought of when we considered the weather of Mexico; Oklahoma is now West Texas; Kansas is now Oklahoma; Nebraska is now Kansas; South Dakota is now Nebraska, North Dakota is now South Dakota: Southern Manitoba is now North Dakota…..
If  West Texas had 3 days of rain, now Oklahoma is getting 3 days of rain;  If it snowed 12  times in South Dakota, it is now doing the same in North Dakota… and so on.
So, to predict our heat, rain, winters, etc, our guide would be North Carolina.  Longer growing seasons,  some winters with no snow, hot summers…
However due to Global warming, the East Coast has a caveat.  An anomaly so to speak  and actually some relief from the North Carolina summer heat we would normally expect….
With the unprecedented melting of the Arctic and Greenland icecaps dumping its excess into the Labrador Current, that cold water drops South hugging the East Coast shoreline all the way down to North Carolina's Outer Banks where it finally becomes neutralized…   Therefore even though we have hotter air masses, the colder ocean temperatures creates a buffer against Global warming off the entire northeastern US.
Europe, Japan, and Alaska all experience  the same mitigating effect, although with both Greenland and the Arctic Icecaps melting into the Labrador, the US East Coast gets a stronger volume of cold water.  Call it our icy shower effect….
Once melting stops and the currents dry up, we return to the North Carolina scenario of the twentieth century….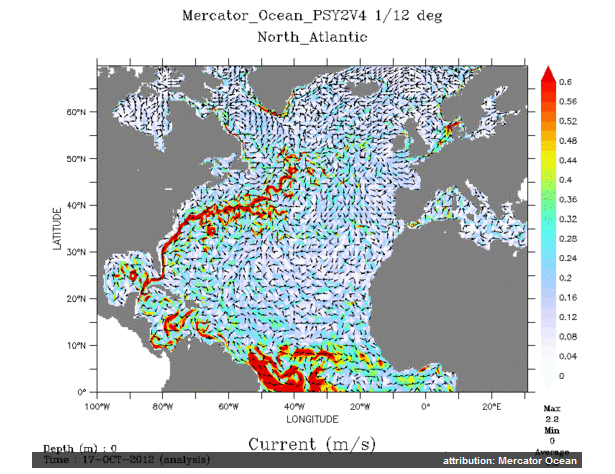 Chart Courtesy of NOAA
So, we in Delaware really get the best climate on the East Coast.    Warm winters, little or no snow, and cool breezy summers….. as well as a longer growing period, and… less dependence on fossil fuels for winter heating.
Gee, global warming isn't so bad for Delaware after all….  Oh, the rising seas?  There you go again… Why did you have to spoil the rosy picture I was painting?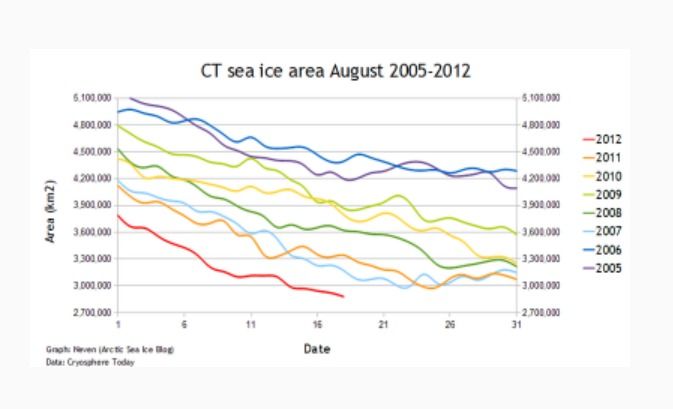 Courtesy of Climate Code Red
If you kinda thought the weather was wild this year, you were right. The most ice lost is taking place right while you read this. A large chunk was broken up by a freak storm. Another similar on is on its way. The question that no one knows the answer to, is… will this affect the circulation pattern.
We all know in our lives that as human beings we can put up with aggravation rather well, unless we are Type A. Whether it is aggravation from our boss, from our spouse, from our in-laws, from our choir director, from that guy selling papers on the corner,… we put up with it, accepting it as the normal course of business. Except once or twice in our lives, we just snap. And the consequences of that, momentary snap, cause big changes… maybe in our employment, maybe in our marriage, maybe in our in-law's will, maybe from the choir director's husband, maybe from the police…. things change for us in a big way…..
That is how we have to see this. From a mud core taken from an ancient lake, Lough Monreach, in Ireland in 2009 it was discovered that in a matter of one month 12,900 years ago, we went from normal seasonal temperatures to an ice age. The cause came from a switch in ocean currents. As cold fresh water entered the ocean, warm water stopped flowing north. That Ice Age lasted 1300 years before the thaw returned. It flipped in one month…. 30 days more or less.
So is that happening?
The science is too big. We don't know. It will be like on the Day after Tomorrow where we first find out from buoys scattered across the Atlantic. It cannot be predicted.
What can be foretold is that the earth has never had this much stress before during civilized mans span on earth. Do you know when you snap, or does it take you off guard as well?
That is where we are…
Of course nothing could come about it… Just like when your boss insults you in front of all your staff, your office competitor's staff, and ridicules you like you have never been before… You just take it…
The boss tells your competitor… "I knew he was a wus… I wasn't worried one bit… you have nothing to worry about him…"
Republicans will say in Tampa:… "I knew it was a scam…. I wasn't worried one bit… we have nothing to worry about burning carbon fuels and putting carbon dioxide into the air."
News Flash: The earth is not a wus……..
2012, day 230, 2.87743 million square kilometers
2011, day 253, 2.90474 million square kilometers (previous record low)
1. Internet search giant Google announced Wednesday it is partnering with banking conglomerate Citibank to invest in what is set to become the largest wind power project in the world, in southern California. Mountain View, Calif.-based Google said its wind farm, which will be part of the Alta Wind Energy Center in the Tehachapi Pass in Kern County, would generate up to 1.5 gigawatts of electricity. It said that would be enough to power 450,000 homes through Southern California Edison.
2. Windpower 2011 finished up today in Anaheim.. Out of that, the big news was that the regular boasting of 41,000 MW of domestic capacity and celebration of providing electricity equivalent to ten nuclear power plants were contextless figures that ignored wind's chronic problems of intermittency, geographic/transmission difficulties, and its inability to provide baseload power. Breakthroughs will be needed to address these challenges, and experts agree that the R&D funding gap necessary to achieve those breakthroughs will come from governments, not private industry.
3. Delmarva Power, a Delaware-based business unit of Pepco Holdings Inc. said it has filed a request for the approval of its revised agreement with Synergics Eastern Wind Energy LLC, which has moved its wind farm located in western Maryland to central Pennsylvania. The filing was made with the Delaware Public Service Commission.Delmarva Power said it also has other agreements in place to supply clean, renewable energy to its customers. Some of these include a 15-year contract with AES Wind Generation, a unit of AES Corporation (AES – Analyst Report), for 50 megawatts of wind power; a 20-year contract with Synergics for up to 40 megawatts of wind power from its Roth Rock project in Maryland, expected to go fully operational next month; a 25-year contract with NRG-Bluewater, a unit of NRG Energy Inc. (NRG -Analyst Report), for up to 200 megawatts of offshore wind power from its planned project off the Delaware coast; and a 20-year contract with White Oak Solar Energy for up to 16,500 megawatt-hours in solar renewable energy credits, to go operational this summer. A quick check here, shows it has either yet to be filed, or has not yet been uploaded to Delaware PSC site.
4. Wind power's vast supply chain, which produces the 8,000 components making up a typical wind turbine, continues to grow deeper roots here in the U.S. Today the industry employs 75,000 people, and over 400 wind-related manufacturing plants dot the map in 43 states, from California where the industry began 30 years ago, through the Midwest which now leads wind development, to the Southeast even though its first wind farm is still on the drawing board.
5. This past February, Secretary of the Interior Ken Salazar and Secretary of Energy Steven Chu unveiled a coordinated strategic plan, A National Offshore Wind Strategy: Creating an Offshore Wind Industry in the United States, which pursues the deployment of 10 gigawatts of offshore wind capacity by 2020 and 54 gigawatts by 2030. They announced $50.5 million in funding opportunities for projects that support offshore wind energy deployment.
6. The Connecticut House of Representatives overwhelmingly approved legislation Tuesday requiring first-ever regulations governing state review of wind power projects. Lawmakers voted 132-6 to back the bill calling on the Connecticut Siting Council to adopt regulations on setbacks, a wind power project's impact on natural resources and other factors.
7. Currently, the market is being shepherded by developers who are scrambling to put turbines in the ground ahead of a 2013 expiration of lucrative federal tax credits for wind. Beyond that date, the industry's fortunes are hazy. "You are going to see a real slowdown in '13," Vic Abate, General Electric Co's vice president of renewables, said in an interview this past Monday at the above mentioned U.S. wind industry's annual trade show in Anaheim, California. "Over the next 12 months you are going to see all great news. You are going to see project starts are up, units are being shipped, orders for turbines are going up. It's going to give you a signal of security, but the reality is they are all targeted to end on December 31, 2012," he said. A government support plan that must be renewed every couple of years only makes matters worse. "The hardship on the industry is this sort of stop-start policy," said Lisa Frantzis, managing director for renewable and distributed energy at consultant Navigant. "If you look back it's always been extended, but the timing can really impact things."
Matthew Wald in his New York Times blog, has more information about the construction of the Electric Superhighway up and down Delaware's coast.
Onshore, we use an AC grid, or one based on alternating current. But the link in the Atlantic would have to be buried, and alternating current does not work well in long cables that are enclosed because the interaction between the current and the cable casing drives up voltage to unwanted levels. So the system has to be direct-current.
Nearly all the submarine cables use direct current, a form of transmission favored by Thomas Edison but mostly rejected in the late 1800s in favor of alternating current, the kind of electricity now used to run most appliances. But alternating-current lines are hard to bury, because an interaction between the current and the cable casing drives up voltage to unwanted levels.
The cost of putting a cable under water can be lower than burying cables on land, because workers can lay the cables from giant reels, allowing stretches of more than a mile with no splices. But underwater lines are still more expensive than lines on transmission towers. Much of the cost in each case is to transform the electricity to direct current, a form that is easier to use in buried cables.
New technology offered by two European companies, Siemens and ABB, has lowered the cost for some direct current projects, and shrunk the size of the terminals where alternating current is converted to direct current and back, a crucial consideration in urban projects.
One of those companies Siemens, has a plant here in Glasgow, Delaware. Recently, European transmission experts were in town to deliberate.
So the new proposal for an Atlantic Wind Connection is actually about a series of links terminating at substations built on platforms that would sit in the ocean like oil drilling platforms, except, of course, these are clean-energy installations harnessing wind power. They would have to be hurricane-proof and include a spot where a service vessel could moor. Wind farms would tie into the system here.
The cable itself, weighing about 30 pounds a foot, would be lowered into a shallow trench that would be blasted by a device called a jet plow that squirts ocean water into the soil. The cable goes into the trench and is gradually covered over with sediment.
The cable itself is copper, with 1.75 to 2 inches of insulation and multiple shielding layers. It may have a steel outer guard. The outer diameter would be about six inches.
But beyond three miles from shore, no matter where it goes, the cable has a major advantage over cables on land: it faces only one landlord at the outset, the Department of Interior. And the department is sympathetic to wind.
This is a wake up call for Delaware. Governor Markell, Congressman-elect John Carney, Senator-elect Chris Coons, and Senators Ted Kaufman and Tom Carper, all need to get moving on this opportunity now, if only to head off those other states who will be trying to muscle in… These next 24 hours are critical.
Google surprised us yesterday with the news they were investing in an offshore electronic super highway off our beaches shores…
The High capacity trunk line, would disperse electricity being driven by Atlantic Offshore wind turbines, to the major metropolitan area requiring it the most.
This electic dispersal system, would stretch from off Long Island down to Norfolk, Va.

Courtesy of Google
As stated herein, the primary problem up to this point, had been how to get the electricity generated offshore, to urban areas where needed, over Delmarva's dilapidated and antiqued 1930′s era transmission system. Economic and political pressures had slowed down the development of MAPP's efficient electrical superhighways.
Yet even before any wind farms were built, the cable would channel existing supplies of electricity from southern Virginia, where it is cheap, to northern New Jersey, where it is costly, bypassing one of the most congested parts of the North American electric grid while lowering energy costs for northern customers.
This is a safe investment. The largest energy user in the world, is our PJM grid right here on the East Coast. Currently much of what we use, comes from Midwestern coal burning power plants. Having a source of energy offshore, cuts down on the amount of lost power that leaks out during the process of transmission. The higher the voltage, the less leaking of electricity..
Once this backbone is in place, building offshore wind can began anew.
As frequently mentioned throughout these writings. someone is going to build wind farms up and down the Mid Atlantic Coast… It is too perfect of an investment to go untapped. Not in many other places can you find a similar opportunity where a minimal investment can yield the maximum of return… So, someone will be building wind farms. Some state will become the center of this industry. Delaware should be that state…..
After all, why do you think we got our former Senator chosen as Vice President?
Anyways….
When built, the Atlantic Wind Connection (AWC) backbone will stretch 350 miles off the coast from New Jersey to Virginia and will be able to connect 6,000MW of offshore wind turbines. That's equivalent to 60% of the wind energy that was installed in the entire country last year and enough to serve approximately 1.9 million households.
The AWC backbone will be built around offshore power hubs that will collect the power from multiple offshore wind farms and deliver it efficiently via sub-sea cables to the strongest, highest capacity parts of the land-based transmission system
Locally, our economic recession could end today, if we'd just get wind off the ground and moving forward where it should have been years ago….
Bottom line, it needs to happen. It needs to happen in Delaware. Perhaps it's true? Perhaps we need a federal project, just like the Depression Era Oak Ridge energy project built in Tennessee, to get wind off the ground as fast as possible?
The idea for moving the electrical backbone offshore, is pure genius. Figure the sharp wonks at Google would be the ones to see and capitalize on its potential, while potbellied Pepco sits on their hands…
Perhaps next Google would like to assist in the financing our wind farm? Guaranteed excellent returns on the investment…
See if you can figure out how……
A bridge to the future, if collapsed, takes you no where… –kavips
This chapter looks at rebuilding our infrastructure. We have highway problems, energy problems, educational problems, as well as health problems, environmental problems, and social problems. Can rebuilding our infrastructure be a tool to begin the mending process?
Up to now very little has been spent on maintaining our highways. Most highway money was earmarked for new growth.. It was as if no one gave consideration of the fact that maintenance of what we already had up and running was a cost that needed budgeted in.. After all, what political points are ever given for repairing a road before it goes bad? (Damn it, why are they tearing up good highway, costing me twenty five minutes in each direction?) But with the August 1, 2007 collapse of the Interstate 35 Bridge in Minneapolis, we see what happens when highway infrastructure is ignored.
For example in the United States alone, 25% of our bridges are deficient. In Delaware, 15.4 % of our bridges are either functionally or structurally deficient, which is actually good when compared to our fellow small state Rhode Island with 52.9% of its bridges deficient. As one travels back and forth, one crosses an unknown number of tiny bridges; of these, one out of four is deficient. How would you like to be on the I 95 bridge across the Susquehanna… when its time came to fall?….. or perhaps driving across the Chesapeake Bay Bridge between Kent Island and Annapolis? Thinking "one out of four" may raise your apprehension rate the next time you find yourself traveling unknowingly across a potential deathtrap…
The need to improve our infrastructure is obviously there. So if we have the labor available, how will we pay for the construction and repairs with our treasury bottomed out?
That depends on whether bonds still had any worth, meaning whether or not anyone still had any interest in buying them… Normally bonds are sold at a low interest rate, and the money taken in is used for construction. The notes are paid back in regular payments. But if there is no demand for, or more money out there with which to buy the notes, who will fund the infrastructure investment?
Today the bottom line is that the money will have to come from the Treasury. Being broke, that also means the Treasury will no choice but to print more money in order to accommodate the economy's need. As more money starts chasing fewer goods, inflation looks at us dead center down it's barrel. Unfortunately we are in such dire straits, that we have no choice but risk the chance of inflation just to keep the next Great Depression at bay….
The same scenario applies to our efforts to revamp our educational system. Now estimated to require between 45 to 50 billion (how much was AIG's bailout?) the infrastructure of our schools systems faces the same challenge of acquiring minimum funding, as does that of rebuilding our highway system.. Up until August of this year it could still have been done. Now due to insufficient funds, this accomplishment is unlikely. But if we choose to go forward, we will have to do so again funded by printed money with inflation drawing another bead upon the target on our own purchasing power..
Even today, there is enough work to employ every man, woman and child in America if we can find the resources to pay for them doing so… Work such as environmentally cleaning up Superfund Sites, energetically laying new transmission lines, socially integrating our square pegs into round holes, educationally teaching problem readers to become literate, or simply maintaining hospice care over those citizens who cannot survive long enough to see America turn its corner; yes, work can be found…
But the underlying question still remains as to how we will be able to fund the privilege of keeping America employed… and at whose expense? If we were unable to solve these problems during the past 8 years of plenty, how will we deal with them during a time of shortage?
Fortunately, we are not the first group of people in our lifetimes to rebuild our world around us… Three examples of what can be accomplished, are found in three post war states who after war's end, found themselves under American influence. That would be Germany, Japan, and South Korea. These are the models we need to turn to. Someway and somehow they bounced back from complete devastation to becoming the the second, third, and fourteenth largest economies behind that of the United States…
At war's end, there were very poor resources to spread around. Everything possible needed fixed at once. But with a small amount of seed money provided by the Marshall plan, a major currency adjustment, and a release from price controls, the German population pulled themselves up and today have roaring economies better than do any of our allies of that past conflict. (It doesn't seem fair.)
History shows us that for two years after the war, while post war punitive policies were kept in place, all of the occupied countries' economies decreased. The Soviet sector opted to maintain those policies and their economy continued to suffer accordingly until German Reunification in 1990. However in the western Allied sector, starting in 1948 with the abolition of price controls and most post war rationing, along with the devaluation of their currency designed to shrink the amount (by 93% contraction) of the money in circulation, their economy took off; lost days decreased by half, and industrial production climbed within six months by 50%. Both nations were blessed with the post war abundance of skilled cheap labor; therefore both nations were able to increase the flow of money into and around their country.
Rising to the challenge imposed upon them by history, all three countries had able leadership which was effective in communicating this to each countries' populations: … that their time and effort were to be properly considered as an investment. Their rewards would not be reaped immediately, …but would someday be magnificent. Their leadership was also effective in communicating that timing was critical. If they did not begin immediately… their nation's dreams would never materialize. It was their competent leadership that marshaled the populations of both WWII nations back to work "on the cheap" and that…. the bottom line, is how both counties bounced back. Not dictatorially, but economically. One should note that both of the two occupied economies fared much better than our Allies, who received far more Marshall Plan aid than did the conquered nations, and who did not have to pay for war repatriations as did both of the war-torn countries.
From here I pulled this little piece of history, showing the progressiveness that forced the German economy forward…..

Colonel:"How dare you relax our rationing system, when there is a widespread food shortage?"
Erhard:"But, Herr Oberst. I have not relaxed rationing; I have abolished it! Henceforth, the only rationing ticket the people will need will be the deutschemark. And they will work hard to get these deutschemarks, just wait and see."
That they did.
Obviously sitting in our armchairs looking forward, we too understand that we will face the specter of inflation. It MUST come with the copious amounts of money we are currently and anticipated soon to be printing. However as does any nation in a war, our country does what is needed. Currently and just like it was after WWII, the US right now is the only global entity strong enough to expand its money supply fast enough to put most of its citizens back to work. As we begin earning extra spendable income, our demand increases; when that demand pushes up prices, more and more entrepreneurs race to fill in the vacuum of goods… bringing them back down. Greed is good.
As for actual rebuilding of infrastructure, postwar Japan offers a slightly different model. In Japan we meshed the government, banking system, and large industrial players to fund, construct, and grow their infrastructure during the sixties. The local banks, backed by the government of Japan, used a system of overloaning. This policy is one which the Bank of Japan guarantees all loans issued by city banks to their industrial conglomerates. Because there was a shortage of capital in Japan at the time, industrial conglomerates borrowed beyond their capacity to repay, often beyond their own net worth, thereby causing city banks in turn to over borrow from the Bank of Japan. This gave the national Bank of Japan complete control over all dependent local banks until the loans were repaid.
The primary difference between the Japan of then and America today, is that today, the money is still not being lent out by those banks receiving Federal assistance. Instead, today's over loaning is being wasted on the buying up of other banks; today that mass infusion of capital is being used to consolidate the financial industry, instead of financing large projects that actually put citizens to work, and in turn funnel money back through the economy.
The question remains. Does rebuilding our infrastructure get us back on our feet?
Yes and no. The economic impact on the local level at the location where the federally funded project is being built, is huge. But it is a localized effect. For an economic turnaround to be effective, infrastructure building must occur simultaneously in almost every town or village across the United States. If funded solely by the federal government, that significant cost would appear prohibitive. But if instead of being funded solely by the Federal Government, it is done as did the Japanese during their infrastructural rebuild, (where all local banks simultaneously financed local projects close to their locations), much more capital becomes available. If we place our bets on the option that local banks WILL lend out the money, if we guarantee that they lose none of the amount lent out,…. then that outcome could start some infrastructure development in the very near future somewhere near every community's small bank, no matter where it may be located.
So if as a nation, we choose this plan, and we attempt the Japanese-tried approach, the question next arises over which infrastructural improvements will return the largest investment? The consensus seems to be that Energy, Education, and Technological advancement lead the pack.
As we now all know, even during prosperous times our nation gives up a large percentage of its income to other overseas nations just for oil. By simply keeping that dollar amount in the United States we could provide our economy a substantial boost. Furthermore, manufacturing and exporting new technology which help frees the rest of the world from their dependence on oil, would certainly assist us in turning the trade balance back in our favor. Both of these lines of thought converge to point out this: the increase of our energy independency could become the primary viaduct which could bring America back into prominence.
As for increasing our energy independency, there are several options for doing so. One, is to create new sources. Here is one startling fact: there is enough potential wind power in North Dakota alone to cover 25% of America's energy needs. The problem is getting it to where it needs to be used. Building transmission lines from America's heartland out to its extremities, where its largest users are, should be a first priority. For one, it actually uses the free market plan and opens markets to a cheaper supplier of that required product. Two, transmission costs are a significant portion of the energy costs we pay for electrical energy today. Three, poorly outdated transmission grids eat up a lot of energy that could instead be used to power America.
Likewise building transmission lines from our local shores to major metropolitan areas, provides those city areas with cheaper electricity from off shore wind, thereby increasing the likelihood that more wind power generating companies will set up off-shore. The larger the wind farms are off shore, the better our economy will weather that upcoming Depression that appears to be looming off our horizon… And if hydrogen is one day destined to become our replacement fuel, then locating their manufacturing plants in close proximity to offshore wind farms, in order to capitalize on a wind farm's free excess energy during non peak hours….. could certainly help build an industrial base to back up the tourist economies of rural shoreline counties.,.
Directly related to the new technology of wind power, would be the need to construct electrical storage facilities in areas that have no jobs. Western Pennsylvania and West Virginia would be ideal localities to build closed circuit water generators that use free excess wind power during non-peak times to pump water up a hill to reservoirs on top, from which water can then be released during peak times, flowing downhill turning a series of giant generators as it falls to the valley floor. These massive projects would put large numbers of Americans to work in those areas desperately needing new development.
But these three investment strategies are all dependent on the knowledge that wind driven energy will be a big player in the years to come. No one will make such an major investment in a climate of doubt. The Federal government over the next few years … has to make that clear.
For other hard hit areas, an investment in solar power out in America's Southwest can do the same. A conglomerate of local banks issuing out loans, guaranteed by the Federal Banking System, should have sufficient resources necessary to begin the immediate construction of a series of large solar farms in that area. With such an investment to attract large numbers of employees to that area hardest hit by the housing crises, local banks could with the Federal bank's support., begin paying workers who in turn would help out the local banks by buying back some of those foreclosed mortgages at market prices…
But unquestionably, the largest saving can be made by simply conserving more energy in our homes and businesses. Just re-insulating every home in America, can save the cost of its installation within a year. According to the Department of Energy, re-insulating a home can save between 5% and 22% of its energy costs per year. At their estimated energy cost of $1500 a year (seems low, doesn't it), the range would be from $75 dollars to $300 dollars a year. So paying someone a bounty of $75 dollars for each house, just to infra-red, then re-caulk it's leaky windows and insulate it's doors, would see its return within one year on every dwelling visited. Paying someone to go through a city's public housing could save that city government tremendous amounts of money which could be better spent putting its citizens back to work.
Educational infrastructure is likewise needed. Our nation's schools for the most part, have not been updated on a grand scale since they were originally built for the influx of baby boomers … What is more important than structural additions to existing buildings, is a revamping of the educational process itself.
America needs to regain their technological prowess… Our educational system ranks behind most of Europe and civilized Asia. One Duke study concluded that 137,437 engineering graduated in the United States, compared to 112,000 for India and 351,537 for China. Of course the quality of those foreign engineers are open to debate. But still, with lopsided numbers like that, it is obvious that over time…. we lose the technological war. Today… whoever is driving the global need for technology… drives the global economy.
Putting additional parents or motivators inside of class rooms, increasing allocations for science supplies (simply dropping sodium into water turns most students on to science as well as instantly explains the clarity of the periodic table), and increasing the social status of the "geeks" in teenage classrooms, are just some of the ways we can rebuild our educational infrastructural needs, without large investments of cash… Where we most often complain that the educational system is broken and in dire need of fixing, at the core of the problem is broken down people. Whether it is administrators, teachers, school board members, parents, or the students themselves, what we have throughout our education system is a group of talented, but leaderless individuals. All are spinning their wheels independently in their effort of trying to find some type of traction in improving education. Often within the same schools, different partners are spinning in opposite ways.
What American education needs is a grand goal, one that is set nationally and bought into by all of its people. Once again, America needs to be challenged. At its forefront it needs a leader capable and willing to stake his reputation on meeting and achieving that goal.. And most importantly, that challenge needs to me made without any financial strings attached. You know: the usual "we need to invest $$$ in …….". Instead, what is needed by our incoming leadership is to voice a measurable goal such as this one for example: that says by 2015 we will as a nation, turn out as many engineers as does China….. (Goal reaching against a competitor worked for reaching the moon). Perhaps to achieve it, some additional funding may be necessary. But what is more important, is that is sends a real signal to students that fun and games as they have been portrayed on children's TV, can no longer be tolerated within our high schools. Every young person now has the survivalist duty to apply themselves to the best of their ability, for the honor of their country in whatever the direction their talents lead them… (With proper leadership, this can be done fairly cheaply: it takes just one big speech.)
The long term return on this cheap investment is that by 2020, our engineers should be in the field working at top notch organizations, benefit them and us from their training and expertise…. The longer we wait… the further behind China and India we find ourselves… We are already talking twelve years from now before we can get any return on both ours, and our student's investment….
Likewise, tying in with improvement of our educational output, is our need to advance ourselves further along the road of technological innovation, ie. creating new patients. For which ever nation builds the most savvy technical gadgets, that is the country from whom all others will want to buy…
But in today's economical climate one must realize that a risky investment on some new technological device, untested in the market place, will have difficulty finding financiers. Once again, the Federal government, if it is spending its resources elsewhere, has the option of only printing more money to pay for this investment, assuming that private lenders are too scared to lend. Therefore as mentioned above, as in the post-WWII-Japanese model where the small city banks overloan to businesses and corporations allowing them to invest in research and development, if these loans are themselves guaranteed by the national bank, private lending can fulfill the need.
A very strong incentive to promote new research and development by corporations, would be to allow all such expenses devoted to the creation of new products, to become tax deductible under the newer higher rates that will be forthcoming shortly. Every bit of money spent on research and development, is our nation's best investment. Innovative new products lead to the quickest economic turnaround as those new developed ideas soon become commercially viable…
Other areas where infrastructure can also be propped up by an infusion of small loans made by city banks which are then guaranteed by the Federal Reserve, are in the areas of environmental protection, health care, social services. Western forest fire fighting companies, environmental detoxification companies, and tree reforestation companies, could begin putting people to work.
It could work like this. A company such as Guardian, on call for disaster, receives a payroll loan from a small bank guaranteed by the Federal Government to keep itself afloat until money comes in from charging an oil tanking firm for the mess they made… Most of that loan money is used to buy necessary additional equipment, which puts someone to work in the manufacturing plant where that piece of equipment came ….. As work eventually comes in, the Federally guaranteed loan is paid back to banks… In this and most cases, no direct Federal investment is required. They just stand behind the guarantee.
In the health care industry, private companies providing hospice care, watching over psychiatric patients, creating new MRI's, handling billing requests and follow up from insurance claims, can now receive a private loan from a small bank guaranteed by the Federal Government to carry them over until their money returns. Needing new equipment keeps a job at the plant where that piece was manufactured…
Companies specializing in assisting the poor, handicapped, impoverished, hungry, homeless, can also stay afloat by these private loans over lent by their banks, but guaranteed by the Federal Government. When the money returns from their clients, the loans are paid off.
In each of these areas, existing goods and services are maintained. The businesses don't fold. Here is a different way of looking at it. This Keynesian jolt of economic activity is metaphorically like starting a heart of a human being temporarily stopped in cardiac arrest. At that time, all the systems are in place to work…. the heart just needs pressed to get started….. Our economy is like that. Inattention to the core of our economic problem, which is money not flowing out of banks, will lead to the same result to us as it would to a patient who does not get his heart restarted….
So this chapter can be summed up this way. The Federal Reserve is given responsibility for making sure that all projects having a viable chance of success, receive funding from, and eventually pay back… the small local banks making those loans. The Fed just guarantees the loans won't fail….
Those out going loans should be focused on projects giving us our biggest bang for our money. Those areas providing the best return on their investment, are in the areas of energy, education, and technological advancement……
Instead of direct investment, the use of Federal guarantees in these three areas, coupled with the Federal Reserve's monitoring the effects of inflation, are one way our nation can capitalize on its current hardship, and pull itself out through our effort, grit, and tenacity….