You are currently browsing the category archive for the 'delaware's finest' category.
How does one grow Delaware Jobs?
Does one say…. Here come here and will shave a penny off the cost?
Does one say…  If you work here, we will bend regulations to cost you less money?
Does one say…  Our productivity is high because our employees are smart?
Does one say…  There is no better place to live on this planet?
If you are good at what you do, you probably try all three….  (If that didn't set off signals in your brain then step three is not even in the running).
We have strikes against us… We are are the 40th lowest economy, due to our small size…  We have 39 bigger economies competing against us.
Any one of which can under-bid us on business taxes and make up the difference by raising their sales tax rate a penny….
So, against this,  how do we increase Delaware's jobs…
Well we've tried the carrot…  Now the stick.  There are businesses already heavily invested in Delaware….  Why not give them the option to write off new building costs?
In it's simplest and most abstract form, it works like this:…..
Since paying taxes and building something both equally help the economy of the state, it makes no difference and is a simple trade off from the states economy's point of view, as to whether the money goes directly to the treasury or indirectly, by being invested into new buildings on business properties…  Therefore now is the time for businesses to expand, for that expansion can be written off the tax owed to the state…
The initial lost revenue will be returned in part by the taxes on the new jobs, and by taxes on the business transactions that mushroom as a result of this policy….
So as a business owner, you have this choice.  You can pay the state and never see that money again, or you can build upon your property, and keep that money invested in the increased value of your assets… When you sell, you recoup the amount you invested so it is not lost revenue; it is not wasted… Plus the expansion now means your yearly net income is higher as well….
But at Delaware's current abysmally low rates, even allowing the expansion write off, would benefit only a few of the larger, more prone-to-expand, business entities across this state…. Which is why it must be accompanied with a higher tax rates to create shock and awe among the principle players…
Taxes are based on the amount of money left over.  Simply put, if there is no money leftover in a business, there is no tax… There is therefore incentive to  maximize one's profits in the field, and then minimize them on paper….  That incentive, creates the expansion that hires people… most particularly those in the construction trades….
Tax increases drove the WWII economy.  The post war expansion.  The Clinton Revival.  And now this year, 2013…  States enacting tax increases such as California and  New Jersey, are doing much better now than states reveling on their lack of taxation and their lack of regulation…
More is better in this case.
Delaware has one of the weirdest tax state income tax delineations.  The percentage climb stops at $65,000…. A person who makes $65,001 pays the same rate as does someone who's financial empire brings in $65 billion dollars…  We have much room to pay with.  This year Delaware needs its General Assembly to act and pass a state tax system such as below….  This is just a first draft that will, and should be tweaked by the lobbyists scrambled by the powers that be to do damage control….
$1 Trillion and above…. 15%
$1 Billion and above….   10%
$100 million and above…9%
$ 1 million and above… 8%
$100,000 and above… 7%
No further changes are required….
As an example New Jersey's economic stimulus new tax hike rate stands at 8.97% over $500,000….   No one is going to run away from Delaware because of our increased tax rate…. unless they run away in order to pay even more.
Based on sources inside Delaware's Department of Revenue, this would increase our state's annual revenue intake by roughly $220 million dollars or  about 7% of our current revenues…
What that should mean for every Delawarean, is that there is a very good likelihood that most of this will be invested right back into this state, if a that change in state tax code is made, thereby allowing the complete write-off of all domestic construction on this tiny patch of earth,  only 35 miles wide, and 96 miles long…..
If you build on that small patch, Delaware won't tax you the amount you spend upon the building.  Delaware needs to jump on this idea first.  Otherwise other states will take even this competitive edge away……
I am just as guilty of this as is every one else.
A single issue polarized this election for outsiders.  A huge power plant, which will dominate the skyline from Academy Avenue southwest to Chestnut Hill.
However there are other factors not being taken into consideration.   The 115 margin is disheartening to many of those outside Newark who will be soon breathing toxic air.  But it is a miracle that it was even that close when one considers the dynamics of a small town mayoral race.
The first factor left out of every discussion so far up till now,  is that the incumbent was considered by most Newarkeans to be the best mayor they have ever had.  Both business interests and residents have commented in private, that Vance Funk "got it" .  He understood how things worked together, development and quality of life, and rode the magic line right down the middle.  In truth, the Newark of today is almost unrecognizable from the Newark of the  early 2000′s…   Now when one says Main Street of Newark, one has to ask… which one?
A lot of the magic that is Newark is due to Vance Funk.  So when someone of such stature endorses his pick as someone who will carry the same theme forward, it carries a lot of weight.  Many votes for Polly are votes of thanks to Vance.   "He's a good guy, so if he picked her, she must be alright too" was a sentiment heard across the streets of Newark the past two months…
Against this, two great candidates, Amy Roe and Rebecca Powers,  would probably not have done as well had they not had the thermal of the power plant issue burning underneath them….   From Amy's personal biography one has to wonder if she would have ever run, had this not become an issue requiring someone of her stature to step up…  I'll let Ezra speak for Rebecca.
In point, if one lives in Newark, this race was not only about a power plant.  It was about people you know; it was about how you feel about the  town; it was about who should lead the town in the future on all issues, not just the town's approval of a power plant…..
And the people spoke. And it was close.  Whether the power plant goes in, or another controversy rises up to stop it, (a severe economic crash for example)… the people will have to live with their choice for a long time.
I think it should be noted, that Amy Roe handled herself in the spotlight rather well, and in the future, all this effort will undoubtedly  lead to a greater good.
And, just in case no one heard Allan Loudell's observation on WDEL, all the top three vote getters were women…. How nice is that?
It used to cost 40 pieces of silver. Now it costs $45,000 dollars.
Apparently there was a giant rally at the Chrysler Plant in support of the power plant. A quick check of car plates (and bumper stickers) showed that Union members from Philly, New Jersey, Maryland were there. Surprisingly, none identifiable from Delaware were there. The surprisingly few Delaware plates that were there, all were black, and stuck on the back of $70,000 cars or trucks…
It appeared to be an attempt to show Newark that lots of people still support putting in the largest power boiler in the state right next (only 20 Wal*Mart aisles or 200 feet) to houses with kids and dogs and cats playing in the yard….
But none of this crowd came to all the public sessions. All those were 20 to 1 against installing the power plant.
So vans of strange people who talked funny were roaming Newark neighborhoods last Saturday and Sunday. They put on two door hangers... One in support of the power plant. One in support of Polly Sierer, candidate for mayor.
Polly Sierer denies she knows who is doing it… "I wish they'd stop she says…" Well, one person whose name is on the pamphlets, is Mike Mullens. The pamphlet says for further information, contact the Delaware Department of Elections. A lot of people did.
The Department of Elections said…"we know nothing of this. Nothing at all"… Most politicos just shrugged and said, "well they got us; they filed under the window of the 8 day reporting, so we will have to wait for the year's end filing to see who was putting up all this money… It has to be a lot of money.
Very late Sunday night,last night, someone actually looked up the code and discovered that Bob Gilligan changed it last year. And it was signed by Jack Markell. After my memory was jogged, I can now remember El Sonambulo discussing it on Al Mascitti's show… They have 24 hours to contact the Department of Elections upon either spending or receiving money.
They scrambled all night and most of the day, trying to create a political action committee, get officers in line, get everyone's story straight, and then file with the Elections Office… There is nothing still on the websites. The election is today….
Finally just before closing yesterday, around 4:46 pm, those who emailed request, begin to get their answers….
The PAC is worth $45,000! Prior to this notice, Polly's 8 day report shows the total expenditures at around $5,000.… The PAC IS SPENDING 9 TIMES THE AMOUNT OF ANY CANDIDATE TO THROW THE ELECTION….. It may be throwing it your way if you are a Polly supporter; it is throwing it against you if you are not….
Polly still says she has no idea. The man she is pictured with on the PAC's piece of literature, former Mayor Vince Funk, also says he has no idea of who is running the PAC that features him on the front page…
Here is what the Department of Elections told us….
Among its founding board members is Andrew Lubin, University of Delaware's real estate director, who is responsible for the development of the STAR Campus….
It is safe to assume, that the University of Delaware is probably putting in $45,000 dollars to swing Newark's election, in order to get the go ahead from Newark to build the largest gas boiler in Delaware…. nine times the amount any other candidate can raise….
The University of Delaware put up the money, and for cover, had the Delaware and New Castle Chambers of Commerce, the 100 Club, the Delaware Contractors Association, the Home Builder's Association, Delaware Realitors Association, and a dummy corporation called DEED, for Delawareans for Environmental and Economic Development… a shill sounding name and website if I've ever knew one…. It had all these companies pile on…
Why not, to them it was free.
But they all got caught because of Gilligan's law…
The question is, Newark… what are you going to do about it? Stand there and take it, let the University buy your vote as if you don't matter, without you even considering any of the alternative?
Or……. you can set them back by voting for Amy Roe…. She is not for sale… nor is she someone who can be pushed around or bullied, she will have your backs…
I happen to think it is a pretty easy choice, but the beauty of democracy is that each one of you gets to decide… Your decision sets in stone a power plant for 75 years… Good luck Newark… As of 7am this morning, everything is riding on you…..
Someone is worried about the Newark mayor's race.  Nancy's evidence shows that  financing for Polly Sierer's campaign is coming out of One Commerce Center, 1201 Orange Street in Wilmington.  This building is the home to over a 100, 000 shadow corporations.
Here is what Nancy has:
The address listed on the Polly Sierer mailer is the Cambridge Drive, home of Mike Mullen. It says to visit elections.delaware.gov for more information on "I Like Polly's Plan." The Department of Elections says a PAC was just created but has not yet filed any reports so we will not know until the end of year report who is financing this effort. The PAC had the minimal information legally required, which was the treasurer's name and contact information. The treasurer is Mike Mullen and his cell was listed – 392-893-7832. I have tried calling but it does not ring and simply says "The person you are trying to reach is not accepting calls at this time. Please try your call again later."
Here is the location of that area code…..
Two islands in the middle of the Pacific Ocean 5000 miles East of Australia….  (it is probably a default; there is no area code for 392 other sources state.)  It appears this number is off a spoofer, one of those machines that can fake a number.  Here are a list of random complaints made over that area code….
We now have a violation of election law.  The deliberate misleading of who is sponsoring a candidate is not allowed.  A known illegal phone number was given to the Department of Elections for the treasurer of a small municipal mayoral election….  It is not a mistake.  It was provided by a spoofer. It was purposefully hidden.
What happens now.
The Superior Court has jurisdiction over Election Law.  All entreaties must go through the Attorney General.  Due to the timeliness of the election,    "(a) The Attorney General shall immediately prosecute to final judgment all complaints which may be made of a violation of this title.   
Furthermore, a complaint can be further made to the Elections Office on Monday, and the complainer require them to notify the Attorney General of this violation. (b) Each department of election and all election officers shall notify the Attorney General of all violations of this title.
Election filings are considered perjury if misfiled.  There is no mistake that his was intentional…..
=========
But that is really an offshoot.  What is important for Newark is that a giant corporation, with over hundreds of billions in assets, is using surreptitious means to overthrow Newark's elections for one reason.  To approve the largest gas burner in the state of Delaware which will be only 200 feet from resident's homes. And use the umbrella of providing jobs … to do it.
Would they be doing this if this was really a good plan?  Or would they be doing this because time is running out, and the threads are being followed, and soon the truth will show?
Gas burners shower their surrounding ten miles with elements normally kept miles underground.  Radon is one.  Radon detectors in everyones home will now go off non stop.  Lead is another.  Imagine a micron depth of lead over your cars, you lawn furniture, your pets, every morning you wake up. Uranium is a third.
There are very good reasons the investors of the largest gas burner in Delaware, which will run 24/7, do not want you to know this.  Likewise, there are very good reasons corporations choose to register in Delaware, where no one can find their owners and hold them accountable…..
But at best it comes to character… Who in the hell hires a treasurer they don't know, who has a phone number showing up in the middle of the Pacific Ocean?  Ostensibly so as not to answer questions?  So as not to be accountable?  So as not to be up front?
A patsy. A pawn. A slave to someone else's interests… That is who.  Seriously.  If YOU were running, and  YOU are the one who fills out the application form to run, YOU are the one who puts down your treasurer, YOU are the one who types in their phone number in the slot that says after treasurer …. Phone Number….  and YOU didn't know it was a fake, or you knew and agreed with it,  wouldn't YOUR character be suspect?
Newark.  You are so lucky.  Consider yourself warned just in the nick of time.  Regardless of how you feel about the Power Plant, and now that evidence is rushing in on how damaging it will be you should be concerned, just on character alone, is reason not to "Vote For Polly."  Character alone.  Doesn't Newark deserve better?
Why is Polly's Treasurer's number a fake area code?
The answer is in One Commerce Center, 1201 N. Orange Street, Wilmington, Delaware, 19801…….
So vote:  Shall it be Wall Street?  or Main Street, that is… both the East and West versions of Newark's Main Street….. And if by chance you are wondering who is squeaky clean and willing to represent all of Newark, and won't be cowed, intimidated or bought out by the persuasive giants of Wall Street?  You should already know it is Amy Roe… She has stood up to them many times. I think that now, at least till this data center passes, someone who is pro-business-as-long-as-it-does-not-kill-residents in its process, is what Newark should have. Actually for now, it kinda appears what Newark really needs.
Unless  later, whenever you have a complaint with the city, you want to call the Pacific Ocean….. "Ariel, Ariel… is that you?"
I thought it absolutely amazing that name of the person leading the charge to protect the spawning grounds of Delaware Bay, was Amy Roe…
See if you get it…..
Should be a good omen …….
I hope you see this… I wanted to document a list of the damage the Pam Scott regime had done to New Castle County, such as destroying historical buildings, brushing aside traffic studies, mitigating necessary environmental policies, .. In general, everything they did that deteriorates the quality of life for people in New Castle County for years to come..
Then I realized it really should  come from you… You have the archives in Delaware Way; you know how your archives are organized, and you with a quick email sent "To All" could rapidly receive a plethora of details your contacts had lived through and fought against…
I know it will be a labor of love, and may take some time… But I think the world should know how this erosion of resident's rights for the accumulation of money for a few, was done.  I figure it would probably take one day to go thought your archives, cutting and pasting links to all the articles on one page…
Often local struggles are rarely documented.  However they touch our lives far more than state or national issues.  It would be nice to have the truth out first for once…  all organized in one volume.
I really feel it should come from you.
It's September and with september comes the time to set up the next legislative session in Legislative Hall.
The first issue of business is revenue.  Delaware needs to generate more revenue.   The more revenue generated here, the more people go to work and the more people go to work, the higher the wages must rise to attract labor…
The way to put Delaware on the fast track to economic growth is as always, to raise taxes…
Here is the first proposition on the table.
Creates four high-income tax brackets for taxpayers with taxable incomes exceeding $250,000, $300,000, $500,000 and $1,000,000. This increased tax will be in effect for 7 years..
Imposes a 10.3% tax rate on taxable income over $250,000 but less than $300,000-
Imposes an 11.3% tax rate on taxable income over $300,000 but less than $500,000–
Imposes a 12.3% tax rate on taxable income over $500,000 up to $1,000,000–
Imposes a 13.3% tax rate on taxable income over $1,000,000-
All capital gains will be assessed by the level with which they fall into the categories above.
Currently the highest tax rate is 6.95 for all income over $60,000.  A travesty really.  Someone making $400,000,000,000,000,000 is paying the same rate as someone earning one penny over $59,999.99….
As a special request, I would ask that all this income be earmarked to improving our schools.  No one making $400,000,000,000,000,000 could possibly argue against paying more for that!  Public school education is necessary for the continuation of America.
I would further ask that each existing school district offer an accurate budget proposal based on what they actually would need to make themselves run smoothly, deducting the money they should receive from their referendums, and send in the remaining budget shortfall into the state.
If it takes $120 million to run a district, and you only have $90 million to spend, it is no wonder we have problems in education.  The state should fund the $30 million and should take that $30 million from the higher assessments that Delaware so desperately needs.
Time to start discussing it.
Posting this in timely fashion so something has to get down about it.
A) Kilroy links to the Sheriff's Sale report showing Moyer's Attorneys put it on the auction bloc to buy it up themselves.
B) That link goes down.
C) Investigating why that link went down, the address he posted
"/sheriff/documents" was moved to the forbidden list.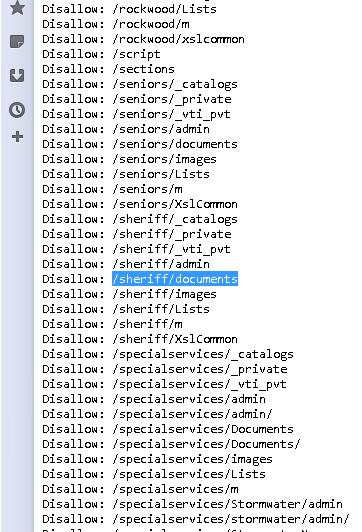 D) All documents with that address, meaning all sheriff sales etc, valuable public information that is required to be publicly accessable to prevent the type of corruption that just occurred, ….. everything with "/sheriff/documents"… is now frozen….
Is this law firm guilty of corruption in the highest order?
Today is School Board Elections…Polls are open 10-8…  If anyone is sponsored by Markell or Rodell or RTTT or WSFS, don't vote for them.. If anyone is sponsored by DSEA, they are on the students side. They are safe.
So go out and vote like a goat… Be…  B-a-a-a-a-a-a-a-a-a-a-a-a-a-a-a-a-D
The internet will be abuzz with posts shortly.  The excitement was great.  No one knew if it would pass. It did.
Melanie _____.______. Smith (lol)  Girl you did it.  Hats off to a rather well crafted bill designed to make it through.  You earned your bottle of wine tonight.
Bryan Townsend is amazing.. A Patrick Henry when it comes to what is just.  I kept seeing Tony Deluca in that position, knowing full well we would have an entirely different outcome had it been so.
Patty Blevins as should be, worked the background brilliantly.  Knowing what must take place to do these things, she gets a shout, because the quiet ones, are the ones you have to watch… It takes a lot of structure to put on a pageant such as this…
Clothier, Marshall and Bushweiller had tough choices.. out of  a thousand voices in their ear, they chose to hear the right ones.  We are so small standing next to them.
Karen Peterson rocked the house.  "If my happiness somehow demeans or diminishes your marriage, you need to work on your marriage"  certainly seems like it would apply to Senator Venables. That dude has some work to do…..
In this hearing and vote, it becomes very clear.  If you look straight into the heart of America,  each and all the values we grew up under, the Democrats embody.
The evil that also lies in America, is Republican to the core… Never in my lifetime did I expect to see people use God to promote bigotry.  For as the vote was failing, as the house of sticks was crumbling around them, as they worked themselves into a fever pitch to make one last gasp to undo the damage, the clear, unadulterated hatred, the pure crystal of evil burned from underneath their skin.  Hatred. Hatred at all these people was their fuel.
I now know what those brave souls walking across the bridge at Selma saw in the eyes looking back.  I now know what those women in children sleeping in Wounded Knee saw when their tents were slashed open.  I now know what those female slaves in Alabama saw in their overseer's eyes… I now know what every Southern black African American man saw, when he heard the phrase… Boy, better move a long now, you know you don't belong here."
Because I saw it staring back at me on the floor of the Delaware Senate. It was in each of those Republican's eyes as they got up and tried to embarrass, put down, demonize an innocent  group of people they deemed inferior, beneath them, slovenly, trash.  It was in the eyes of every fake pastor or priest to got up to twist God's word in such a way as to demean the very one whose words they praise on Sunday.
This is the undercurrent of America we don't like to talk about. This is the sewage that come with building a society.  This is America's most horrible accomplishment.  The underbelly of our just laws and our freedom to say or do what we please.  There are people who only gain worth by putting others down, and because they are Americans, they have every right to do so.  Prejudice will continue.
Seeing it in person was unnerving. Seeing it for real made one sick.  We have a real problem in our country, One that must be put down like a poisonous snake… Sure we can live with it.  But one day it will bite us, or even worse. Our children….
But today, we beat them.  Like George Wallace in the schoolyard doorway, they showed America the stinkin oafs they truly are….
The only reason they voted no… was to fuel their hate.  Delaware and America can and need to do much better…
And lastly. Bethany Hall- Long….. Oh my…   it takes great courage to stand up to one's enemies… It takes even greater courage… to stand up to one's friends….
I have to go now. I cannot fight back the tears…