You are currently browsing the category archive for the 'Delaware' category.
Before anyone gets bent up over the Christina School board turning down the fight to keep $2.3 million, there is something you should know.
This money was strictly tied to starting a habit for which there would be no money next year…If the board accepted the money, at the end of funding which is this year, the board would have to pay for this extra little thing we have to do just to get our state RTTT funding.
It would be like taking up heroin because it was free.  Then you got to pay for it after you are addicted.
The Board of Education made a shrewed and very smart business decision. Many who do not have a clue will yell at the headlines.  However those of us who appreciate the power of money, who understand money, who know that money works on rules of its own and is not subject to the whims of popular opinion, KNOW this was a very smart choice.  
One that clearly was the right thing to do, even though emotionally it may be hard to bear because after all it was the right decision and not the "easy" one.
There may be criticism for awhile, but by next year, when every other district is debating whether to cut this  RTTT program or fund it with another referendum,  the Christina School District will be focusing on education… as it should…
I for one, am always glad when someone, anyone, is clear headed and makes a tough decision based on what is right.;;;
Now lets see who's stupid and self serving as they line up to criticize the board for turning this down, and who will say…"Oh, this is a stupid decision..  Who passes up free heroin!" ..
Mr. Street:  The floor is yours.  The line starts here. 
========================
Charles Potter has just introduced an amendment to SB51 striking the 3.0 average entry requirement. He says it discriminates against a black child who struggled hard though High School to get a 2.99… The toady for the administration is arguing that there is a clause allowing 10% of those not to be above target. He could slid in under that…  Potter's response is that  what if that child was on the cusp, and after 10% were in, he was next and would be denied.
The administration is saying that this bill is to raise standards  and if you don't raise standards what's the point of having this bill.
Potter is dancing around the topic, but is essentually saying this is a bad bill and needs to be voted down if it doesn't have this amendment, and finally, finally, debate is getting out on the floor,  The administration's toadies are panicked… They're wearing the stone expression face.. 
Now points we made are poking holes in the bill, but the speaker is reigning discussion to the amendment….
Any discussion of this bill is good… 
Fact is,  Potter is correct.  This bill certainly does discriminate against  wanna be teachers who studied their whole career, and with so many strikes against them, ARE proud of their 2.5 record… AND THEY SHOULD BE…
Bill was defeated by a "voice" vote.  No measure of  accountability was taken….
Fellow parents.  We lost a big one.
I would like every concerned parent to send a big heartfelt "thank you'" to Paul Baumbach for his efforts…
paul.baumbach@state.de.us
Any future parental issues with the upcoming Common core and student testing, please contact him. We the Parents, of the state of Delaware, have a new friend in the General Assembly.
SB 51 now has an amendment. In the House!   This amendment corrects a lot of wrong with just a few words.
Here are the changes….
AMEND Senate Bill No. 51, as amended by Senate Amendment No. 1, by striking lines 94 through 105 in their entirety and substituting in lieu thereof the following:
(d) Each teacher preparation program approved by the Department shall establish rigorous exit requirements, which shall include but not be limited to achievement of passing scores on both a content-readiness exam and a performance assessment.
(e) The Department shall promulgate rules and regulations governing educator preparation programs pursuant to this subchapter in collaboration with Delaware educators.
If this is done, we can all have the  best of both worlds.  One, we as parents of Delaware's children, now have oversight.  We have someone we can go to when we see issues that are not right.  Before, we had to take whatever… If that whatever was bad, we were all simply screwed… Parental oversight is important.  Not just in the creation or planning of great policies, but in their implementation.   Parents are the front line in education. They are the first to know if their child is thriving, or failing… Long before the child or teachers even have a clue.
Two, this policy allows for necessary changes which will improve teaching to be allowed to go forward.  The testing is a good tool. but not one we should be using as our sole criteria to evaluate ourselves and our educational process.  Put in proper perspective,  it is like rating a carpenter on the quality of hammer he uses…  Not his output, not his accuracy, not his speed, but on whether he sprang for a 'highly rated' hammer or not… 
With this amendment, we can proceed.   The tests can continue, and we can do what we were told they would be properly used for…. to find the weaknesses in our children's learning and work to repair them… 
As long as a teacher does not have to worry over her job by my child taking a test, I as a parent don't have to worry whether all my child is learning is… how to take that test…. I would much rather know the she doesn't understand indirect objects, or can't tell the difference between a preposition and an adverb.  That is useful, and the tests can continue, if they are used properly.
This amendment assures they will. 
Can the House please vote unanimously on this Bill as did the Senate? 
Paul Baumbach today is the hero of every parent of a school aged child…… 
Twas the night of mid May,
The clouds were long shed,
The stars were all out,
The moon was half dead.
I'd just closed my eyes
In dark deepest dread.
I had a forewarning
Of what was ahead.
The river was foggy
So full of thick mist,
My eyes played tricks.
A hand grabbed my wrist
"What is it " I cried
As my wrist was entwined.
"Come Hither",  it hissed,
in a voice harsh and sublime.
"In your search of pure knowledge
Things are not as you know
Shapes shift,  spin  around.
Truth lies buried under snow
Down becomes up, and up, is then down"
"Plant only one seed
Something evil will grow".
Something dark is afoot,
In spirit it has stalked,
If it wins out tomorrow,
Education is debauched….
Tomorrow at Two
It will take place in Bright Light.
What I feared from my heart,
In that deepest dark night.
The 147th House would vote,
Without any debate,
On something important
To all our children's fate.
War would soon be declared
On all those teachers who were right.
They'd  all have to leave
Or stand up and fight.
A Bill with nice thoughts
Will be laid on the dock.
But in the dark wording it shields,
A most powerful shock.
Instead of making better,
It tears down all the schools,
Putting up cheap imitations
That mock  all the rules.
No more shall a teacher know
What her calling required?
She could only hope like her kids,
Her scores would help get her hired.
Instead of knowledge, proven and direct.
She'd be tested on simply how well she could bet.
Praxis One and Praxis Two
Those tests of the best.
Would now be retired.
By which test could "bid" best.
Instead of old classics,
New standards were wrought,
"Romeo and Juliette" now replaced
By "How To Properly Clean a Pot".
Twas necessary to learn prose they said.
No matter if such a bore.
It left no brain cells still standing.
Well done, Common Core.
Delaware's education is 35th best.
That Includes the Ivy Leagues,
And all those good schools out West
"Not Good Enough"!
The gauntlet was laid
We must tear it down quickly
Our consultant's need paid.
We must start something new!
We don't know what it is.
But without old constraints
We can create it like jizz.
Who will do this? Good question!
That we do not know.
But when it gets done,
Arne Duncun  will be here to show.
So we'll  make it mysterious.
And hard to deduce.
Make the poor teachers sweat,
Think they're all in the caboose.
We can brainwash them now,
Do it before they begin.
They will soon work for peanuts
Because that's all we'll send in.
We won't let them pass
Till their eyes all have tears in,
We'll switch things around
Like we do on kids with Pearson….
We'll make them earn B's
To get into our class.
Those who don't earn them,
Can get in with a pass.
These new tough standards
Will make bad teaching stop.
Besides we will need them
In our Race To The  Top.
It says right here on line 53
"Must redo college standards"
Let us  buy them  new teacher ID's
Which they can hang from their lanyards.
It says "redo", not "raise levels" I see
Let us  make up our creed
Raise them higher or lower,
Or even sideways if we need.
So let's scrap what we have,
Make new in our image.
Trash all classic standards,
We'll make it a corporate scrimmage.
The tests we used to have,
Were so hard and so tough,
Lets' sub them with easy ones,
Those scores will rise with fluff.
When the kids scream about testing
We'll know we've done enough.
Let's water the standards
But tell them they're tough.
Do it with ed- gobblyspeak.
So those dummies in House
Without even a peek,
Vote YES like a mouse….
Since what you get out
Is What you put in,
We'll have robots for teachers
Their union will end.
But we got to be careful,
We got to act fast,
If they catch what we're doing,
This campaign can't last.
Strike quickly, strike fast
Strike them hard like a flogger.
Can't let them hear the truth,
Keep them far from that "blogger".
Oh we'll smile, we will praise,
We'll do what we must.
What ever it takes
To turn those standards to dust.
Make Teachers in our image?
Yes, that's what we'll do.
We'll count ourselves lucky
If they can count up to two.
The children? Don't worry,
They'll be fine as we speak.
We'll teach them with tests,
So their knowledge will peak.
Then when it does,
We'll know that we have won.
Common Core is in place.
Our work is now done.
Our friends in this Biz
Will now pay for our way.
When we meet our next challenger
Thinking he has something to say.
The Battle is ending
The war's almost won.
We just need some dumb  asses
To vote  in S.B 51….."
The specter was silent
It paused for a while
"Who are you? I said
I saw a faint smile.
It turned slowly towards me
And gave me a stare.
I could feel the electricity
From the bottom of each hair.
"Tell me" I inquired,
just one more time.
But the vision was fading
Into many fine lines
All that was left were the eyes,
And they gave me a shiver
It then grew transparent,
It was the Christina river.
So my friends, if you're up,
If you read this in the morn.
It wasn't a dream,
You must sound off your horn.
You must call down to Dover,
Let them know how you feel.
Hell copy and paste this.
Let them know this is for real.
We are being bamboozled
By clever and wit.
Our children won't learn
Anything, not one little bit.
Teaching requires
Something you can't test.
Requires a human you respect
Pushing to do your best.
We are moving away,
From what has worked well.
We are tearing down Rome
And burning it to hell.
This bill is too rash
Though it sounds pretty good.
It needs not to be rushed,
But debated as it should.
If anything is to change
It depends now on all of you.
Without your quick  input,
Like in the Senate, it will pass too.
It's tearing down what is good
And replacing it with "what-ever"
Gotta be bad for the kids,
No matter hard they endeavor.
This bill needs work.
Though it's ideas are nice.
It will mess things up royally
Without changes concise.
A simple amendment
Is all it would take.
To undo all the damage
And terrible things soon at stake.
A little snip of a scissors will do
Component V and Evaluations…
Just separate the two.
Because the way this is written
If you teach and you fail.
It's the blacks and the poor,
Who lose and wind up in jail.
Their great teachers got fired,
Because they worked in the city.
The teachers in rich schools.
Got good scores, just sitting pretty.
This is the damage this Bill will soon do.
For under this plan
If your kids don't test well,
Your career is so through
Doesn't matter if their poor,
Or if their homes are all broken.
When it comes down to corporate,
All excuses are token
"it's your fault" they'll say
"It can't be the test.
You're lazy and useless
You didn't do your best".
Meanwhile in Newark,
Where teaching's a breeze.
Just wave a magic wand,
And there is no pay-freeze.
Scores roll in higher
Because the curriculum is dumbed down.
Kids do all the work.
You smile looking down.
So reader, what do you think…
As is, what will this bill do?
If you were a new teacher,
if it was you starting anew.
Would you go to the city?
Where opportunity lies?
Teach out your heart?
And stifle your cries?
Or would you choose
The easy way out.
A lifelong career
With no second doubt.
It is so important
That this bill get changed
Otherwise our system
Will split from the strain.
Decouple the evaluations
From component Five.
Let's do what we can
To keep education alive.
This bill needs work
On quite a few levels
That will only happen,
If this vote gets disheveled.
If you love your kids,
And kids of all ages,
Make them retract their pledges.
They don't know what's in this bill.
Because they were told it's ok.
Only the parents who vote
Can still save the day.
This is you I'm telling
Just so you know.
You need to go here,
And call all that you know.
Send them this poem,
It will get their attention,
Then give them the pitch,
Tell them they'll go to detention.
What they're about to do,
Is destroy our great state.
By Dismantling educational.quality
And by then it is too late.
This bill is on rush,
That i can tell you.
Vacation is coming.
But hopefully they'll hear you.
Say "This Bill Cannot Pass"
Exactly as it is written.
"Change it, change it now
Before you get smitten".
I hope these few words
Don't fall on deaf ears.
I don't want to see children
Through veils of thick tears….
It is you, it is me,
Who must carry this fight.
It is we who are parents.
We have the most right!.
.
This bill will allow an Alabama firm to build a hospital and staff it without getting a liscence or having to be part of a review process.
To put it to the extreme, it sanctions a hands-off policy towards this one health care facility.  It is as if we allowed one restaurant an exemption to operate without a public health inspection or a business license….
c. "Freestanding inpatient rehabilitation hospital" shall mean a facility that satisfies, or is expected by the person who will construct, develop or establish the facility to satisfy, the requirements of 42 C.F.R. § 412.23(b); provided that, if such facility is not paid under the prospective payment system specified in 42 C.F.R. § 412.1(a)(3) within 24 months after accepting its first patient, then it shall not be considered a freestanding inpatient rehabilitation hospital under this section. No freestanding inpatient rehabilitation hospital is subject to the Certificate of Review process, and thus no such hospital shall have any license or authority to operate denied, revoked or restricted on the grounds that a Certificate of Public Review has not been obtained.
But if you explore the detail, it allows this new facility coming into Middletown to work without a liscense or government oversight, but requires all existing Delaware facilities to continue getting inspected…  It gives the Alabama corporation an unfair advantage over Delawarean ones.  It is as if a locality wanted a restaurant so badly they guaranteed they would never question how it operated, (where do all our dogs keep disappearing to) yet all competitors had to undergo rigid and costly improvements…
Now the last person anyone should trust in this entire world,  is a  medical firm from Alabama.   But that is exactly who we are giving away this carte-Blanche freedom to run as they wish.
I pity any patient whose children unknowingly put their mom or dad into this body-part mill…..   Under this new law, they cannot be shut down and are immune from all oversight and inspection….  No one is looking out for the patients.
Who would agree to such a bill?  We will soon know…
That study caused the leading Republican Hispanic in charge of the Florida's outreach to Spanish speaking American citizens, to switch parties.  He is now a Democrat.  And he was in charge of convincing Hispanics to vote Republican!!!…
What caused the shift?  A Republican study that specifically was aimed at the redneck hillbillies inside the Republican Party, but wound up hitting mainstream.  The undeniable truth is it this what the Republican Party really does think about what it calls behind closed doors, it's dirty little problem….
"No one knows whether Hispanics will ever reach IQ parity with whites, but the prediction that new Hispanic immigrants will have low-IQ children and grandchildren is difficult to argue against."  
So says the Republican Party of the United States of America.
Proving once again… that this party is nothing but the harshest racists..(Just watch Rick Jensen try to defend it by saying "he" is not a racist.)  Truth is… he isn't.  He's actually a great guy.. But the party he supports (though he does not represent) is undeniably racist…
A fact so driven home that the single most important Republican in charge of Florida's Hispanics, NOT ONLY FELT COMPELLED TO RESIGN… BUT FELT IT NECESSARY TO ACTUALLY SWITCH PARTIES PUBLICLY….
Is every Republican a racist?  No.  But every racist is a Republican and the Republican Party of the United States of America is beholden to do whatever those racists want!   ABSOLUTELY!!!
Every Hispanic Republican out of self respect, NEEDS RIGHT NOW TO CHANGE THEIR PARTY.... There can be no such thing as a Hispanic Republican from now on.  Just Spanish speaking Uncle Toms… who should appropriately hitherto be called…. La Malinches
Today is School Board Elections…Polls are open 10-8…  If anyone is sponsored by Markell or Rodell or RTTT or WSFS, don't vote for them.. If anyone is sponsored by DSEA, they are on the students side. They are safe.
So go out and vote like a goat… Be…  B-a-a-a-a-a-a-a-a-a-a-a-a-a-a-a-a-D
Look, I'm the most skeptical person ever,  But even I was skeptical when I saw the News Journal had this headline posts… (probably corrected by now.)…   Red Clay needs Minnehan on board ….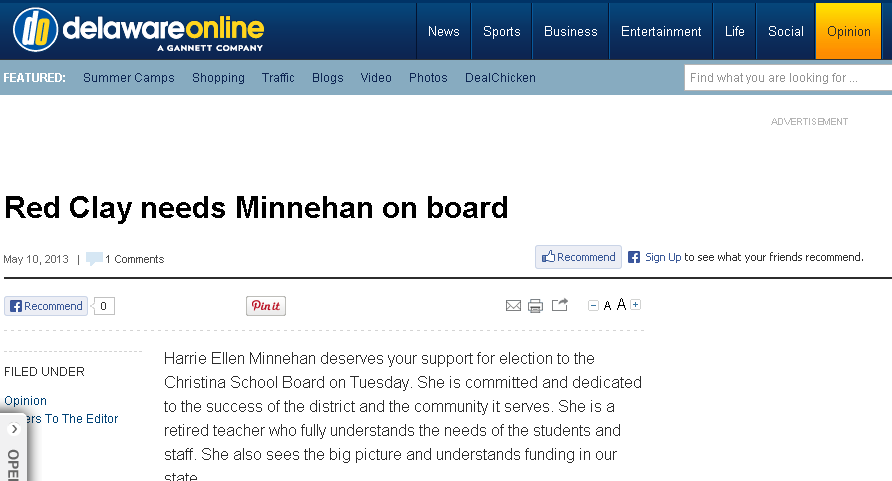 Courtesy of You Know Who
Yes, I'm sure they do, but she is running for a School Board spot in Christina.  At least her signs are all over Newark.  If someone had just checked,  inside the article this word…. C…H…R…I…S…T…I…N…A  is featured rather prominently, in the first sentence no less…  :)  If anyone had doubts, they would go to this link, the News Journal Listing of School Board Elections,  and see there in Christina District E …. Minnehan.
So the question any skeptic should ask, is…. was this done on purpose? If so, why?
The why is the easiest to answer. She will augment the independent streak that Christina District has going. If you are new to education, you probably don't know this: there are two sides. It's not Democrat versus Republican… although it could be, but those lines of partisanship do not reach into our school districts. In education, one either puts "Student's First" or "Business First" … The biggest battle going on in education now, is whether the money we are paying for education, should go to a) teachers and supplies and those that put the two together, or b)should that same money go to a business, who then keeps a big part of that money for itself, and replaces those high paying jobs with ones reflecting minimum wage… Students versus Business.
Minnehan puts students first.
But wait. As Kilroy points out, the News Journal FORGOT two district races in Red Clay.. Hmmm. three errors all aimed at Red Clay…
Why did The News Journal remove two Red Clay board candidate's profile from their election guide re: board nominating district "D" Walters vs Wood and reference to an unchallenged race race in "E"?" Kilroy
The skeptic in me says the News Journal wants Red Clay voters to show up looking to vote Minnehan, and not seeing her, mark the others at random. If done, the "business" side of education, those "Wall Street darlings", may though the confusion, get a extra votes on top of their core, which could upset the election, thereby making Red Clay more interested in which business gets to come in and profit, instead of whether students even graduate…
Minnehan is good, for those in Christina. Those in Red Clay need to go here…