You are currently browsing the category archive for the 'Delaware wind power' category.
We knew this but it  is now being published… and so it is in the news.
The world is getting warmer… and we can now predict our climate by looking at map at 300 miles south and guessing what our weather will be from that…
Just as plate tectonics and  Darwin's origin of the species were able to lay the groundwork of reason  for explaining puzzling observations, this simplifies what to expect from global warming rather startlingly.
Texas is now  what we alway thought of when we considered the weather of Mexico; Oklahoma is now West Texas; Kansas is now Oklahoma; Nebraska is now Kansas; South Dakota is now Nebraska, North Dakota is now South Dakota: Southern Manitoba is now North Dakota…..
If  West Texas had 3 days of rain, now Oklahoma is getting 3 days of rain;  If it snowed 12  times in South Dakota, it is now doing the same in North Dakota… and so on.
So, to predict our heat, rain, winters, etc, our guide would be North Carolina.  Longer growing seasons,  some winters with no snow, hot summers…
However due to Global warming, the East Coast has a caveat.  An anomaly so to speak  and actually some relief from the North Carolina summer heat we would normally expect….
With the unprecedented melting of the Arctic and Greenland icecaps dumping its excess into the Labrador Current, that cold water drops South hugging the East Coast shoreline all the way down to North Carolina's Outer Banks where it finally becomes neutralized…   Therefore even though we have hotter air masses, the colder ocean temperatures creates a buffer against Global warming off the entire northeastern US.
Europe, Japan, and Alaska all experience  the same mitigating effect, although with both Greenland and the Arctic Icecaps melting into the Labrador, the US East Coast gets a stronger volume of cold water.  Call it our icy shower effect….
Once melting stops and the currents dry up, we return to the North Carolina scenario of the twentieth century….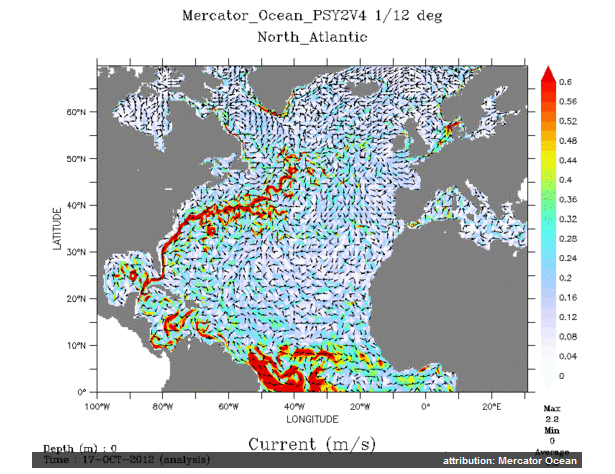 Chart Courtesy of NOAA
So, we in Delaware really get the best climate on the East Coast.    Warm winters, little or no snow, and cool breezy summers….. as well as a longer growing period, and… less dependence on fossil fuels for winter heating.
Gee, global warming isn't so bad for Delaware after all….  Oh, the rising seas?  There you go again… Why did you have to spoil the rosy picture I was painting?

January 1-3
January 11-13
I getting a bad feeling about this. Who can tell us? What's this mean?
Btw. There is a monster hurricane approaching Alaska with a low of 943mb. Category 4 if it were an actual hurricane. It is so huge it would stretch from the East Coast of the US to Denver.
The House and the Senate agreed Tuesday to extend a 2.2 cent per kilowatt-hour credit for wind power production through this year as part of the "fiscal cliff" deal. It also changed the incentive to let wind projects earn the credit if under construction — rather than in service — by the end of the year. Letting the credit end would eliminate 37,000 jobs. AWEA in December proposed extending the credit for this year and then ramping it down to end after five more years.
Time to get busy, Delaware.

Photo Courtesy of Google right click for full image.
Here is what the EPA says….
Kinder Morgan Transmix Co. has agreed to pay the U.S. Environmental Protection Agency $600,000 to resolve numerous violations of federal air and hazardous waste regulations, including mixing hazardous waste with gasoline.
Keep in mind that any accident, even a tiny small one of a gallon or two, affects the entire Delaware Bay and its unique biodiverse shoreline.
Now Imagine a tanker taking a hole.
Outlined here are the violations Kinder Morgan got hit with…..
A. The illegal mixing of a RCRA hazardous waste with gasoline, and from failing to sample and test gasoline to ensure compliance with CAA emissions standards.
B. Kinder Morgan failed to comply with a number of sampling and testing requirements of the CAA and fuels regulations to ensure the environmental and quality standards of fuel they produced.
C. KMT failed to notify EPA or the State of Pennsylvania prior to storing the cyclohexane mixture, a hazardous waste, at its Indianola Transmix Facility.
D. KMT failed to perform or obtain a general waste analysis upon receiving its first shipment of the cyclohexane mixture as required
E. KMT accepted the hazardous waste cyclohexane mixture at its Indianola Transmix Facility without first obtaining a RCRA Treatment, Storage, and Disposal Facility Permit, and therefore violated the following federal and state hazardous waste requirement…
F. KMT produced gasoline at the Indianola Transmix Facility that was not "substantially similar" to any fuel utilized in the certification of any motor vehicle or engine sold in the United States,
G. KMT failed to collect and analyze representative samples of conventional gasoline that it produced at the Hartford Transmix Facility, in violation of the anti-dumping regulations…
H. KMT failed to collect and analyze representative samples of conventional gasoline that it produced at its Hartford Transmix Facility for the purpose of determining the sulfur content of these batches of gasoline..
Result of Kinder Morgan's actions?
Marathon Ashland Petroleum LLC (Marathon) reimbursed repair costs to owners of many vehicles that sustained damage. EPA understands that KMT reimbursed Marathon for the costs that it incurred in responding to these consumer complaints.
Obviously Kinder Morgan came up with the idea that they would rid themselves of an expensive waste product by burning it off in the cars that used its gas. It was cheap and untraceable. To accomplish this, they went dark on their self testing until the product had passed through their lines…. It would have worked, and they would have gotten away with their little scheme, except…. the fuel filters clogged with the waste product, and the traces began.
So, is this the epitome of ethics we want in Delaware? Of course ethics like this exists in Texas. That's where they filmed Dallas. But do we need them here in Delaware?
No doubt, Alan Levin was not privy to this information. He is now.
This is post number 2000.
The only real significance is it is 150 posts more than where Tommywonk stopped exactly one year and fifteen days ago…
If some future historian looks back, I can only guess they may kindly make some note of the quality of thought that underlies these efforts, but my guess, is no one will ever notice…
Irregardless, as long as the urge to put thoughts down for others continues, we will go on. As usual, with no goal, no direction, and no ulterior motive. Probably upon reflection, my biggest surprise, right here, right now … is that I still enjoy it so much, and can't wait to jot my thoughts down, click the button, and send them off to where ever cyberspace and the vast internet ocean, lets them drift….
For each of you who have become regular over the years, … thank you friend…
The key plank of kavipsian economics is to raise the top marginal tax rate. Ironically this does not raise taxes; it forces companies, businesses, wealthy people, and multinational corporations, to invest their money into real capital, in order not to pay those higher taxes.
When the top marginal tax rate was raised during WWII, we had a booming economy. While the top marginal tax rates were astronomical during the 50′s, and 60′s, we had a booming economy. When the top marginal tax rates were raised by Bill Clinton, we had a booming economy stretching across the entire nineties (which coupled with solid Democratic leadership), gave our government a budget surplus, raised the income levels for every quintile of the American public, and created a booming economy.
As soon as those rates are dropped (ironically to stimulate the economy), the economy stagnates, falters, sputters, and fails….
Recently Obama proposed that the US corporate tax rate, now standing at 30 percent, be deploded by 2/3rds, to around 20%…
Unfortunately this has put the inner sanctum of Dupont on edge. You see, in their wisdom they have invested their profits into working capital, and actually pay an average corporate tax rate of around 20%, … because of it…
If the corporate tax rate plummets, their competitors will now have the same rate, with much more liquidity, thereby putting our local business at a disadvantage in the race to woo stockholders, because of their lower recorded profits.
Against common perception, raising the marginal tax rate (or in this case keeping it high), does not really generate that much income for governments. People find a way to invest and dodge their way around them.
But, those investments and dodges, are a huge gain for this nation.
Still don't get it? Try this example.
Earnings: $100 million.
Corporate tax rate: 30 %
Gross tax assessment: $30 million
Currently under Democratic leadership, there is a deduction of costs of building a wind farm supplying a major metropolitan area. Assume one can deduct 30% off the amount invested. Investing the amount of taxes to be paid, $30 million, yields an additional write off of another $10 million dollars, dropping the total due at tax time, … to $20 million dollars or 20% of the companies earnings.
Sadly the federal government lost $10 million dollars of revenue. But, … a $30 million dollar investment was made in…… say Delaware. Some of that went to local wages, which circulates throughout the economy creating additional tax revenue to local, state, and federal governments. Other of that money is used to pay for the raw material, or parts, and the labor that assembles them, as well as the transportation that brings them offshore and sunk into the sand off Rehoboth Beach.
Over the past four years, FPL has paid just $88 million in taxes on earnings of nearly $7 billion. FPL spokeswoman Jackie Anderson says the company is merely taking advantage of incentives to develop renewable resources.
If every company has to build something to lower their tax rate, our nation booms back to financial stability real fast….
Raising the tax rate ( or keeping the tax rate high) benefits everyone in the economy, provided they can write off their taxes by investing in real capital projects.
What happens when you lower tax rates, giving corporations and the wealthy large amounts of cash? What do corporations do with cash?
Even the Wall Street Journal says so.
"The Federal Reserve reported Thursday that nonfinancial companies had socked away $1.84 trillion in cash and other liquid assets as of the end of March, up 26% from a year earlier and the largest-ever increase in records going back to 1952. Cash made up about 7% of all company assets, including factories and financial investments, the highest level since 1963″.
At $50,000 a job, $1.84 trillion yields 36,800,000 new jobs. Currently 13.9 million are unemployed…..
Duh, the reason they are unemployed is because tax rates aren't high enough…….
It doesn't take a genus to figure it out. Anyone who knows American history, who knows when boom times occurred and when busts were felt, can figure it out themselves from looking at this.…
Matthew Wald in his New York Times blog, has more information about the construction of the Electric Superhighway up and down Delaware's coast.
Onshore, we use an AC grid, or one based on alternating current. But the link in the Atlantic would have to be buried, and alternating current does not work well in long cables that are enclosed because the interaction between the current and the cable casing drives up voltage to unwanted levels. So the system has to be direct-current.
Nearly all the submarine cables use direct current, a form of transmission favored by Thomas Edison but mostly rejected in the late 1800s in favor of alternating current, the kind of electricity now used to run most appliances. But alternating-current lines are hard to bury, because an interaction between the current and the cable casing drives up voltage to unwanted levels.
The cost of putting a cable under water can be lower than burying cables on land, because workers can lay the cables from giant reels, allowing stretches of more than a mile with no splices. But underwater lines are still more expensive than lines on transmission towers. Much of the cost in each case is to transform the electricity to direct current, a form that is easier to use in buried cables.
New technology offered by two European companies, Siemens and ABB, has lowered the cost for some direct current projects, and shrunk the size of the terminals where alternating current is converted to direct current and back, a crucial consideration in urban projects.
One of those companies Siemens, has a plant here in Glasgow, Delaware. Recently, European transmission experts were in town to deliberate.
So the new proposal for an Atlantic Wind Connection is actually about a series of links terminating at substations built on platforms that would sit in the ocean like oil drilling platforms, except, of course, these are clean-energy installations harnessing wind power. They would have to be hurricane-proof and include a spot where a service vessel could moor. Wind farms would tie into the system here.
The cable itself, weighing about 30 pounds a foot, would be lowered into a shallow trench that would be blasted by a device called a jet plow that squirts ocean water into the soil. The cable goes into the trench and is gradually covered over with sediment.
The cable itself is copper, with 1.75 to 2 inches of insulation and multiple shielding layers. It may have a steel outer guard. The outer diameter would be about six inches.
But beyond three miles from shore, no matter where it goes, the cable has a major advantage over cables on land: it faces only one landlord at the outset, the Department of Interior. And the department is sympathetic to wind.
This is a wake up call for Delaware. Governor Markell, Congressman-elect John Carney, Senator-elect Chris Coons, and Senators Ted Kaufman and Tom Carper, all need to get moving on this opportunity now, if only to head off those other states who will be trying to muscle in… These next 24 hours are critical.
Google surprised us yesterday with the news they were investing in an offshore electronic super highway off our beaches shores…
The High capacity trunk line, would disperse electricity being driven by Atlantic Offshore wind turbines, to the major metropolitan area requiring it the most.
This electic dispersal system, would stretch from off Long Island down to Norfolk, Va.

Courtesy of Google
As stated herein, the primary problem up to this point, had been how to get the electricity generated offshore, to urban areas where needed, over Delmarva's dilapidated and antiqued 1930′s era transmission system. Economic and political pressures had slowed down the development of MAPP's efficient electrical superhighways.
Yet even before any wind farms were built, the cable would channel existing supplies of electricity from southern Virginia, where it is cheap, to northern New Jersey, where it is costly, bypassing one of the most congested parts of the North American electric grid while lowering energy costs for northern customers.
This is a safe investment. The largest energy user in the world, is our PJM grid right here on the East Coast. Currently much of what we use, comes from Midwestern coal burning power plants. Having a source of energy offshore, cuts down on the amount of lost power that leaks out during the process of transmission. The higher the voltage, the less leaking of electricity..
Once this backbone is in place, building offshore wind can began anew.
As frequently mentioned throughout these writings. someone is going to build wind farms up and down the Mid Atlantic Coast… It is too perfect of an investment to go untapped. Not in many other places can you find a similar opportunity where a minimal investment can yield the maximum of return… So, someone will be building wind farms. Some state will become the center of this industry. Delaware should be that state…..
After all, why do you think we got our former Senator chosen as Vice President?
Anyways….
When built, the Atlantic Wind Connection (AWC) backbone will stretch 350 miles off the coast from New Jersey to Virginia and will be able to connect 6,000MW of offshore wind turbines. That's equivalent to 60% of the wind energy that was installed in the entire country last year and enough to serve approximately 1.9 million households.
The AWC backbone will be built around offshore power hubs that will collect the power from multiple offshore wind farms and deliver it efficiently via sub-sea cables to the strongest, highest capacity parts of the land-based transmission system
Locally, our economic recession could end today, if we'd just get wind off the ground and moving forward where it should have been years ago….
Bottom line, it needs to happen. It needs to happen in Delaware. Perhaps it's true? Perhaps we need a federal project, just like the Depression Era Oak Ridge energy project built in Tennessee, to get wind off the ground as fast as possible?
The idea for moving the electrical backbone offshore, is pure genius. Figure the sharp wonks at Google would be the ones to see and capitalize on its potential, while potbellied Pepco sits on their hands…
Perhaps next Google would like to assist in the financing our wind farm? Guaranteed excellent returns on the investment…