You are currently browsing the category archive for the 'Delaware Politics.Net' category.
Why is Delaware Day no big deal?   Because it celebrates a bunch of colonials sitting in the Golden Fleece in Dover,  having a brief discussion, then voting for ratification, then hurrying home….   The timing of their decision would eventually lead 216 years later to Delaware having the first quarter minted in its honor…  That was about it…
So why is Pearl Harbor a big deal?  We got beat… Hey lets go down to the bar and celebrate that time Biff beat us up real bad as kids… 
No, we celebrate Pearl Harbor Day because on that day, Republicans everywhere (except for the DuPont family) stopped being Republicans.  The entire nation became Democrats, solidly behind FDR, committed to their government for its fulfilling of one task no matter what the cost…. 
Great things were accomplished because of Pearl Harbor…  That is why we celebrate it… It proved the Republican philosophy that we should leave the world alone and just support our billionaires, to be wrong, and it stayed wrong for the next 53 years later…  That time frame turned out to be America's greatest, ever, btw…   So it is worth that we celebrate Pearl Harbor Day….  It caused the disappearance of the Republican Party…. 
Fingers crossed that perhaps we will celebrate November 4, 2014 the same way?…..  for the same thing?  For getting rid of all influence by the Republican Party?…. 
(Note, to reader:  I started this post in jest, but now it is scaring me exactly how closely similar the Republican Party was leading up to Pearl Harbor, as it is today..)  
AFter considering an exchange propagated by Delaware Politic's David Anderson, and subsequent discussion upon that thread, Delaware's Chairman of the Republican Party, John Sigler is stepping down.
Starting with;
"My friend, you are smart, capable, and competent. You did not run for reelection to preside over the demise of the party you love, but to revive it. Please talk like it. "
The piece goes on to question why Delaware's republican party was repeating the mistakes of the past.  It castigates the current chair for not leading….
"We have lost 30 volunteers in the last 6 weeks to the Independent Party of Delaware because they are willing to grow and fight. The what, IPOD–how do we lose people to a little party that couldn't fill a back room in a small restaurant last year for a convention? "
"The first step to all of that is not giving people the impression that we are losers. We are contenders on the verge of becoming champions."
Comments then drove it home…  some excerpts……
"But in truth… it is really all goes back to the first… Why Sigler? The answer I can only come up with, is that the organization itself is tired, beat up, broken down and on its final count, so worn out that it would rather stay on the floor and have it be over, than get back up to start hitting back…"
"Again, it comes down to the first… Why Sigler? Answer us how with Sigler in charge your party can muster a counter attack no matter how much cajoling the underlings do?"
That seems to hit home.  The Northern Republican apparatus was abuzz with calls today.
Then one commenter put everything into perspective.
"But it certainly is beginning to appear that conservatism needs to divorce itself from the Republican Party. That party will not carry your banner as high as you would like, ever again. Especially after the last war. As long as conservatives remain in the Republican Party they will continue to only receive lip service to their faces, all the while secret denials of their clout will be leaked to the media by their top campaign operatives."
The commenter then continues to drive the point that the Conservatives need to form a new party, particularly the one now called IPOD, as opposed the the original one founded by Liz Allen and Frank McDowell… This and that are two different parties.
The commenter then advises:
"But if you do choose to ban together, you must all bite your tongues and be wary that the slightest slip, will do little to help you exert control within the party, but utterly destroy the entire legitimacy of conservatism itself… Just looking above on this thread, it is apparent that the Delaware Republican contingent has mismanaged many Conservatives over the past. if all these were to somehow come together and combine their talents, it is quite possible that conservatives could begin organizing to make a comeback, not as a wing of the moderate Republican Party, but as IPODs."
And then reality struck!
Much was said of Christine O'Donnell. But in 2008 she beat the current Vice President in quite a few RD's. Stop for a second and savor that: she beat the Vice President in his home state. Imagine if all those votes became IPODs? and why wouldn't they, if IPODs became the rallying point for local rural conservative values? It is conceivable. If this could come to pass, the IPODs would sit on Sussex County Council.. The IPOD's would have seats in the General Assembly.
It is obvious why the resignation was quick, sudden, and mysterious.
This is the first thing I saw as I began my day, and that day is ruined already…. On Delaware Liberal this is what greeted me….
Whole Jewish families lined up against the walls of the Warsaw Ghetto, and shot
Courtesy of Mirror.co.uk
Iranians Don't Have Pigeons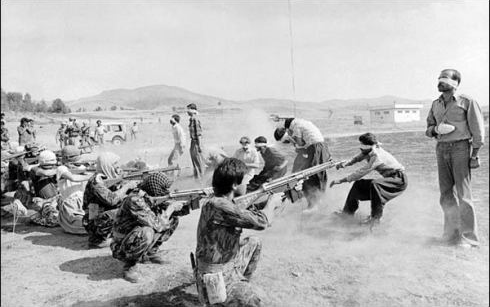 Courtesy of 4.bp.blogspot.com
Nazi's Idea of Crossing State Lines to engage in sport shooting illegal in their own state.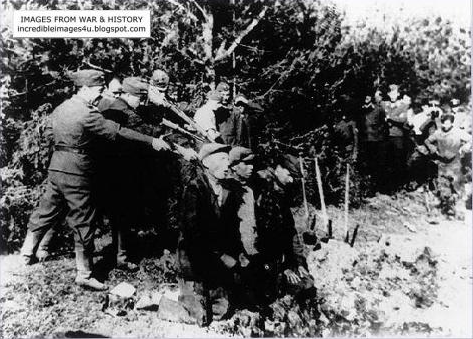 Courtesy of 4.bp.blogspot.com
What happens when one callously equate human life with pigeons.

Courtesy of TheIndyChannel.com
You do not have to draw the same conclusion I did from this video. If you try to equate the two then the onus is on you. This is just a portrayal of how the video made me feel…
That shot of the pigeon still alive, going "why are you doing this! why are you doing this!" would have been just like one of those first graders looking up at Adam Lanza. Sigler and Lanza are alike. It is a free country and I can say so…
If we'd had mandatory background checks, and a registry, Adam Lanza might be on medication right now…..
This is the head of Delaware's Republican Party. How can anyone ever vote for a Delaware Republican ever… again?
Eli Broad — the CPA-trained-billionaire-businessman-turned-public-education-reformer — informed Diane Ravitch, a distinguished education expert, about what needs to be done to education in America.  . According to Ravitch, "We talked about school reform for an hour or more, and he told me that what was needed to fix the schools was not all that complicated: A tough manager surrounded by smart graduates of business schools and law schools."
According to Slate quoting Vanity Fair, Eli Broad boasted back in 2006 that he  "plans to virtually take over the Delaware school system in 2007, pending approval from that state's legislature." He backed the winning slate of candidates for the local board of education in 1999 and helped hire the superintendent.
Eli Broad trains Superintendents.  Christina School District has been the unfortunate beneficiary of his largess.  Joe Wise, followed by Lillian Lowery, followed by  Marcia Lyles, all are from Eli's School of Superintendencies….Dr. Joe Wise was selected as a Broad Fellow by Eli Broad Institute for School Boards (2005), was appointed to the Eli Broad Urban Superintendents Academy as a Fellow (2003), and serves on the Broad Academy's adjunct faculty and advisory committee. Although Broad Superintendents come in highly qualified, they often leave disgracefully. Joe Wise, may have been one of the first. Recently, across this nation many Broad Superintendents have been let go. All trained by the Broad Superintendents Academy: Maria Goodloe-Johnson (class of 2003) of the Seattle school district, LaVonne Sheffield (class of 2002) of the Rockford, Illinois school district, and Jean-Claude Brizard (class of 2008) of the Rochester New York school district. Brizard resigned to take the job as CEO of Chicago schools, but his superintendency in Rochester had been mired in controversy. Another Broad-trained Superintendent recently announced his resignation: Tom Brady (class of 2004) of Providence, Rhode Island, as well as these others from before: Arnold "Woody" Carter (class or 2002), formerly of the Capistrano Unified School District; Thandiwee Peebles,( class of 2002), formerly of the Minneapolis Public School District; and John Q. Porter (class of 2006), formerly of the Oklahoma City Public School District.
Ms. Lillian Lowery (class of 2004), Wise's replacement after supposedly cleaning up Joe Wise's disaster, was put in charge of all Delaware's schools, and now, is in charge of Maryland's. Broad's influence has touched every Delaware Student… and is about to touch all those of Maryland.
Our current head of the Department of Education, Mark Murphy, hails from a group NLNS funded by Eli Broad
If this was a good thing, it would be good.
So, what is the Broad influence?
Here is one take. It is one of the three influencers of education. Along with the Gates Foundation and the Walton's, it exerts a powerful influence, good or bad. It calls itself a venture philanthropy, as in venture capitalist. Meaning it invests in philanthropy expecting to yield a return on its investment. As an example, it can fund a study that says computers will help inner city kids learn, then sell those recommended computers to that school district.
Here is how it infiltrates a school district. Christina School District to be exact…
The Broad Foundation plants one of its elements in a school district, it is then highly likely they will plant another one along with it, so their influence is maximized.
For instance, an element might be:
– The presence of a Broad-trained superintendent
– The placement of Broad Residents into important central office positions
– An "invitation" to participate in a program spawned by the Foundation (such as CRSS's Reform Governance in Action program)
– Offering to provide the district with a free "Performance Management Diagnostic and Planning" experience
The Broad Foundation likes to infiltrate its targets on multiple levels so it can manipulate a wider field and cause the greatest amount of disruption. Venture edu-philanthropists like Gates and Broad proudly call this invasive and destabilizing strategy "investing in a disruptive force." To these billionaires and their henchmen, causing massive disruption in communities across the nation is not a big deal.
The Broad Foundation has spent nearly $400 million on its mission of "transforming urban K-12 public education through better governance, management, labor relations and competition."
That sounds nice. So let us look closer….
The signature effort of the Broad Foundation is its investment in its training programs…The Broad Superintendents Academy runs a training program held during six weekends over ten months, after which graduates are placed in large districts as superintendents. Those accepted into the program ("Broad Fellows") are not required to have a background in-education; many come instead from careers in the military, business, or government. Tuition and travel expenses for participants are paid for by the Broad Center, which also sometimes covers a share of the graduates' salaries when they are appointed into district leadership positions. The foundation's website boasts that 43 percent of all large urban superintendent openings were filled by Broad Academy graduates in 2009.
The Broad Superintendents Academy's weekend training course provides an "alternative" certification process which has come to supplant or override the typical regulations in many states that require that individuals have years of experience as a teacher and principal before being installed as a school district superintendents….
The Broad Residency in Urban Education is a two-year program, during which individuals with MBAs, JDs, etc. in the early stages of their careers are placed in high-level managerial positions in school districts, charter management organizations, or state and federal departments of education. The Broad Center subsidizes approximately 33 percent of each Resident's salary.
The Broad Foundation founded the New York City Leadership Academy, which trains individuals to serve as principals in the city public schools, several of whose graduates have been accused of financial misconduct, as well as arbitrary and dictatorial treatment of teachers, students and parents. This was recently featured by Delaware's WDDE reporting on Reshid Walker who is training in Cape Henelopen under the Delaware Leadership Project. DLP is an alternate certification program that this year is preparing six candidates to work as principals or assistant principals at public schools serving high-risk students in Delaware. Alternate Certification means it sidesteps requirements that a principal has to have stepped foot inside a school before. Through four days a week of on-the-job training, and no certification from an accredited college or university, he will soon be in command of your child's education.
The Broad Institute for School Boards provides three training programs for elected school board members and non-Broad-trained superintendents conducted in partnership with the Center for Reform of School Systems (CRSS). The Institute trains new board members at a one-week summer residential setting…The Broad Foundation underwrites 80 percent of all program costs through a grant to CRSS.
The Broad Foundation also supports a broad range of pro-charter school advocacy groups, as well as alternative training programs for non-educators who want to work as teachers and principals (Teach for America, New Leaders for New Schools). In addition, the foundation offers free diagnostic "audits" to school districts, along with recommendations aligned with its policy preferences. It produces a number of guides and toolkits for school districts, including a "School Closure Guide," based on the experiences of Broad-trained administrators involved in closing schools in Boston, Charleston, Chicago, Dallas, Washington, D.C., Miami-Dade County, Oakland, Pittsburgh, St. Louis, and Seattle…..
Closing public schools to open opportunities for charters seems to be it's prime directive. Although not officially enshrined as such, it does seem to be the consistent pattern of each of its graduates.
The foundation provided start-up funding for Parent Revolution (formerly the Los Angeles Parent Union), the group which developed the "Parent Trigger" legislation, designed to encourage the conversion of public schools to charter schools. Broad has also has given large amounts of money to Education Reform Now, a pro-charter school advocacy organization…
Eli Broad has said he "expects to be a major contributor" to Students First, former D.C. Chancellor Michelle Rhee's organization that advocates for the expansion of charters, vouchers, and an end to seniority protections for teachers. The pro-Rhee biography, The Bee Eater, was subsidized by the Broad Foundation as is mentioned on the book jacket.
Of course, there are campaign contributions (you will need to type in Broad, Eli) to facilitate the corporatizing of education… A quick look certifies that his coverage is a who's who across party lines in Congress. Obviously there will be support for Charters streaming down from the top lines of government.
Ok, so how does all of this affect Delaware's public school's families?….
One of the tenets of his philosophy taught to his graduates, is to produce system change by "investing in a disruptive force." Continual reorganizations, firings of staff, and experimentation to create chaos or "churn" is believed to be productive and beneficial, as it weakens the ability of communities to resist change.
A hallmark of the Broad-style leadership is closing existing schools rather than attempting to improve them, increasing class size, opening charter schools, imposing high-stakes test-based accountability systems on teachers and students, and implementing of pay for performance schemes. The brusque and often punitive management style of Broad-trained leaders has frequently alienated parents and teachers and sparked protests. A long laundry list of Broad Supertendants run out of town can be found here, near the bottom. But you can get an idea of what to expect, from just this one: Robert Bobb (class of 2005), the Emergency Financial Manager of the Detroit Public Schools, recently sent layoff notices to every one of the district's 5,466 salaried employees, including all its teachers, and said that nearly a third of the district's schools would be closed or turned over to private charter operators. At a recent town hall which Bobb had called so he could go over his plan, angry students, parents, and teachers drove him from the meeting. He was escorted out by his six bodyguards….
Disruption and chaos indeed…..
Delaware is fortunate to have a large parenting network of watch dogs who communicate well with legislators. Whereas the Christina District has had a rough go with Broad graduates, the rest of the state has so far been unscathed…..
Without the oversight being provided by parents and teachers watchdog organizations, the fate of Delaware's students might be that of Philadelphia, Chicago, or Detroit.
if you are a parent or know one, you probably feel this way as well. Parents Across America considers Broad's influence to be inherently undemocratic, as it disenfranchises parents and other stakeholders in an effort to privatize our public schools and imposes corporate-style policies without our consent. We strongly oppose allowing our nation's education policy to be driven by billionaires who have no education expertise, who do not send their own children to public schools, and whose particular biases and policy preferences are damaging our children's ability to receive a quality education.
In fact, this entire philosophy of forcing change upon children, strikes every parent as coming from those types of people we all run across, … who hate children…. "Someone smack that kid who's crying."
Amen And Amen.
Did you read the News Journal in depth article about how much damage the Sequester is going to cause Delaware?  About how people now, because of a vengeful and traitorous party has gummed up Congress on purpose, that now American servicemen are going to be taking a 20% pay cut?
Are you one?  And if not, living here in Delaware, do you know someone who is in the National Guard?  The  Air Force?  Will they stop coming into your business now, in order to make sure they can still keep their house?
How much sales will you lose,  1%?  2%?  5%?  10%? 25%?  50%?  75%?  95%?    Will you also go broke for the same reason?  Because of a vengeful traitorous party that gummed up Congress on purpose, that now, American servicemen are going to be taking a 20% pay cut?
Everyone knows the deal.
"You didn't vote for Romney; now we are going to f*ck you up…."
Billionaires are sooooooooooooopoooooooooooo much more important than you………
Btw, you can register yourself tomorrow as a Democrat or Independent here…..
A well regulated militia, being necessary to the security of a free state, the right of the people to keep and bear arms, shall not be infringed.
What the NRA is proposing: that every man become his own enforcer of his own view of   "constitutionality"  by having his own masses of whatever firepower he so chooses, … is the exact opposite of being well regulated. As we see with every new report of shootings, it promotes anarchy.
If we assume that a civilian population is required to keep arms to protect itself from tyranny,  then by the words of the Constitution itself,… we have to regulate those very arms…
We can regulate them by banning assault rifles.  We can regulate them by banning high capacity clips.  We can regulate them by registering every firearm to a single owner, and holding that single owner accountable for whatever accident befalls that gun.  We can regulate them by requiring insurance, and if there are those who refuse to abide by the constitutional regulations, we can incarcerate  them and be done with them.
The Constitution allows for firearms, only IF THEY ARE WELL REGULATED….
So, in order to validate the Constitution, let's regulate all firearms…..  Failure to do so, is a violation of the Founding Father's own principles, and is unconstitutional….
It says so right there in the Second Amendment.   Care to read it?