You are currently browsing the category archive for the 'Delaware Growth' category.
Today is School Board Elections…Polls are open 10-8…  If anyone is sponsored by Markell or Rodell or RTTT or WSFS, don't vote for them.. If anyone is sponsored by DSEA, they are on the students side. They are safe.
So go out and vote like a goat… Be…  B-a-a-a-a-a-a-a-a-a-a-a-a-a-a-a-a-D
My friends, we are gathered here today to celebrate one of life's greatest moments, to give recognition to the worth and beauty of committed marital love, and to add our best wishes to the words which shall unite these two people in marriage.  In the words of our Creator, what God hath brought together, let no one cut asunder.
The commitment that the two of you are about to make, is the most important commitment that two people can make; you are about to create something new, the marriage relationship, an entity that never ends.
As you stand here today, are you now prepared to begin this commitment to one another? (I am)
Have you come here freely and without reservation to give yourselves to each other in marriage? (I have)
I would ask that you both remember to treat yourself and each other with dignity and respect; to remind yourself often of what brought you together today. Give the highest priority to the tenderness, gentleness and kindness that your marriage deserves. When frustration and difficulty assail your marriage – as these do to every relationship at one time or another – focus on what still seems right between you, not only the part that seems wrong. This way, when clouds of trouble hide the sun in your lives and you lose sight of it for a moment, you can remember that the sun is still there. And if each of you will take responsibility for the quality of your life together, it will be marked by abundance and delight. 
Will you have this person to be your wedded partner? (I will)
Will you love and comfort then, honor and keep them, in sickness and in health, and forsaking all others, keep yourself only unto them as long  as you both shall live? (I will)
Will you have this person to be your wedded partner? (I will)
Will you love and comfort them, honor and keep them, in sickness and in health, and forsaking all others, keep yourself only unto them as long as you both shall live? (I will)
Since it is your intention to enter into marriage, join your right-hands, and declare your consent (before these witnesses) by  repeating after me: 
I, take you to be my partner, to have and to hold from this day forward, for better or for worse, for richer or for poorer, in sickness and in health, to love and to cherish, as long as we both shall live. Take this ring as a sign of my commitment and fidelity to you. …
I, take you to be my partner, to have and to hold from this day forward, for better or for worse, for richer or for poorer, in sickness and in health, to love and to cherish, as long as we both shall live.  Take this ring as a sign of my commitment and fidelity to you. 
In so much as the two of you have agreed to live together in Matrimony, have promised your commitment to each other by these vows, (and) the joining of your hands (and the giving of these rings), by the authority vested in me by the State of  Delaware, I now pronounce you a married couple.  Congratulations, you may now kiss as a married couple….
Ladies and Gentlemen here who are witnesses.  May I present to you the world's newest couple…. 
Awwwww.  How can anyone vote against something as wonderful as that?
I just spent some time reading through the NRA's list on how to make schools safer…..
Obviously a lot of time and effort went into this project to deflect the real cause away from guns. I appreciate their effort.  In 2010, there were 132,656 public schools.
Here are the costs per school as portrayed by the NRA.
Consulting assessment per school  $10,000
Camera systems per school   $50,000
Making outer doors secure per school   $10,000
Making Classroom doors secure per school  $50,000
Hiring 2 armed guards at $20/hour per school  $40,000
Training those 2 guards at NRA run camps  $40,000
That was for starters.  Let us go with just those basics….  The NRA says as a society we need to spend $200,000 per school to keep our kids safe.  The cost for Christina District would be $5,000,000. The cost for Red Clay District would be $6,400,000.  Brandywine would cost $3,000,000.
To fortify every school across  the entire country would cost  $25.6 Billion…
Bluntly put.  it would cost $25.6 billion to fortify each school, when we could simply make not only school kids, but every citizen safer for a zero added cost.  Yes, just pass the Delaware state laws which will keep fewer guns out of the hands of criminals while not curtailing the rights of legal gun owners, and we can have the safety in our schools we all grew up under, with zero cost…..
$26,500,000,000, or zero…….
Call your legislators today and tell them, especially the Republicans, they are going to be out of a job if they don't pass the Governor's rational regulations on weapons of school kids destruction…..
Oh, and did anyone else catch that the NRA's plan nets themselves $5.3 billion from training all those guards?
We knew this but it  is now being published… and so it is in the news.
The world is getting warmer… and we can now predict our climate by looking at map at 300 miles south and guessing what our weather will be from that…
Just as plate tectonics and  Darwin's origin of the species were able to lay the groundwork of reason  for explaining puzzling observations, this simplifies what to expect from global warming rather startlingly.
Texas is now  what we alway thought of when we considered the weather of Mexico; Oklahoma is now West Texas; Kansas is now Oklahoma; Nebraska is now Kansas; South Dakota is now Nebraska, North Dakota is now South Dakota: Southern Manitoba is now North Dakota…..
If  West Texas had 3 days of rain, now Oklahoma is getting 3 days of rain;  If it snowed 12  times in South Dakota, it is now doing the same in North Dakota… and so on.
So, to predict our heat, rain, winters, etc, our guide would be North Carolina.  Longer growing seasons,  some winters with no snow, hot summers…
However due to Global warming, the East Coast has a caveat.  An anomaly so to speak  and actually some relief from the North Carolina summer heat we would normally expect….
With the unprecedented melting of the Arctic and Greenland icecaps dumping its excess into the Labrador Current, that cold water drops South hugging the East Coast shoreline all the way down to North Carolina's Outer Banks where it finally becomes neutralized…   Therefore even though we have hotter air masses, the colder ocean temperatures creates a buffer against Global warming off the entire northeastern US.
Europe, Japan, and Alaska all experience  the same mitigating effect, although with both Greenland and the Arctic Icecaps melting into the Labrador, the US East Coast gets a stronger volume of cold water.  Call it our icy shower effect….
Once melting stops and the currents dry up, we return to the North Carolina scenario of the twentieth century….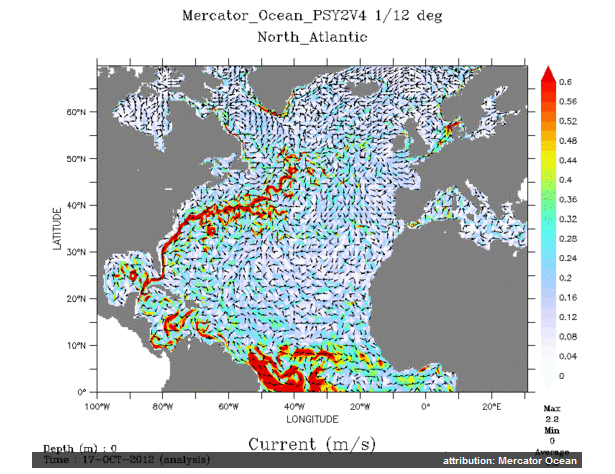 Chart Courtesy of NOAA
So, we in Delaware really get the best climate on the East Coast.    Warm winters, little or no snow, and cool breezy summers….. as well as a longer growing period, and… less dependence on fossil fuels for winter heating.
Gee, global warming isn't so bad for Delaware after all….  Oh, the rising seas?  There you go again… Why did you have to spoil the rosy picture I was painting?
If you are like me traveling through this interchange is exciting since with every commute, and nightly lane closure, something new and different has been erected.
It has gotten hard with all the complexity, to visualize just where each bridge and ramp will lead…
Hope this helps… It does make one proud of Delaware, … "where roads get thought out first….."
MSNBC just put up a critique of Texas education.. Texas  was the instigator of No Child Left Behind which when Obama took over, became Race To The Top.
It started in Texas.  It is about to end, … in Texas.
A coalition of parents nicknamed  Mothers Against Drunk Testing has taken the fight to the Texas Legislature.   Soon, it appears Texas will lead the nation again on education,… by banning the role testing plays in analyzing the competency of education.
The problem underlying both No Child Left Behind and Race To The Top is not in its philosophy. It is not in its intent.  It is not in its principles.   It is … the test.
There is a reason these tests are top secret.  Here is the story of one that leaked out…   The Hare and the Pineapple…..
Subsequent inspection showed…." On the fourth-grade exam, one question has two correct answers, the department warned. The eighth-grade test contains one question with no correct answer at all."
Needless to say, both came out of a firm, Pearson,  receiving a 5 year $32 million dollar contract from New York State….
Grown ups are now taking the tests.  Florida school board member with a bachelors degree and two masters degrees made national news when he flunked his state's 10th-grade math test.  Seattle teachers boycotted the giving out of their tests based off the faults inherent in their texts.
Then, we got the results.
Texas started to lose 70,000 kids a year, most dropping out before they had to take the 10th-grade tests that would count against the school.
A third of kids in Texas who started high school never finished.
Scores on the Texas test rose, but SAT scores for prospective college students dropped.
The Texas tests designed by Pearson primarily measured test-taking ability, researchers discovered.
National Assessment of Educational Progress scores were cherry picked to show progress, but Texas lost ground to the rest of the country.
According to Julian Helig, who released this report to examine the education for the Texas Legislature,
"The reason why we're seeing, well, what we're seeing, after ten years of No Child Left Behind is the fact that we didn't close the gaps, the fact that our graduation rates haven't gone anywhere, our dropout rates haven't improved, because Texas never did that in the 1990s," said Heilig. "Over the last ten years now that we have Texas-style accountability and policy in the whole United States, the reason why it didn't deliver is because it never delivered in Texas."
Texas revolted back in 2009.  The parents and teachers that is.  But Republican Governor Perry refused to sign the bill banning standardized testing,  saying he would not sign it unless the legislation doubled down on accountability….
So instead of the testing being eliminated, kids in elementary school and middle school would be required to pass tests—or else. To get out of high school they'd have to pass not two, but 15 tests. Pearson got a new $468-million contract to write and administer all these new tests…..
Sandy Kress, a Democratic lawyer from Dallas, who first got Texas Governor George W. Bush's ear with the expression:  "soft bigotry of low expectations, has moved on to a high paying job with Pearon and was on Texas Governor's Educational advisory committee when he doubled down on standardized testing.
Now, and only now, as a result of all this data, even the Republican Texas Chief of Education,  Robert Scott, is calling the fatuation with all this testing, … a perversion.
Speaking to the Texas State Board of Education late last month, Scott said that the mentality that standardized testing is the "end-all, be-all" is a "perversion" of what a quality education should be. What's more, he called "the assessment and accountability regime" not only "a cottage industry but a military-industrial complex." And he attacked the Common Core Standards Initiative as being motivated by business concerns.   It is the heart of the vampire, so to speak."
It's too soon to say whether a near-unanimity of opposition to high-stakes testing from school boards, superintendents, parents and education researchers will succeed against Perry and Pearson, but there's a better chance than ever that the false education doctrine that Bush started in Texas and then spread across the country will finally meet its end in the same building where it started.
It can best be described by the Republican appointed Texas Commissioner of Education at a Dallas Board Meeting.
I say this all the time: Parents care about kids, teachers care about kids, individuals in this room care about kids.  "The system doesn't give a damn about kids unless you make it care."
Today the rate is $7.25.  Let us use Obama's  $9.00 an hour for calculations.  The difference is $1.75.
So one guy working 4o hours a week,  over one year?
$1.75  X  40  X  52 = $3640 per year.
If you business is fixed income, each $40 hour full time employee will cost you that much.  $3640 per year.   And don't forget FICA,  another $228.   Rounding up, this minimum wage per employee will additionally cost roughly just under $4000 a year.   ($3868)
On the Federal scale, whereas there are 6 million people as of 2009 working at the minimum wage, this increase boosts the national economy by roughly  $24 billion dollars.
Estimates of how many of Delawares citizens work minimum wage are not kept, but if we take those making incomes under $20,000 and use that total  which is 90,000, we get a state boost to our economy of  $360 million….  Whereas  all of  that increased economic activity will not be applied to new hires,  the potential is there to add  40 million hours of $9.00/ hour jobs, right here in  Delaware's market.  That translates into 19,200 new full time new minimum wage jobs.
By raising the minimum wage,…. we exert pressure to create jobs.
Bottom line, we are in an economic crises; we can ill afford to miss this growth opportunity by not raising the minimum wage to $9.00/hour.
The Delaware Department of Education has launched an anonymous online survey called "TELL Delaware," using Race to the Top money.
Educators have until February 15th to take the survey with the results being finalized in March. The state is seeking a 50-percent response rate at each school to get the best data.
I entreat all educators. This is important. This is the opportunity to get your statements out there. I believe 50% is an gross underestimate. I would encourage every teacher to strive for a 100% compliance among your peers. Yes, teachers, you may have to ride your fellow teachers. Every teacher should make it a personal goal, that every teacher they know, turns in their online survey…..
Why?
Across this nation education is racing forward. Giant sums of private investment are becoming available to help education. This has never happened on this scale in your lifetimes. The problem is that those who best know their children, up to now, have been shut out.
Research has finally caught up. It is now apparent that national testing measures nothing more than whether or not a person passed a test. The knowledge normally and previously required to score well on such tests, are missing… We are training nothing more than how to pass a test.
Teachers teach because it is their love. Each of you has not only an opportunity to express your beliefs, but an obligation….
You need to be a part of how Delaware education goes forward…. You NEED to be a part….
Here is how you should approach it. Remember 100% response rate!
Read the online survey questions.
Think about it for a while.
Isolate your top idea on how to better get through to your kids.
Do the survey and send.
I do want to caution you that the less wordy you are on your survey, the less heart your pour into the sidelines, and bylines, the better your survey will be.
Surveys are data collectors. There may be hundreds of ideas, many of them the same. The survey will isolate the top three… There is a good chance that out of all the Delaware teachers taking the survey (remember the 100% return rate) those concerns rising to the top, will be the best one. After all, if teachers the state-over have many of the same concerns, then addressing those concerns can only help children. Correct?
Now just in case this is a ploy or trick, I would recommend that notification be sent to the DSEA so we have two counts of the number of surveys sent. If the Department were to say their pool was 1100 and the DSEA had 4400 who acknowledged filling out the survey, we would instantly know cherry picking of the results was taking place to skew the results.
I caution the Department of Education. The idea of this survey is to find a way where teaching and corporate funding can co-exist in a way that helps education… In a way that improves learning. If you fudge your figures and the children continue to show no improvement, then money is wasted for no good…
The point is to find a way where teachers and investment can focus their resources on their children, and not quibble back and forth in stalemate. We need to focus on the children.
I have my own theories but they don't belong here. 8,000 Teachers across this state have an average of 8 years of teaching. That is an average 64,000 years of experience…. Hmmm if we went back in time, it would be 62,000 BC, about the time mankind went down to one woman and built back up to what it is now…. All that teaching experience is now being tapped to combine with corporate money and invested in our schools.
If you care about teaching even the slightest, this is an opportunity not to be missed…. It is the chance of a lifetime to make a real difference…. If Delaware succeeds, then every child across America will one day get the full benefit.
Today inside the Senate a vote was taken on Bob Marshall's bill that requires the General Assembly's approval if the Port of Wilmington gets sold to Kinder-Morgan. The deal has caused considerably concern because it has been shrouded in secrecy. No one knows of any of its details. Someone may make billions off of this, so it is important that people look over the arrangement to see who or who isn't hurt by this major public to private transfer…..
ACT TO AMEND TITLE 29 OF THE DELAWARE CODE RELATING TO STATE GOVERNMENT AND THE DIAMOND STATE PORT CORPORATION.
Synopsis: This act would require the Diamond State Port Corporation to obtain the approval of a majority of both Houses of the General Assembly and the Governor, through the passage of legislation, before entering into any agreement or transaction whereby the Corporation would transfer, sell, privatize, or lease all or substantially all of the Port of Wilmington to a single entity, or to a related group of entities.
Here are the cosponsors of the Bill.
Sens. Henry McDowell, Blevins, Townsend, & Reps. Keeley, Mulrooney , Brady, J.Johnson, Osienski
The bill passed with 11 votes yea and 9 votes nay, and one vote not cast. It was released out of committee on the same day with 2 favorables, 3 on the merits, and 1 unfavorable…
Unfortunately it was not an unanimous vote…

Photo Courtesy of www.oldwilmington.net
It is a question of degree.. Who has the more authority within the current moment. A brand new administrator elected by the choice of the people over his predecessor, or…. a plan put in place and carried out by a previous administration.
Bottom line. There are no rules here. Depending on which side you seem to be on… will affect your outlook. The decision is both right and wrong for either side, depending upon which criteria one will use to decide.
Examine the first.
An Administrator is elected. He comes in and takes over his office. One of the planks he ran on was to reverse a certain act of his predecessor. When the people had a choice of electing a person who was for the proposal in question, and one who was against it, they overwhelmingly went for the one who was against it….
Now the second.
An Administrator inherits a problem from his predecessor. He applies considerable effort to get a deal made and moved forward. It goes through all proper channels. It is legalized by a vote on Council. It is the Council and thereby the County's official policy. A schedule has been drawn up. Funding approved. It is in effect, in the middle of being completed…. Since it was set in stone before the new administrator comes in, he has no right to interfere…..
Can a chief executive overrule a previous Council's decision? Well. Romney certainly was going to with Obamacare.
Congress had passed it, the Supreme Court had legitimized it, and Romney was going to make it obsolete with the stroke of a pen, based solely on the argument that it was the wish of a mandate of the voters putting him into office.
If it would work for the president, it must also be effective and allowed, under the new New Castle County Chief Executive.
It therefore, is not only legal, but ethical, contrary to the opinion of one certain Danberg who resigned in protest as county attorney on Wednesday.
A leadership role demands that a leader leads. For a leader to have to swallow every poisoned pill his predecessor were to leave him, puts not only him, but his department and the province he oversees…. at risk. That would be harmful to all society, if something was locked in stone by every outgoing administration…. Were that the true will of the people of New Castle County, to have Barley Mill Plaza go forward, then Paul Clark would now be the executive, not Tom Gordan…
Either way the decision goes, someone gets hurt. If the decision is to go forward, then those residents around that area who are the victims of a fabricated traffic study, are doomed to suffer. If the decision is to be stayed, and reworked pending a new traffic study, then those who have invested into the plan, are the ones doomed to suffer.
So someone has to get hurt! The question is …. who?